Hello Kitty x Nike Air Presto
When it comes to kicks, it's hard to deny the fact that vintage sneaker models are anything short of chio. From Nike's Blazers to Cortez', they're all making a comeback for a reason, so these Hello Kitty Nike Air Prestos from the Y2K era are sure to bring out squeals from sneakerheads and Sanrio fans alike. 
These Hello Kitty-themed Prestos were actually designed in 2004, but never officially made it to wide release. With their upcoming relaunch, you can now own a pair of these Japanese-inspired sneakers and invigorate all your 90s fits with some kawaii pep. 
The Sneakers

In this re-release, 2 colourways of the Hello Kitty themed Air Prestos will be made available. In the initial collaboration, only 12 of the sneakers were created for close friends and family of Sanrio, with a single pair of the original shoe currently priced in resale at $3,000.  
And while it seems nearly impossible to get your hands on a pair of the original 12, why not restock your sneaker collection with these just as snazzy pairs of the 21' version of the collab.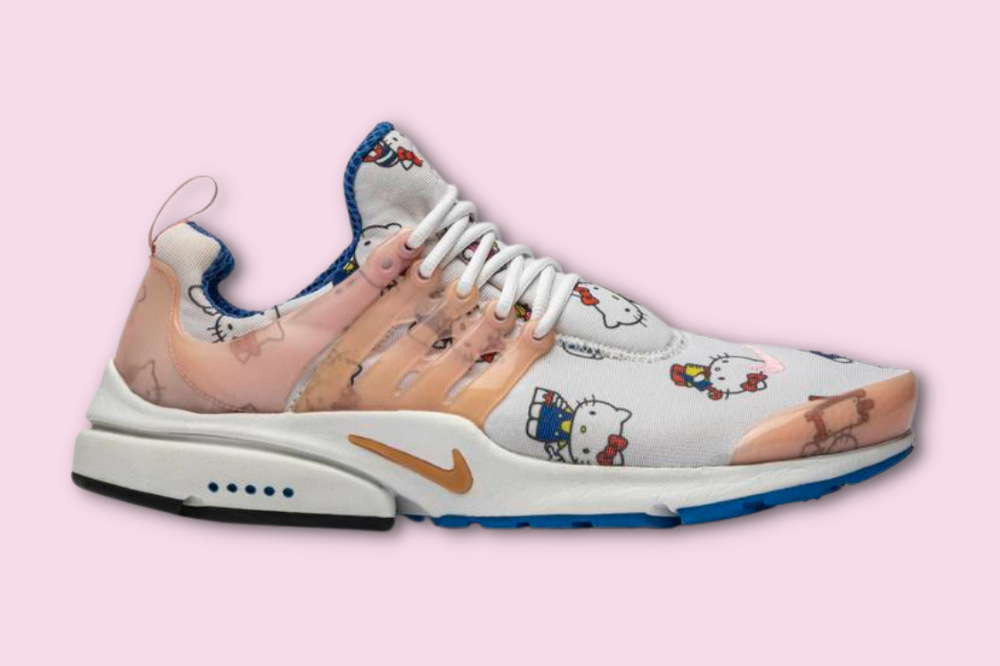 The first of the two colourways is this pink and white version of the Prestos. With Hello Kitty printed all over the white upper and a light pink toe cap and eyestay, these kicks are a unique variation of the raved about shoe model.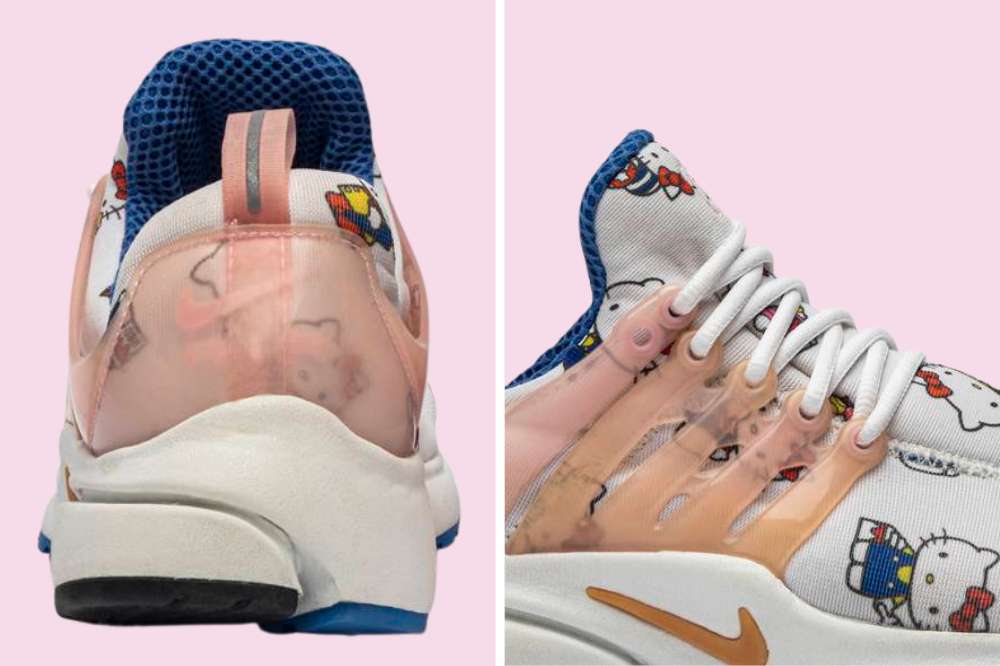 With its slightly chunky shape and blue detailing, you can pair them with a bandeau top, some low-rise jeans and a braided updo to give yourself a Gwen Stefani-inspired circa 90s look.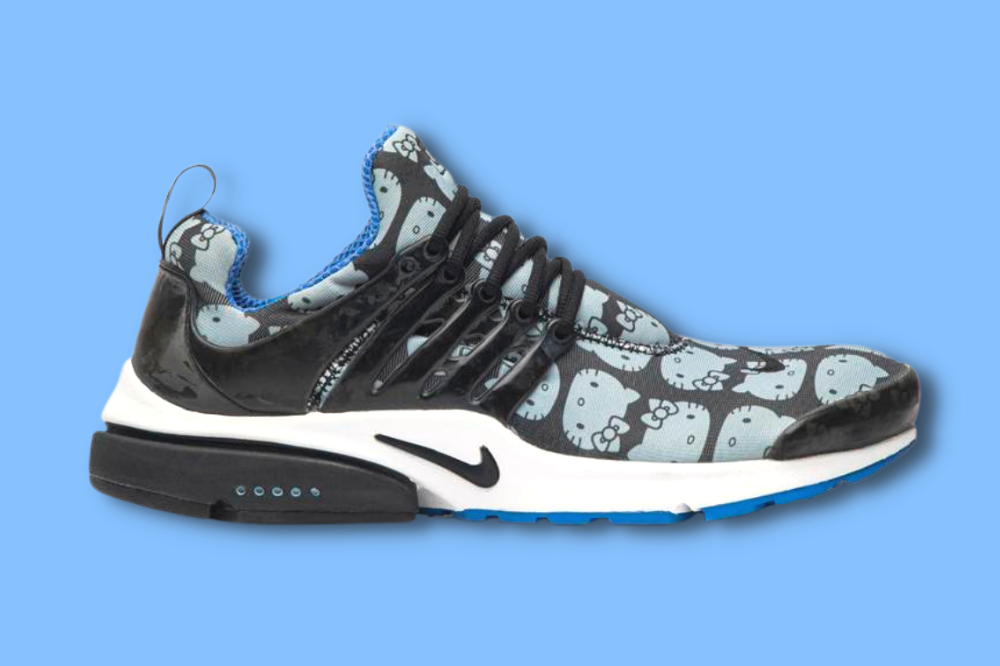 The blue and black variation of the sneakers are just as hip as the previous model. Hello Kitty's face covers the whole upper, with the toe cap and eyestay of the shoe coloured in a simpler black tone. 
This gives the Prestos a more edgy feel while still maintaining the Sanrio sweetness of the design.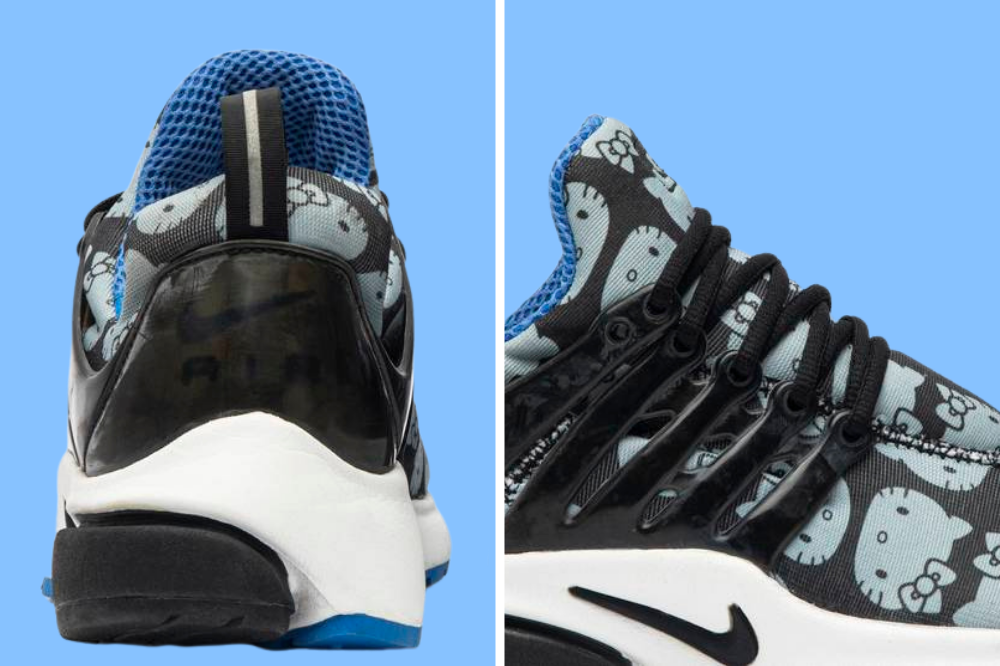 Plus, the inner lining brings out the coloured Hello Kitty prints on the shoe, meaning you can throw on a monochromatic outfit in a matching blue for a stylish colour-coordinated ensemble.
On the flip side, why not go subtle and pull together all-black garms, accessorised with blue earrings and headbands for some rocker chic. These sneakers can essentially be worked in with almost any aesthetic, be it a grungier style or a more pastel coloured venture.  
You can check out the 2004 versions on GOAT now, while awaiting the re-release of the sneakers that is said to be happening in the later half of 2021 or early 2022.  
These Hello Kitty x Nike Prestos Will Give Your Outfits Major Y2K Vibes 
What you wear on your feet can make or break a look, and the Hello Kitty Prestos are sneakers you can tie in with your wardrobe essentials, easily. 
As we await the official re-release of these Prestos you can take a peek at these cool local dessert-inspired AF1s in the meantime.
Also read:
These Lane Eight Sneakers Are Made From 100% Recyclable Materials So You Can Give Back To Earth