Hello Kitty x Staple Pigeon
When it comes to fashion chameleons, Hello Kitty is right up there on the top of the list. She's gone high fashion with Balenciaga x Hello Kitty handbags. She's taken the all-American denim route with the Levi's x Hello Kitty 2020 collection. Of course, she's no slouch in the streetwear department either. Sanrio has teamed up with streetwear label Staple Pigeon on the Hello Kitty x Staple Pigeon collection.
That means a collection of staples like t-shirts and hoodies, featuring the beloved feline as well as Staple Pigeon's mascot. No prizes for guessing what that happens to be. Yep, a pigeon.
Hoodies and joggers
What's a streetwear collab without a hoodie? To kick things off, we've a grey hoodie, one of 3 hoodies from the range. From the front, it's standard "logo plus icon" fare, along with a front pouch pocket for you to stash your essentials. But once you turn around, passers-by will be greeted with 2 mascots, who both look equally surprised to be next to each other.
Look closely and you'll see that the pigeon is sporting some cool kicks on its feet. Hello Kitty, meanwhile, is nonchalantly looking on with an apple balanced on her head, as she often does.
If a massive pigeon on your back is just too much for you to handle, this Camo Hoodie will put you at ease. The 2 mascots are on the top left hand corner, with the pigeon blending into the busy camo background. So only those who know, know.
Complete the look with matching Camo Joggers. You can also pair the joggers with the matching camo t-shirt instead.
Also read:
Skechers x Hello Kitty Is Super Kawaii & You Can Cop The Collection Already
T-shirts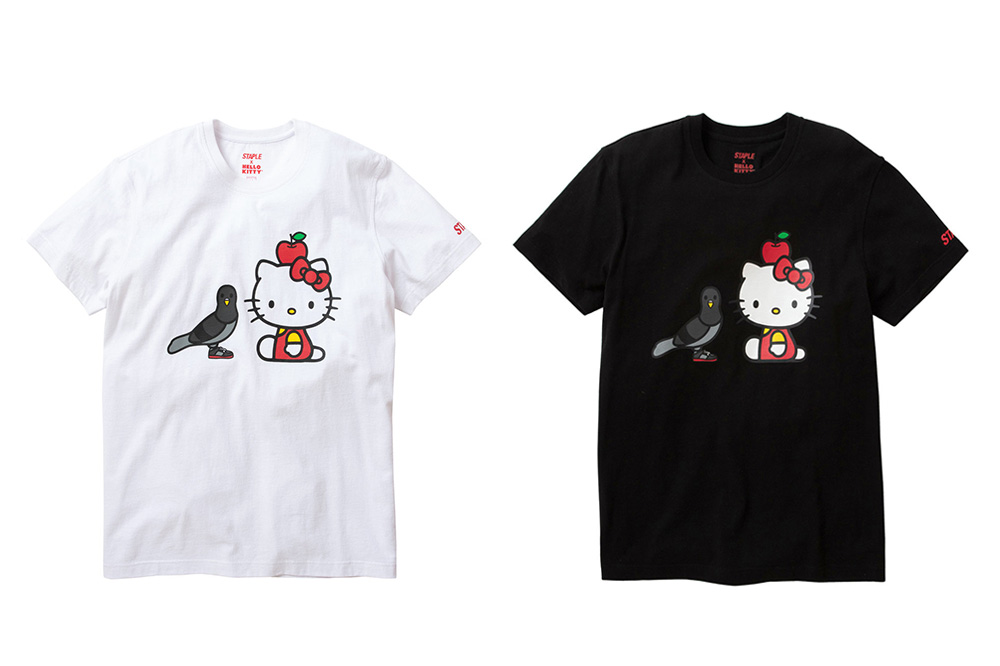 With Singapore's weather, you'll probably get more wear out of these t-shirts than a hoodie. Both mascots take centrestage on this graphic tee, with the Staple logo printed on the sleeve.
For those who'd prefer something less, well, life-like, these long-sleeve tees with logo prints of both the brands on the side will fit the bill.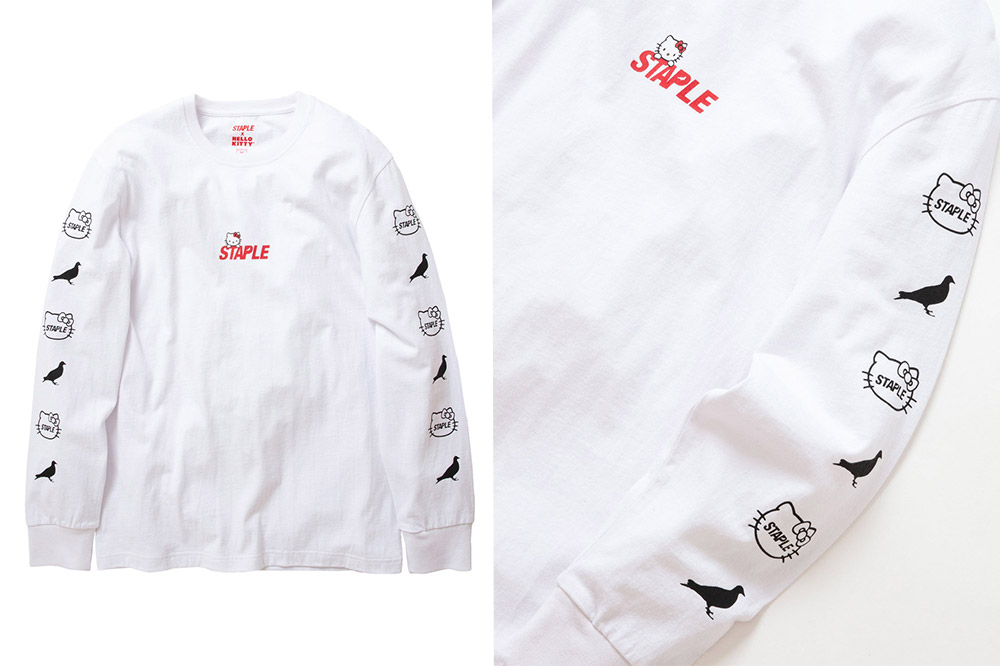 You could almost convince yourself that the pigeon silhouette is in fact that of another bird. Hello Kitty, icon that she is, is unmistakable even via a simple outline.
The Hello Kitty x Staple Pigeon Collab Features Your Favourite Cat With An Unlikely Partner On Streetwear Staples
The Hello Kitty x Staple Pigeon collection is available on the Sanrio Online Store, with prices ranging from US$34 (~S$46.35) to US$86 (~S$117.20). However, the store currently ships only to the United States, US Military Bases, US Territories and Canada. You can try your luck with forwarding services such as vPost.
All images: Source
Also read: 
Hello Kitty Tamagotchi Is Every '90s Kids' Dream Collaboration