Lee Joon Gi Facts And News
Lee Joon Gi has stolen the hearts of many with his skills, both when it comes to acting as well as martial arts. If the talented actor won you over with his role in the recently concluded Flower of Evil, you'll be glad to know you can now watch him catch him as the charming fourth prince in Moon Lovers: Scarlet Heart Ryeo on Viu. Before you start binge-watching the K-drama, here are some facts for you to learn more about Lee Joon Gi. 
1. Is proficient in different forms of martial arts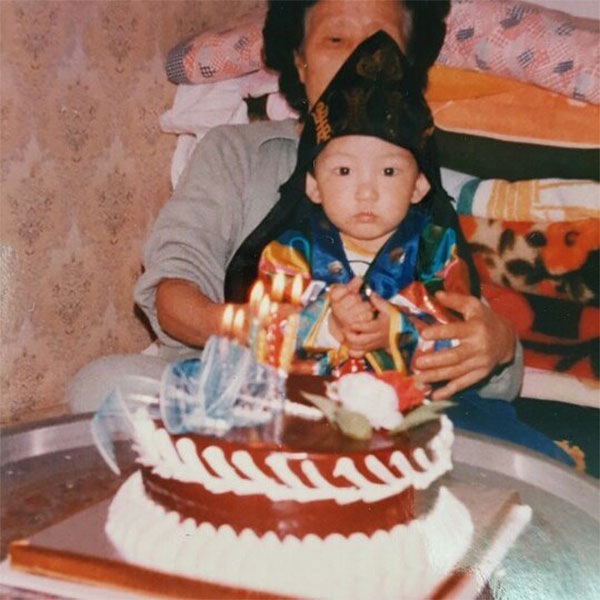 Source
Lee Joon Gi was born on 17 April 1982 in Busan, South Korea.
Source
He has a younger sister and the pair are avid martial arts practitioners. Both siblings have blue belts in Brazilian Jiu-Jitsu. 
Besides being proficient in Brazilian Jiu-Jitsu, Lee Joon Gi also has a fourth dan black belt in taekwondo, as well as a first dan belt in both hapkido and taekkyeon (a hybrid and traditional Korean martial art respectively). 
Source
The actor's love for martial arts does not stop there. He took up Systema, a Russian martial art, and parkour for his role in the Korean remake of Criminal Minds (2017). Lee Joon Gi also learned Thai kickboxing for his drama, Time Between Dog and Wolf (2007). 
2. Grew interested in performing arts after watching Hamlet
After watching the play Hamlet as a high school student, Lee Joon Gi grew interested in the performing arts. When it was time to enrol into college, he decided to relocate to Seoul to pursue a career in the entertainment industry.
He worked several part-time jobs before he was finally accepted into the Seoul Institute of the Arts. Afterwards, he began taking on projects as a model.
3. He made his debut as a model
Lee Joon Gi flexing his modelling chops in 2020
Source
In 2001, Lee Joon-Gi made his debut as a model for fashion brand So Basic, appearing as one of multiple male models alongside actress Kim Hee Seon. 
In an interview with Section TV, he described Kim Hee Seon as a goddess, and said he could not tell if it was a dream or reality. The advertisement was displayed on a huge billboard in Myeongdong, and he would go there every week to look at it. 
4. He can sing and has released his own songs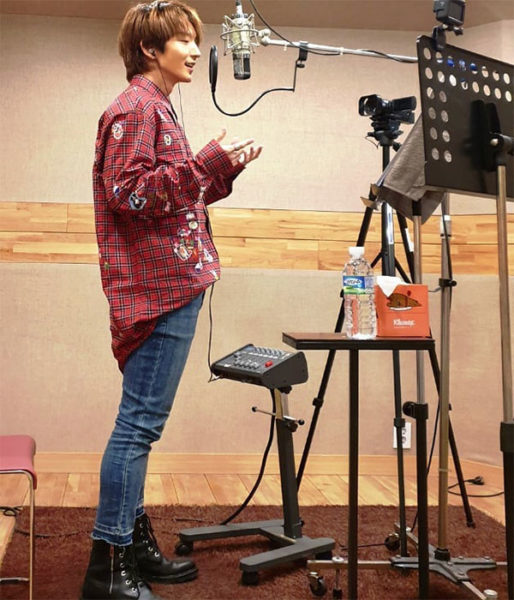 Source
Many may know Lee Joon Gi for his acting but did you know that he can sing as well? The talented actor has even released multiple albums. 
On 26 April 2007, he debuted his first mini album, My Jun, My Style, which included 3 ballads. These 3 ballads were prepared by Lee Joon Gi for his fans at his fan meeting on 21 May 2006. 
His most recent mini album, Delight, was released on 10 December 2018. That same year, the actor kicked off his 'Delight' tour, where he performed in 6 different cities in Asia: Bangkok, Hong Kong, Osaka, Seoul, Singapore and Yokohama. 
5. Dated actress Jeon Hye Bin
Lee Joon Gi (centre) and Jeon Hye Bin (extreme right) in the promotional poster for Gunman in Joseon
Source
Lee Joon Gi's former relationship with actress Jeon Hye Bin went public in 2017. The pair had starred together in the 2014 drama, Gunman in Joseon. Both of their agencies reported that they had started dating sometime during the beginning of 2016. 
After their relationship went public, it caused a minor controversy because the actor had appeared in an episode of the reality programme My Ear's Candy earlier that year. The premise of the show is built on 2 celebrities talking on the phone without knowing whom they are speaking to. By having them share about their daily lives or inner worries to each other, the show seeked to create friendships amongst the celebs. Lee Joon Gi was partnered with Park Min Young, and their interactions had left the audience wondering if a real relationship would ensue. The actor subsequently left an apology letter on his official internet fan cafe. 
On 25 August 2017, their agencies announced that Lee Joon Gi and Jeon Hye Bin had broken up due to their busy schedules. 
6. Beat 3,000 people in the audition for his hit film The King and the Clown
Lee Joon Gi rose to fame after starring as a clown in the critically acclaimed period film, The King and the Clown (2005). 
While talking about his breakout role on South Korean variety show, Knowing Bros, he revealed that 3,000 people had auditioned for the role of Gong Gil. 
Source
He knew he had to make himself stand out, so he did a handstand, then split his legs. He went on to reenact that exact same pose for a scene in the movie. 
After his role as an effeminate clown in the movie, fans started referring to him as the OG 'flower boy' or 'pretty boy'. 
7. Is known as the "King of Sageuk" in Korea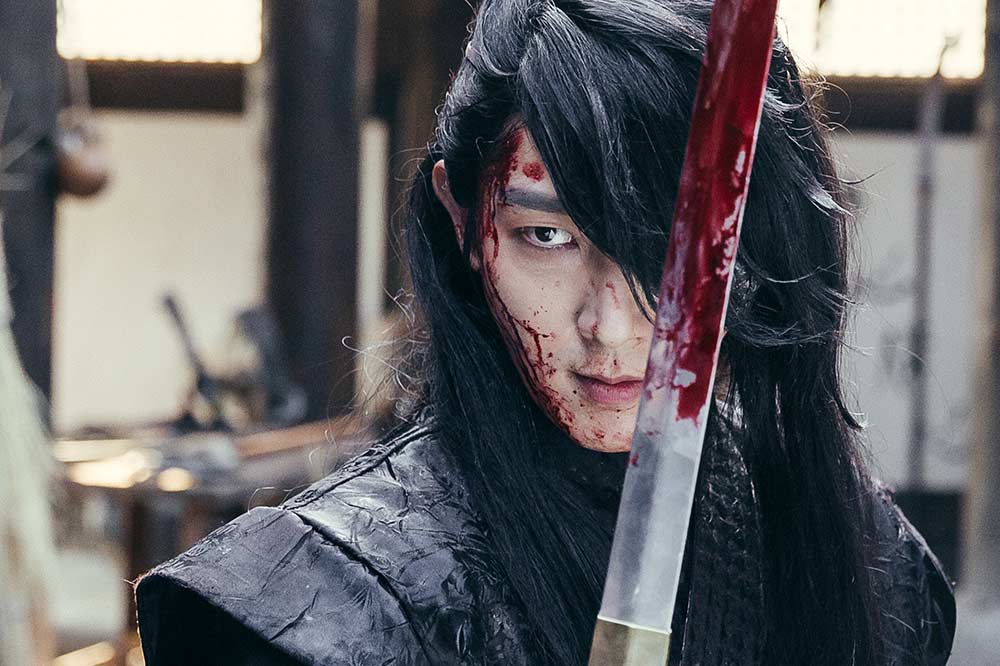 Lee Joon Gi as the fourth prince in Moon Lovers: Scarlet Heart Ryeo
Image courtesy of Viu
After The King and the Clown, Lee Joon Gi went on to act in many other hit historical dramas such as Iljimae (2008), Arang and the Magistrate (2012), Gunman in Joseon and Moon Lovers: Scarlet Heart Ryeo (2016). 
His casting in historical dramas over the years of his career earned him the title of 'King of Sageuk', which translates to 'King of historical dramas'. 
8. Friends with IU and EXO's Baekhyun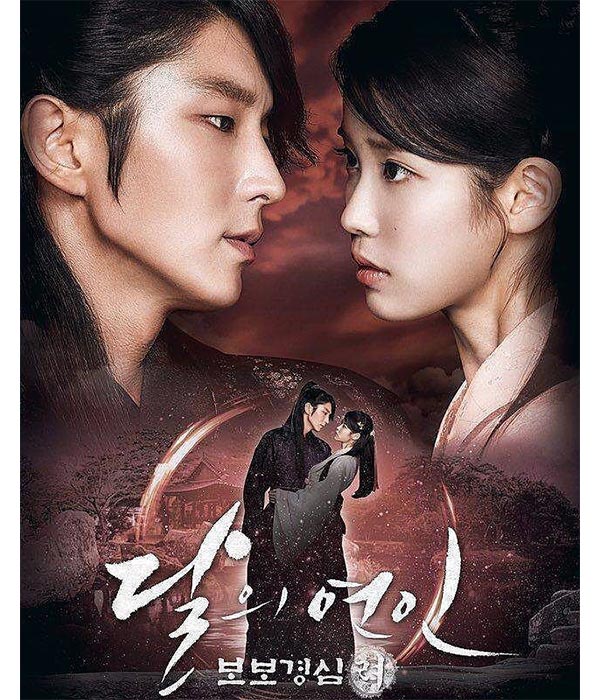 Source
In Moon Lovers: Scarlet Heart Ryeo, Lee Joon Gi starred as the male lead together with IU and EXO's Baekhyun.
Source
Years after the show, he still maintains a friendship with them. He's shown his continued support to IU by attending her concert and making a cameo in her famous drama, Hotel Del Luna. 
Source
In addition to IU's concert, the actor also attended EXO's concert as a nod to his friend Baekhyun. During an interview with ONEtvasia, Lee Joon Gi mentioned that Baekhyun is an adorable younger brother whom he cherishes a lot. 
Baekhyun himself also shared on the talk show Happy Together that Lee Joon Gi had invited him to his housewarming. The idol singer also mentioned that seeing Lee Joon Gi cry so naturally in Moon Lovers: Scarlet Heart Ryeo helped him cry naturally for his emotional scenes as well. 
9. He does not need time to get into the mood for emotional scenes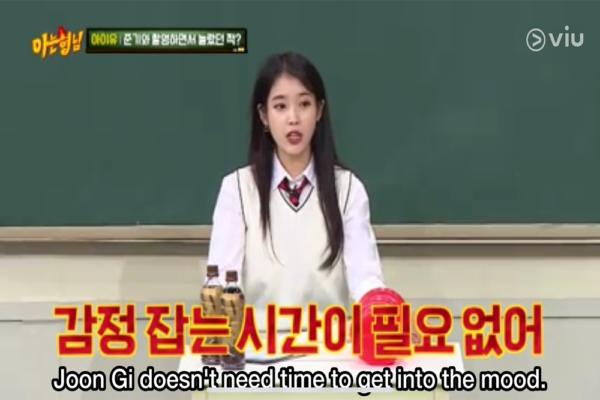 Source 
Lee Joon Gi's leading lady in Moon Lover: Scarlet Heart Ryeo, IU, shared on Knowing Bros that she was surprised to see how bright and cheerful Lee Joon Gi was on-set. 
According to her, no matter how tough the ensuing scene was to portray emotionally, Lee Joon Gi could be seen dancing and taking videos of people until the shoot began.  
Hearing this, the hosts joked that Lee Joon Gi is an acting machine. The actor responded that it is thanks to his accumulated experience that he is able to do so.
10. Made his Hollywood debut in Resident Evil: The Final Chapter
Lee Joon Gi with Paul Anderson and Milla Jovovich
Source
In 2016, Lee Joon Gi made his Hollywood debut in Resident Evil: The Final Chapter. 
In an interview with Yonhap News, the director, Paul Anderson, said that he first became aware of Lee Joon Gi because of one of his action videos on YouTube. The director immediately contacted his agency to cast him in the upcoming movie. 
Source
However, the actor initially declined the offer because his schedule was packed due to another production. He also felt that he had no prior Hollywood experience. Paul Anderson continued to request Lee Joon Gi to appear in the movie, and Lee Joon Gi eventually agreed.
Also read:
20 Kim Soo Hyun Facts Including His Friendship With IU And Suzy, Cameos & It's Okay To Not Be Okay News
11. Filming Flower of Evil was not easy
Source
Even for an experienced actor, acting is not always a walk in the park. Lee Joon Gi shared during a press conference for his recent melodrama, Flower of Evil (2020), that filming for the project was not easy. 
Lee Joon Gi's family portrait with his on-screen wife and daughter in Flower of Evil
Source
To him, portraying married life was hard enough as someone who is single. On top of that, he had to portray his character's backstory about human suffering. He also said that the pain and emotions that the couple in Flower of Evil felt when they encountered various emotional incidents were not easy to act out. 
He eventually overcame the difficulty of acting as a husband by imagining himself actually being married to his female lead, Moon Chae Won.
12. Not his first time working with Moon Chae Won
Source
Before reuniting in Flower of Evil, the 2 stars had worked on the Korean remake of Criminal Minds together in 2017. Lee Joon Gi plays Kim Hyun Joon, a detective with the police department and Moon Chae Won plays Ha Seon Woo, an independent female agent. 
He revealed at the Flower of Evil press conference that he always felt it was a waste to simply solve cases with such a competent and beautiful actress. 
13. Acted with Seo Ye Ji in Lawless Lawyer
Source
Lee Joon Gi and It's Okay to Not Be Okay actress Seo Ye Ji starred together in the 2018 drama, Lawless Lawyer. 
Source
The actor showed his support to Seo Ye Ji by sending her a food truck while she was filming  It's Okay to Not Be Okay. The food trucks came with banners and cup sleeves printed with encouraging words written by the actor himself. 
The actor has shown that he is not only a talented actor but a good friend as well. 
14. Wants to work with actress Ha Ji Won
Source
In an interview with Section TV, Lee Joon Gi shared that he has always wanted to work with actress Ha Ji Won (who acted in Secret Garden with Hyun Bin). While he has acted with many talented actresses over the course of his career, he thinks that he would be able to learn a lot from her if given the opportunity.
15. Enjoys listening to BTS songs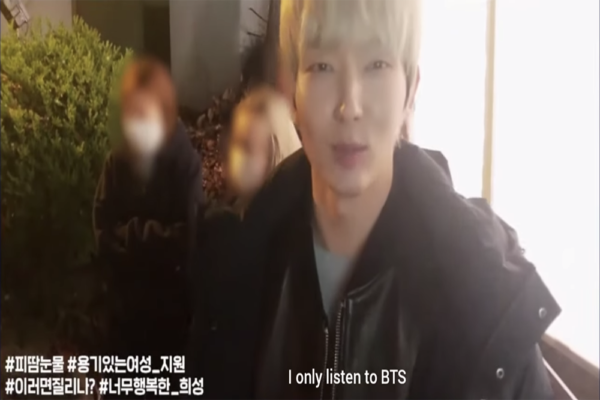 Source
During the filming of Flower of Evil, Moon Chae Won and Lee Joon Gi took part in a mini behind-the-scenes interview. When asked who his favourite BTS members are, he replied saying V and RM. He went on to say that he enjoys listening to Blood, Sweat and Tears as well as all their latest songs, and that their songs put him in a good mood while driving.  
16. He has 2 chihuahuas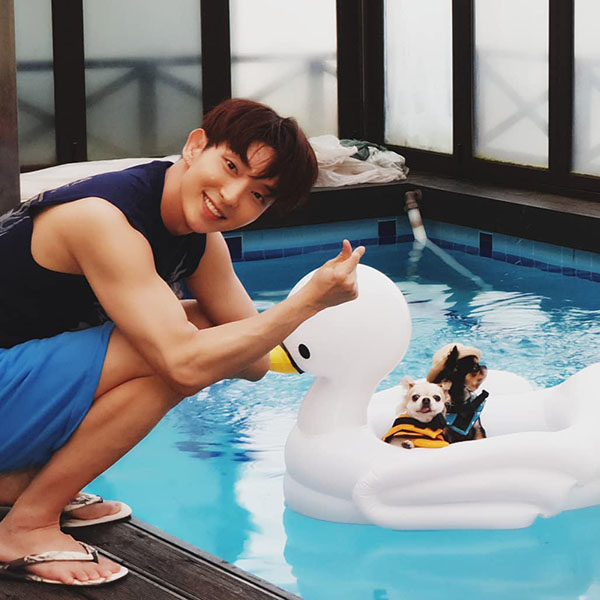 Source
It seems like Lee Joon Gi is a dog lover as he has 2 chihuahuas named Ggabi and Jjoonie. The doggos frequently appear on his Instagram feed. 
17. Learnt a different dialect after moving to Seoul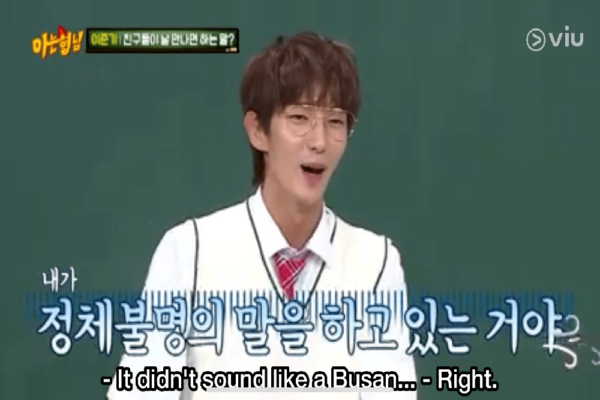 Source
On Knowing Bros, Lee Joon Gi told the hosts that he moved to Seoul at the age of 20. After moving to Seoul, he had to learn to speak in Gyeonggi dialect (aka Seoul dialect). Having grown up in Busan, he was used to speaking Gyeongsang dialect. 
To South Koreans, learning a different dialect is akin to learning a foreign language. While working as a waiter, he observed the customers and started practising speaking Seoul dialect inside the kitchen while waiting for orders to come in. 
Slowly, as he grew accustomed to Seoul dialect, speaking in Busan dialect became awkward to him. Now, when he meets his Busan friends, they always joke with him that he does not sound like he's from Busan anymore.
18. Was a marksman in his army days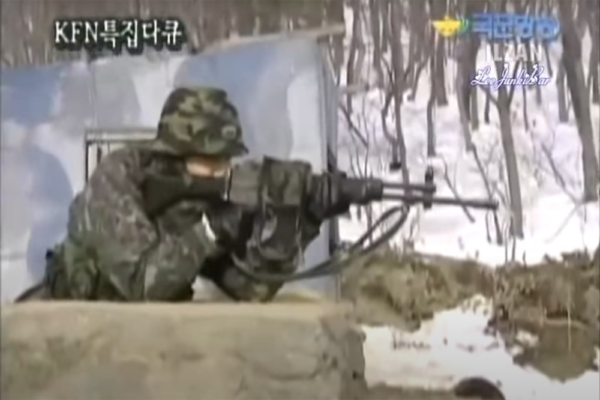 Source
Lee Joon Gi's KFN documentary revealed that he was a captain and Promotion Team squad's designated marksman while serving his mandatory military service. In order to become his squad's designated marksman, he practised a lot. Shooting is an activity that he enjoys and he feels that he is the coolest when he shoots. 
19. Is an introvert
Source
Even though Lee Joon Gi may seem outspoken during his interviews or on variety shows such as Running Man and Knowing Bros, he is actually an introvert. 
The actor posted a screenshot of his results from the 16Personalities test on his Instagram account, revealing that he belongs to the INFP-T personality group. 
According to 16Personalities, INFPs are usually "quiet, open-minded and imaginative, and they apply a caring and creative approach to everything they do." 
20. Loves to wind down at the end of the day with a glass of beer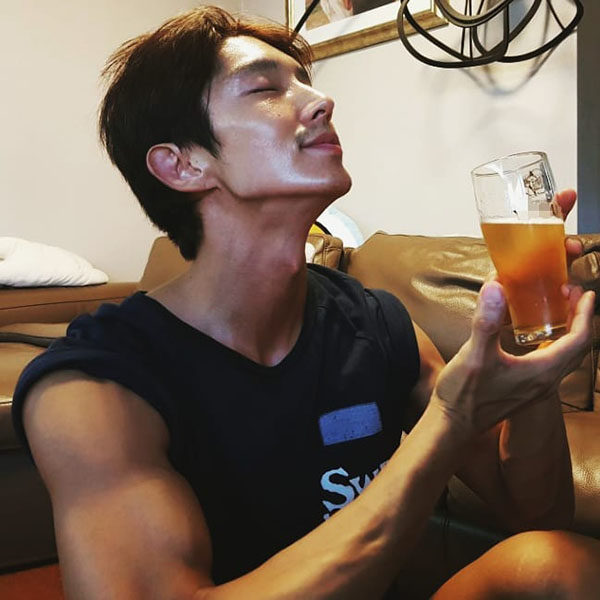 Source
In an interview with The Smart Local Korea, Lee Joon Gi declared that he likes to end his night by drinking a can of beer. 
During an Instagram Live session, he also shared that when he gets back home from work, he enjoys watching movies with his sister while drinking a glass of beer. 
21. Wants to try a rom-com next
Besides being the King of Sageuk, Lee Joon Gi is also widely known for his action scenes. When asked to choose between action or romance during an interview with ONEtvasia in 2017, the actor picked action. He explained that he's wanted to act in action roles ever since he was young. He also wittily said in a separate interview with KBS Entertainment Weekly that action scenes are where the money is. 
Now that he's tried suspense and melodramatic genres, the actor recently told The Smart Local Korea that he would like to take on the challenge of a romantic comedy next. 
These Lee Joon Gi Facts Make Him More Charming
Lee Joon Gi has once again blown fans away with his acting in Flower of Evil. If you have not moved on from his recent drama, fill in the empty void in your heart with these facts. Hopefully, he will be back soon with a romantic comedy K-drama, which he will probably slay as well. 
Also read: 
20 Park Bo Gum Facts Including His Bankruptcy, Upcoming Military Service & New Netflix Drama Record Of Youth