LGBTQ-Friendly Businesses In Singapore
Every June in recent years, it's normal to see brands and companies all around the world launching Pride Month campaigns. From Converse to Disney, it's heartening to see corporations around the world supporting the LGBTQ community.
The same can be said for our local homegrown brands, with many launching Pride initiatives of their own and having their storefronts awashed with pink to celebrate Pink Dot. To celebrate the queer community this year, here are 9 LGBTQ-friendly businesses in Singapore to check out.
1. Heckin' Unicorn – subtle LGBTQ+ accessories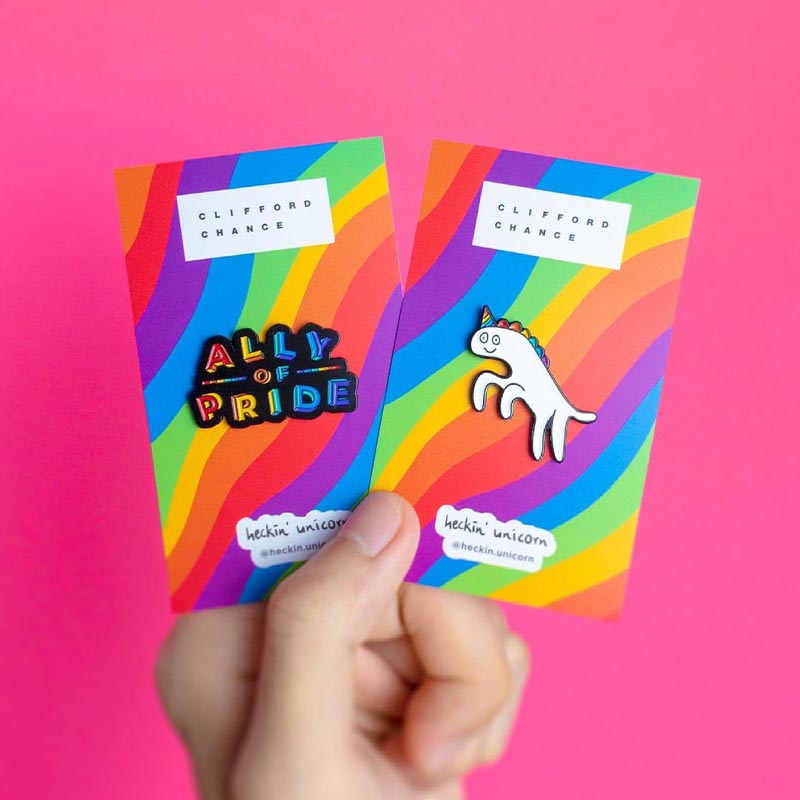 Heckin' Unicorn is a small business started by a local queer designer, Teo Yu Sheng. The brand specialises in LGBTQ-themed merch like socks, enamel pins and notebooks that are more lowkey for those who need to support on the down-low. Plus, the brand also takes the safety of their customers into consideration by packing orders in discreet envelopes.
They can also be described as peak inclusivity with various initiatives including sales on specific items to commemorate trans and pan awareness day. No matter how you identify, there will be specially designed merch to represent you. 
This month, Heckin' Unicorn has also pledged 10% of their profits to 2 local organisations, TransBefrienders and Action for Aids for Aids Singapore.
Website | Facebook | Instagram
2. Prout – pride flags and rainbow merch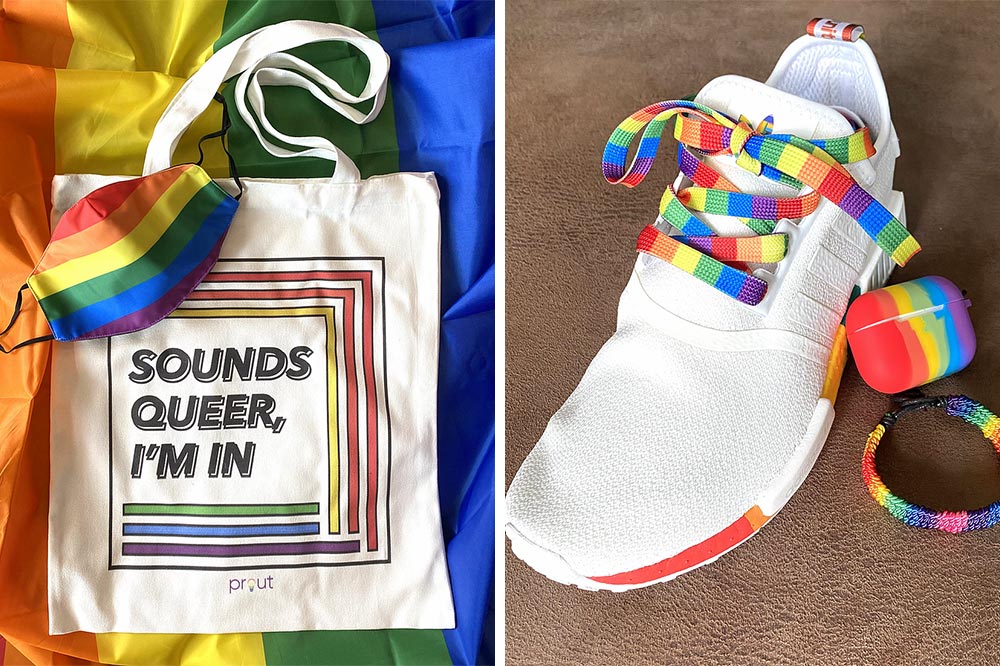 To date, Prout has given away almost $5,000 to various organisations, with more than $2,000 going to TransBefrienders so far this year. Prout originally started as an online networking service to connect members of the LGBTQ community, but has since started their own merch store to support their work. 
Their merch, simply put, is rainbows galore. Those who are #outandproud or want to make a colourful statement in support of the community, this is the store to patronise. Some of Prout's accessories include rainbow masks and laces alongside merch with catchy taglines such as "Sounds Queer, I'm In". 
Be sure to subscribe to their telegram channel for updates on the latest LGBTQ news and events in Singapore. 
Website | Facebook | Instagram
3. The Damn Good Shop – Pink Dot tees and merch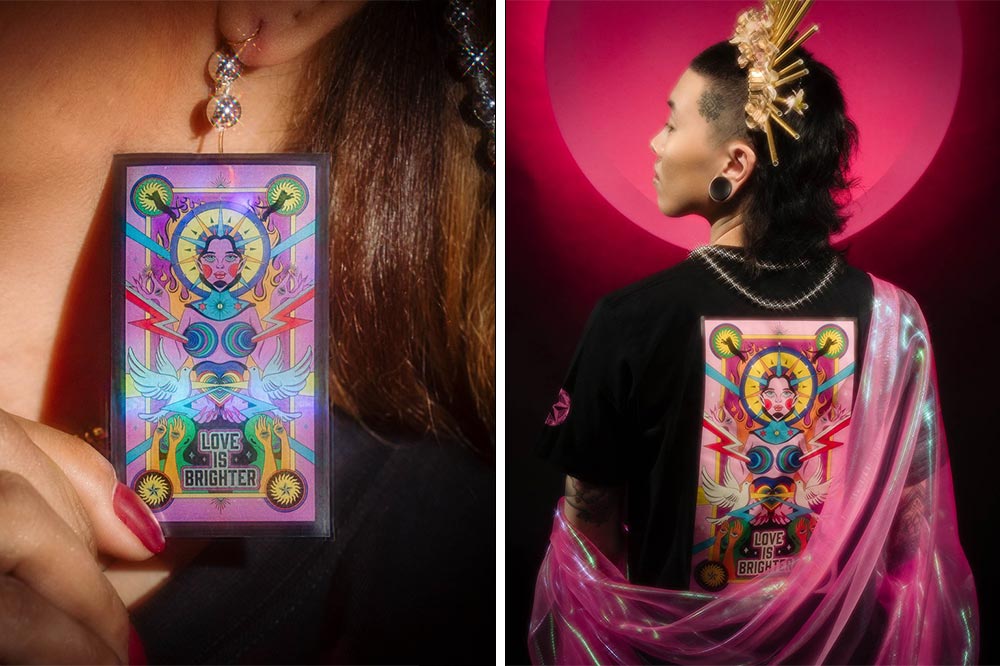 The Damn Good Shop, as its name implies, is damn good at Pride merch. Started by social media marketing agency, GoodStuph, this emporium for made in Singapore items has collaborated with Pink Dot for 3 years and counting. 
Their team-up this year bears the slogan "Love Is Brighter", perfect for not sweating the haters. T-shirts, candles and stickers from this collection feature quirky designs of the fictional "Pink Goddess". All proceeds from the collaboration will go to the T Project, a social service providing support and shelter to our local transgender community. 
Website | Facebook | Instagram
4. Little Sarong – Pride Month face masks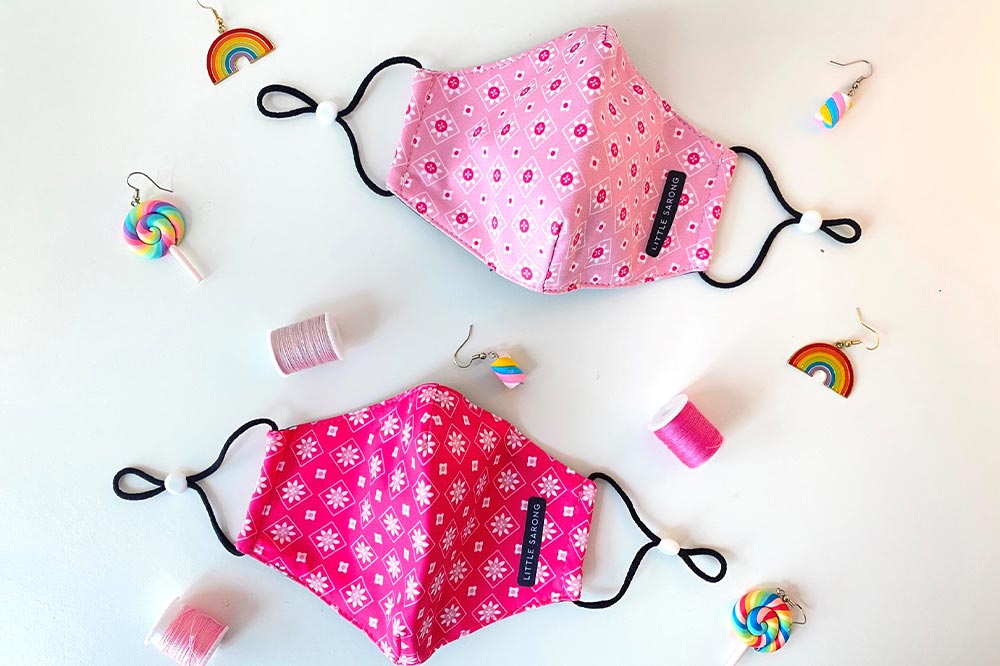 Born out of the COVID-19 pandemic last year, Little Sarong is a small business founded by 2 Singaporean women selling designer face masks. In support of Pride Month this year, they have launched their 2-piece Freedom to Love collection. Both face masks boast simple yet elegant pink floral designs that channel some retro vibes. 
From now till the end of June 2021, net proceeds from the sale of these masks will go to Pink Dot, of which the brand is also a sponsor. And, to celebrate Pride Month, customers can also checkout with the code <PINKDOT10> to enjoy 10% off full-priced items (excluding the Freedom to Love collection). 
Website | Facebook | Instagram
5. Gudsht – Pride-themed bottled cocktails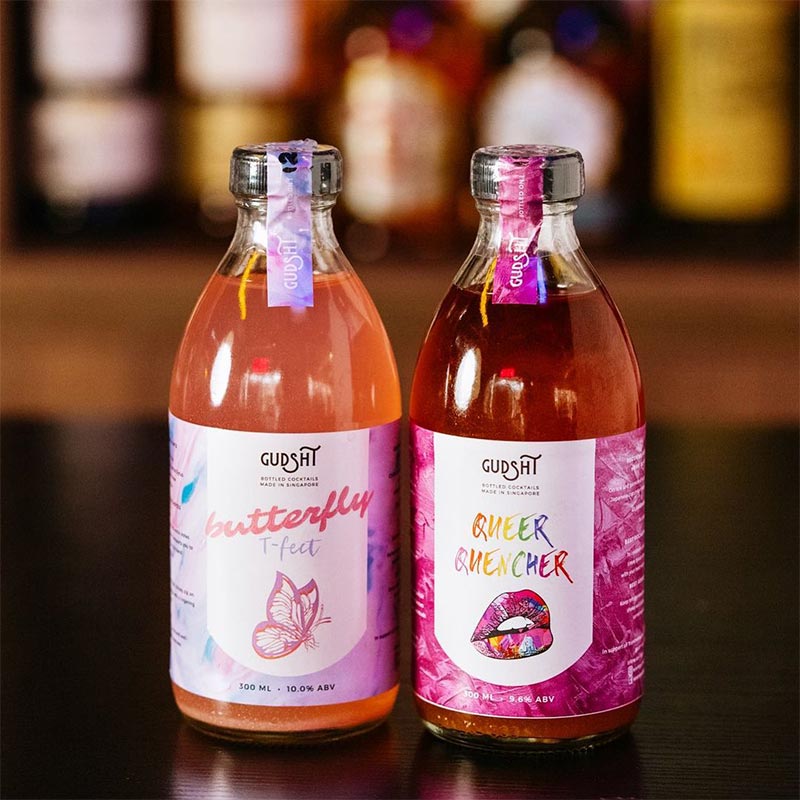 TBH, cocktails might be a fantastic way to celebrate Pride Month. Who doesn't love a good innuendo, am I right? Like Little Sarong, Gudsht is a brand that was started during the pandemic, selling bottled cocktails. 
10% of the proceeds from their Pride cocktails will be donated to TransBefrienders. Queer Quencher has a taste reminiscent of ABC juice while Butterly T-fect gives a zesty citrus flavour. Pop open a bottle of these cold ones and cheers to perhaps a more intimate or remote Pride Month celebration this year. 
You can also show your support for this LGBTQ-friendly business in Singapore by heading down to their physical outlets at Cathay Cineleisure Orchard or King George's Avenue. 
Website | Facebook | Instagram
Also read: 
7 People In SG Spill The Tea On Dating In LGBTQ+ Communities In Singapore
6. BooksActually – local queer literature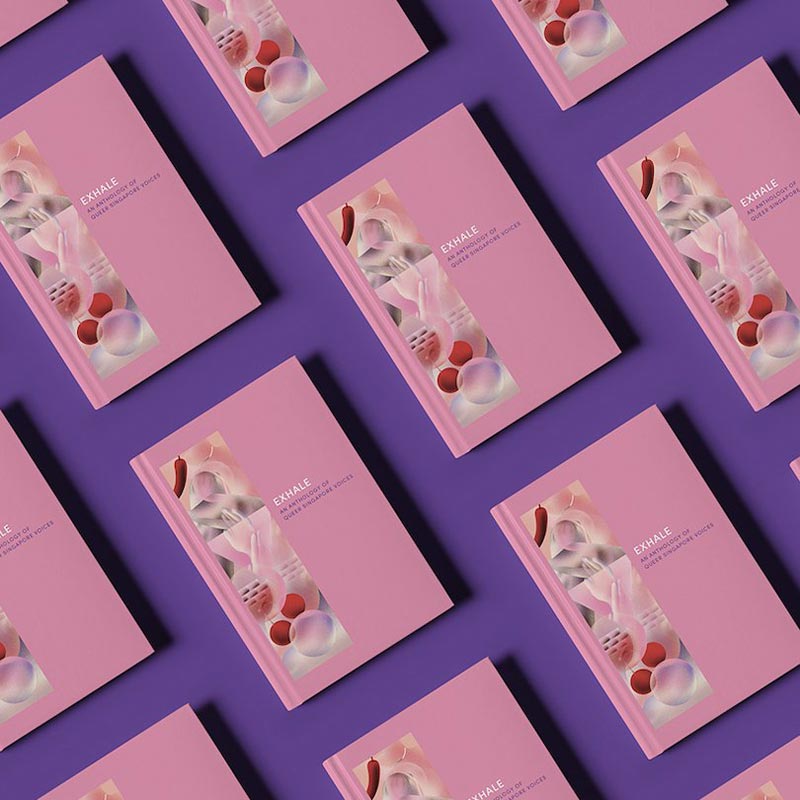 Avid readers, people on Singapore's bookstagram scene, and singlit lovers will be familiar with BooksActually. Formerly located in hipster-friendly Tiong Bahru, this local indie bookstore is now based fully online and is an excellent source of more obscure texts.
That includes queer literature, especially those of the local assortment. One book worth checking out is EXHALE: An Anthology Of Queer Singapore Voices, a recently published text on LGBTQ discourse and stories in Singapore. 
BooksActually also has a history of organising events for Pink Fest, an annual festival to celebrate the local LGBTQ communtiy. If you're looking to expand your knowledge or learn from LGBTQ voices through prose, BooksActually is the place to go. 
Website | Facebook | Instagram
7. TOMSCOUT – Chest binders and masculine underwear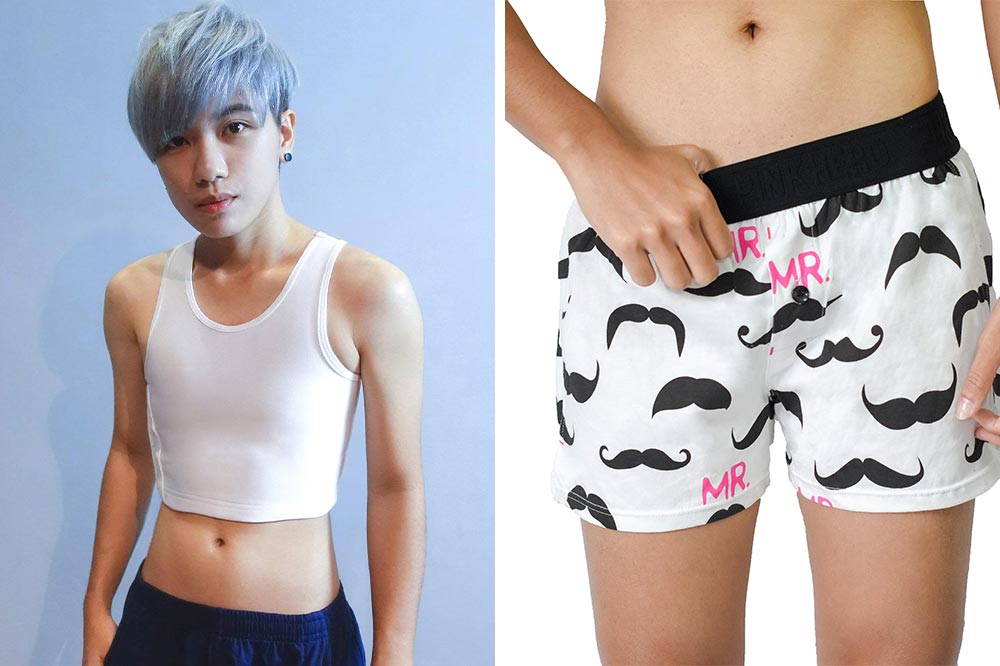 Feeling truly comfortable in our own bodies can take a lot of work, and for some in the LGBTQ community, it's a reality that is especially difficult to achieve. TOMSCOUT recognises this, making it their mission to help their customers cope with body dysmorphia. 
Established in 2016 by a non-binary founder, TOMSCOUT is a trusted place to source forchest binders. These products help to smoothen out chests so anyone who wants to feel more at-home in their own skin can do so comfortably and safely. 
Aside from chest binders, they also sell "masculine-designed underwear in traditionally women sizes, focusing on the needs of tomboy, female-to-male, and non-binary customers". 
Website | Facebook | Instagram
8. Minty Roses – embroidered LGBTQ bucket hats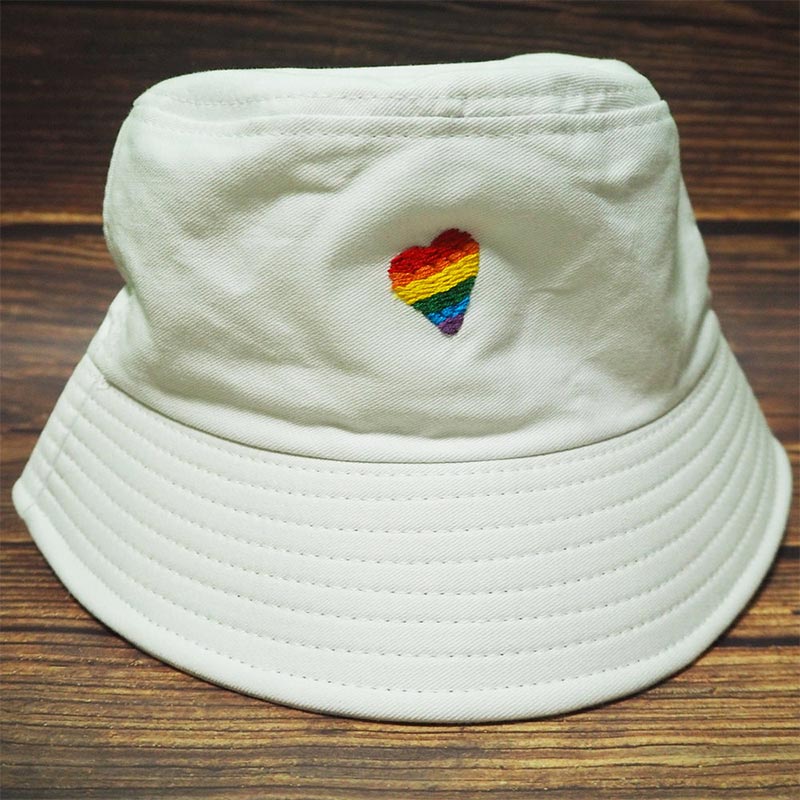 Minty Roses is an online shop selling embroidered apparel hand-sewn by the founder, a young girl named Asteria. Her Pride bucket hats come in 2 colours, black and white, and have a simple rainbow heart emblem stitched in. 
This Pride Month, 10% of the profits from the bucket hats will go to the Inter-University LGBT Network, which connects organisations across Singapore's higher education institutions. 
9. Outside Store SG – rainbow-themed sandals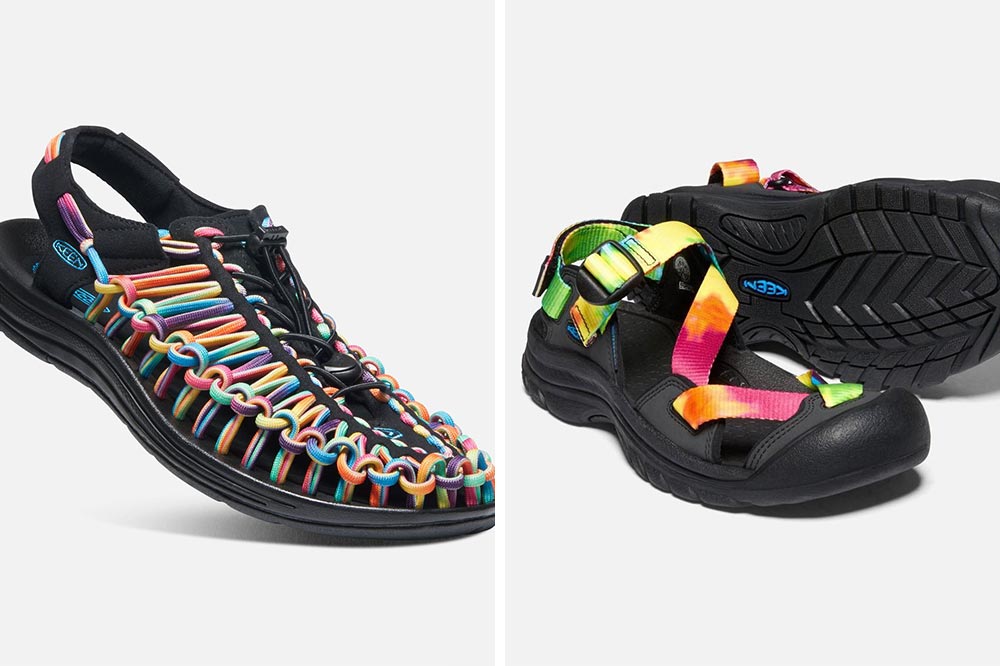 Adventure kakis, there's some Pride items for you guys too. If you're still on a trekking high from the pandemic, Outside Store SG is worth checking out.
The outdoor lifestyle brand just started retailing rainbow tie-dye-themed sandals from KEEN, an American footwear company. Cute, sturdy and functional, these sandals will be the perfect companion to rep Pride while exploring the great outdoors. 
Website | Facebook | Instagram
LGBTQ-Friendly Businesses To Support And Shop From
Safe to say, many of our LGBTQ-friendly businesses in Singapore contribute back to organisation that support the queer community. This Pride Month, check out these LGBTQ-friendly businesses in Singapore to cop awesome rainbow-themed merch and support the community at the same time. 
While you're at it, be sure to tune in to Pink Dots' livestream on 12 June 2021 and sign up to be a part of this year's virtual pink dot. To take it one step further, you can help to sponsor the event through the Red Dot for Pink Dot movement. 
Also read: 
LGBTQ+ Millennials Spill The Tea On What Being Out In Singapore Is Really Like