LiHO Tumblers
You've probably heard of bubble tea tumblers to sip your drinks from while saving the environment. These tumblers are usually clear or solid coloured. If you've been on the hunt for a unique design to showcase your personality, LiHO Tea just unveiled 2 new tumbler designs that will fit the bill. One of them has a cute strawberry print, while the other features custom artwork by Singaporean artist Howie Kim. 
K-Strawberry merch

Source
As the K-Strawberry drinks are part of the BBT chain's most popular series, LiHO Tea has introduced strawberry-themed merchandise. This includes a limited-edition bubble tea tumbler with red and white strawberries for fans of the fruit. This way, you'll be able to enjoy your K-Strawberry Latte and K-Strawberry Jing Syuan drinks in a tumbler that represents what you're having. 
The K-Strawberry tumbler is retailing for $19.90 and can be found at LiHO locations islandwide.
If the tumbler is not enough to display your love for strawberries,  LiHO has also launched reusable cup holders and an EZ-Link card for you to travel with when the outlet nearest to you does not have the drink you want.
Also read:
UNIQLO Is Collaborating With Beauty In The Pot & LiHO So You Can Show Your Love For Hotpot Plus BBT
LiHO x Howie Kim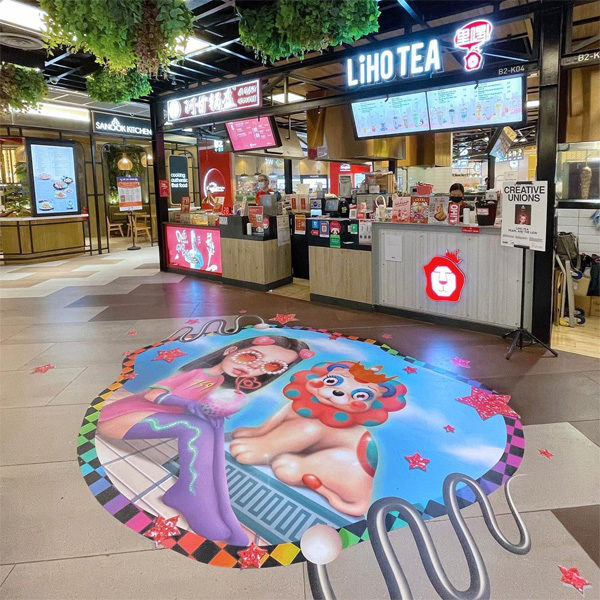 Source
As part of Funan's Creative Unions campaign, Howie Kim has partnered with LiHO TEA for an illustrated tumbler, as well as a floor art installation at the drink store's Funan outlet.
Howie Kim is known for using multiple mediums, from Photoshop to paint and more, to create surreal pieces of art that blur the line between reality and fantasy. His works are a commentary on millennial culture, and nothing says "Singaporean millennial" more than enjoying a cup of bubble tea.

Source
Howie's "Pearl and The Lion" artwork also makes an appearance on LiHO TEA's first artist-designed tumbler. The tumbler is completed with a black and red ombre background interspersed with sparkly red stars.
The artsy tumbler by Howie Kim is now available for pre-order on eCapitaMall for $39.90. There are only 50 pieces up for grabs. The tumblers will only be ready for collection by the end of February, so there will be a bit of a wait before you get your hands on it.
LiHO TEA Tumblers Let You Drink Bubble Tea In Style
Stay environmentally friendly and stylish with these bubble tea tumblers and accessories from LiHO. For more information on the K-Strawberry merch, head over to LiHO Singapore's Instagram page. 
If you'd like to check out more of Howie Kim's works, drop by his Instagram page to take a look at his whimsical and kitsch art and edits. 
To find out more about Funan's Creative Unions campaign, visit CapitaLand's website to see if any more of your favourite brands are featured. 
Also read:
This Aesthetic Bubble Tea Tumbler Lets You Have Your Pearls And Save The Environment Too