Louis Vuitton Cafe
From aesthetic to romantic cafes in Singapore, cafe-hopping is almost a national sport for Singaporeans. While it's still unclear when we can start travelling for leisure, here's a new cafe that you should definitely add to your bucket list: LE CAFE V Tokyo, aka the second Louis Vuitton cafe in the world.
That's not all. Housed within the same Louis Vuitton store is the French fashion brand's very first chocolate store. From its beautiful holographic exterior to LV Monogram-inspired food, fans of the brand can literally have a taste of Louis Vuitton here.
The cafe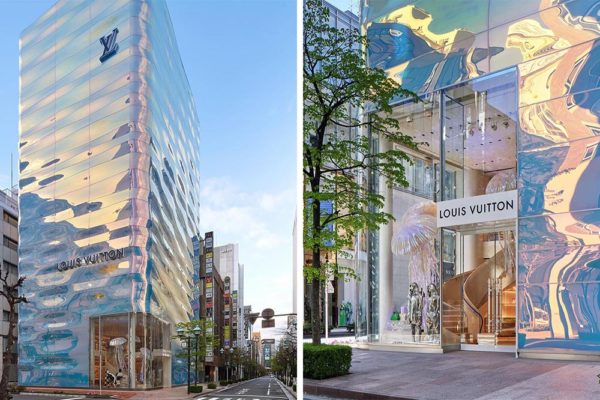 Louis Vuitton's oldest outlet in Japan, located in Ginza Namiki, Tokyo, has finally reopened after a 3-year-long renovation. Designed by architects Jun Aoki and Peter Marino, the exterior of the building looks absolutely stunning, with a shiny holographic gleam that reflects pastel colours in the sunlight.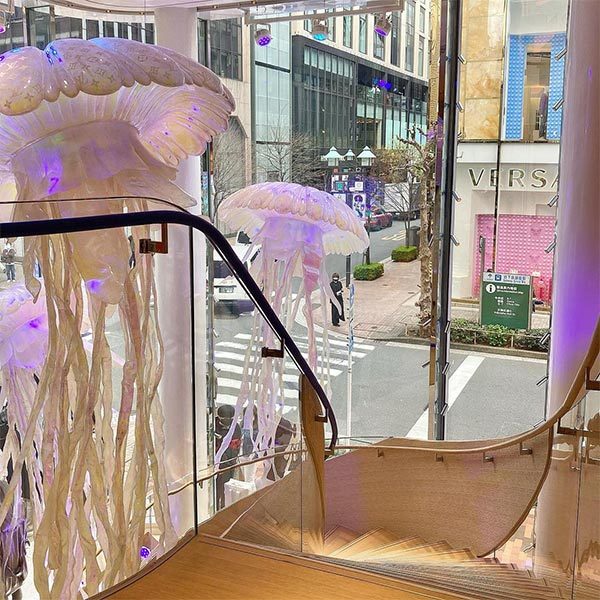 Climbing up the spiral wooden staircase, guests are treated to a beautiful view of Tokyo's Ginza district through the full-length glass windows. Large jellyfish statues appear to light up and float beside you as you make your way up to the cafe.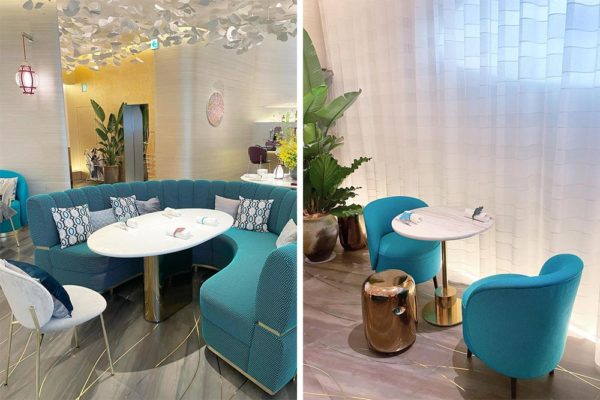 The colour palette of the cafe echoes the water theme, with curved sofas and armchairs in blue, white and metallic hues.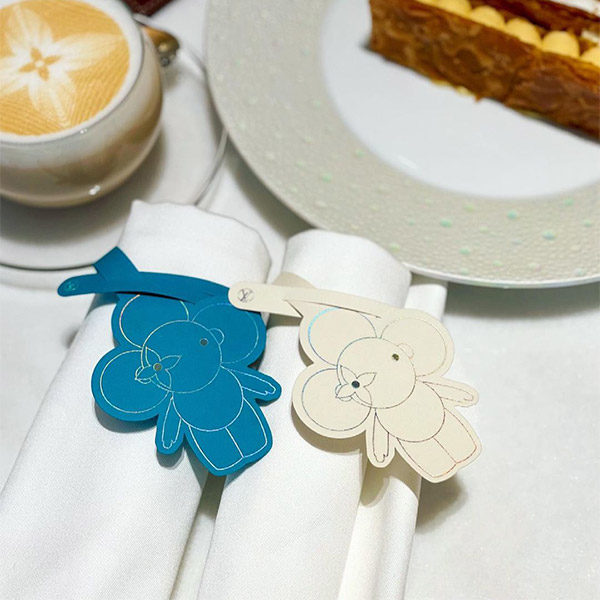 At each table, you'll find cute napkin holders shaped like Louis Vuitton's mascot, Vivienne. The Vivienne napkin holder comes in varying colours, from blue and white to match the rest of the store, to bright orange and dark green.
Also read:
9 First Date Cafes & Restaurants In Singapore With Side-By-Side Seats For Introverts
The menu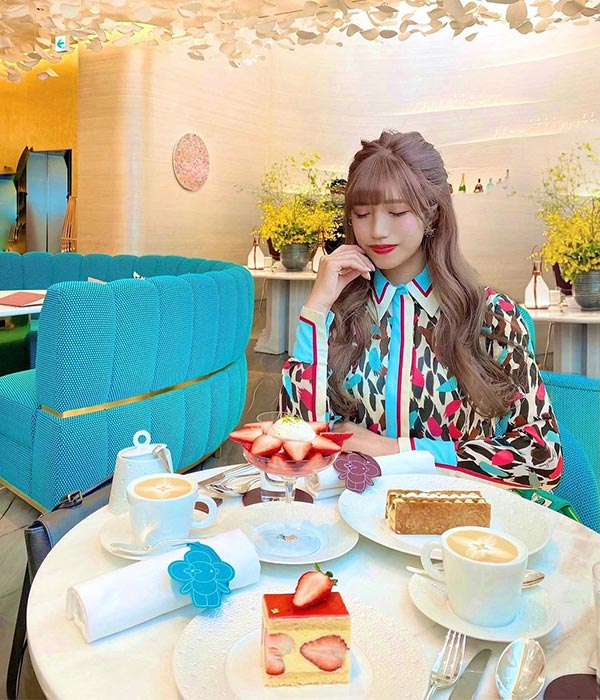 The cafe's menu was curated in collaboration with Japanese chef Yosuke Suga, known for his Tokyo restaurant called Sugalabo. This isn't the first time Yosuke Suga is working with Louis Vuitton. He also curated the menu of the first Louis Vuitton cafe, located at Louis Vuitton Maison Osaka Midosuji.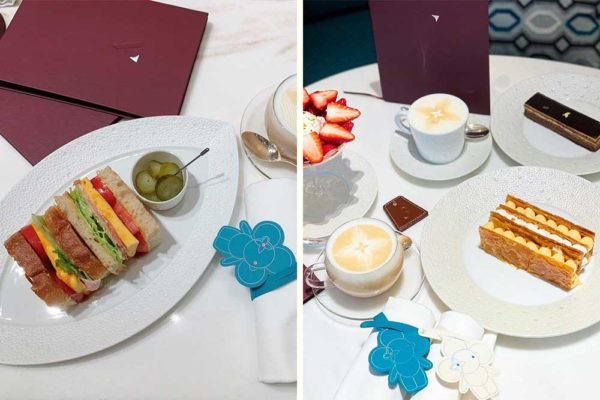 The cafe's offerings include a variety of salads, sandwiches, pastries, sweets and more. From the pictures posted on Instagram so far, it seems like the desserts are the crowd-pleasers. There's a Gâteau Opéra classic (¥2,000, ~S$24.70) for all the chocolate lovers. The Mille-feuille minute, Crème Légère à la Vanille Bourbon de Madagascar (¥2,400, ~S$29.60), which LE CAFE V refers to as its "staple delight", has fluffy balls of yellow and white cream pressed in between layers of delicate pastry.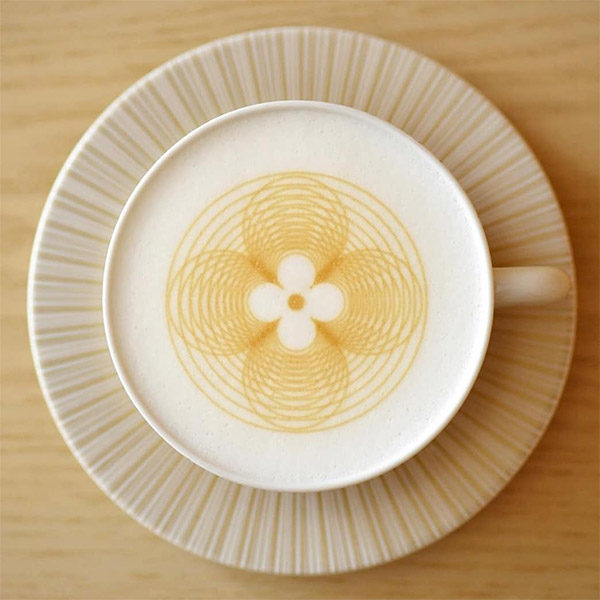 Balance out the sweetness with the monogram-inspired V Café Latté (¥1,800, ~S$22.20), featuring spirals of Louis Vuitton's signature flower as latte art.
Sure, it might be the most expensive cup of coffee you've ever had. But think of it as the most affordable (albeit ephemeral) version of the LV Monogram you'll ever come across too. TL;DR: make sure you take lots of pictures to ensure your money goes a long way.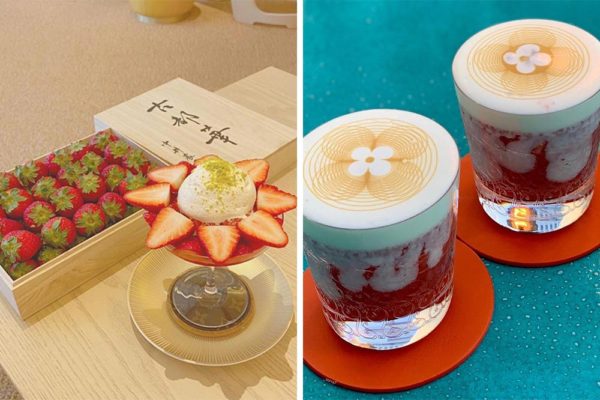 As spring is arriving, this is the perfect season for enjoying ripe and sweet strawberries in Japan. LE CAFE V uses strawberries from Nara, Japan in seasonal desserts like the strawberry parfait (left) and the Saint Germain liqueur cocktail (right).
Chocolate store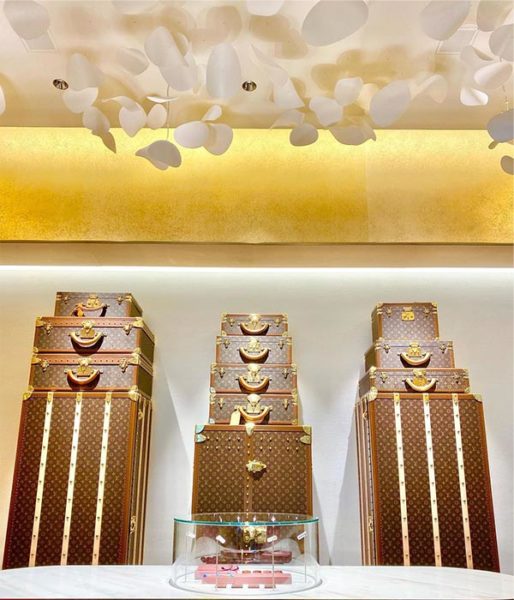 Besides LE CAFE V, the 7-storey building is also home to Louis Vuitton's first-ever chocolate shop.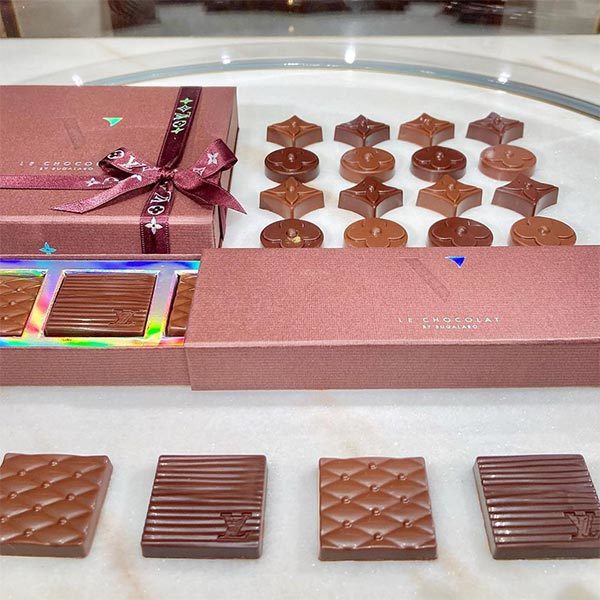 The brand is launching chocolates shaped like its Monogram icons, such as the 4-petal Monogram flower.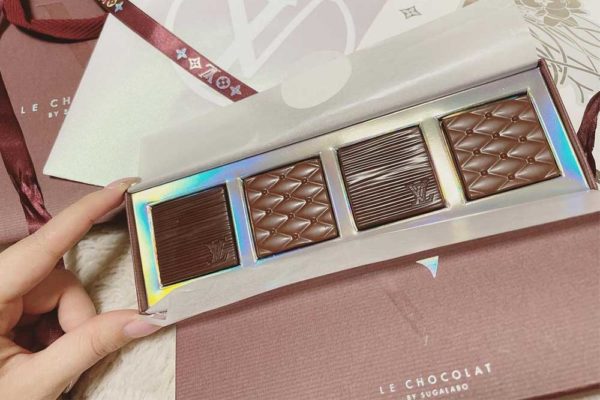 Chocolate squares are also available. But as expected, these aren't your ordinary chocolate squares. The chocolates remind us of mini Louis Vuitton handbags, with the striped one in particular resembling the brand's classic Epi leather. These unique chocolates will only be available at the store from April onwards, and will make for great souvenirs once we can start travelling again.  
Add This Atas Louis Vuitton Cafe To Your Travel Bucket List
While LE CAFE V has yet to open in other countries except Japan, we're sure that your wallet is thanking you for not bleeding it dry for now. If you ever get a chance to visit Japan when the pandemic restrictions have reduced, perhaps you can experience a high-class tai tai life here. Our only advice is: don't stop to think about how much each bite costs you.
Also read:
This Louis Vuitton Bag For Your AirPods Pro Lets You Flex Twice As Hard