Mahjong Underwear
Sometimes mahjong is more than just about the skills – you also need a certain amount of luck to zi mo before ending the game with a bang. While there are mahjong night lights for you to manifest winning luck before a game, why not put on one of these auspicious CNY underwear for even more huat. 
Read on to find out more about these underwear which might become your lucky charm this CNY. 
The designs
Couples who are mahjong lovers would be pleased to know that there are underwear designed with motifs of mahjong tiles. 
Source
Decked in white, you'll find the motifs of mahjong tiles lined up neatly on both the front and back of the underwear. The underwear are available in traditional cuts for girls and boxer briefs for the guys.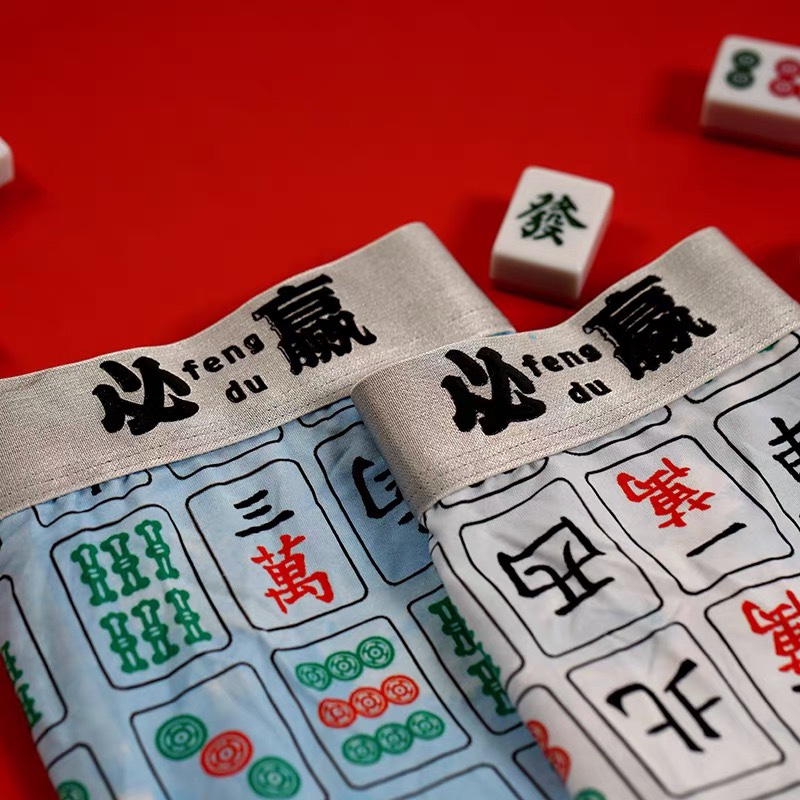 Source
Closing in on the details, the grey band above has a slight shimmer to it and also features Chinese characters with the meaning translated to "must win". When you wear this underwear to your mahjong game, you just might find yourself fired up with the desire to pong and hu to call yourself the winner.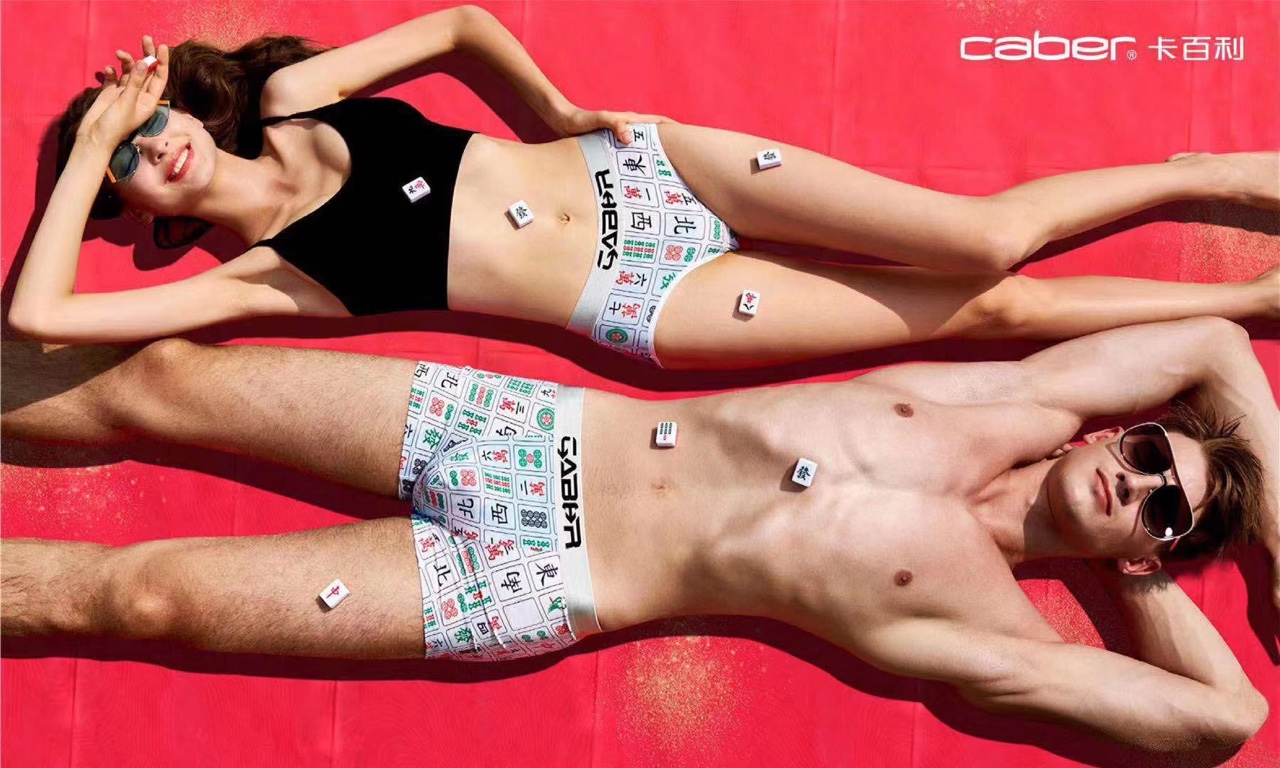 Source
Aside from the mahjong tile design, the underwear also make a cute couple item, especially if you and bae are mahjong fanatics. 
This mahjong underwear retails at RMB47.25 (~S$10) for the guys and RMB35.25 (~S$7.50) for the girls on Taobao. 
For a long time, the superstition of wearing red underwear during CNY is still widely practiced even among the younger generation for greater prosperity. If you're up to earn more huat points either for a round of mahjong or blackjack, these red underwear with Chinese writings might be for you too.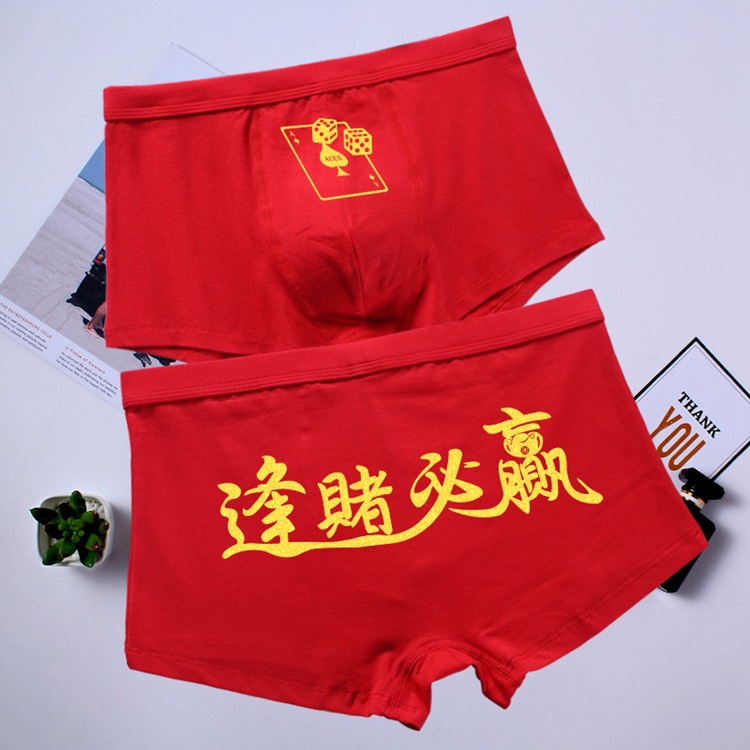 Source
At first glance, this underwear appears subtle as it only has motifs of a poker card and dice on the front. But once you check out the back, you'll notice the Chinese characters that read feng du bi ying aka "every gamble will win" – a loud and bold declaration that you're committed to winning any game.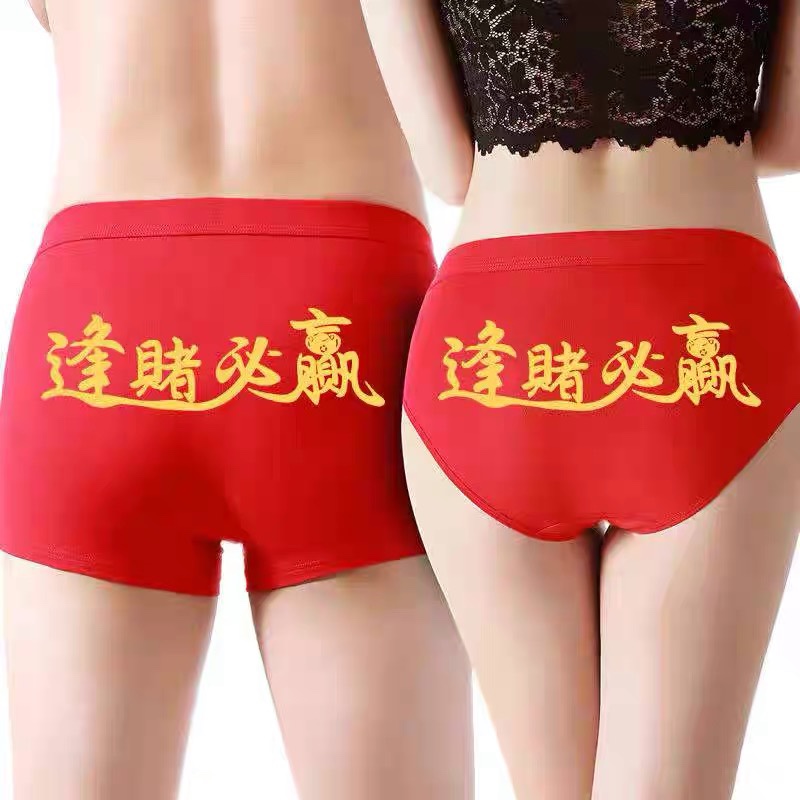 Source
Similar to the previous design, this underwear is also available for both guys and girls.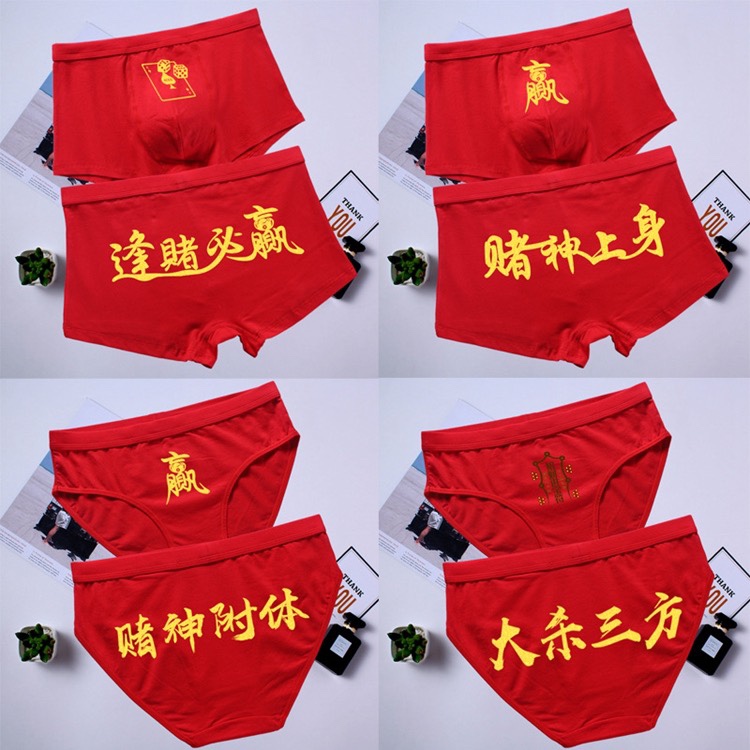 Source
For more options, there are also other designs with different Chinese characters and motifs on the front. One has the Chinese character ying aka "to win" on the front and on the back, it has characters meaning "inviting the God of Gambling for some blessings". 
This mahjong underwear retails at RMB29.80 (~S$6.35) for the guys and RMB28.80 (~S$6.10) for the girls on Taobao. 
Since it is the Year of the Tiger, there are also tiger-themed underwear appropriate for a roar-some time in the bedroom this CNY.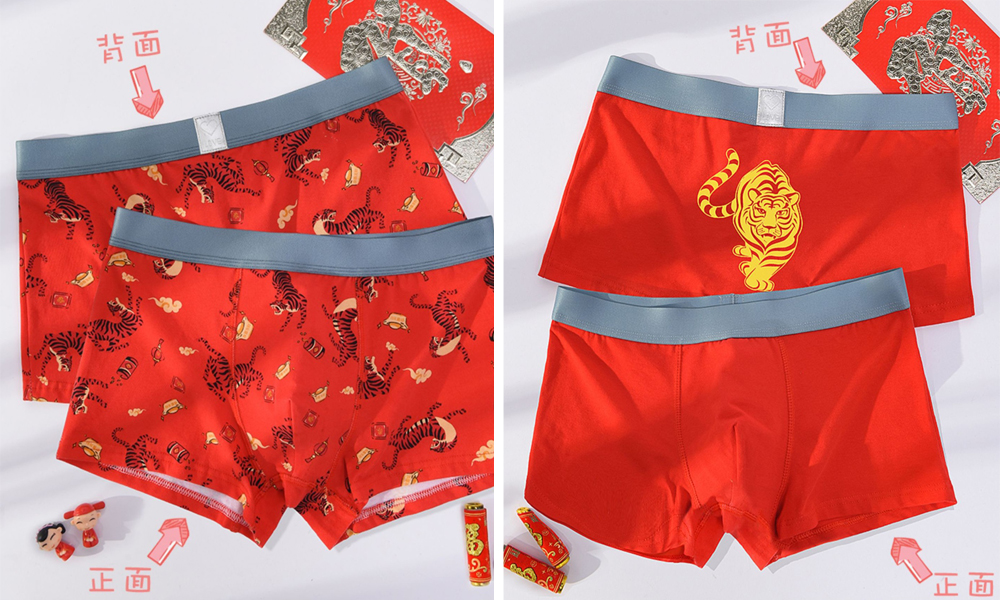 Source
Featuring two designs, both underwear come in red with a grey waistband. The one on the left features motifs of tigers and gold ingots aka yuan bao ‒ a subtle way of drawing yourself some fortune. As for the right design, it is more simple with a yellow motif of a tiger walking on the back.
These underwear are available in a pack of 2 and each pack retails at RMB29.90 (~S$6.40) on Taobao.  
Manifest Your Winning Luck When You Put On One Of These CNY Underwear 
Whether you believe in superstition or not, these CNY underwear could become your lucky charm when you play mahjong or games with your fellow kakis. Even when CNY is over, you can also continue to wear them as a ridiculous matching couple item with bae. 
Also read: 
These Pocket-Sized Mahjong Perfumes Will Give You A Winning Scent When You "Pong" & "Zi Mo"