Marvel x Maybelline
Since Avengers: Endgame and Spider-Man: Far From Home hit theatres in 2019, Marvel fans have been waiting with eager anticipation for their beloved superheroes to return to the big screen. If you thought all you had to look forward to was Black Widow's upcoming release, here's some good news. Marvel and Maybelline have assembled a limited-edition makeup collection.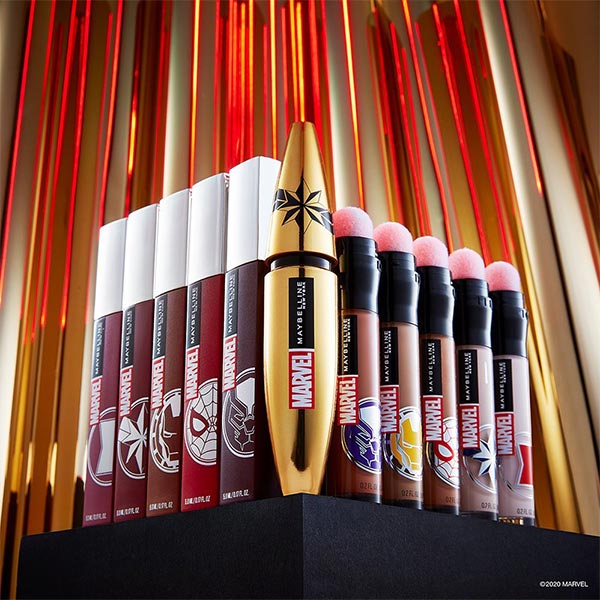 It features 3 of the beauty brand's bestsellers decked out in superhero symbols. Namely, Black Panther, Black Widow, Captain Marvel, Iron Man and Spider-man.
Marvel x Maybelline Superstay Matte Ink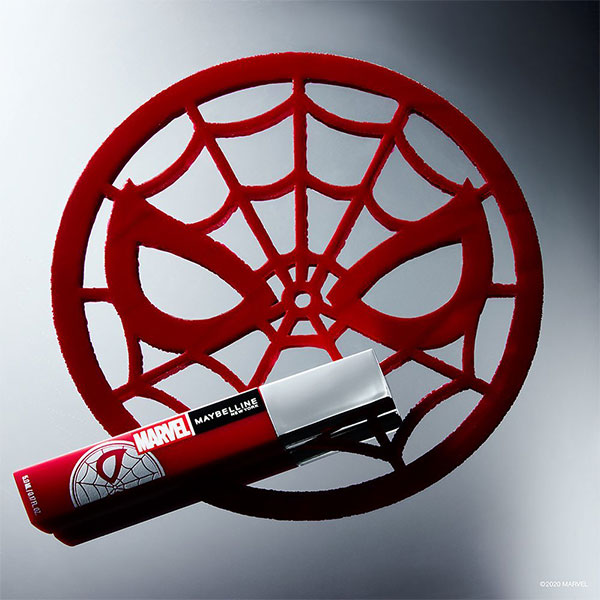 Hands up if you've given up on wearing lipstick cos of how it smudges the minute you put your face mask on. Maybelline Superstay Matte Ink might just be the superhero you've been waiting for. The liquid matte lipstick lives up to its name, with the ability to last for 16 hours. Best of all, it's transferproof.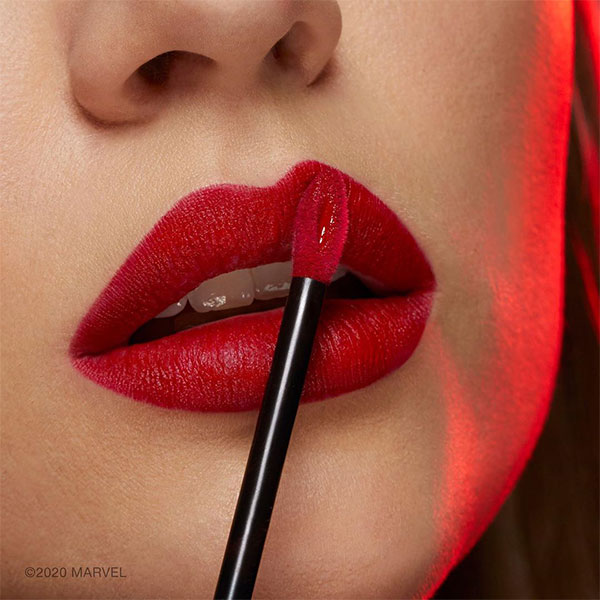 There are 5 super saturated shades in total. Versatile is a, well, versatile coral-meets-nude shade represented by Iron Man. Unlike what you'd imagine, Black Widow is a mauve shade, Lover. Spider-man, of course, is a bright red, Pioneer. Black Panther goes brick red with Groundbreaker, while Captain Marvel's Ruler is a deep burgundy hue.
Also read:
20 Gemma Chan Facts Including Her Upcoming Marvel Film & Crazy Rich Asians 2 Production News 
Marvel x Maybelline Instant Age Rewind Concealer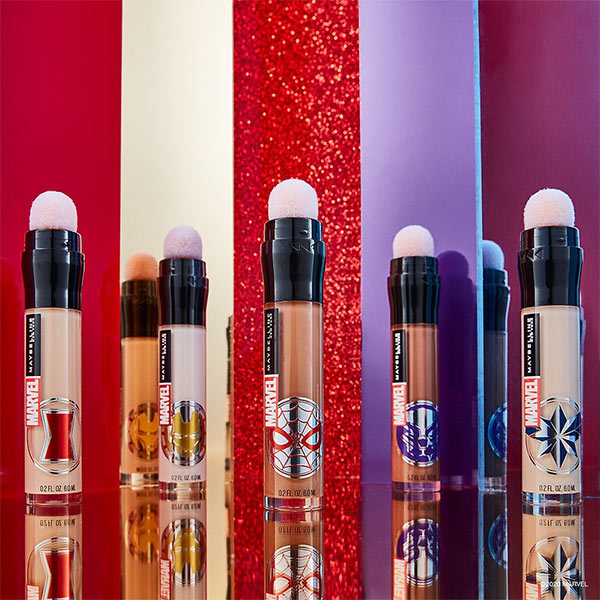 Maybelline's Instant Age Rewind Concealer has been a cult favourite for years. Now, it's undergone a Marvel makeover.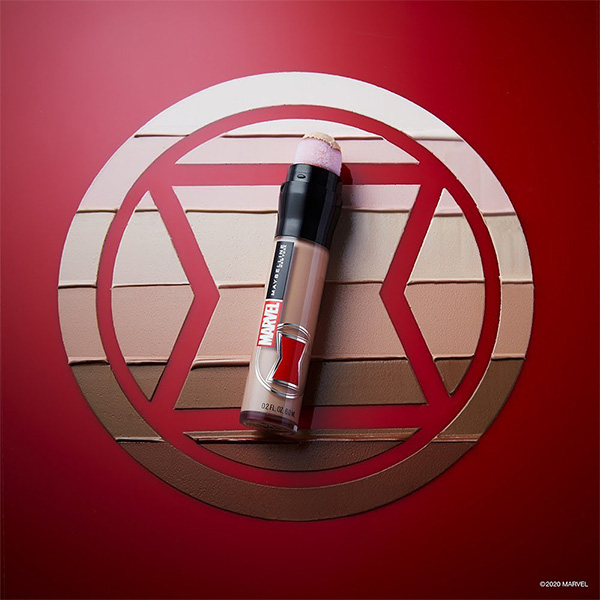 There will be 4 shades to choose from: 110 Fair, 120 Light, 122 Sand and 130 Medium. The Maybelline concealer has a fluffy applicator for easy application. Use it to erase dark circles, hide blemishes and even for contouring.
Marvel x Maybelline Colossal Mascara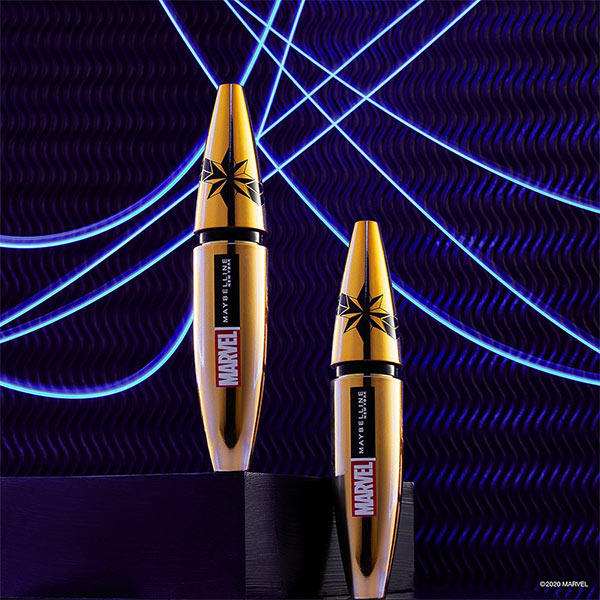 The last Maybelline cult favourite is the Colossal Mascara, which has had a major glow-up. It usually comes in a bright yellow reminiscent of New York's iconic cabs. But since Captain Marvel's symbol is gracing the tube, it is now in a glitzy gold shade befitting of the superhero.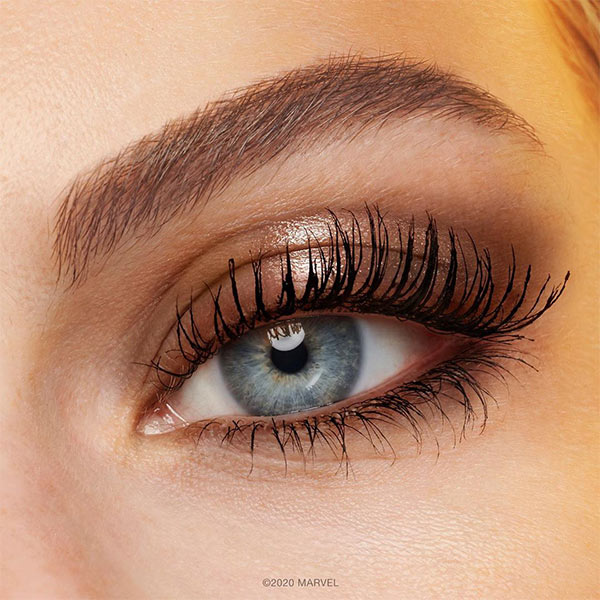 Swipe on the mascara from root to tip for full, voluminous lashes instantly.
The Marvel x Maybelline Collection Lets You Channel Your Inner Superhero
The limited edition Marvel x Maybelline collection is already available on Shopee. The Superstay Matte Ink is retailing for $14.32 (U.P. $17.90). The Instant Age Rewind Concealer and Colossal Mascara are retailing for $15.92 each (U.P. $19.90).
If you'd prefer to check the items out IRL before purchasing them, the liquid lipsticks and concealers will be available at selected Guardian and Watsons stores from 24 August 2020. The mascara, however, is exclusively available online; on Shopee, as well as Watsons and Guardian's online stores.
All images courtesy of Maybelline.
Also read:
9 Girls Tried Maybelline's Instant Age Rewind Concealer To See If It Could Brighten Panda Eyes For 12 Hours