Minions x LINE FRIENDS Collection 
LINE FRIENDS recently gave us a remarkable solution to our nighttime mozzie worries and now, there's a Minion x LINE FRIENDS collection with items to brighten up every aspect of your day. 
You can cuddle up with some loveable LINE FRIENDS dolls and Bob cushions, lounge on foldable yellow chairs and even enjoy a day of golfing with some unique golf accessories. Majority of the items in this collection feature Bob the Minion together with Brown the Bear and Sally the Chicken dressed in snazzy overalls. 
Dolls & Cushions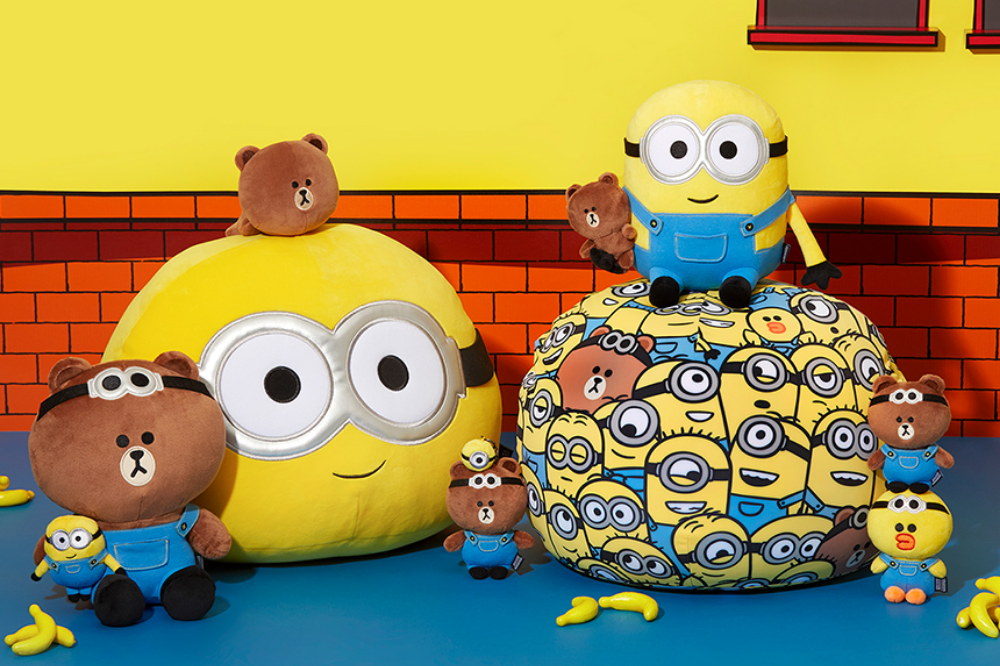 The collection carries its first pop of colour in the form of adorable plushies and cushions that feature Bob, Brown and Sally, so you can get your cuddles in different forms.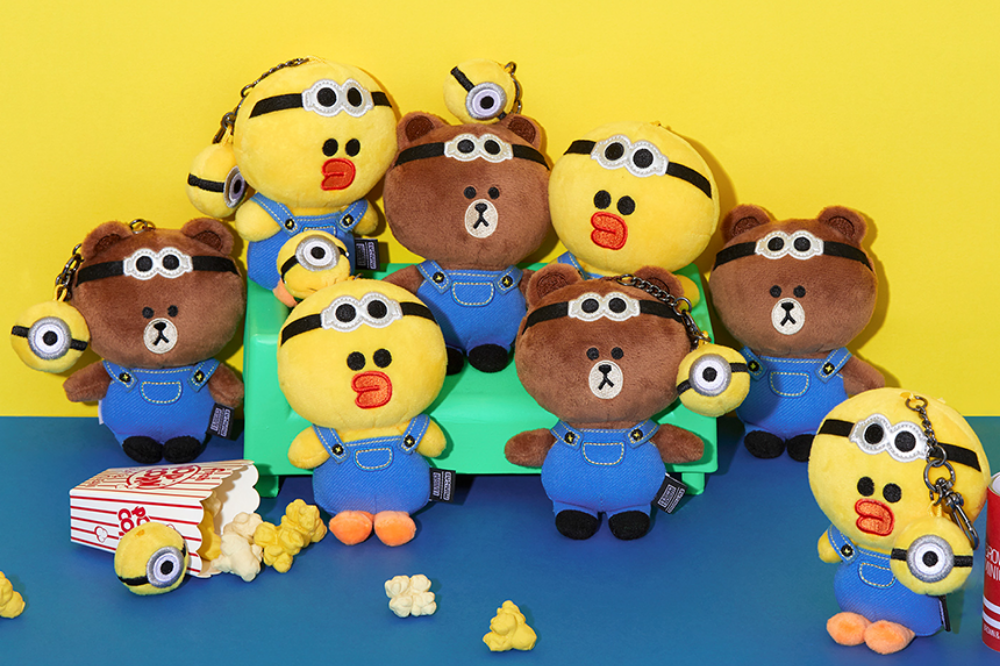 The dolls come in 2 sizes, each with various designs. The first is a mini version of Brown and Sally who in the form of a plush keychain that you can carry around with you wherever you go. The 2 LINE buddies are dressed in recognisable blue-denim overalls, sporting goggles similar to all of their Minion friends. 
The keychain also has a mini Minion attached to keep the LINE FRIENDS duo some company. 
The keychains are priced at 19,000 won (~S$29.40).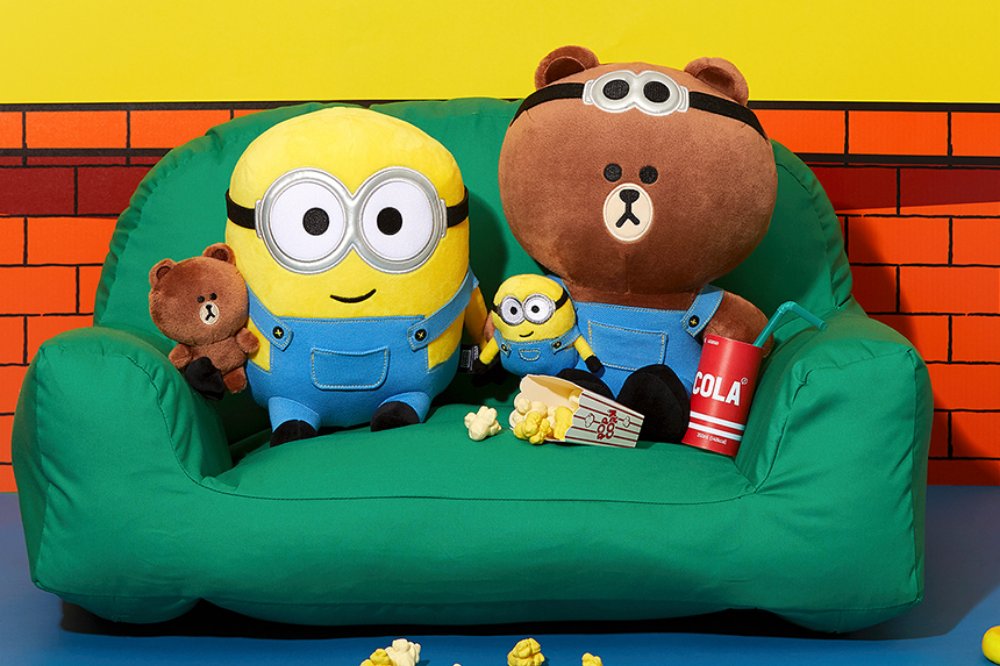 You can also opt for a larger version of the plushies which feature Bob and Brown in matching outfits. While the Minion doll comes holding a mini version of Brown, the larger Brown plushie comes with its own mini buddy in the form of a Minion — exemplifying the true definition of BFFs. 
The plushies are priced at 32,000 won (~S$37.70).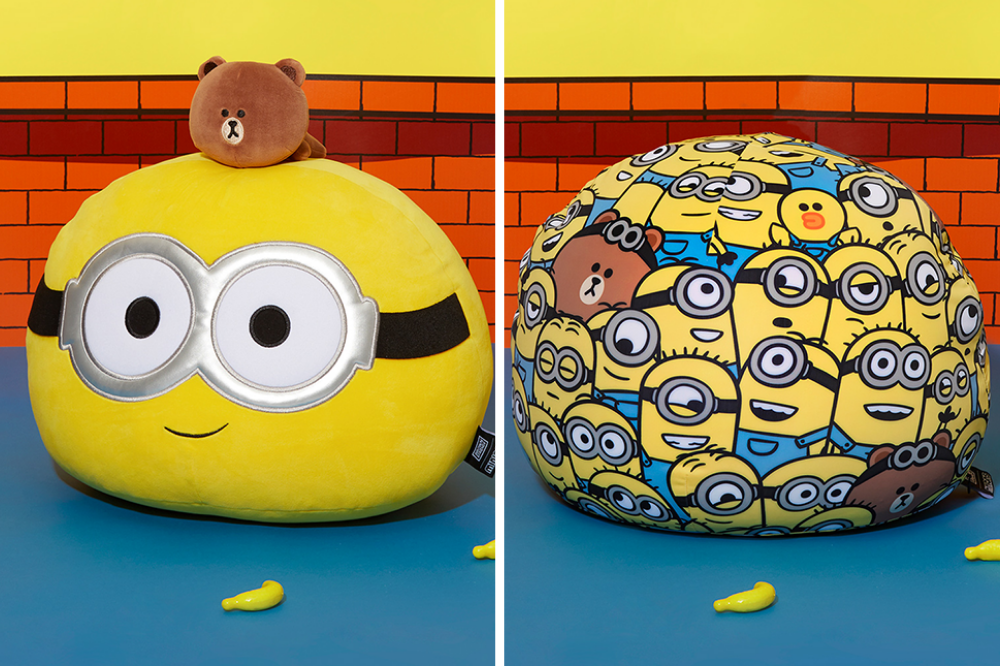 Along with the plushies, there are also 2 cushions, or pouffes, included in the collab. 
Choose between Bob's face on a bright yellow pouffe with a little Brown lying on the top or a pouffe with the whole Minion clan along with buddies Brown and Sally printed all over. 
The pouffes can be used as a spare seat when you're having friends over or even as a cuddle-buddy while relaxing on the sofa. 
It is priced at 45,000 won (~S$53) for the yellow, and 49,000 won (~S$57.70) for the Minion clan version. 
Phone Accessories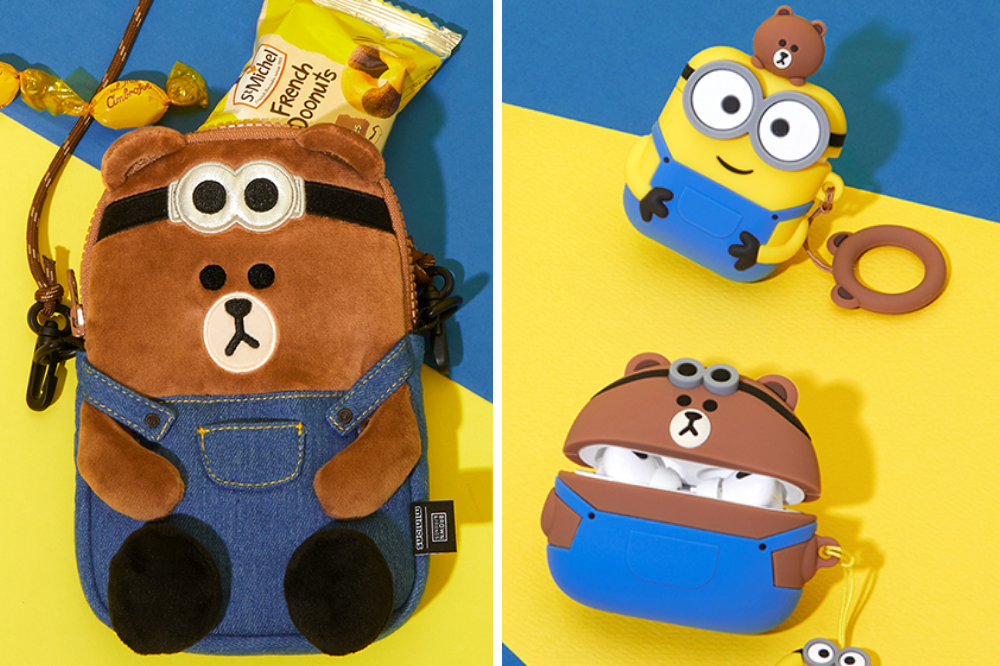 The cuteness overload continues with accessories for your phone, including AirPod cases and mini phone bags that'll help you carry your essentials while adding a dash of colour to your outfits.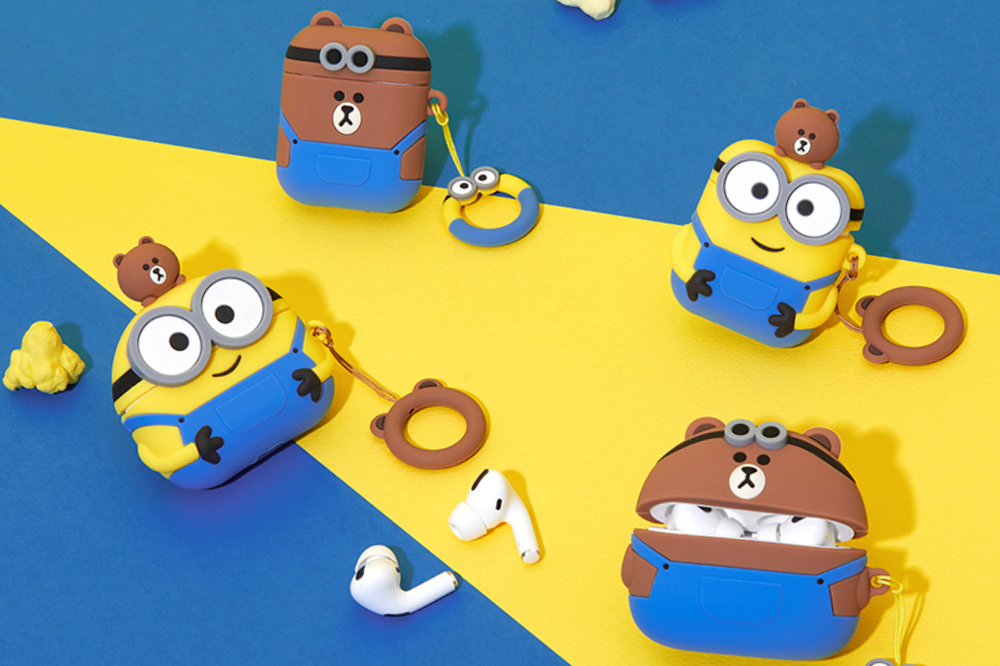 The AirPod cases come in 2 varying designs with sizes for both AirPods 1 and 2. The Minion version of the case includes Bob and mini-Brown nestled on the top of his head. The other version features Brown once again dressed to look like his fellow Minion counterparts. 
All of the cases come with rubber keyrings so there's no need to worry about misplacing them by accident. 
The cases are priced at 17,000 won (~S$20) each.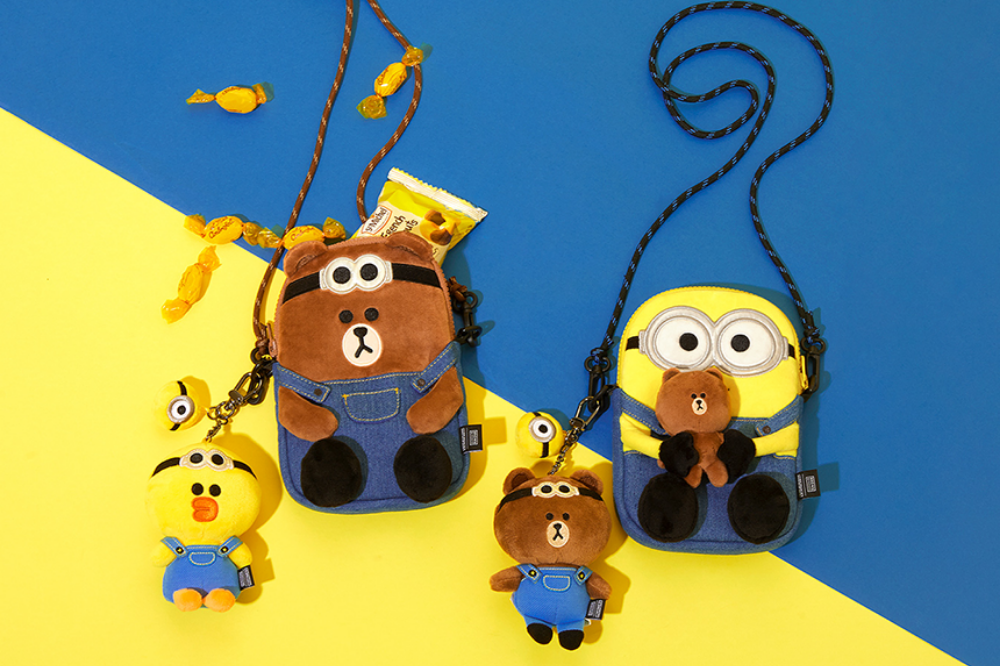 The collection also includes adorable phone bags that you can pair with any look. The phone bag comes in 2 designs similar to the rest of the items in the collection — a Bob design with a mini Brown teddy held tight in his hands and a Brown design with his special Minion get-up.
The bags are priced at 25,000 won (~S$29.40).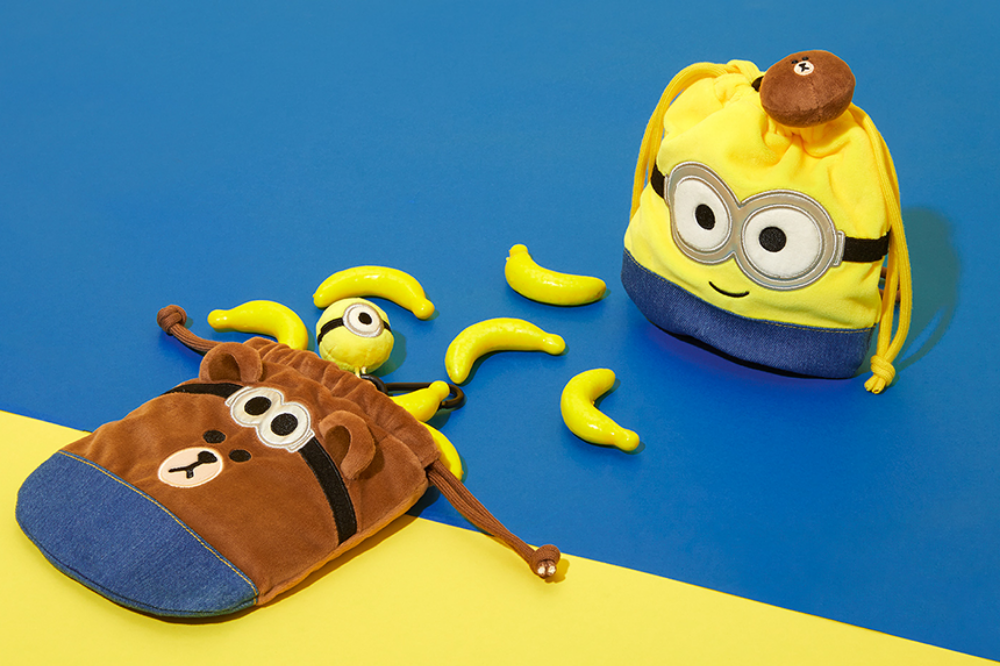 This simple drawstring pouch can be used to carry miscellaneous items that usually get drowned in a sea of other objects in your tote bag. Given the stunningly vibrant designs of the Brown and Bob pouches, you can store your keys inside without the fear of ever losing them. 
The pouches are priced at 16,000 won (~S$18.85).
Tote Bag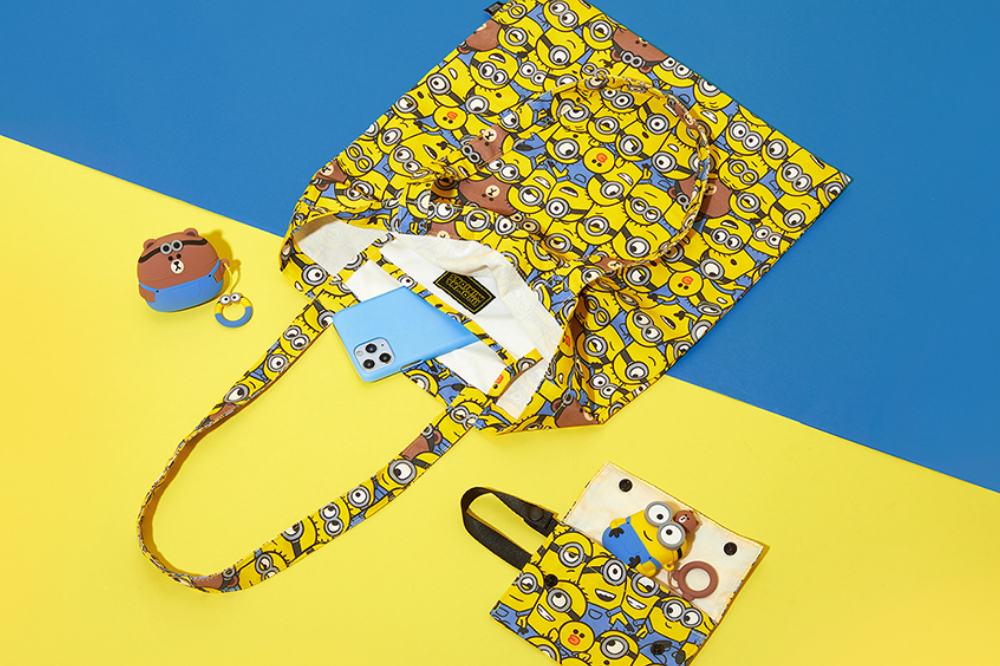 Sticking to the theme, the collection also offers a tote bag and mini pouch duo. Both the items come in a matching pattern, with the Minions and their LINE counterparts printed all over. 
This bag can be used to carry all of your barang-barang from shopping instead of the usual plastic bags, meaning you'll be doing your part in saving the earth in style. 
The tote is priced at 23,000 won (~S$27.10). 
Foldable Camping Chair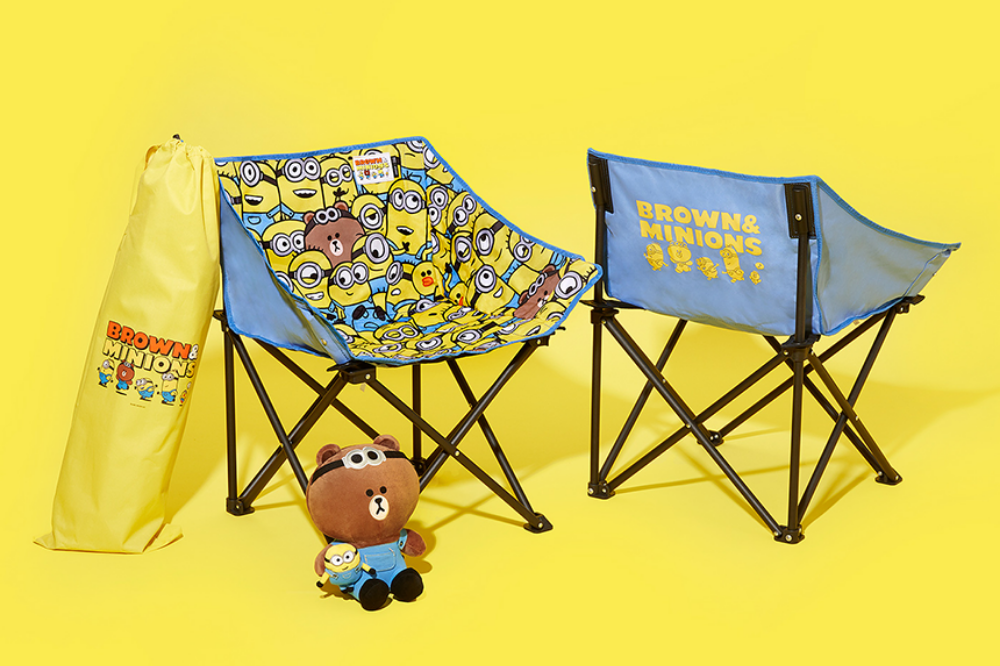 The set also consists of outdoor supplies which include a foldable camping chair with bold prints, similar to the tote bag available in this collection.
The chair can be folded and kept into a yellow carry bag, allowing you to take it out for a calm day at the beach or for an outdoor picnic. 
The chair is priced at 45,000 won (~S$53). 
Carry-on Luggage Bag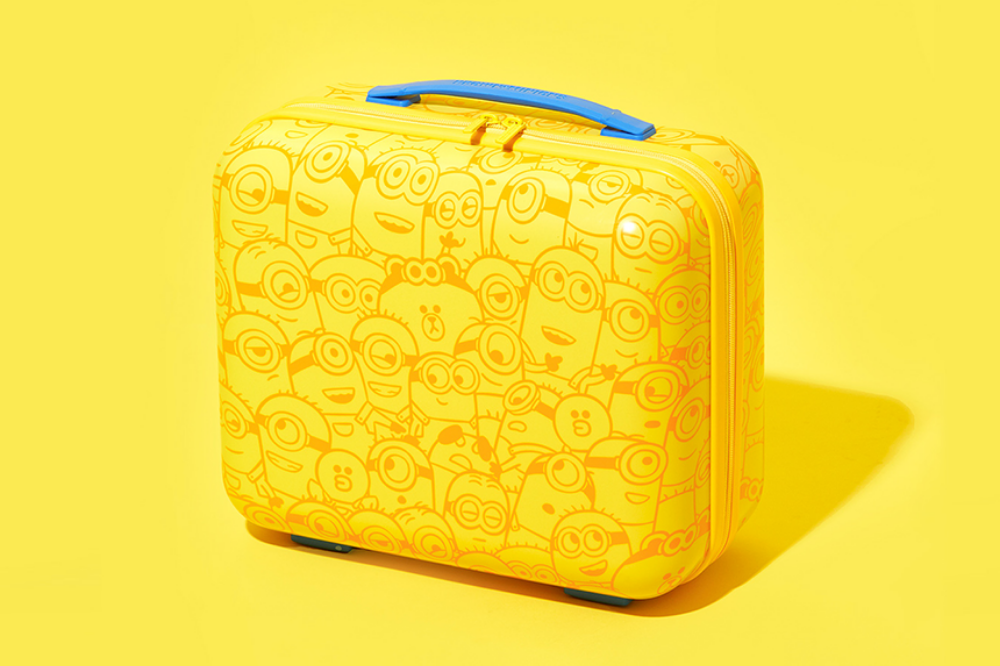 This 15-inch luggage bag is the perfect life-saver to bring on your next staycation. The bag comes in a bright yellow colour with Minions printed all over in orange, giving the bag a subtle contrast.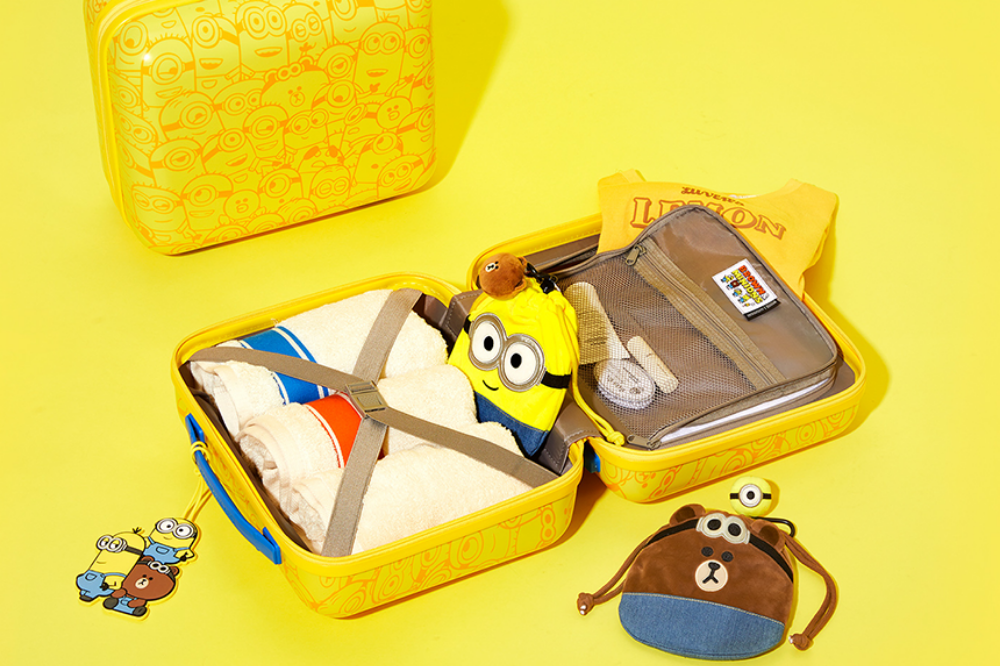 The bag also has compartments that are divided to facilitate all your packing needs — from fitting small cosmetic pouches to your OOTDs for a 3-day staycay.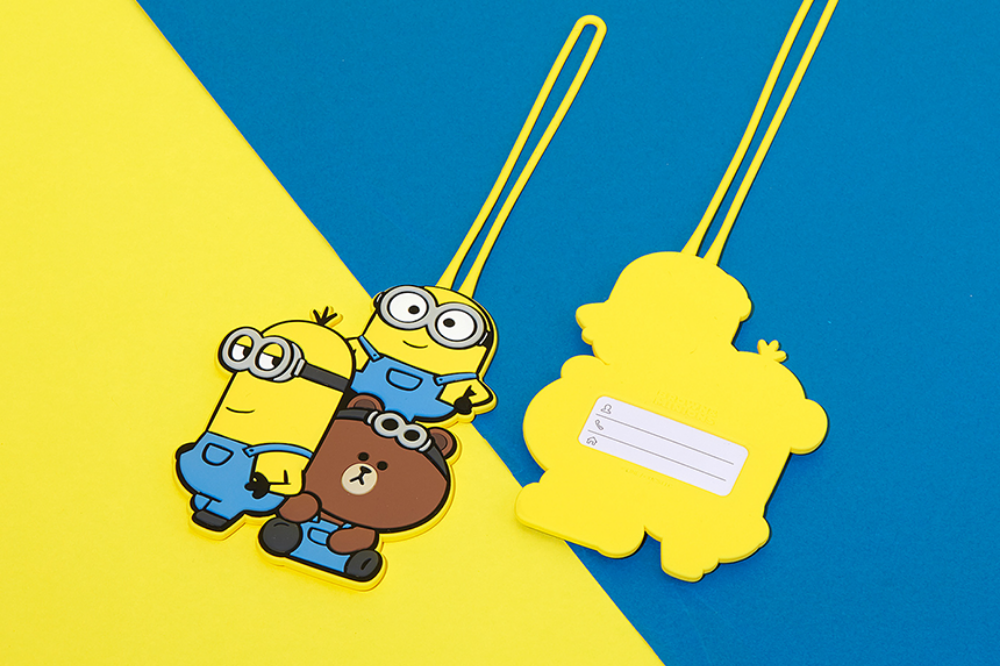 There's no need to even worry about losing your bag as it comes with a bag-tag featuring the trio of cuties Bob, Kevin and Brown, where you can pen down your personal details. 
The luggage bag is priced at 35,000 won (~S$41.20).
Cooler Bag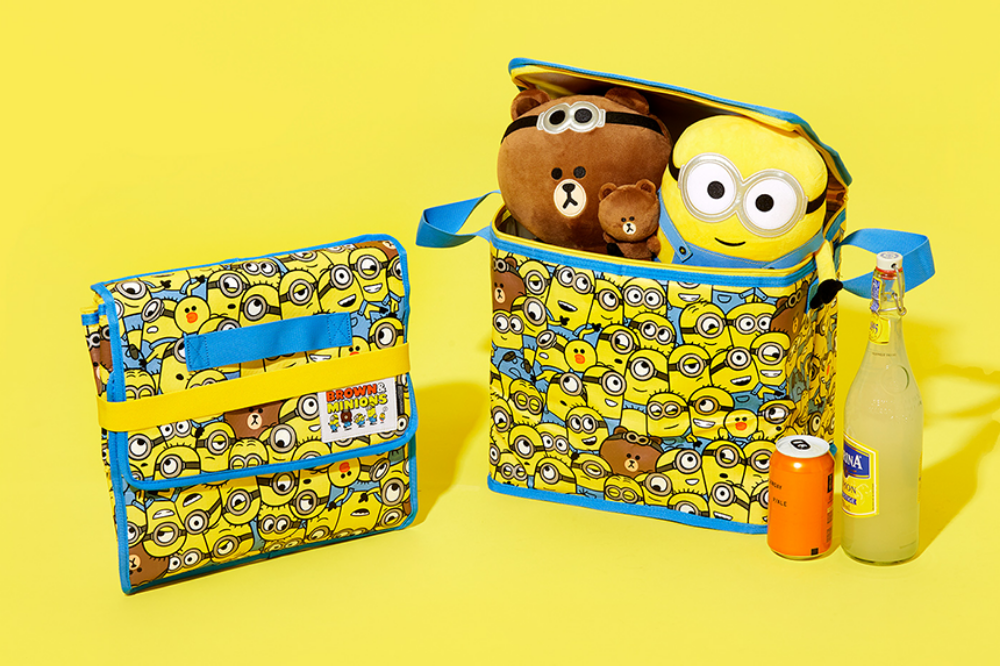 This bright yellow cooler bag helps to keep your drinks chilled while you enjoy a day out with a friend. The cooler bag has prints of Minions all over along with Brown, hiding amongst the crowd of yellow creatures.
The bag can be folded flat so when you're not using it, you can store it neatly away.
The cooler bag is priced at 16,000 won (~S$18.85).
Folding Cart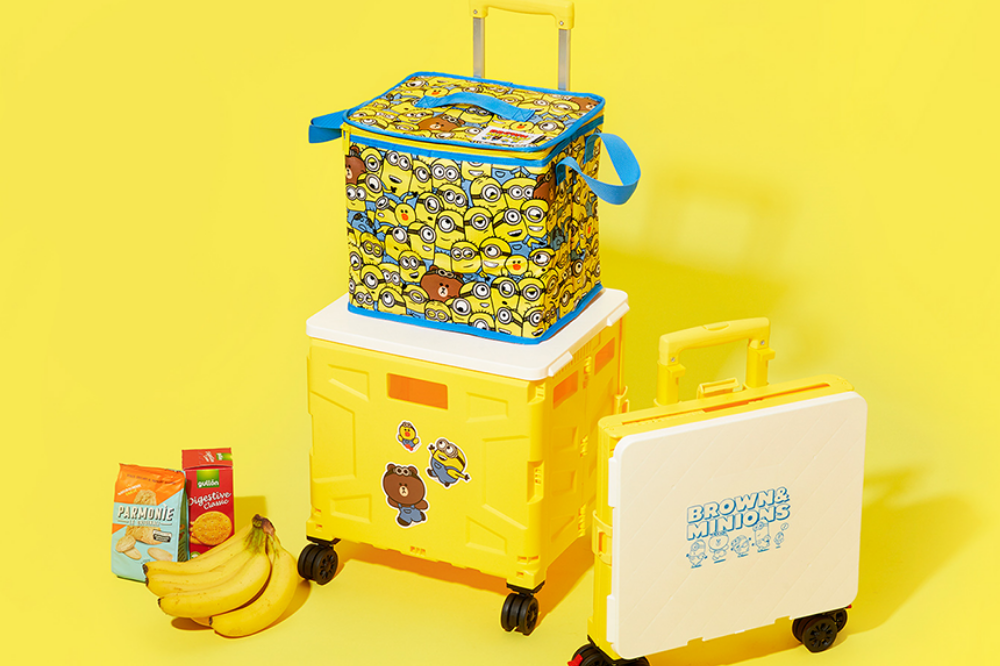 The collection also includes a bright yellow folding cart that triples as a storage box, trolley and make-shift table all rolled into one. The cart has the Minions and Brown printed on the front and a white cover on the top with blue inscriptions of the collections name. 
With 4 wheels and an extendable handle, you can pair this with the cooler bag to carry around bulky drink bottles without breaking a sweat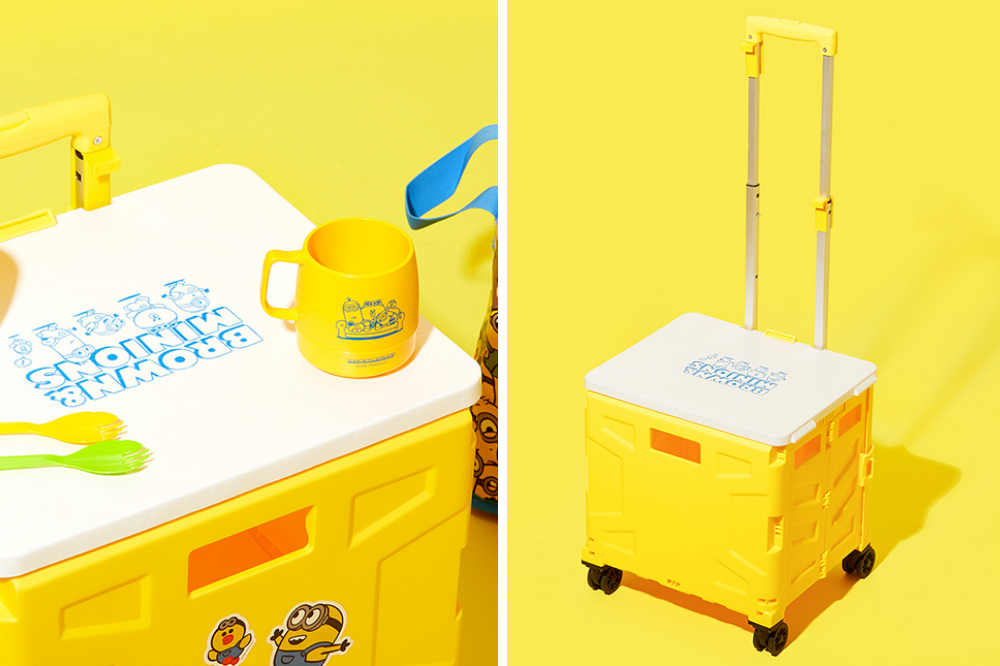 Collapse the handle and voila — you have a makeshift table that you can bring along with you to picnics or other outdoor activities. 
The cart is priced at 49,000 won (~S$57.70). 
Cups & Drinks Markers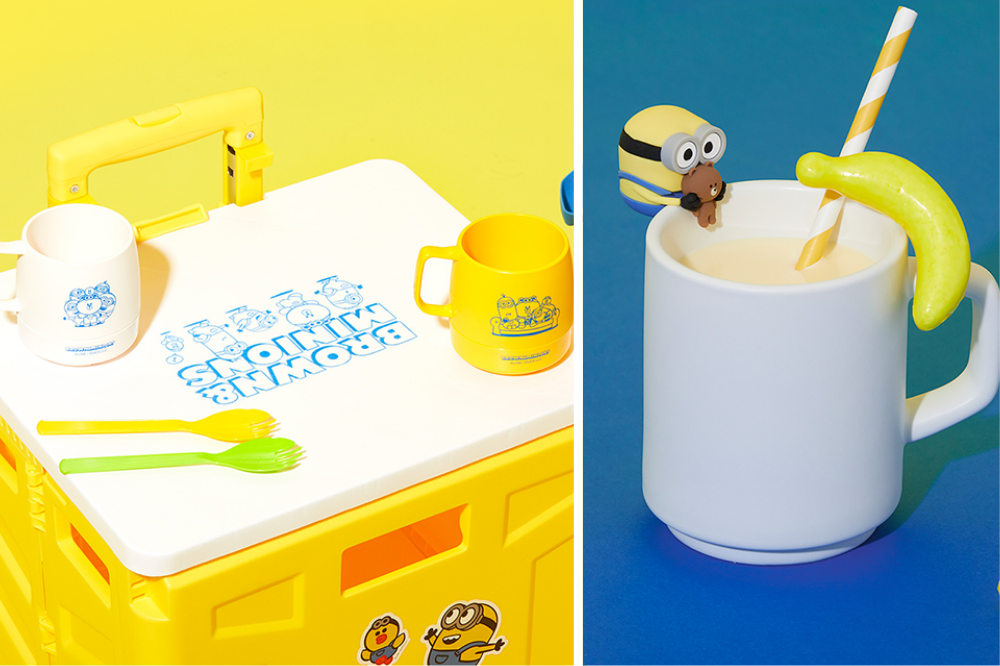 Take a sip with these cups and drink markers that are also a part of the collection.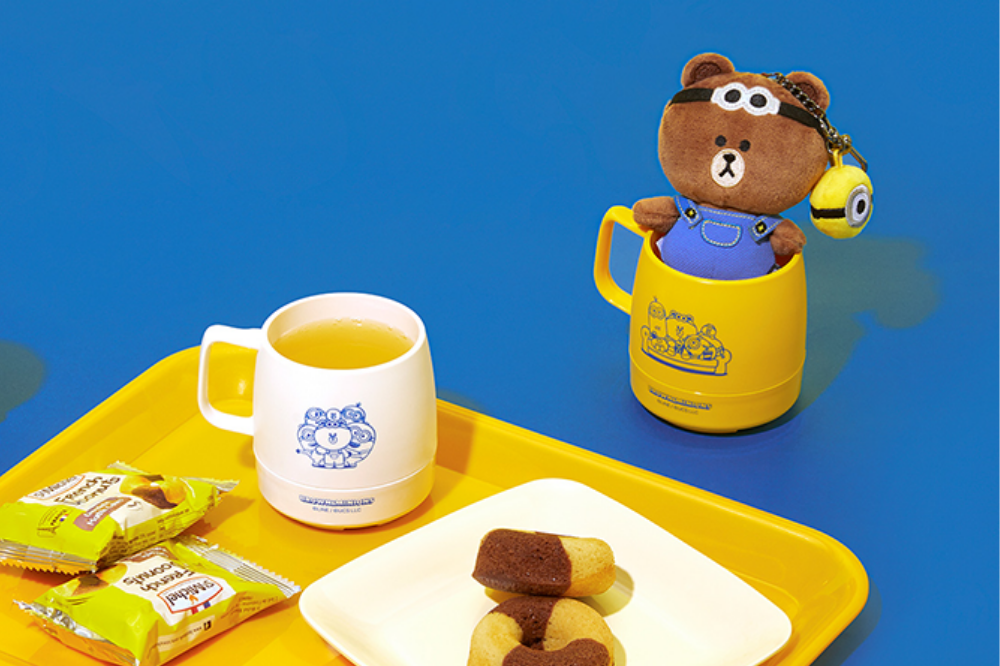 The cups come in 2 designs with a choice of either a white or yellow cup, both with blue prints of the Minions x LINE FRIENDS collection characters. The cups are made of an insulating material that prevents condensation so no droplets will dampen up the surface and leave ugly watermarks. 
The cups are priced at 19,000 won (~S$22.40).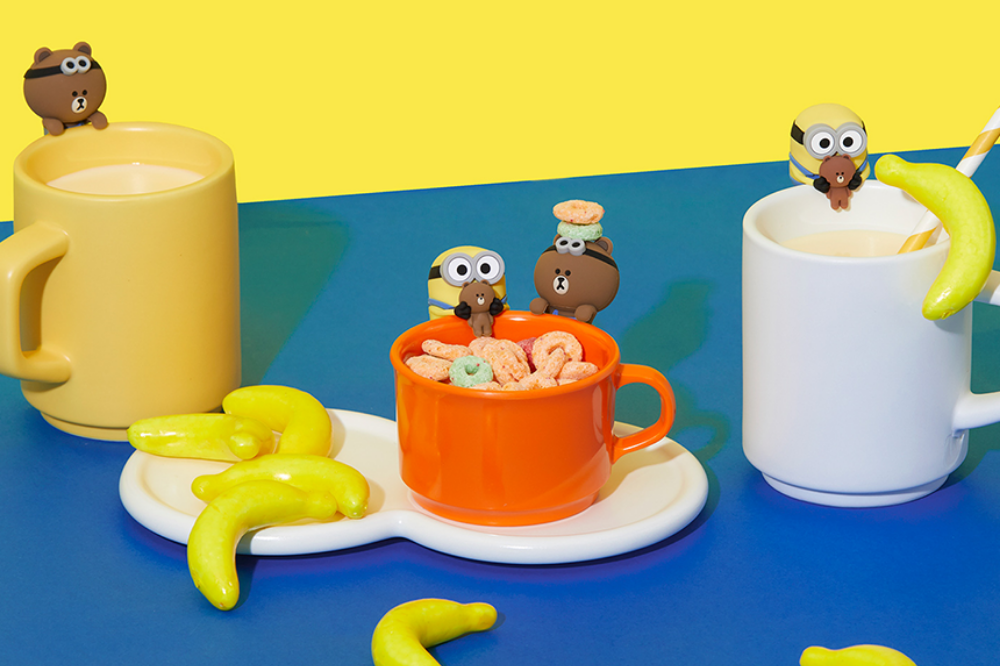 The cups can also be paired with these mini character drink markers that cling on to the rims of cups – a good solution for moms who want to encourage their kids to drink up their milk in the morning.  
The drink markers are priced at 12,000 won (~S$14.10).
Golf Accessories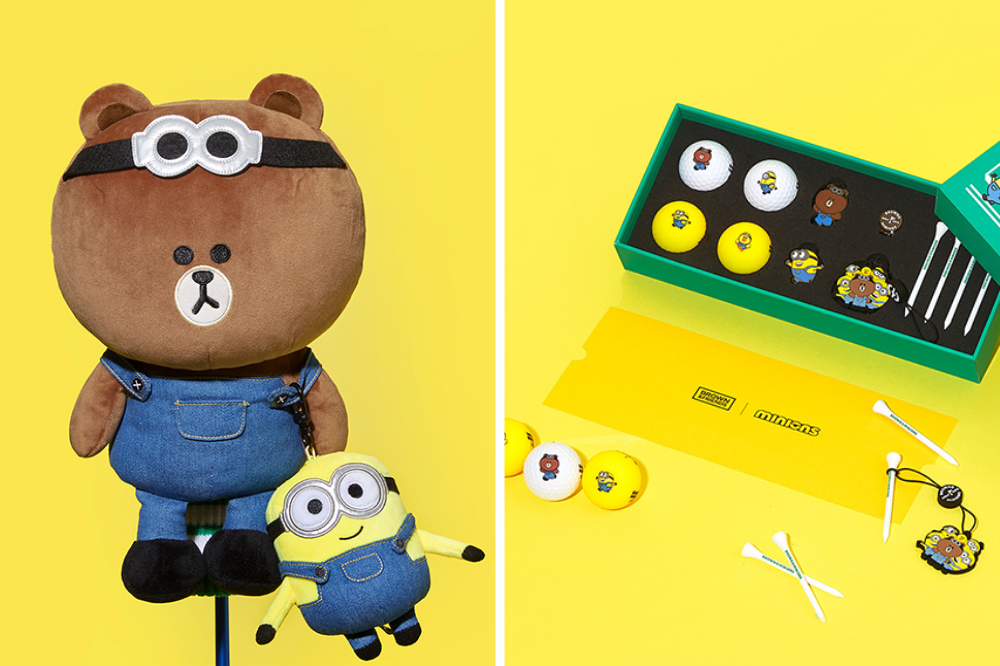 The final addition to this collection is a range of golf accessories which include glove covers and a themed golf ball set.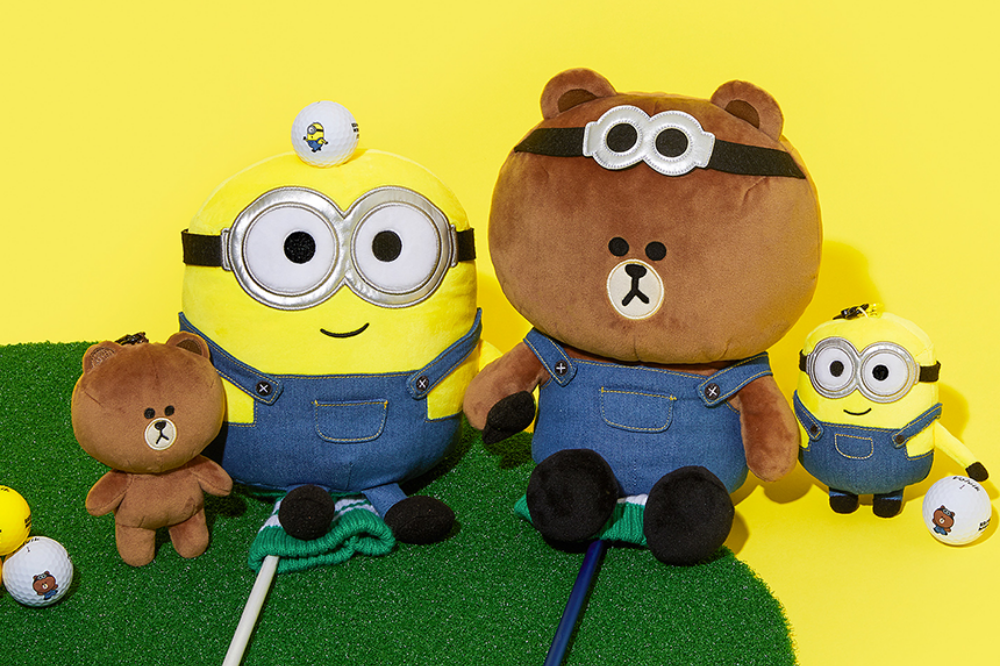 The golf club covers come in 2 designs similar to the plushies mentioned earlier, but with a special feature that allows them to be slotted over your favourite golf clubs to keep them from getting damaged.
I don't play golf, but with how adorable these are, I just might want to pick up the sport. 
The golf covers are priced at 56,000 won (~S$65.90).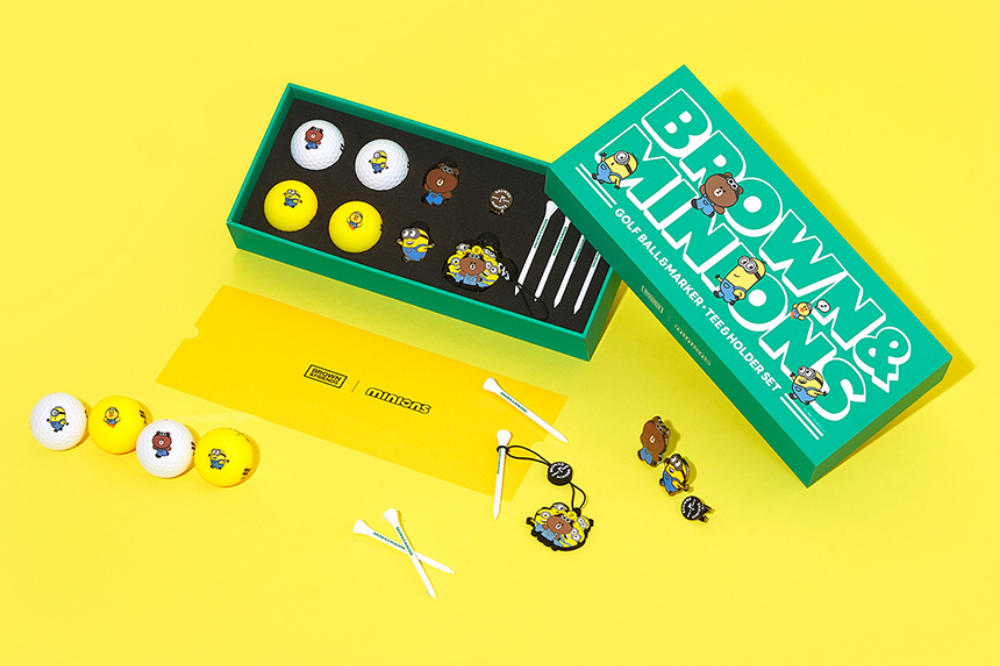 The Minions x LINE FRIENDS themed golf ball set comes in bright colours and will liven up your weekly golf-game. It comes with 4 Volvik golf balls, 2 in yellow and 2 in white, with Brown, Sally and 2 of the Minions printed on to spruce up the usually plain white balls.  
The set also includes some golf tee holders and markers which are definitely a unique way to add some character to your golfing accessories. 
The set is priced at 49,000 won (~S$57.70). 
The Minions x Line Friends Collection Will Add Some Much-Needed Brightness To Your Day 
While this colourful collaboration cannot be shipped to Singapore yet, you can check out the other LINE FRIENDS x Maison Kitsuné collection here which offers shipping to Singapore. 
The full details of the items found in the collection are available on the LINE FRIENDS global site for you to get your dose of the quirky Minions. Hopefully, they will be made available for shipment internationally soon enough. 
All images courtesy of Line Friends. 
Also read:
Actually x Sanrio's New Collection Has Bucket Hats, Foldable Crates & Portable Chairs For A Cute 2-Pax Picnic