Mooncake Earrings & Brooches 
This year's Mid-Autumn festivities may be more low-key than usual, thanks to safe-distancing measures. But even though there may be less offline celebrations, you can still show your love for this season in other ways, such as with your Starbucks bunnies mugs. Local accessory brand whoaa! has also launched a Mid-Autumn Festival collection. It includes mooncake earrings and brooches, along with other items like candle earrings.
Mooncake designs
If your favourite part of Mid-Autumn festival is the mooncakes,  wear them on your ears to show your love for the tasty treat.
The mooncakes in this collection are of the traditional baked variety. Hipster Ms Moon (Gold) is for those who like their mooncakes flashy, with fancy ingredients like truffle and champagne. Traditional Ms Moon will appeal to those who prefer the OG version found both in atas restaurants as well as neighbourhood bakeries.
Made of plastic and surgical steel hooks, the earrings measure 3cm x 3cm and weigh about 10g per pair.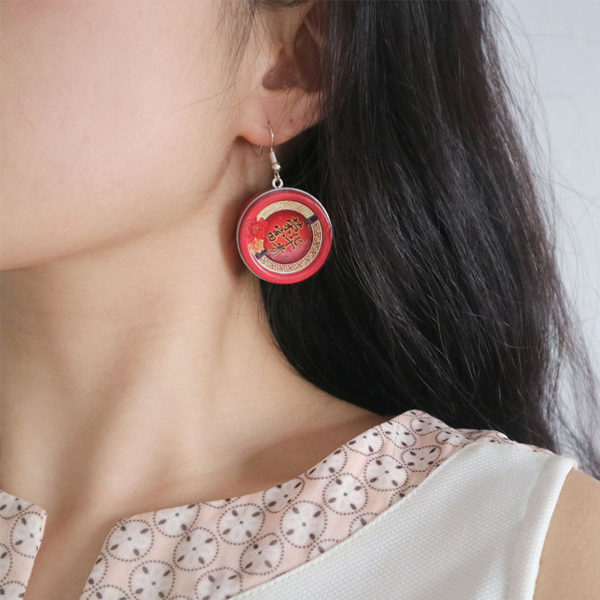 You can opt to get the mooncake earrings as a pair, or switch things up with a mooncake on 1 side and a mooncake tin earring on the other. The mooncake earrings are retailing for t $11.90 per pair. The mooncake + tin earrings are available at $13.90 per pair.
If you really love your mooncakes, you can also wear 12 of them at once. A Dozen of Mooncake comes as either a brooch or a keychain. This cute and quirky accessory is perfect for this season. It is retailing for $11.90 each.
Also read:
Studio MU / YU's Prata, Kueh & Kaya Toast Earrings Let You Raise A Toast To Singapore's Food Heritage
Candle designs
Remember when we used to light up candles to put in our paper lanterns as kids before the electronic ones took over? Now you can wear a box of mini coloured candles on your ears. The box is made of cardboard paper and opens up to reveal real candles inside. 
Can You Candle Me? is retailing for $12.90 per earring.
Maybe you're not into big and bold earrings, but you still wanna rock a fun statement accessory. Can You Candle Me? also comes in a brooch form. Just like the earrings, the brooch has functional candles. It is also selling for $12.90.
Fish lantern earrings
The cutest item in the Mid-Autumn Festival collection is, sadly, not for sale. These mini fish lantern earrings bring us back to simpler times when we would carry lanterns around the void decks and play with our friends. 
According to the creator of whoaa!, there were still a lot of imperfections even after days of experimenting, so they decided not to put the earrings up for sale. She added that the process showed them "how professional uncle and auntie lantern makers probably devoted their lives to perfect their craft." 
However, she also shared that they might hold a giveaway for this creation soon, so stay tuned to its Instagram account to find out if and when it happens. 
These Mooncake Earrings & Brooch Will Let You Show Your Love For Mooncakes All Year Round
No matter what your favourite part of the Mid-Autumn Festival is, whoaa!'s Mid-Autumn Festival Collection is sure to bring up some memories of when you were younger and having fun this time of the year. Check out the full collection on Whoaa's website and Instagram.
Also read:
14 Instagram Blogshops In Singapore Selling Cute Customisable Jewellery Including Tutu Kueh & Dinosaur Earrings