Nike x SpongeBob SquarePants Kyrie Irving Shoes
Nike has collaborated with basketball star Kyrie Irving to drop a collection of meme-worthy shoes based on SpongeBob SquarePants. 
This is not the first time Nike has collaborated with the basketballer, but it might be the first time you would want to get in line to cop his range of sneakers. 
If there is anything that unites millennials all over the world, it is the cheeky cartoon SpongeBob SquarePants.
Inspired by SpongeBob SquarePants characters
Source
Inspired by 5 major characters from the cartoon—SpongeBob SquarePants, Squidward, Patrick Star, Mr Krabs and Sandy Cheeks the squirrel—the 5 shoes in the collection feature a dominant colour of bright yellow, pastel green, highlighter pink, chilli red and white respectively. 
Aside from the white Sandy Cheeks shoes, this collection is not for the faint-hearted, because of its loud colours.
Source
So far, Nike has only released photos of the SpongeBob SquarePants and Patrick Star shoes, seeing as how they are the most popular characters of the franchise and also icons of internet meme culture.
Let's check out the wacky designs.
Also read:
New Adidas Rainbow Collection Celebrates Pride Month And Supports A Suicide Prevention Organisation
SpongeBob and Patrick shoe details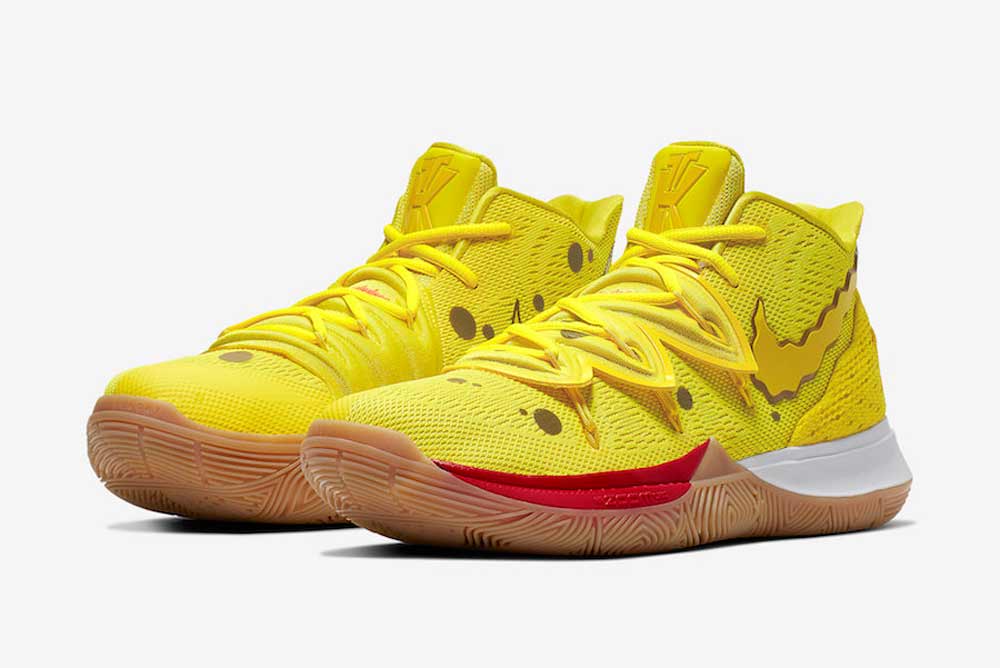 What strikes us the most about the Spongebob Squarepants shoes, besides its bright yellow hue, is the treatment of the Nike logo. 
The logo is distorted as if seen through a fish tank and finished with a bubbly transparent texture, which makes this shoe one of a kind. You will rarely see Nike putting a twist on its iconic Swoosh logo.
The body of the shoe is also made of porous mesh, which looks extremely soft and comfortable. It also hearkens back to the star character, SpongeBob SquarePants himself, who is a living sponge. 
The Patrick Star shoe marries Patrick Star's main colours, a bright fuschia pink with lime green. Continuing the theme of living under the sea, Patrick Star's design has bubble prints over its body. We also love how its lime green sole has speckled patterns to give it a bit of variation. 
Source
Both shoes have the word 'Nike' emblazoned on their backs in a playful font. Most excitingly, the faces of the characters are printed on their inner soles, which will surely cheer you up on a dreary day.
 Source
Nike x Spongebob Squarepants Kyrie Irving Shoes Are Equally Hype And Meme-Worthy  
No longer just a kid's cartoon, SpongeBob SquarePants and its characters have experienced a revival over the past 10 years. The characters often appeared on memes as meme-culture gained popularity amongst millennials, who enjoy putting text on pictures to express a mood as a means of communication. 
Besides Pepe the Frog, Doge the Shiba Inu, Kermit the Frog and Pikachu, SpongeBob SquarePants and Patrick Star are amongst the most popular meme characters due to their expressive features.
Now you can show off your love of memes and look fly with these Nike x Spongebob Squarepants Kyrie Irving shoes.
The collection will drop on 10 August on Nike USA's online store and cost about US$130 each. For now, the shoes do not seem to appear on Nike Singapore's Launch Calendar. Watch this space for updates on the collection's availability in Singapore.  
Also read:
'Softboys' Are The New Breed Of 'F-boys' On Singapore Dating Apps—Here's How To Spot Them