Puffer Bags In Singapore
As a corporate girlie who is also a part-time degree student, I always count on a spacious bag that can snugly fit my laptop, beauty products and necessities in. Which is why I've been extra drawn to the trend of puffer bags, made popular by the likes of The Paper Bunny and even Daiso.
But if you're not inclined to break the bank for a bag like me, Shopee has a range of affordable puffer bags available in various sizes and designs to consider. Now you can elevate your fashion game without having to keep saving up your salary. Some of them are even similar dupes to popular designs, so you get almost the real thing.   
1. Sling Crossbody Bag ━ $8.64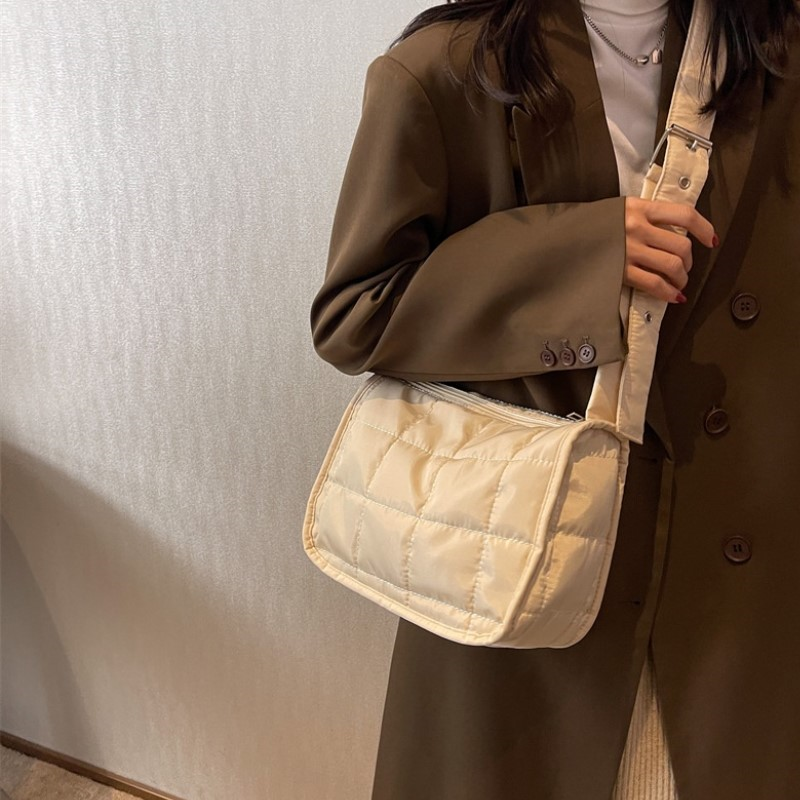 Source
If you're familiar with Beyond The Vines, a beloved local brand, you would have heard about their viral BTV Poofy Bag. While it's on the pricier side and regularly goes out of stock, rest assured that you can get something similar at a lower price. 
The Sling Crossbody Bag from QIYY Bag Store comes in four different colours, ranging from bright green to black. It retails for $8.64 each.
Get the Sling Crossbody Bag here. 
2. Quilted Tote Plaid Shoulder Bag ━ From $7.47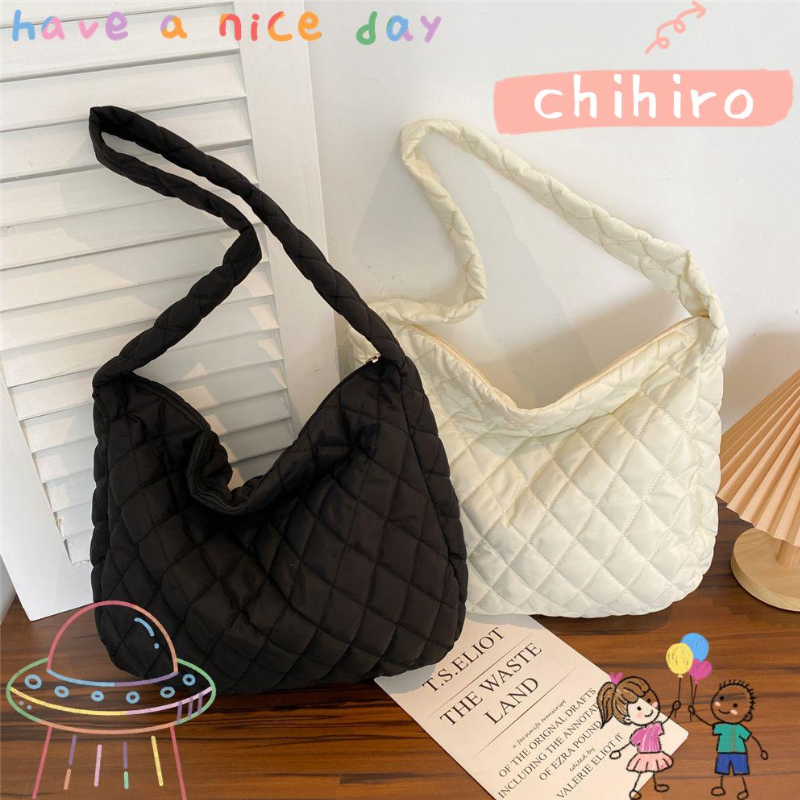 Source
Blackpink's Jennie definitely made the COS Puffer Crossbody Bag go viral with her IG post when she was visiting Paris. While the original COS Puffer Crossbody Bag retails for a hefty USD$99 (~SGD$133.91), you can purchase its dupe from Chihiro Bag Shop for just $7.47 to $7.85, depending on your preferred colour.
It makes for a versatile and stylish bag to elevate your casual fits. Also, the reviews have praised it for being spacious and able to fit almost everything for work or school. 
Get the Quilted Tote Plaid Shoulder Bag here. 
3. Rhombic Square Tote Bag ━ $12.42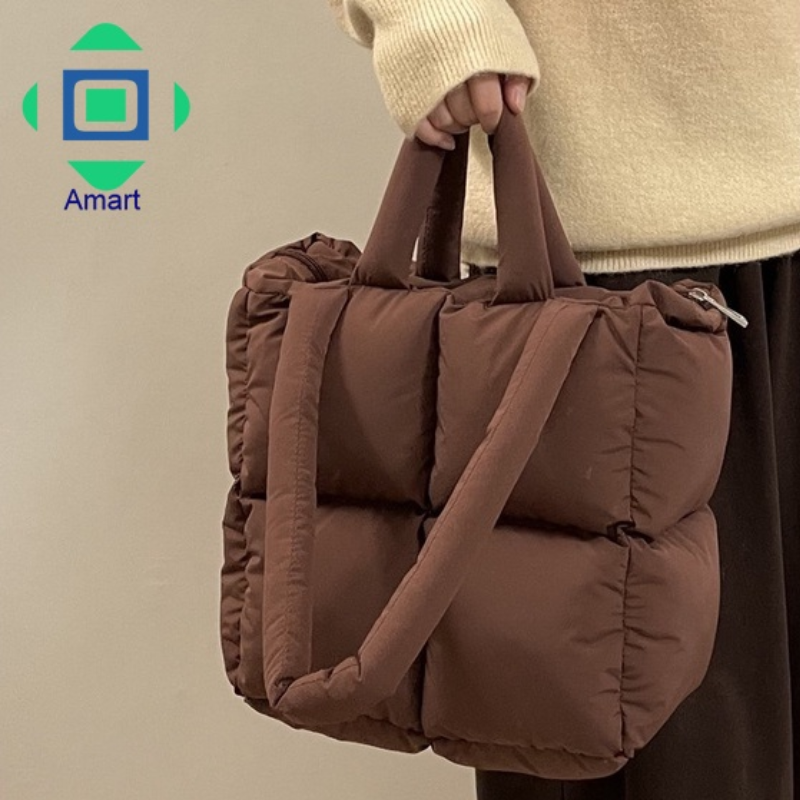 Source
Remember when McDonald's released their limited edition McGriddles puffer bag back in March this year? You can now get your very own from amart.sg, along with their delicious brown Rhombic Square Tote Bag. NGL, the design is almost identical, minus the iconic MCD logo.
It comes in four colours and is priced at $12.42 each. Buyers have commented that it's "cushiony" and reminded them of a very soft pillow. An adorable bag that doubles as a comfy cushion? Yes and yes.
Get the Rhombic Square Tote Bag here. 
4. Padded Puffy Bag ━ From $16.96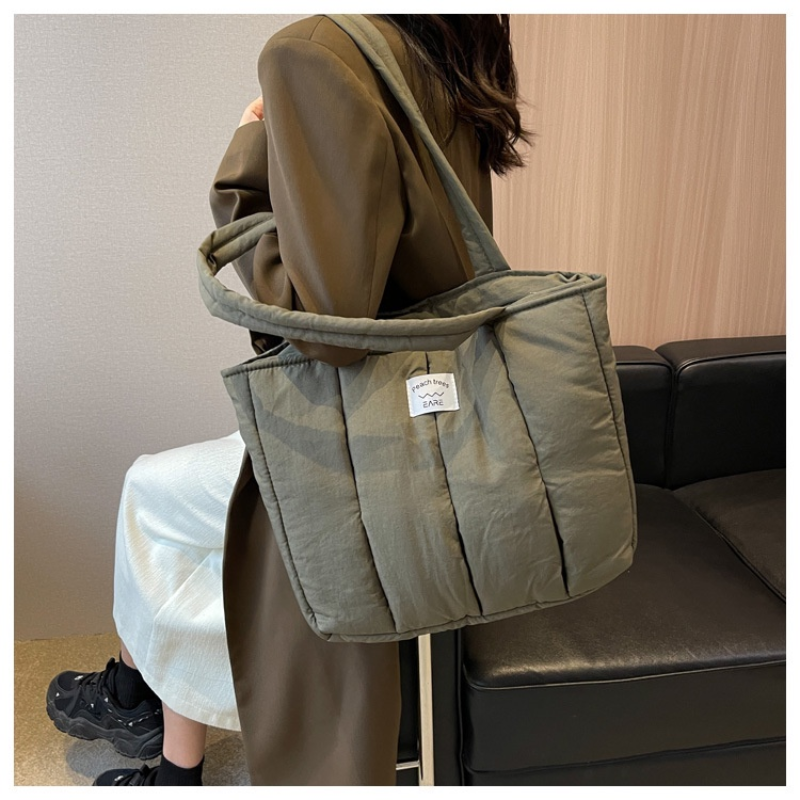 Source
The Paper Bunny's Puffer Tote Bags are a showstopper FR FR. However, if you prefer not to splurge on their extensive range, you can opt for the Padded Puffy Bag from QIYY Bag Store. Priced from $16.96 each, it sounds like a pretty good deal that you wouldn't want to miss.
This bag comes in four shades: black, white, orange, and green. Not only is it super trendy, but it also comes in useful for running errands. You can easily carry your snacks, water bottle, and even your laptop for work or school.
Get the Padded Puffy Bag here.
5. Korean Quilted Shoulder Bag ━ From $10.85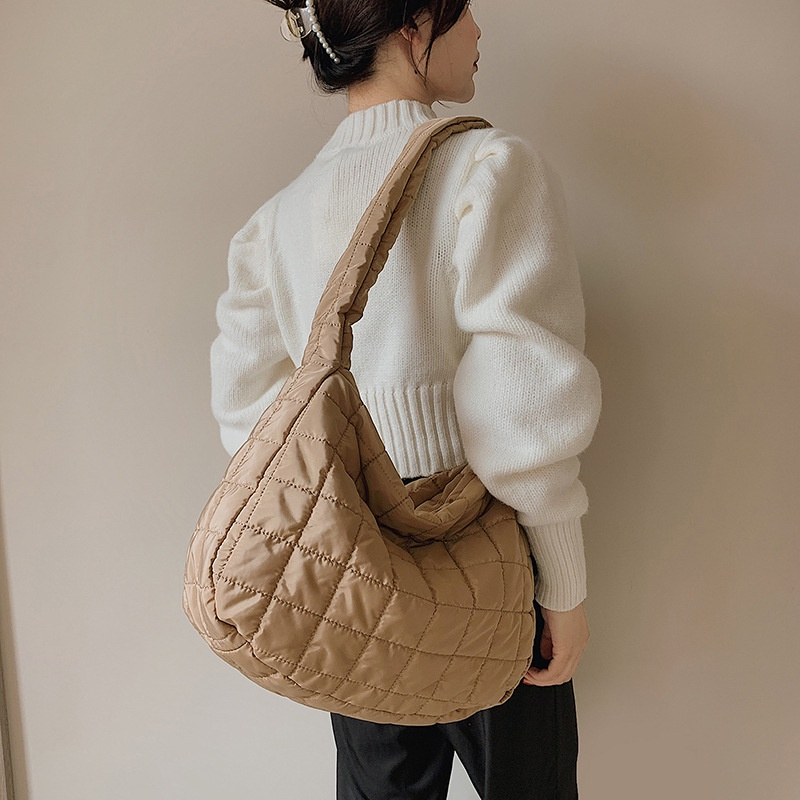 Source
If you love earthy tones like me, this Korean Quilted Shoulder Bag might just become your new staple in your collection. Retailing from FOCUS BAG.sg, it features coffee, khaki, and green colours. It retails for $10.85 to $11.80 each, also depending on the shade you choose.
Get the Korean Quilted Shoulder Bag here. 
Also read:
Kate Spade Has A Roving Pop-Up Around SG With Free Drinks, Games & Prizes For A Fun Girls Day Out
6. Plaid Shoulder Bag ━ From $4.67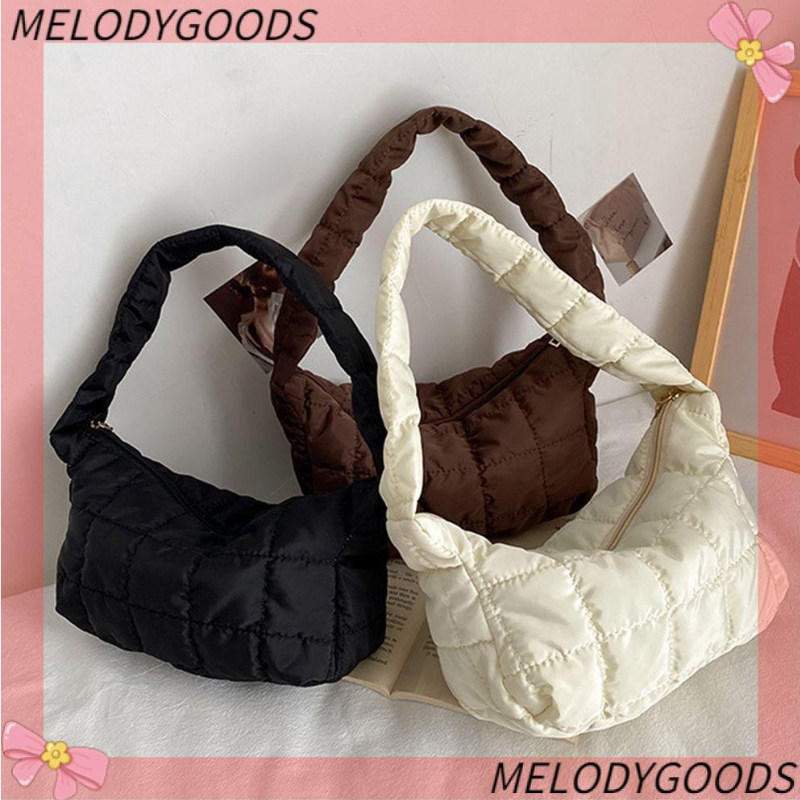 Source
This Plaid Shoulder Bag from melodygoods.sg is perfect for any occasion, whether it's casual days out with your BFF or fun date night with bae. Available in three classic colours: black, white, and brown, it's also the most affordable puffer bag on this list, retailing for $4.67 to $4.86 each.
According to the reviews, it can hold a 1-litre water bottle as it's super spacious, and the quality is worth the bang for your buck. 
Get the Plaid Shoulder Bag here.
7. Pleated Canvas Bag ━ From $16.52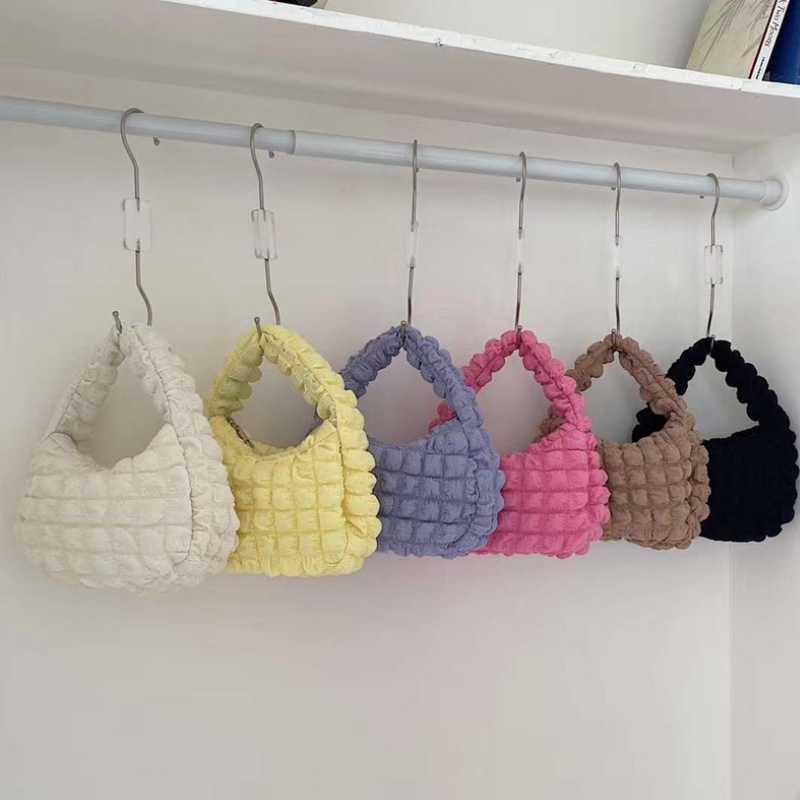 Source
Another fashionable mini–bag comes from the QIYY Bag Store, which has a bright colour palette which would make Barbie proud. Their Pleated Canvas Bag retails from $16.52 each, and features a more 'poofy' design with six colours to choose from, so you can channel whatever your mood. 
Get the Pleated Canvas Bag here. 
8. Satchel Bag ━ $16.30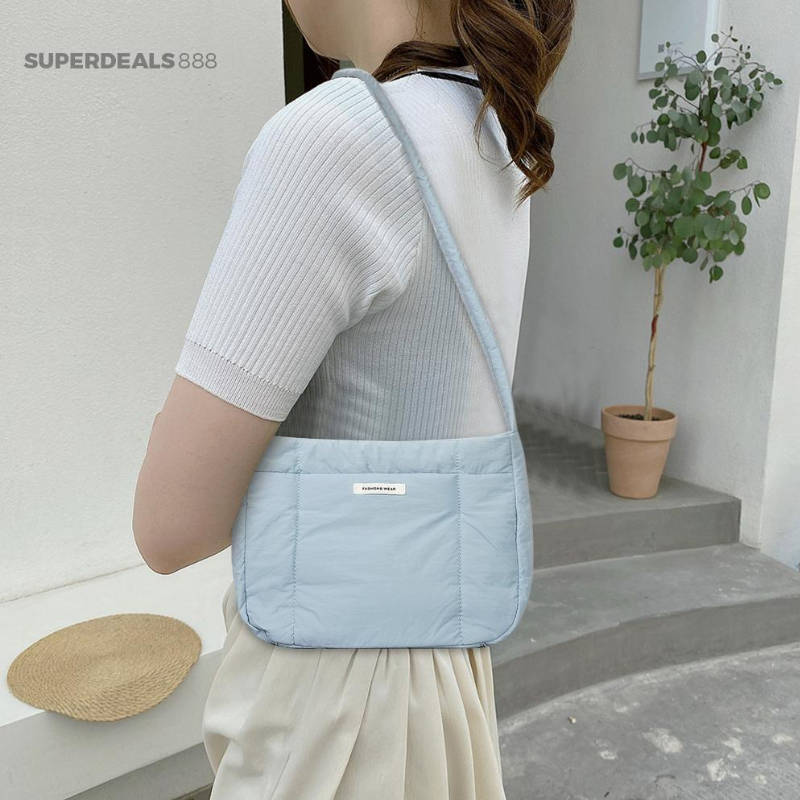 Source
I have to admit, I had my eye on The Paper Bunny's Puffer Swing for the longest time. So when this Satchel Bag from superdeals888.sg offered a similar design for a cheaper price, I was sold. Each bag goes for $16.30 and comes in five colours. 
While black and beige are sold out, their adorable baby blue, pink, and green shades are giving off major The Powerpuff Girls energy ━ time to match fits with your girl squad. 
Get the Satchel Bag here. 
9. Puff Tote Bag ━ $14.03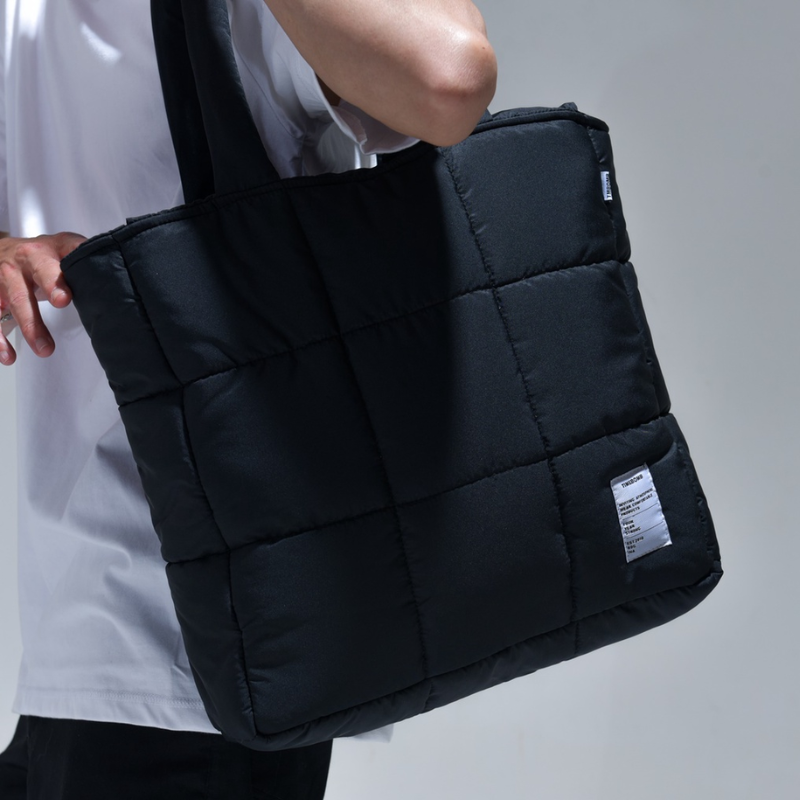 Source
Having a bag which fits your minimalistic look is made easy with this Puff Tote Bag from timebomb_official.sg. Consider it your fashion chameleon when you use it as a duffel bag for the gym or a travel companion for your future adventures.
It is priced at $14.03 each and comes in seven colours, including a unique camouflage design. 
Get the Puff Tote Bag here. 
10. Sanrio Handbag ━ $18.25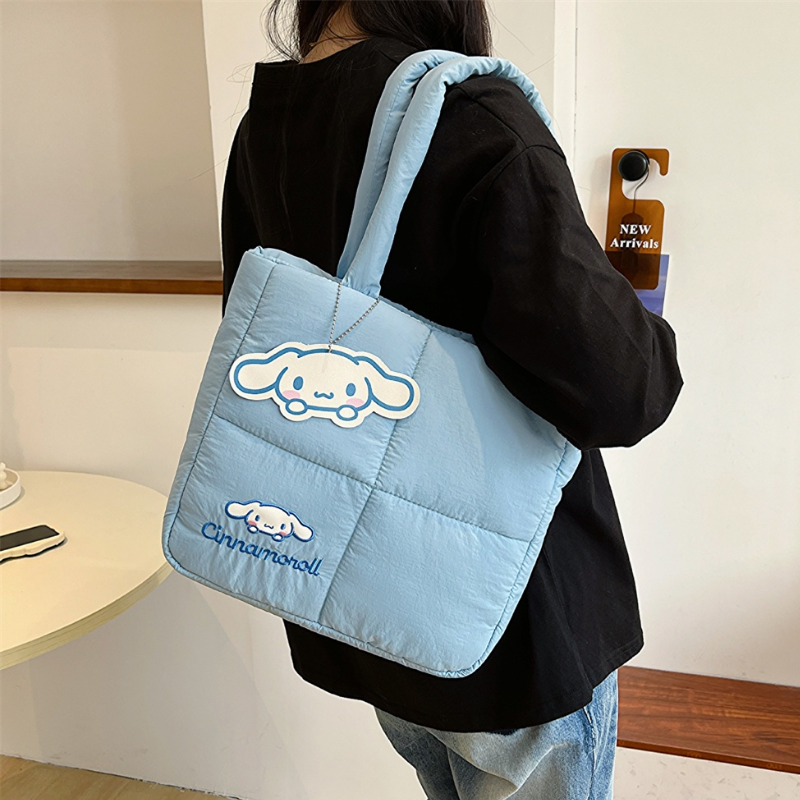 Source
Calling all Sanrio lovers ━ Beauty Bay's Sanrio Handbag will be your new obsession. It features pastel colours representing the iconic characters Kuromi, My Melody, Cinnamonroll, and Hello Kitty.
Each handbag retails for $18.25 and perfectly suits a soft girl vibe, with each design featuring a different character's face embroidered at the bottom. BRB, adding one to my cart right now.
Get the Sanrio Handbag here. 
You Can Get Your Own Fashionable Puffer Bags From Shopee
With these affordable puffer bags from Shopee, you can hop on the puffer bag trend without worrying about burning a hole in your wallet. 
But be warned, as a fellow Singaporean girl who recently got into the puffer bag hype ━ once you start, you might find it hard to turn back.
Also read:
You Can Get Branded Bags At Less Than $1k From This Chinatown Vintage Shop To Live Like A Tai Tai