Extra Cashback On Black Friday And Cyber Monday
Black Friday and Cyber Monday are coming up and that means, my sisters, it's time to slay. If you've already added to cart all the loot you're planning to get this year, you're gonna wanna read this first. 
ShopBack is having a massive sale from 29 Nov to 2 Dec that'll let you snag up to 80% cashback on ASOS, Apple and more, which means you'll have more cash to splash on your favourite things!
Pre-sale vouchers on 28 Nov
Before Black Friday even begins, you can already get your hands on deals in the form of pre-sale vouchers. Just login on your ShopBack app and collect vouchers for brands such as Dyson and Amazon Singapore at 3pm and 9pm today (28 Nov). 
Once you've got these, you'll just need to purchase your spoils from 29 Nov to 2 Dec to qualify for the deal. 
The voucher will be credited into your ShopBack account within 15 days. Vouchers are limited and given out on a first come, first served basis, so get ready to chiong!
Hourly upsized cashback

Get 13% cashback on Under Armour gear
As if that's not enough, there will be upsized cashback on Black Friday and Cyber Monday for those who shop via ShopBack during the allocated hour. Check out the full list of hourly deals here and these are some to look out for:
29 Nov
Vaniday: 22% upsized cashback from 8am to 10am

Cathay Cineplexes: up to 13% upsized cashback from 10am to 12pm
H&M: 20% off storewide + 12% upsized cashback from 2pm to 4pm
2 Dec
Zalora: up to 38% off + up to 20% upsized cashback from 12am to 2am

Nike: buy 2 and get 40% off on selected items + 19% upsized cashback from 12am to 2am
Under Armour: up to 13% upsized cashback from 12pm to 2pm
Also read:
Donate Your Used Shoes To KEEN & Soles4Souls To Benefit The Needy From 6 To 8 Dec 2019
All-day upsized cashback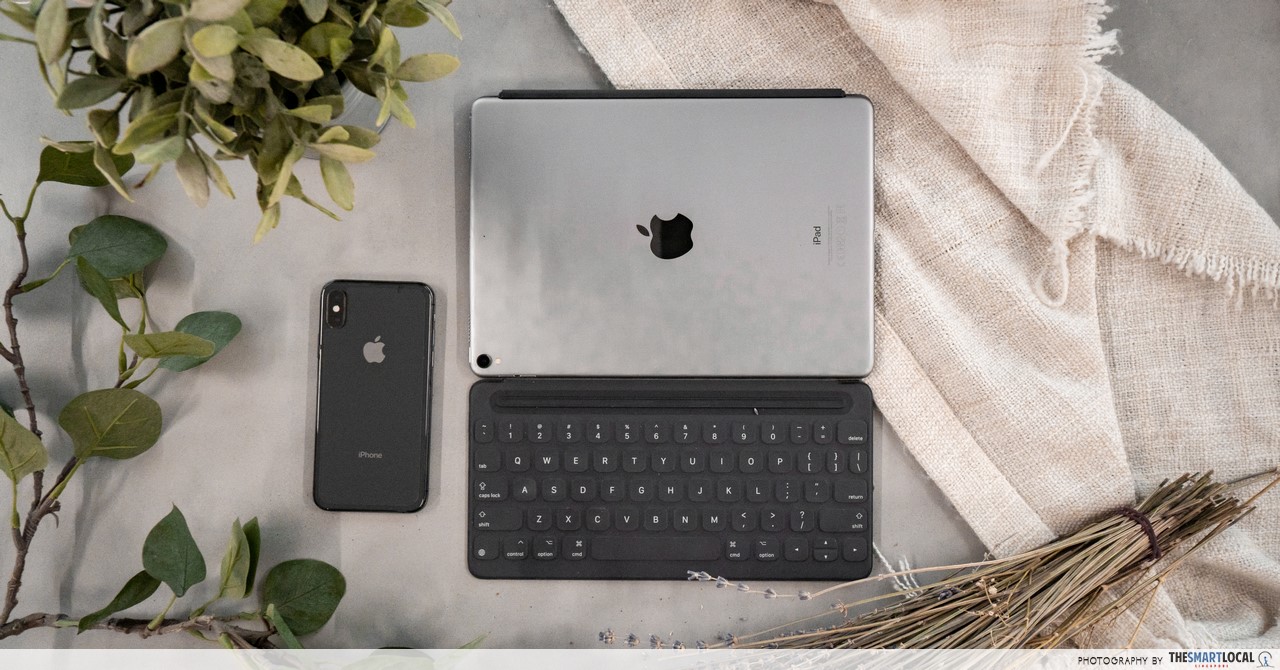 Now is the time to get your new iPad
Don't worry if you don't have time to camp every hour. There are over 65 sweet all-day deals from 29 Nov to 2 Dec that you can grab too. Here is the full list of upsized cashback available and these are the deals we're looking out for:
Agoda: 12% cashback excluding bookings for Japan

Apple Online: 4.5% cashback

Amazon Singapore: up to 20% cashback

ASOS: 6% cashback

ColourPop Cosmetics: 6% cashback 

Expedia: 12% cashback

Dyson: 11% cashback

Nike: 15% cashback

Nord VPN: 80% cashback
Flash giveaways

Lucky ones can win a Nintendo Switch
There'll also be flash giveaways where you can win a Dyson Airwrap or even an Apple Airpods Pro! 
To get in on this, just go to the lucky draw page via the ShopBack app on 29 Nov and 2 Dec and click on "FLASH TIMINGS". These are the hours to catch:
DBS / POSB Cards exclusive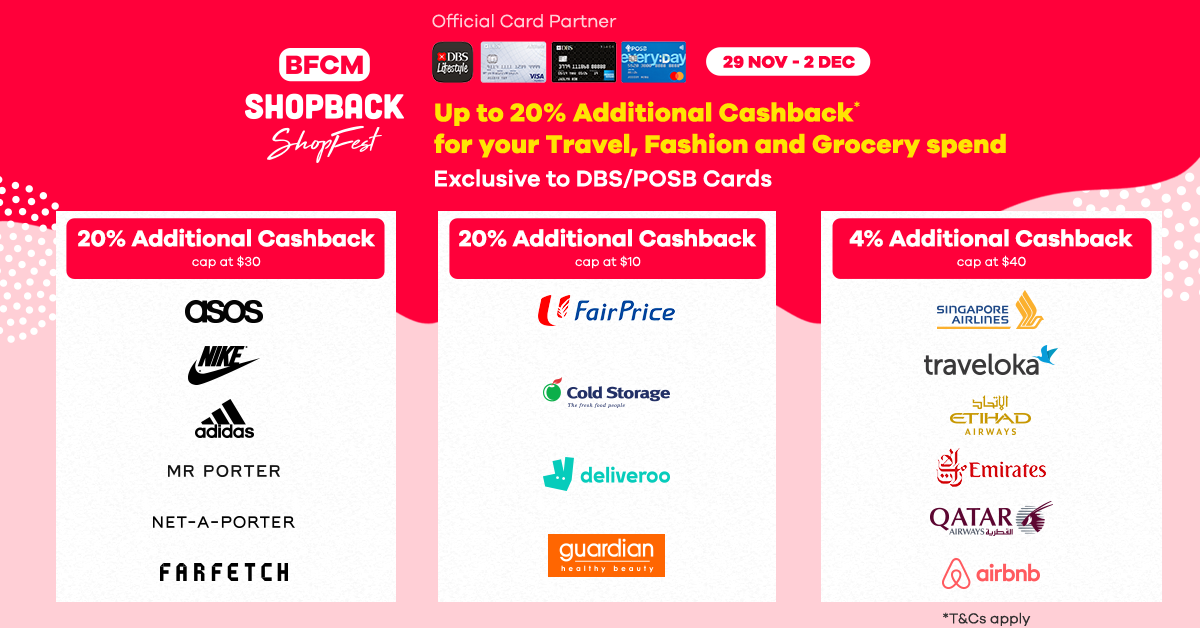 P.S. If you've got a DBS / POSB card*, you'll get up to 20% additional cashback on travel, fashion and grocery purchases. 
If you're shopping for Christmas outfits, be sure to check out ASOS because DBS / POSB Cardmembers get additional 20% cashback, capped at $30, on top of the all-day 6% upsized cashback on 29 Nov. 
ShopBack ShopFest Deals
Sis, there's no time to lose when it comes to saving money. Arm yourself with these extra deals to make sure you get the most bang out of your buck!
*DBS/POSB Cards is the Official Card Partner for ShopBack ShopFest 2019 where you get to enjoy up to 20% additional cashback at the following participating merchants like Adidas, ASOS, Cold Storage, Deliveroo, FairPrice On, Farfetch, Guardian, Mr Porter, Net-A-Porter, Nike on top of the already crazy deals. Moreover, there is a 4% additional cashback on travel merchants like Singapore Airlines, Qatar, Emirates, Etihad and Traveloka and Airbnb when you pay with your DBS/POSB card. Check out the ShopBack DBS/POSB Exclusive page for more information.  
This post is brought to you by ShopBack.
Also read:
12 Telegram Channels To Join For The Best Shopping And Lifestyle Deals Including Up To 70% Off ASOS