Singaporean Actors We Grew Up With
To the 90s kids in Singapore, the good ol' days consisted of coming home after a long day of school and catching up on Mediacorp dramas. I'm guilty of rushing my bath time in the evenings back then, just to catch the new Channel 8 episodes that aired at 7pm daily. 
Besides the intense plot that sucked me in, I also couldn't help but simp for some of the good-looking actors on screen. Fast forward to today, and I'm sure many of us can agree that some of our childhood on-screen idols have truly aged like fine wine. Here's a list of 15 Singaporean actors from nostalgic Mediacorp dramas we used to love, and how truly ~chef's kiss~ they look now. 
1. Tay Ping Hui
With Tay Ping Hui's strong masculine features and deep frown, it's no surprise to often see him acting in "manly" roles, such as an ah beng in Bountiful Blessings or a strict Gordan Ramsay-like chef in Korban. 
Tay Ping Hui was consistently voted as Top 10 Most Popular Male Artistes in the Star Awards for over 10 years. Clearly a crowd favourite still, the silver fox is now in his 50s, rocking a daddy AF look. 
Follow Tay Ping Hui on Facebook, Instagram and Twitter.
2. Edmund Chen
Edmund Chen may be in his early 60s, but age isn't stopping him from posting post-gym thirst traps. Defined abs aside, it's clear to see from his Instagram page that staying healthy through eating and exercising well means a lot to him.
Though he's no longer acting as much as he used to, Edmund remains a brand ambassador for companies that promote healthy living and lifestyle. And yes, it's the one time I won't skip an ad when he shows up on my screen. 
Follow Edmund Chen on Facebook and Instagram.
3. Zheng Geping
Many of us are familiar with actress Hong Hui Fang, who made a breakthrough in the Singapore-South Korea film Ajoomma in 2022. But her husband Zheng Geping isn't to be missed either, especially since he's still rocking a hot bod in his late 50s. 
As an actor and producer of his latest film Deleted, Zheng Geping vigorously trained in martial arts to carry out all the action scenes without adding any special effects. The result? We got to see him in all his 6-pack glory on the big screen. 
Follow Zheng Geping on Facebook, Instagram and Twitter.
4. Adrian Pang
We can't possibly miss out Adrian Pang on this list, who went viral on TikTok during NDP 2022. Adrian posted a transition video of himself all dressed up at The Float @ Marina Bay, captioning "are you ready for NDP 2022?" 
Clearly, Singaporeans were more than ready to see him at the parade, with many comments down bad for the actor, such as "he is like wine — the older, the better" and "why am I watching this on repeat."
The Straits Times even had to step in to manage the thirsty comments, calling Singaporeans out by teasing, "not y'all misbehaving in the comments." It can't be helped, with Adrian Pang looking so gorgeous with his long grey hair. 
Follow Adrian Pang on Facebook and Instagram.
5. Allan Wu
Make way for the king of thirst traps — Allan Wu is here to show us how it's done. As someone who consistently hits the gym, Allan isn't shy to show off his toned body on Instagram whenever he can. 
In one of his Instagram posts, Allan even captioned, "shirt optional tonight! Is this considered too much — or too little?" Sir, respectfully, anything you post will never be too much for us. 
Follow Allan Wu on Facebook, Instagram and Twitter.
6. Pierre Png
Pierre Png is best known for his role as an unhappy husband in the 2008 drama The Little Nyonya. While we can't believe how much time has flown by since the series, Pierre remains just as dashing as ever. 
Who can forget Pierre's glow-up in Crazy Rich Asians, where he played Michael Teo and showed off his insanely ripped body? If you ever crave a feast for your eyes, just do a quick scroll through on his Instagram account. 
Follow Pierre Png on Facebook and Instagram.
7. Qi Yuwu
Prior to joining Mediacorp, Qi Yuwu previously worked as a model in China. With his sharp features and tanned skin, it's no wonder he was casted. Now in his late 40s, Qi Yuwu still looks as if he stepped out of a drama every time he snaps a pic for the 'gram. 
In September 2022, fans were surprised when Qi Yuwu shaved off all his hair. Not everyone can easily pull off a shaved head, but all it did was make him look even more mature and handsome.
Follow Qi Yuwu on Facebook and Instagram.
8. Zhang Yao Dong
Zhang Yao Dong was nominated 10 times for Star Awards' Top 10 Most Popular Male Artistes over his career, and swept away 5 of these prizes under his belt. Like Qi Yuwu, he was previously a model and starred in commercials in Malaysia before joining Mediacorp.
Now in his mid-40s, he's often seen fashionably dressed up while travelling, or else he's wearing a tight-fitting tee to flex his massive guns at the gym. 
Follow Zhang Yao Dong on Facebook, Instagram and Twitter.
Also read:
13 Project SuperStar Contestants We Supported Over 3 Seasons & Where They Are Now
9. Ben Yeo
A man who can act and cook? Yes, please. While some of us recognise Ben Yeo through his early days of acting, others remember him from his iconic Chicken Rice Burger when he collaborated with McDonald's in 2021. 
Ben Yeo began acting in 2002, but if you ask me, he looks as if he hasn't aged a day since. 
Follow Ben Yeo on Facebook and Instagram.
10. Elvin Ng
Elvin Ng is still in his early 40s, but fans can certainly agree that his prominent good looks over the years has qualified him to be on this list. With his endless collaborations with big fashion giants like Fendi, Dolce & Gabbana and Prada, it's nearly impossible to find a bad picture of the actor. 
Beyond looking good 24/7, Elvin Ng also often works out at the gym to maintain those bulging triceps — you can ogle at them on his Instagram page here. 
Follow Elvin Ng on Facebook and Instagram.
11. Shaun Chen
Despite his gentle and youthful face, Shaun Chen was best known for playing villain roles early in his acting career. Now a father of two kids, Shaun still keeps up with Gen Z trends by occasionally posting TikTok dances and snapping selfies. The best part? He looks great in all of them. 
Follow Shaun on Facebook and Instagram.
12. Aaron Aziz
Aaron Aziz's bold and masculine demeanour hasn't budged since he made his debut as an actor in 2001. Things only went uphill for Aaron after he migrated to Malaysia to continue pursuing acting, and the hot shot now has over 3.3 million followers on Instagram.
In 2017, Aaron was conferred the honorary title of Datuk by the state of Pahang in a royal ceremony — one of his biggest achievements.  
Follow Aaron Aziz on Facebook, Instagram and Twitter.
13. Ix Shen
In 2022, former actor Ix Shen made news when the Russian invasion of Ukraine first started, as he was living in Ukraine along with his family. He and his wife volunteered humanitarian aid there, despite the uncertainty and danger of the situation. 
As a man who is both attractive and has a kind heart, we can't help but admire Ix Shen even more, all the way from our Little Red Dot. 
Follow Ix Shen on Facebook and Instagram.
14. Steven David Lim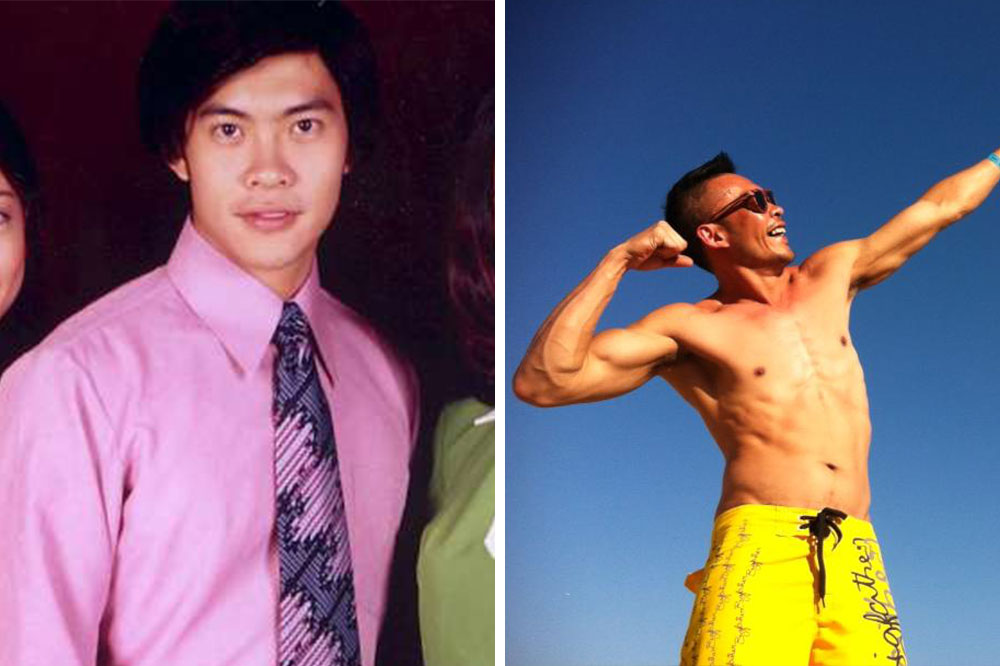 Source
Steven David Lim is Singapore's first openly gay actor currently based in Bangkok. Many may recognise him from the local 90s drama series Growing Up, where he starred in all six seasons. 
In his late 40s now, Steven is still acting in gay web-dramas like People Like Us and Getaway, Singapore's first BL drama. He played a conservative dad in Getaway — from the drama alone, we can't help but marvel over how radiant and dapper he looks till today. 
Follow Steven David Lim on Facebook.
15. Christopher Lee
Singaporean couple Christopher Lee and Fann Wong are basically every 90s kids' OTP. Seriously, we can't imagine anyone as best suited for the beautiful actress as the charming Christopher Lee. When it comes to pictures, his go-to smouldering gaze reminds us a little of The Rock — strangely intense and seductive. 
Follow Christopher Lee on Facebook and Instagram.
These Singaporean Actors That Aged Like Fine Wine Have Us Anticipating For More Thirst Traps
These Mediacorp actors made their acting debut in the 90s, yet their strong presence throughout the years have allowed them to maintain their popularity till today. Of course, we can't deny that they've certainly aged like fine wine, remaining as our on-screen eye candies that only get better with age.
Also read:
16 Celebrity Couples In Singapore That Will Make You Believe That True Love Exists After All