Lessons I Learnt As A Solo Female Traveller
There are few experiences in life that give me a sense of pure exhilaration. Solo travel is one of them. It normally hits me as I make my way through the airport alone, about to embark on a new exciting journey.
Me, myself and I will determine the next course of events. I feel a sense of freedom and unparalleled joy about being in complete control of my plans. There is also a sense of nervous anticipation about the unknown people, sights and adventures that lie ahead of me. 
Backpacking solo to 20 countries, from the Himalayan mountains to the Greek islands, has taught me invaluable life lessons no educational establishment could have shared.  
1. There will be days when you cry ugly tears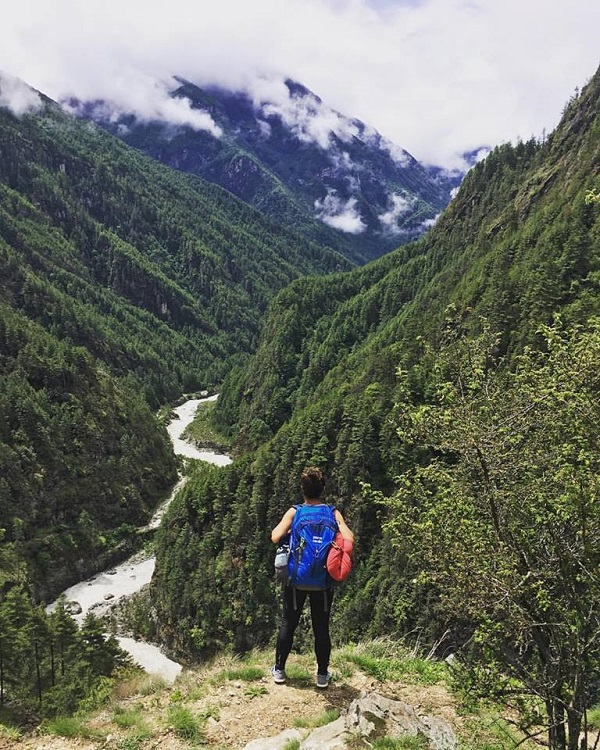 You can't see the tears from this angle
Most people have this idea that when you travel, you will be #livingyourbestlife. They think there will be no bad days.
But that's not the case. Being alone in a foreign country can be overwhelming at times. And that's okay. The bad days make you appreciate the good.
I remember trekking up to Everest Base Camp. I could see Mount Everest peeking through the clouds… but I was tired, wet, hungry, and I felt so far away from my friends and family. I sat on a rock and promptly burst into tears.
A lovely Sherpa carrying 60kg on his back found me sobbing my heart out. Much to my bewilderment, he stopped, heaved his heavy load off and patted me on the back. He didn't speak English but compassion is a universal language. I opened a packet of biscuits and we shared them together. There is something about munching on Oreos with a kind Sherpa that cheers you up to no end. Soon, I was on my way feeling much better.
2. Being cool is a flexible concept
Did you grow up feeling a bit different or that you didn't quite fit in? Prepare to find your tribe when you travel alone. You may be a bit quirky or downright weird in your home country, but someone in a totally different environment will think you are the bee's knees!
Growing up, I didn't have the same interests as most people around me. I figured I would be a loner for life. Then I arrived in a hostel in Thailand and people had a genuine interest in what I had to say! They wanted to hang out and do the activities I found cool. There is a whole world of people out there just waiting for you to click with.
3. You will make more friends travelling alone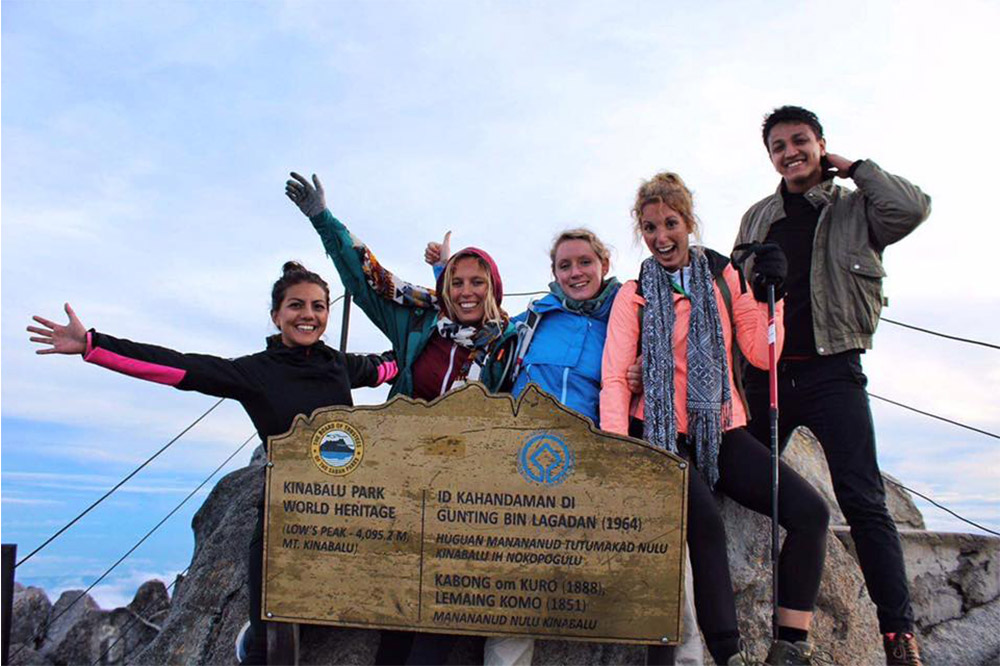 Tackling Mount Kinabalu with some newfound friends from the hostel
Travelling alone forces you to make more of an effort to talk to other people, as you won't have your trusty group of friends to keep you entertained. In the same way, you will be easier to approach if someone is looking to make new friends too.
When I travel alone, I find it way more daunting to approach a group of people, compared to someone sitting alone at a bar. I am more likely to try and strike up a conversation with a fellow solo traveller. Travelling alone also makes you more flexible so if your new friends invite you along on a 3-day motorbike ride through the countryside, the only person you need to ask is…. YOU.
4. Prepare to fight for your own time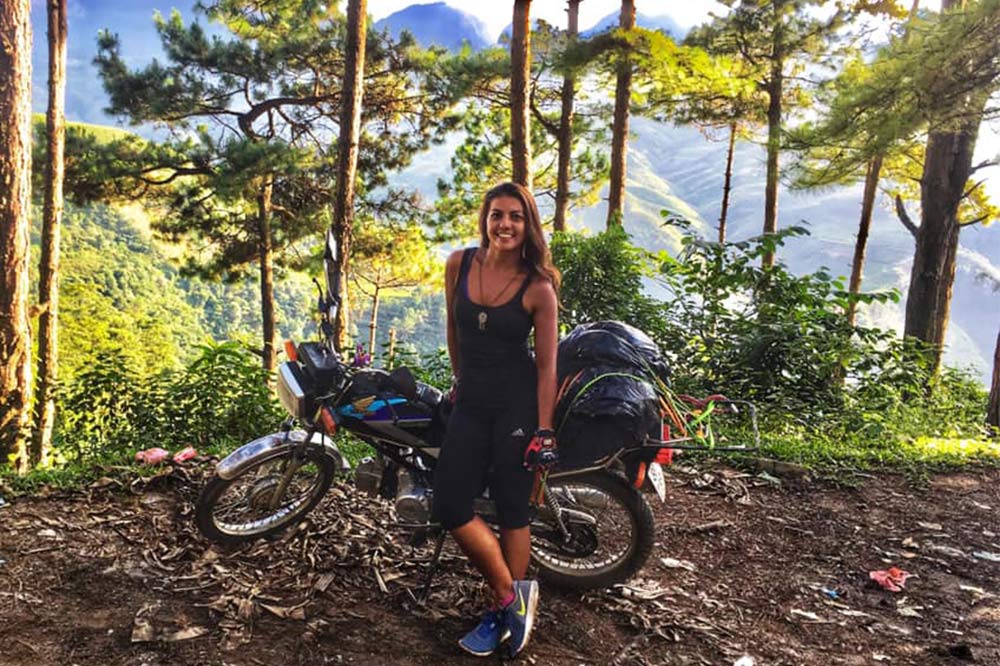 Speaking of friends, there will be occasions when you end up making lots of new friends… who will want to follow you on your journey EVERYWHERE. Initially, it can be quite flattering but it can end up being annoying too—especially if you are craving a bit of quality time to yourself or you just want to meet new people.
At the beginning of my solo travel trips, I used to feel guilty and uncomfortable about brushing people off, but I've realised you need to be protective over your own time and whatever helps you get the best out of your journey. It is not your job to keep other people company or babysit someone who doesn't like being alone.
It's nice to politely say, "Hey, I'm going to do my own thing for a bit, I'll see you around, let's keep in touch."
Also read:
My Solo Backpacking Trip To Israel And Palestine Under S$1,500 For A Month
5. Sometimes it's okay to be confrontational, even if it makes others uncomfortable 
When you travel alone, you don't have family or friends around to back you up if someone is rude, disrespectful or just taking full advantage of a situation. It's up to you to dictate your boundaries to others; and when they are crossed, to put people back in their place. They may not like you for it, but that's okay. You can't be liked by everyone and the right people will respect your boundaries.
For example, I attended a Full Moon Party in Thailand and ended up partying with a group of people I met at the hostel. There was a cute guy from the group whom I ended up dancing with, but as the night wore on, he started getting a little touchy-feely. I kept moving away but he clearly ignored the signs that it was making me feel uncomfortable. At one point, his hand brushed against my bum and I saw him wink at his friend.
I decided enough was enough and loudly announced that if he brushed any part of me again, I would break his fingers. He didn't like what he heard but later on, he apologised and his friends came up to me and said it was fair enough that I demanded respect.
6. Being sick hits you hard
Have you ever been sick in a foreign country? All you want is your mum. If you are travelling alone, it will hit you even harder. You will be weak and vulnerable but have to summon the energy to find a pharmacy and nurse yourself back to health—as no one else will.
I remember contracting food poisoning in Kathmandu, Nepal. I thought I was being smart by going vegetarian to avoid any dodgy meat and thought nothing about sipping some lassi from a street stall. Outcome: severe food poisoning from the bacteria that festers in warm dairy. I lay sweating and twitching in pain in a dark room for days, all alone, questioning if this solo travelling malarkey was worth it. It was. I eventually recovered and, a week later, I trekked up to Everest Base Camp.
7.  Technology is your friend 
If you want to avoid getting lost, download Maps.me. It's like the offline version of Google maps, and helps you find your way when you have no Wi-Fi. There are also a number of apps that will help you meet other travellers such as Tourlina (a female travel buddy app) or Backpackr. I often use Meetup, which connects you to local activities of your interest and with other people attending these activities. It's a great way to meet like-minded people.
Travel groups on Facebook are great for getting useful insight into a new country and meeting other travellers. Two really good groups are Girls Love Travel and The Solo Female Traveler Network. If safety is your priority (as it should be), Life360 is also a free safety app (there's a premium version available for a fee) that helps track your whereabouts. You can set notifications to let your family know when you've left and arrived at a certain place. The app is useful if there are natural disasters or terrorist attacks—your family will know where you are and whether you are safe.
8. Spend extra on your safety

I am all about the budget life but always put your safety first, even if it costs more. If a hostel is more expensive but more central and the reviews mention proper door locks and lockers, go for the pricier option. A living, healthy traveller is much better than a dead or injured rich one.
There will be cheaper flights that arrive after midnight. But do you really want to arrive when it's dark, try to navigate a new city alone, when there are fewer people around and potentially open yourself up to unnecessary risks? Similarly, I always ensure I have data roaming or buy a local SIM card with Wi-Fi when I travel alone. You need to be able to call for help if and when you need it, or get yourself out of a situation without relying on others around you.
9. It will change you as a person
This sounds a bit clichéd but it's true. Travelling is like the more fun, exciting version of reading books. You meet unique people, experience new things and above all, you learn to have a different perspective on life. You realise that you are kind of a big deal and capable of tackling different challenges you never thought were possible.
My Experience As A Solo Female Traveller
Travelling alone confronts you with your own thoughts and fears. You have to learn how to listen to your instincts, to love yourself and be at peace with who you are. Backpacking solo across 20 countries taught me all these and more, and I wouldn't have it any other way. 
Also read:
I Solo Backpacked In South America for 8.5 Months And Crossed Borders Illegally