Staying Safe While Solo Hiking  
Hiking takes you on different adventures, lets you explore new sights and you are never short of Instagram-worthy material. I have been on about 40 hikes in my lifetime, and hiking alone is something I do often as a solo female traveller. I get the opportunity to have much needed me time and it teaches me to enjoy my own company. Loneliness can feel uncomfortable and a little scary—hiking alone helps overcome that. If you want to try solo hiking, staying safe is crucial.
Here are a few things you need to consider before a hike, if you want to hike solo safely.
1. Start with familiar terrain
If you have never hiked solo before, it's highly recommended that you hike a familiar trail on your own first. That way, you get used to the feeling of solo hiking, in comfortable surroundings.
I liken solo hiking to driving a car. When you are a learner driver, its best to drive through familiar roads so you get the hang of learning how to use the clutch and mastering the dreaded hill start. Solo hiking is the same—your senses need to adjust to relying on your own navigation skills and the absence of company during the hike.
2. Research the trail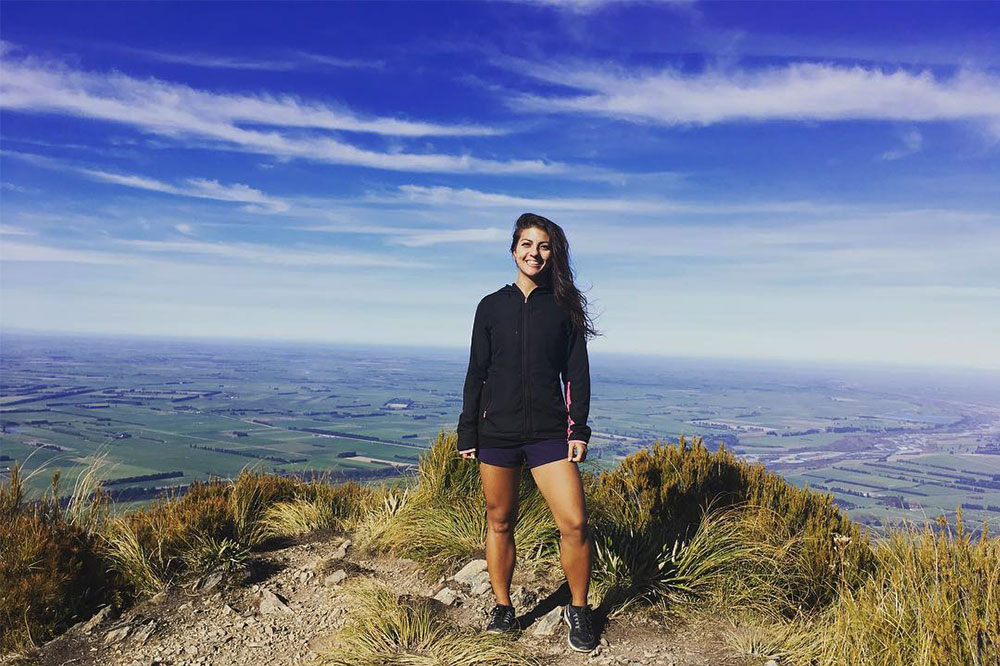 On top of the world at Mount Peel in New Zealand
It is important to thoroughly research the area you want to hike in—the distance, whether the trail is well signposted, common issues faced by hikers and potential pitfalls. For example, when I researched a hike in New Zealand, it was advised there would be sandflies and to bring bug spray. They also advised sunset times throughout the year and weather predictions.
3. Prepare a list of safety contacts
Keep a list of safety contacts handy. This is a list of emergency services and people I can call in the event an emergency happens. Useful safety contacts could be the local police, ambulance and emergency services of whatever country you are in, as well as a person who will respond to your call for help ASAP.
4. Inform people before going on the hike
This step is crucial. It allows an alarm to be raised in a timely manner if an emergency or accident happens. Always tell a trusted friend or family member where you are going, for how long and the rough time you should be back. This could save your life.
5. Learn how to read a map and use a compass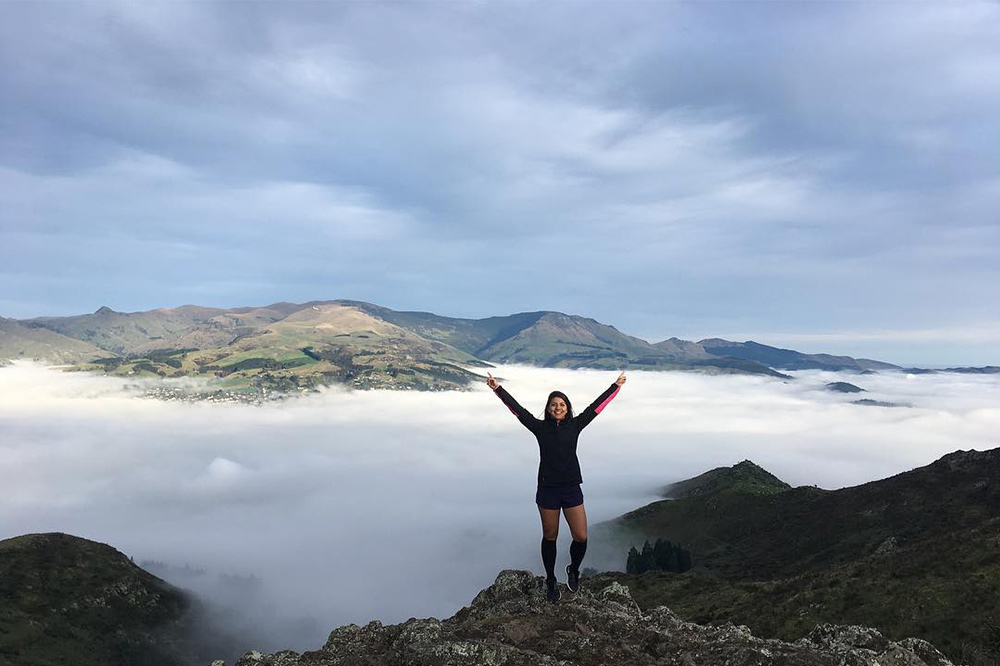 Atop Port Hills in New Zealand
The advent of technology and Google Maps has meant that navigating with a map and compass is now quite rare. Nevertheless, learning how to do so is a useful survival skill, as there is no guarantee that there will be phone signal when you hike. Also, your phone may run out of power.
A quick Google search will bring up a number of relevant results but I used this guide by Hillwalk Tours to learn how to read a map.
Also read: 
How I Trekked Up To Everest Base Camp Solo Under $1,000 For 10 Days
6. Plan for What-ifs  
Planning for emergencies and pitfalls will help you feel more confident before your solo hike. Examples of these include what if you get injured, what if you get lost, what if you bump into a creepy hiker on your trail, etc.
7. Pack appropriate clothing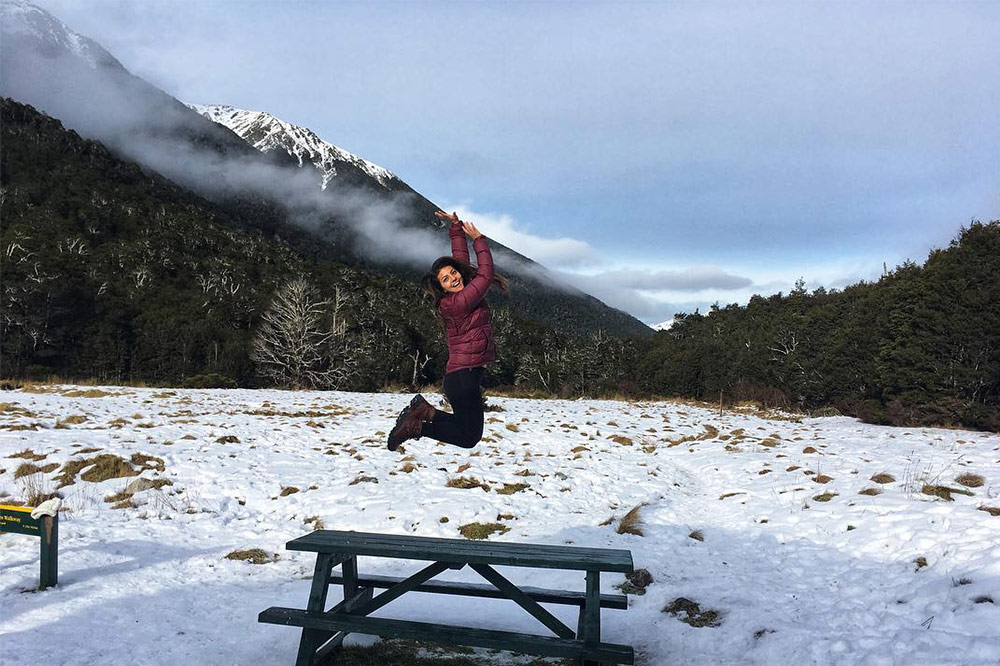 In a puffer jacket and hiking boots at St James Walkway in New Zealand
On my first hike in New Zealand, I made the mistake of only wearing thin Lycra clothing and lightweight sneakers. At the bottom of the mountain, it was 25 degrees Celsius and extremely hot. But as I summited the peak, there was blustery wind and even snow! Needless to say, it was a less than comfortable experience.
Regardless of how hot the weather is during your research before the hike, always pack an extra layer in case it rains or the weather turns.
Appropriate footwear is also extremely important. Some trails are quite slippery, so lightweight trainers just won't cut it. Waterproof hiking boots are normally the best option. Even though they are pricier, they will protect your feet from the cold and keep them free from blisters.
8. Purchase a Personal Locator Beacon
Often when you are hiking in the wilderness, there is no phone signal. What happens if an unforeseen incident happens and you need to call for help? This is when a Personal Locator Beacon (PLB) comes in handy. It's a small electronic device that, on activation, broadcasts a signal to a satellite. The signal alerts the appropriate emergency coordination centre that you are in distress. You can purchase a PLB on Amazon or ebay. There are countless tales of people who've used a PLB and how it quite literally saved their lives.
9. Prepare a safety kit
Your safety kit should contain all the essentials such as a flashlight, medical supplies, a Swiss Army knife, an emergency blanket, bandages and tape, sanitation and personal hygiene items.
10. Learn this acronym by heart: STOP 
A useful acronym to remember if you get lost is "STOP":
S – Stay calm. Stop walking and breathe. The further you walk, the longer it will take rescuers to find you.
T – Think about notable landmarks, get out your map, and try and remember what you passed on your trail.
O – Observe your surroundings. How is the weather and how long is it before it gets dark?
P – Plan the best way you are going to survive the next few hours. Are you going to try and locate water? Are you going to stay put and keep warm? Think of the best plan that will fit your current situation.
A Guide To Staying Safe While Solo Hiking
Solo hiking is a privilege, as not many people have the health, confidence or opportunity to do so. Plan ahead, mitigate potential risks and prepare yourself for the adventure of a lifetime.
Also read:
My Solo Trip Across Vietnam By Motorcycle Under US$900 For 30 Days