Starbucks Anniversary Collection 2021
From providing our morning coffee fix to chio tumblers, Starbucks is an international brand name we all know and love throughout the years. Earlier this year, Starbucks celebrated its 50th anniversary collection with mermaid-themed mugs and ornaments. But if you thought that was all to the party, think again. To mark even more anniversary milestones, this second collection offers whimsical drinkware in colours of the sea.
Pastel drinkware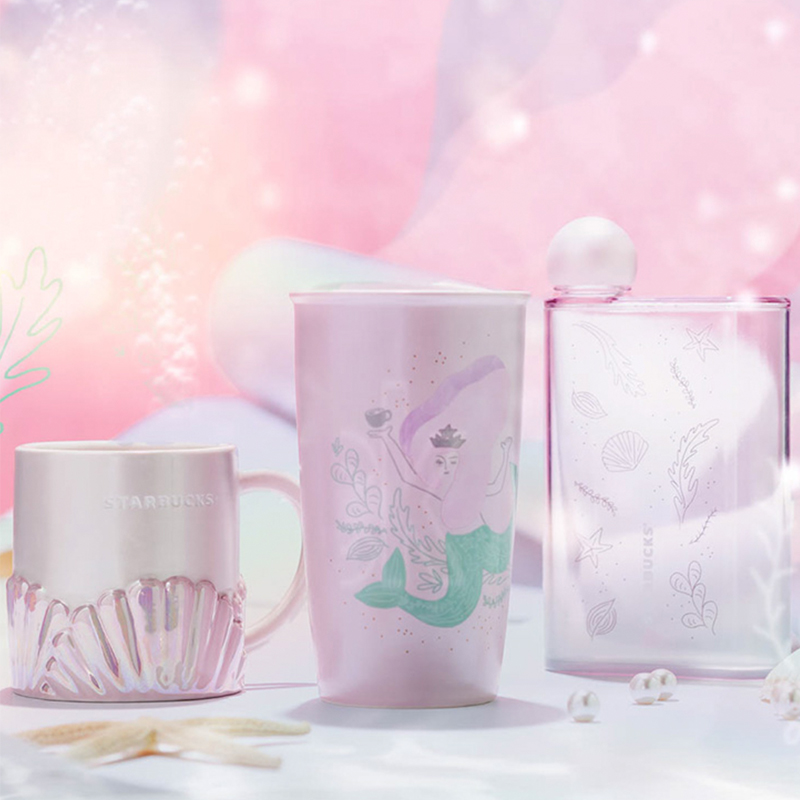 From left: 12oz mug, $28.90; 12oz tumbler, $34.90; 14oz bottle, $26.90
The first set of pastel drinkware in this collection comes in pretty pink hues, with seashells adorning the mug and the flat transparent water bottle. There's nothing like a little spark of magic with the siren-print tumbler that reminds us of Ariel under the sea. 
Fun fact: while mermaids only have one tail, the iconic siren in the Starbucks logo is typically depicted with two, following traditional Greek mythology.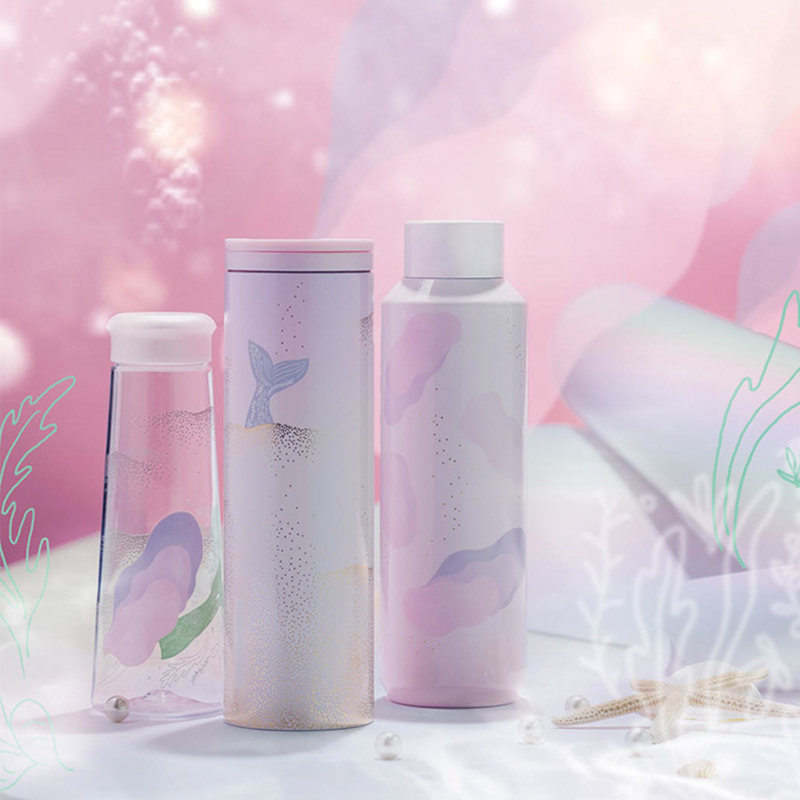 From left: 12oz bottle, $26.90; 16oz tumbler, $51.90; 20oz bottle, $48.90
The next tumbler and bottles come in more subtle designs of mermaid tails and purple and pink tones, just like colourful coral reefs.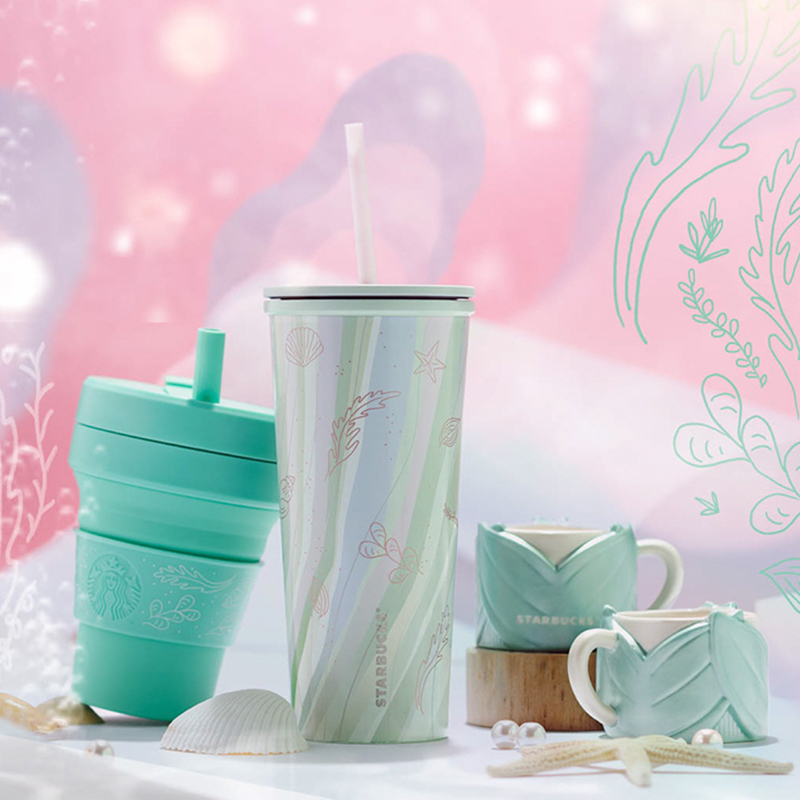 From left: 16oz collapsible cup, $32.90; 16oz Cold Cup, $39.90; 3oz espresso mugs, $21.90
Unlike the first Starbucks anniversary collection that took on darker green shades, these pastel green drinkware look like reflections of the sea waters. The Stojo collapsible cup comes with a new cup sleeve design of seaweed floating around the Starbucks logo. 
Meanwhile, the seaweed-themed Cold Cup is perfect for grabbing a grande frappuccino with your girlfriends. And if you can't start your day without at least a shot of espresso, these 3oz espresso mugs come in adorable leafy designs to complete the theme.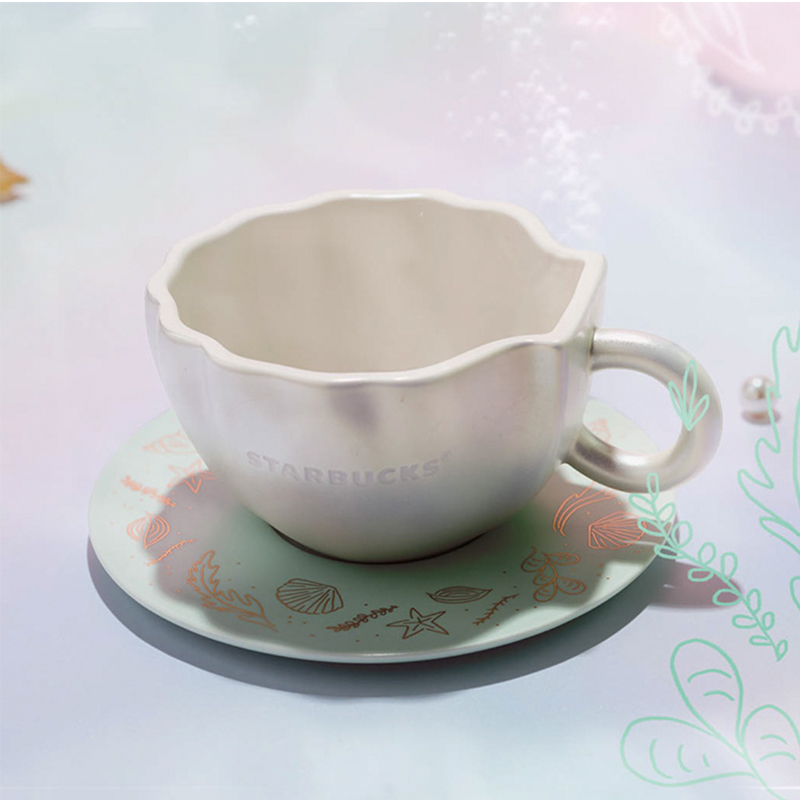 Another 12oz mug in this collection is shaped just like an actual seashell with soft ridges around the rim. A beach-themed saucer accompanies it with motifs of starfishes and seaweed to mimic the sandy floor. 
Retailing at $44.90, the mug and saucer set is only available on Lazmall and Shopee. 
Also read:
The Starbucks Mid-Autumn Collection Has Bunny-Inspired Drinkware To Accompany Starry, Starry Nights
Dark blue drinkware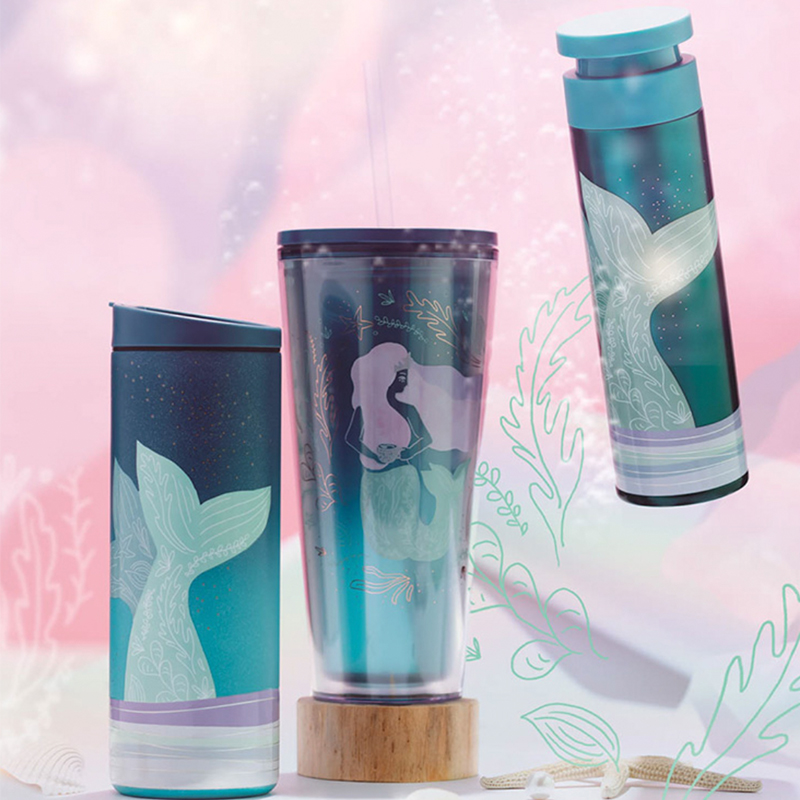 From left: 16oz tumbler, $48.90; 20oz Cold Cup, $26.90; 10.8oz bottle, $34.90
Starbucks also pays tribute to the deep ocean by introducing another set of dark blue drinkware. The tumbler and bottle features siren tails diving into your favourite brew, while the Cold Cup highlights her floating freely in the sea.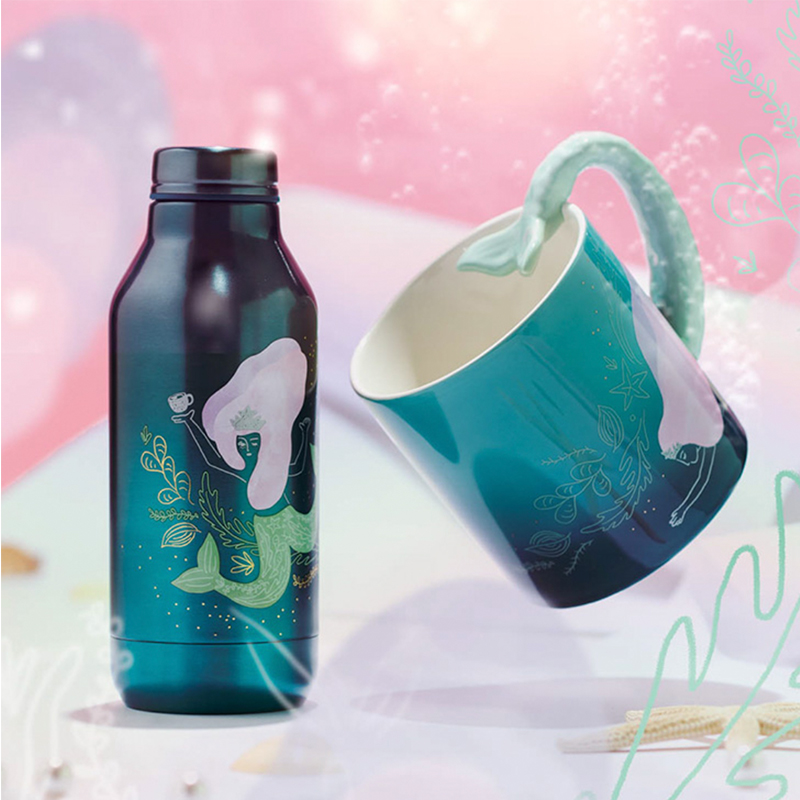 From left: 12oz bottle, $34.90; 16oz mug $30.90
Stay hydrated in the humid weather with this stainless steel water bottle — conveniently keeping your drink cool while you're out and about.
A similar design mug depicts the siren diving across the ocean floor. The green mug handle is shaped like her unique tail, offering a 3D-like effect that invites us to take a sip of our coffee or tea.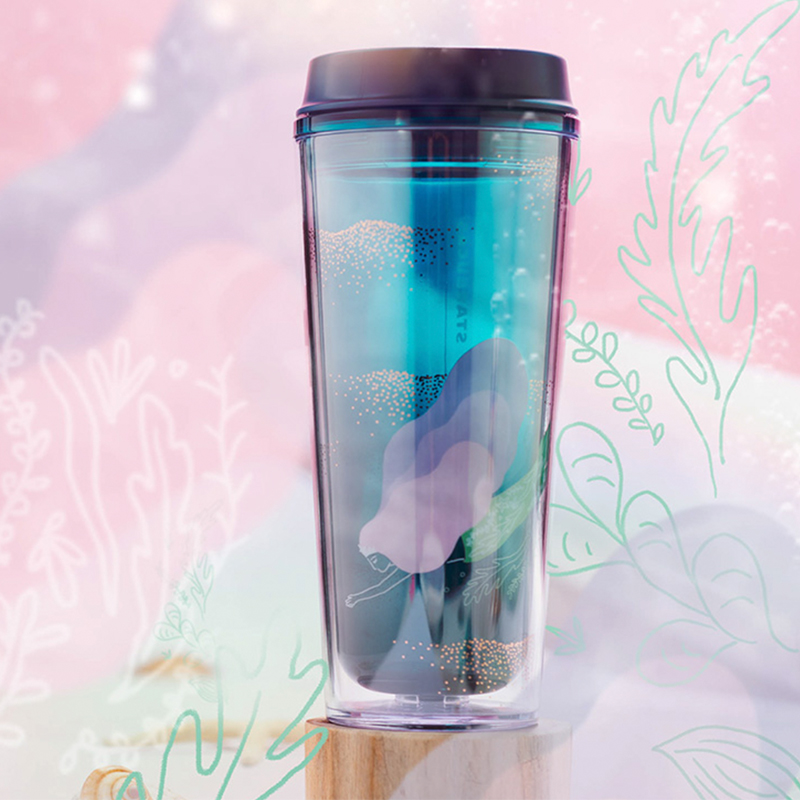 The next 16oz tumbler features the siren swimming with her pink hair flowing behind her. It retails at $27.90 each.
Accessories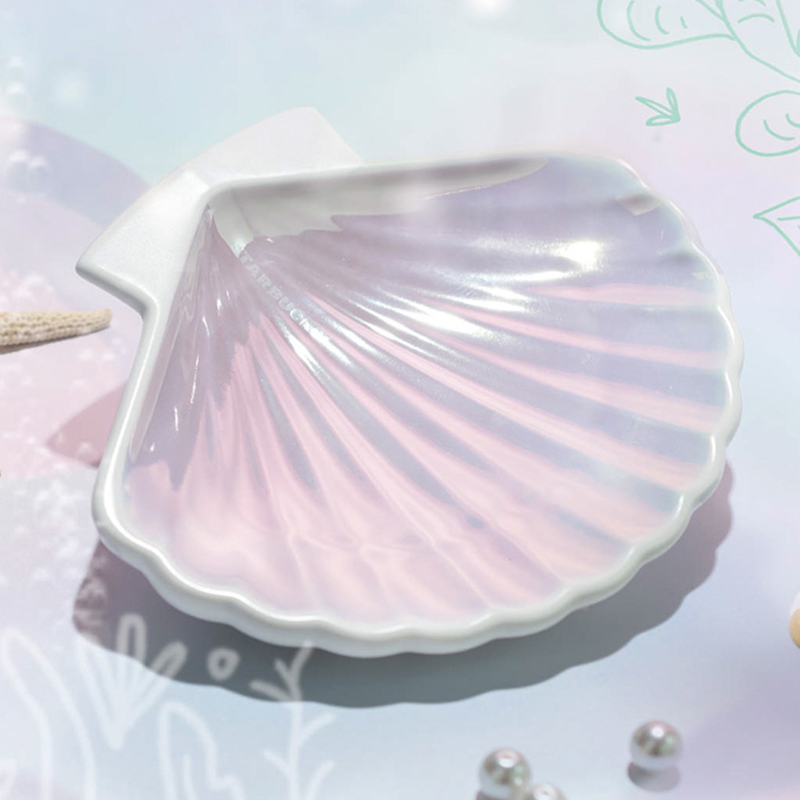 Zhng up your tableware with this iridescent seashell plate and fill it up with your favourite snacks. With ridges to give it a more realistic look, the plate is 18cm long and retails at $21.90 each.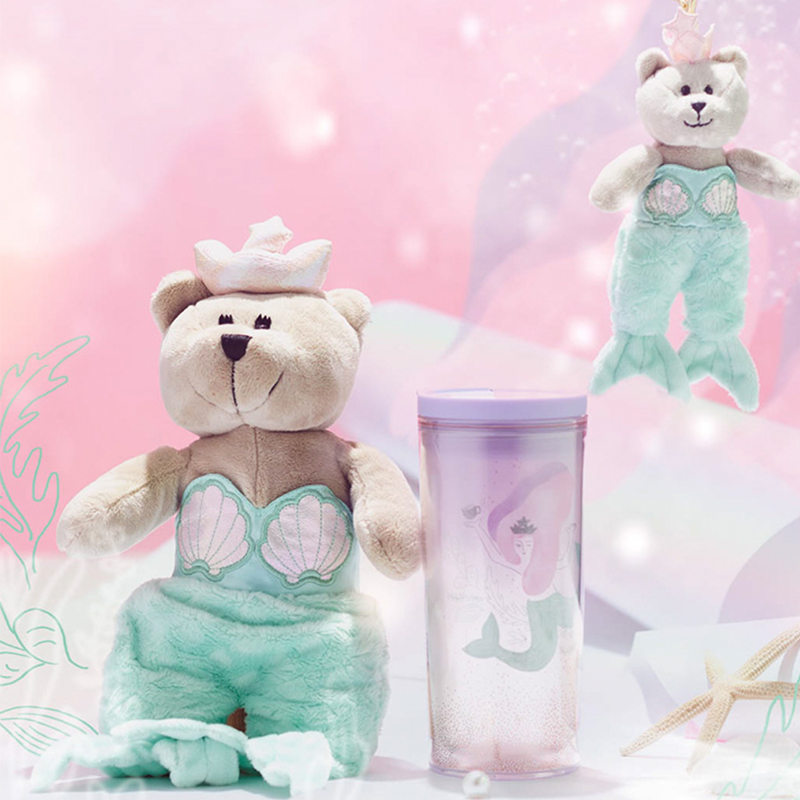 From left: Bearista, $38.90; 12oz tumbler, $24.90; mini Bearista, $20.90
The siren Bearista plush bears are available in 2 sizes, dressed in kawaii seashell bikini tops and a matching pink crown. Get the pastel pink siren tumbler to pair and complete your mermaid aesthetic.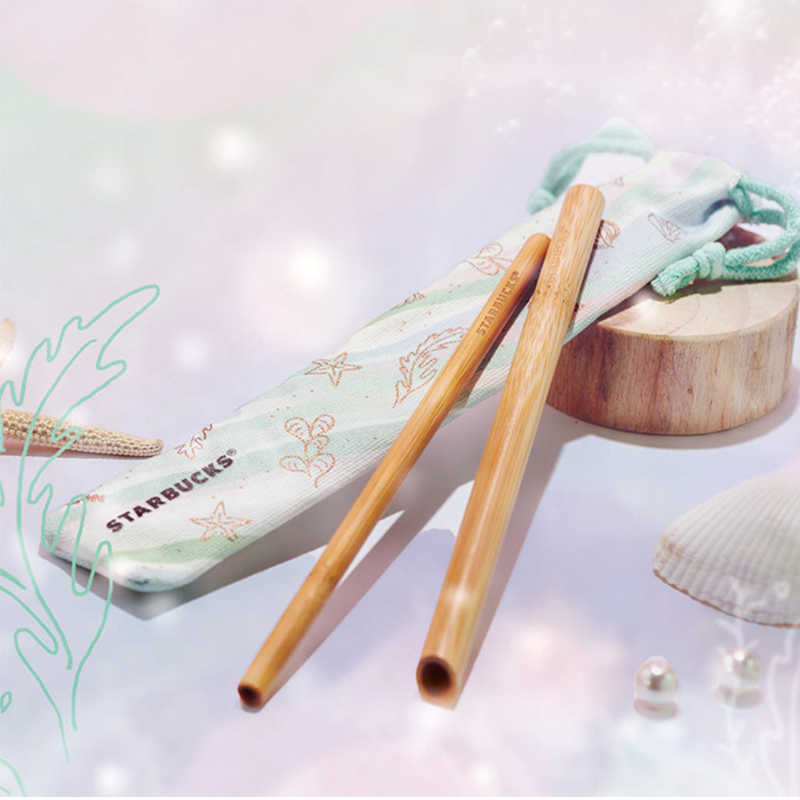 Take sustainable sips of coffee by the sea with these bamboo straws. Each set comes with 2 straw sizes that are suitable for your BBT pearl cravings as well, along with a seaweed-themed pouch. It retails at $19.90 per set.  
Like the seashell mug and saucer set, this bamboo straw set is only available on Lazmall and Shopee.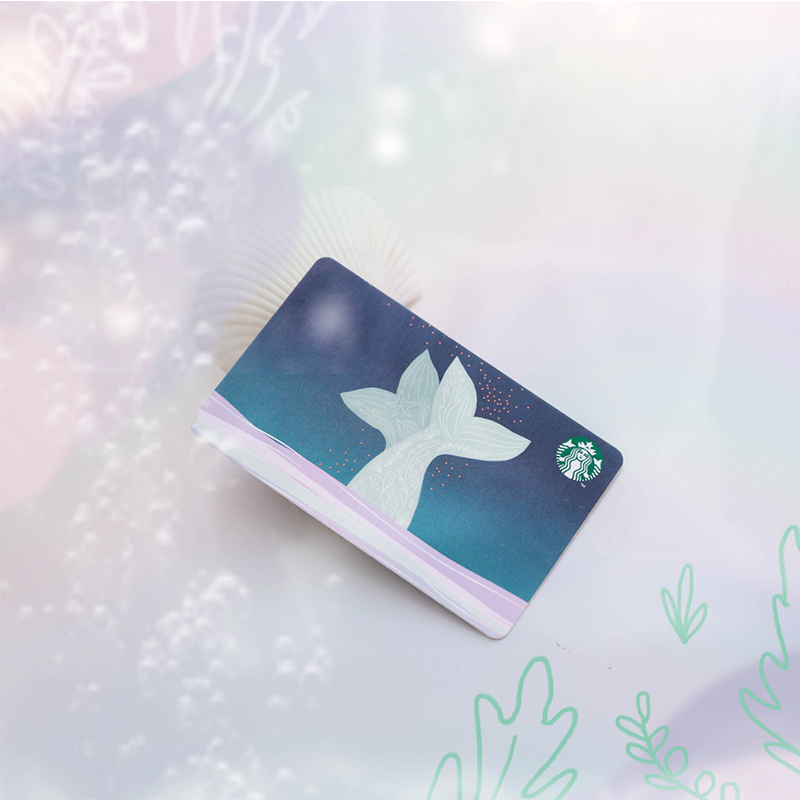 The siren tail Starbucks card is a perfect gift for your loved ones who can never get enough of Starbucks drinks. Top up a minimum of $10 into it and you're good to go.
The Starbucks Anniversary Collection 2021 Is Filled With Chio Siren Drinkware & Accessories
Following Starbucks' pastel mermaid collection that was released a year ago, it's clear to see that we can't get enough magical merch. The Starbucks Anniversary Collection will be available in Starbucks stores islandwide from 15 September 2021, so make sure to check out Starbucks Singapore's website for the full details. It will also be available on Starbucks' official flagship store on Lazmall and Shopee from 12pm onwards on the same day.
All images courtesy of Starbucks. 
Also read:
Starbucks Now Has Semi-Transparent Tote & Sling Bags To Add Some Street Style Swag To Your OOTD