Starbucks Anniversary Collection 2022
Besides perking up our mornings with the aroma of fresh coffee, it's hard to miss out on Starbucks' endless drinkware collections too. Following their yearly Chinese New Year and Christmas merch, there's a new set of chio drinkware that fans look forward to every year — the anniversary collection. 
Filled with pastel tumblers and siren-themed accessories, the 2022 collection reminds us of the beauty of the mythical seas.
Drinkware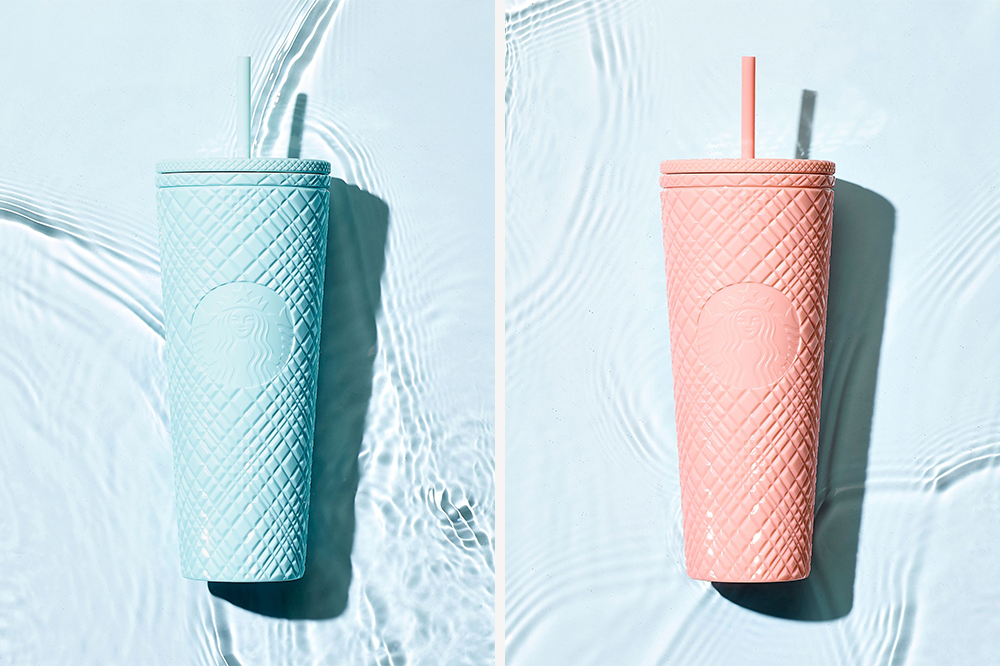 It's certainly not a Starbucks collection without their iconic Cold Cups, and these pastel Cold Cups can keep your Venti iced lattes cool in the mornings. The 24oz Cold Cups are retailing at $35.90 each.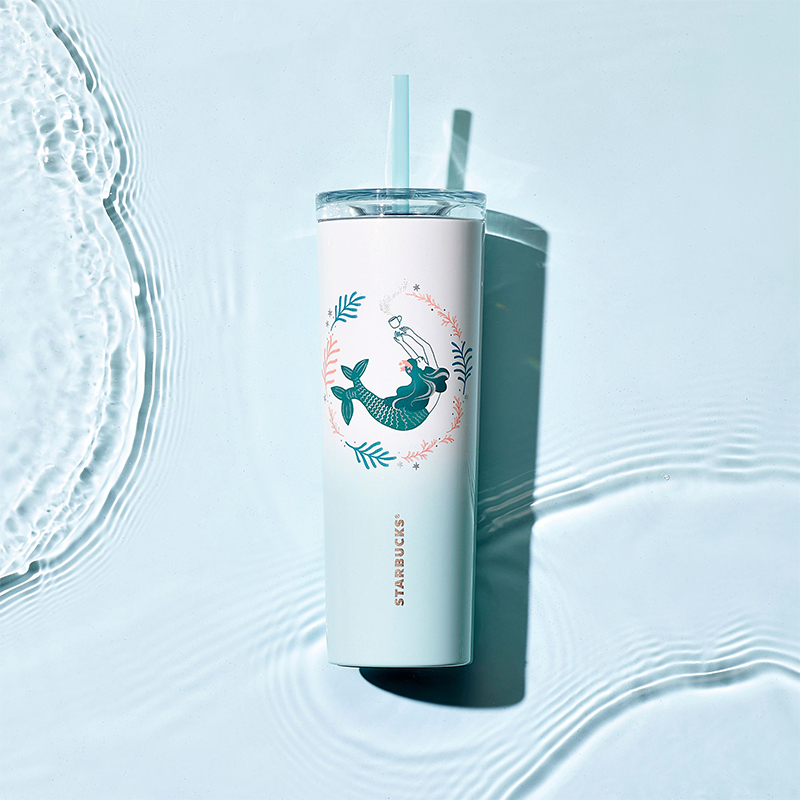 Like last year's anniversary collection, fans can expect more motifs of Starbucks' iconic symbol — the siren. Featuring her two tails while stretching within a coral wreath, this stainless steel 16oz Cold Cup is available at $42.90.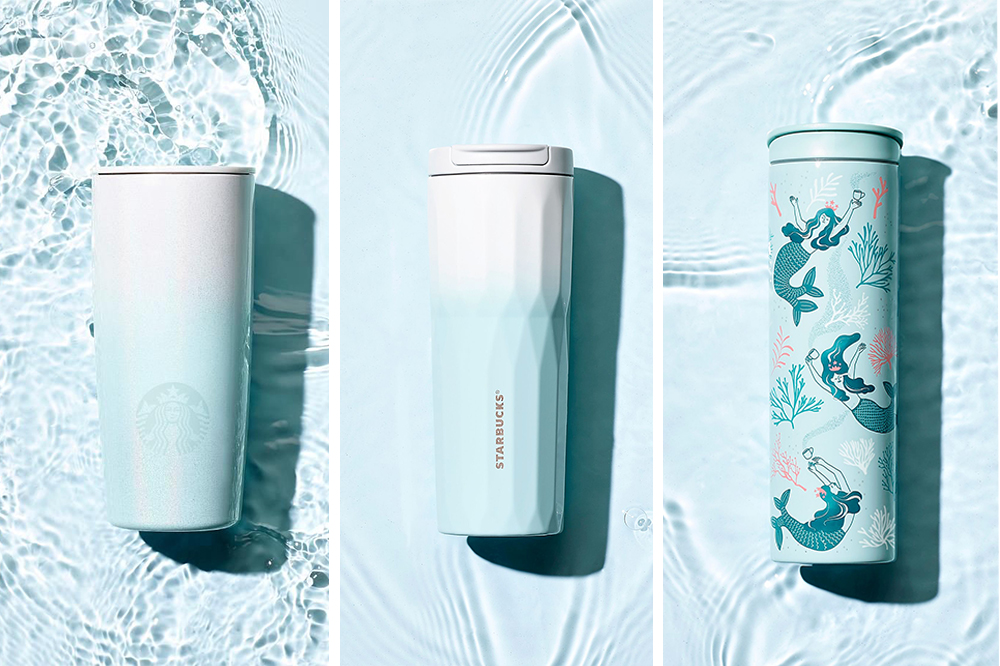 From left: 20oz tumbler, $49.90; 16oz tumbler, $45.90; 16oz tumbler, $45.90
Keep your drinks ice cold in these stainless steel tumblers decked in a gradient of blue and white hues. Whether you're going for a minimalist vibe or a tumbler filled with sirens, these will keep your drink safe while on the go.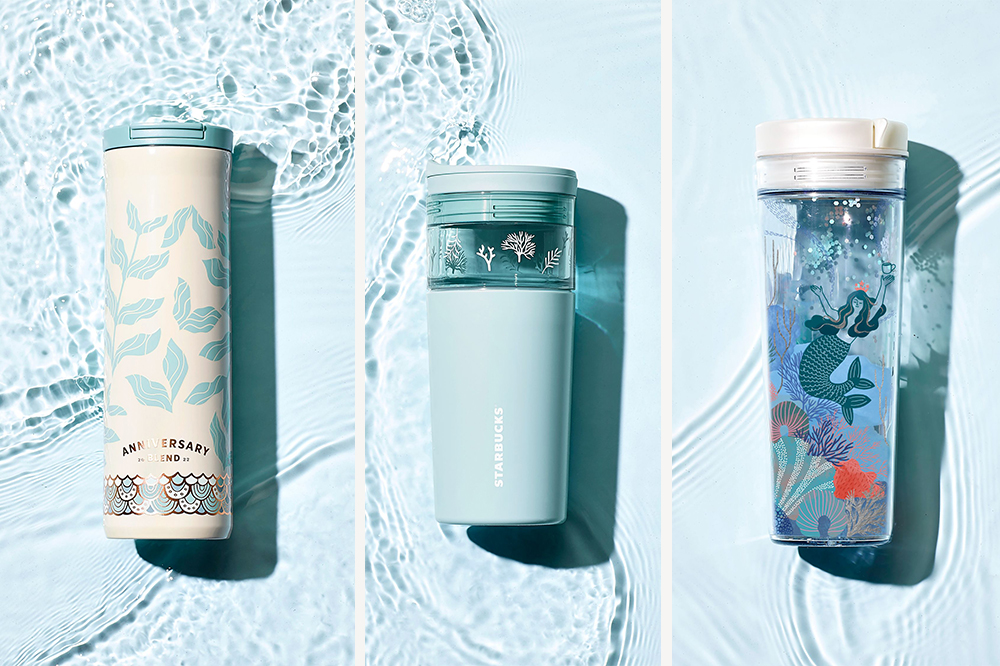 From left: 16oz tumbler, $55.90; 16oz tumbler, $29.90, 16oz tumbler, $29.90
While sirens may look like mermaids at first glance, what sets them apart is the siren's unique double tail. Get this intriguing feature on the 16oz stainless steel tumbler (left) designed with the siren's tails among fresh seaweed.
If you prefer plastic tumblers instead, the pastel blue and transparent siren tumblers (right) will ensure it remains light in your bag.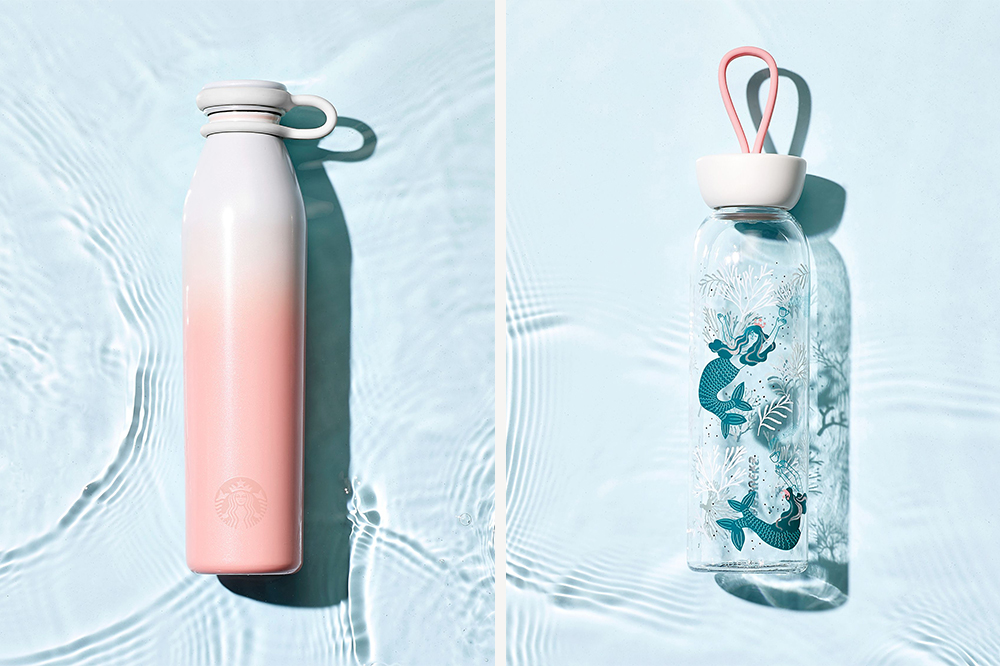 From left: 20oz water bottle, $44.90; 18oz water bottle, $27.90 
Remind yourself to stay hydrated with the pink gradient stainless steel water bottle or the plastic bottle with sirens swimming in the ocean.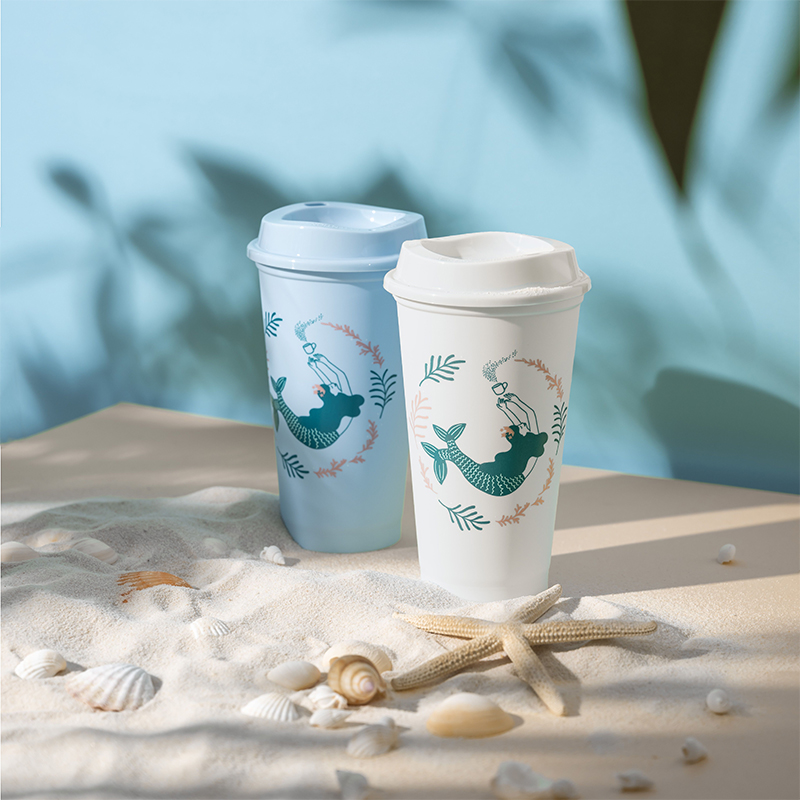 Head's up: we also heard that there will be online store exclusive siren tumblers in blue and white. While the full details have yet to be released, these look similar to last year's reusable hot cups from their Christmas collection.
Cups and mugs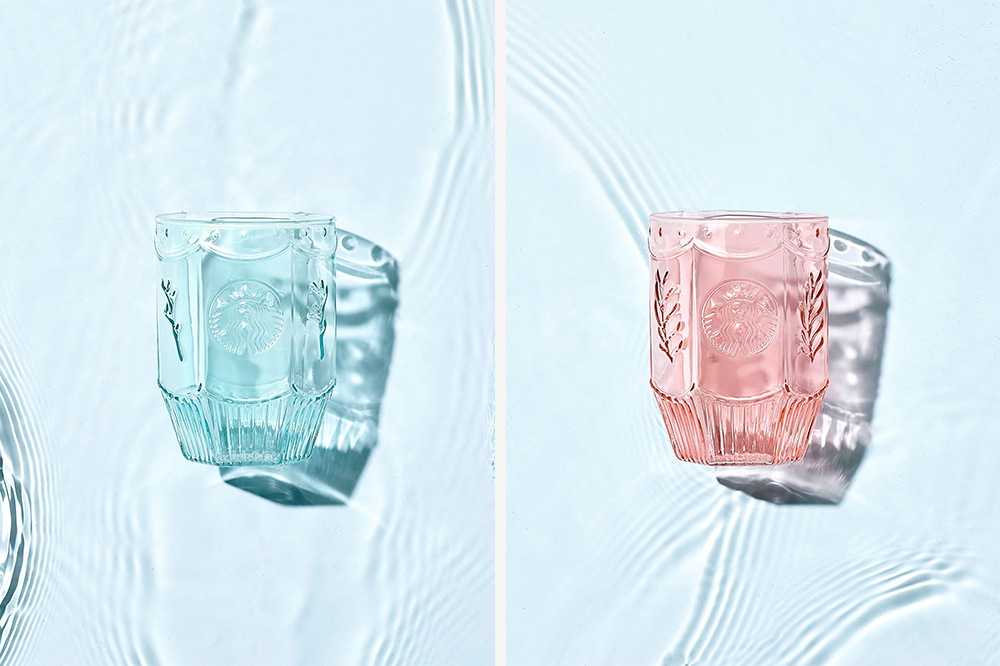 Impress your guests with aesthetically-pleasing glass cups in blue and pink, perfect for a small get together in the comfort of home. The 14oz glass cups are retailing at $29.90 each.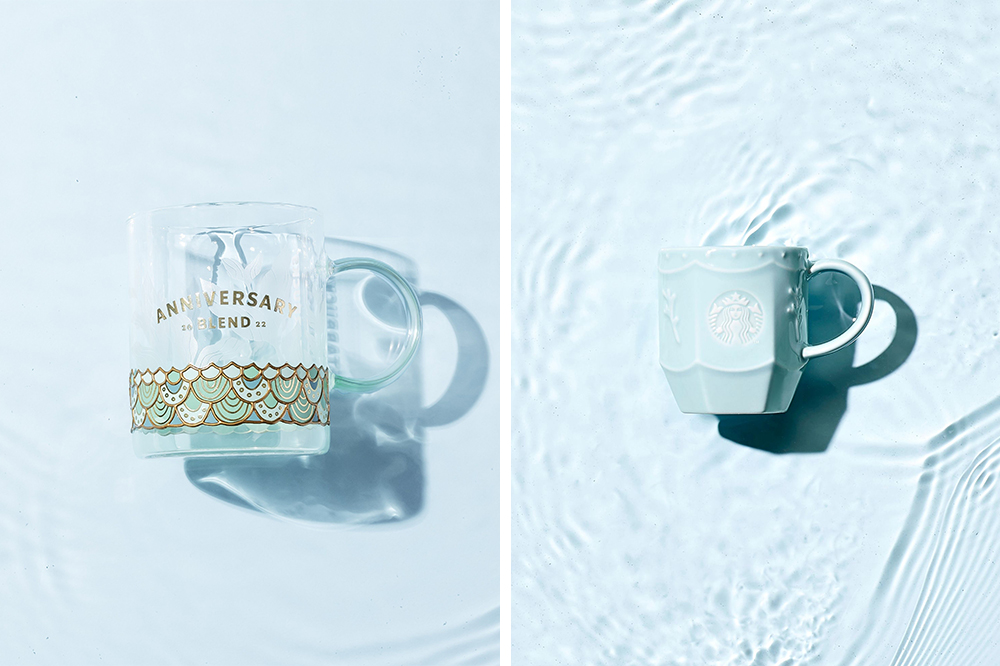 From left: 12oz mug, $44.90; 3oz mug, $19.90
Brew your morning coffee in the 12oz anniversary glass mug, detailed with intricate designs of the siren's scales. Before doing so, prepare your morning caffeine shot in this 3oz mint blue mug to get the right fix for the day.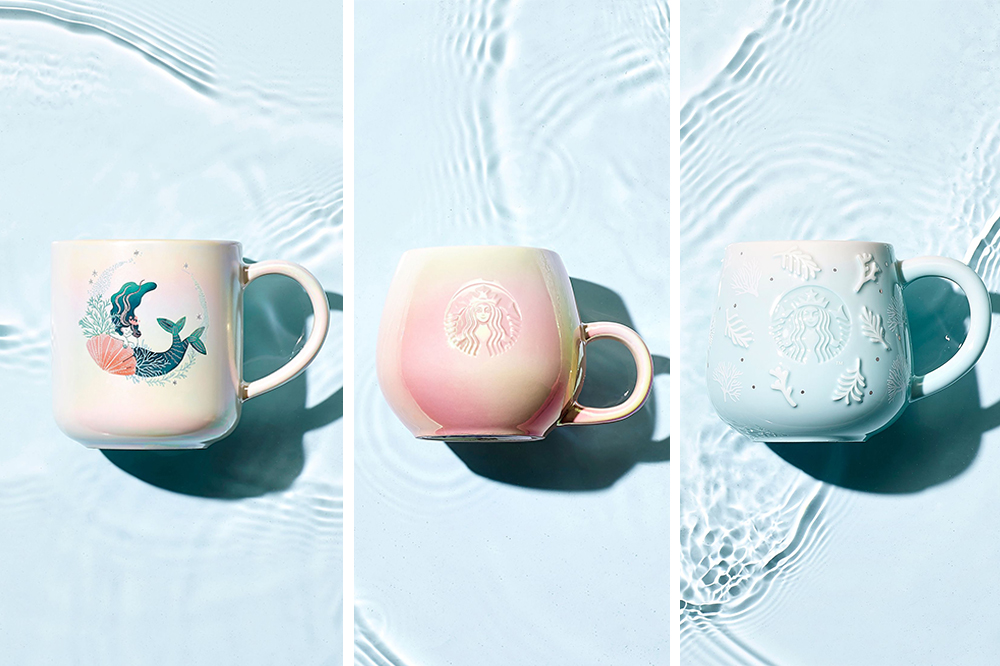 From left: 12oz mug, $25.90; 11oz mug, $25.90; 12oz mug, $30.90
Transform your kitchenware with these magical mugs from under the sea, treating us to more whimsical motifs of sirens, corals and ocean waves.
Additional accessories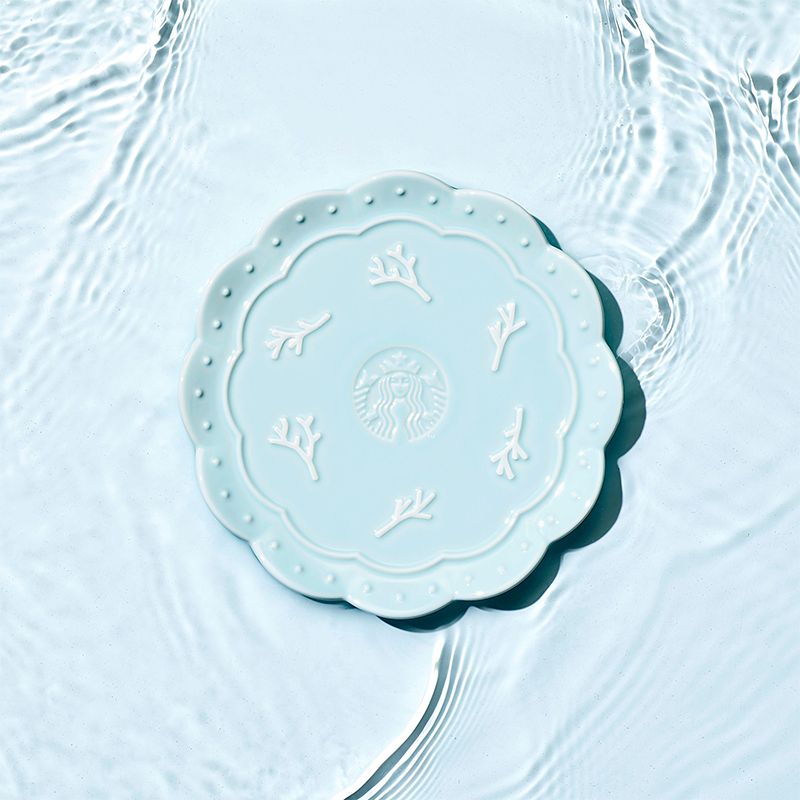 On top of the drinkware, fans can also get their hands on this coral reef ceramic plate for your afternoon tea break snacks. It's retailing at $26.90.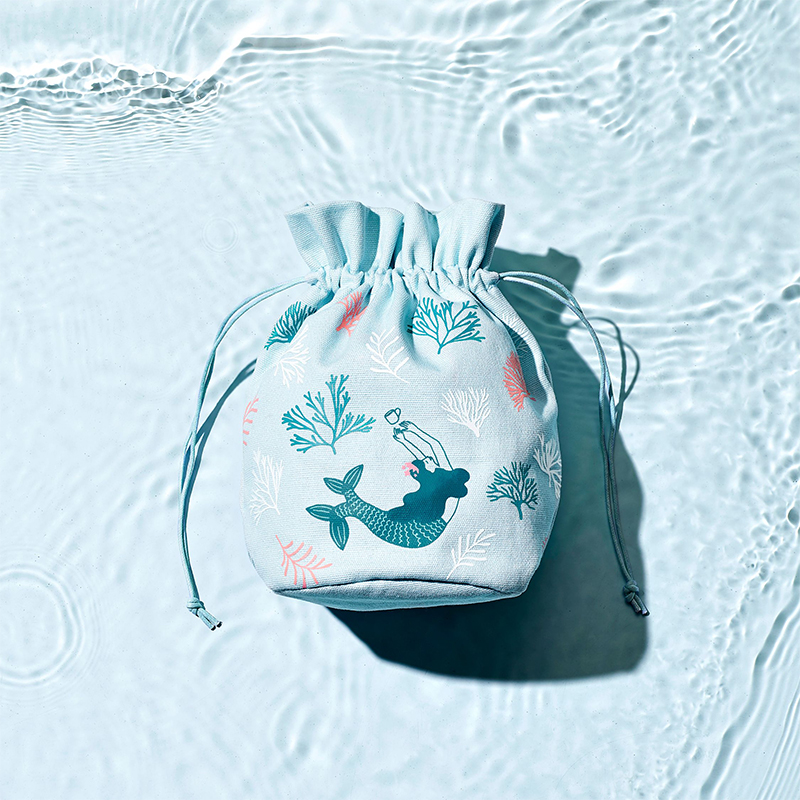 Keep all your makeup or skincare essentials safe in this siren-themed pouch, once again featuring her swimming among the corals. The pouch is 24cm long and 24.5cm high, available at $19.90.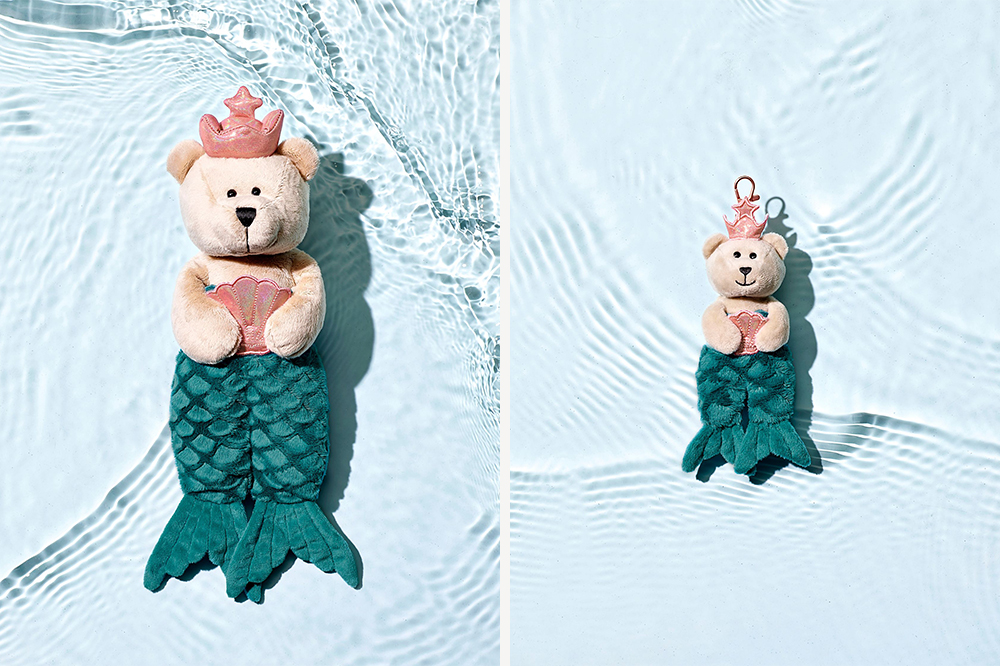 Complete your collection with the adorable siren Bearistas decked in a seashell top and a pink crown. The stuffed toy version is available at $45.90, whereas the mini keychain version is at $24.90.
Starbucks Anniversary 2022 Collection Features The Iconic Siren & Mythical Seas
We're pretty certain that Starbucks fans eagerly anticipate the anniversary collection just as much as the other yearly collections too. The full Starbucks anniversary 2022 collection is now available at all Starbucks stores islandwide, as well as on LazMall and Shopee Mall while stocks last. 
All images courtesy of Starbucks.
Also read:
Starbucks SG Now Has Exclusive Canvas Tote Bags That Add Style To Your Daily Coffee Runs