Starbucks Cherry Blossom Collection
Earlier this month, Starbucks Japan launched a Spring 2023 collection with pastel drinkware and merch inspired by cherry blossoms. Luckily for us, Starbucks Singapore isn't missing out on a collection as chio as this either. 
Launching in late February 2023, Starbucks is bringing the beauty of Spring here to our Little Red Dot, featuring drinkware in elegant pink and purple hues.
Pink collection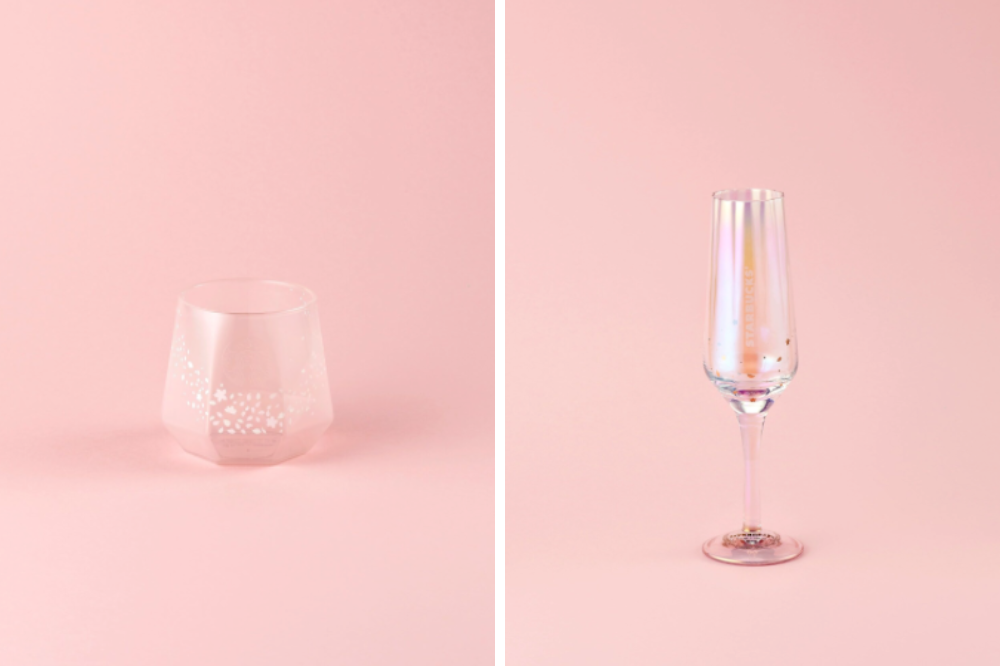 From left: 12oz glass cup, $36.90; 8oz glass, $39.90
Brew your morning coffee in the minimalistic pink glass cup (left), decked with white cherry blossoms floating around the sides. 
To celebrate the upcoming Spring season, pour yourself a glass of champagne and raise for a toast with the tall pink petal glass (right).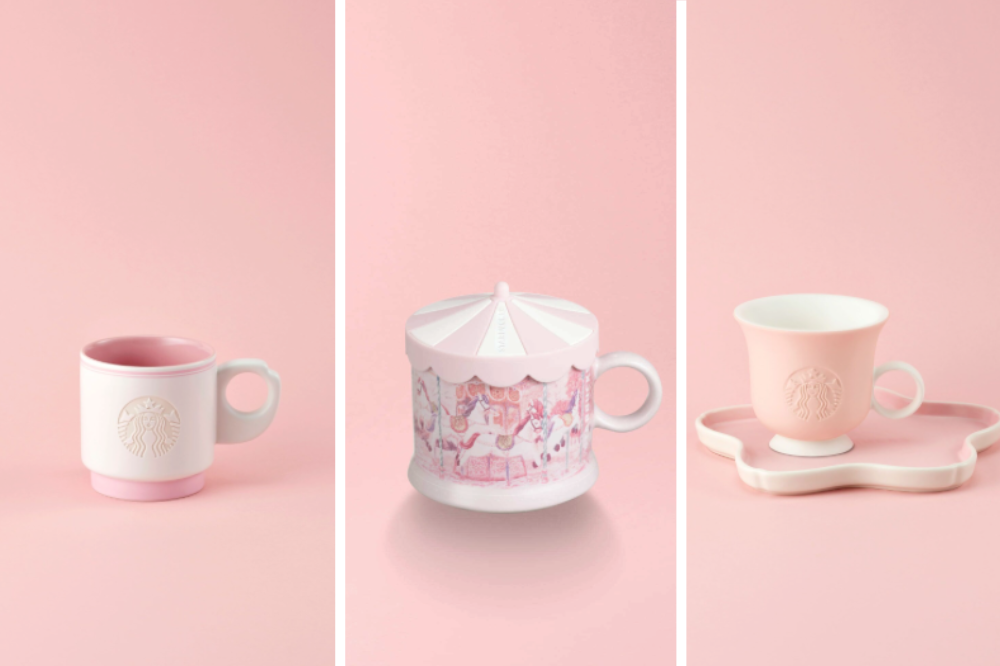 From left: 10oz mug, $25.90; 12oz mug, $38.90; 8oz mug with saucer, $49.90
The collection also features a range of pastel pink mugs to start off your mornings on a high note. The Carousel Mug (middle) comes in a cheerful design of pink carousel ponies and a matching carnival-inspired lid.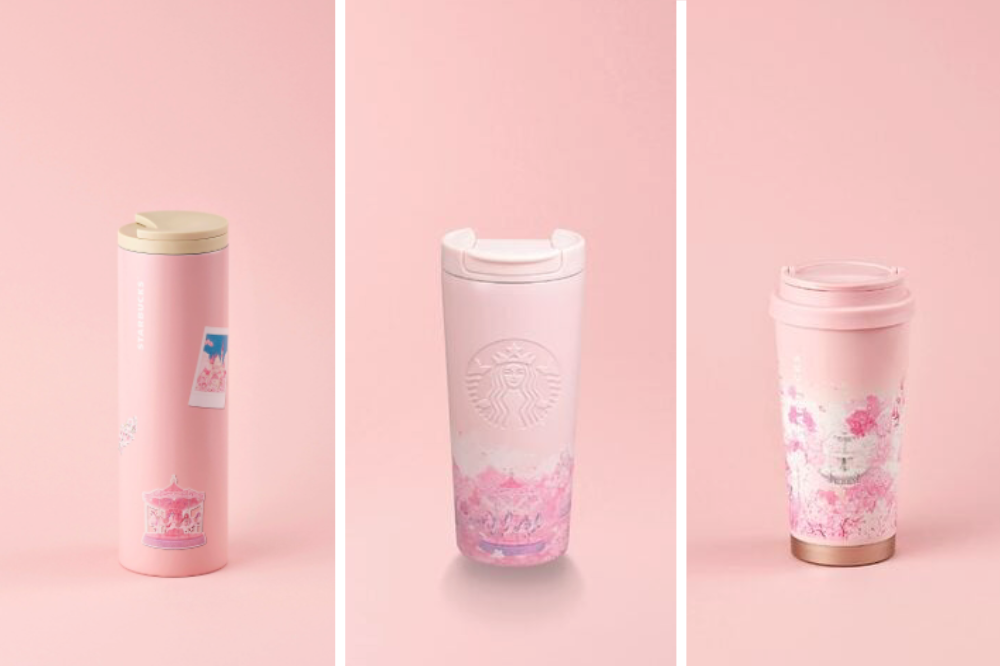 From left: 16oz tumbler, $50.90; 12oz tumbler, $44.90; 16oz tumbler, $50.90
Treat yourself to a cool drink on hot days with the pink stainless steel tumblers. These are available in two carousel-themed designs as well as a fountain surrounded by falling blossoms.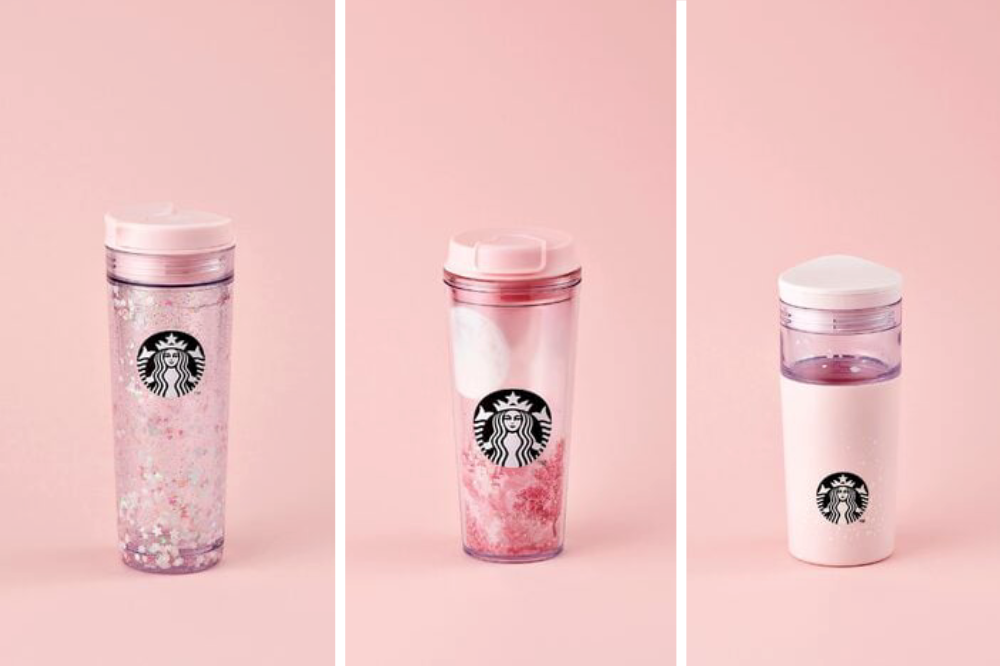 For those who enjoy watching your freshly brewed coffee in transparent tumblers, these three will make your drink appear as though it is surrounded by flower petals. The 2-in-1 Pink Petal Tumbler (right) is also size-changeable to suit your needs, no matter if you're feeling a Tall or Grande drink for the day. 
All of the 16oz tumblers are retailing at $30.90 each.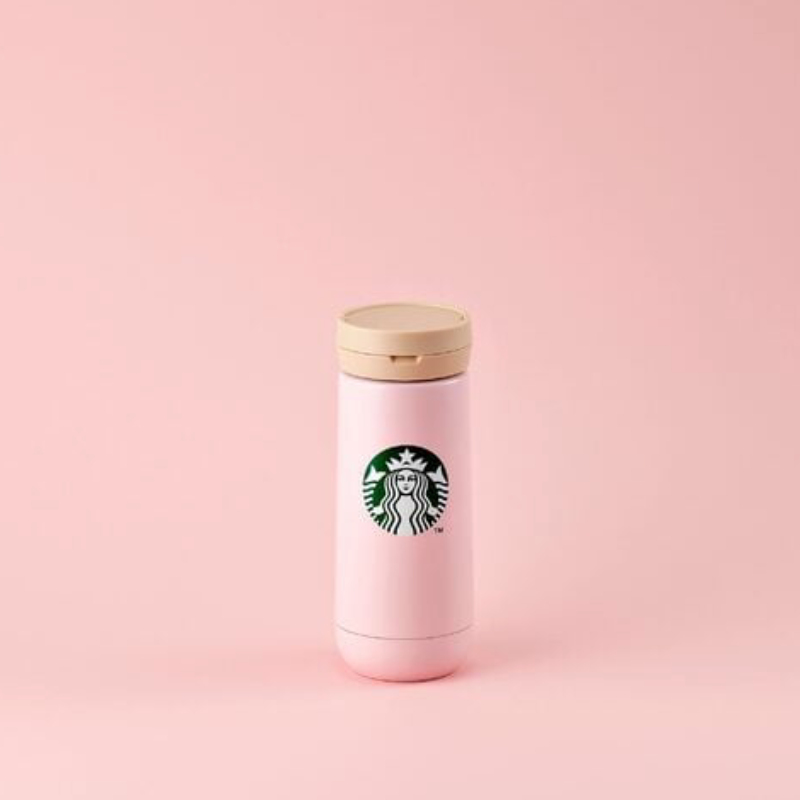 If "simplicity is key" is one of your life mottos, go for this handy pastel pink 12oz tumbler. It's made of stainless steel and retails at $49.90.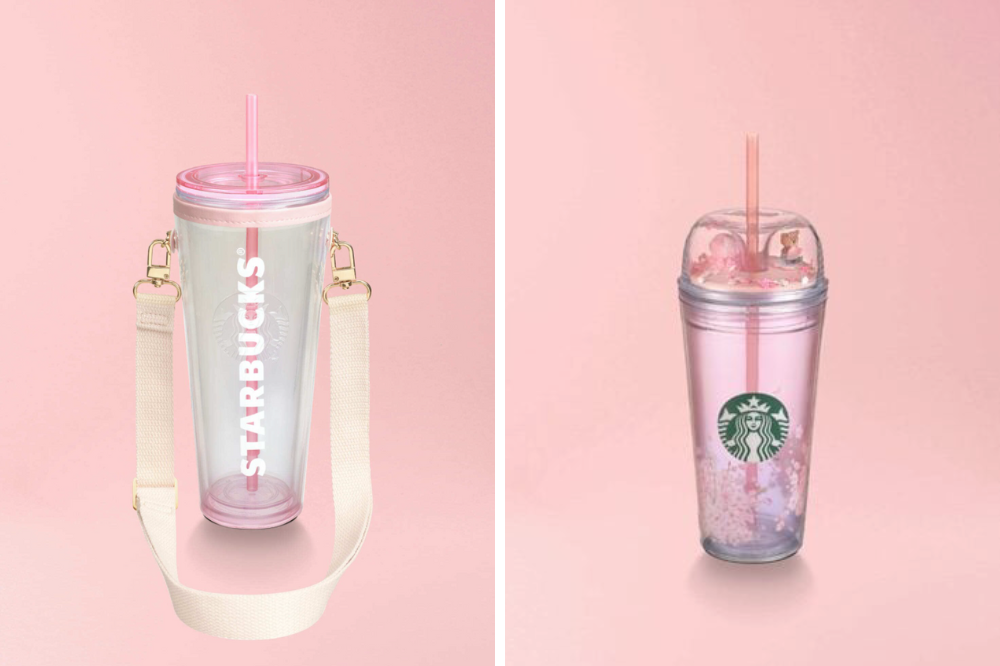 From left: 24oz Cold Cup, $55.90; 16oz Cold Cup, $44.90
The collection stars two unique Cold Cups, such as the Gradient Pink Cold Cup with Cross Strap Bag (left) to sling your fave iced latte around you while on the go. 
Or you can take a mini Bearista with you with this Cherry Blossom Cold Cup (right), featuring a see-through lid with 3D ornaments and floral sequins.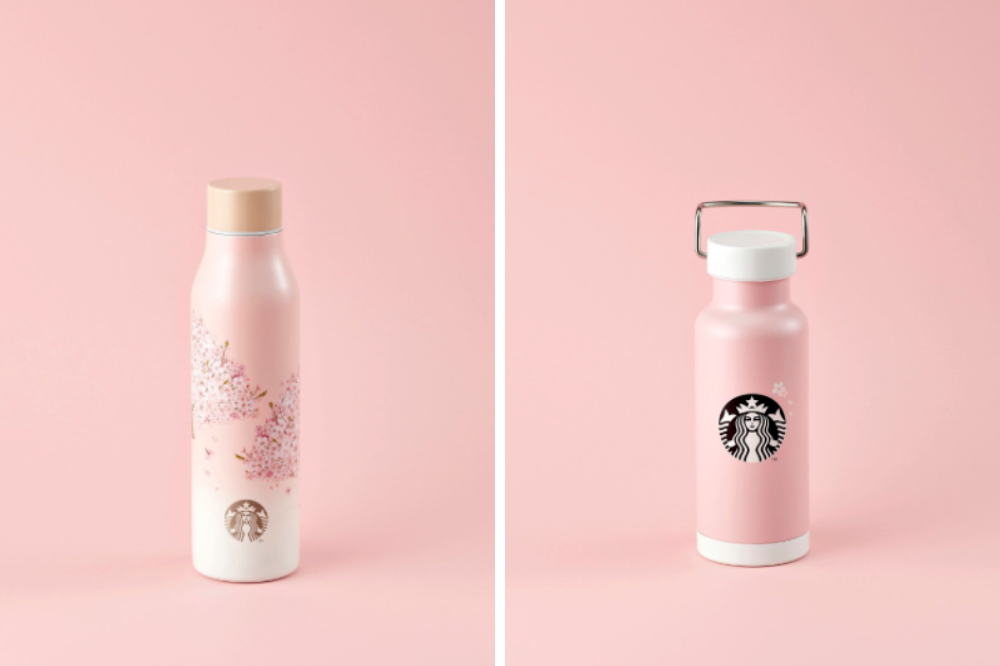 From left: 13oz water bottle, $45.90; 16oz water bottle, $48.90
Remind yourself to stay hydrated with the stainless steel water bottles, each decked in — you guessed it — more cherry blossom details. The 16oz water bottle (right) also comes with a built in handle to take it along with you on your gym sessions.
Purple collection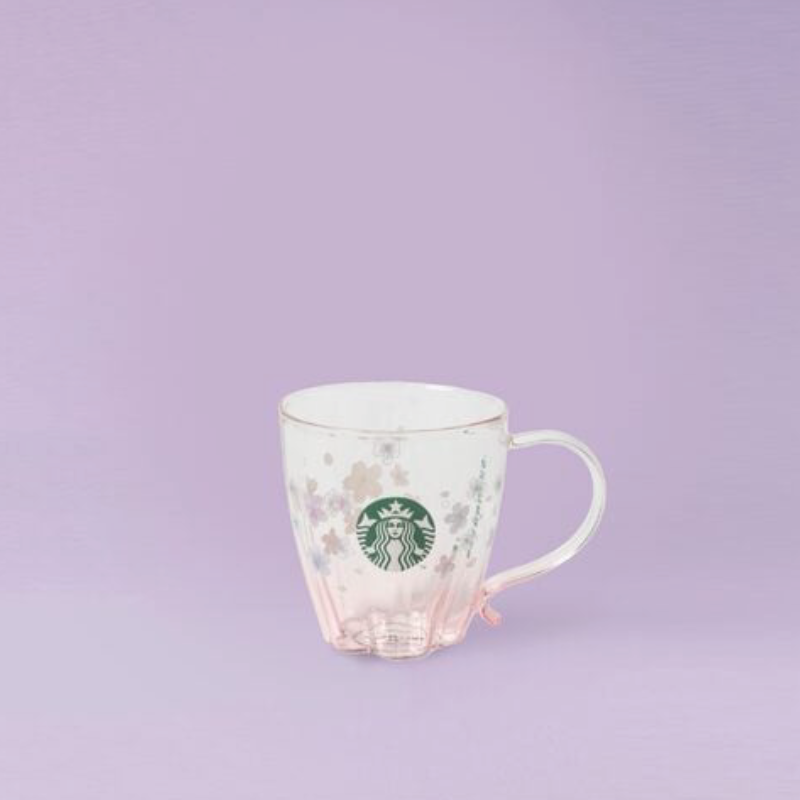 That's not all — Starbucks fans are also treated to an equally chio purple collection too. Pair your afternoon tea breaks with this 14oz Sakura Glass Cup, retailing at $36.90.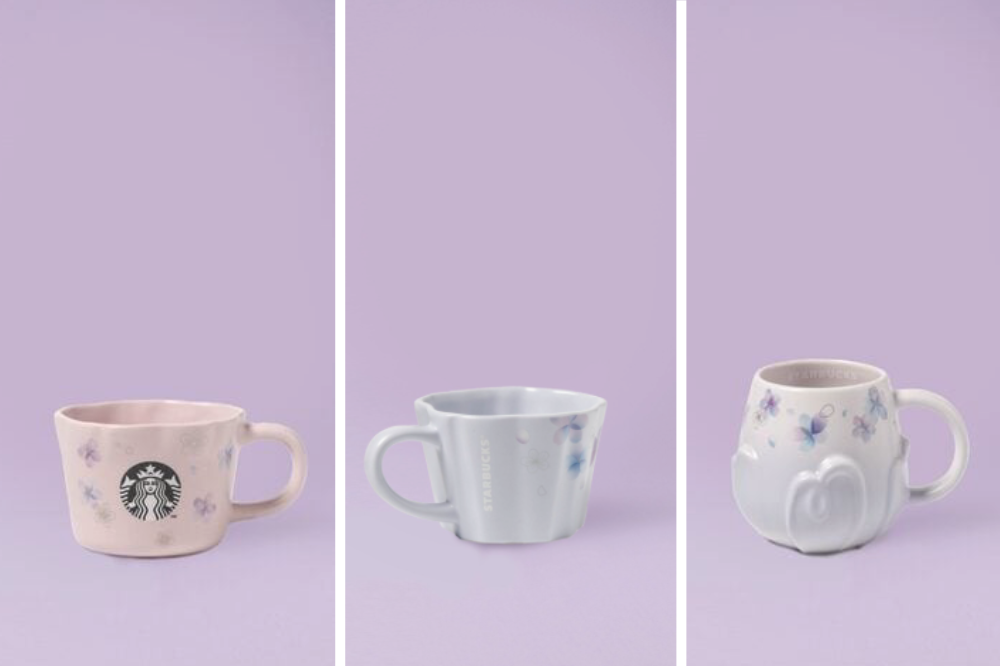 From left: 10oz mug, $29.90; 10oz mug, $29.90; 12oz mug, $32.90
You can also get matching sakura mugs with your coffee-loving BFFs, available in pink, purple and lilac palettes.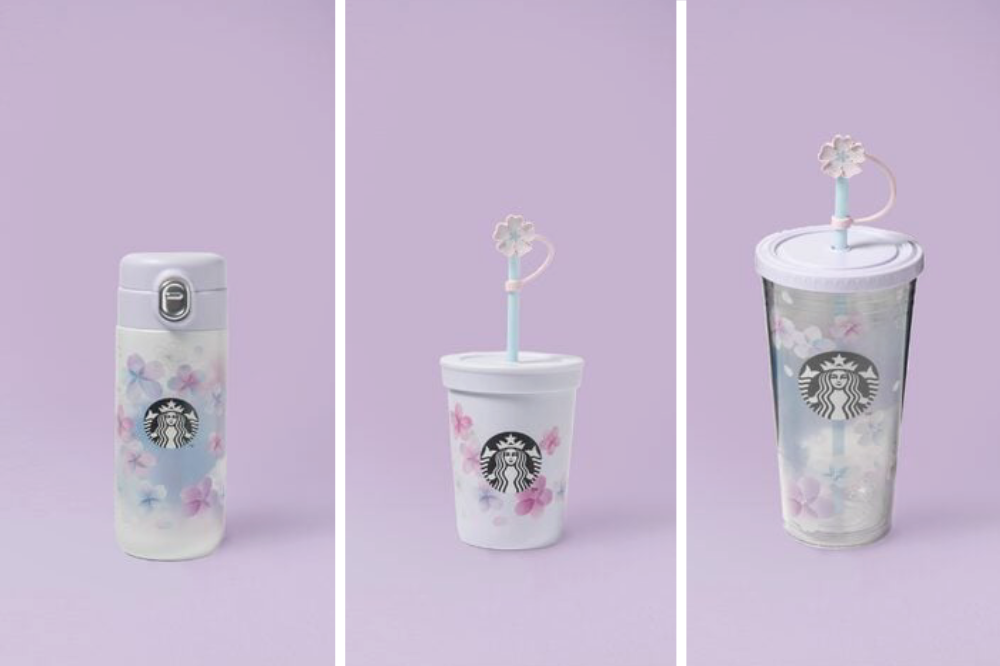 From left: 12.9oz tumbler, $44.90; 12oz Cold Cup, $35.90; 22oz Cold Cup, $32.90
Stainless steel tumblers and Cold Cups are also available in elegant purple hues. Both the 12oz and 22oz Cold Cups come with a cute flower straw cap on top.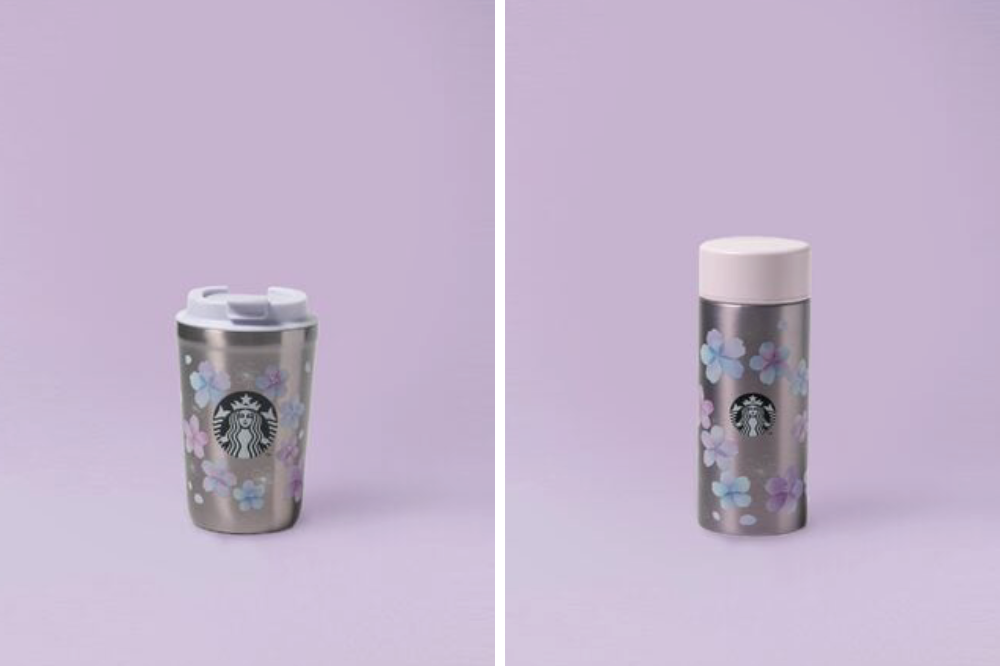 Spring into the new season with these 12oz tumblers, suitable for storing both hot and cold beverages. The tumblers are retailing at $44.90 each.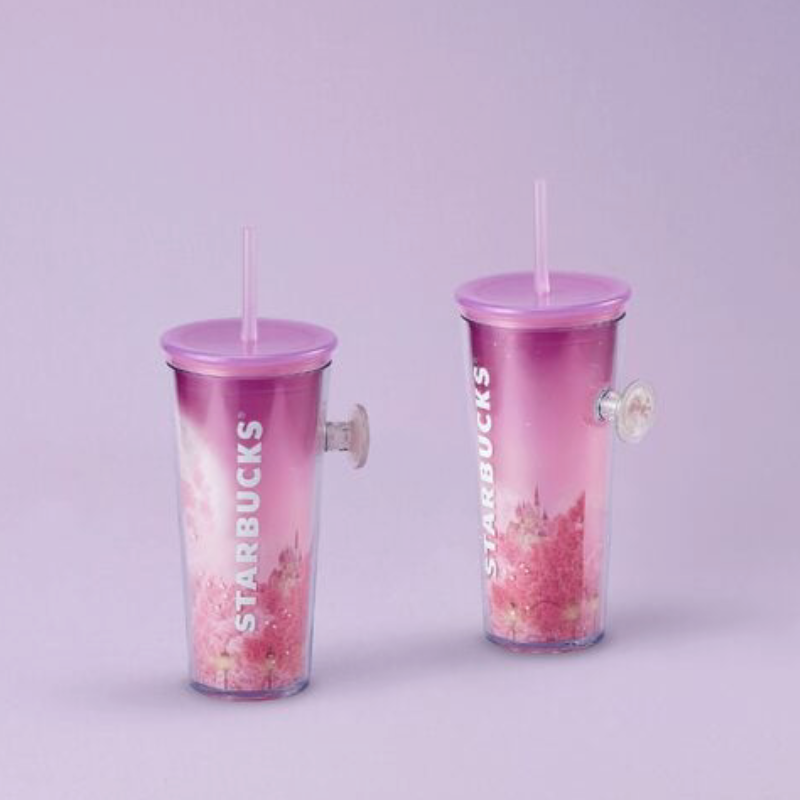 Treat yourself to a coffee break with these ombré pink Cold Cups that come with a grip accessory shaped like a full moon. The 16oz Cold Cup is retailing at $30.90.
Accessories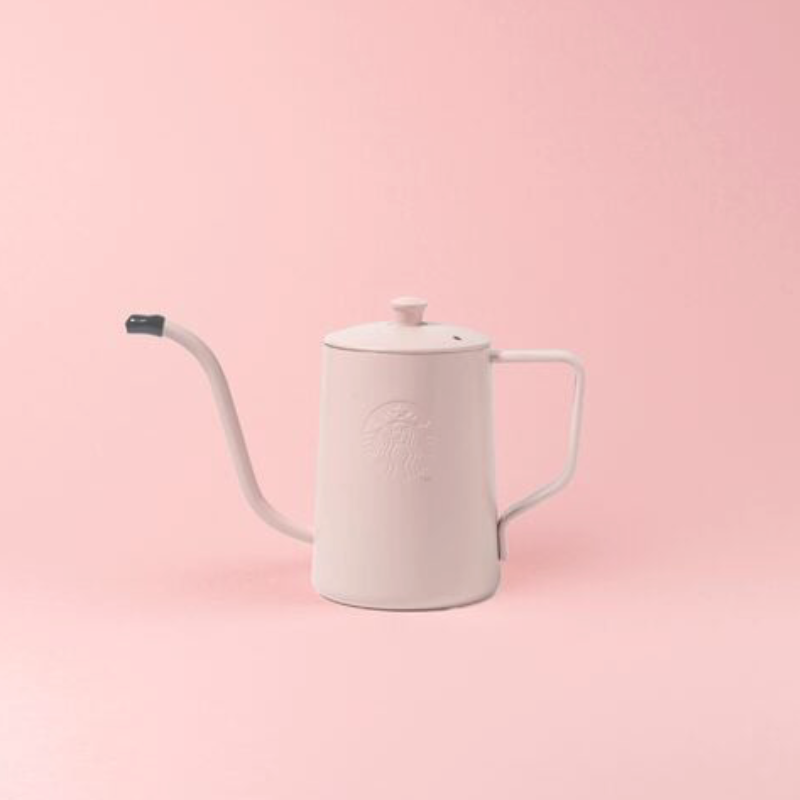 Impress your guests by serving piping hot tea in this pink kettle with a long narrow sprout. It can store up to 550ml of liquid and is available at $58.90.
For those who can't wait to travel overseas to catch the cherry blossoms blooming IRL, you can witness them in advance through these bear-y adorable keychains. The keychain set comes with a Bearista head and a mini key with a sakura blossom design, retailing at $40.90.
The Starbucks Cherry Blossom Collection Will Be Available From 22 February 2023
Despite not being able to catch the cherry blossoms blooming here in our sunny Singapore, Starbucks is bringing the florals to us instead. Fun fact: some of the drinkware in this collection are co-created with Starbucks Korea, so you don't have to travel out just to get your hands on these exclusive merch. 
The cherry blossom collection will be available from 22 February 2023 onwards in stores islandwide and on Starbucks' online store. 
All images courtesy of Starbucks.
Also read:
Starbucks Japan's Spring 2023 Collection Has Pastel Drinkware & Merch Inspired By Cherry Blossoms