Starbucks Hong Kong Halloween Collection
With October steadily approaching, the season of Pumpkin Spice Lattes and horror movies is upon us. To kickstart fall, Starbucks Hong Kong has launched an adorable Halloween collection with mugs shaped like cats, ghosts and raccoons. Now you can get matching Halloween-themed drinkware with your BFFs for the ultimate squad ghouls.
Black cat mugs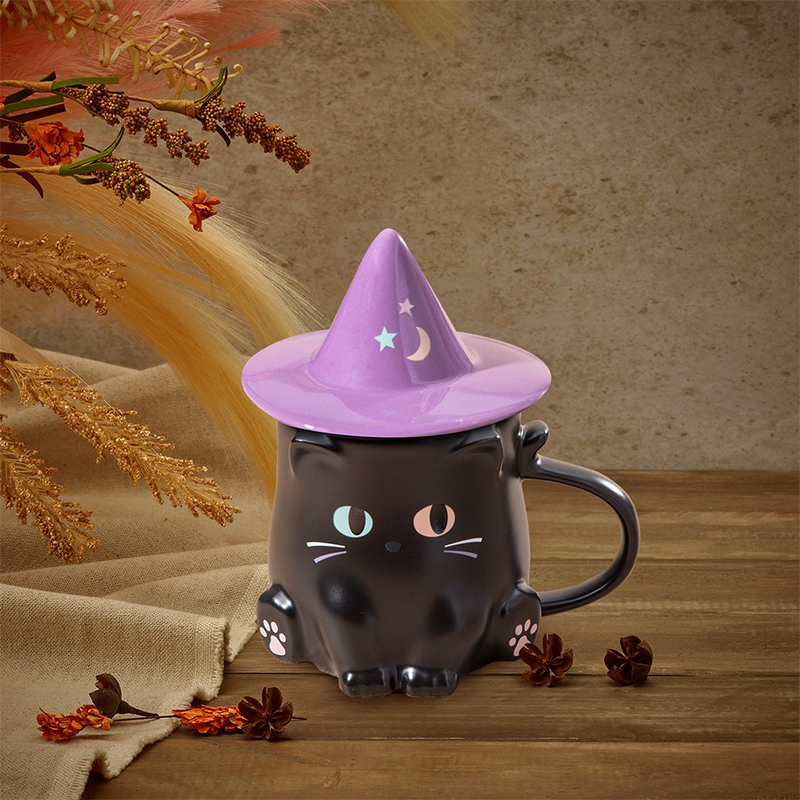 For those looking to turn up to a Halloween costume party as a witch, your look isn't complete without an iconic black cat by your side. From witches like Sabrina to Kiki, having a magical black cat is simply a must.
The 12oz witch cat mug comes with a purple wizard hat as a lid. Its mismatched coloured eyes add a mysterious vibe to the mug, proving to be a unique companion for your morning coffee.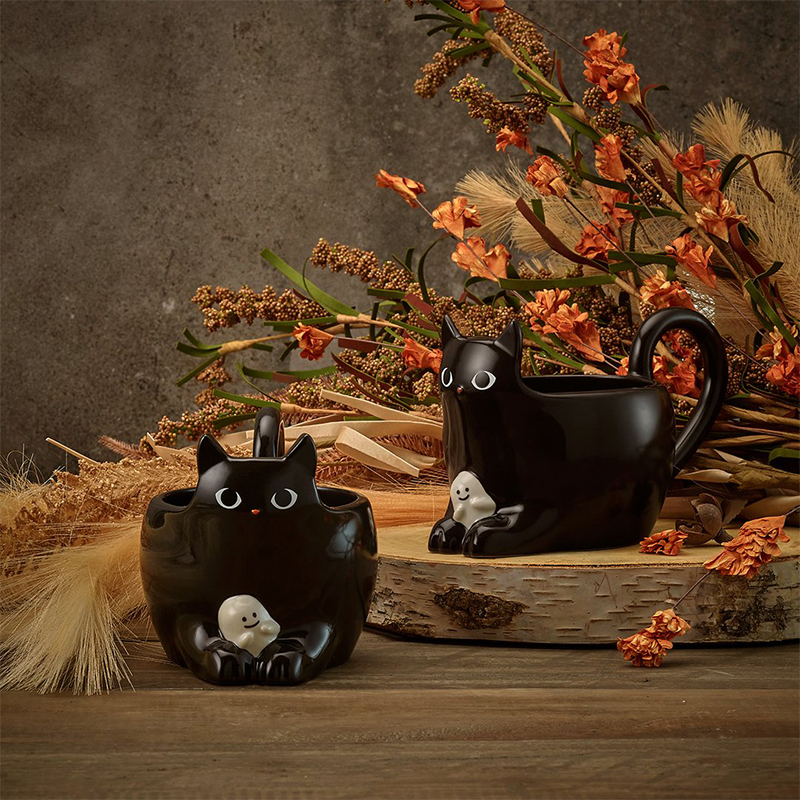 The next 10oz black cat mug in this collection is shaped just like the animal with its curled tail as the mug handle. A little ghost doll is cradled within the cat's paws, greeting us with its cheerful smiley face.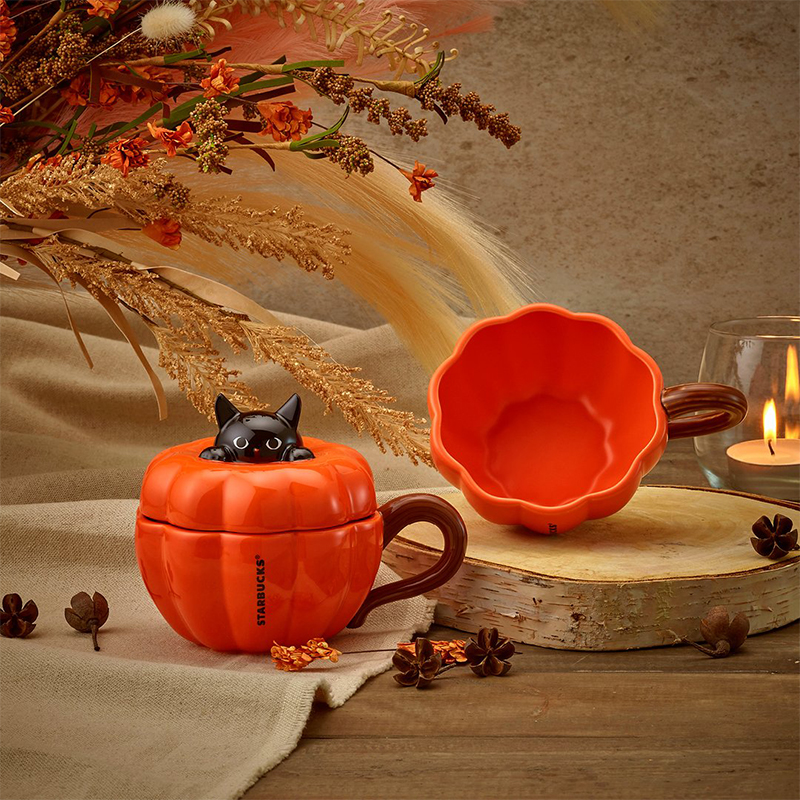 It's not a Halloween party if you don't see jack-o-lanterns lined along the corridor as decor. This 10oz pumpkin mug has rounded edges to resemble a real pumpkin. It's topped with a black cat peeking out on top of the lid.
Ghost mugs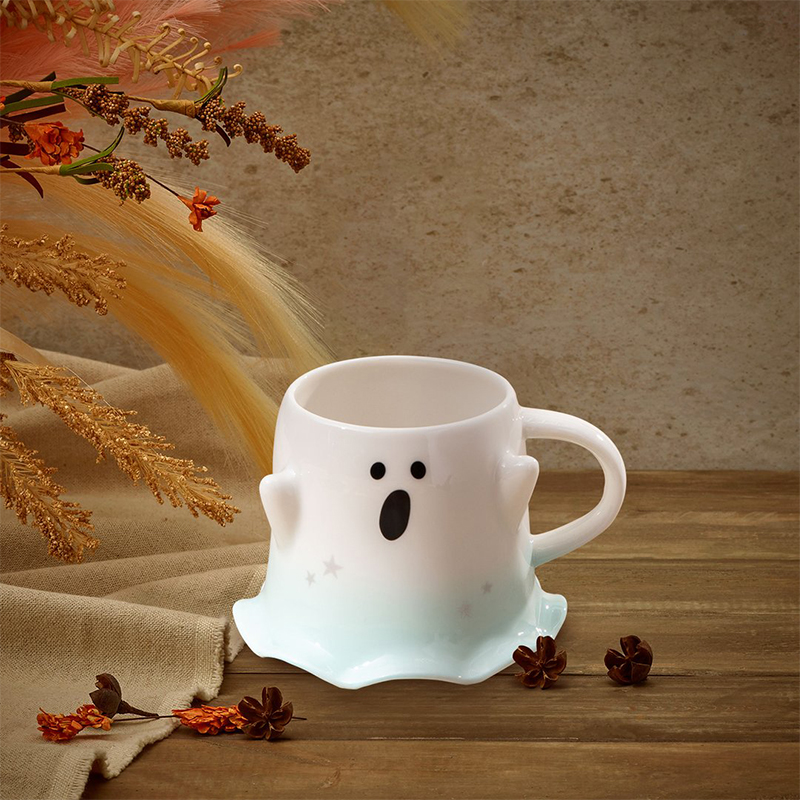 While you're getting ready for a Netflix party filled with horror flicks, don't forget to prepare your popcorn and drinks by the side. This ghost mug perfectly completes the spooky movie date theme with your boo. 
The 12oz ghost mug is detailed with tiny arms sticking out at the sides, equipped for a jump-scare.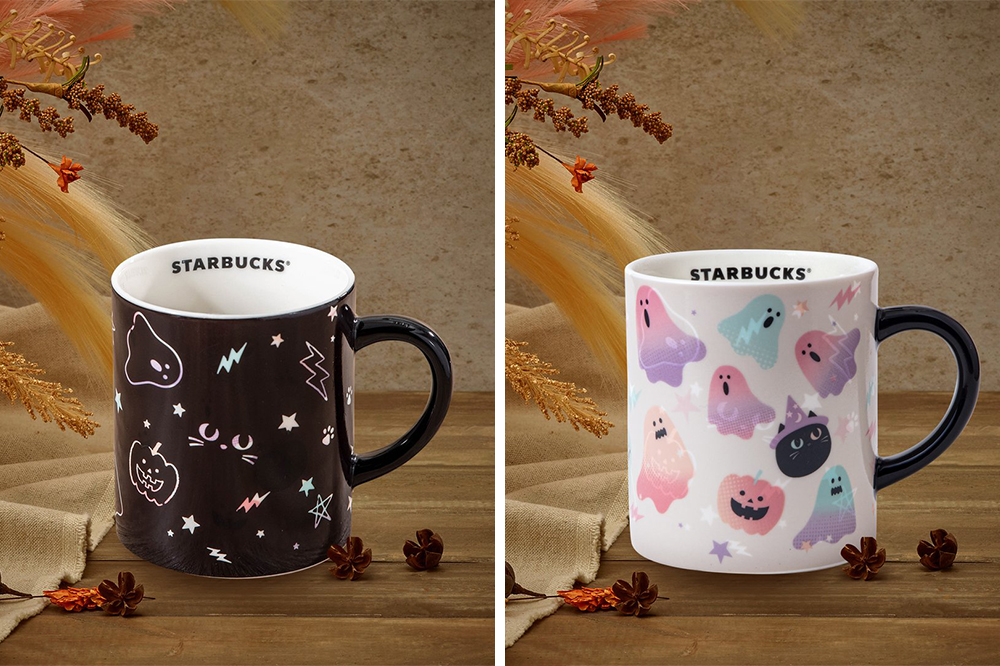 While pastel colour-changing Cold Cups were popular in the Starbucks rainbow collection that came out last month, Starbucks is bringing this cool feature to their mugs as well. 
The 14oz colour-changing mug is decked in black with a design of pumpkins, ghosts and cats surrounding it. After filling up the mug with a hot drink, it transforms into a white base and reveals a palette of colourful ghosts floating around. That's witchcraft, for sure.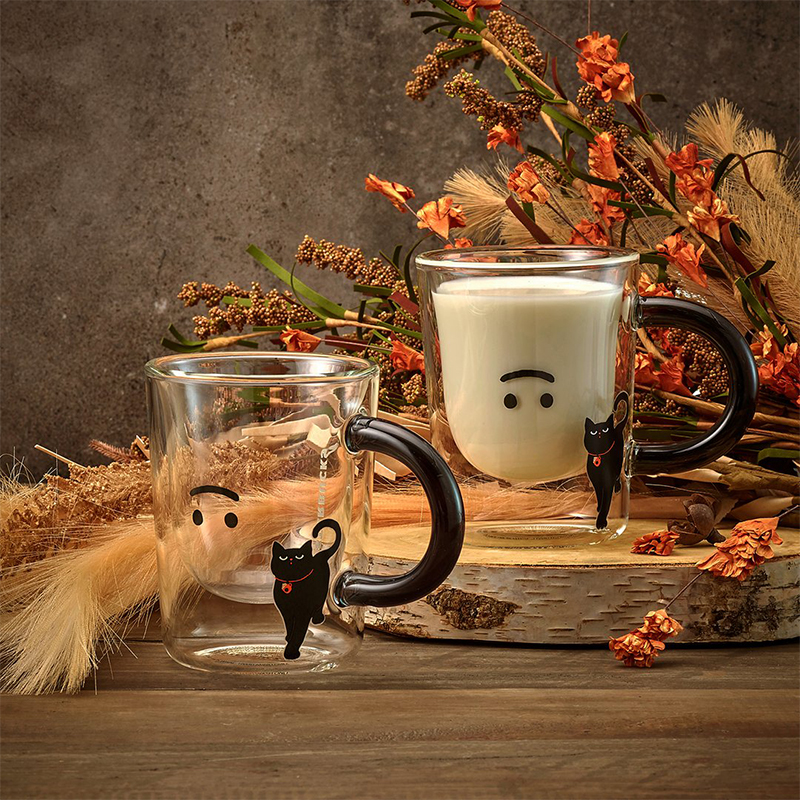 Fill up these 8oz double-walled glass mugs with milk to reveal an upside down ghost smiling back at you. With a black cat buddy by its side, these mugs are Insta-worthy enough for a fun-filled Halloween dessert table.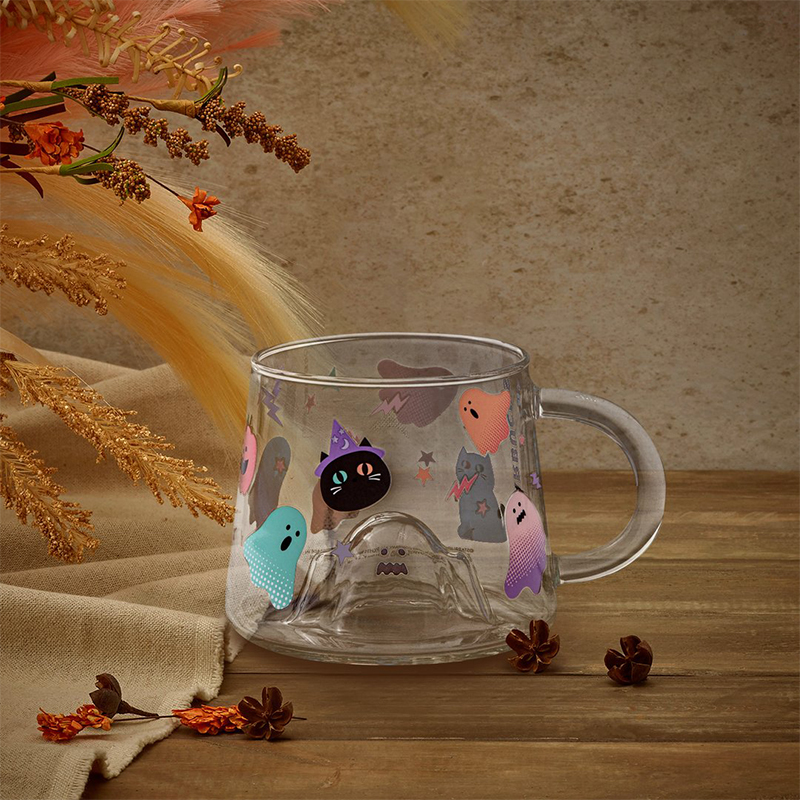 The next 12oz glass mug is decorated with more colourful ghost and cat motifs. Upon closer inspection, a terrified-looking ghost is hidden on the side of the cup.
Also read:
The Starbucks Mid-Autumn Collection Has Bunny-Inspired Drinkware To Accompany Starry, Starry Nights
Raccoon mugs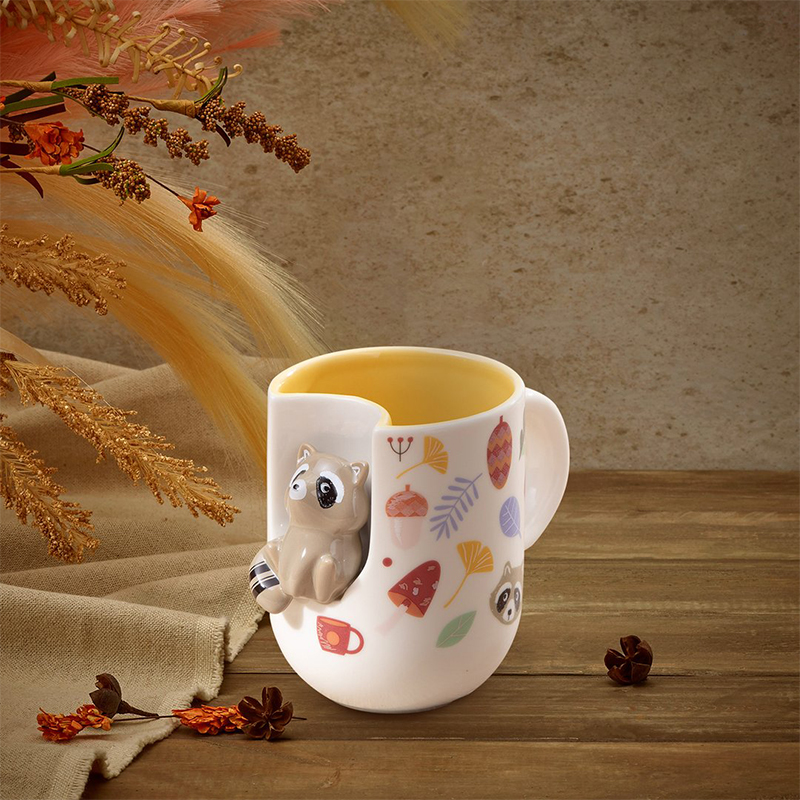 While October is the season for all things creepy, it's also the time to celebrate fall with warm colours. The 12oz raccoon mug features a mini raccoon relaxing on the side of your mug to accompany your cold brews.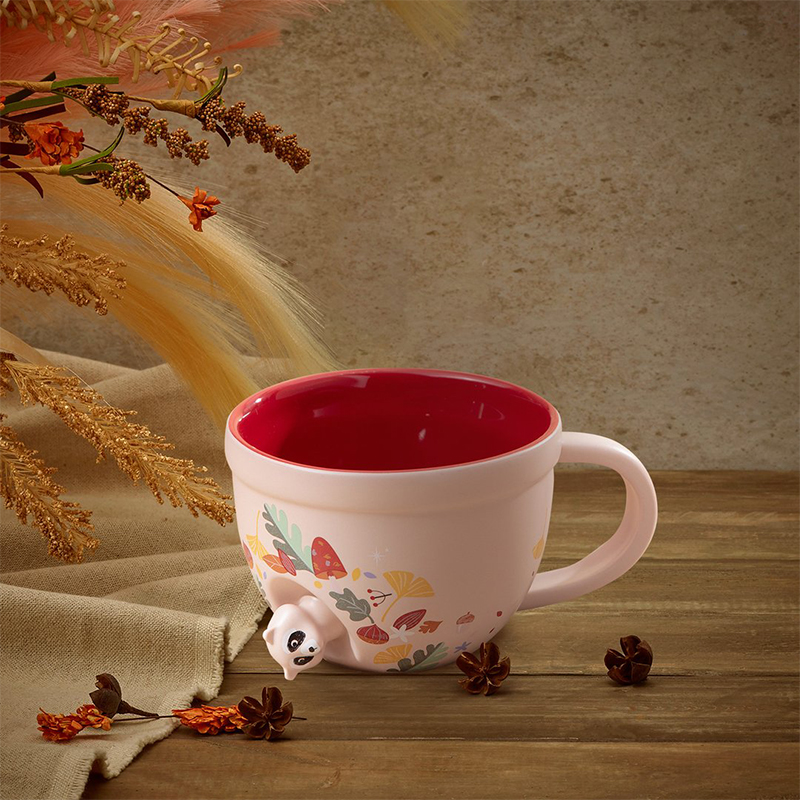 Introducing more vibrant designs of acorns, leaves and mushrooms, the raccoon makes its next appearance on the bottom of this 12oz mug.
Accessories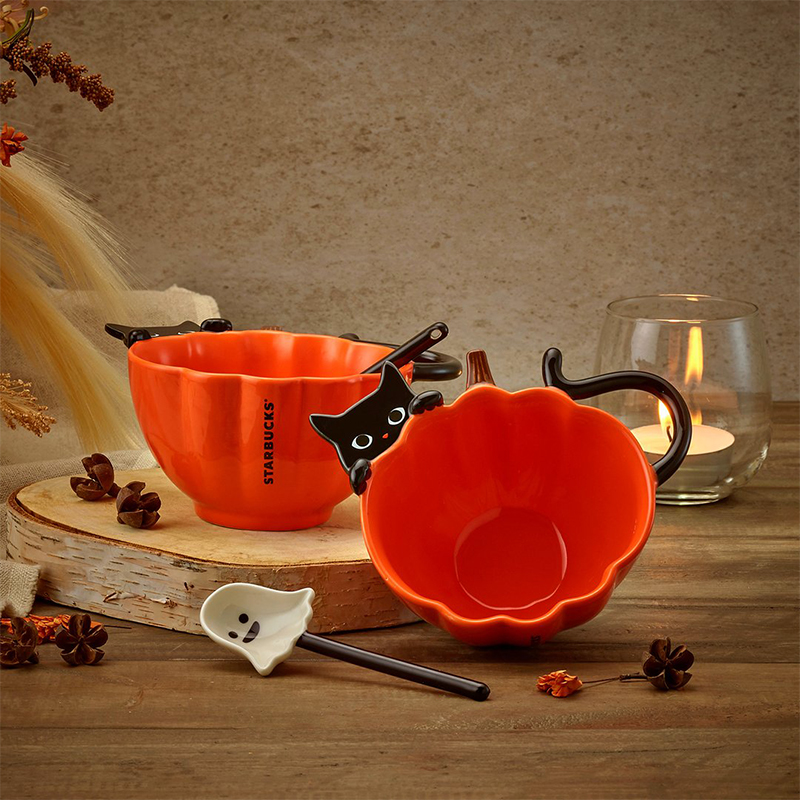 Besides your much-needed morning cup of coffee, breakfast is also the most important meal of the day. Start your mornings with a bowl of cereal in this pumpkin bowl with a black cat staring up at you in the corner. 
The set also comes alongside a smiling ghost spoon to cheer you up with every bite.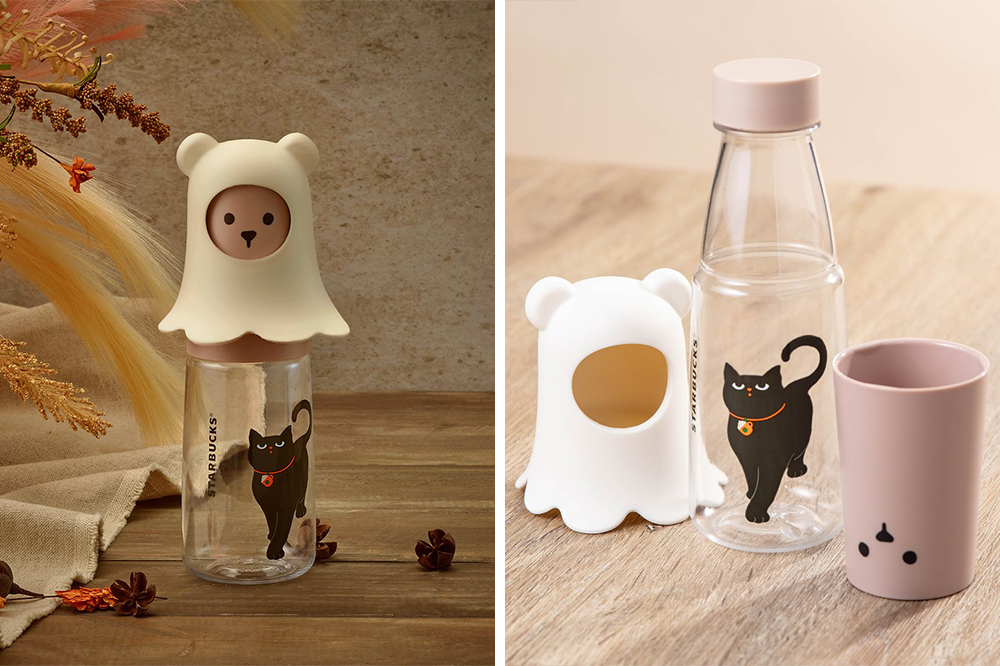 The lovable mugs aren't the only drinkware in this collection. This transparent Bearista water bottle comes with a detachable ghost "hat" as a simple halloween costume. The bear head itself can also be used as a water cup.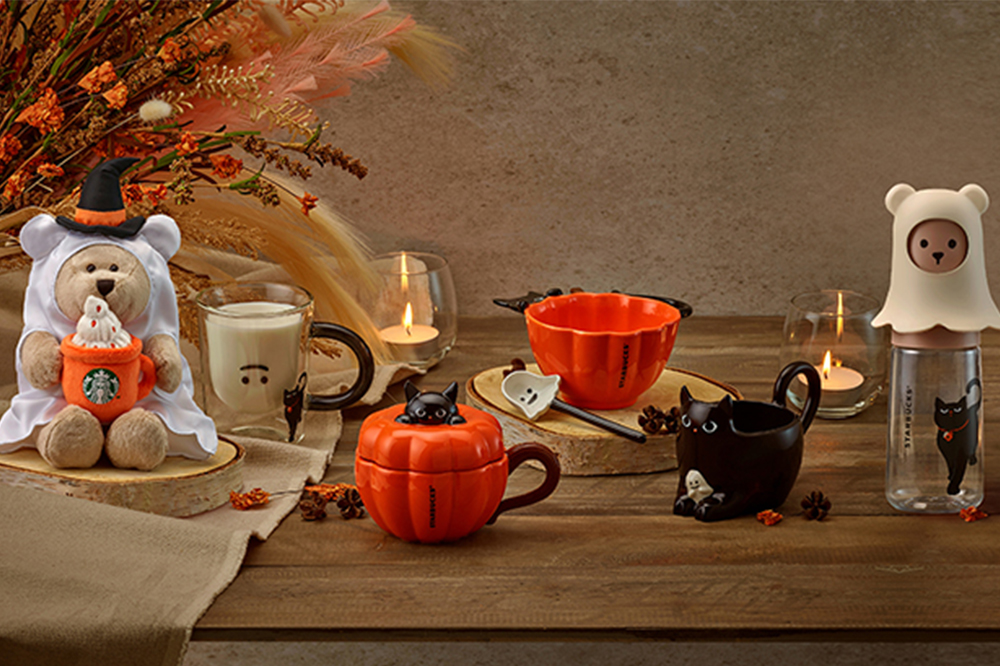 The Starbucks Bearista plush is also available, dressed up as a ghost and wearing a pointy witch hat. But the spotlight goes to the orange drink it's carrying in its hand — the Pumpkin Spice Frappuccino topped with lots of whipped cream. 
Starbucks Hong Kong's Halloween Collection Has Couple Ghost Mugs With Our Boos
While October may be overflowing with horror movies and scary themes, Starbucks Hong Kong's Halloween collection shows us that ghosts can be cute too. This collection is only available on Starbucks Hong Kong's website and stores for now, but hopefully they'll make their way to Singapore just in time for Halloween.
Previous collections like the Starbucks Taiwan otter mugs were available on freight-forwarding services, so you can try your luck there if you really want to get into the spirit of Halloween ASAP.
All images courtesy of Starbucks Hong Kong.
Also read:
Starbucks Has Another Anniversary Collection With Siren Mugs & Tumblers In Shades Of Pink, Blue & Green