Starbucks Pride 2020 Collection
Starbucks' colour-changing reusable tumblers were an instant hit when they were released last November. People fell hard for the cups, which came in a set of 5 and made great Christmas gifts. This time around, the cups are making a return as part of Starbucks' Pride 2020 collection in the U.S and Canada.
The official release date is 21 May 2020, ahead of Pride month in June. However, it seems that some Starbucks stores are already stocking the coveted goods, and Starbucks fans have been frantically hitting up different stores around the country in order to get their hands on them.
Colour-changing cups
There are 2 kinds of colour-changing tumblers in the series.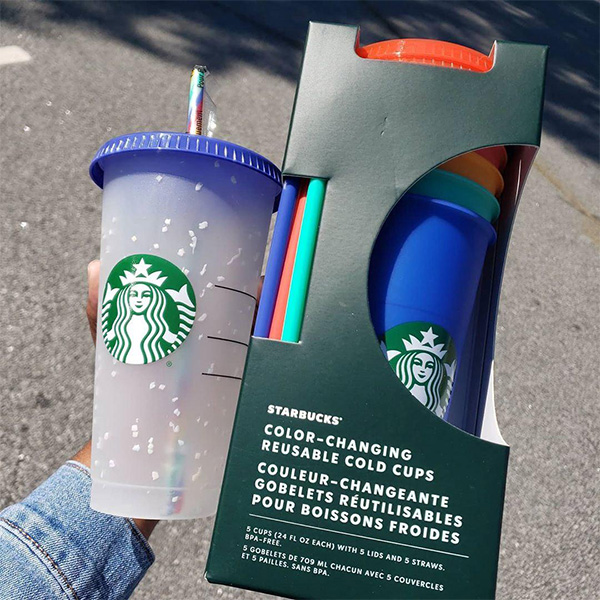 Source
As with the previous edition, there is a set of Cold Cups consisting of 5 BPA-free 24oz tumblers (the size of a Venti iced drink), lids and straws. You can mix and match each component for a fun addition to your workspace. OCD types can go for a fully matching cup-lid-straw combo.
Source
The new addition to the series is a confetti-flecked colour-changing reusable tumbler. When empty, the confetti bits are in white. Once it comes into contact with a cold or iced beverage, they turn into rainbow flecks that resemble a terrazzo tile.
Source, source
There are different variations when it comes to the lids and straws. Some stores are selling the cups with a blue lid and a rainbow striped straw, while other stores have a clear lid and blue straw.
Also read:
Funko Will Be Releasing Rainbow Hello Kitty, SpongeBob & Batman Pops To Support The LGBTQ+ Community
Studded tumbler
Source
The undisputed star of this collection is the rainbow studded tumbler. The main body of the cup is a rainbow ombre with a geometric studded overlay that extends to the lid. Instead of a plain ol' straw, it has a matching studded straw.  The Starbucks siren logo lies in the centre, in stark white instead of the usual green, for a sleek contrast.
Target exclusives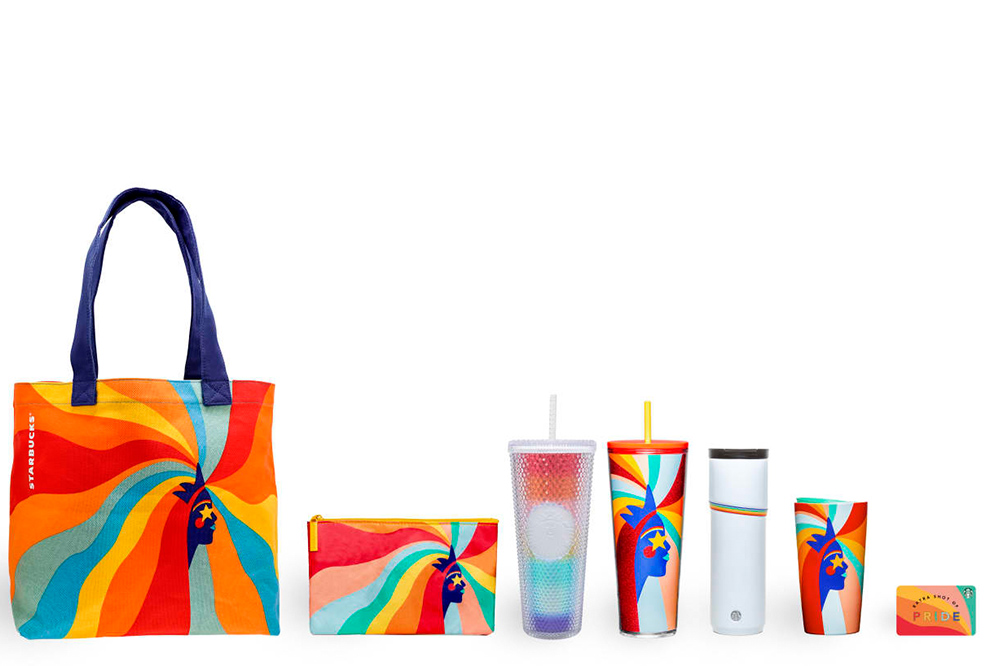 Source
Those lucky enough to have a Target store in their state can look forward to even more Starbucks Pride 2020 exclusives. A vibrant interpretation of the Starbucks siren in side profile with psychedelic rainbow swirls making up her waves is splashed across a ceramic mug, tumbler, pouch and tote bag.
There's also a white tumbler with a rainbow stripe across the middle if you prefer things more low-key.
Starbucks Pride 2020 Collection 
The Starbucks Pride 2020 collection will be launching in the U.S. and Canada soon. Rest assured that the brand isn't simply cashing in on the rainbow bandwagon for Pride month.  According to Apartment Therapy, a Starbucks representative has confirmed that "the company will be donating a combined US$100,000 to the Human Rights Campaign and the National Center for Transgender Equality to aid in their support for vulnerable members of the LGTBQ+ community during this uncertain time."
Watch this space to see if the Starbucks Pride 2020 collection, or a variation of it, will be reaching our shores.
Also read:
Adidas Has Unveiled Its Pride 2020 Collection In Rainbow & Pastel Colours