Starbucks in Singapore
Growing up in Singapore means sharing similar experiences with our peers, such as spending all our money on Neoprints or partying at iconic clubs. For many Singaporeans, Starbucks is our first gateway into the world of cafes; be it for a study session, a first date or some me-time. 
Ahead of the 24th anniversary of Starbucks in Singapore on 14 December, we asked 3 Singaporean millennials about their enduring love for the coffee chain, years after they first sipped on a cup sporting the iconic siren logo.
"I love the branding, the food, the drinks, the merchandise, the vibes, I love everything about Starbucks"

Keeping warm with a Cherry Blossom Latte in 2016. Photo courtesy of Charmaine
While Charmaine started frequenting Starbucks in her polytechnic days, her first memory of it goes back to primary school. She recalls, "I was on a family trip to Hong Kong and my uncle bought a drink from Starbucks. I remember thinking, 'Wow, what an atas-looking drink'! I was drawn to the aesthetic and branding the moment I first saw it."
Fast forward to today, Charmaine has become an avid fan who drinks Starbucks twice a week on average. During the Christmas period, it can go up to 4 or 5 cups a week. She rotates between the hot, iced and blended versions of her favourite Toffee Nut Latte.

Source
Whenever Charmaine travels overseas, it is a must for her to check out a Starbucks outlet in the city she's visiting and get a drink there. She elaborates, "I look forward to seeing how my name is spelt and always have a good laugh. In Switzerland, it was 'Schrain'. In Japan, they didn't even ask for my name and drew really cute cats instead!"
Her go-to outlets in Singapore are Starbucks Tampines Hub and Tampines Mall. "To me, Starbucks is an aesthetic place that I love to chill at. I love the brand, the food and drinks, the mood, the merchandise, the vibe, the siren. Starbucks is just love," she shares. 
Not satisfied with soaking in the vibe in-store, Charmaine has also been collecting Starbucks mugs for her future home. She quips, "I often say that I want to be a Starbucks ambassador. I don't need to be paid, just send me drinks and merchandise!"
"All the outlets are very chio and I'm a sucker for aesthetic cafes"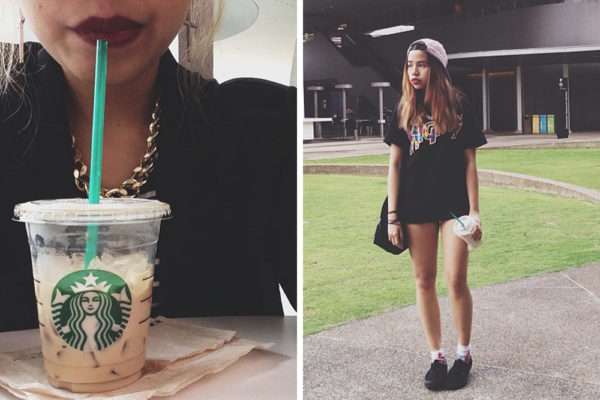 Before her NUS admissions interview in 2013 (left), and on her first day at NUS in 2014 (right)
Source, source
A scroll through Leah's Instagram account reveals that she has been a Starbucks fan for years. Her first post shouting out about the brand was all the way back in 2011, with the caption "Starbucks addiction".
Things escalated once she entered university. Because she stayed on campus, she would often go to the Starbucks outlet at NUS UTown. "Going on late-night Starbucks runs was one of the best things about staying in UTown because it's open 24/7 and I'm always snacking at weird times," she says. 
It's since become a habit for Leah to gravitate to Starbucks whenever she wants breakfast, dessert or something sweet. She orders it as a treat once a week, usually from food delivery apps when she's working from home. 
She shares, "To be honest, I just really like the drinks and how they have such a wide variety of flavours. But most of the time, I go back to my standard order." That "standard order" has changed throughout the years, from a Mocha Frappuccino to an Iced White Chocolate Mocha.
Apart from the drinks, Leah enjoys the good vibes at Starbucks, and the fact that "all the outlets are very chio". She adds, "I'm a real sucker for aesthetic cafes, so I'm always on the lookout for a nice branch in Singapore or overseas." In Singapore, she's partial to Starbucks Reserve outlets and the one at River Safari.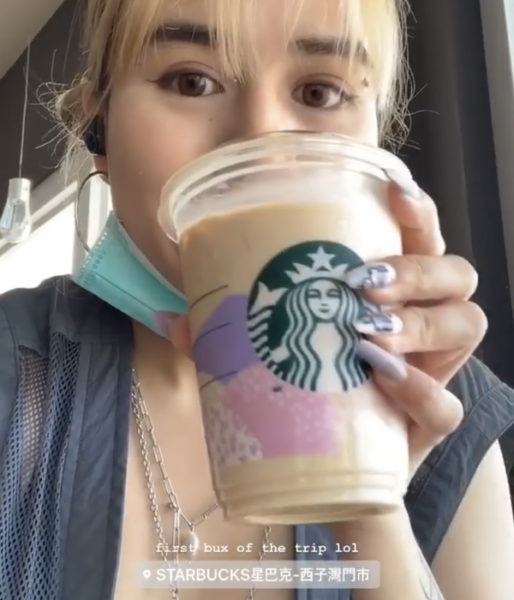 Source
Like Charmaine, Leah loves visiting different Starbucks overseas. "Earlier this year, I was in Taiwan alone. I deliberately walked to a very scenic Starbucks that was out of the way at the pier, just to drink and enjoy the view. View + coffee = best feeling."
"Starbucks is a place where I don't feel lonely being alone"

Starbucks was Victoria's constant companion in between classes during her uni days.
Photos courtesy of Victoria
During her first year in university, Victoria spent most of her time alone. As a result, she would often visit the Starbucks outlet at NUS UTown for self-study sessions in between classes.  
In hindsight, one incident stands out as her favourite Starbucks memory. She shares, "It was raining and I was in a terrible mood. Everything that could go wrong went wrong. I remember entering Starbucks half-drenched and being very antsy about everything. I was greeted by a smiley barista who not only took my order but also asked me about my day after noticing the big frown on my face. 
"The simple question made me feel warm inside-out. After collecting my drink, I sat by the window, staring at the heavy downpour outside. I sipped on my green tea latte while listening to the chill tunes that were playing. That's when I felt that Starbucks was a place that could offer a deep sense of comfort.
"No matter how bad your day is, a sip of your favourite drink while sitting in a cushy chair facing a nice view is enough to make you feel better. I'll never forget the warmth I felt on the inside that day."
Even though her days of mugging in a Starbucks outlet are behind her, Victoria still visits Starbucks around once a week. She enjoys going there to do work or meet up with friends, thanks to "the wholesome and cosy environment". For her, all the stores are equally comfortable, with their own nuanced charms. 
Ultimately, she says, "When I am at Starbucks, I feel at home. It's a place that lets you be alone without being lonely."
Starbucks Singapore 24th anniversary
It's been 24 years since Starbucks opened the doors to its first store in Singapore at Liat Towers. These millennials prove that Singaporeans' love affair with the coffee chain isn't ending anytime soon.
In celebration of its anniversary, Starbucks Singapore is inviting customers to explore 12 of its most unique stores, including Starbucks Jewel Changi Airport, Vivocity and Rochester Park. The cherry on the cake is that you can even cop a limited-edition Starbucks Singapore glass while you're at it. 
Starbucks Jewel Changi Airport
When Jewel Changi Airport opened in 2019, one of the openings Singaporeans were most excited about was the Starbucks Jewel Changi Airport flagship store, complete with Singapore's first 4-tap Nitro and photo spots galore.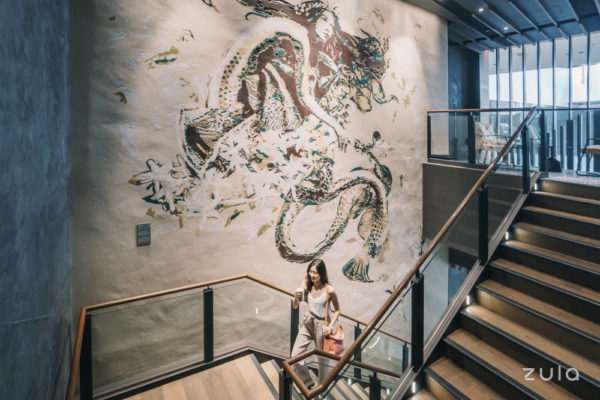 Countless OOTDs and Instagram Stories have since been taken at this siren mural. Hand-chiselled by artist Sean Dunston, the intricate artwork showcases the Starbucks siren and incorporates Singapore's national flower, the Vanda Miss Joaquim.
Upstairs, you'll also find an IG-worthy Peranakan-inspired statement wall, with colourful tiles and Starbucks Reserve coffee cards spelling out the word "Singapore".
Starbucks Vivocity
If you're a Starbucks fan, you've probably already visited the Jewel branch. Now, it's time to tick off its newest store at VivoCity from your list too. Pop by for a refreshing pick-me-up while on your way to Sentosa or before your walk along the Waterfront Promenade.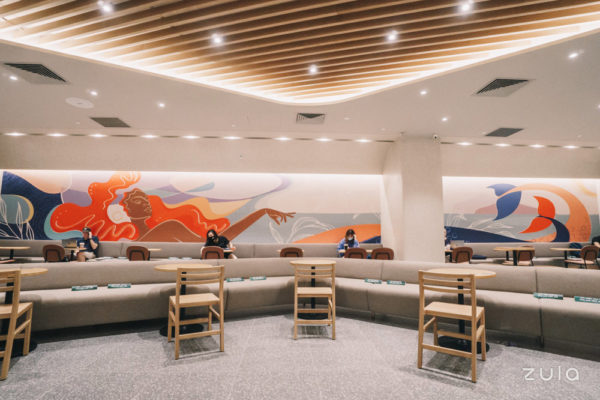 Befitting its location, the walls have bespoke murals depicting a mermaid splashing around in the sea by Australian artist, Leia Sidery. The vibrant colours are the perfect backdrop for Starbucks' signature wooden tables and earthy colour palette.
Starbucks Rochester Park
Often touted as the most beautiful Starbucks in Singapore, Starbucks Rochester Park is situated just a few minutes away from Rochester Mall in Buona Vista. Housed in a black-and-white colonial-style bungalow, the building is nestled amidst lush greenery.
Fun fact: It's also one of the few standalone Starbucks stores in Singapore. Other entrants on this list include Katong Square, which lies within a heritage building; as well as United Square, home to the first Starbucks Reserve Coffee Bar in Singapore.
3 Millennials Share Their Fondest Memories of Starbucks In Singapore & Beyond
For these 3 millennials, Starbucks is more than just a cafe. Now, it's your turn to commemorate your own past and present Starbucks memories by sharing pictures or videos on Instagram. Make sure to tag Starbucks Singapore or hashtag #starbuckssg.
From 14 December, show your post to the barista at any of the 12 participating stores below and, with a purchase of any venti-sized drink, you'll get to receive a limited-edition Starbucks Singapore glass for free, while stocks last*.
The 12 stores can be found across the island. If you're exploring Singapore on your own Singapoliday, schedule a pitstop at Starbucks Chinatown Point, One Fullerton, Tekka Place, River Safari and Vivocity. Easties can head to the flagship store at Jewel Changi Airport, as well as the branches at Katong Square, Paya Lebar Quarter and Tampines Mall. Westies can make their way to the outlet at Rochester Park; while those in Central Singapore can make a beeline for Liat Towers and United Square.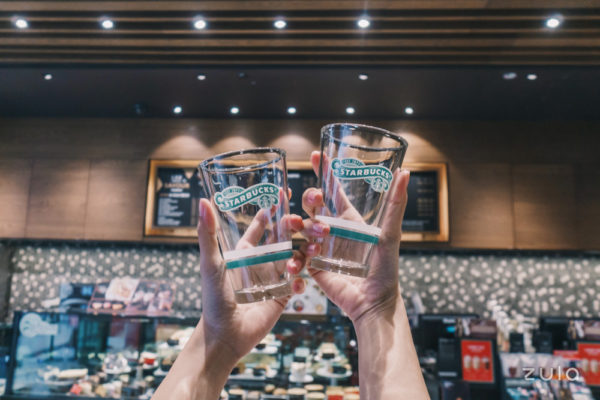 The limited-edition Starbucks Singapore glass sports the classic siren logo, accompanied by graphic green and white strips. If you're like Charmaine, you can collect this for your future home, or bring it along on your next study or work session in your regular Starbucks outlet.
*This promotion is not valid with other promotions and discounts. 
This post was brought to you by Starbucks.
Photography by Edmund Wong and edited by Alaric Sim.
Also read:
Starbucks Animal Express Collection Is Brimming With Cute Characters & Christmas Cheer