Teeth Whitening Toothpaste 
I have heard from a match I met through a dating app that he prefers girls with confident and charming smiles, or in other words, those who own a set of pearly white teeth. While I figured some people prioritize looks over personality, it never occurred to me that I would get judged for not fitting the bill. 
Things obviously didn't work out for us, but I have to give him credit for helping me realize how I've been neglecting my teeth. Since then, I started smiling with my mouth closed in photos, afraid of being judged for my yellow teeth. 
In a bid to change that, I set out to find an affordable and effective way to whiten my teeth, and hopefully regain my confidence, without breaking the bank.
How my diet contributed to my yellow teeth 
Normally, when I hear "Bubble tea, ai mai?", I would agree in a heartbeat. But after finding out that one reason for tooth discolouration is drinking beverages like coffee and tea, I now hesitate and think if I really need that drink ‒ let alone 2 to 3 cups of BBT a week.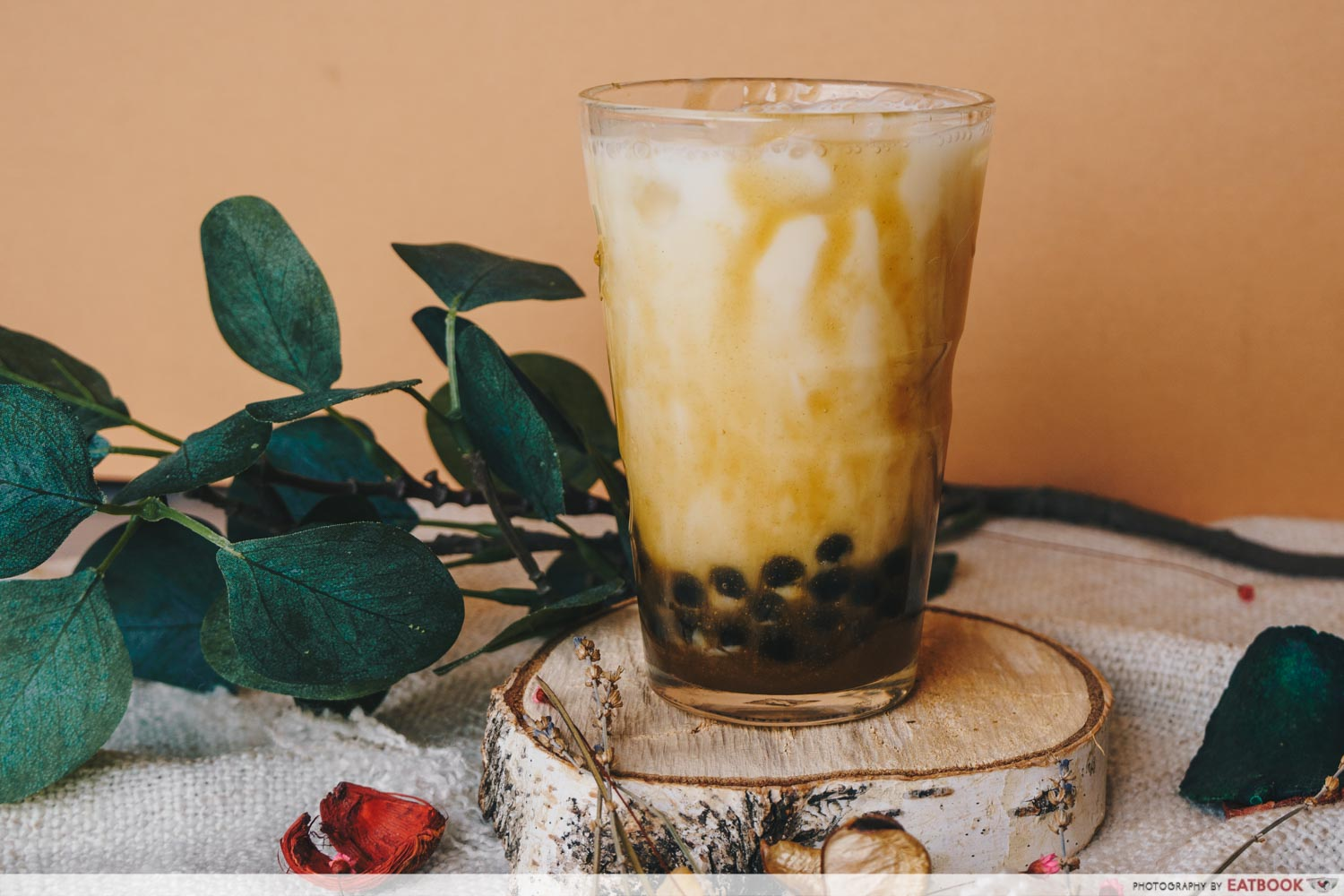 If you didn't know, tea contains tannins, which naturally stain your teeth and gums. When consumed regularly, they cause your teeth to turn yellow and grey over time, depending on the type of tea you drink. With this knowledge, I realized I had to cut down on my BBT intake, and do something about the stains on my teeth. 
Researching on teeth whitening methods
Sure, there are tons of teeth whitening methods, but finding the right one that suited my budget was a lil' tricky.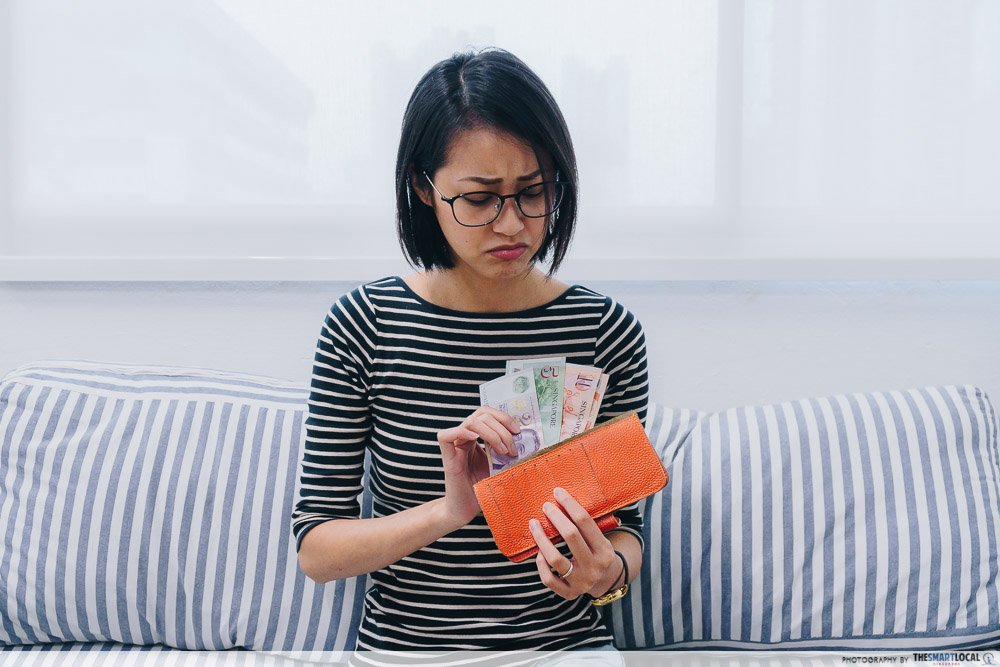 For illustrative purposes only
The most effective way to get your teeth whitened is to get it done in a dental clinic. While most people would love to do so, the cost of such treatments starts from $800, and I could be using the money for other more pressing necessities. 
Eventually, I decided to turn to affordable and premium oral beauty products that promise quality teeth whitening effects. 
Trying out Colgate Optic White O2 Whitening Toothpaste
When I was introduced to Colgate Optic White O2 Whitening Toothpaste, I was skeptical of its claims to whiten my teeth in 3 days. It sounded too good to be true, but since it costs $11.95 (85g), I decided to give it a try.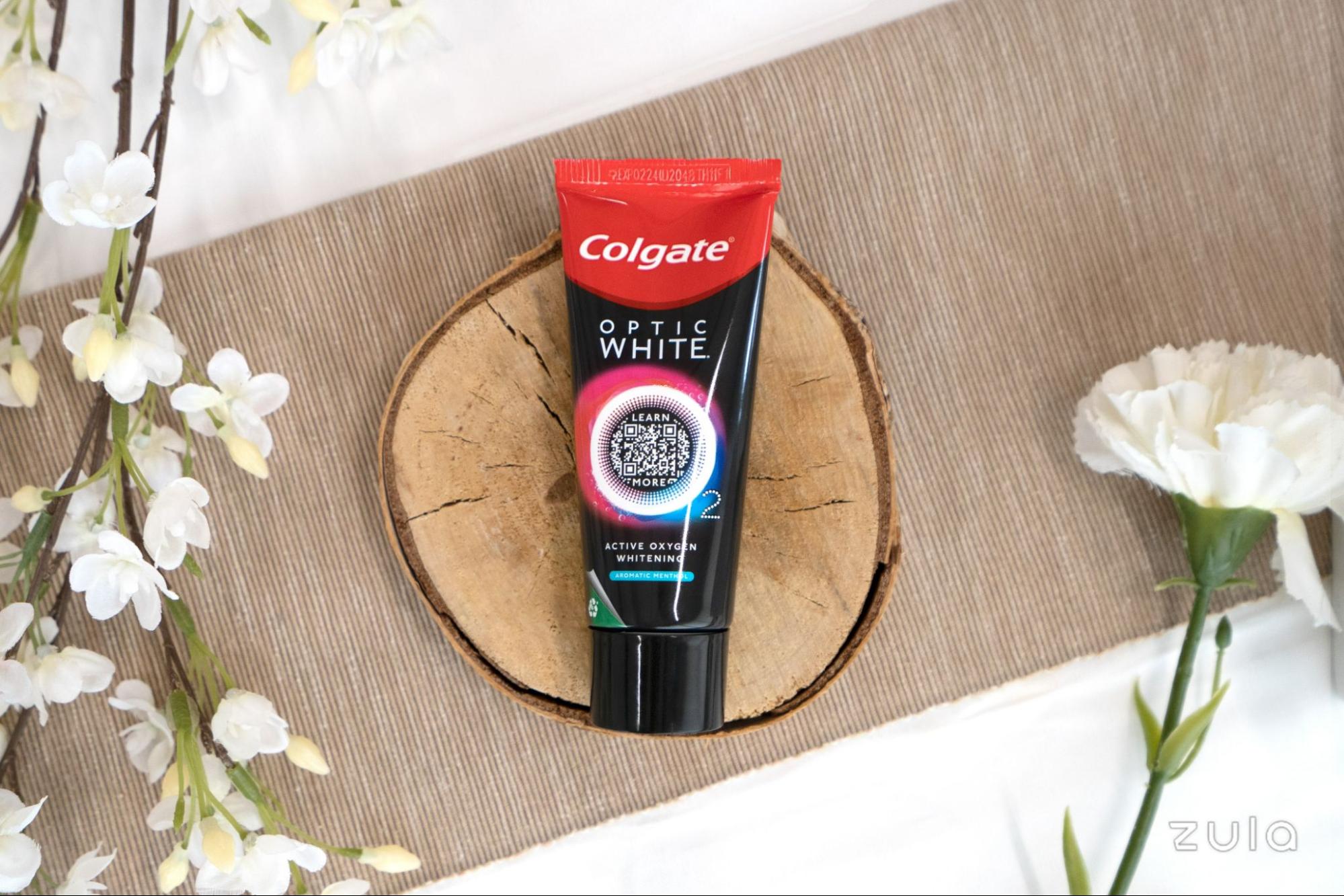 There's a QR code on the packaging for you to scan and learn more about Optic White O2 Whitening Toothpaste
For those who have a monochromatic bathroom, you'll be pleased to know that the Optic White O2 Whitening Toothpaste comes in a black tube that will go well with your aesthetic. Additionally, the toothpaste is also vegan, gluten-free, and comes in a recyclable tube.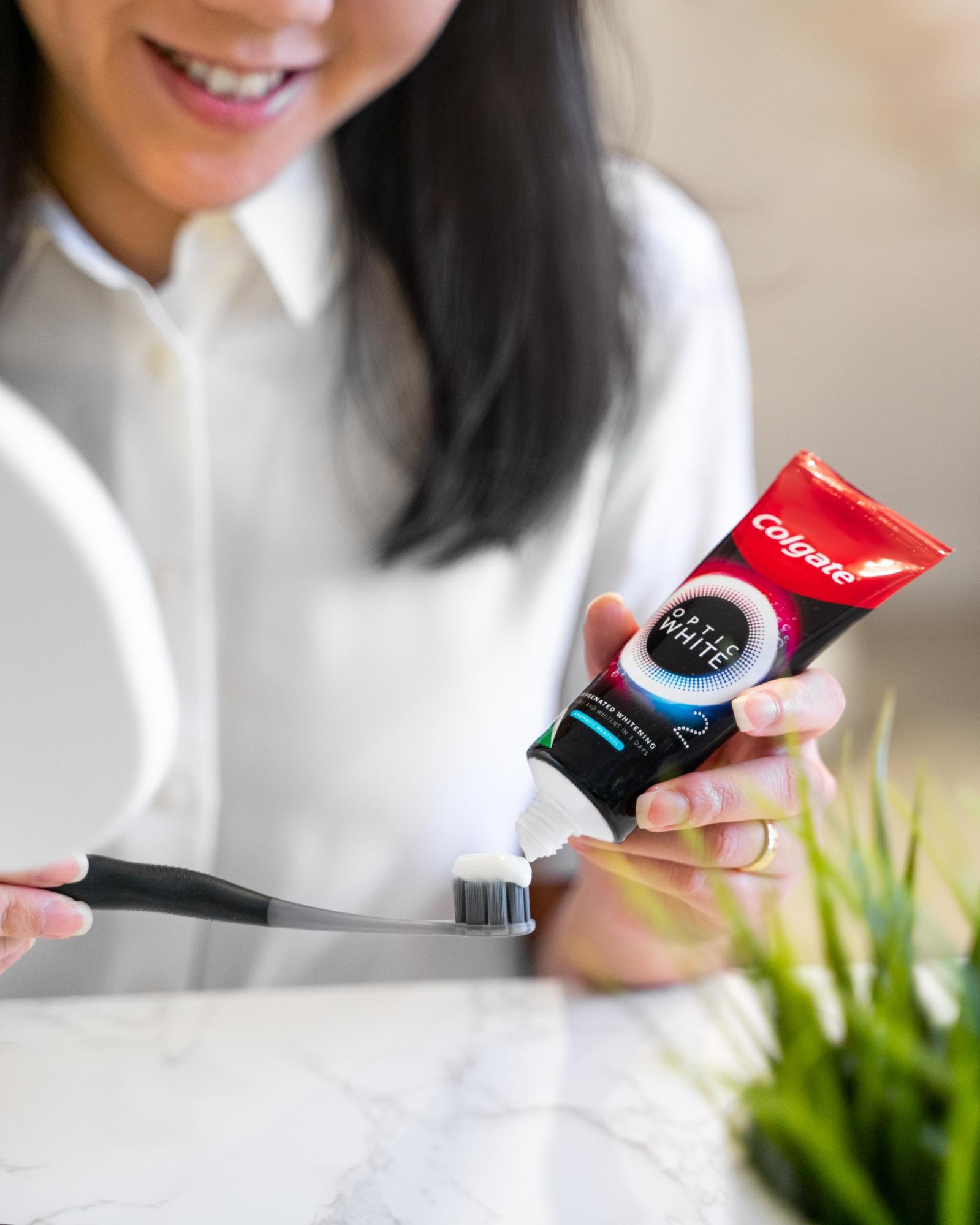 Don't freak out like I did when you try the Optic White O2 Whitening Toothpaste for the first time, as there will be a slightly warm sensation when you brush your teeth. FYI, the warm sensation indicates that the formula has been activated and is working its magic.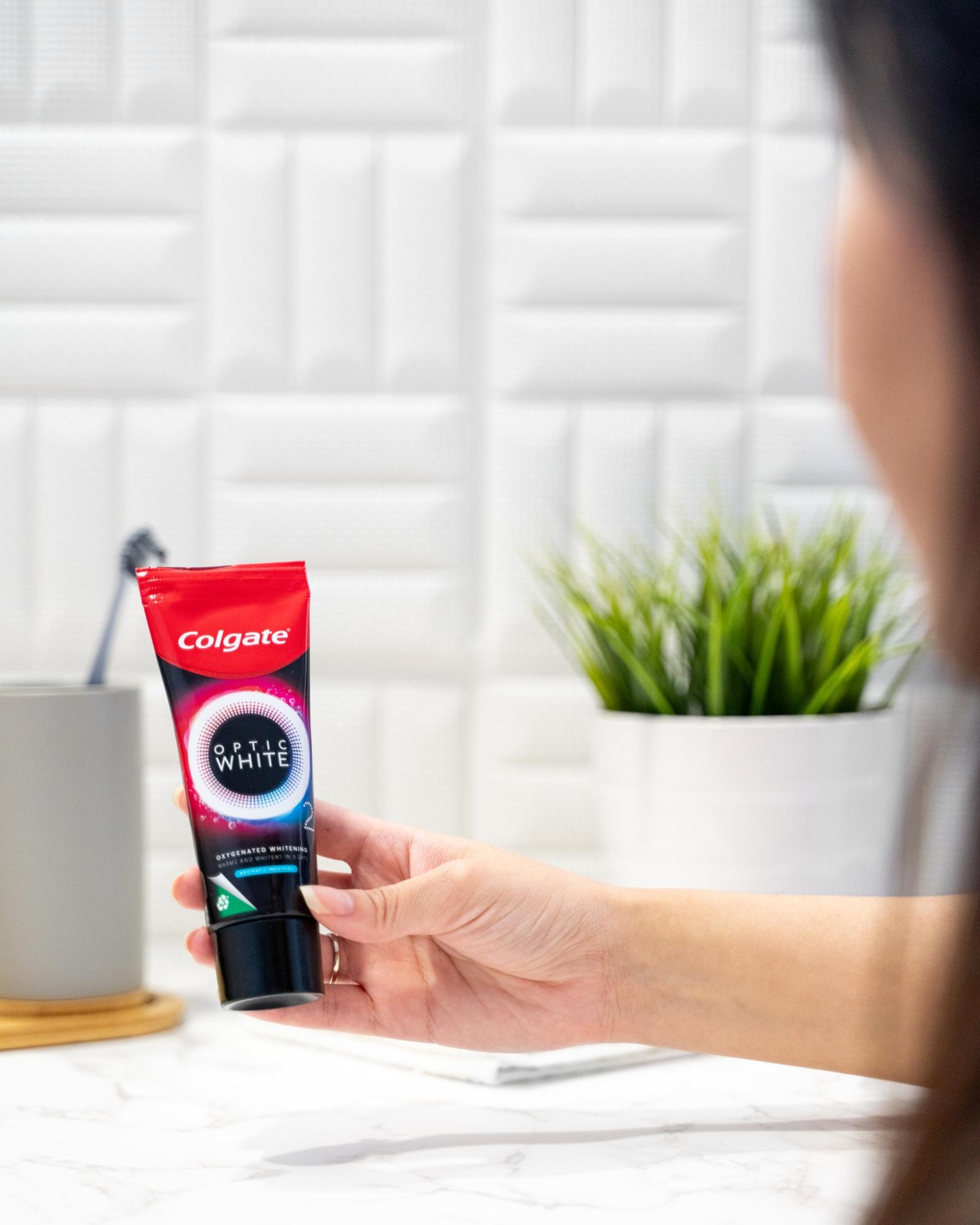 As someone who enjoys using foamy toothpaste, I was pleasantly surprised by how many bubbles the Optic White O2 Whitening Toothpaste produced. In case you're wondering, the toothpaste releases millions of ultra-fine active bubbles of oxygen, thanks to its Active Oxygen technology. 
Furthermore, Optic White O2 Whitening Toothpaste claims to whiten the teeth gently from inside out, as the whitening ingredient gets absorbed straight into the enamel. After brushing my teeth for 2 minutes as instructed, I was left with a refreshingly minty breath, thanks to the aromatic menthol in the toothpaste.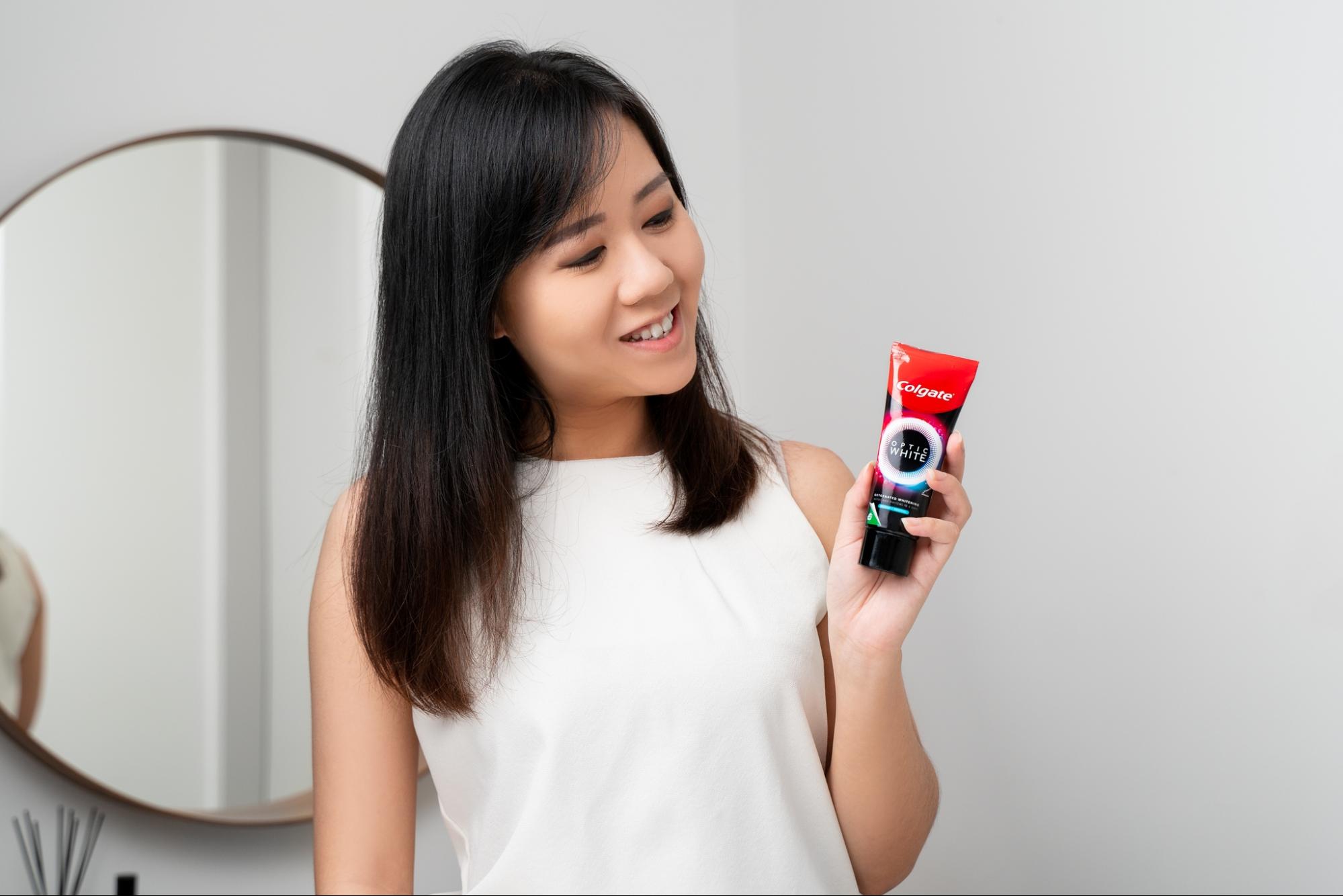 For illustrative purposes only
Unlike other toothpaste with whitening properties I've tried before, the Optic White O2 Whitening Toothpaste surprised me with significant, visible results. I could easily tell that my teeth had become a shade whiter after using it for 3 days in the morning and at night. 
There's no denying that my teeth are still far from being pearly white, but now, I'm even keener to incorporate Optic White O2 Whitening Toothpaste into my beauty routine. I'm curious to see just how much whiter my teeth will become after brushing my teeth with this toothpaste for a longer period of time. 
Feel Confident And #SmileOutLoud With Colgate Optic White O2 Whitening Toothpaste 
It might take some time for me to overcome the traumatic dating episode which I encountered, but now, I am more confident to smile out loud with my teeth visible as they're whiter than before.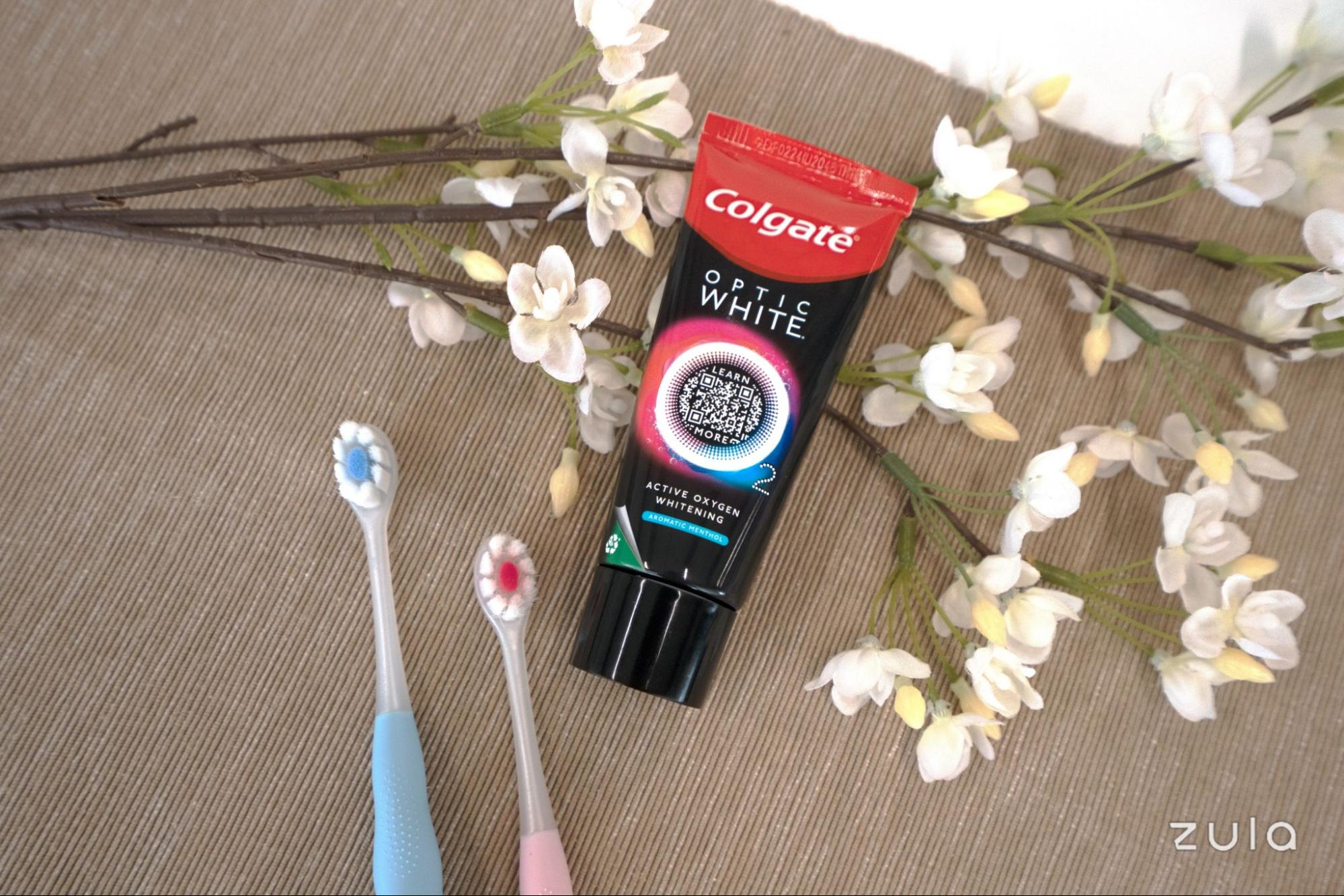 Level up your teeth brushing experience when you pair Colgate Optic White O2 Whitening Toothpaste with the Cushion Clean Toothbrush. The latter comes in packs of 2, and is available in pastel colours like pink and baby blue, so you can also use them to twin with bae. 
To purchase them, visit Colgate's official store on Lazada, Shopee, Watsons, and Guardian online stores. More information can also be found on Colgate's official Facebook and Instagram. 
This post is brought to you by Colgate.
Unless otherwise stated images courtesy of Colgate.
Photography by Alastor Neo.