Tiger Beer Orchid Brew
When Jewel Changi Airport opened last year, one of the must-visit destinations for foodies was Tiger Street Lab. The menu consists of beer-infused local cuisine and seasonal brews exclusive to the restaurant, including the Tiger Orchid-Infused Black Lager. Now, for a limited time, you can enjoy Tiger Orchid Brew in the comfort of your own home too.
The packaging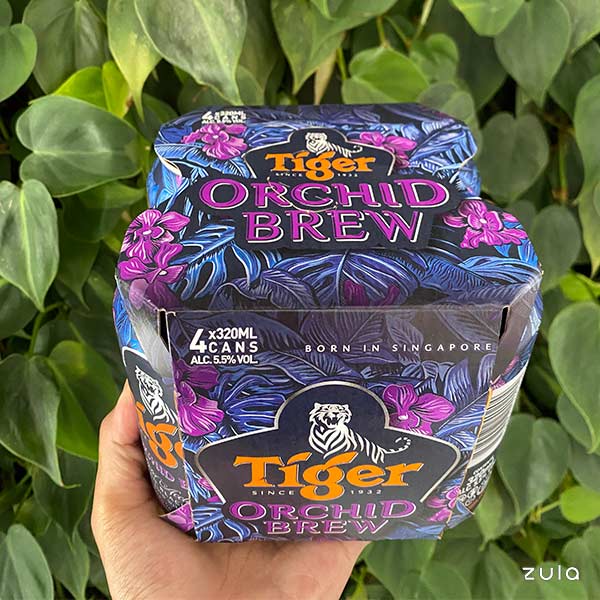 In celebration of National Day, Tiger is introducing the Tiger Orchid Brew Kit. Each kit consists of 4 x 320ml cans.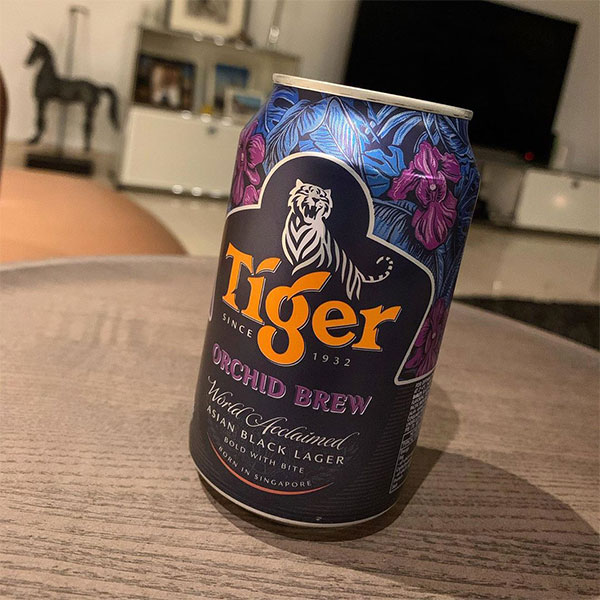 Source
Right off the bat, you'll notice the beautiful floral illustrations on the packaging. These were drawn by Singaporean female artist, Tiffany Lovage.
The beer was inspired by Singapore's national flower, the Vanda Miss Joaquim. Hence, the design features orchids in a deep royal purple hue, against a beautiful backdrop of blue leaves.
Also read:
Hello Kitty x Young Master Beer Is Made Of Sugar, Spice & Everything Nice
The taste
Tiger Orchid Brew is a full-flavoured black lager infused with orchids. The final result is a beer that, according to Tiger, "boasts light floral notes with a touch of citrus. Expect an intriguing amber blend with an exotic aroma and mild fruity finish."
Like Tiger Black, Tiger Orchid Brew is 5.5% ABV (alcohol by volume). This makes it slightly stronger than regular Tiger Beer and Tiger White, both of which are 5% ABV. Naturally, it's stronger than Tiger Radler Lemon and Grapefruit, which are both 2% ABV.
If you've been looking for a beer that floats like a butterfly and stings like a bee, Tiger Orchid Brew might just be it.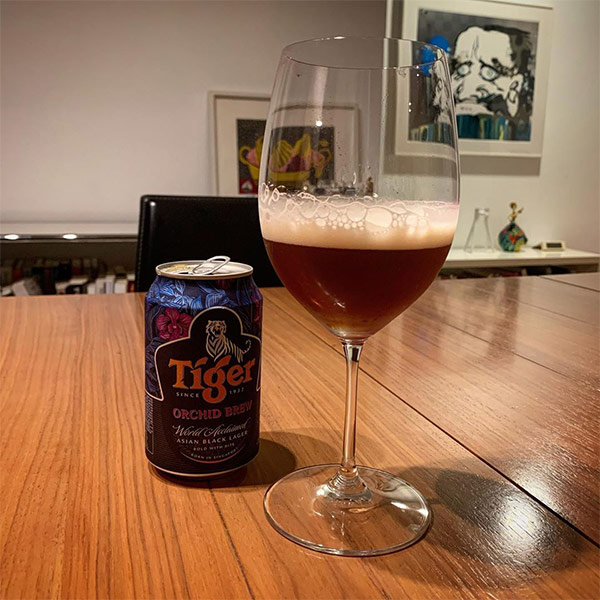 Source
According to Instagram user @anderson.homecook, the beer has a "perfume flavour" and is "not bad". Another user, @chairmanvoong, who "was sold by the beautiful illustration", commented "taste wise a interesting whiff of florals with a citrus finish."
Tiger Orchid Brew Is A Fruity-Floral Beer That Packs A Punch
You can pass your own verdict on the latest brew from Tiger. While its official launch date is on 15 July, Tiger Orchid Brew is already available on Lazada. It retails for $11.70 for a 4-pack and is the perfect item to bring along to your next potluck gathering. You'll just have to get more than 1 pack, or share the love with your friends.
Cover: Source
Also read:
Jigger & Pony's Colourful Cocktail Bottles Let You Bring Asia's Best Bar 2020 To Your Home