TK TrichoKare Scalp Treatment
We can't deny the fun that comes with changing your hair colour. Whether it's dark tones or radiant bleached hair, different hues change the way you look, even when it comes to matching a new OOTD. After all, dyeing your hair is also a freedom of expression.
However, as YOLO as we'd like to be, dyeing your hair often comes with many consequences as well. Especially when it comes to bleaching, the harsh chemicals can cause hair damage and hair loss — a problem that no millennial would want to deal with while they're young.
Leah's current hair concerns
Our colleague Leah is a familiar face to social media when it comes to all things fashion and style. As someone who loves to play around with hair colours, Leah has sported a different look every 2 months since last year — red, purple, pink and even green. One can even compare her hair to be as radiant as all 7 colours on the rainbow currently. 
While Leah enjoys switching up her fashion sense according to her hair colours, she also expressed some difficulties when it comes to maintaining her hair. Due to all the chemicals used during bleaching, her scalp often gets itchy and she also experiences dandruff. 
It doesn't help that her scalp is sensitive too, even though her go-to salon treats her hair with utmost care, she finds that it still becomes dry very easily. As the year has just started, Leah has been hoping to go for a "new hair, new me" pampering session to reduce damage and improve strength. 
Thus, we sent her to try out TK TrichoKare's Advanced Scalp Detox & Care Treatment to see if it can alleviate some of her concerns. 
Hair treatment process
Consultation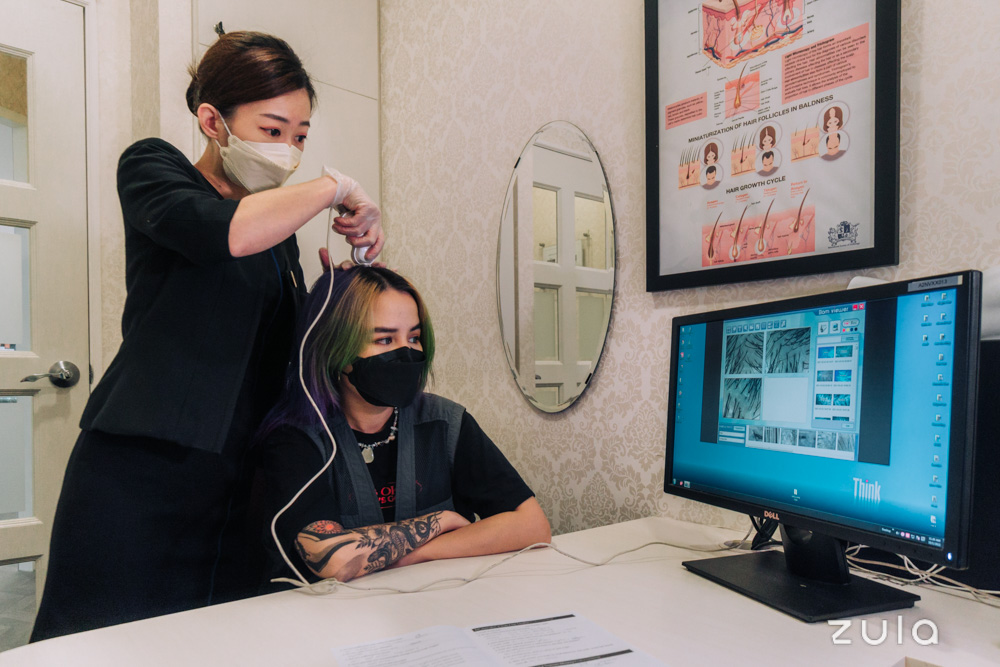 Before jumping right into the treatment, Leah started off with a hair and scalp analysis with TK TrichoKare's hair & scalp specialist. On top of asking standard haircare questions such as what kind of hair products she uses, the discussion delved deep into other causes of hair issues like her diet and stress levels as well. 
This was to ensure that nothing was left out when it came to prepping the right treatment that caters to all of Leah's hair needs.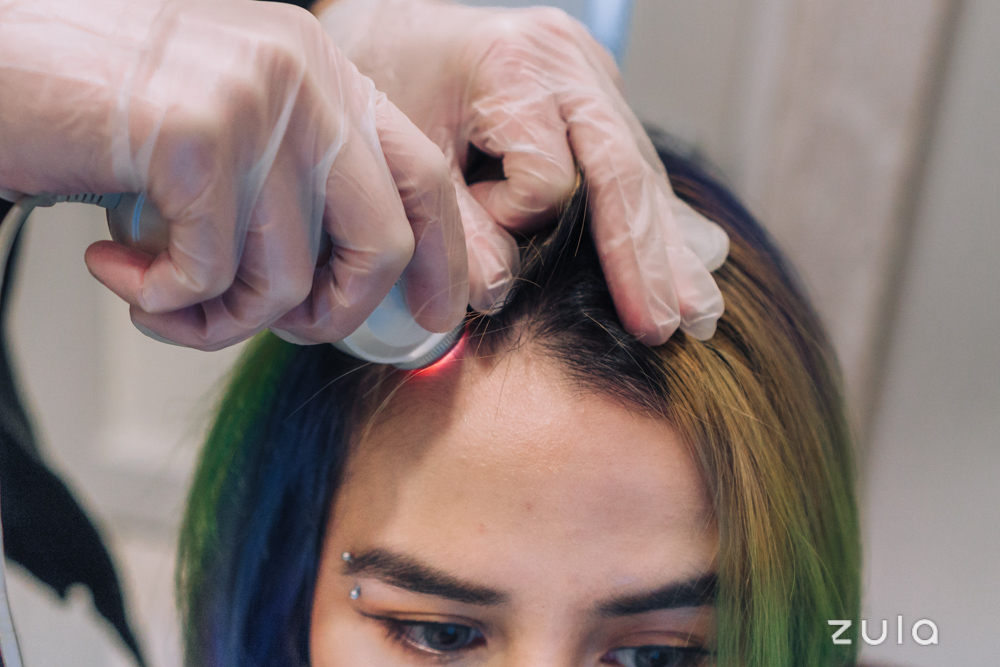 Making use of a lens that magnifies up to 200 times, Leah's scalp condition was thoroughly analysed and visual proof was shown on the screen. The screen captures showed how there was sebum build up and flakiness clogged along her follicles. 
Through the analysis, the hair & scalp specialist also informed Leah that the front part of her hair was slightly thinning — something that she herself had not noticed before.
Treatment
After examining her scalp, the hair & scalp specialist recommended a customised white clay masque that consisted of premium European herbs. As different hair issues require different remedies, the masque was an intensive astringent one that aims to rebalance and relax stressed scalps. 
This was especially beneficial for Leah, who expressed to the hair & scalp specialist that her work often made her feel stressed out.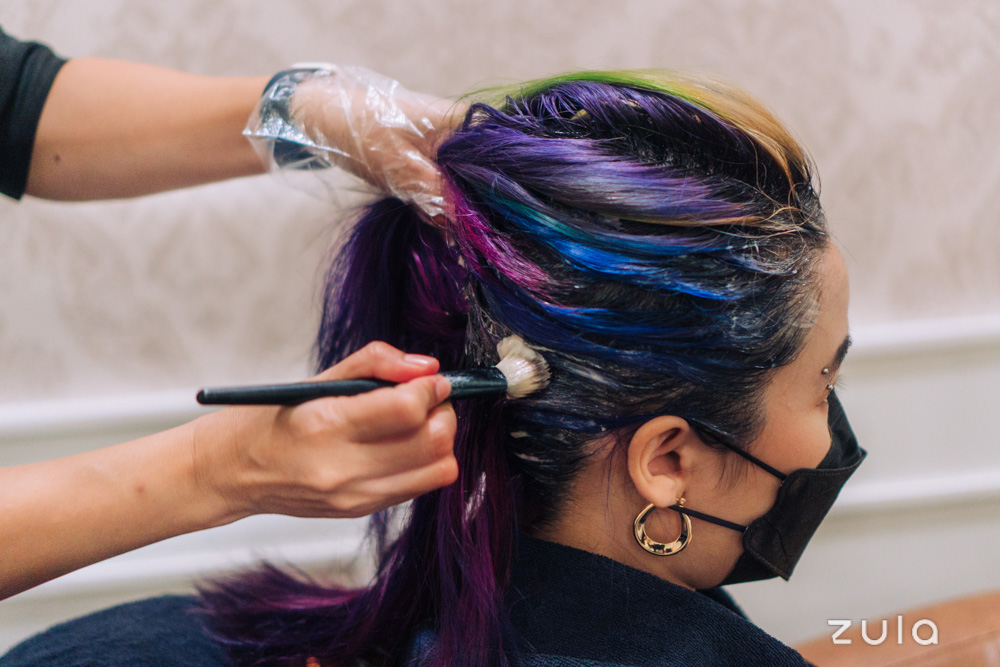 The white clay masque was applied via a brush, detoxing the scalp and removing impurities and excess sebum. Leah described this process to be extremely "cooling on the scalp", making her hair feel "very refreshed". Imagine having a mint candy and drinking cold water afterwards, except the sensation is felt on the scalp instead.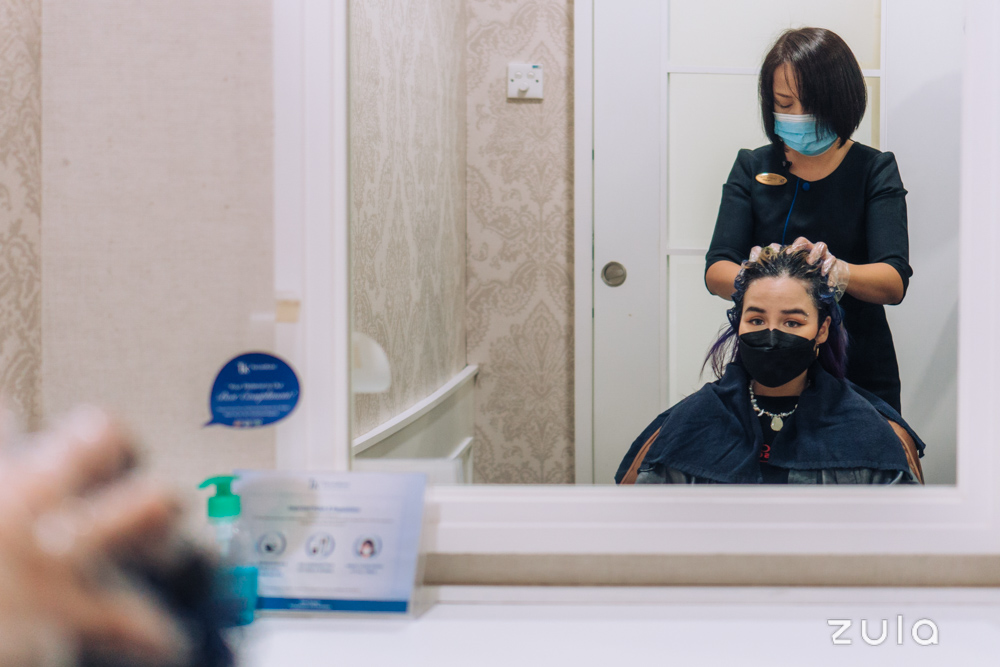 Next up was Leah's favourite part — the scalp massage that made the whole experience feel extra shiok. To make sure that all the good stuff goes in, the hair & scalp specialist rubbed the masque into her scalp and let it rest for 15 minutes.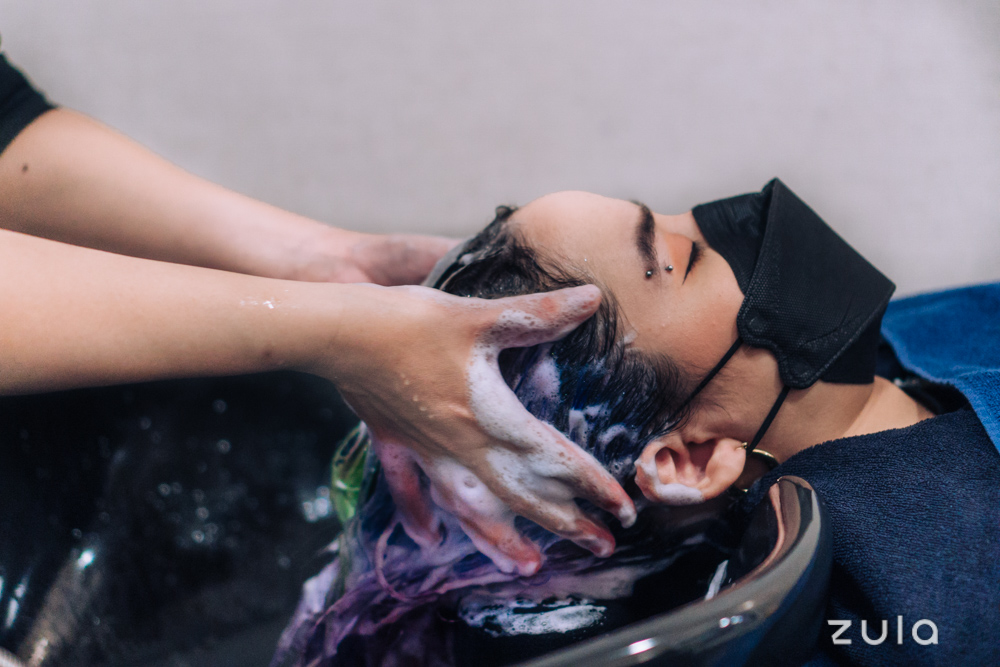 Thereafter, Leah was guided to a revitalising hair bath. Her hair was washed 3 times, with the third wash being together with conditioner, and she felt that her scalp went through a "thorough deep cleanse, feeling it all the way into the roots" in this process. 
The aim of the hair bath was to restore her sebum balance and keep it feeling refreshed, to which Leah was impressed that she could "feel the difference almost immediately after".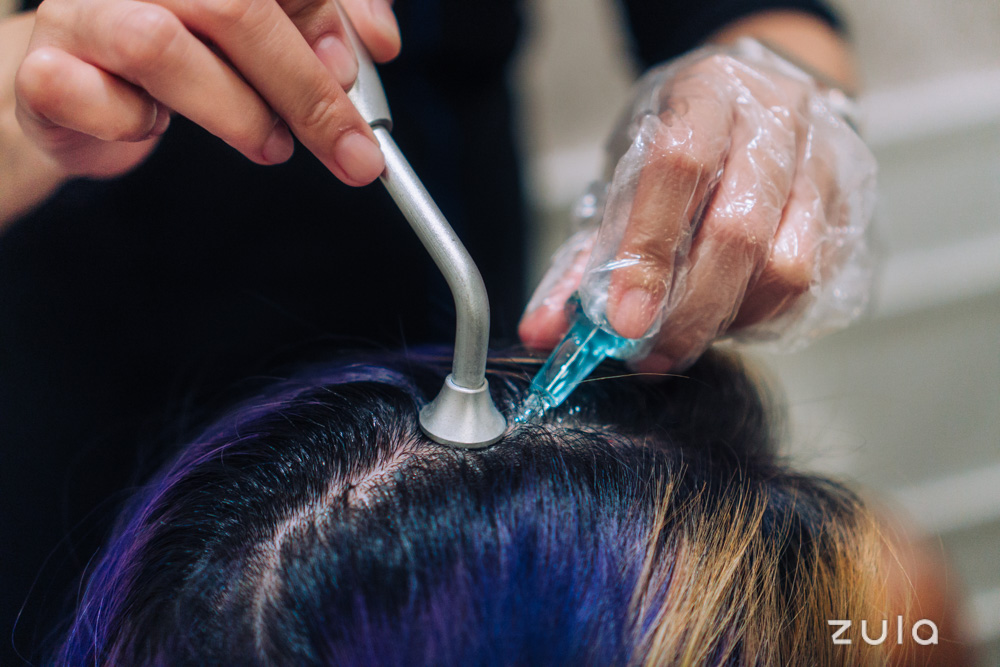 With her scalp properly cleansed, Leah was now ready to receive the OxyJet step and customised Ampoule application for the next 15 to 20 minutes. The process was just like its name, with a machine being brought in to release jets of pure oxygen onto her scalp. Though this may sound a little intimidating at first, Leah re-assured us after that she never felt any form of discomfort throughout the whole process. 
The OxyJet was useful in accelerating the scalp's cell metabolism and improving blood circulation. At the same time, a customised ampoule known as Copper Peptide was applied to increase hair growth, reduce inflammation and damage, as well as delay scalp ageing. 
While many hair treatments focused solely on her hair, Leah enjoyed how much her scalp was being pampered as well. She described the feeling akin to "going to a spa, which is really relaxing".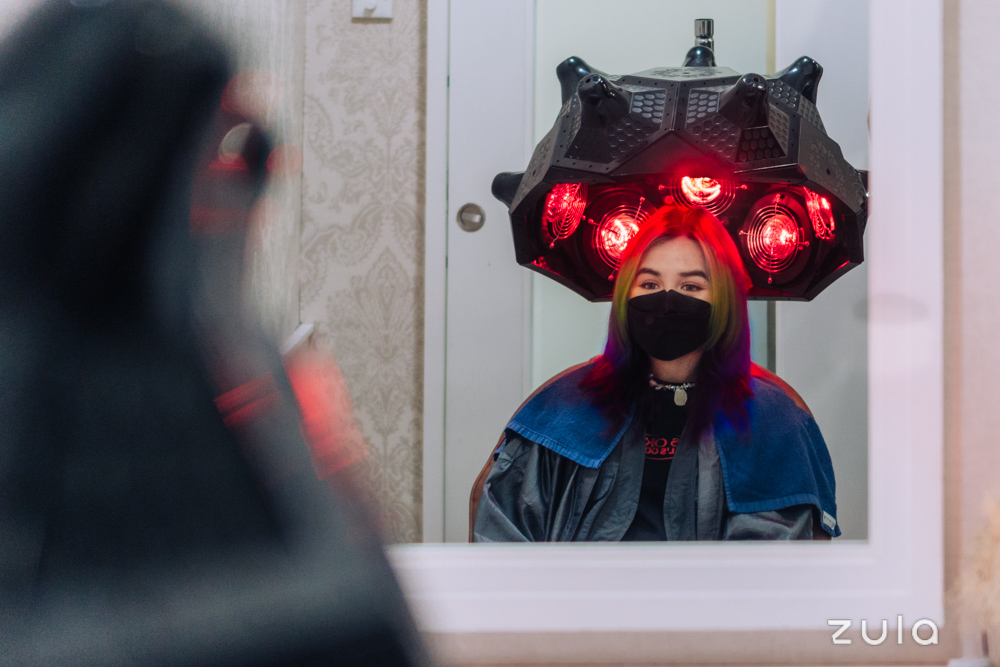 To complete the whole treatment process, TK TrichoKare's unique Photodynamic Therapy was introduced. This involved a machine with laser light technology to support hair regeneration and help accelerate healing. 
Despite yet another intimidating-looking machine making an appearance in the treatment process, Leah jokingly described the Photodynamic Therapy session like she's "baking in an oven" — since it was warm and comforting on her scalp. This is also the perfect time for tired individuals to catch up on a few "Z"s while the machine works its magic for around 7 to 9 minutes.
Results
With the whole treatment process spanning about 2 hours, Leah was guided back into the consultation room where she underwent another scalp analysis to view the results.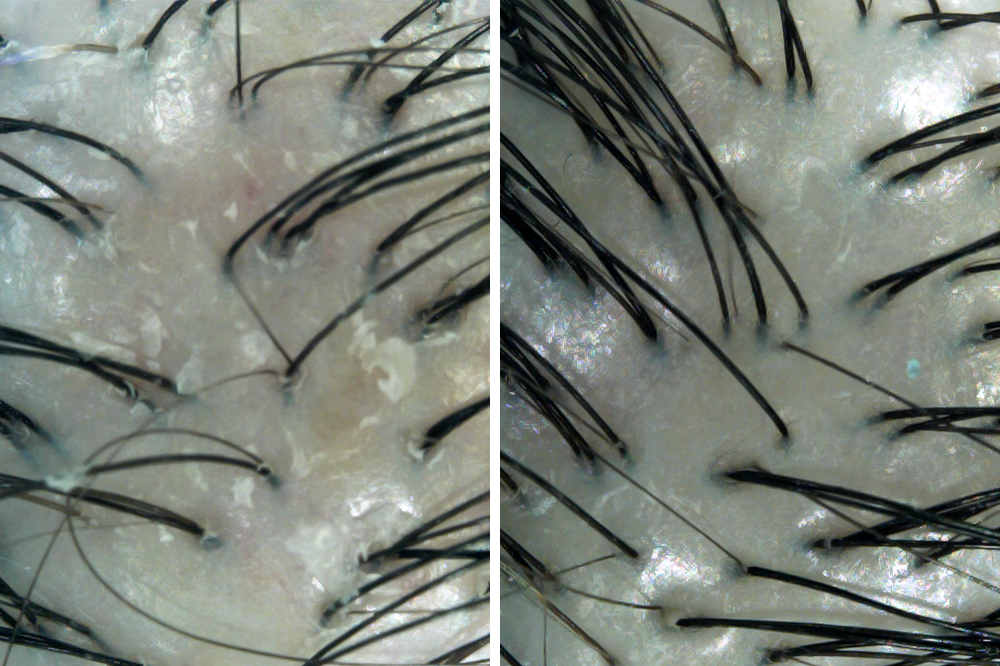 Leah's scalp analysis before treatment (left) vs after treatment (right)
Before the treatment, the dryness and flakiness of her scalp was obvious to spot. But the second scan showed clear results of a cleaner scalp with lesser clogged pores, including the removal of her initial dandruff. She also noted that her hair felt extra clean and smooth, not to mention significantly less damaged as well.
Overall, Leah felt like she did the treatment at the right time, since she had recently dyed her hair a new colour less than 2 weeks ago. As someone who constantly took chemicals to her hair often, Leah was also amazed at how high-tech TK TrichoKare's treatment process was. 
"The process wasn't just putting products on my scalp, but there were different machines to completely immerse everything into my hair follicles," Leah shared. But of course, the hair & scalp specialist also reminded her that it would be good to come back regularly for treatment to counter the effects of the chemicals, as all her hair and scalp concerns cannot be solved within a single session.
Achieve Healthier Hair And Scalp With TK TrichoKare's Advanced Scalp Detox & Care Treatment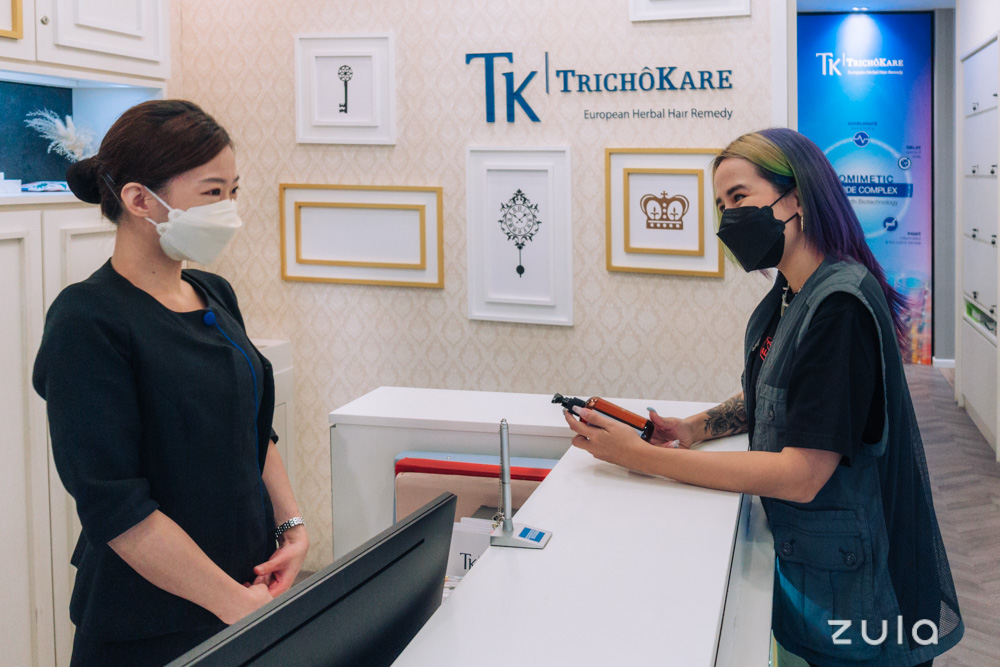 Whether it's damaged hair or hair loss, one shouldn't be embarrassed to seek out treatment to make you look and feel good. Especially for millennials who are conscious about their image, there's no harm or shame in getting your concerns checked by a professional and trying out an intensive scalp detox session.
You can treat yourself to the same scalp pampering session Leah did too — all for only $40 nett with a free travel size Hair Care Kit and Hair Ampoule (total worth $745) included. TK TrichoKare's Award-winning Advanced Scalp Detox & Care Treatment is the perfect atas treatment to make you feel like a king or queen to kickstart the new year. This promotion is valid for new customers only and is available at all TK TrichoKare outlets islandwide, so make sure to head down ASAP. 
This post was brought to you by TK TrichoKare.
Photography by Li Haiyang.
Also read:
I Tried A Scalp Detox & Care Treatment To Increase Hair Growth & Thickness, As Someone Who Styles My Hair Daily