Tocco Toscano x Hello Kitty
Now that you're getting invites from your kakis for year-end gatherings, bringing the same bag to different events might make your OOTD seem a lil' repetitive. As a way to jazz things up, consider shopping from the latest Tocco Toscano x Hello Kitty collection that features leather pieces in five colours ‒ cream, black, forest, blush, and scarlet.  
The collection
What's so amazing about the designs from this collection is that the Hello Kitty elements are subtle so you won't find declaring your love for the character too loud. The Satchel is one example as it comes in a simple yet elegant design. 
At first glance, it is easy to think that the handbag is made from plain leather, but upon closer inspection, you'll notice that the exterior features a monogram pattern of Hello Kitty's iconic bow.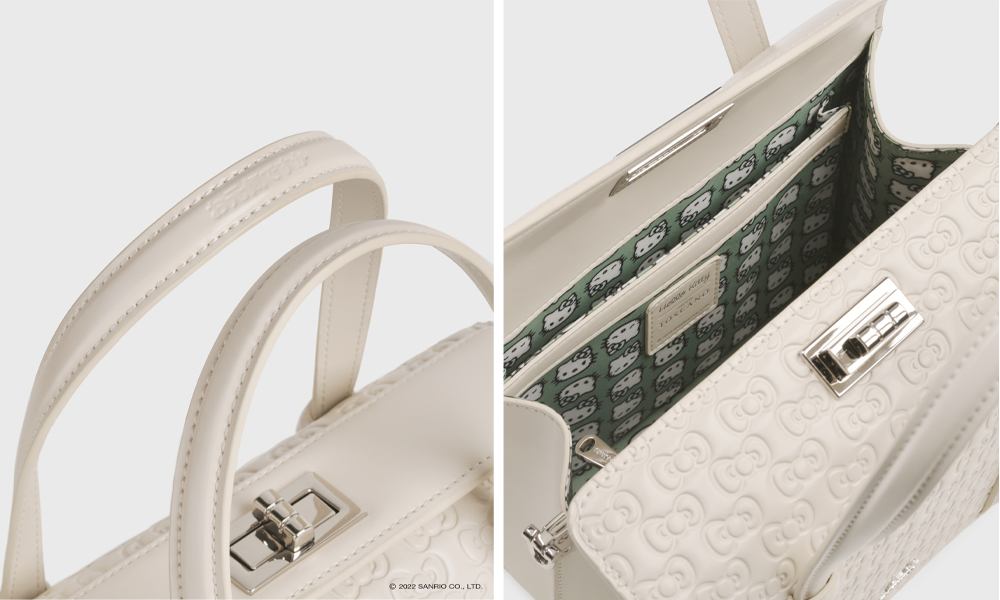 Secured by a twist-clasp closure, the bag prevents your belongings from running loose. Plus, it comes with sufficient storage space and compartments to have your essentials organised. As a surprise when you open the bag, note how it is lined with adorable Hello Kitty motifs on the inside. 
You can either carry the Satchel on its own or opt for the matching strap to go hands-free. 
The Satchel retails at $329.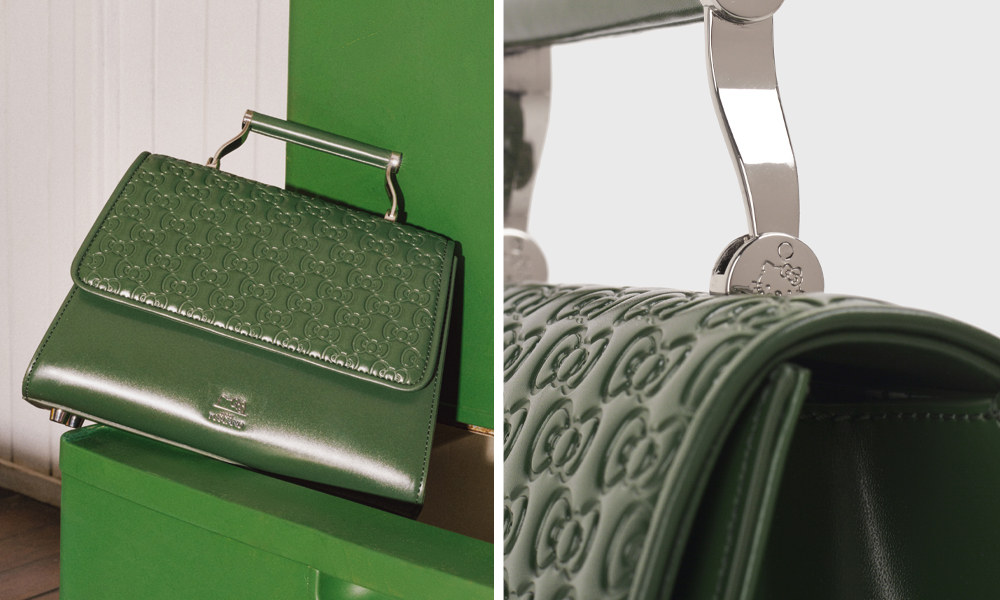 Add a pop of colour to your OOTD when you have the Top Handle. Designed as a mini handbag, the dainty item comes with a metal handle on the top that pays tribute to Hello Kitty with a motif of her engraved on the side. 
Similarly, the top portion of the bag features the textured monogram pattern of Hello Kitty's bow, and below, the logo of Tocco Toscano makes an appearance. Thanks to its magnetic dual button closure, rest assured that your belongings will be kept secured. 
The Top Handle retails at $349.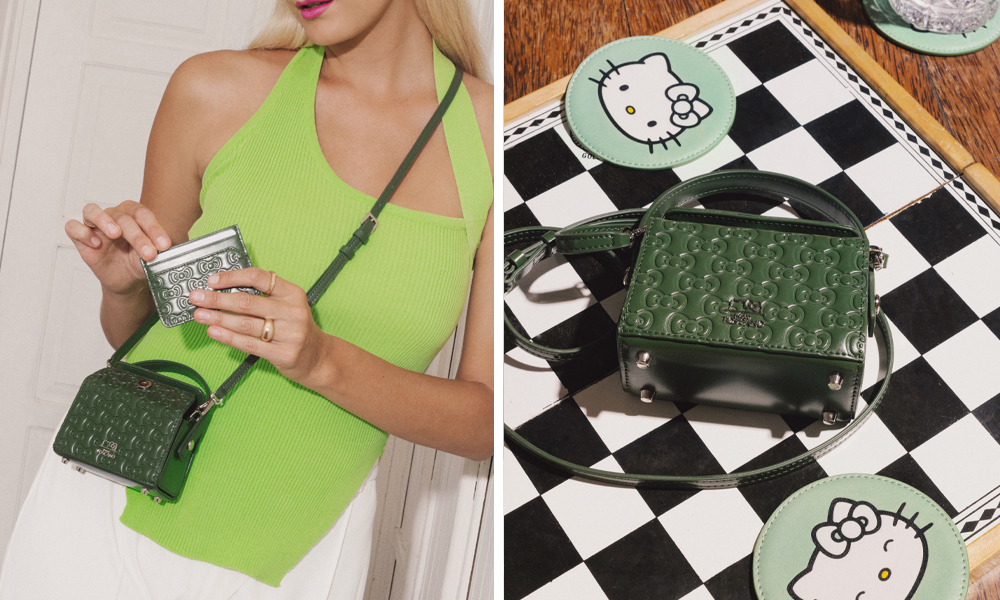 NGL, small bags are cute AF. If you're a fan of them, this Micro Bag might pique your interest. 
Despite its small dimensions of 11.5cm x 6cm x 8.5cm, the bag can store your personal items like an eyedrop and hand sanitiser. The Micro Bag also transforms into a crossbody by attaching a bag strap to the sides for different styling. 
The Micro Bag retails at $199.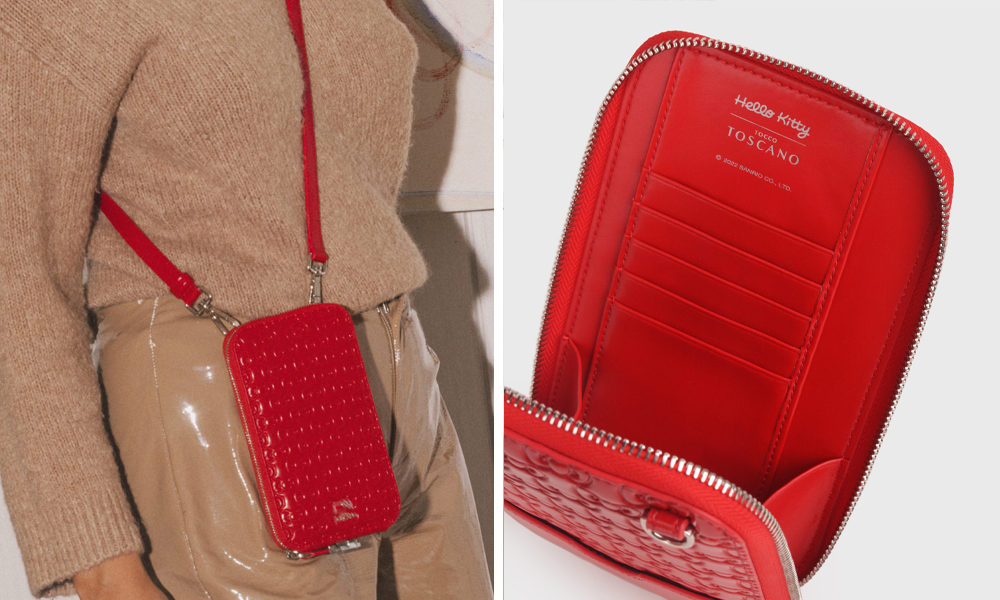 Hassle-free and lightweight, the Mobile Phone Bag is perfect to bring out, especially if you're heading to clubs for a night of fun. The bag allows you to strap it across your body and also doubles as a stylish item for lit pics with your fellow partygoers. 
That's not all ‒ it is designed with a phone slot, five card slots and a cash compartment for you to store loose coins. Similarly, the bag also features the monogram of Hello Kitty's bow. 
The Mobile Phone Bag retails at $169.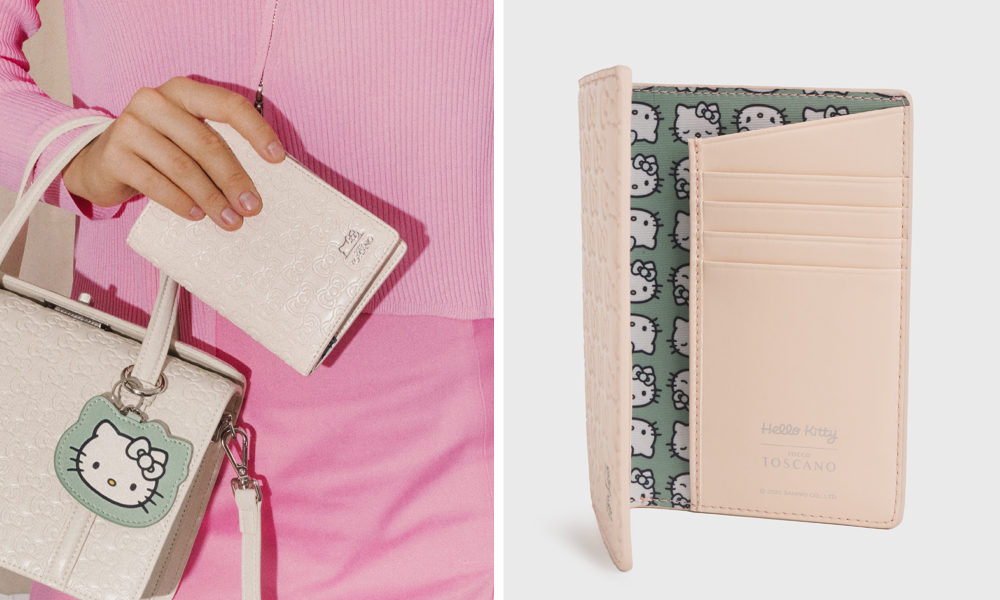 Passport: the most important thing when it comes to travelling overseas. To help you get into vacation mode, "clothe" your passport with this adorable Passport Wallet that levels up your airport fashion. 
Since it also doubles as a wallet with four card slots, you can use it to stow cash and contact details in case of an emergency. 
The Passport Wallet retails at $129.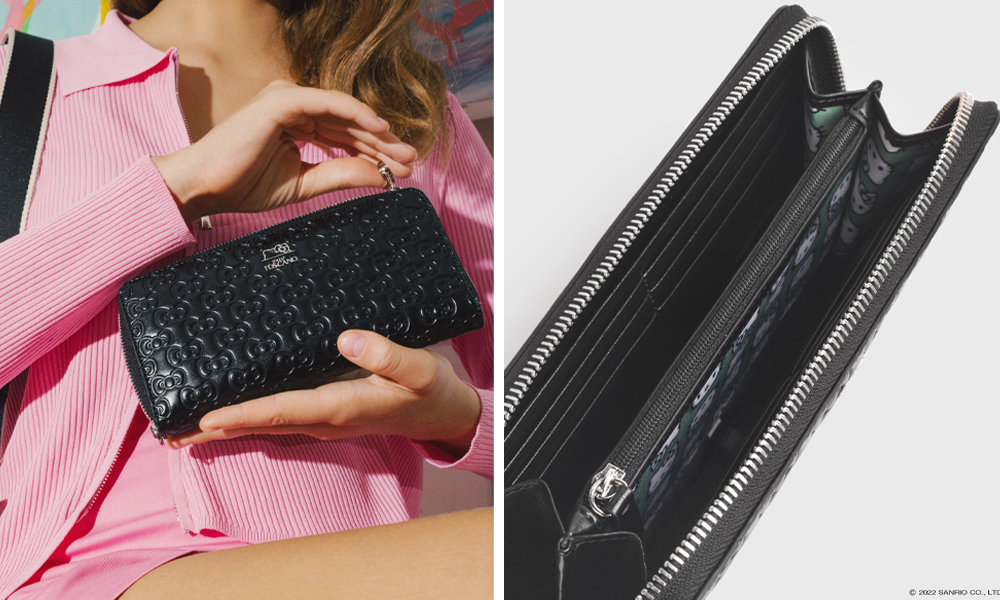 On top of keeping your notes crisp and unfolded, the Long Wallet raises the bar when it comes to compartments. It has 12 card slots, two separate note compartments, two interior slip pockets, and an additional section to store coins. 
The interior of the wallet is also lined with four Hello Kitty expressions which will put a smile on your face whenever you open it up. 
The Long Wallet retails at $189.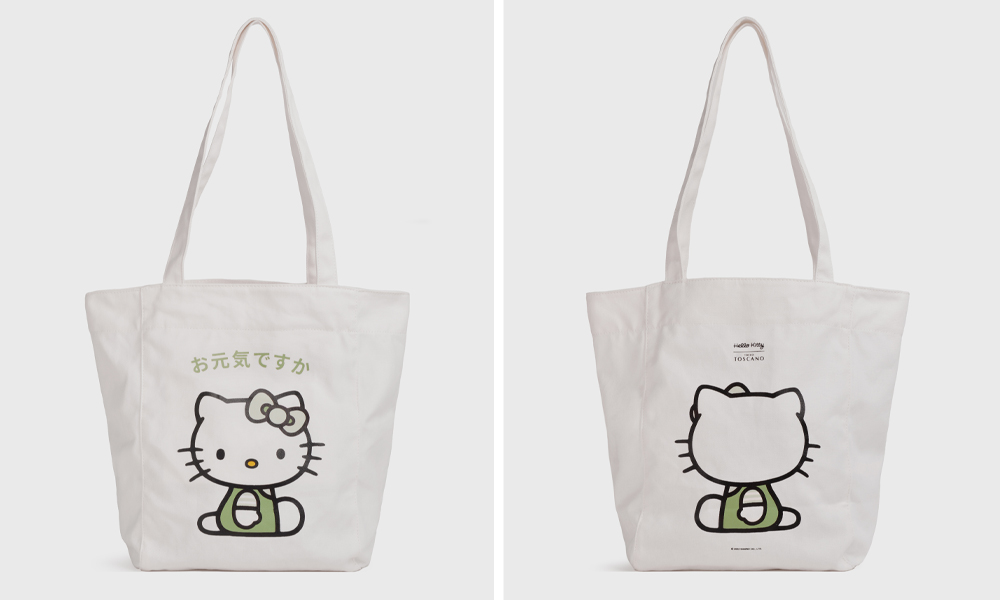 Enter the Genki Tote, a casual tote bag great for daily errands that features the motif of Hello Kitty dressed in a green dress and ribbon. As if greeting you on a happy note, the words printed on the front of the bag read "How are you?" in Japanese. 
The Genki Tote is only available in white and retails at $39.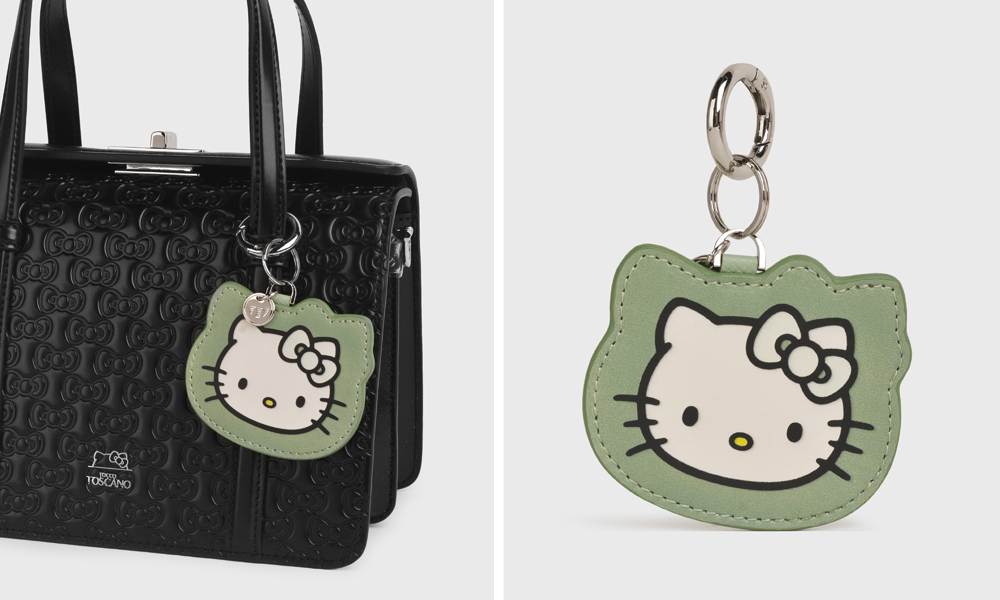 Stand out with the Hello Kitty Charm that greets you in a soothing green hue. Taking after the shape of Hello Kitty's face, the charm comes with a metallic keyring to hook it onto your bag easily.
The Hello Kitty Charm retails at $39.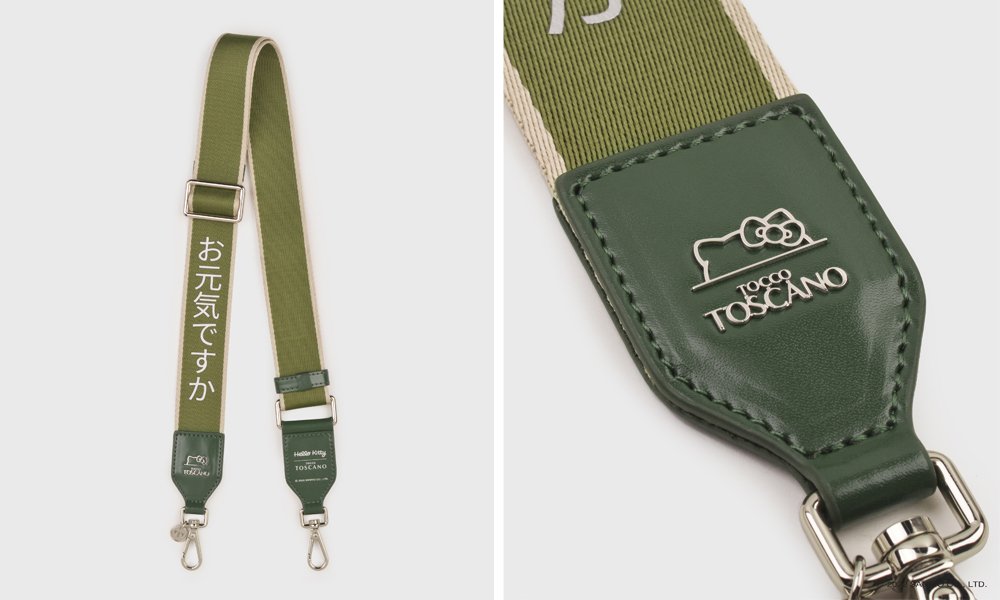 As an additional accessory for your bag, the Genki Bag Strap elevates your look by making a statement with its "How are you?" in Japanese detail. It even has a logo of Tocco Toscano x Hello Kitty at both ends of the strap that adds a luxurious touch to the overall design. 
With the Genki Bag Strap, you can now easily transform your handbags into crossbody bags. 
The Genki Bag Strap retails at $99.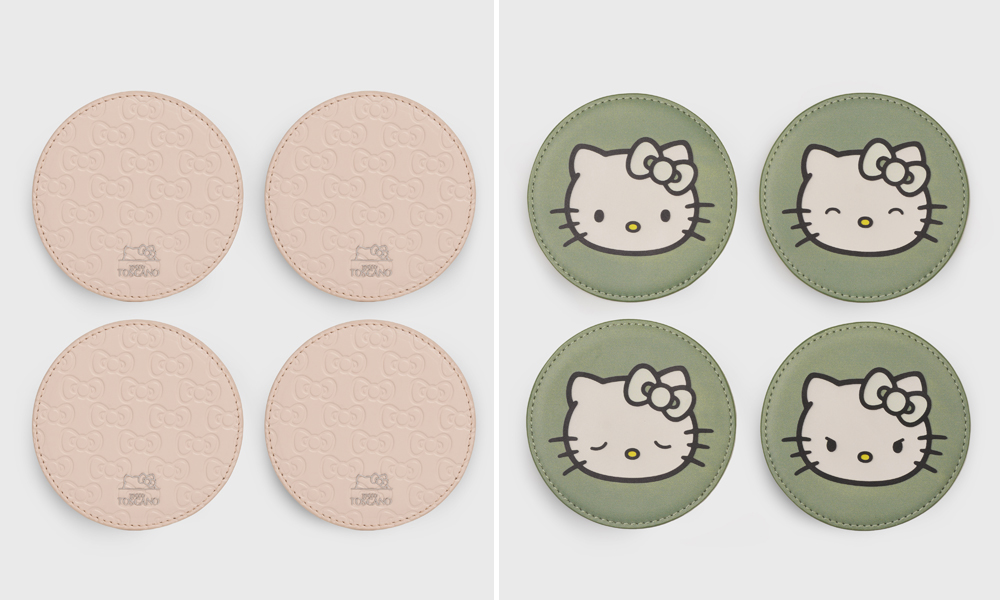 From left: Coaster Set, Expression Coaster Set
Whether you're sipping on an ice-cold teh ping or keeping warm with a hot cuppa, coasters help protect the surface of a table. Two coaster designs are available in this collection ‒ the Coaster Set and Expression Coaster Set. 
The first design features the monogram pattern of Hello Kitty's bow repeated in the collection alongside a Tocco Toscano x Hello Kitty logo. As for the latter design, each coaster features a unique Hello Kitty expression, which will no doubt amuse young ones. Note that the Expression Coaster Set is only available in the forest shade. 
Each coaster set comes with four coasters and retails at $69. 
The Tocco Toscano x Hello Kitty Collection Is Something For Sanrio Fans & Fashionistas Alike
Don't be surprised if a Hello Kitty-loving friend of yours requests an item from the Tocco Toscano x Hello Kitty collection for Secret Santa this year. After all, the designs from the collection are a dream come true for fans who wish to express their love for the kitty cat subtly. 
For the full range of items in the collection, be sure to visit Tocco Toscano's official website.
All images courtesy of Tocco Toscano.
Also read:
This Hotel In Japan Has Hello Kitty, Naruto & Crayon Shin Chan-Themed Rooms For Extra Cute Revenge Travel