UNIQLO LifeWear For Her
Last month, UNIQLO celebrated International Women's Day with a UTme! collection of girlboss tee designs. To continuously empower women, UNIQLO has launched a new space for women at ION Orchard known as LifeWear For Her. 
Introducing revamped fitting rooms, feminine care products and a lineup of pop-up workshops, LifeWear For Her is created to help women transition through different life stages with confidence.
Feminine care aisle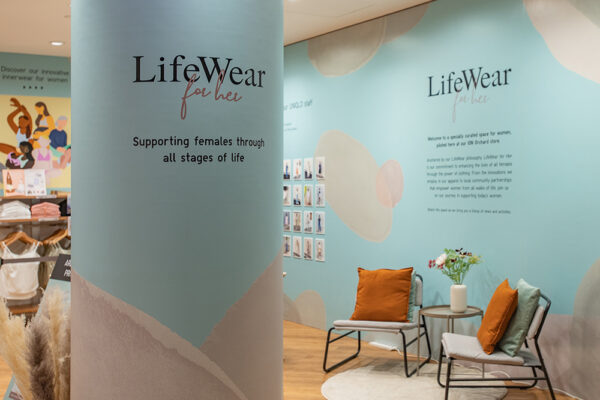 The LifeWear For Her space is decked in soothing light blue walls, alongside additional information about what ladies can expect while there. It's also has aesthetically pleasing photo spots, so you can snap some selfies for your IG feed too.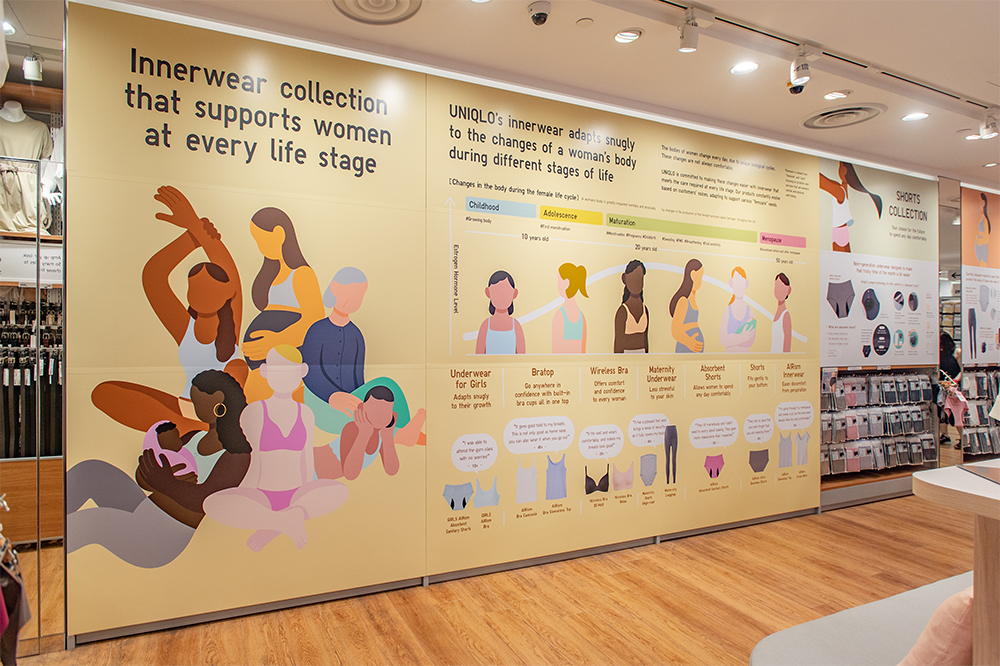 The campaign offers a feminine care aisle with sections dedicated to each stage of a woman's life. No matter if you're shopping for a young girl's first innerwear or comfy maternity undergarments, you'll be spoiled for choice here.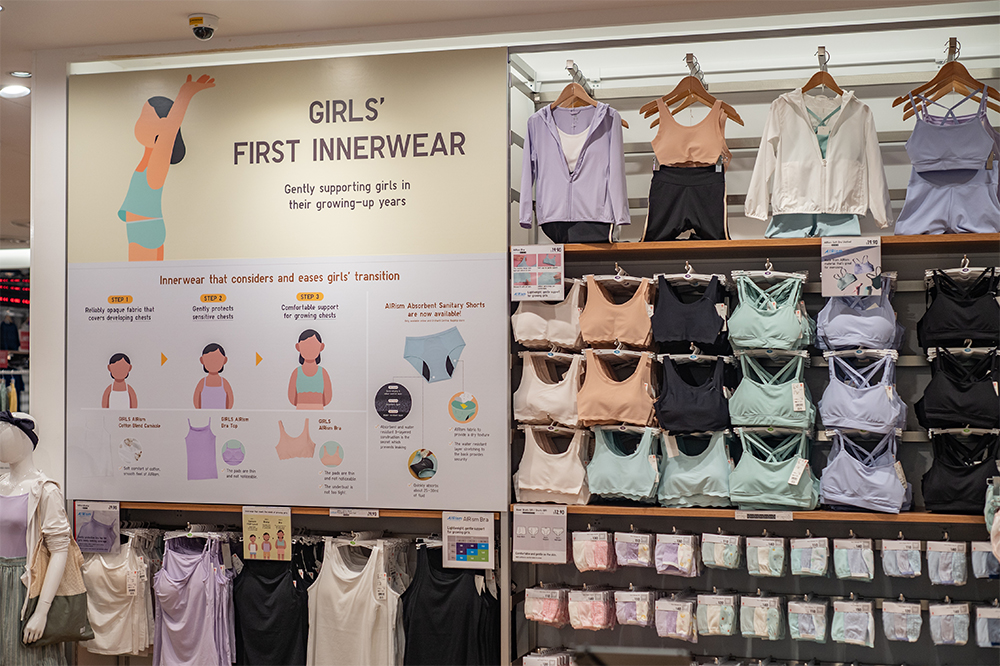 Each life stage section also comes with information about what type of undergarments would best suit your body. In the girls' first innerwear stage, the undergarments are specifically designed to support girls through their years of puberty and transitioning into bras.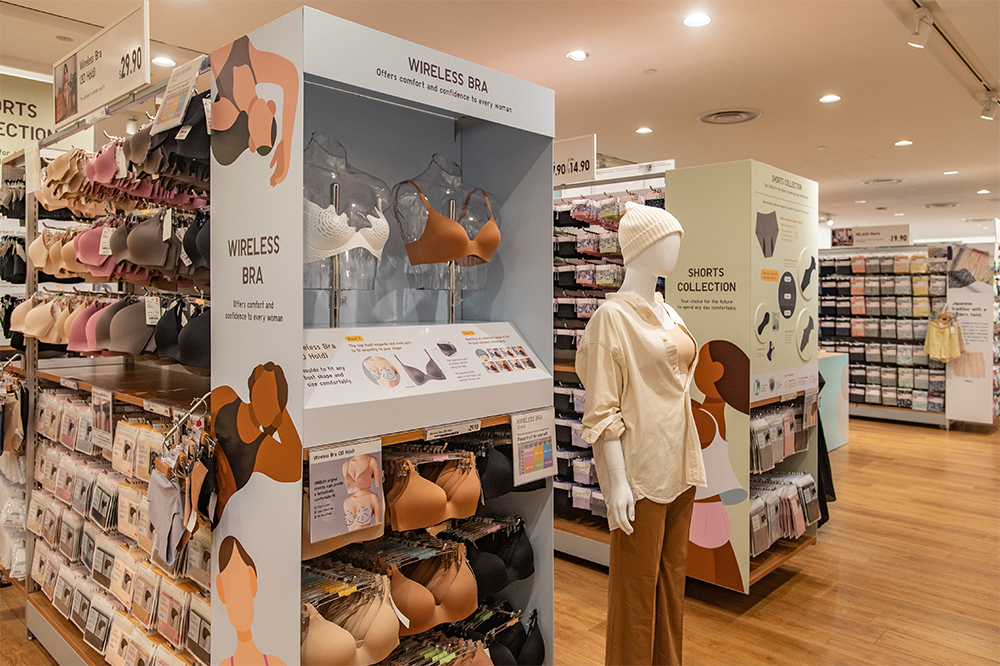 Fun fact: wearing the wrong bra size can lead to strains on your chest and back. Not to mention skin abrasions and chafing too. Ouch, it's definitely something no lady would want to go through on an everyday basis. 
Ladies in adulthood can find wireless bras that adapt to odd cup sizes and period changes in the next section. If you're still wearing the wrong bras or have painful wires that dig into your skin, you can find the best bra to suit your needs here.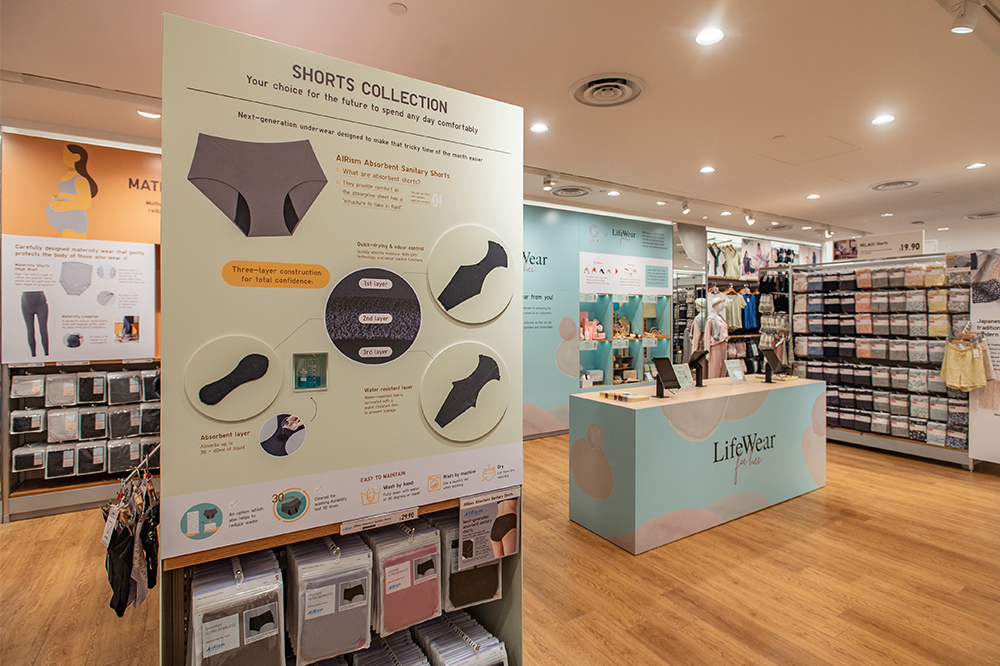 Don't forget to check out the shorts collection too. Here, you can discover a range of sanitary underwear created in a unique 3-layer construction for extra confidence.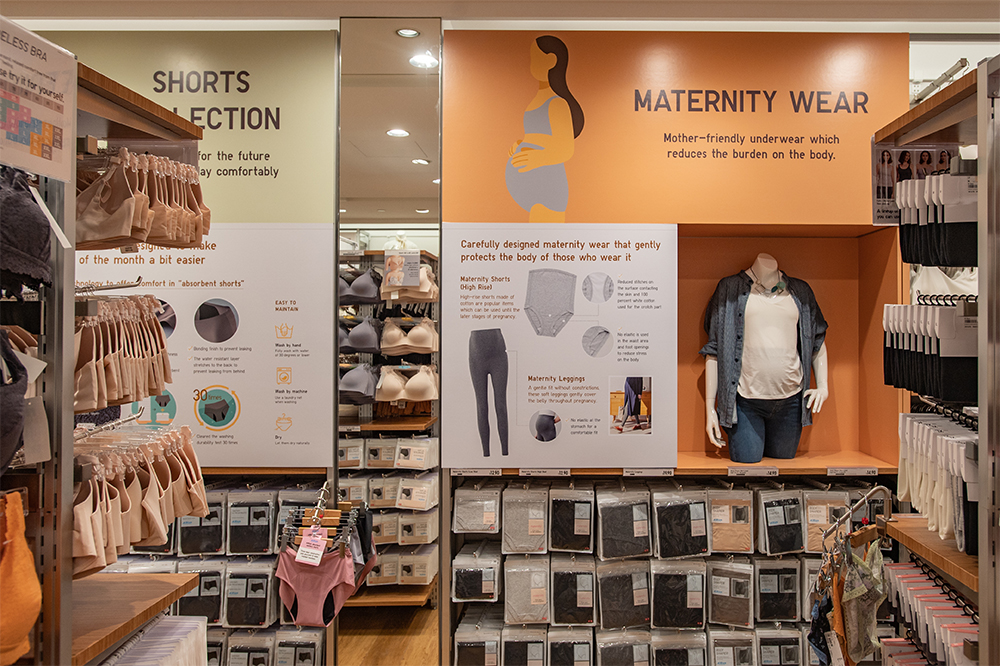 Carefully designed maternity-friendly undergarments are also available to reduce the burden of a woman's changing body. Older women can also find comfortable innerwear all the way up till the menopause stage here too.
Fitting rooms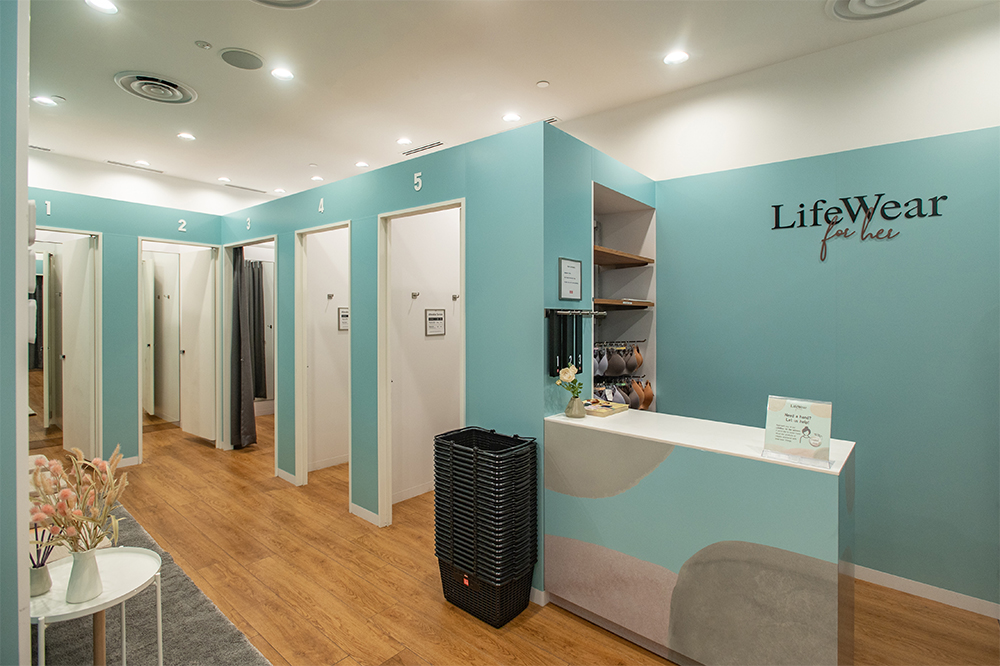 Once you've picked out the undergarments to try on, head over to the dedicated LifeWear For Her fitting rooms. They have  similar blue hues on the walls, with the "LifeWear For Her" logo situated behind the front desk.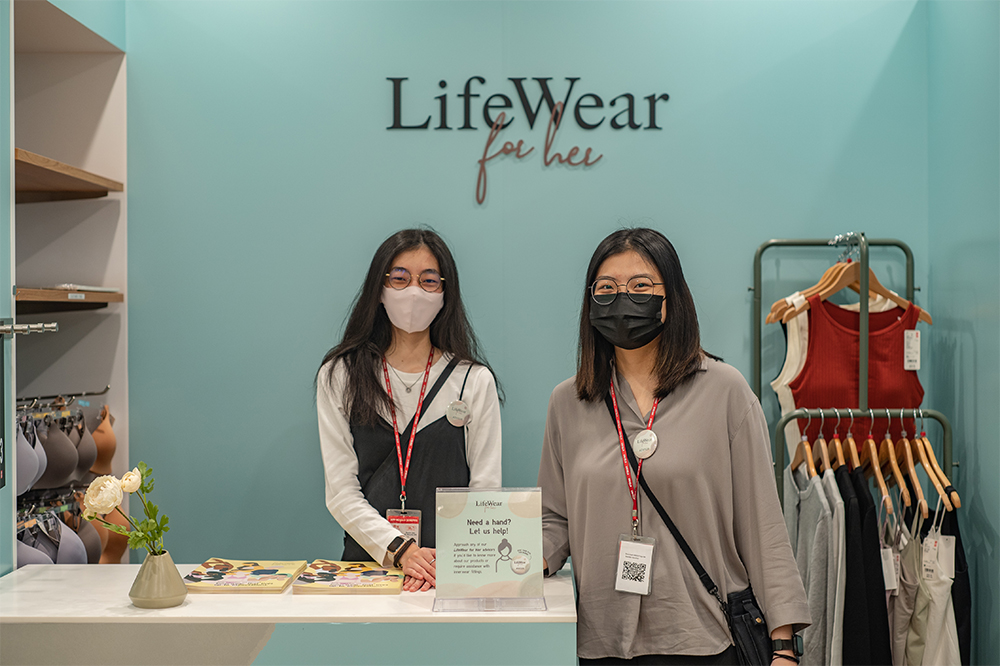 No need to feel paiseh if you can't figure out which undergarments best suit you. LifeWear For Her advisors are stationed at the fitting rooms to recommend the right products and fits based on your body type. 
Here's a tip when looking out for them: the advisors are all wearing a LifeWear For Her badge pinned on their clothes.
CRIB Society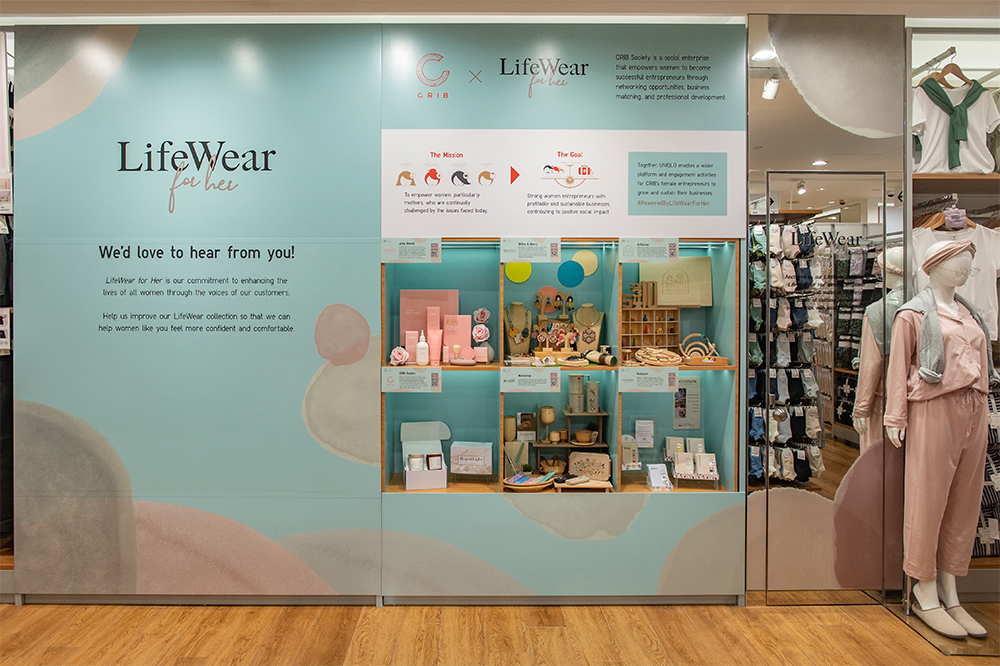 That's not all — in a partnership with non-profit social enterprise CRIB Society, LifeWear For Her has a permanent space to showcase products in support of female entrepreneurs.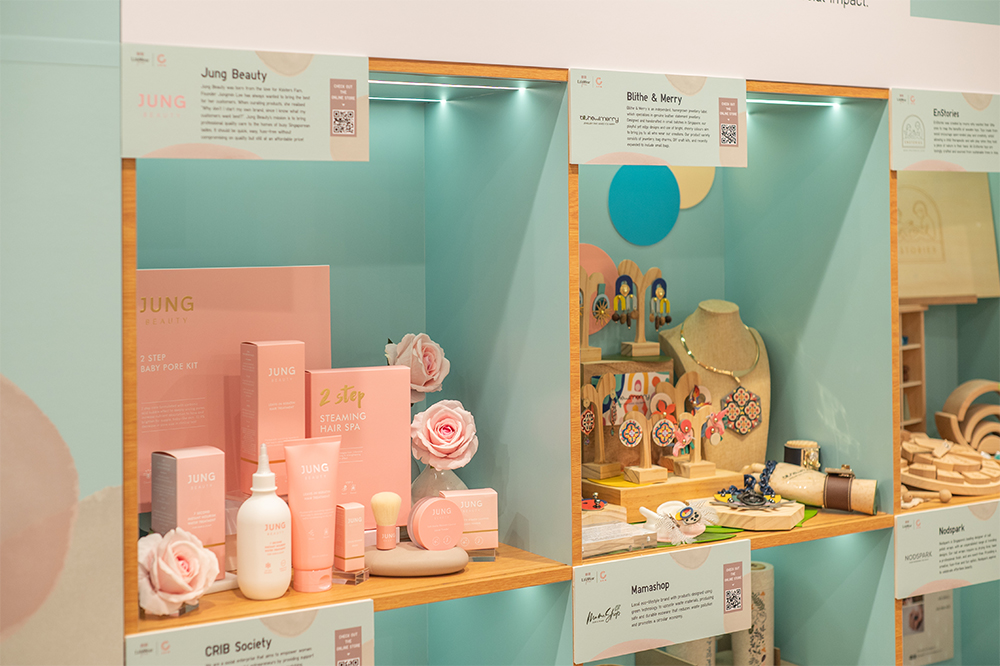 Discover local brands such as Jung Beauty, Blithe & Merry and Nodspark along these shelves. For those interested in finding out more, stay tuned for a lineup of pop-up workshops or events helmed by these female entrepreneurs.
UNIQLO LifeWear For Her At ION Orchard Helps Women Transition Through Different Life Stages
International Women's Day may be over, but there's no reason why we can't celebrate every woman's individuality all year round 
From puberty to menopause, it's no surprise that women's bodies change all the time due to our biological cycle. UNIQLO's LifeWear For Her space at ION Orchard is here to make these changes easier with the proper innerwear for every stage of life. Head over to UNIQLO's website for more information about this unique campaign. 
All images courtesy of UNIQLO.
Also read:
UNIQLO Celebrates International Women's Day With Girlboss Designs To Flex Women Breaking Conventions