Handmade Wood Mahjong Tiles
While we saw a hypebeast version of mahjong from the Harvey Nichols x KOLOR mahjong set last week, a minimalist wood mahjong set is next to stun – courtesy of Malaysian artist Kai Yi Wong. Entirely handmade from scratch, these mahjong tiles feature designs of local delicacies such as Kueh Lapis and Lok Lok. Through embracing art, local culture and the thrill of the mahjong game, this wooden mahjong set will guarantee all the huat.
The tiles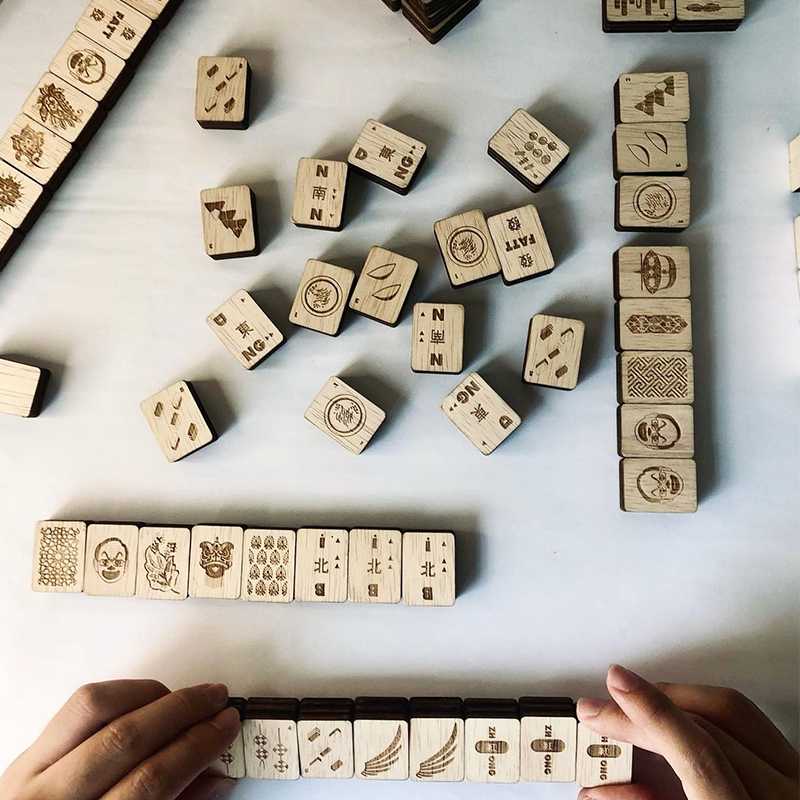 Many of us are used to playing mahjong with the traditional tiles made of plastic, but rarely out of wood. Seeing unique designs such as the batik prints from the Singapore Airlines mahjong set infuses a sense of local pride in the game. But this wooden mahjong set takes it to the next level with detailed yet minimalist local icons.
Perhaps the sound of the mahjong tiles shuffling will be quieter with this wood texture. Hopefully that means no more neighbour complaints while playing throughout the night.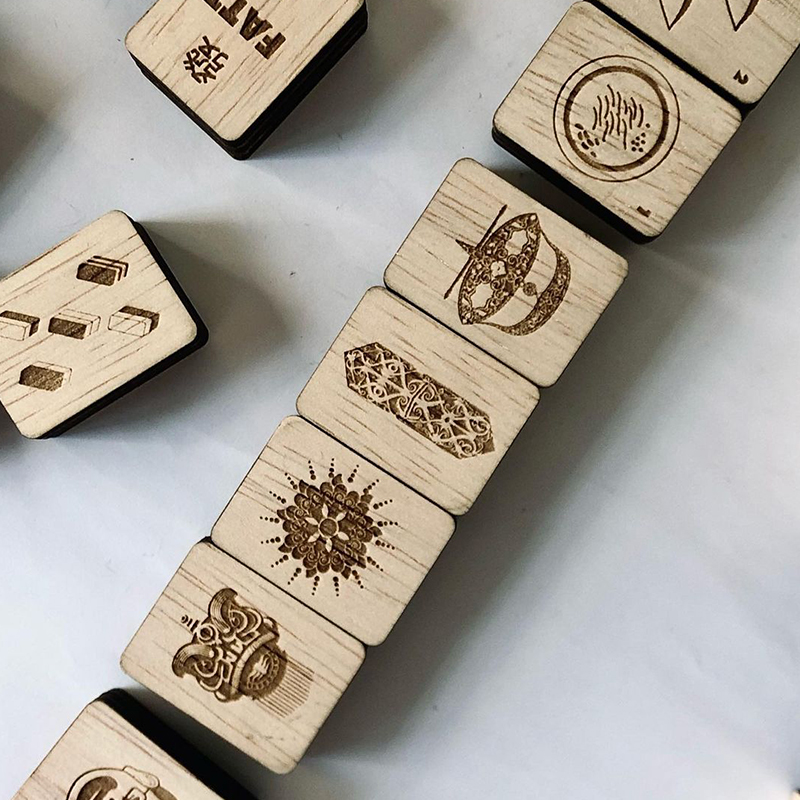 Upon closer inspection, the tiles each have their own special engraving. These come in the form of foods such as Kueh Lapis to various culture's traditions such as lion dance heads. 
The artist has not explicitly mentioned what these tiles are used for in the game, but we can only speculate that it is used to replace the suo zi (bamboo tiles), tong zi (stone tiles) and wan zi (word tiles) in the game.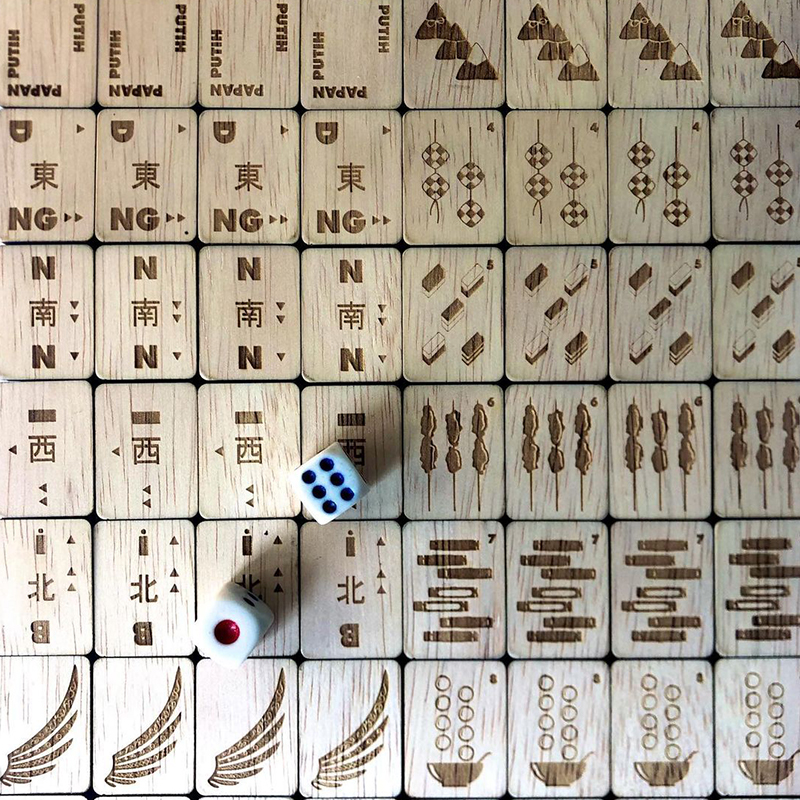 The wind tiles in this set have their own unique twist that differs from the traditional mahjong tiles too. Besides the Chinese characters of 东南西北 (North, South, East, West), arrows indicating the wind direction and the first letter of its hanyu pinyin (romanization of Chinese characters) are carved beside it. 
While we're not exactly sure which tiles are a representation of the animals, we can see more unique designs here of ketupats, ba zhangs and other relatable local icons that adorably stand out.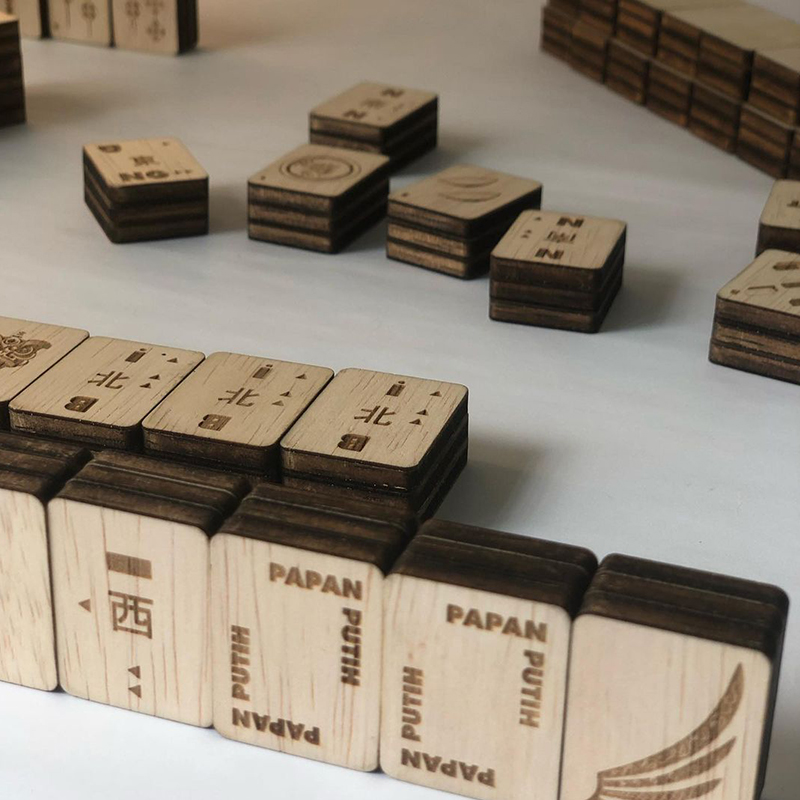 Instead of the traditional rectangular design to represent the bai ban ("whiteboard" in Chinese) tile, the words papan putih ("whiteboard" in Malay) are engraved in the shape of a rectangle instead. Though the majority of mahjong players are Chinese, the fusion of languages welcomes other races to join the fun too.
Also read:
The Limited Edition Harvey Nichols x KOLOR Mahjong Set Is So Hype You Won't Feel Blue From Losing
Kai Yi Wong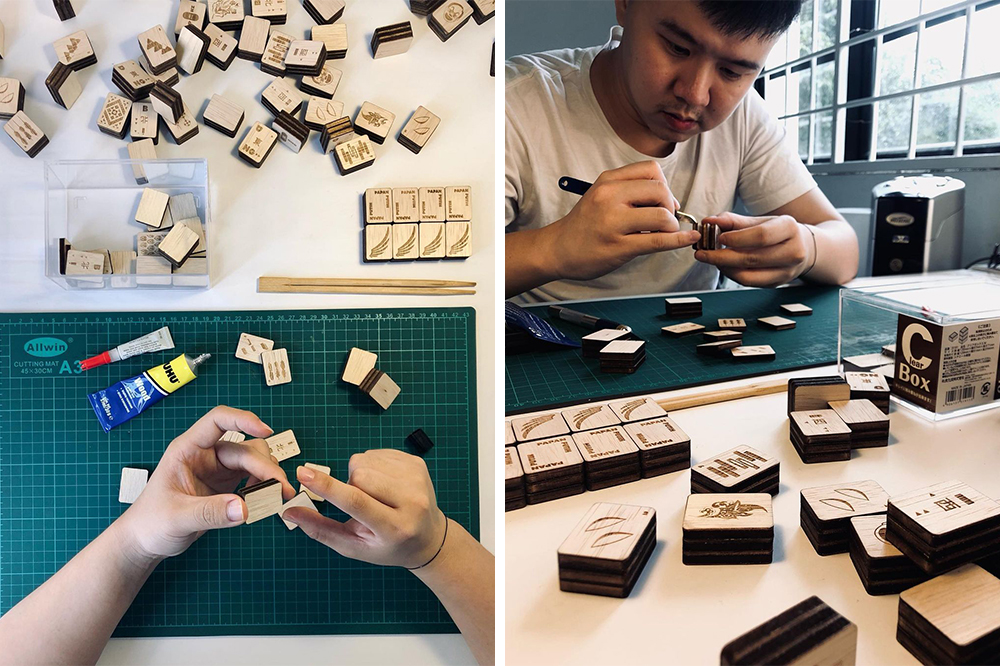 Every tile is carefully handmade by Kai Yi Wong, an architect graduate. The mahjong set is created through gluing together pieces of wood and hand-carving out the designs. This limited edition mahjong set named "Myjong", according to his Instagram story, is available for pre-order for Malaysians. The amount of effort and work put into this project is truly admirable, even as we view this set through the screen. 
If you've been inspired to create your own version of this mahjong set or start learning about basic woodworking, Kai Yi has launched a Youtube channel with tips and tricks of what tools he recommends using.
These Handmade Wood Mahjong Tiles Embraces Culture & Creativity
You can find out more about the mahjong building process on Kai Yi's Instagram page. Grab some dice and mahjong kakis, as this handmade wood mahjong set has us hoping for more chio variations and designs of the game in the future.
All images courtesy of Kai Yi Wong.
Also read:
LINE FRIENDS Mahjong Set Comes With Tiles Featuring Brown, Choco, Cony & Sally To Make Every Pong Worth It