Xiao Zhan Facts
With familiar Chinese celebrities in the entertainment industry like Lawrence Wong to Jackson Wang, it's impossible to miss out on Xiao Zhan either, who's best known for his acting and singing skills. Since the release of The Untamed in 2019, the idol has been in demand for more dramas and brand endorsements till today. 
Besides ranking 1st on TCC's The Most Handsome Faces of Asia for 2 years in a row, here are 19 facts about the star who played the playful and mischievous Wei Wuxian.
1. He is an only child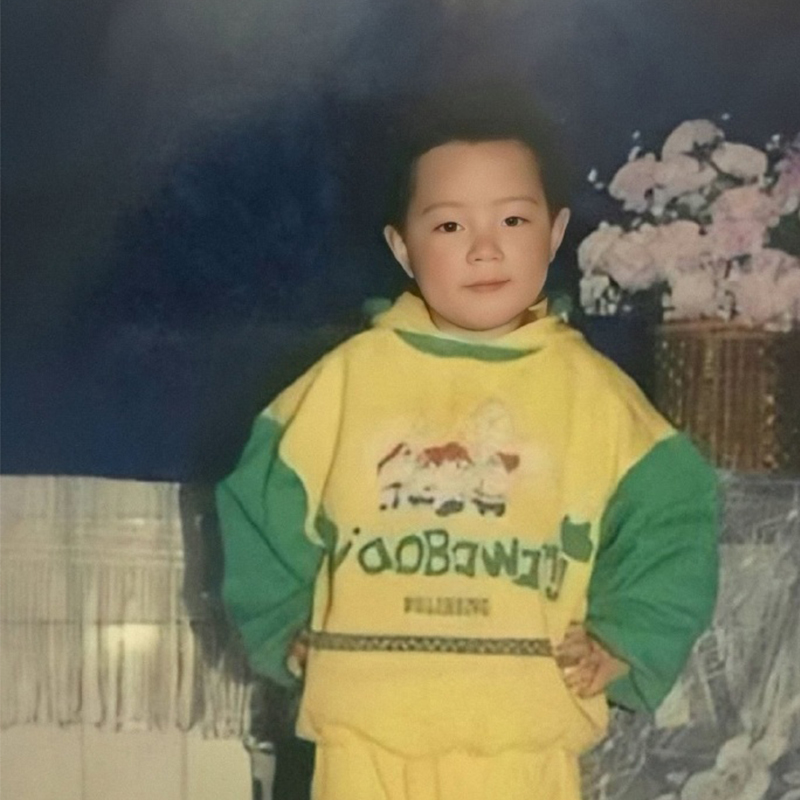 Source
Xiao Zhan was born as an only child on 5 October 1991 in Chongqing, China. Despite hitting his 30s, fans can't help but notice that he still looks refreshingly youthful with every year to come. 
Xiao Zhan if you're ever reading this, please drop the secrets to your skincare routine. 
2. Originally debuted as a singer in a Chinese boy band called X Nine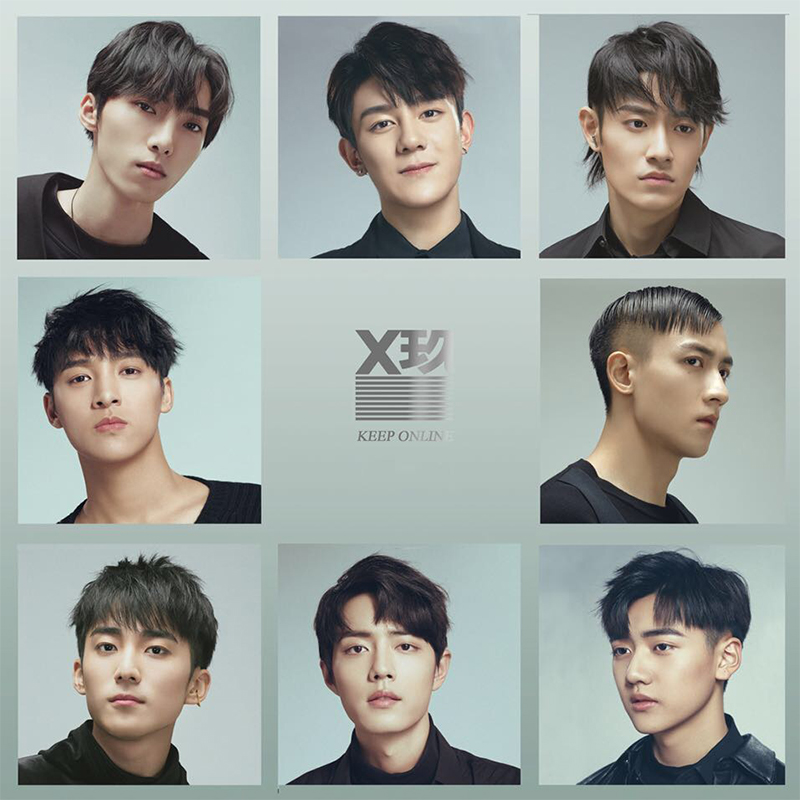 Xiao Zhan (3rd row, middle) and his X-Nine members
Source
Xiao Zhan's breakthrough in the Chinese entertainment industry came when he auditioned for a survival programme known as X-FIRE. After competing among 16 contestants, the Chinese boy group X NINE debuted with 8 members in 2016. 
The programme was formed by EE Media, Tencent Video and SM Entertainment, aka the company that debuted many famous K-pop groups such as SHINee, EXO and Girls Generation.
3. Used to be a photographer and graphic designer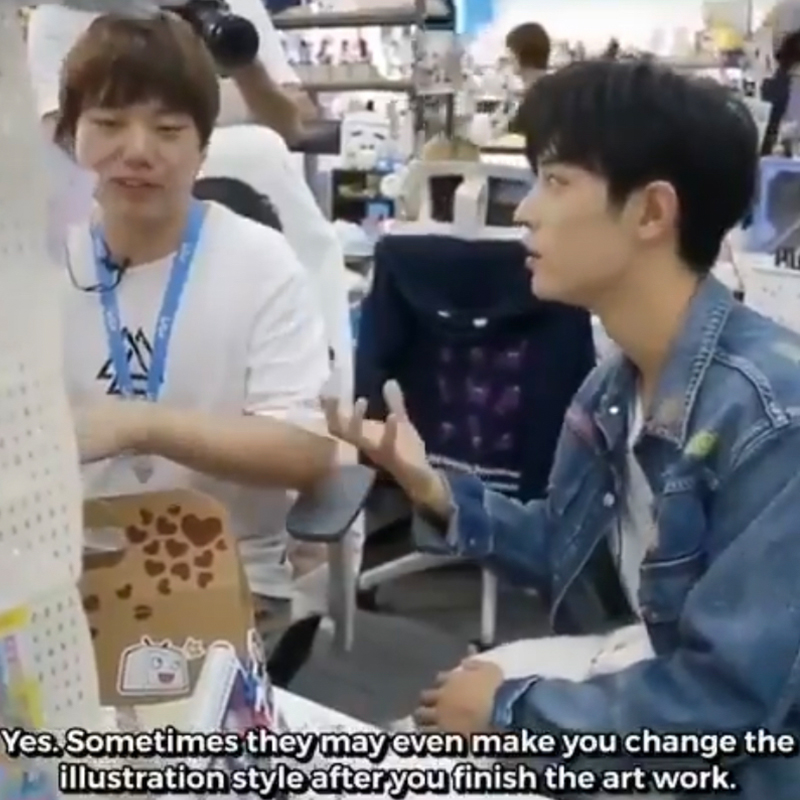 Source
Xiao Zhan's creative side is attributed to having studied at the Modern International Art Design Academy, then going on to work as a photographer and graphic designer. He shared in an interview about his struggles with designing logos for customers back then, even complaining that "they may even make you change the illustration style after you finish the art work". 
If you've worked in customer service before, you might relate to Xiao Zhan's past work woes.
3. Is good at drawing and painting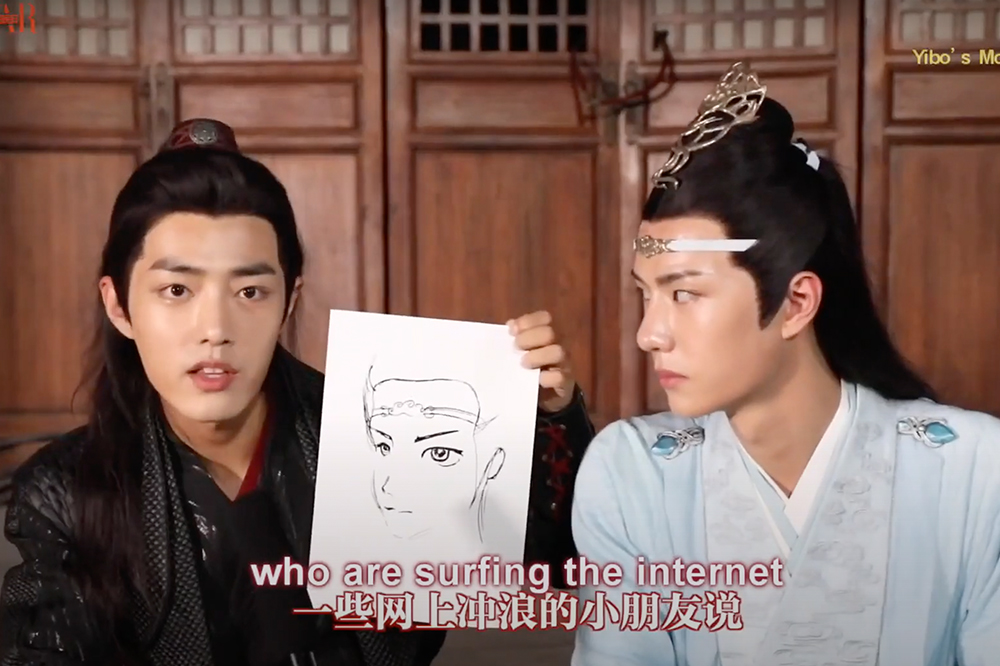 Xiao Zhan's drawing of Wang Yibo
Source
As an ex-graphic designer, it's no surprise that Xiao Zhan is also great at drawing and painting. In an interview with BAZAAR for The Untamed, Xiao Zhan was challenged to answer questions while drawing his co-star Wang Yibo within a certain time frame. 
The actor impressed us with his witty answers and fast sketch of Yibo in his costume, to which Yibo teasingly followed up with "my eyes aren't this big!"
5. He's also a great cook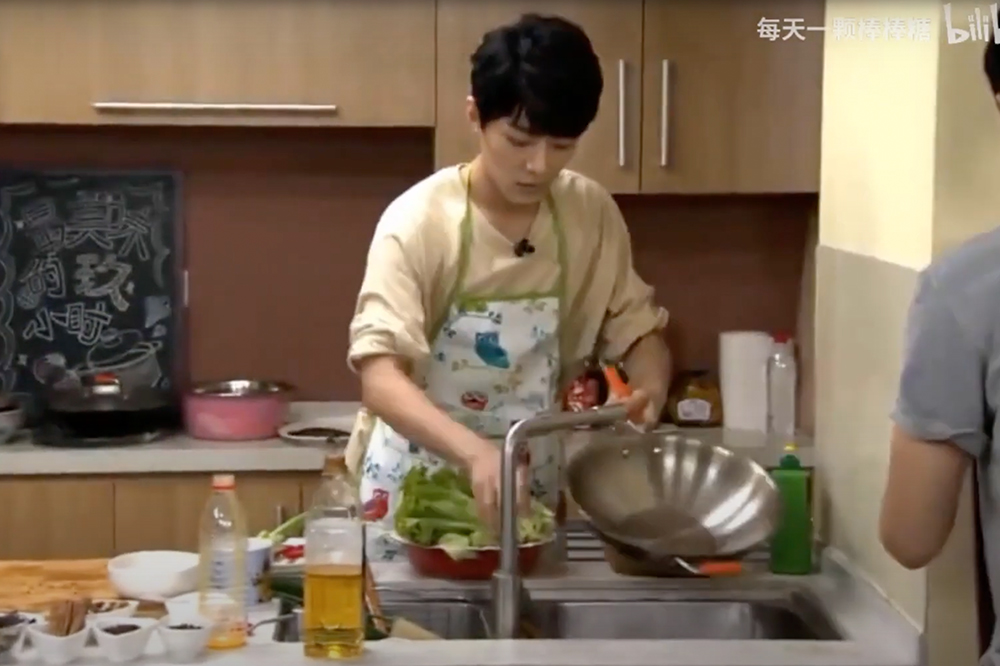 Xiao Zhan cooking on X-Nine's cooking livestream
 Source
Once again proving that he's totally husband material, Xiao Zhan revealed in an interview that cooking is one of his "secret skills". He showed off his cooking skills in X-Nine's cooking livestream, where he whipped up a variety of dishes for his band members.
6. Debuted as an actor in Superstar Academy in 2016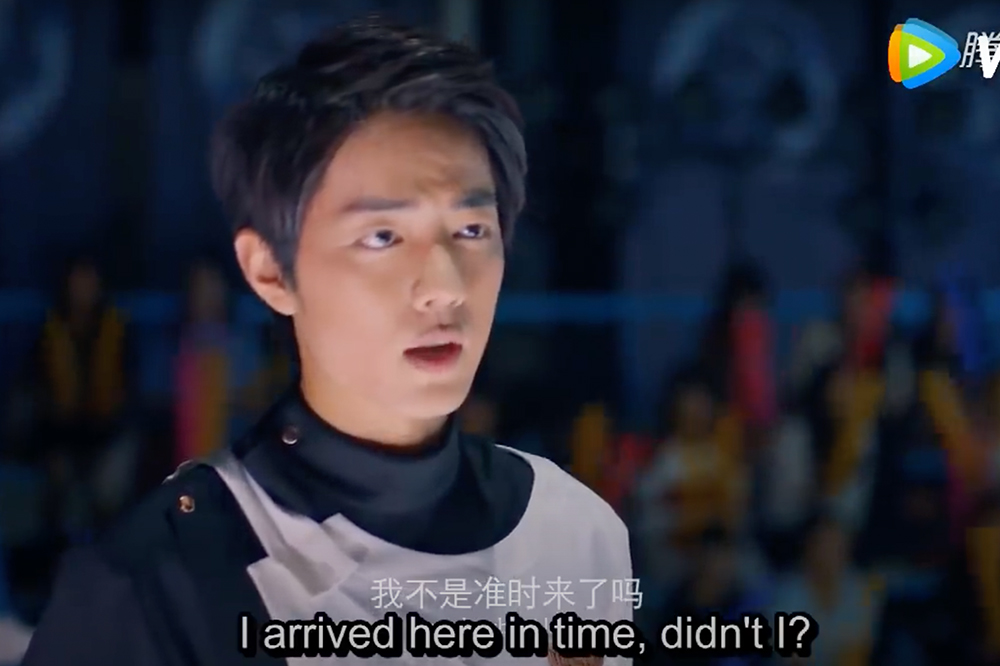 Xiao Zhan as Fang Tian Ze in Superstar Academy
Source
On top of debuting as a singer in 2016, Xiao Zhan also debuted as an actor in the same year when he took on the lead role of Fang Tian Ze in Superstar Academy. 
He then went on to star in Oh! My Emperor and Battle Through The Heavens in 2018, which earned him more recognition as an actor. Like his co-star Wang Yibo, his career as an actor skyrocketed with The Untamed in 2019, when he took on the lead role of the carefree and playful Wei Wuxian. 
Since then, Xiao Zhan has been constantly cast in more period dramas. We're not complaining, seeing as he still looks as charming as ever while wearing long wigs and traditional robes.
7. His song "Made to Love" set a new Guinness World Record
In April 2020, Xiao Zhan released a single titled "Made to Love", a R&B song with positive and inspiring lyrics after a long hiatus from the media. 
Fans made sure to let Xiao Zhan know that he was dearly missed by supporting the song the moment it was released. Made to Love set the Guinness World Record for the fastest selling digital album in China within 24 hours of release.
8. Sang the OSTs for the dramas he starred in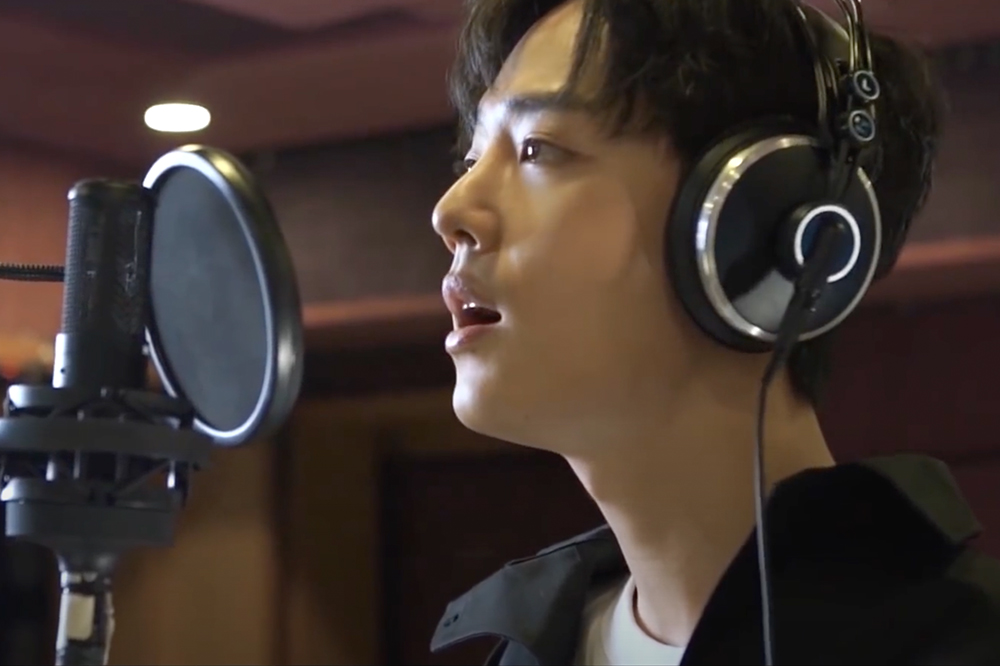 Xiao Zhan in the music video for The Untamed OST
Source
From being a singer to an actor, Xiao Zhan has always flawlessly shifted between the 2 roles with ease. He has actively pursued both careers by singing for nearly all of the OSTs for the dramas he has starred in. 
His repertoire of songs include the soundtrack for the Chinese dramas Oh! My Emperor, The Untamed, Joy of Life and Douluo Continent. That's double the content for Xiao Zhan fans every time a new drama is released.
9. Struggled with the role of Wei Wuxian from The Untamed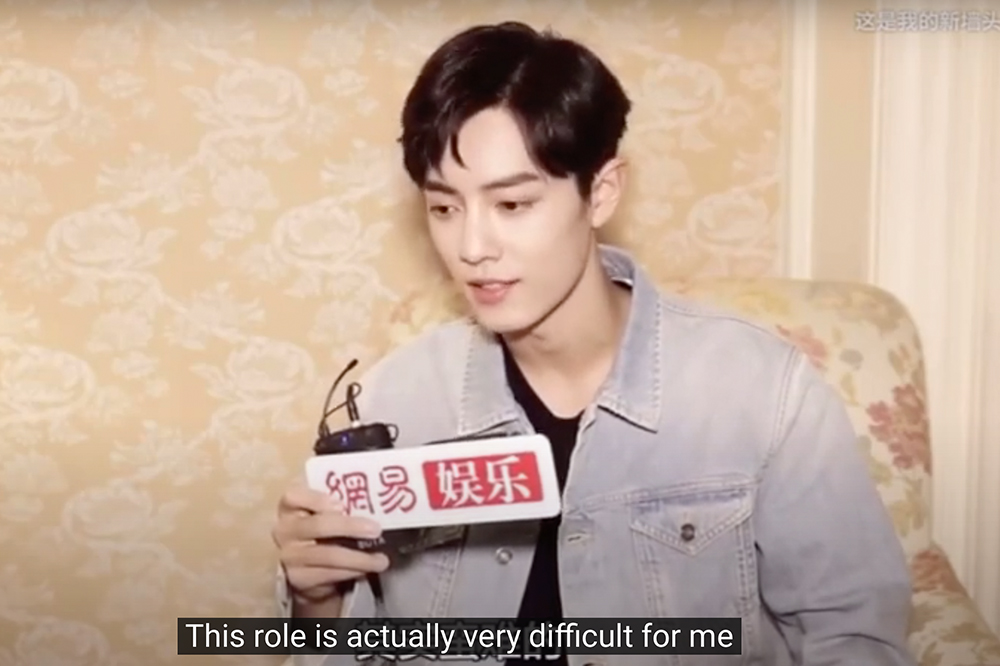 Source
Since the release of The Untamed in 2019, many fans fell in love with Xiao Zhan's character, Wei Wuxian, who was portrayed to be a mischievous and playful young teen. However, Xiao Zhan revealed in an interview that playing the role of Wei Wuxian was actually very difficult for him.
"Wei Wuxian is cute, playful, rebellious and also talkative. To me, it's a challenge [because] I'm not this outgoing and talkative in real life", Xiao Zhan shared.
Despite saying this, fans noticed that he was playful and cheeky in the behind-the-scenes clips of the show. Though Xiao Zhan had his struggles, he still managed to pull off the role perfectly.  
10. Initially felt that his co-star from The Untamed was a cold person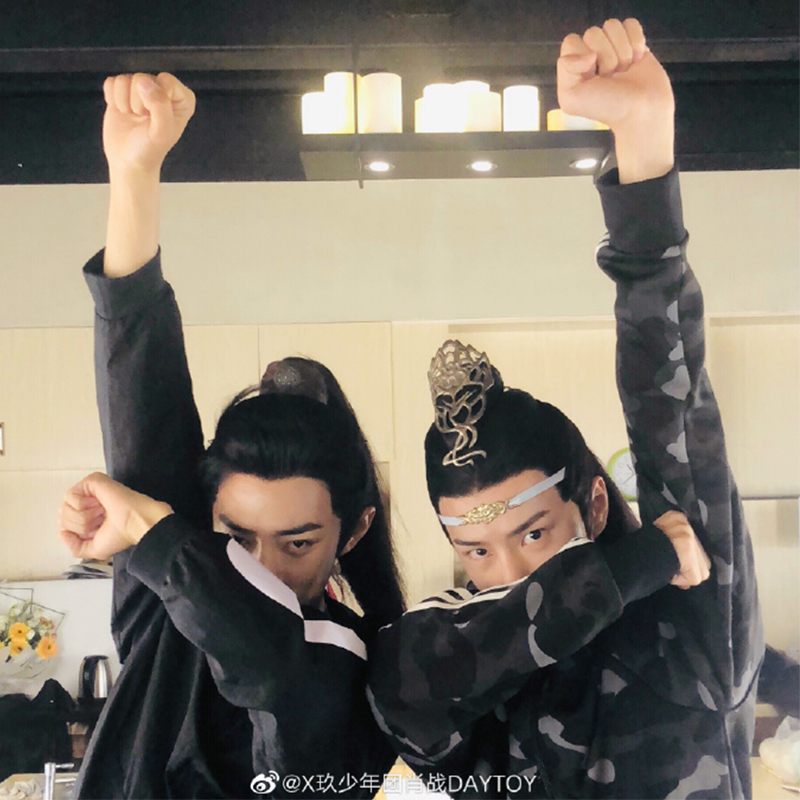 Xiao Zhan's Weibo post with Wang Yibo
Source
It's hard to picture Xiao Zhan and The Untamed co-star Wang Yibo being awkward around each other. From their chemistry on the show to cute pictures of the pair having fun together uploaded on Weibo, it's clear to see that their bromance is real. 
In an interview with BAZAAR, Xiao Zhan revealed that his first impression of Yibo was "cold and elegant". The pair first met on a variety show called Day Day Up where Yibo was the MC, but they "never talked nor made eye contact" with each other. 
When they were cast for The Untamed, they were initially "very shy" with each other and admitted that they needed time to warm up to strangers. The pair has come a long way since then, and fans of the popular ship #YiZhan enjoys seeing them having fun together. 
Also read:
17 Jackson Wang Facts That Prove He's More Than Just Got7's Puppy & A Talented Rapper
11. Has 29.7 million followers on weibo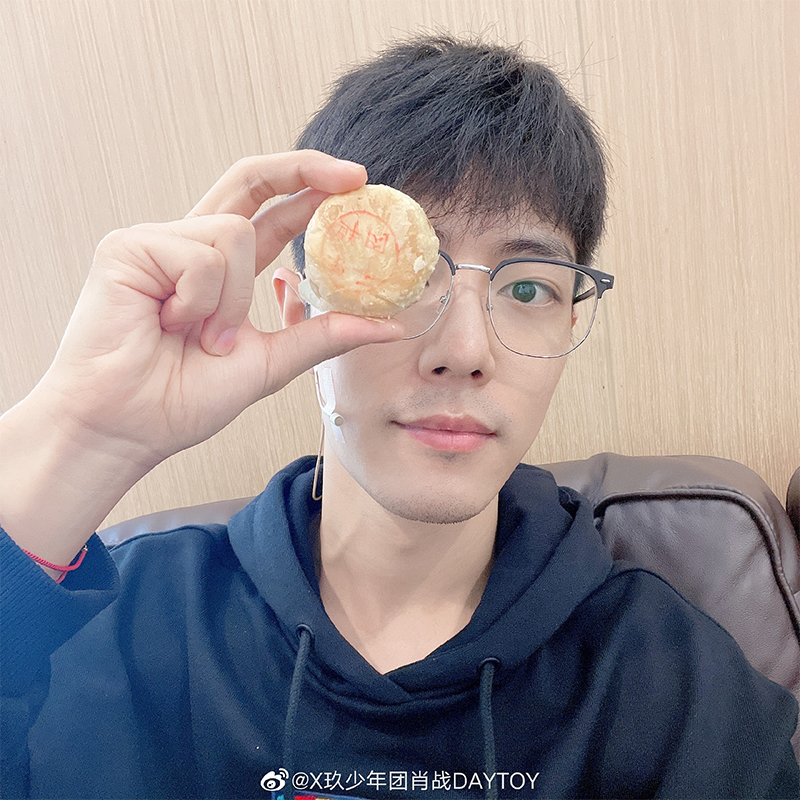 Source
As one of the top few Chinese influencers on Weibo, Xiao Zhan has amassed more than 29.7 million followers on the app. FYI, that's 2 million more than Lee Min Ho on Instagram.
12. His Weibo username is a nickname given by a friend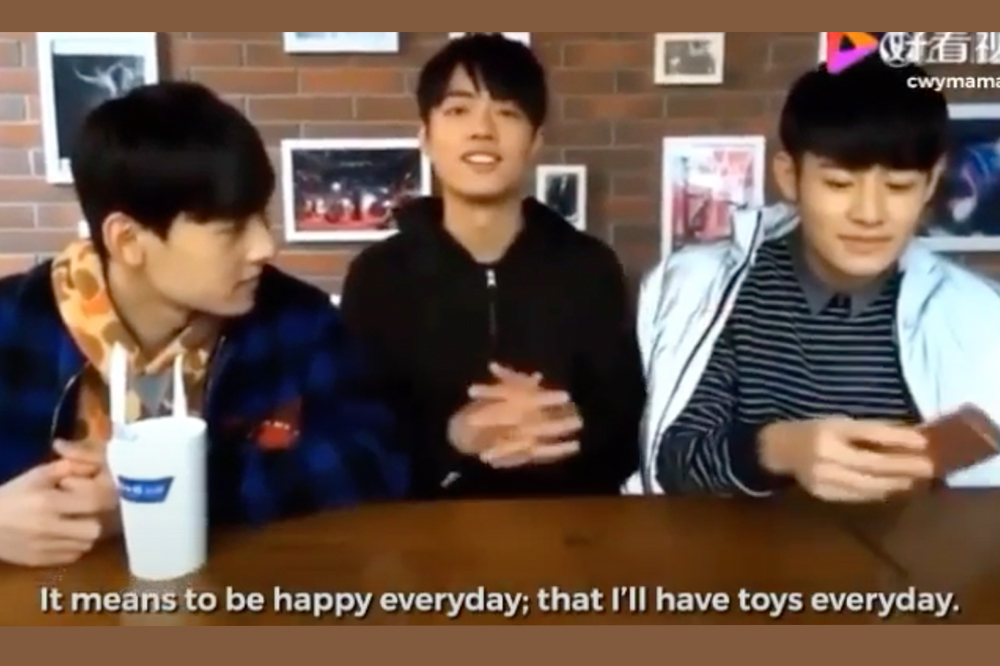 Source
If you're one of Xiao Zhan's followers on Weibo, you might be wondering why the idol has the English phrase "DAYTOY" in his username. Xiao Zhan explained in an interview that "DAYTOY" was a nickname given to him by a good friend. 
Since toys can be played with every day, his friend wished for him to be happy and lovely every day — a surprisingly sweet meaning behind this name.
13. Ranked #1 on TCC's The Most Handsome Faces of Asia for 2 years in a row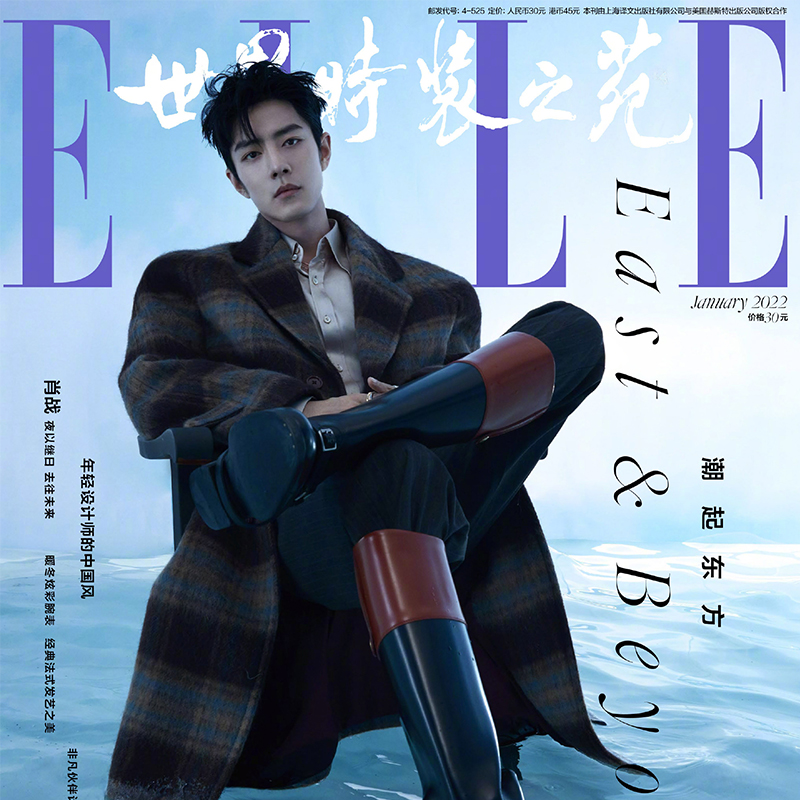 Xiao Zhan for the cover of Elle Magazine's January 2022 edition
Source
Elle Magazine China recently revealed on their Weibo page that Xiao Zhan is their newest model cover for the January 2022 edition. Anybody who has eyes can clearly see that Xiao Zhan is handsome AF — the idol ranked first on TCC's The Most Handsome Faces of Asia for 2 years in a row in 2019 and 2020. 
While the 2021 results have not yet been released, we're anticipating Xiao Zhan to be ranked high once again.
14. Is one of the most in-demand brand ambassadors in China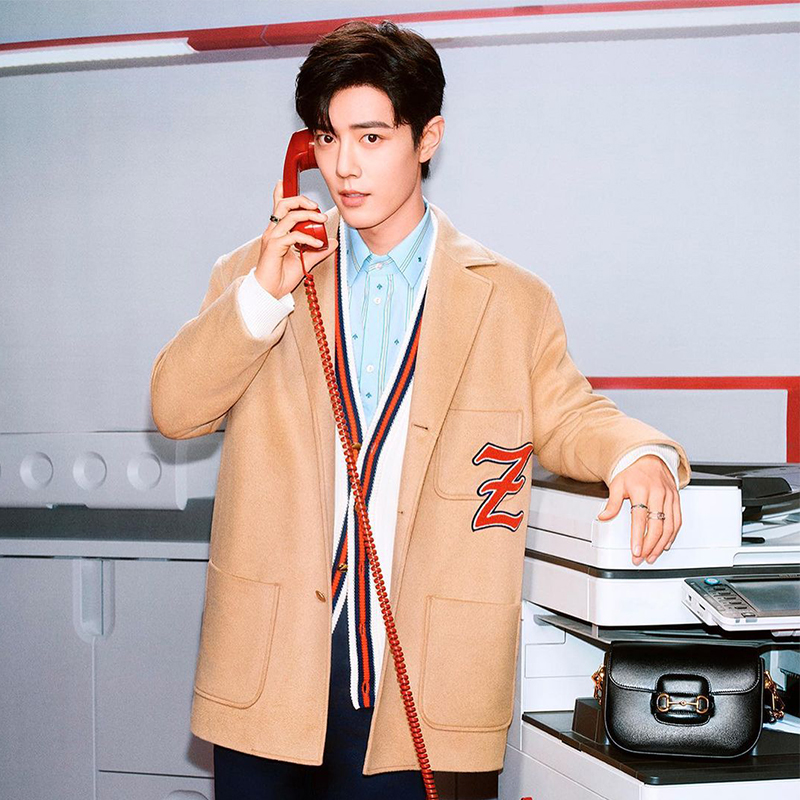 Xiao Zhan as Gucci's global brand ambassador
Source
Xiao Zhan is also one of the most in-demand brand ambassadors in China, with a range of endorsements such as beverages, washing products and jewellery under his name. Fun fact: most of the products he endorsed also broke their previous sales record. 
In October 2021, Xiao Zhan became Gucci's global brand ambassador. Singaporean fans can even find him in one of Orchard Road's big screens, showing off his chic and elegant photoshoot for Gucci.
15. Singaporean singer Stefanie Sun is his idol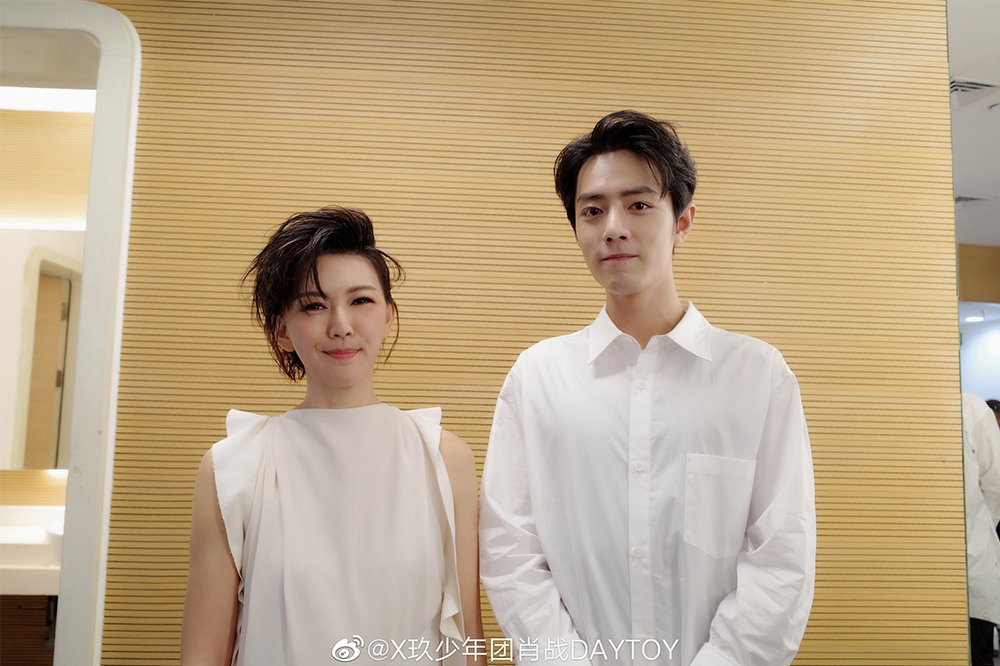 Stefanie Sun and Xiao Zhan
Source
 If you listened to Stefanie Sun's songs while growing up, you and Xiao Zhan have that in common. The idol himself has been a fanboy of the Singaporean singer for years, even publicly defending her after some netizens left nasty comments about her online.
Besides covering her songs often, he has expressed his eagerness to collaborate with her in many interviews. In 2019, the pair met and Xiao Zhan was quick to post a picture of them on his Weibo account. We're not sure who's luckier, and if we want to be Stefanie Sun or Xiao Zhan in this situation.
16. His ideal type is a girl who's warm, homely and not too clumsy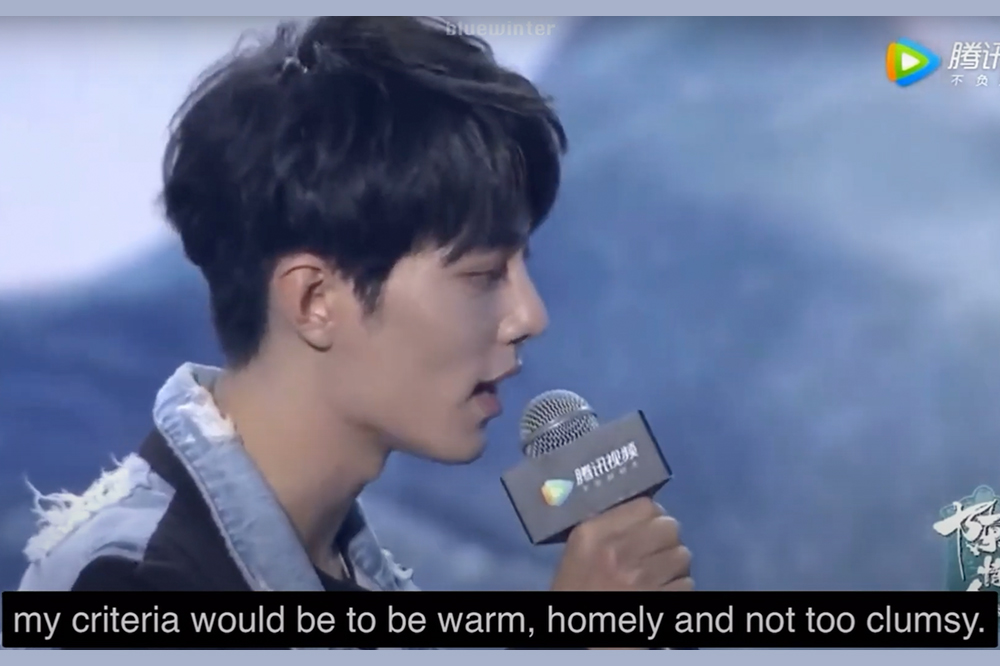 Source
For those who are wondering if they meet the criteria to be Xiao Zhan's girlfriend, get in line. In an episode of Day Day Up, Xiao Zhan mentioned that his ideal type is someone who is "warm, homely and not too clumsy". 
In 2017, Xiao Zhan said that he had plans to get married at 30. But it seems like his plans have changed, as a few years later in another interview, he shared that he's not really looking for a girlfriend at the moment as he's very busy with work.
17. His most hated foods are durian and eggplant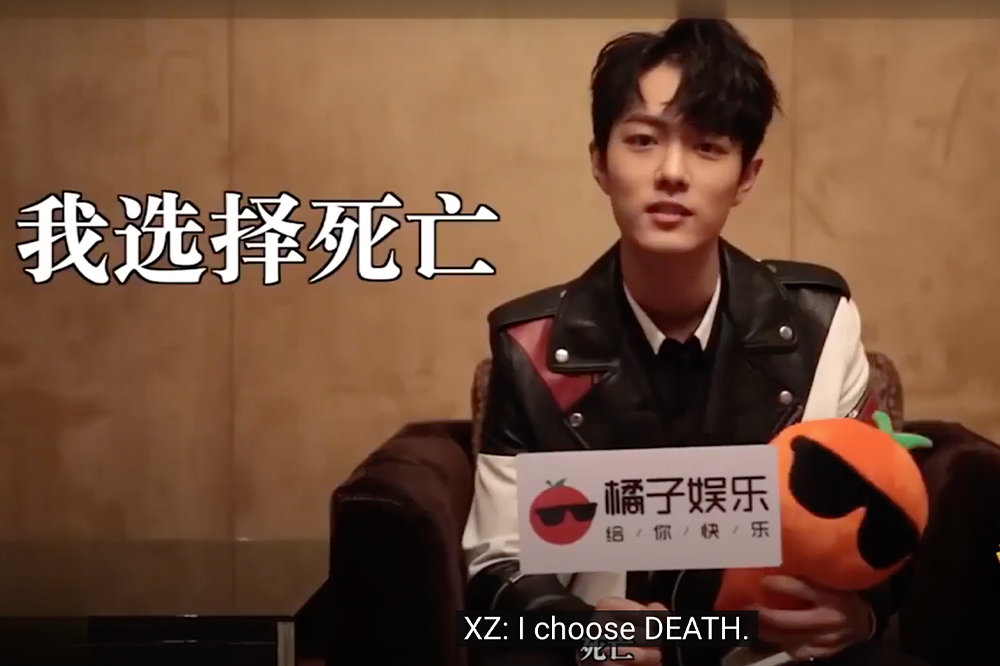 Xiao Zhan when asked if he would eat eggplant in an interview
Source 
Xiao Zhan's most hated vegetable is eggplant. When asked if he would rather eat eggplant-flavoured chips or chips-flavoured eggplants in an interview, he dramatically replied "I choose death". 
He can't stand the taste of durian just as much too. Between eating durian or eggplant, he spluttered and strongly declared "I really can't eat either". 
18. Wants to take on more modern drama roles in the future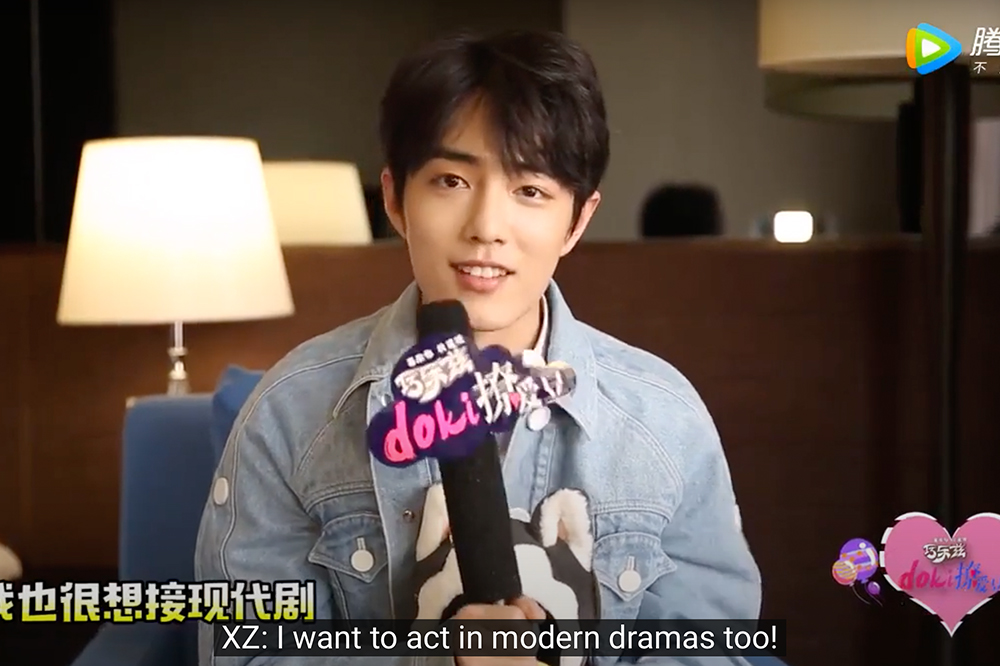 Source
Besides The Untamed, Xiao Zhan also starred in many other period dramas such as Douluo Continent, The Wolf and Joy Of Life. In a fan interview with Doki Thailand, someone asked Xiao Zhan why he doesn't act in more modern dramas.
Upon hearing this, Xiao Zhan immediately replied "I want to act in modern dramas too!" He then hilariously went on a rant about the struggles of always acting in period dramas, saying "do you know how hard it is to wear hair extensions? I need to wake up early every day and all my real hair is falling out". 
Don't worry Xiao Zhan, even if you become bald, fans will still love you.
19. Will be starring in 2 new Chinese shows as the main lead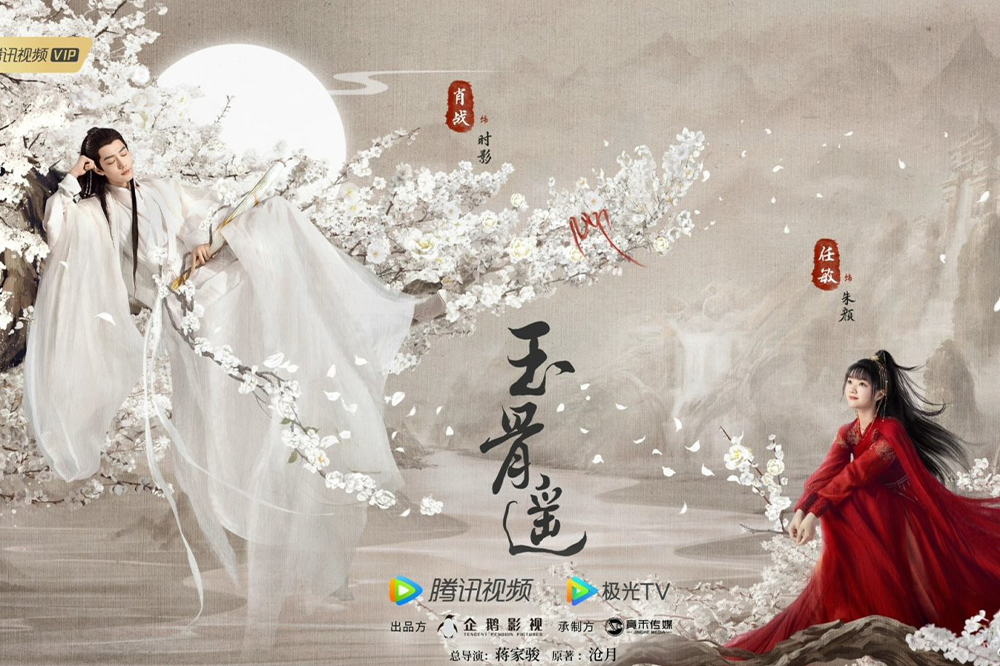 Xiao Zhan (left) in the poster for The Longest Promise
Source
If you've binge watched all of Xiao Zhan's recent dramas, you can look forward to 2 new Chinese dramas he'll be starring in 2022 titled The Longest Promise and Ace Troops. 
It seems like Xiao Zhan still can't escape period dramas, as The Longest Promise is of that genre too — period dramas are the genre that best suits him for now.
Xiao Zhan Fans Can Look Forward To More Period Dramas By The Dashing Actor & Singer
From singing, acting and even drawing and cooking, is there anything that Xiao Zhan can't do? As Xiao Zhan will be starring in more dramas in the coming year, perhaps we can look forward to more OSTs that he will be taking part in too. 
If The Untamed brought you to this all-rounded idol, you can keep up with more Xiao Zhan news and facts on his Weibo page here.
Also read:
21 Wang Yibo Facts Including His Fears, Relationship Deal Breakers & Future Dramas After The Untamed