Yoga Mats 
The Circuit Breaker saw many of us embark on at-home workouts, be it through fitness apps or YouTube. Now that Phase 2 has seen fitness studios and gyms reopening, getting back into the fitness groove comes with its own set of safety measures. Most yoga studios, for example, are encouraging customers to bring their own yoga mats.
If you've yet to get your own yoga mat while working out from home, invest in one from these 8 brands as a treat for yourself or as gifts for your yoga-loving buddies. With their pretty colours and gorgeous prints, they can even do double duty as home decor when not in use.
1. Chalk and Chakras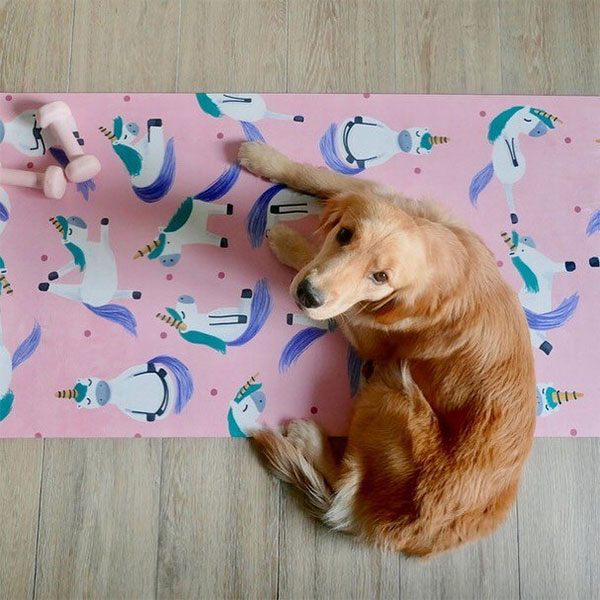 Source
Support local by checking out Chalk and Chakras, the only homegrown brand on our list. The company started out making kids' yoga mats, teaming up with local illustrators on playful designs such as Be My Unicorn Yogi ($69 for kid size, $89 for adult size), where yogis-in-training can be inspired by unicorns in various yoga poses.
As it turns out, adults didn't want to be left out of the fun. Now, certain designs are available in adult sizes too. This means kids and kids-at-heart get to enjoy all the thought that went into the original designs, including 4mm-thick cushioning, non-toxic materials and sustainable production.
Price: From $69
Shipping fee: $5, free delivery for orders above $100 within Singapore
Contact: Email chalkandchakras@gmail.com or fill in the contact form on its website
Website | Instagram
2. Yoga Design Lab at Omgoing
Source
Make like you're on a permanent vacay with mats from Bali-based brand, Yoga Design Lab, available here in Singapore at Omgoing. Choose from scenic prints such as the Venice Combo Mat ($118), where a palm tree against an ombre sunset gives off strong Tumblr vibes, as well as prints inspired by misty mountain views, the sunrise over the ocean and more.
Depending on what you're looking for in a mat, you can pick from 4 different styles: Combo, Commuter, Infinity and Travel. The Combo Mat combines a yoga mat with a yoga towel in one, making it ideal for hot yoga. As their names suggest, the Commuter and Travel Mats are foldable and lightweight, meant for carrying on the go. The Infinity Mat is an anti-slip mat that provides ample cushioning, and is suitable for a a variety of yoga programmes.
Price: From $98
Shipping fee: $13
Contact: Email info@omgoing.com
Yoga Design Lab: Website | Facebook | Instagram
Omgoing: Website | Facebook | Instagram
3. POPFLEX Active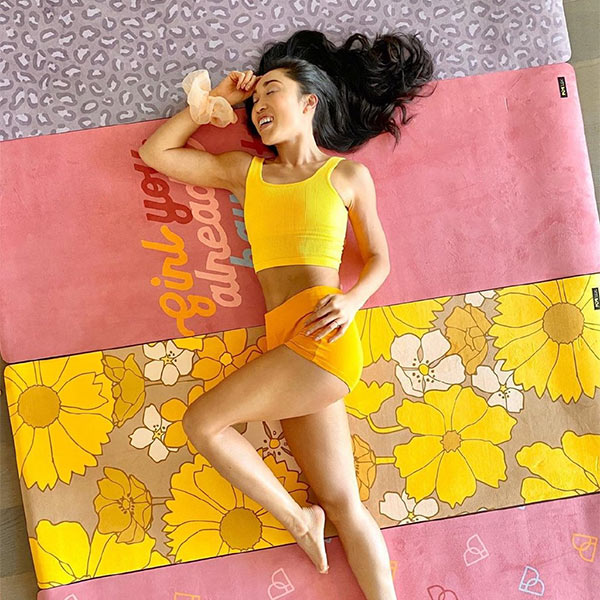 Source
If you've turned to YouTube for your home workouts, you've definitely scrolled past Blogilates, aka Cassey Ho. This lady boss went beyond providing booty-burning exercises to offering cute activewear with POPFLEX Active. Her mantra of positivity continues on her line of yoga mats with motivational quotes such as You Already Have What It Takes (US$56, ~S$77.05), alongside bright and cheery floral designs.
Unlike the usual rubber or polyester mats, POPFLEX Active uses vegan suede. The best part about this material is that the more you sweat, the grippier it gets. Singapore's humid weather will actually come in handy for once! Round up your yoga kakis and hit a minimum order of US$200 (~S$275.20) in order to score free shipping to Singapore.
Price: From US$56 (~S$77.05)
Shipping fee: From US$10 (~S$13.80), free delivery for orders above US$200 (~S$275.20) to Singapore
Contact: Email info@popflexactive.com
Website | Facebook | Instagram
4
.
Manduka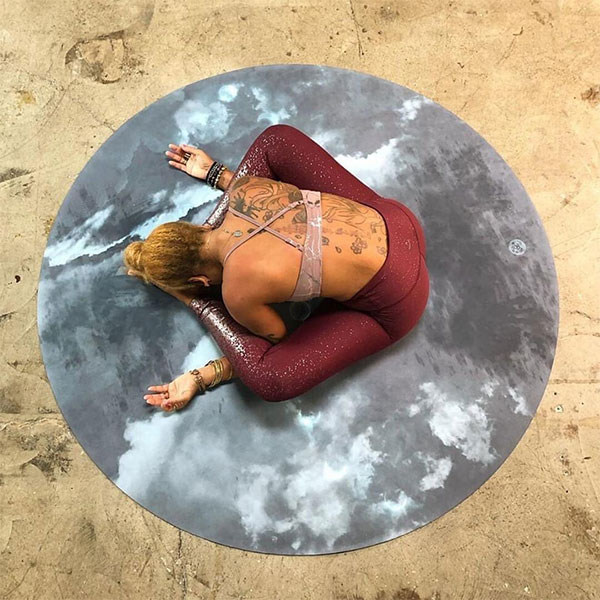 Source
Avid yogis will be familiar with Manduka and its famous frog logo. Besides rectangular mats in solid and striped colours of varying thickness, it also offers 2 unique circular designs for an all-rounded yoga experience: Luna Sunrise ($199) and Luna Night ($199).
You'll spot phases of the moon on both mats, with their names reflecting the colour theme. The former mimics dawn, with a transition from violet to orange. The latter depicts nightfall and the moonlight peeking through the clouds. The mats also double up as a decorative rug when you're not using them for your sweat sesh.
Price: From $79
Shipping fee: $5, free delivery for orders above $80 within Singapore
Contact: Fill in the contact form on its website
Website | Facebook | Instagram
Also read: 
16 Telegram Channels To Join For The Best Shopping, Fitness & Lifestyle Deals In SG
5. Sugarmat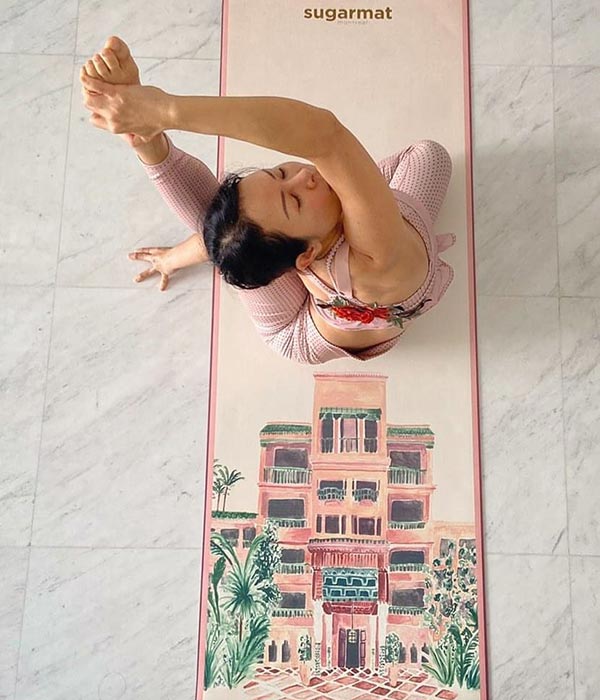 Source
COVID-19 may have put a pause on our travel plans, but you can still satisfy your wanderlust with Canadian brand, Sugarmat. Its latest collection, Dreams of Marrakesh, is a collaboration with artist Rosie Harbottle. It features illustrated scenes inspired by Morocco, including landmarks like La Mamounia hotel on the Mamounia – PU Yoga Mat (US$109, ~S$150). The other collections are equally gorgeous, such as Healing Heart, which has painterly pink, blue and gold swirls reminiscent of the explosion of colours from a Lush bath bomb. 
There are 4 types of mats in total: 1mm-thick suede Travel Yoga Mats, 3mm-thick PU rubber Yoga Mats, 3mm-thick Suede Yoga Mats and 5mm-thick TPE Yoga Mats.
Price: From US$49 (~S$67.40)
Shipping fee: US$7 (~S$9.60), free shipping for orders above US$150 (~S$206.40) to Singapore
Contact: Email help@sugarmat.com
Website | Facebook | Instagram
6. Society6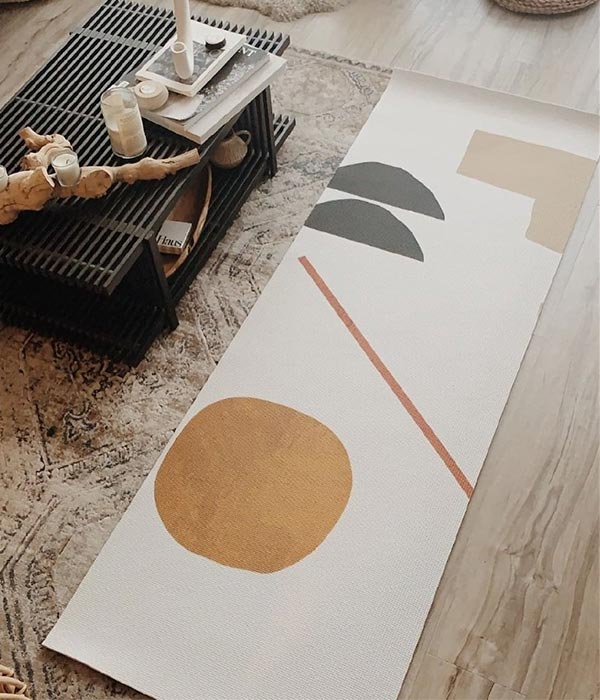 Source
If the collection of yoga mats over at Society6 seem like art pieces, it's because the prints are designed by independent artists. With literally hundreds of designs to choose from, you can turn your home into a gallery, no matter what your aesthetic. Minimalists can go for designs like the abstract minimal 6 Yoga Mat (US$39, ~S$53.65) while maximalists will have just as hard a time choosing between mats resembling Persian rugs and lush botanical illustrations galore.  
Each mat comes with a handy carrying strap, making it a breeze to tote the lightweight mat around. Because each artwork on Society6 is made into a whole array of different products, you can even opt to get a matching tote bag, towel, phone case and more in the same design as a yoga starter pack. 
Price: From US$39 (~S$53.65)
Shipping fee: US$20 (~S$27.50)
Contact: Email https://help.society6.com/hc/requests/new or fill in the contact form on its website
Website | Facebook | Instagram
7. Decathlon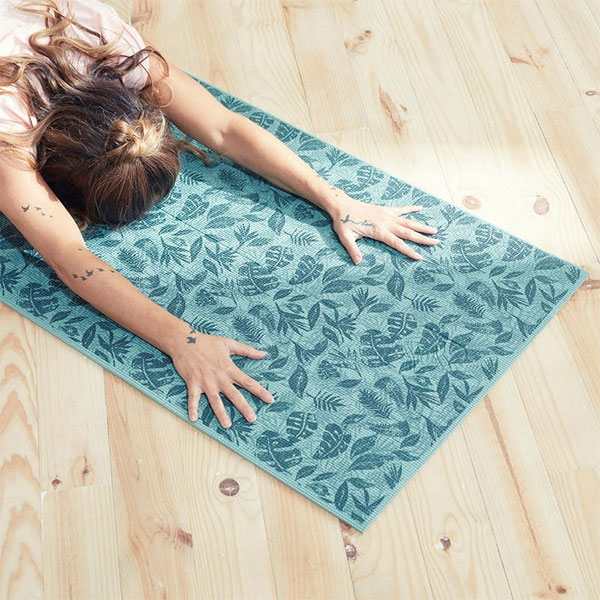 Source
Decathlon is an affordable one-stop-shop for all things fitness. Its selection of yoga mats starts from $10 and goes up to $60, all of which are in soothing pastel and neutral hues. The product design team behind its yoga mats is made up of 8 people, ranging from a beginner yogi to a yoga instructor, so there should be a suitable mat no matter what your level of expertise. 
There are 2 printed versions, including the Comfort Gentle Yoga Mat 8mm in Green Leaf Print. At $25, it is the most affordable option on this list. As the mat is made out of PVC, it will flake if used too vigorously. Use it when doing a gentler yoga practice, and avoid using it when doing dynamic yoga or HIIT, or when you've shoes on. 
Price: From $10
Shipping fee: $20, free delivery for orders above $120 within Singapore
Contact: Email support-singapore@decathlon.com
Website | Facebook | Instagram
8. Lululemon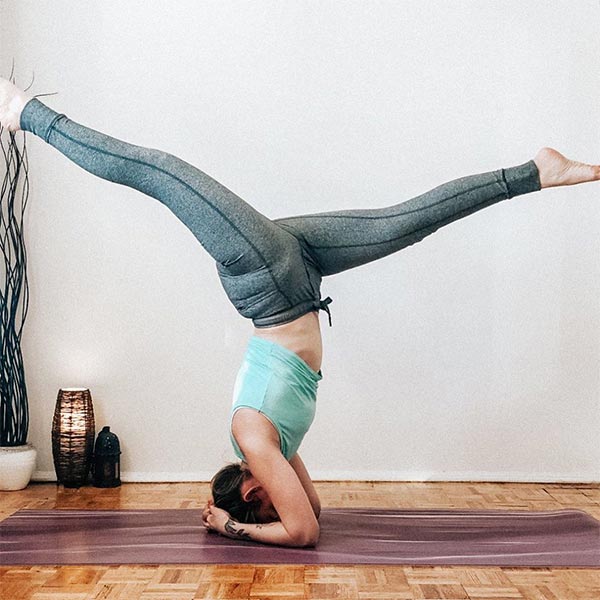 Source
Lululemon needs no introduction. The brand's activewear is on every fitness fiend's wishlist, and even makes for great WFH attire. No wonder it's one of the few companies that has come out on top during the pandemic.
Complement your home workout routine with its reversible mats, which have dual colours on either side so it feels like you're getting 2 mats for the price of one. The Reversible Mat 5mm (HK$580, ~S$103) comes in 4 designs: camo, black-and-white, marble pink and solid black to suit every aesthetic.
Price: From HK$480 (~S$74.55)
Shipping fee: Free shipping to Singapore
Contact: Email gec@lululemon.com.hk
Website | Facebook | Instagram
Aesthetic Yoga Mats For Your Next Yoga Sesh
Spice up your home or studio workouts with these aesthetic yoga mats. They'll help you get your Zen mode on, even when you're not practising yoga.
Also read: 
16 Stylish Activewear Brands For Women In Singapore Cheaper Than Lululemon, Including Sports Bras From $20