Anniversary Ideas In Singapore
Our little red dot has no shortage of expensive things to do. But Crazy Rich Asians has got us all wrong. Instead of partying it up in massive bungalows, we prefer scoring vintage finds from thrift shops in Singapore and looking for affordable massages to pamper ourselves. The exception for budget hunters like us? Being full-blown atas only when celebrating a special occasion or an anniversary. Of course, in true Singaporean fashion, we still want to make sure we're getting bang for our buck. These 7 value-for-money anniversary date ideas are worth the splurge and will have you living like CRA royalty.
1. Go for a yacht-cation weekend with M Social Singapore
There's nothing fancier than cruising the seas in a luxury yacht. Now, you can do just that with M Social Singapore's Yacht-cation Escape, a fully-planned staycation package that lets you live out your Rich Kids of Singapore dreams. 
Gourmet meals, convenient limo transfers and an intimate cocktail workshop are just some of the romantic couple activities included, but the obvious gem here is the 4-hour yacht experience. Take the complimentary limo transfer down to Sentosa, and it's all smooth sailing ahead—you'll be marvelling at the crystal-clear waters and cool sea breeze. 
The hotel will also specially prepare a picnic lunch for you to enjoy on the yacht's bow. It's a delectable mix of savoury and sweet bites, complete with a selection of cheese to savour.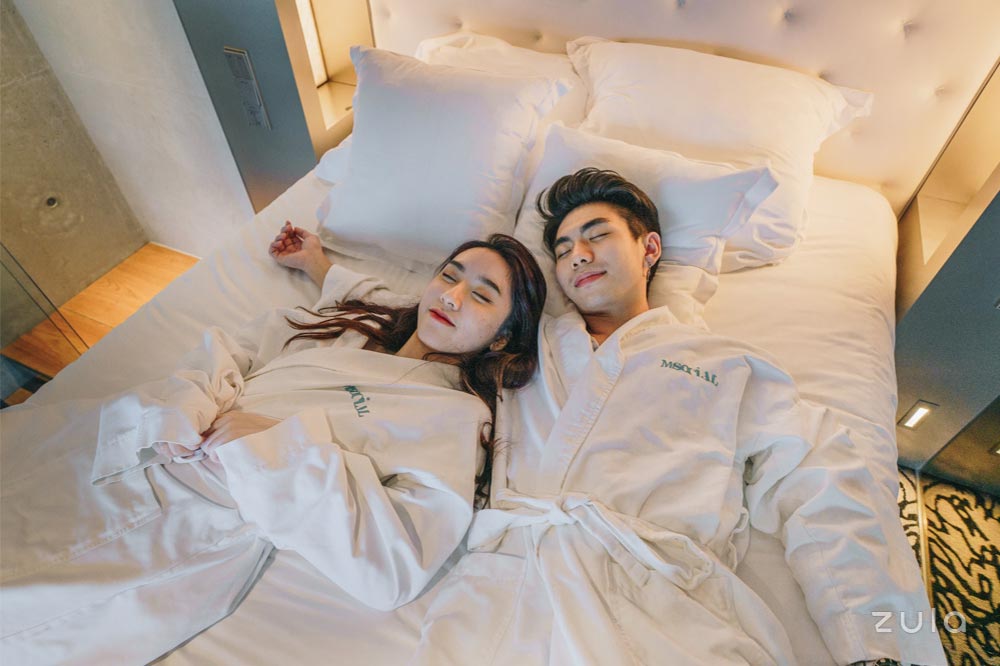 Each night has you returning to one of M Social Singapore's
chic loft-style hotel rooms to thoroughly unwind
You can choose between the 2D1N package (from $1,380/couple) or 3D2N package (from $1,560/couple). Both offer a similar itinerary: a 4-hour yacht cruise, intimate cocktail workshop, as well as a set dinner and gourmet breakfast at Beast & Butterflies are what you'll be looking forward to. 
Book by 16 December 2020 for this value-for-money staycay—you can stay any time between now and 23 December 2020. Sign up for free as a My Millennium member, and you can even enjoy 10% off the booking and earn Double Points*. 
It's certainly worth it since points can be used to redeem for room stays, complimentary upgrades, as well as other dining, lifestyle and retail rewards. 
*Double Points are only valid for stays booked before 30 November 2020.
2. Saddle up for an off-track horse trail ride around Bukit Timah
While horse-riding seems like a far-fetched dream in urban Singapore, we can head over to Gallop Stable for an off-track horse trail ride. Now, regular plebeians like us can also sign up for a personalised trail ride around Bukit Timah's greenery.
It's a stunning backdrop for wedding shoots but you can also
take the chance to glam up for an anniversary photoshoot
Source
The trail ride is suitable for both beginners and experienced riders, with an instructor bringing you through nature. You can also add on a trail photoshoot (from $400/hour) to commemorate this Instagram-worthy adventure.  
3. Board the OG Orient Express train in Gardens by the Bay
The Orient Express has been hailed as one of the world's most luxurious trains, running through far-flung countries like Paris and Istanbul. With the new pop-up Once Upon A Time on The Orient Express, we can now board the very same train. They'll be shipping in original 1930s train carriages all the way from France, decked out in vintage Louis Vuitton luggage and stained glass windows. 
Source
There's plenty of old-world charm here that makes it suitable as an option for memorable anniversary ideas, with a vintage restaurant car serving up curated menus and an escape room themed after Agatha Christie's Murder on the Orient Express.
This pop-up runs from 12 December 2020 to 13 June 2020, at Gardens by the Bay. Tickets start from $25/person and you can purchase them through SISTIC Singapore. 
4. Get transported to Italy with a 4-course meal in a private cable car 
Most of us have stepped foot in Sentosa's cable cars but few have enjoyed a full-blown Italian spread in our very own private cable car cabin. With One Faber Group's Fly Me To Italy package, you and bae will be lapping up this luxurious cable car upgrade that comes with a 4-course dinner menu.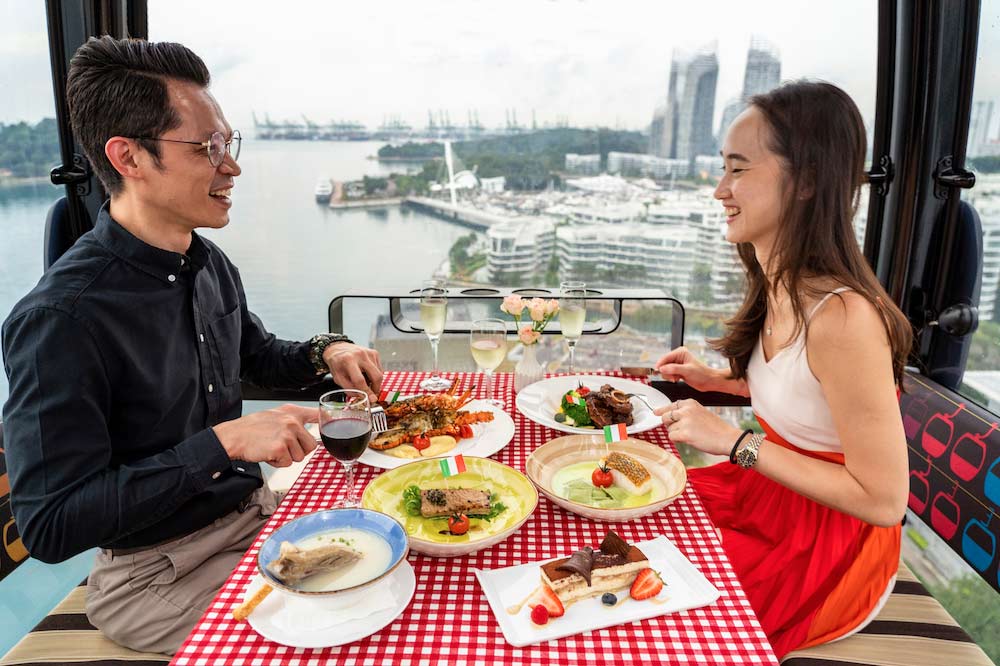 Source
You'll start the night off with a flute of prosecco, the perfect bubbly to sip on while watching the sunset together. This is one of the best spots for stargazing on a clear night so with a little imagination, it'll almost feel like you're overlooking the Amalfi Coast. 
Prices start from $328/couple, available from 1 December 2020 to 31 March 2021.
5
.
Dine in a garden dome with wine & tasting menu
Those looking for romantic restaurants when coming up with anniversary ideas will be more than impressed with The Summerhouse Garden Domes. These are in the midst of a leafy edible garden, with fresh florals and strung fairy lights adding to the whimsical set-up. 
No need to worry about Singapore's overbearing heat either since the domes come fully air-conditioned—it's as close as you can get an idyllic summer in the French countryside. 
There's a fixed dinner menu (from $350/couple), which comes with a choice between a bottle of red or white wine. It's a hefty spread of food so come with empty stomachs, to enjoy dishes like Omelette Au Crabe (Fresh Mud Crab Meat Omelette) and Wagyu Brisket that's been smoked for 100 hours. 
6. Go glamping with a sparkling fairy light paths & candlelit dinner 
There's regular camping, then there's glamping with fairy light paths and candlelit dinners. With Glamping Society, you can easily book a package to celebrate your anniversary in style. Consider the Premium Romantic Package (from $499) when coming up with anniversary ideas, for a medium-sized tent that'll be beautifully decorated with strewn fresh flower petals and a lit-up fairy light path.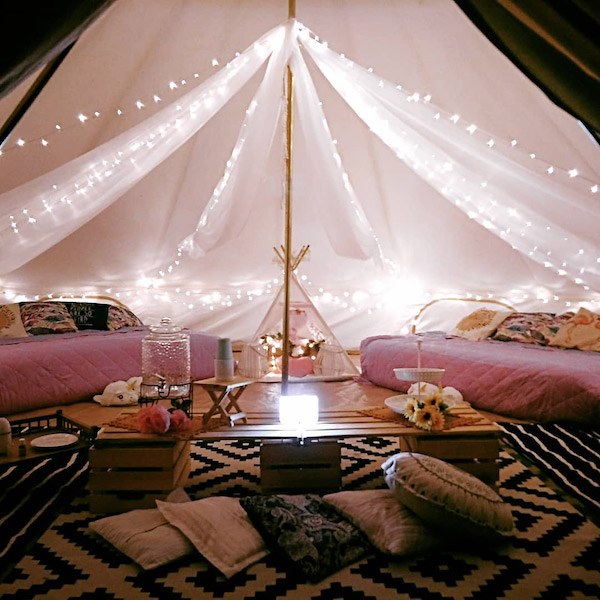 Source
The package also includes a candlelit dinner set-up under a lace gazebo, with stunning waterfront views of East Coast Park or Punggol Container Park. You can also look forward to a bottle of sparkling wine, a flower bouquet, and for an additional $20, you can add on a "Happy Anniversary" banner and 5 helium balloons. 
7. Enjoy a Dom Perignon dinner in a secret champagne suite on the 62nd floor
If bae is a sucker for speakeasies and hidden restaurants, they'll love Stellar at 1-Altitude's Dom Perignon Plenitude Suite. Perched high up on the 62nd floor of One Raffles Place, the suite can only be accessed via a private lift and seats up to 8 guests per night.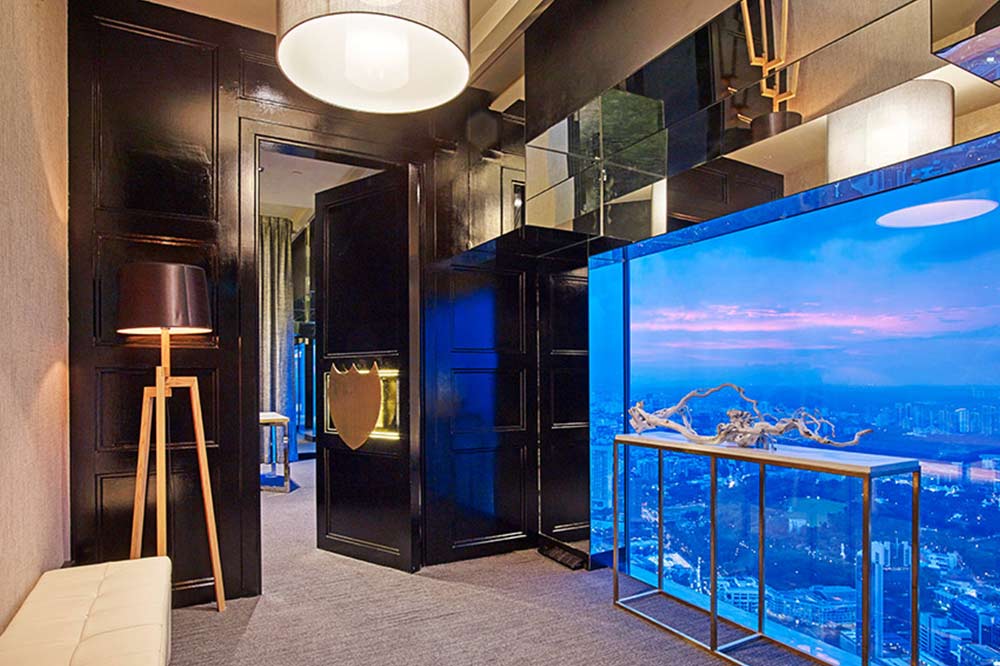 The entrance to the hidden suite, complete with a breathtaking view
Source
The multi-course menu is seasonal, with past dishes including gourmet concoctions like Hokkaido Uni Custard, topped with an Iberico cracker and a generous dollop of French sturia caviar. 
It's specially designed to pair with different pours of Dom Perignon, which can be served as an add-on. Since it's your anniversary, it's worth splurging on this vintage champagne. As far as bubbles go, a bottle of Dom is certainly not one to be scoffed at. 
The 10-course menu starts from $350/person and for the full champagne pairing, $550/person.
M Social Singapore's Yacht-cation Escape Combines Multiple Anniversary Ideas Into 1 Package
True enough, this list of anniversary date ideas proves there's plenty of romantic things to do in Singapore to celebrate your next anniversary or special occasion. Whether it's enjoying the cool sea breeze in a yacht or saddling up for a horse trail ride, there's a bevy of baller choices out there that are well-worth your money. 
But for those who want an experience that's guaranteed to blow your SO away, M Social Singapore's Yacht-cation Escape combines some of the most epic anniversary ideas into 1 spectacular package.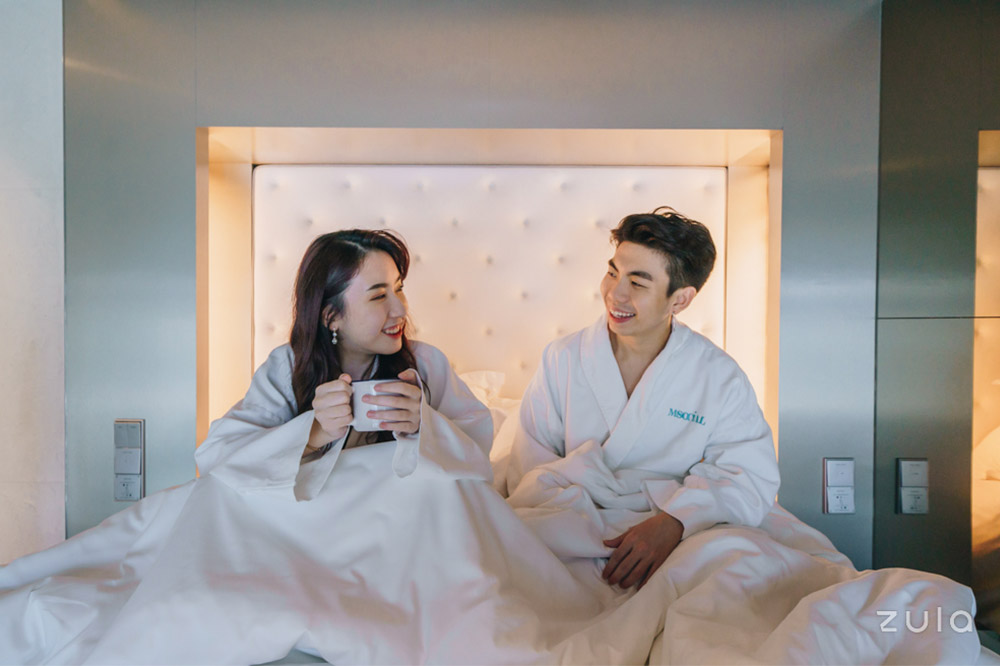 To embark on your yachting adventure, you can choose either the 2D/1N Package ($1,380/couple) or the 3D2N Package ($1,560/couple). The main difference is that the 3D2N Package includes an additional hotel night stay—perfect for long weekends or a short break from reality.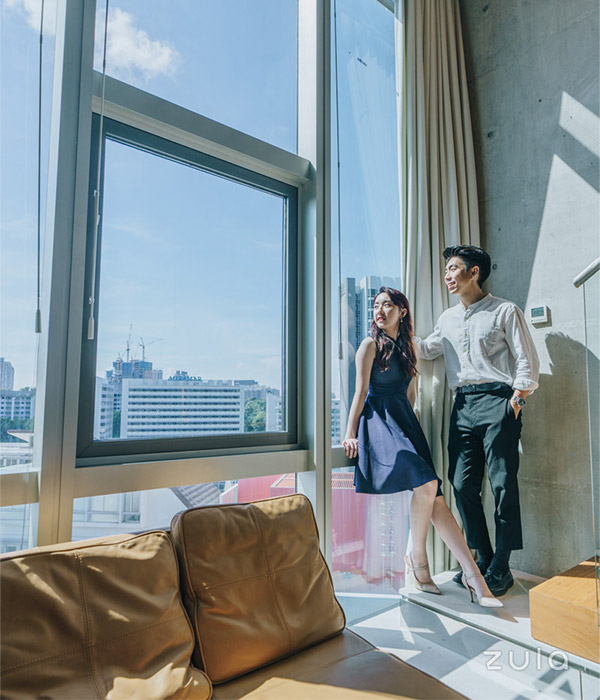 The Loft Premier Rooms are decked out with floor-to-ceiling windows,
for sweeping views and natural light to stream through
Your nights will be spent in one of the Loft Premier Rooms. We can see why loft-style rooms at M Social Singapore are a constant hit: they're spacious, fitted with a clever layout, and are undeniably IG-worthy.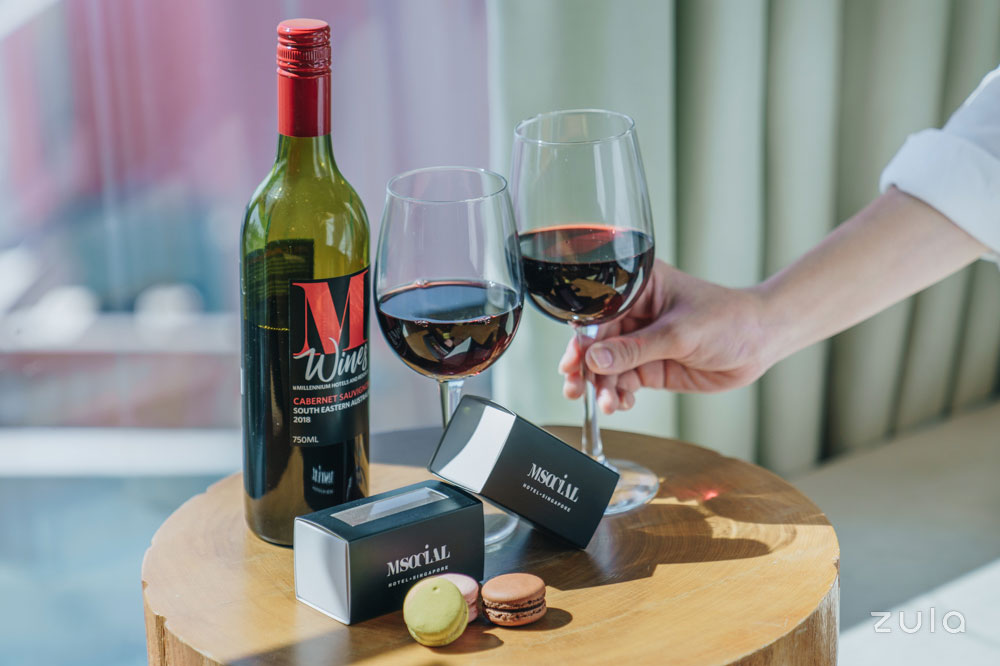 The amenities here are top-notch too, with macarons and a bottle of in-house red wine to welcome you. If needed, there's also a Nespresso machine with coffee pods and an array of luxury tea blends.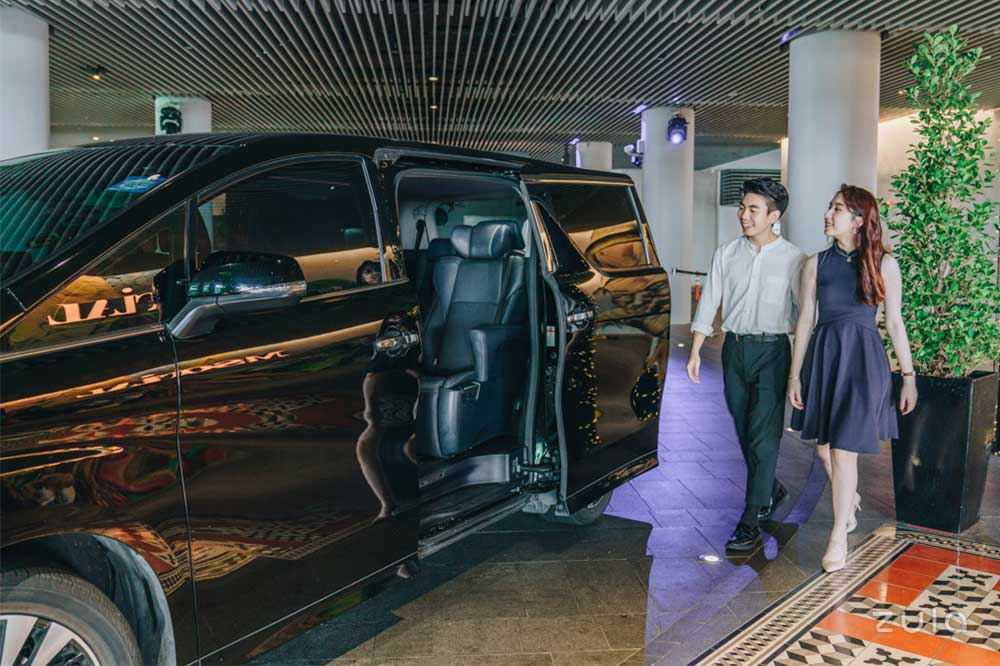 Both packages also come with complimentary limousine transfers to and from the yacht club and a clever personalised check-in-and-out process, meaning you won't have to wait even if there are long queues at the reception desk.
4-hour yacht experience with a picnic lunch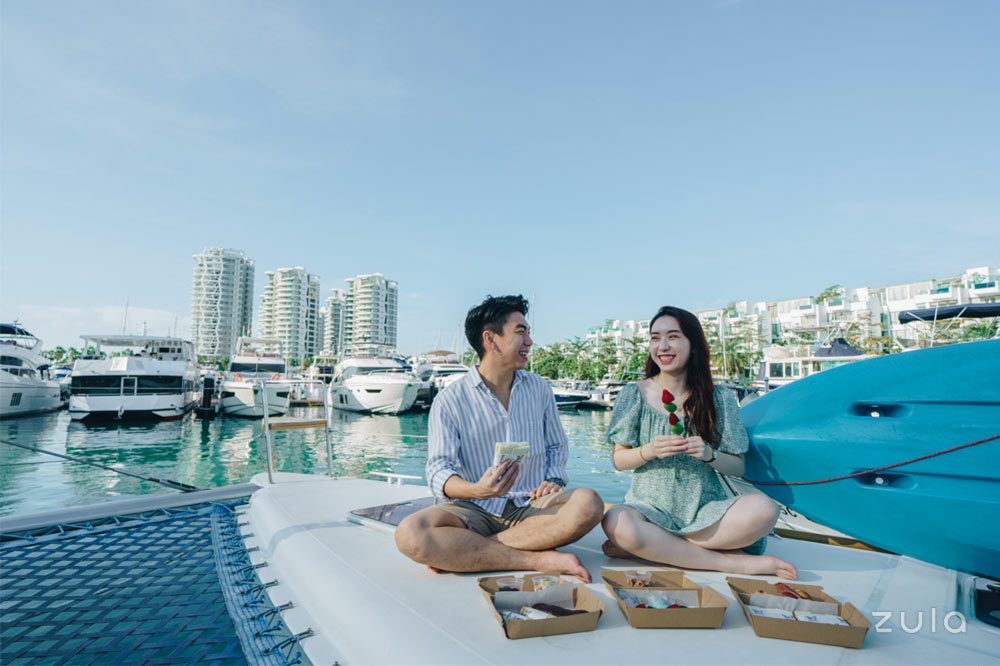 As the mainstay of the Yacht-cation Escape package, the 4-hour yacht experience isn't just another regular weekend out. It's the activity that you'll be looking forward to most. And it certainly doesn't disappoint.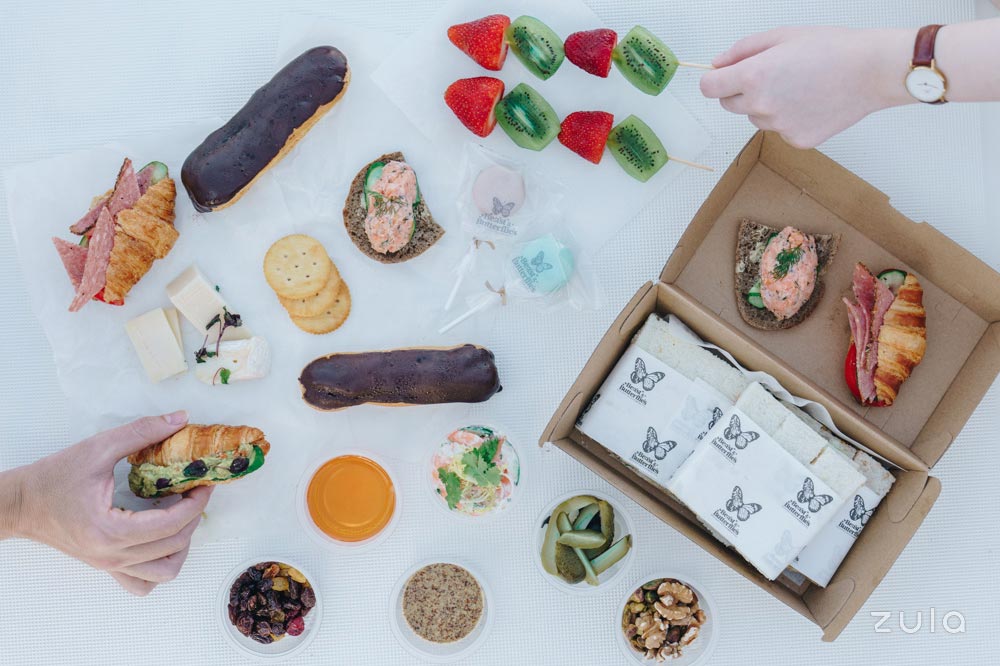 The packed picnic comes with a vast variety of hot and cold finger food. Some standout bites include the Foie Gras Macaron Lollipops for an explosion of buttery goodness and the Crispy Shrimp Balls with a tangy ginger sesame mayo. There is also an assortment of sandwiches and croissants, with fillings like Pastrami Beef and Tuna Mayo & Guacamole.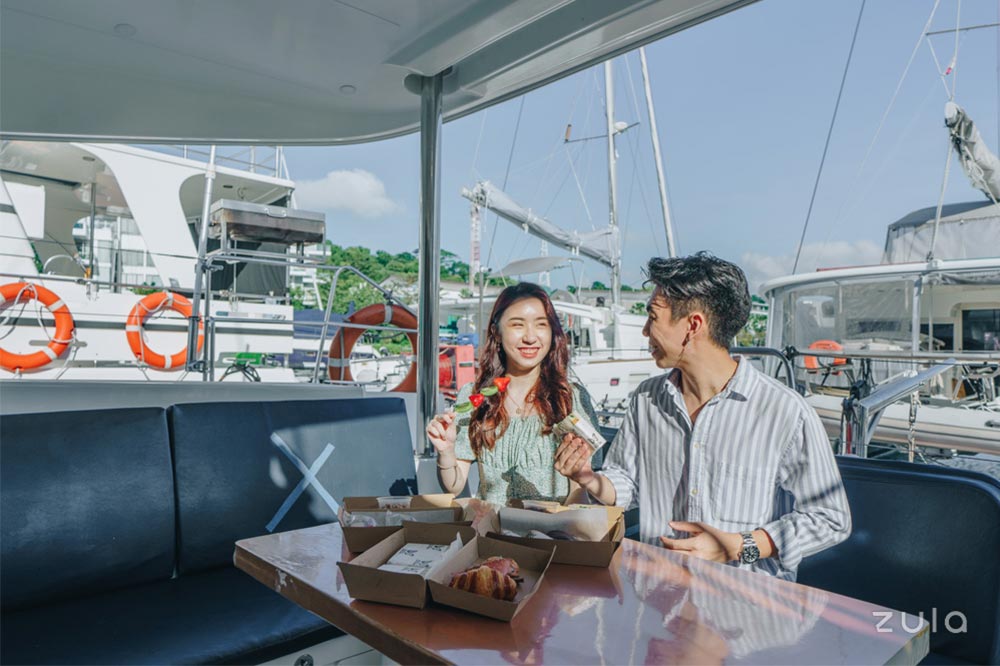 Once you've gotten your fill of the salty sea breeze, the stern houses a sheltered dining area and small kitchenette. Head here to tuck into sweet treats like Fresh Strawberries & Kiwi Skewers or Mini Almond Magnums. 
Cocktail creation workshop with an experienced mixologist
Different alcohols and mixers for you to get a good whiff
A Cocktail Creation Workshop is also part of the package, and it makes for an intimate bonding session with your other half. Here, you'll find out about your personal likes and dislikes when it comes to alcohol, with experienced mixologist Vladyslav Yesepiv showing you the intricacies of cocktail-making.
No labels or identifying markers here, so your selected ingredients are based purely on scent 
After a welcome shot, you'll be sniffing your way through a variety of alcohols and mixers. They've got a full range of spirits, with everything from tequila to Aperol, and interesting mixers like gula melaka and peach puree.
After choosing your preferred alcohol and mixers, you'll learn how to shake it all up in a cocktail mixer. Pour it into a glass, garnish and voila, you've made your very own professional cocktail. 
At the end of the workshop, you'll receive a complimentary cocktail shaker—both a thoughtful keepsake and a useful gift to DIY your own cocktails at home. 
Gourmet meals at Beast & Butterflies
The Yacht-cation Escape package has your meals covered too, so you won't have to worry about going hungry.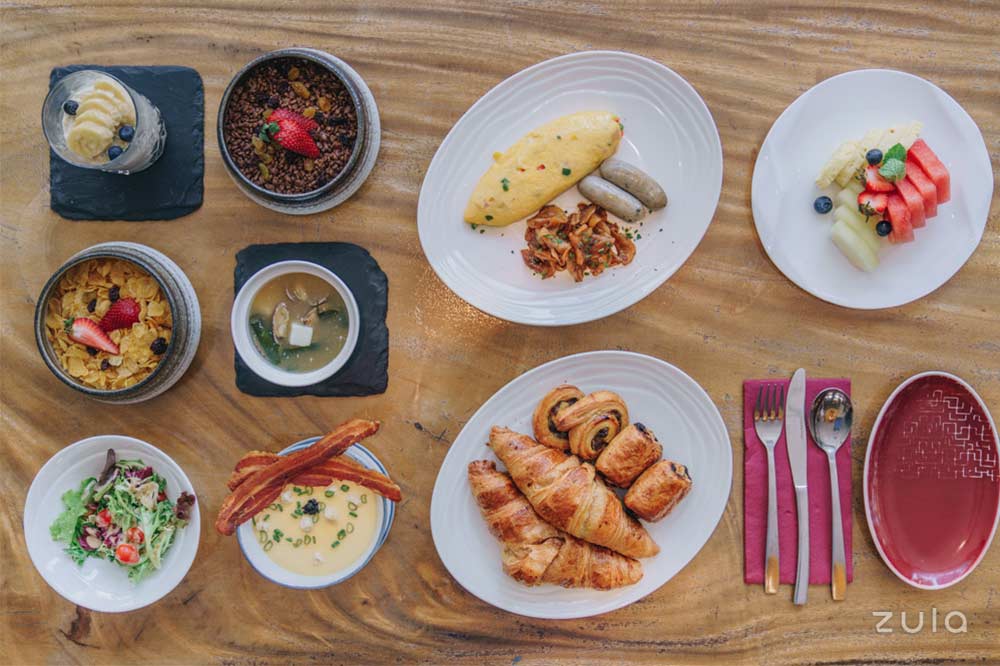 Start your day right with a complimentary Gourmet Breakfast at hotel restaurant Beast and Butterflies. 
For your mains, choose between Truffle Eggs En Cocotte topped with goat cheese and streaky bacon sticks, or a Paris Ham Omelette, which comes with a grilled veal sausage and a side of pan-fried potatoes. The set meal also includes a bowl of cereal, croissants and mini danishes, a fruit platter and even miso soup.
Once night falls, dinner at Beast & Butterflies doesn't disappoint either. The 3-course Wine-Pairing Set Dinner is thoughtfully paired with matching wines, to best accentuate the food's flavours.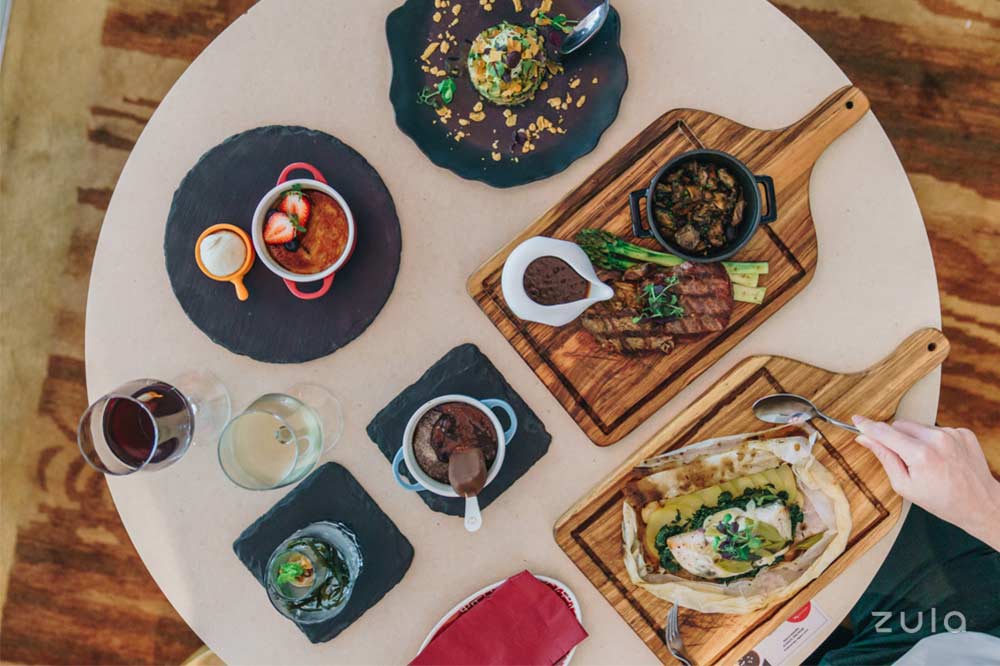 Look forward to starters like the Thai Infused Oyster Shooter or Torched Salmon Tartare with Avocado. 
For mains, you can choose between the Char-Grilled Angus Ribeye served with stewed mushrooms and grilled asparagus, or the Baked Barramundi Papillote wrapped with baby spinach, potatoes and various other herbs. 
End the meal with a sweet note, whether it's the fusion Orh Nee Brulee or Profiterole, both served with a scoop of vanilla ice cream. 
With glitz and glamour in mind, M Social Singapore's Yacht-cation Escape package is well-worth splurging on—perfect for those looking for a special venue to celebrate their anniversary or other romantic occasions. With the festive season nearing, book your stay by 16 December 2020 for a special staycation any time between now and 23 December 2020. 
It's free to sign up as a My Millennium member, and you can enjoy 10% off the booking and earn Double Points*, which you can use to redeem for room stays, complimentary upgrades, and also for other dining, lifestyle and retail rewards. 
*Double Points are only valid for stays booked before 30 November 2020.
This post was brought to you by Millennium Hotels and Resorts.
Photography by Clement Sim.
Cover image (RHS): Source
Also read:
8 Romantic Restaurants In Singapore Worthy Of Date Nights And Proposals