Standing Desks For Work-From-Home 
Working from home is becoming the new norm in many Singaporeans' lives, with some going the extra mile to buy new chairs and even desks to optimise their working environment. 
As an alternative to working on low coffee tables or dining tables reserved for meals, standing desks are gaining popularity thanks to the health benefits that come along with them. Plus, they offer many options, with features encompassing both aesthetics and ergonomic purposes. 
With a wide range of designs and price tags to choose from, be assured that you can find a standing desk that checks off your needs.  
1.  Everdesk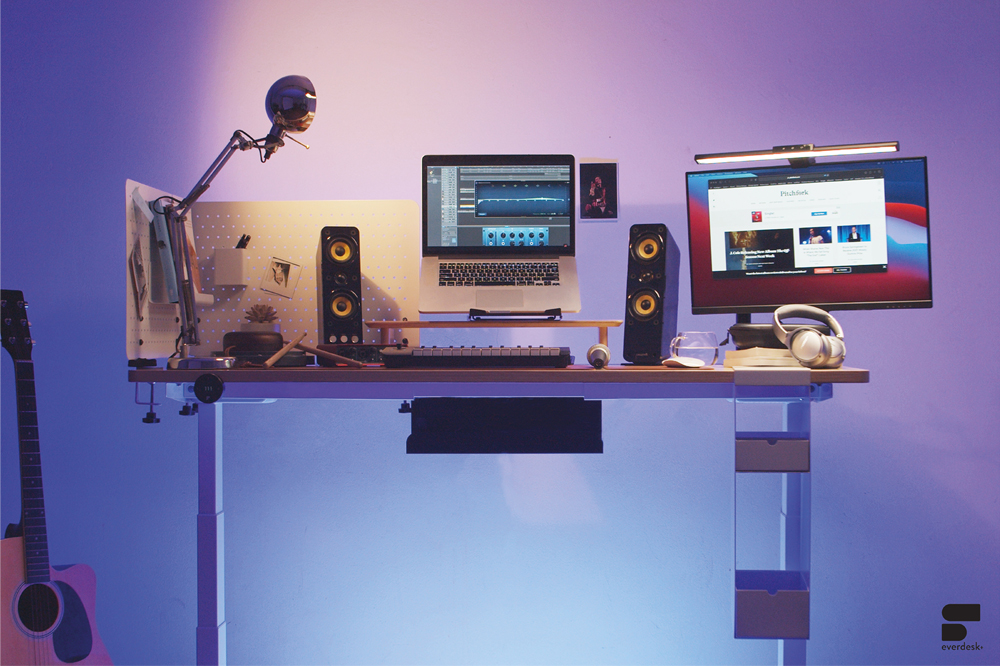 Everdesk aims to create a work environment where users get their work done healthily, actively and comfortably. This is done through its thoughtfully designed dual motor standing desk, with various features. 
One of which is its UniGroove system that helps to utilise every space available on the desk with cable and electronic device holders. You get to also choose between Everdesk Lite that holds up to 70kg and runs on a single motor, and Everdesk Max that has a dual motor combo and a 120kg weight limit.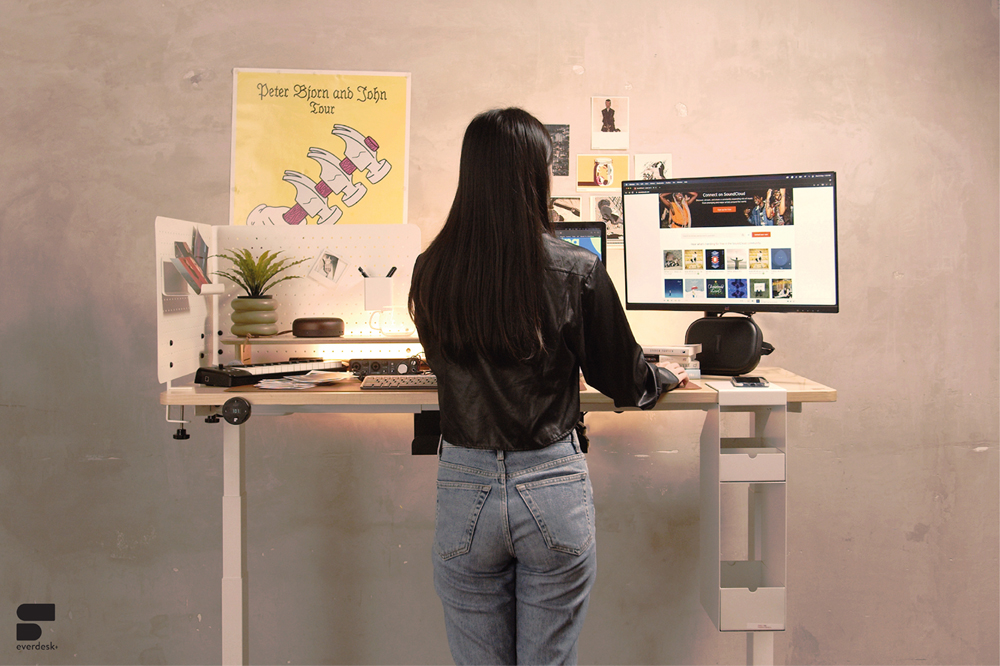 We're no strangers to hectic days where stretches and eye breaks become an afterthought. Everdesk Max has a Health Coach smart function that prevents this by sending a buzz at 15, 30 or 60-minute intervals as a reminder to change your position.
Every Everdesk also comes with a 10 years warranty so you'll be covered by any accidental damage from spillages or wear and tear. For those interested in additional accessories like pegboard panels, shelves and monitor arm, make sure to also keep a lookout for new releases available for purchase.
Price: From $599
Shipping fee: Free
Contact: Call 3138 2461 or email sales@everdeskplus.com
Website

2. FEZIBO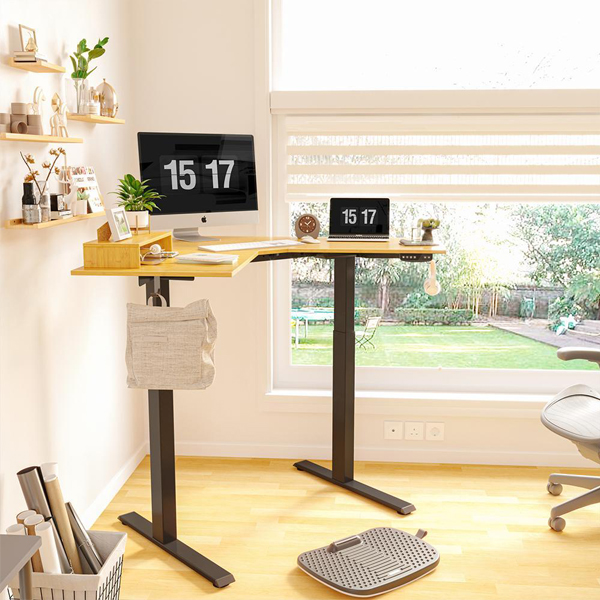 For those who require lots of desk space while working, FEZIBO's standing desk is a solution where every aspect of its L-shape dual motor standing desk has a unique purpose.
Not only does it fit perfectly at the corner of the room, it also comes with extra desk hoops at the sides to hang knick-knacks like stationary or even snacks. You can go fuss-free when it comes to organising your wires and cables with its cable tray.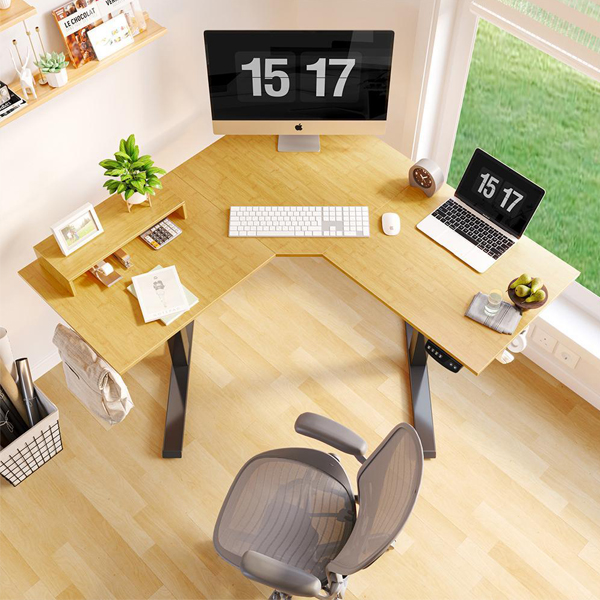 Functional and aesthetically pleasing, the standing desk comes in 3 different colours, rustic brown, bamboo, and black. 
Price: $645
Contact: Fill up their enquiry form
Website

3. MyDesk.SG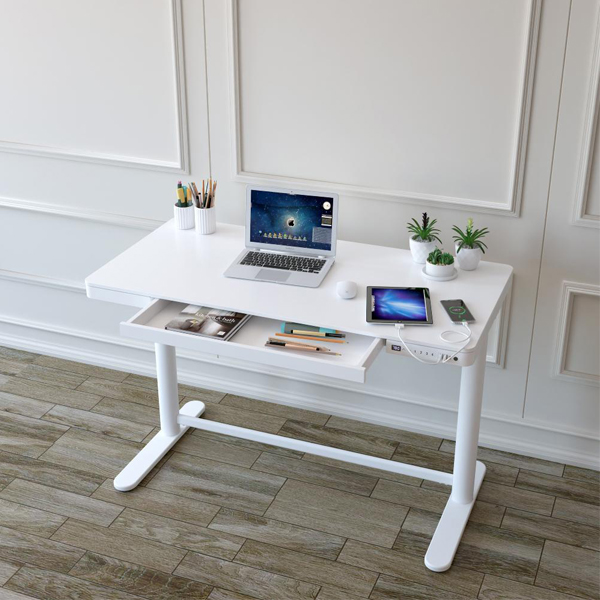 At first glance, this electric adjustable standing desk from MyDesk.SG looks like any other desk, but you might be surprised that it actually has a layer of tempered glass at the top. Thanks to this one-of-a-kind design, it gives off a modern and minimalist look. 
Aside from this feature, it is also functional in many other areas. You can charge your electronic devices through the USB ports found on the right side of the desk. Furthermore, you can also explore more storage space with the pull-out drawer. 
For those who are tight on their budget, you can pay through 3 months of instalments with no interest charge through Hoolah too.
Price: $549
Shipping fee: Free shipping
Contact: Call 9424 6671 or email sales@mydesk.sg
Website

4. Stationed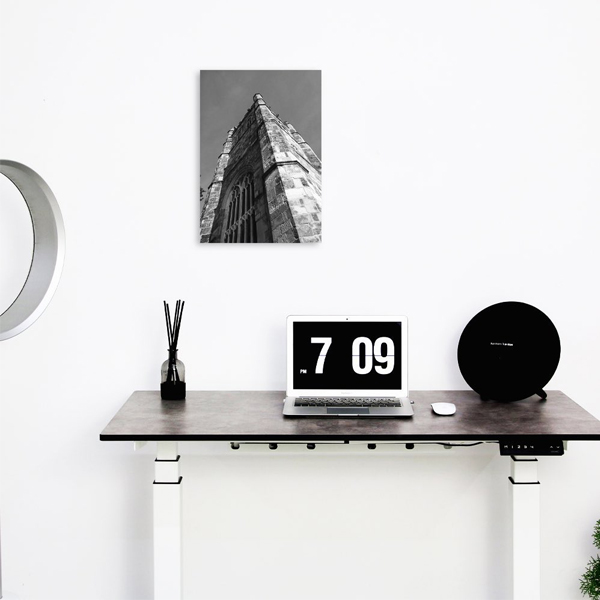 We're spoilt for choice with Stationed's 5 minimalistic table top designs for its electric, adjustable standing desk. It comes in ivory marble, onyx black, industrial grey, solid white, and solid black.
To keep things tidy, it has a cable tray for you to organise and prevent cable knots. For those who love frequent changes in scenery, you can also shift the table according to your preference with its mobility feature.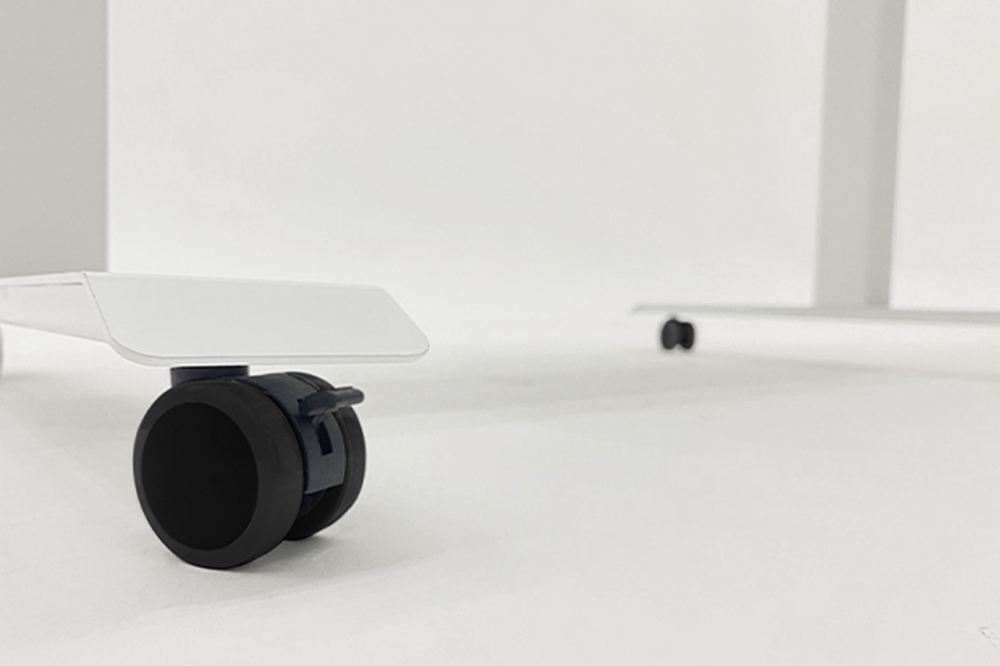 If you are looking for more add-ons, they also have additional desk accessories such as monitor arms and electric plugs for you to pair along with its standing desk. 
Price: From $619
Shipping fee: Free
Contact: WhatsApp 91055881 or email support@stationed.com.sg
Website

Also read: 
11 Taobao Items That Will Transform Your Workstation Into A Stylish Home Office Set-up
5. FAMISKY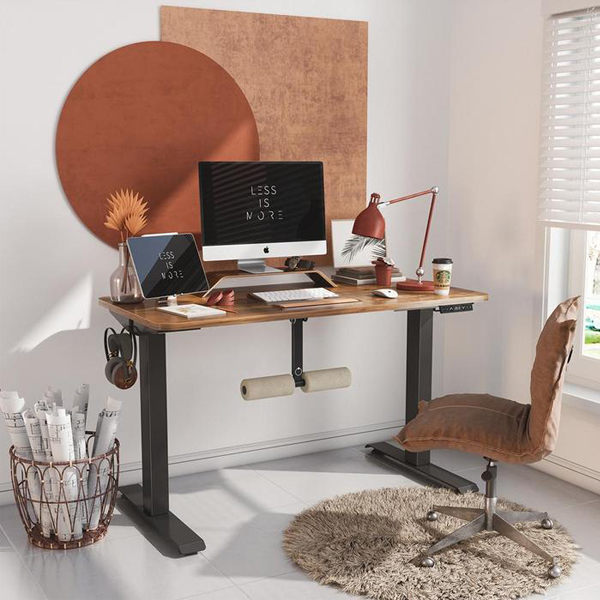 Crossing our legs when sitting down isn't the healthiest posture to be in, and FAMISKY knows that all too well. That is why their electric adjustable standing desk comes with a footrest feature to rest your feet on while you use your computer. In fact, the footrest can also be folded away when not in use to give your ample leg room as well.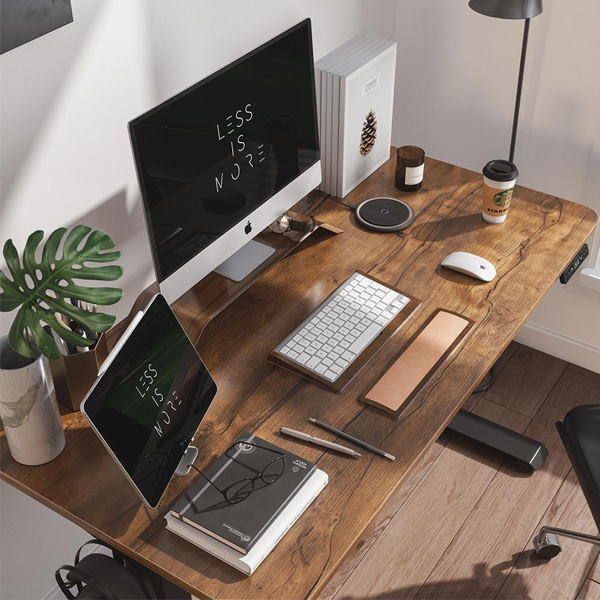 Aside from that feature, the desk also has hooks on both sides to hang various accessories such as bags and headphones. It also comes with a cable tray for you to keep your cables organised, and has an anti-collision sensor that prevents you from bumping into corners of the room while moving it around. 
It is available in 4 different colours: walnut, rubberwood, black, and greige. 
Price: $473
Shipping fee: From $1087
Contact: Fill up their enquiry form
Website
6. Sunflex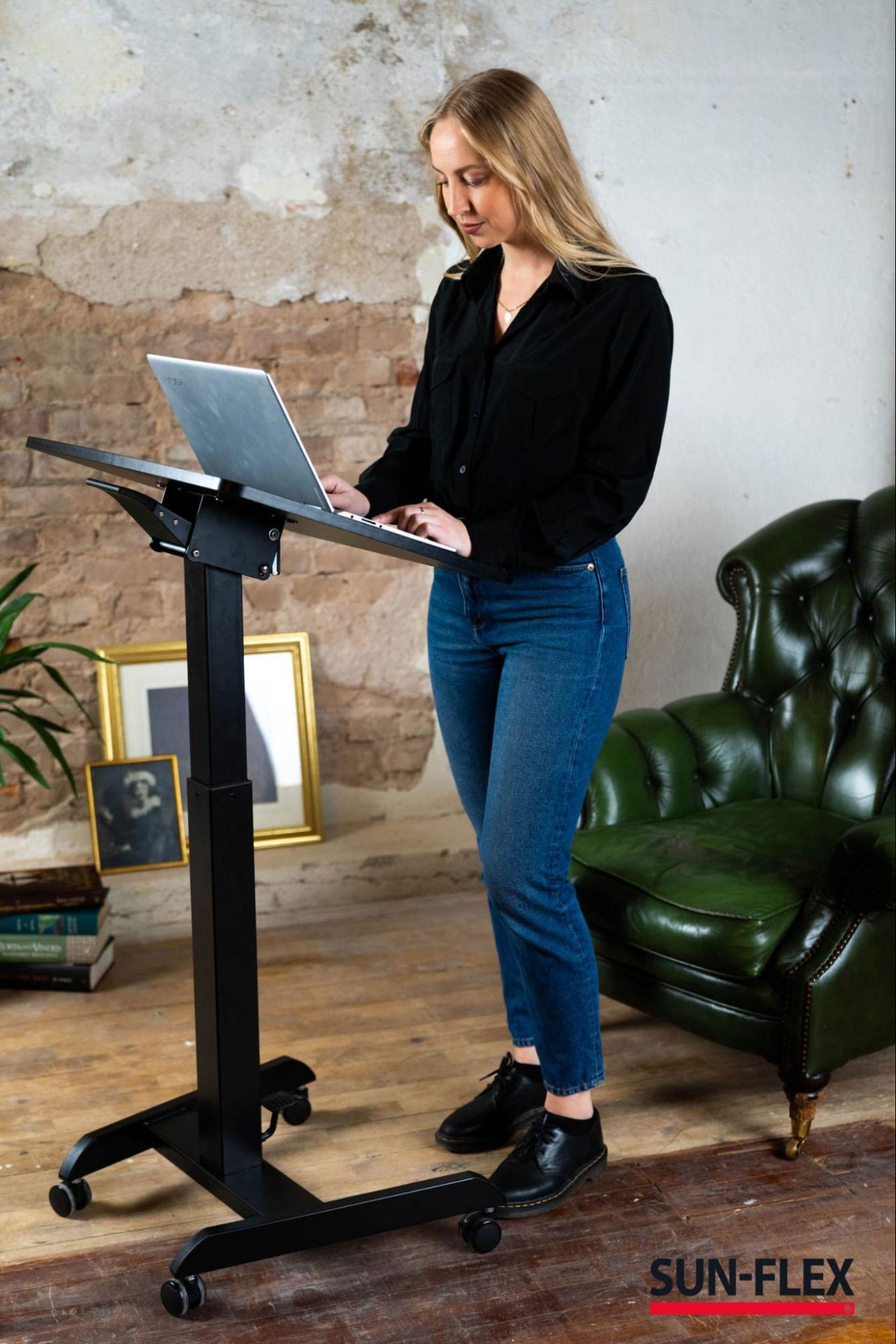 If you hate staying in the same spot, the wheels of Sun-Flex Easydesk Pro allow you to breeze from one corner to another and work from any part of your house. 
The desk can be tilted according to the user's preference between 0 to 90 degrees and the height of the desk can be easily adjusted using the foot pedal too. If you are planning to save space, you can simply fold it when not in use. 
The Easydesk Pro comes in 2 different colours, black and white. 
Price: $252.63
Shipping fee: From $141.08
Contact: Email info@sun-flex.com
Website
7. Tripod Standing Desk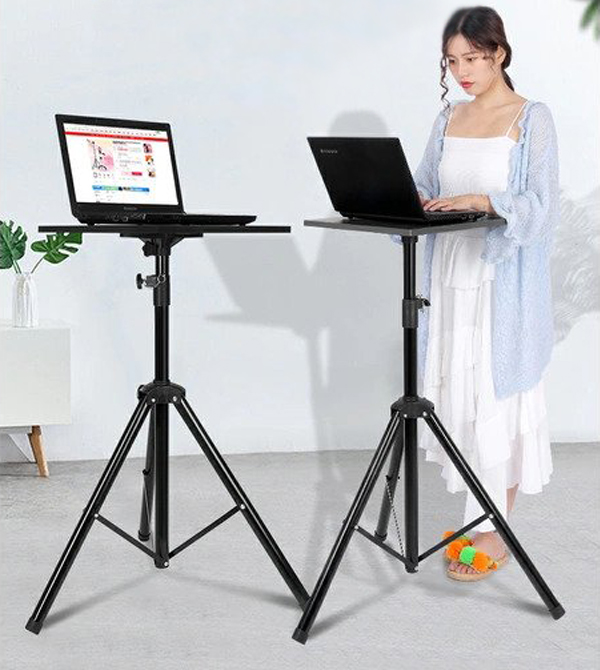 Tripods are mostly seen in photo taking settings but you can also find yourself working with a tripod stand adjustable desk at home. 
The tabletop is shaped for a better fit while working standing up and it also comes with cup and electronic device holders. With its sturdy design and structure, it is capable of withstanding stability even after using it for a long time. 
Plus, it is lightweight at 2.5kg, so it can be moved from one part of the house to another. 
Price: From $21.79
Shipping fee: $6.60
Website
8. Minidesk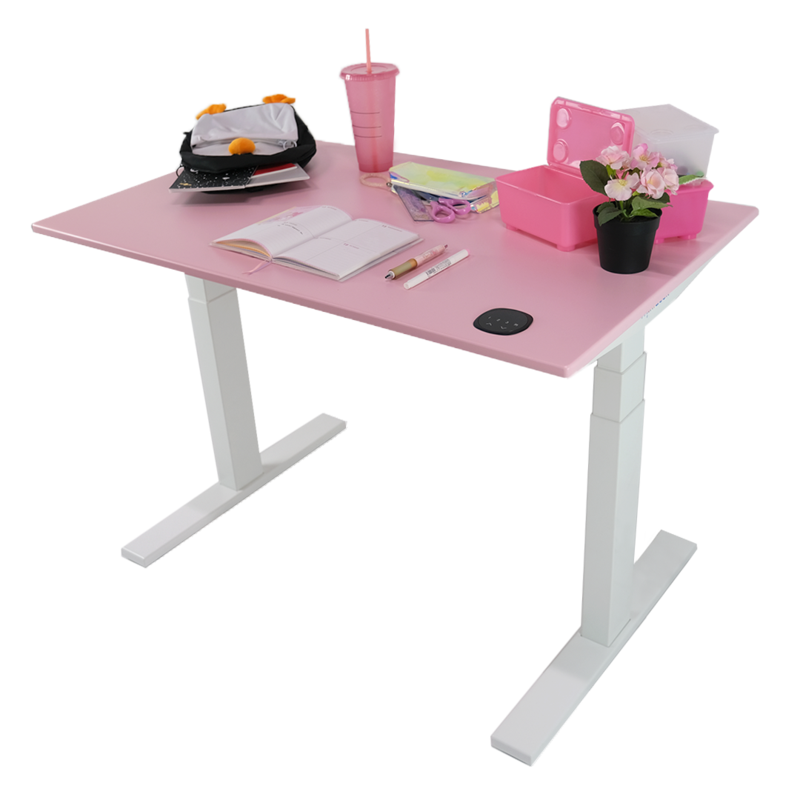 Compared to the standard colour choices of black and brown, Minidesk's products stand out for their pastel colour theme. If you are looking out for a standing desk that brightens up your room, you can choose from 3 different colours: blue, pink and white.
While it is originally catered to kids, adults can also use the desk while working from home especially if there are space constraints in the room. The height of the desk can be easily adjusted with a single touch and it goes as high as 110cm. 
Plus, it comes with a 7 years warranty, making it ideal for those who are looking to invest in a standing desk for the long term. 
Price: $689
Shipping fee: Free
Contact: Call 3138 8324 or email sales@minidesk.sg
Website
These Chio Standing Desks Will Be An Investment For Your WFH
Getting a standing desk is a beneficial investment for your health in the long run and many are also pleasing to the eyes. With work-from-home being the default for the long run, getting one of these standing desks will help improve both your posture and working habits.
Originally published by Penny Wong on 16 June 2020. Last updated by Jou Teng Tan on 30 June 2021.
Also read: 
These Kakao Friends Massage Guns Come In Pastel Shades & Keep You Ache-Free During WFH Season