Free First Date Activities 
First dates can be exciting, thrilling… and extremely nerve-wracking. Picking suitable first date activities can say a lot about yourself. At the very least, it could potentially minimise awkward moments and set the stage for a great day out.
There may be a lot of pressure to pull out all the stops and blow a significant amount of cash to show your date a good time, but you can still spend quality time together on a budget. Whether you're looking for a fun but frugal first date, or if you're in a relationship and are just looking for some economical alternatives, here are 8 free first-date ideas that you can add to your arsenal.
1. Attend a movie screening under the stars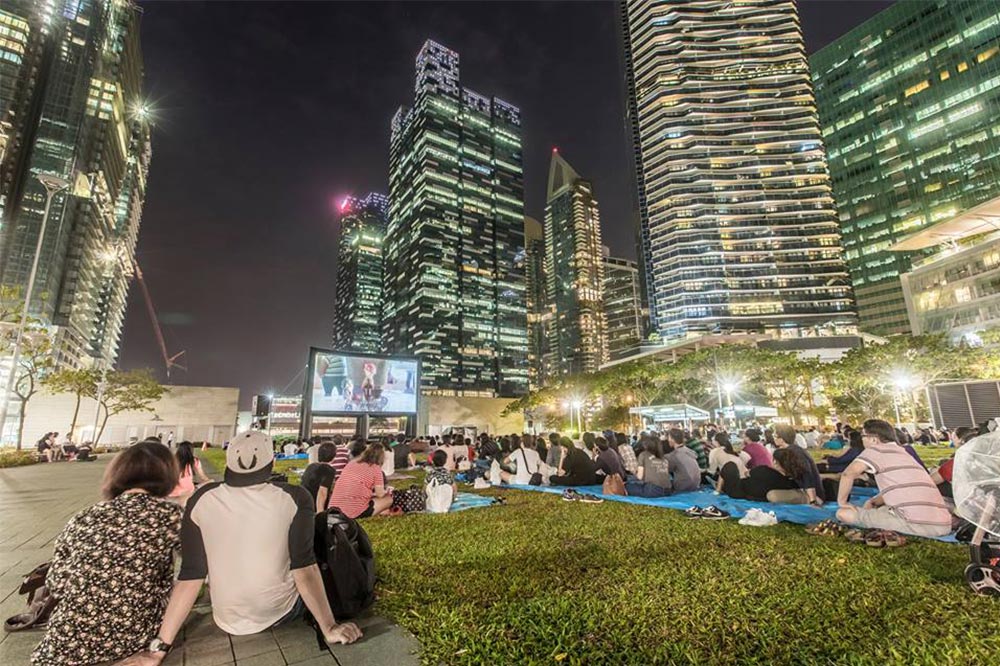 Source
MovieMob organises free outdoor movie screenings around Singapore that will make for a perfect first date. Instead of paying $12 to sit silently next to each other in a cinema, you can grab a picnic mat, bring whatever snacks you desire, and snuggle up under the stars.
Because these screenings are outdoors, feel free to discuss the greater significance of the film and guess the ending without being shushed by other cinemagoers.
2. Try urban sketching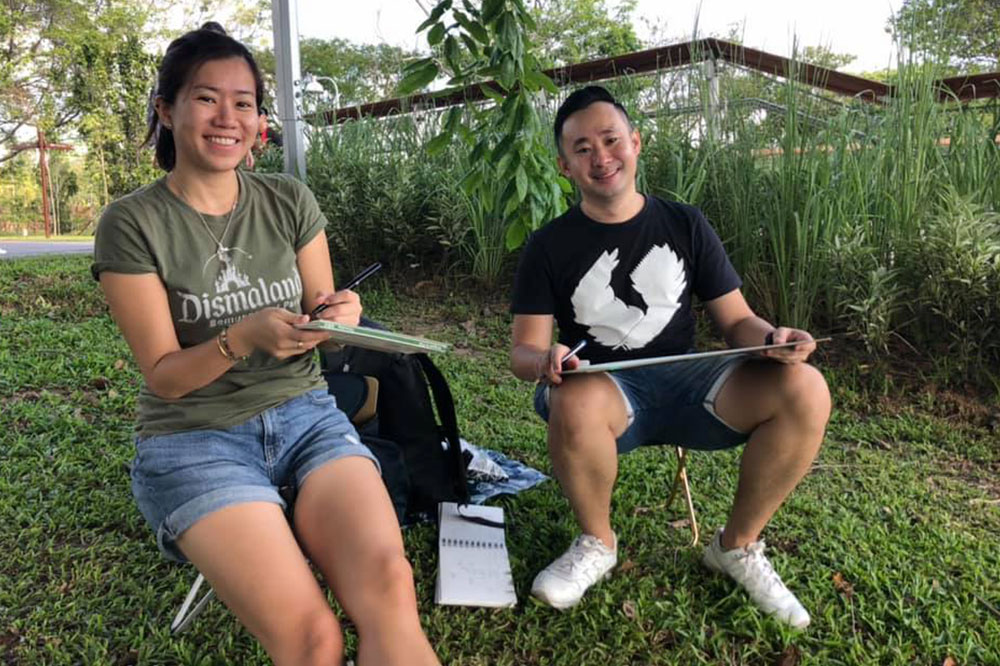 Source
If you're looking for an unconventional first date that combines a little bit of artistic flair and a chill day outdoors, urban sketching could be the answer.
Join Urban Sketchers Singapore on one of its sketch walks, where you will try your hand at painting buildings and landscapes with other creative individuals. You could also just find an aesthetic spot on your own time and watch the world go by with your date.
3. Go stargazing at the Science Centre Observatory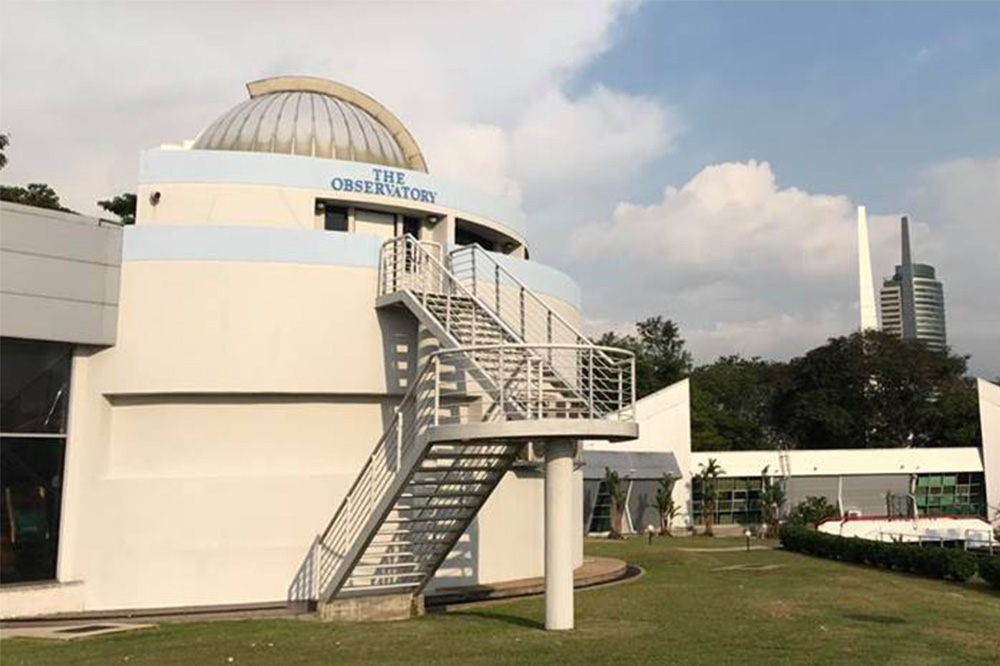 Source
You may not have visited the Singapore Science Centre since primary school, but you can recreate your very own "Your Name" moment as you stargaze at the Science Centre Observatory. What better way to ask about your date's star sign than when you're viewing constellations and basking in the moonlight?
Stargazing sessions at the observatory happen almost every Friday—check out the calendar for a list of dates and get a time card for a stargazing session on eventbrite before you head down.
Address: 21 Jurong Town Hall Road, Science Centre Singapore Observatory, Singapore 609433
Opening hours: 7.45pm to 10pm (Fridays)
Facebook
4. Admire art at The National Gallery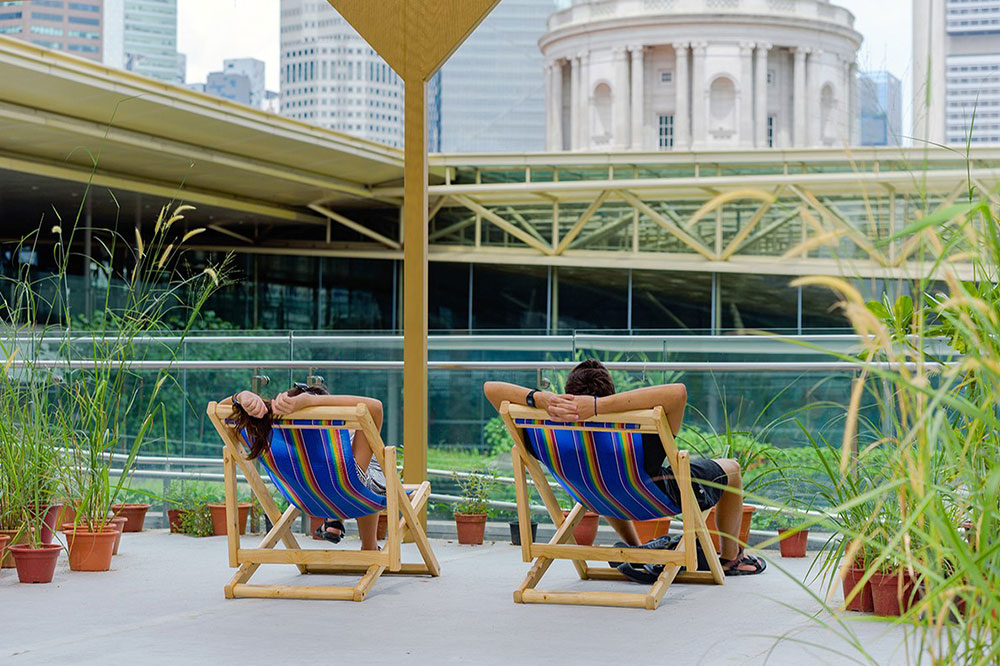 Source
Museums are a great option for the cultured, artistic souls out there, or even those just looking for an interesting space to roam around with your date. Admission to the National Gallery Singapore is free for Singaporeans and PRs, which allows you access to certain exhibitions.
Occasionally, the gallery also hosts open houses where visitors can enjoy complimentary access to all exhibitions, including its must-visit blockbuster shows. On top of that, there are different installations, workshops, tours and sessions going on all year round so you'll never get bored.
Address: 1 St Andrew's Road, Singapore 178957
Opening hours: 10am to 7pm (Saturdays to Thursdays) | 10am to 9pm (Fridays)
Website | Facebook | Instagram
Also read:
15 Fun Indoor First Date Ideas For Couples Afraid Of The Singapore Heat
5. Get your heart pumping at a fitness class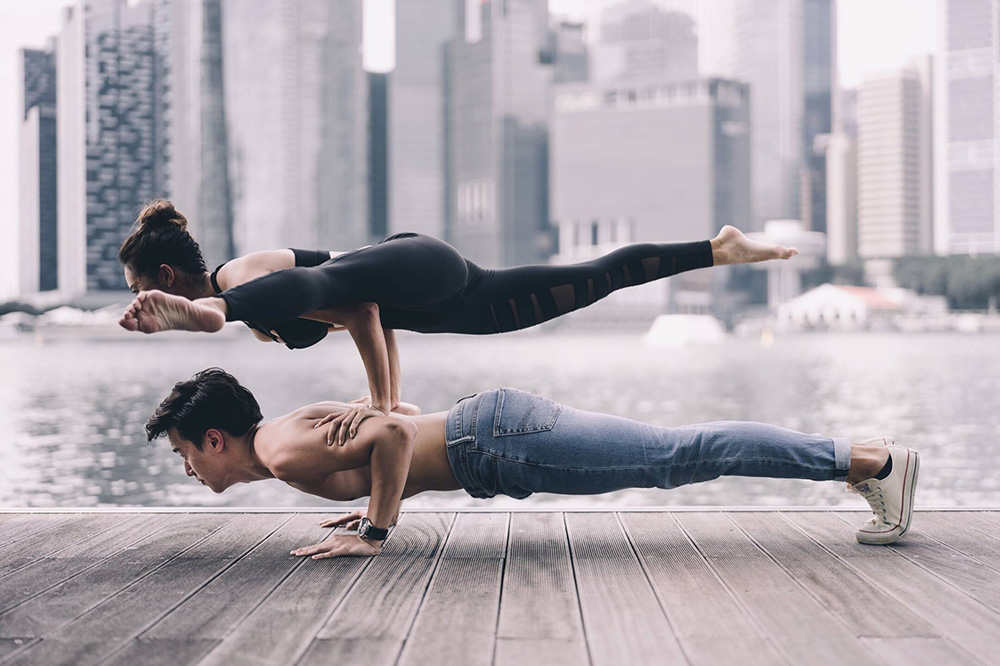 Source
If you and your date are both #fitspo, try signing up for a free fitness class trial together. Whether you're a natural looking to impress your date with your skills and stellar form, or if you're ready to just goof around on a yoga mat, a fitness class is a fun and engaging first date option.
The Health Promotion Board organises a variety of free activities every Wednesday, from Piloxing to couple yoga and more at different locations around the city. Visit its events page for the full list of activities and timings.
6. Express your creativity at an art class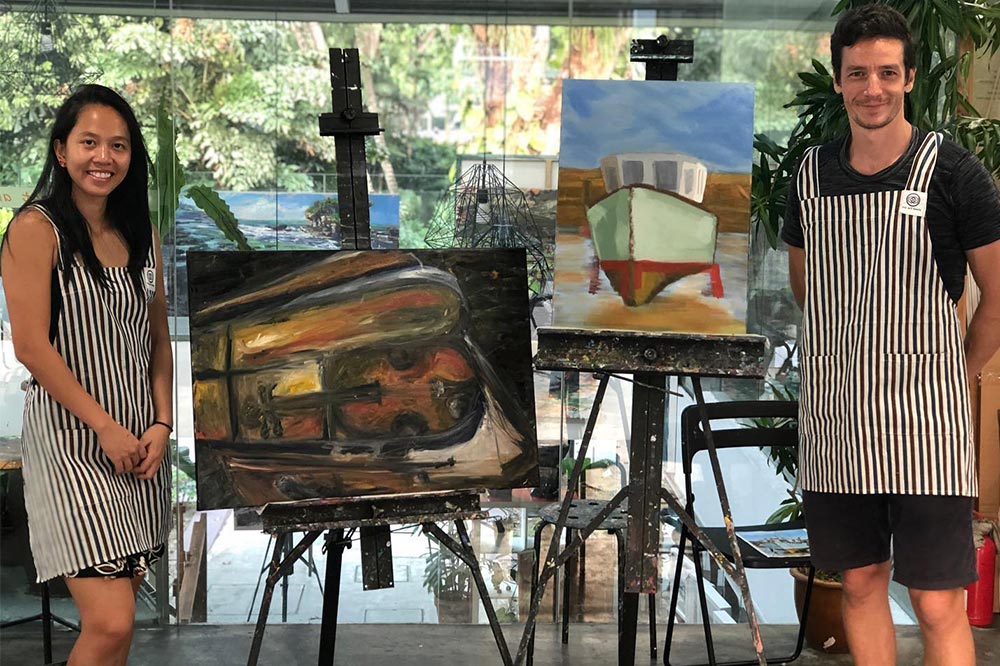 Source
If you and your date have a knack for arts and crafts, try attending an art class together. Whether you decide to take up pottery, crocheting or canvas painting, simply use your SkillsFuture credits to pay for your classes by signing up with one of the approved clubs or studios.
Plus, you won't need to worry about filling in any awkward silences because you'll both be busy with your art pieces in between conversations.
My Art Space @ Istana Park (SkillsFuture approved)
Address: 31 Orchard Road, Singapore 238888
Opening hours: 10am to 8pm (Tuesdays and Fridays | 1pm to 5pm (Mondays, Thursdays, Saturdays and Sundays)
Website | Facebook | Instagram
7. Visit the Esplanade for a show and a stroll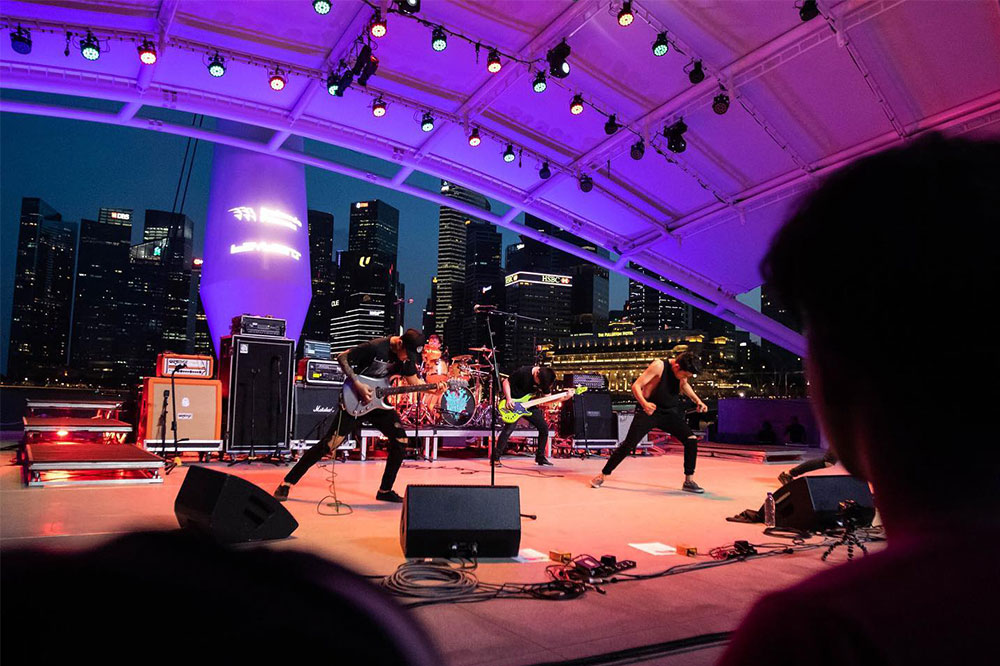 Source
There's just something so intimate and cosy about live music, warm lighting and spending time with your beau. Instead of paying for drinks and fried food to sit in a noisy bar, head down to the Esplanade Outdoor Theatre, grab a seat, and enjoy the live performances they have lined up for the evening.
End the night with a leisurely stroll by the river for extra brownie points.
Address: 1 Esplanade Drive, Singapore 038981
Website | Facebook | Instagram
8. Soak in nature at MacRitchie's TreeTop Walk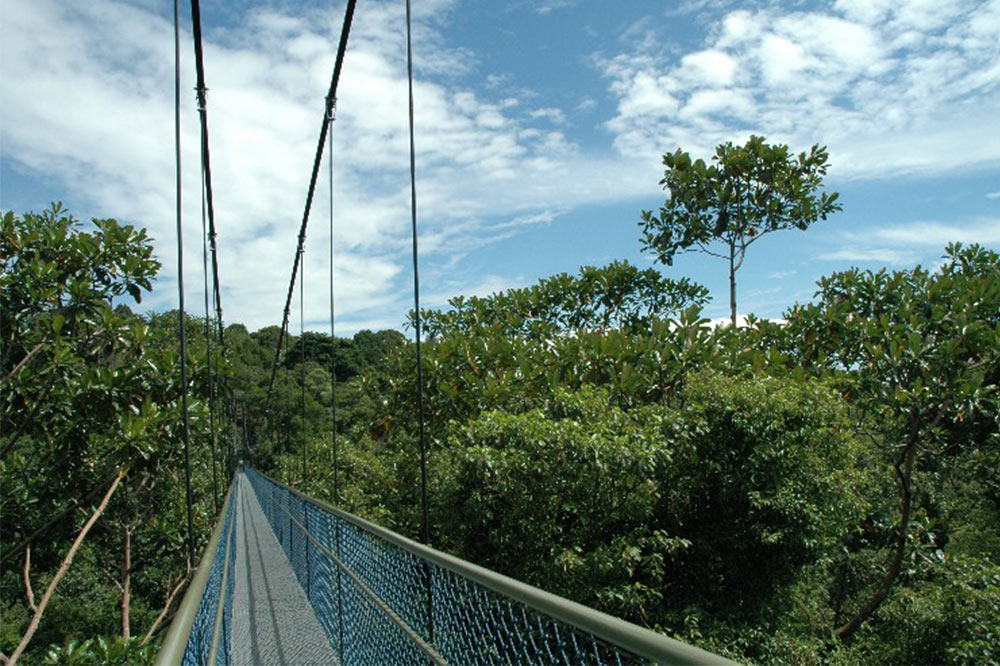 Source
Singapore's cityscape is pretty impressive. But sometimes, you just need to get away from the hustle and bustle and take the scenic route. Go on a relaxing nature walk, spot some monkeys, and just enjoy each other's company. Remember to check the weather forecast before you set off and bring mosquito repellent!
For more DIY nature walk ideas, you can visit NParks' website.
Opening hours: 9am to 5pm (Tuesdays to Fridays) | 8.30am to 5pm (Saturdays, Sundays and Public Holidays) | Closed on Mondays (except on Public Holidays)
Website
First Date Activities On A Budget
You don't always need to splurge on a date to have a good time. We've got your budget covered with these free first-date activities so you can relax, let your hair down and get to know your date!
Also read:
10 Fun Outdoor First Date Ideas For Singaporean Couples To Avoid Awkward Silence
Cover: Source, source