Gachapon Backpack
Childhood favourites such as the White Rabbit candy have been making a comeback. If you also remember playing with the gachapon machines like those found at Don Don Donki, here's some news to perk you up. 
Here to jog your memory is Takara Tomy Arts' newest creation, the Showy Gacha backpack, designed with an actual dial that you can turn to release capsule balls in celebration of Gacha Day on 17 February 2023.
The design
Coming in an all-white exterior, the bag has a rectangular shape and a handle on the top as a carrier, with two backpack straps so you can carry it anywhere you'd like. The "Gacha" logo is designed on the side and on the right strap of the bag. 
With compartments that can be zipped up located on the top and side of the bag, the design lets you have easy access to your belongings. The sides are transparent and curved so you can see the capsule balls inside. Directly beneath the window has instructions and a dial, as well as an opening at the bottom for you to collect your capsule balls – just like a machine IRL. 
The design even includes a ¥200 sign, giving it a 100% authentic look.
Inspired by the Takara Tomy Arts' "Gacha 2EZ" machine design, the backpack is made to function as a normal carrier bag that can hold your essentials, laptop, or school supplies. The added feature of the dial and capsule toy release are novelty designs that will undoubtedly steal the show.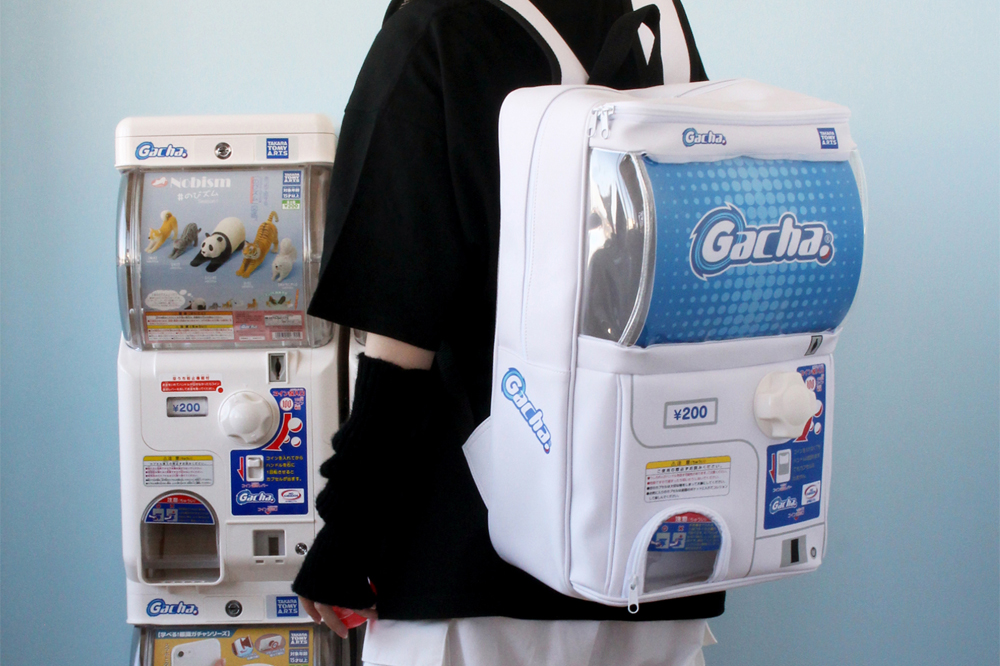 Source
Think of your backpack as a mini, portable version of the actual machines and carry the backpack around to let your friends have a go at the "machine". With each purchase, the bag comes with a bunch of sticker prints and empty capsules so you can DIY your own products in the bag.
The Showy Gacha backpack retails at 9,900 yen (~S$99.88). 
The Gachapon Backpack Will Be A Stylish, Yet Great Conversation Starter
Whether you're at a first-time gathering or at a meetup with your friends, the unconventional bag will be a great conversation starter and a fun game for all to play. If you're interested in purchasing this, you can head over to Takara Tomy Arts' website to pre-order. 
Also read: 
LOEWE x Howl's Moving Castle Features Iconic Scenes On Bags & Tees To Bring Studio Ghibli Magic To Life