Hello Kitty Buns 
If you're a fan of both bubble tea and Sanrio, and look out for them when shopping or eating, these Hello Kitty buns tick both boxes. Besides boasting Sanrio x 7-Eleven stores in Taipei with IG-worthy decor and exclusive merch, 7-Eleven Taiwan recently released buns shaped like Hello Kitty's head, filled with pearls soaked in chocolate. 
Chocolate buns
You've probably tried drinks and snacks with brown sugar pearls, but what about chocolate pearls? The buns are filled with tapioca pearls soaked in chocolate for an added chewy texture.
The buns come in a box of 4 to share with family and friends. Of course, if you're a foodie who loves Hello Kitty, you can have all 4 to yourself. Have 1 for breakfast to start your day with an adorable face or as a well-deserved midday snack. 
Also read:
Sanrio & SG Coffee Brand Hook Coffee's Drip Bags Let You Add An Extra Shot Of Kawaii To Your Morning Brew
Sanrio jars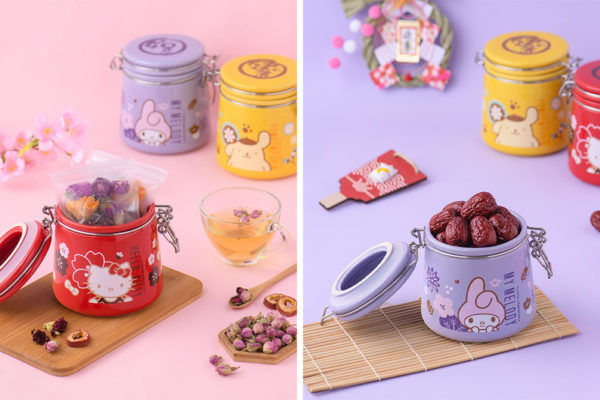 7-Eleven Taiwan is not the only one with cute Sanrio snacks. 7-Eleven Hong Kong also recently launched Sanrio 祝福大滿罐, which roughly translates to "Full of blessings jars". Just like the Sanrio ice cream cups and the Häagen-Dazs x Sanrio fondue kit, these jars feature Hello Kitty, My Melody and Pompompurin. 
The Hello Kitty jar has the ingredients you need for floral tea packed in small bags for your convenience. This is perfect for unwinding and relaxing after a full day of work. My Melody appears on a lilac jar full of dates to drop in your tea or to snack on.
The Pompompurin jar comes with pistachios to share with others during Chinese New Year. 
Like the ice cream cups and fondue kit, the Sanrio jars only seem to be available in Hong Kong for the time being. 
However, you can still cop Hello Kitty tea from Malaysian tea brand The Tea Republic, which ships to Singapore, and Sanrio Characters x Hook Coffee drip bags. 
Hello Kitty Chocolate Buns Filled With Pearls Are The Perfect Midday Snack
It would be nice to have a cute pick-me-up throughout the work day with these Hello Kitty chocolate buns. Unfortunately, these are only available in Taiwan for the time being. Since 7-Eleven Singapore released both Sanrio mooncakes and Sanrio glasses, we're crossing our fingers that the Hello Kitty Buns or Sanrio jars will make their way here soon. Stay tuned to this space to find out if they do.
In the meantime, to satisfy your bubble tea cravings, you could also take a look at the bubble tea soap from Taiwanese brand Yuan Skincare. 
Cover: Source
Also read:
This Bubble Tea Soap Set Has Herbs, Oolong Tea & Brown Sugar To Let You Finally Get A "Healthy" BBT Fix