Ho Ching Fashion Looks
Everyone knows that our Prime Minister is none other that Lee Hsien Loong. But while PM Lee is always dressed in his famous pink shirts or a standard polo tee, his wife Mdm Ho Ching sometimes steals our attention with constant new fashion looks and unique prints. 
From bird-patterned tops to dinosaur pouches, we ranked Ho Ching's top 9 OOTDs to prove that beyond being the director of Temasek Trust, our first lady of Singapore is also a fashion icon.
9. Nature-inspired outfit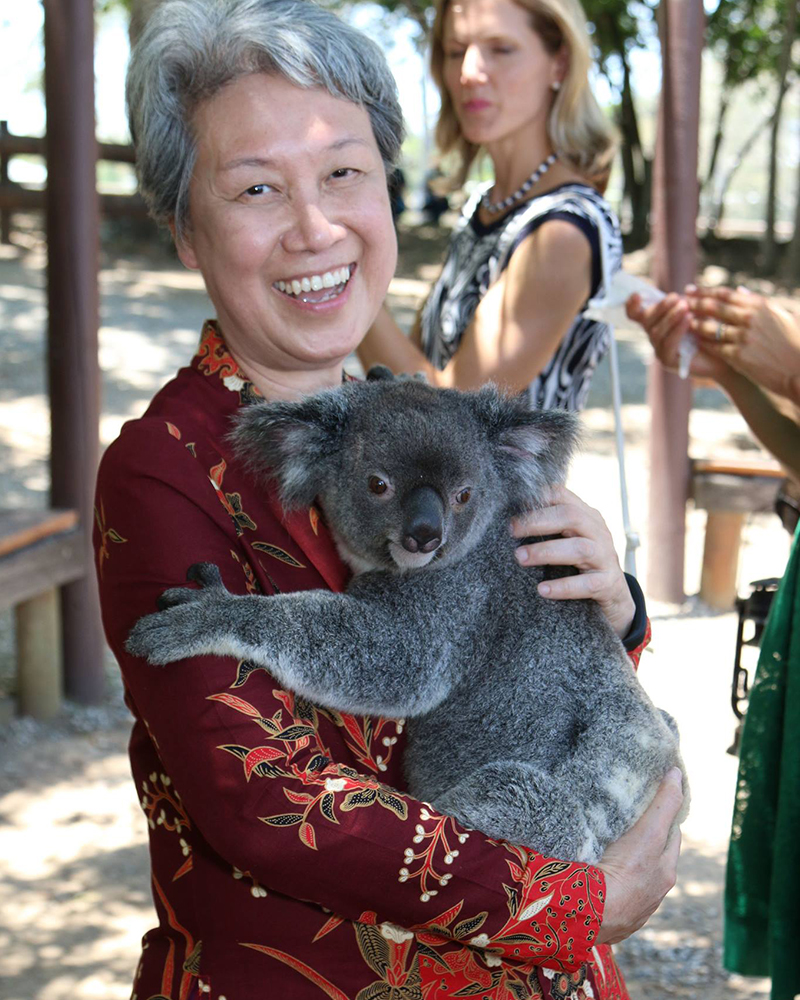 Source
It's always fun to dress up according to your location background, and Ho Ching definitely understood the assignment with this nature-inspired outfit. Dressed in an airy and comfortable long sleeved top, she wore this fuss-free outfit to the zoo — perfect for handling animals without hurting them. 
Her top features a mix of warm maroon and orange colours, along with prints of leaves and flowers that remind us of the simple beauty of nature.
Style points: Besides matching her outfit to her destination, Ho Ching gets bonus points for prioritising her comfort as well as the animal's. 
8. Golden girl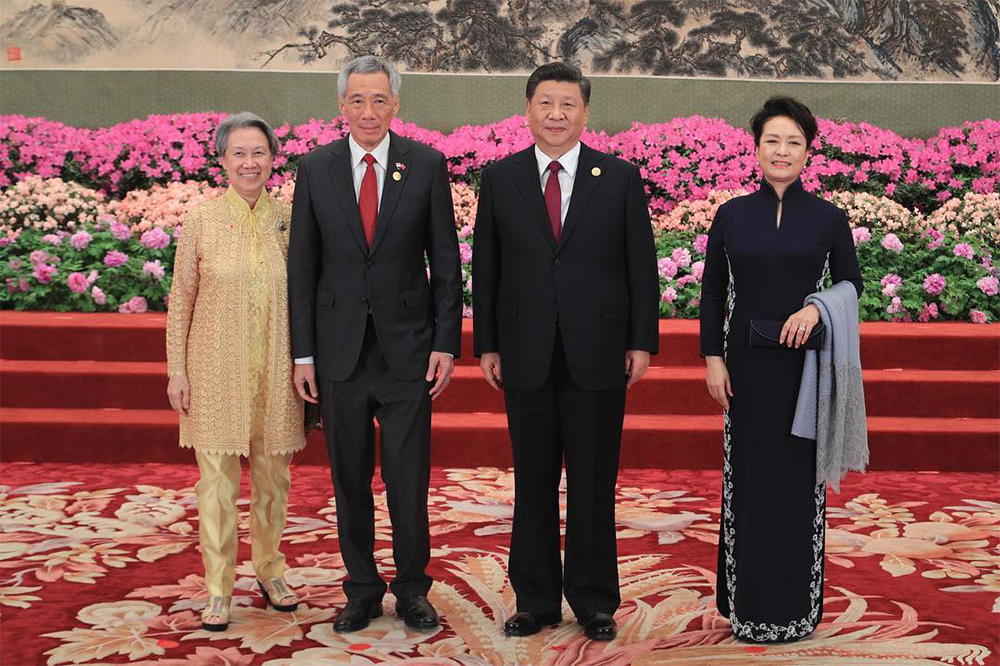 Source
In 2019, PM Lee and Ho Ching flew to Beijing, China to attend the 2nd Belt and Road Forum for International Corporation. Donning a simple-patterned golden outerwear, innerwear, pants and heels, her full golden gleam stands out as compared to the other international leaders there.
Style points: Ho Ching literally shines in this outfit — some of us can even learn a thing or two about colour coordination from this look.
7. TGIF outfit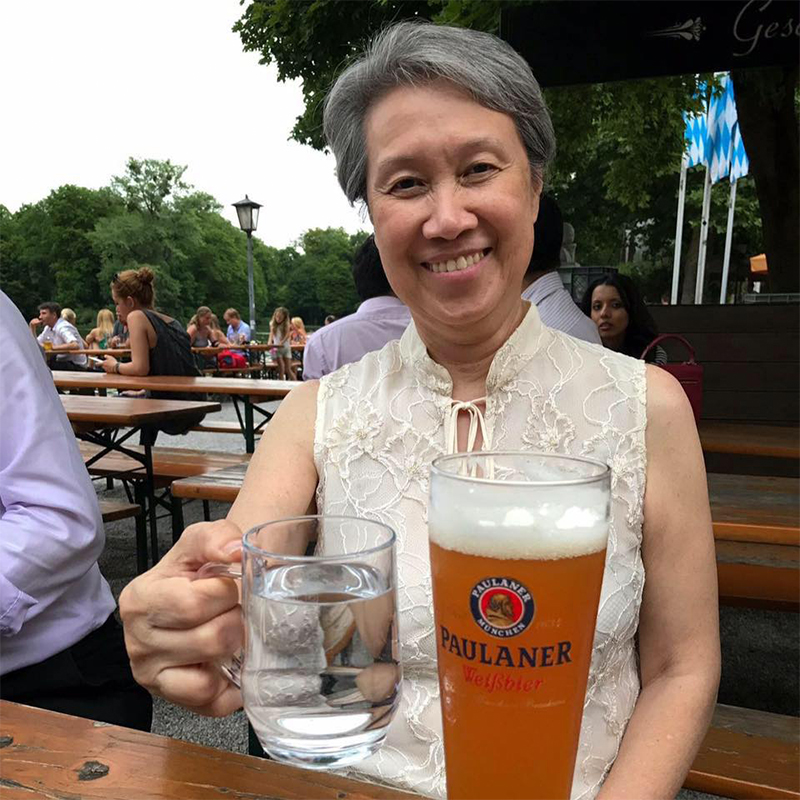 Source
After a long week of work, TGIF nights at the bar with your BFF always hits the spot. Dressing up to go out is also an important part of the night that shouldn't be missed, but Ho Ching's TGIF outfit here isn't your typical weekend wear.
Dressed in a full white oriental-style dress with a mandarin collar, it can also pass off as a Chinese New Year OOTD. The dress features subtle floral lace patterns with a ribbon on the neckline, adding a feminine finishing touch. 
Style points: While most of us wouldn't likely wear this outfit to a bar, Ho Ching unexpectedly pulls it off without looking overdressed. Additionally, she preaches the importance of responsible drinking by showing off a glass of water that she had along with her beer — queen behaviour indeed.
6. Comfy Batik prints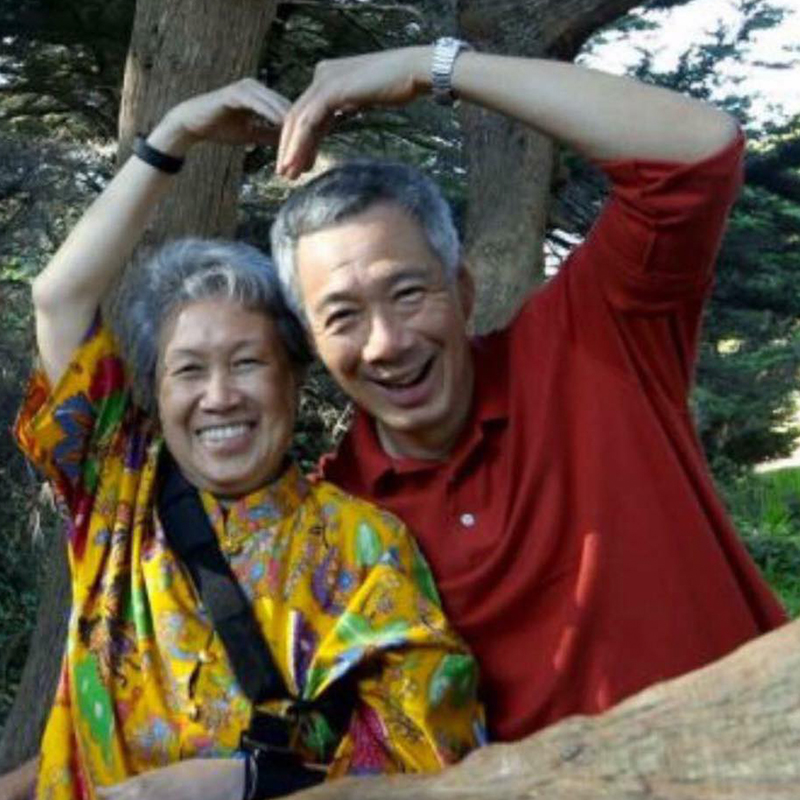 Source
Many of us may have come across the TikTok meme which states that "with every overdressed girlfriend, there's always an underdressed boyfriend." While PM Lee and Ho Ching are Singapore's #CoupleGoals, his plain polo tee pales in comparison to Ho Ching's outfit here.
Dressed in a bright and comfy Batik printed top, the vibrant colours of yellow, green, purple and pink come together to make up 90% of the brightness in this photo. The traditional knot buttons on the front further encapsulates Ho Ching's fondness towards cultural clothing in Singapore.
Style points: Couple tees who? Ho Ching shows us that there's nothing wrong with wearing whatever you want — even if your partner doesn't match your theme. Wearing confidence on your sleeves is one of the best things one can do.
5. Mom jeans for the cold weather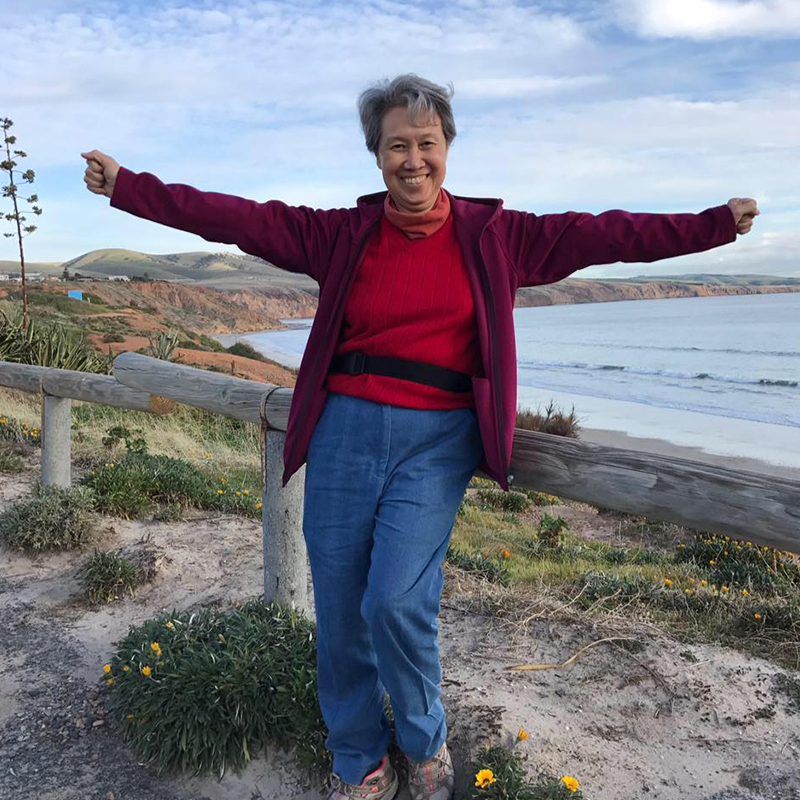 Source
Though Ho Ching is known for wearing different variations of Sarong Kebayas for events, it isn't a practical choice when it comes to braving the cold weather overseas. While she was in Australia in 2017, Ho Ching rocked this loose mom jeans look with a comfy turtleneck and a thick jacket on top.
Complete with track shoes, her outfit looks ever-ready to take on long hikes along the Fleurieu Peninsula. As the saying goes, simple is best. 
Style points: Even though this outfit doesn't stand out as much as the others on this list, Singaporeans can draw inspiration when travelling to colder countries via VTL.
Also read:
14 Times Blackpink's LISA Slayed Her Outfits In Her New MV That Made Us Lalisa Love Her Even More
4. Elegant dinner dress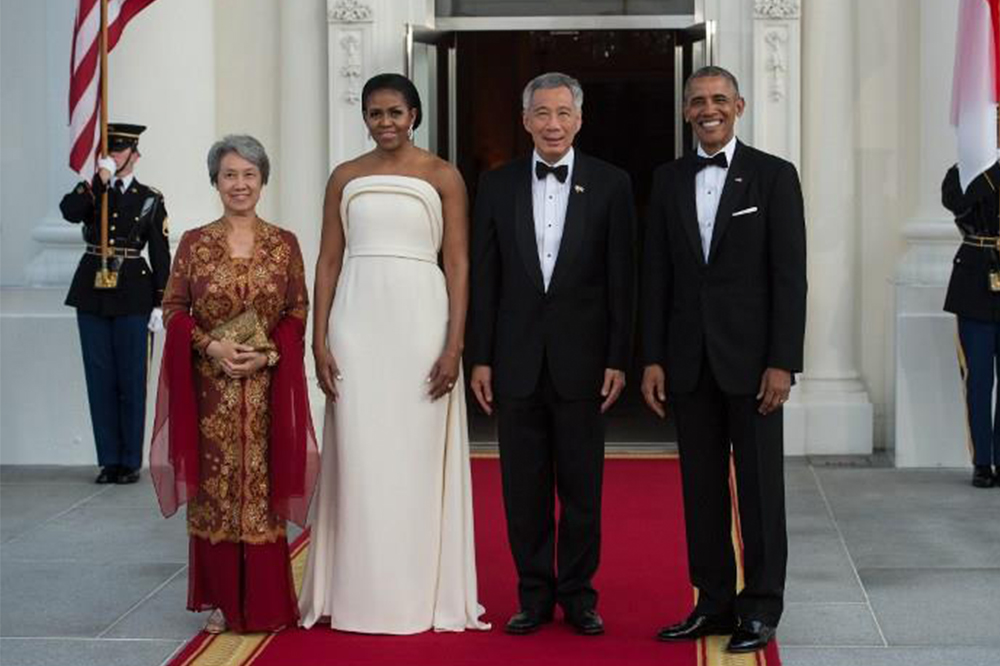 Source
In 2016, PM Lee and Ho Ching were invited to The White House for a State Dinner hosted by ex-President Barack Obama. At this formal dinner, Ho Ching looked lovely in a red and golden Sarong Kebaya with long sashes adorning the sleeves.
Though this isn't a typical formal dress that many of us are used to seeing, Ho Ching managed to serve both classy and elegant looks at the same time. Her matching golden pouch is almost camouflaged to her dress, while her golden heels completes the overall ensemble.
Style points: Despite being in a foreign country, Ho Ching upholds the importance of staying rooted to her culture and isn't afraid to flaunt her traditional style.
3. Stormtrooper arm cast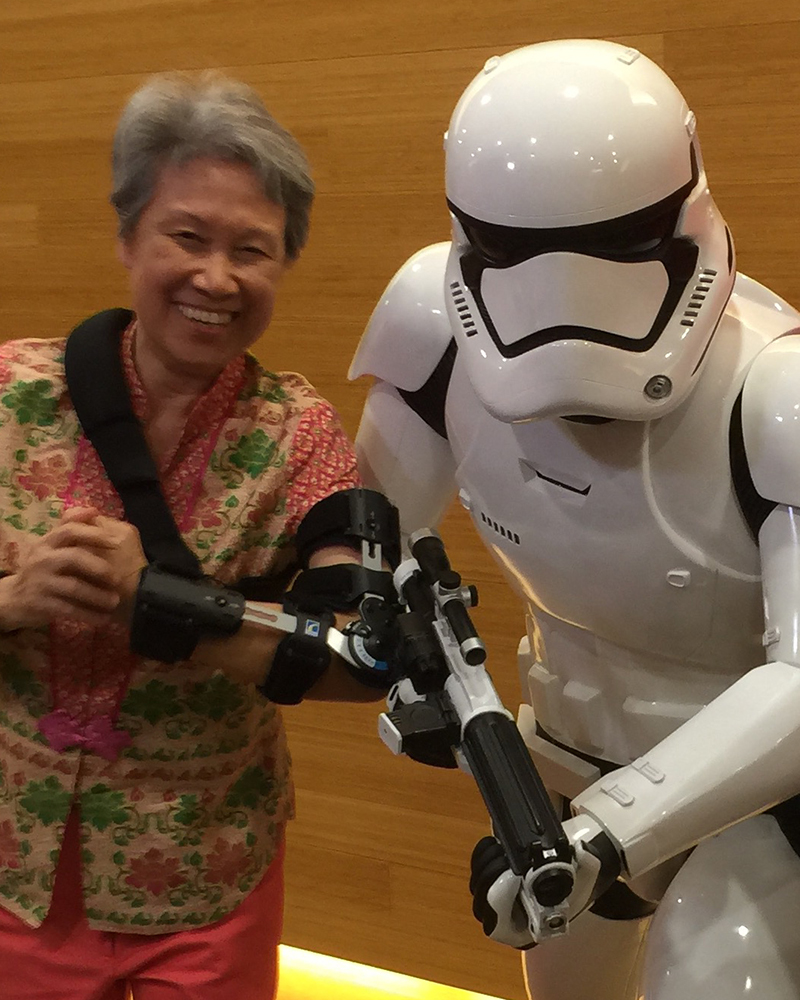 Source
Ho Ching took to her Facebook page to share that she had injured her arm in 2016 while playing on a hoverboard. Despite her mishap, she joked that she was cosplaying as a "one arm trooper" with her arm cast, all while snapping a picture with an armed stormtrooper at Changi Airport.
Her black cast appears more distinct when in contrast with the dull-toned floral prints of her top. It reminds us of the iconic Ah-Ma fashion look in Singapore, aka a matching two-piece floral print set that remains timeless for any occasion.
Style points: Serving fun cyborg vibes and creative innovation, we like how Ho Ching remained positive even when she was in pain. We didn't expect her to be a Star Wars fan either, but this "robotic arm" look tells us that she could even be casted if there's ever a Singaporean version of the show.
2. Bird print top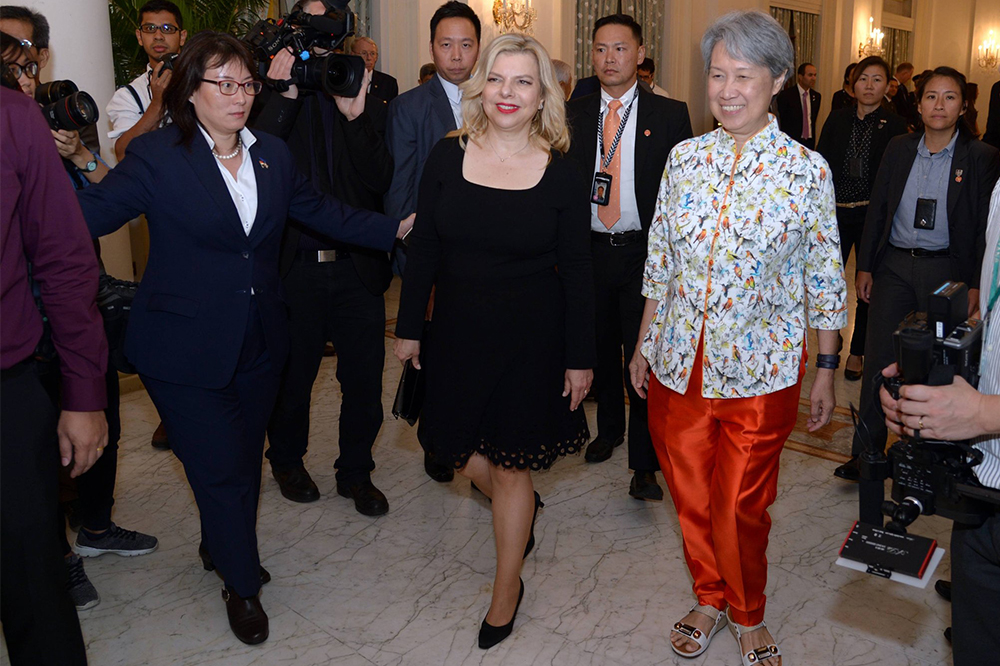 Source
When Israel's Prime Minister Netanyahu and his wife Sara attended dinner at the Presidential Palace in Singapore, Ho Ching stunned us with an unexpectedly quirky top design — bird prints. 
The knot buttons and mandarin collar remain essential for her, while the white-based top is filled with different species of colourful birds. When we say filled, we literally mean there is a species of bird for every inch of fabric here. 
The look is complete with bright red pants and open-toe sandals that surprisingly didn't clash with the bold prints. We just know that bird watchers would love this outfit as much as we do.
Style points: Does anybody else you know own a bird top like this? Probably not. As usual, Ho Ching steals the show with this outfit that takes the nature-inspired look to the next level. 
1. Sarong Kebaya and a dinosaur pouch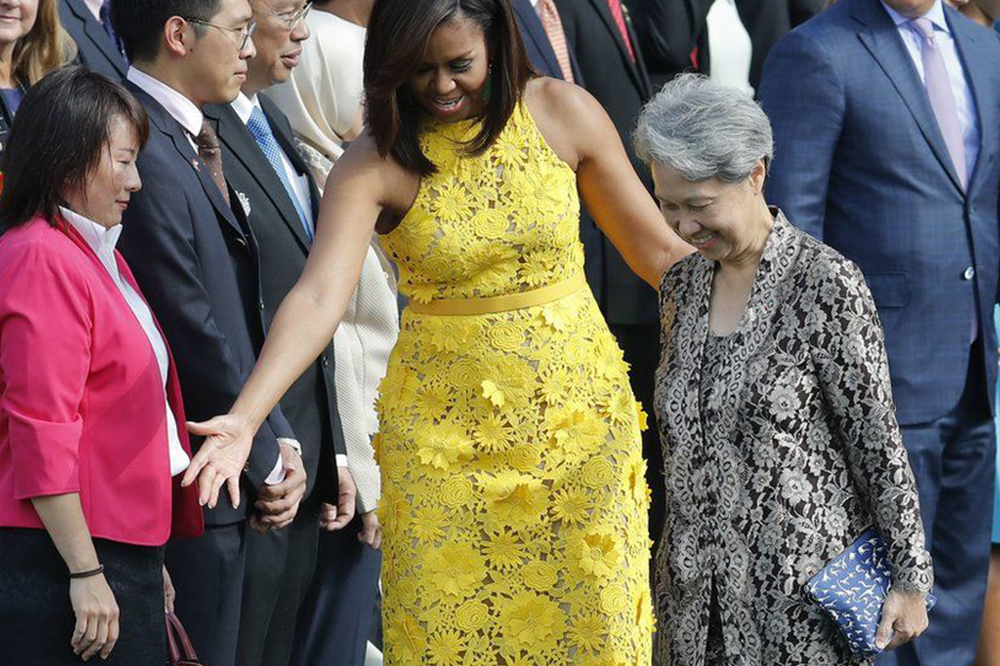 Source
During a state visit to the White House in 2016, Ho Ching wore a monochrome floral Sarong Kebaya to the arrival ceremony. She was also spotted carrying a $14 dinosaur-print blue pouch that stood out against her outfit, but it was initially faced with a lot of criticism online. 
However, after some deep diving on the internet, it was discovered that the pouch was designed by a 19-year-old student from Pathlight, an autism-focused school. 200 of the same dinosaur pouches were sold on The Art Faculty within a day after this information circulated. 
The clashing prints were undeniably a look that can't be easily replicated. Unexpectedly, the dinosaurs also added a soft and friendly touch that made her look more approachable.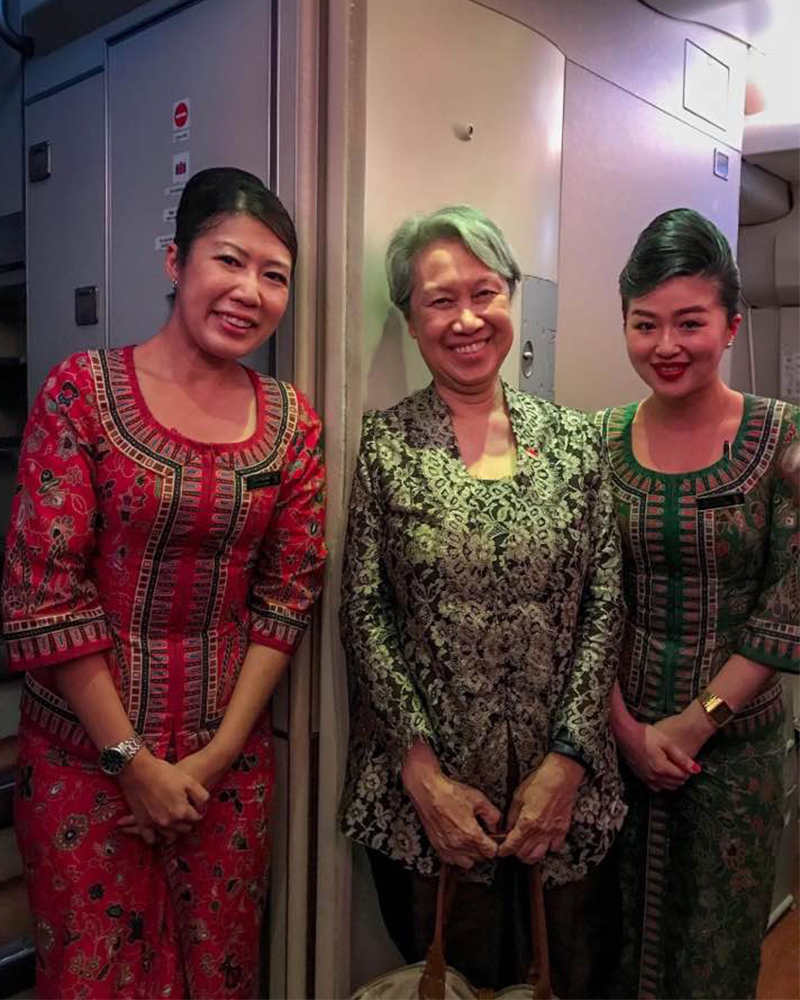 Source
Ho Ching even snapped a photo with the SQ flight crew that wore Kebayas as part of their uniform, appearing like an air stewardess herself. 
Style points: This look blew up on the internet and showed people all around the world that our leaders don't have to spend a bomb on their outfits. It's through Ho Ching's actions like these that prove how she prioritises her care and love for our country.
These Ho Ching Fashion Looks Prove She's A Style Icon On Top Of Being A Leader
From these 9 classic fashion looks from Ho Ching, it's safe to say that her everyday style consists of Sarong Kebayas and eccentric prints — something that we can easily spot from miles away. Not everyone can pull off these looks so flawlessly, so we're looking forward to seeing more of Ho Ching's outstanding OOTDs in the future.
If you've been inspired by these Ho Ching fashion outfits, check out this street style guide on how to style different prints for easy outfit inspiration. 
Also read:
Singapore Street Style: How 14 People In The TSL Office Style Prints For Easy Outfit Inspiration