Jelly Shoes
The unpredictable weather we've been experiencing lately means you might have unexpectedly ruined more than a few pairs of shoes. The latest summer shoe trend, jelly shoes, will help you confidently leave your house without worrying that it will end up pouring. Brands like Celine and Gucci have released atas jelly sandals. Adidas and Crocs, meanwhile, have opted for a modern twist on the childhood favourite, in the form of sneakers and clogs.
Adidas Superstar Jelly Shoes 
It's been a big year for the Adidas Superstar. Everyone from Miuccia Prada to Jonah Hill has put their own spin on the sneaker icon. No worries if you didn't get your hands on the all-white Prada x Adidas Superstar. You can still have some fun with textures with the new Adidas Superstar Jelly Shoes.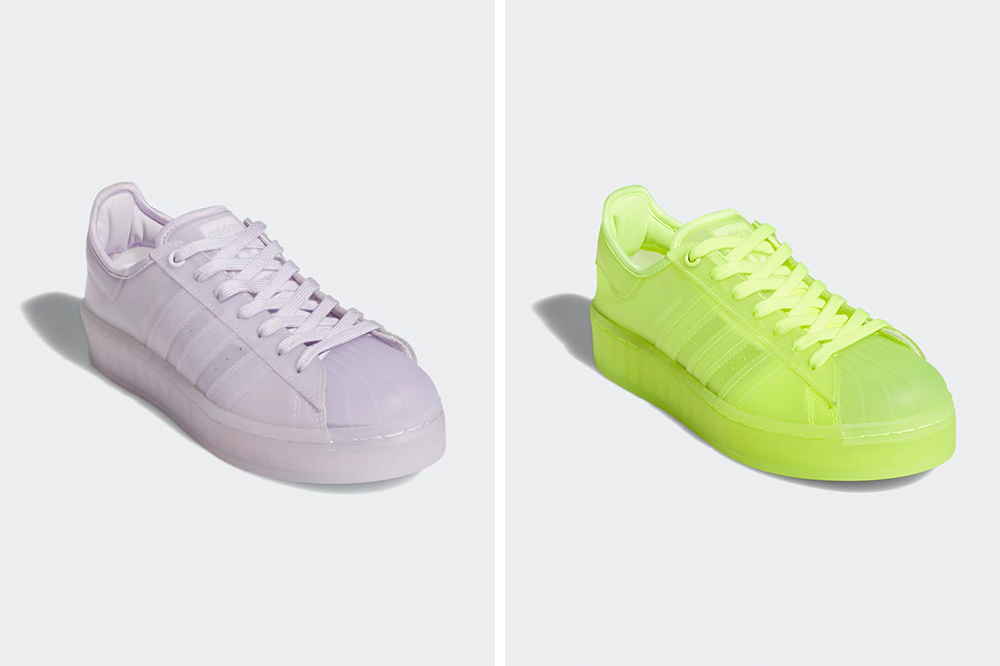 Adidas Superstar Jelly Shoes in Purple Tint (left) and Solar Yellow (right)
Source
There are 4 colours available in total: Purple Tint, Solar Yellow, Vapour Pink and Semi Solar Pink. All of the sneakers are translucent with a sheer matte upper for a frosted effect. This means you can have fun showing off your favourite socks or your bubble tea nails.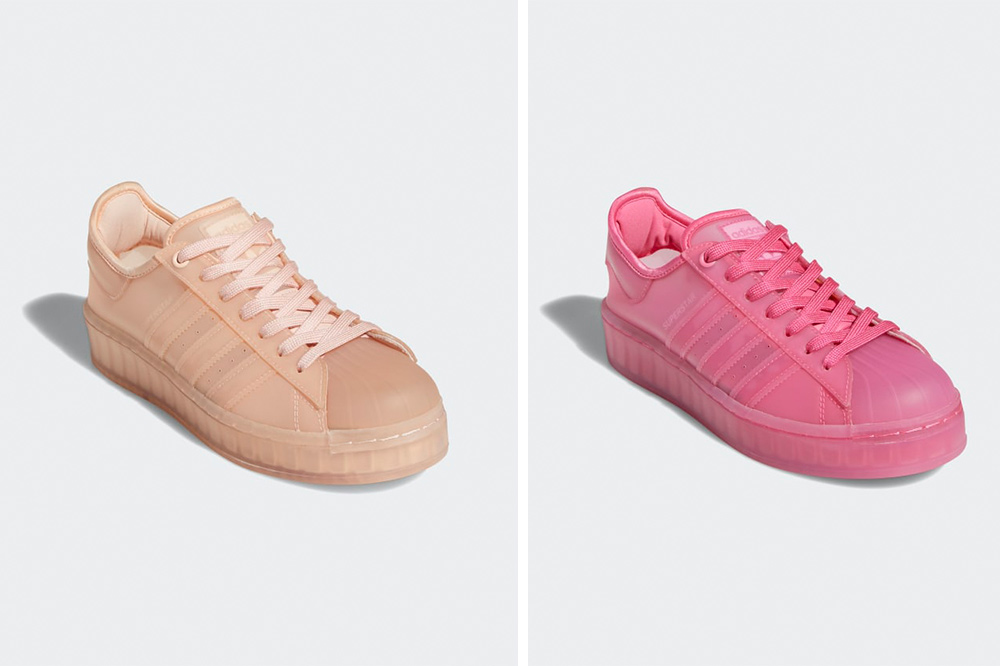 Adidas Superstar Jelly Shoes in Vapour Pink (left) and Semi Solar Pink (right)
Source
The shell-toe sneakers have a chunky rubber outsole, so you won't have to worry even if you accidentally step into a puddle. Reviewers on the Adidas Singapore website also raved about the comfort levels. One customer said, "Really comfortable and soft so nice to walk in and great quality." Another commented that they are "Perfect summer shoes! Nice color and shoes are super comfortable!"
The Adidas Superstar Jelly Shoes are retailing for $180 on Adidas Singapore's website.
Also read:
Adidas and Pokemon Are Back With A New Collection For Aspiring Pokemon Trainers
Casestudy x Crocs 
No stranger to collaborations, Crocs has teamed up with South Korean brand Casestudy on a pair of clogs each for adults and kids.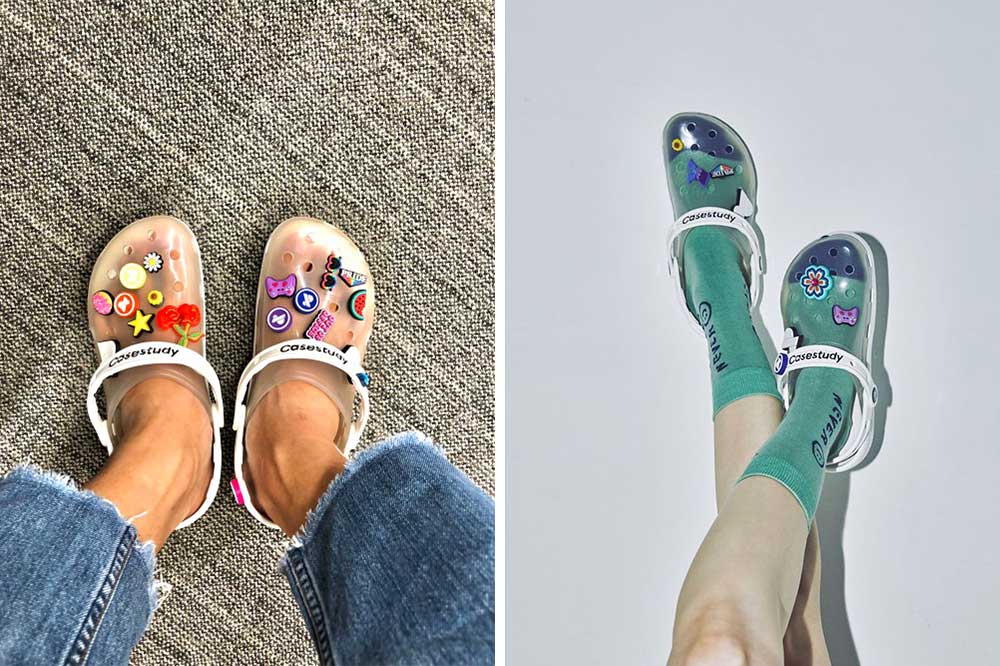 Source, source
The adult clogs have a transparent upper, while the rest of the shoe is in white. The words "Casestudy" are in black on the strap. Again, you can switch up your look with coloured socks or go socks-free to show off your pedi.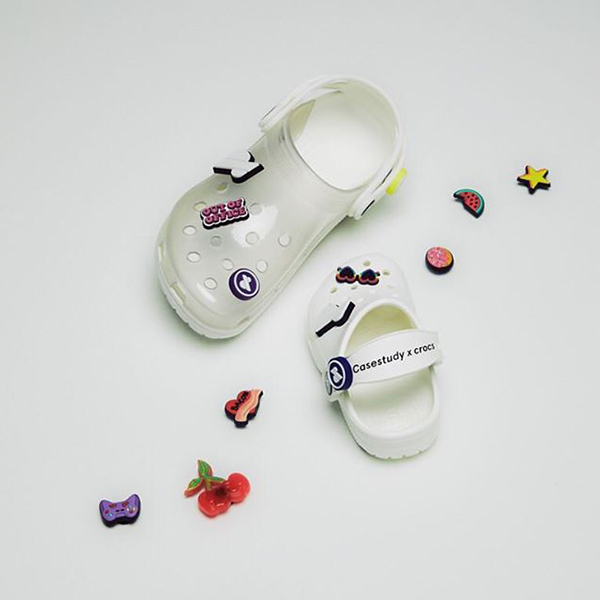 Source
Each pair of clogs comes with 20 Jibbitz charms so you can customise your look to match your outfit. The designs range from cherries and watermelons to the words "Out of office".
The Casestudy x Crocs adult clogs retail for 99,900 won (~$115,45). The kids clogs retail for 79,900 won (~S$92.30). The shoes were launched on 15 July and sold out in a flash. However, you can fill in the form on SIVillage's website to be informed when it is restocked.
Jelly Shoes Are Fun And Practical Too
From Adidas to Gucci, jelly shoes are everywhere this summer. Pick your favourite from the plethora of options out there, and you'll never have to worry about the rain ruining your shoes again.
Also read:
KFC x Crocs Clogs Are A Must-Add To Your Bucket List If You Love Fried Chicken