KrisShop Batik Label
Unless you managed to snag tickets to Singapore Airlines' Restaurant A380 last month, it's probably been a while since you've seen our national carrier's cabin crew at work. Well, for all those missing anything and everything related to being on a plane, KrisShop has just launched Batik Label.
The concept store is inspired by Singapore Airlines' batik motif, most famously seen on the SQ Girl's iconic sarong kebaya uniform. Designed by Parisian fashion designer Pierre Balmain in 1968, the uniform is so recognisable that even Hello Kitty has worn it as a plush toy in the SQ x Hello Kitty set. Now, KrisShop has teamed up with partner brands like Brass Lion Distillery and Collins on a curated selection of items with designs showcasing the batik motif, which is itself inspired by flowers native to Singapore.
Gin
Singapore Airlines and Singapore Tourism Board have partnered with Brass Lion Distillery to create the Singapore Airlines Batik Gin. The 700ml full-bodied gin has notes of pineapple, calamansi and hawthorn berries, which represents Singapore's sunny and tropical side. You could even use this to make your own Singapore Sling at home.
The gin costs $108 or can be exchanged for 13,500 miles.
Reusable cup
For those who would rather sip on a hot cup of coffee or tea, there is the Singapore Airlines Dath Cup by Collins. Not only is carrying a reusable cup to Starbucks for your Christmas drinks environmentally-friendly, the cup itself is eco-friendly too. It is made of sustainably harvested and 100% biodegradable bamboo fibre, so you can get your Toffee Nut Latte fix while still helping the environment.
You can get the cup for $28 or 3,500 miles.
Also read:
KrisShop Has An Exclusive SQ x Hello Kitty Toy Set & More Kawaii Hello Kitty Merch On Offer
Tote bag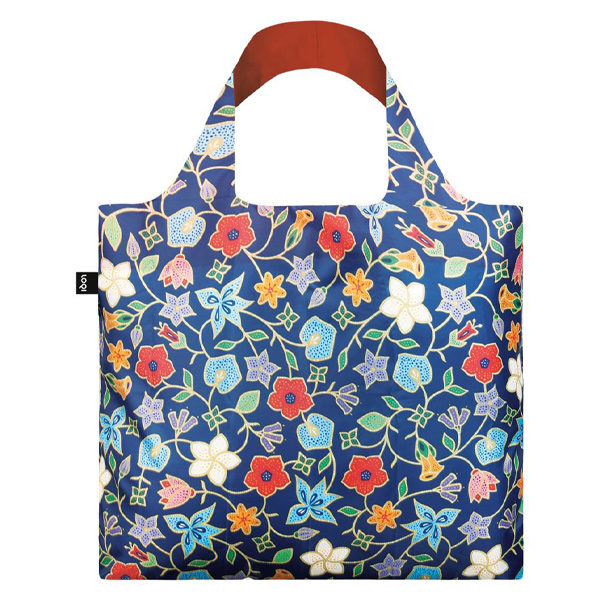 This tote bag designed in partnership with LOQI would go well with your reusable cup. The batik motif is similar to the one seen on the cup and represents Singapore's native flowers. It's water-resistant too, which means you don't need to worry about leaks if your coffee spills on it.
The bag will set you back $22 or 2,750 miles.
Perfume
Besides the iconic blue sarong kebaya, another trademark of the Singapore Girl is the stellar service. To convey the warmth of the Singapore Girl, Singapore Airlines created an EDT perfume that has a soft musky scent with hints of warm patchouli and oakmoss. It also has floral notes like freesia and fruity notes like apricot. 
The Singapore Girl perfume (30ml) is retailing for $75 or can be exchanged for 9,375 miles.
Batik Label By KrisShop Is A Nod To The Singapore Girl's Signature Sarong Kebaya Uniform
You might not be able to board a plane anytime soon, but you can still pay homage to our national carrier with Batik Label. You can find these items and more on KrisShop's website and have them delivered to you or your friends for Christmas.
Also read:
10 Places To Get Nail Stickers In Singapore Including Sushi, Batik & Holographic Nail Designs