Ladies' Night Deals
Singapore is one of the most expensive cities to live in and the nightlife can really suck you dry. But whether you're looking for a place to get crazy or just chill with your favourite girlfriends, you can find the best lobangs if you know where to look.
Below is a list of 16 clubs and bars in Singapore with ladies' night deals where you and your girlies can KIV for your next girls' night out.  
Clubs
1. Cherry Discotheque
Ladies who enjoy partying with old-school hip-hop music should keep their Wednesday nights free ‒ Cherry Discotheque offers free entrance for those who enter the club before 12am. 
While you and your girlfriends soak in the ambience complemented by neon lights and disco balls, treat yourself to a house pour glass for $8 before 12am. Even when the clock strikes midnight, you can still enjoy them at $10 each. 
Address: 133 Cecil Street, Singapore 069535
Contact: 9888 8706  
Opening hours: Wednesdays and Fridays 10pm to 3amㅣSaturdays 10pm to 4am (Closed on Mondays, Tuesdays and Thursdays)
WebsiteㅣFacebookㅣInstagram
2. Prism Singapore
If you thought having a free flow of booze from 10pm to 12am is the highlight of Prism Singapore's ladies' night happening every Wednesday, wait till you find out about this ‒ your drinks get served by hunky butlers. That's not all ‒ Prism Singapore also offers ladies free manicures for the full pampering experience. 
Rest assured that you can also enjoy a girls-only clubbing experience till 11.30pm, since men will only be allowed to enter the club from then onwards. 
P.S.: Ladies get to enter Prism Singapore for free on Wednesdays. 
Address: 6 Raffles Boulevard, #01-04, Singapore 039594
Contact: 8139 9437
Opening hours: Tuesdays and Sundays 6pm to 1am ㅣWednesdays and Fridays 6pm to 3amㅣThursdays 6pm to 9pmㅣSaturdays 6pm to 4am (Closed on Mondays)
Instagram
3. Yang Club Singapore
Designed for ladies by ladies of Yang Club Singapore, Wednesday nights are catered to female club-goers who love to party to a wide array of music genres like hip-hop, R&B, and reggaeton. Ladies get to enter the club for free before 1am, and sip on $10 cocktails all night long. 
Address: 3A River Valley Road, #01-02, Clarke Quay, Singapore 179020
Contact: 9726 0307
Opening hours:  Tuesdays and Thursdays 9.30pm to 3amㅣWednesdays and Fridays 10pm to 3amㅣSaturdays 10pm to 4am (Closed on Sundays and Mondays)
Website | Facebook | Instagram
Bars
4. CÉ LA VI
Raise your glasses on the highest floor of Marina Bay Sands when you jio your friends at Ce La Vi during ladies' night, which is happening every Wednesday. Apart from entering the bar at no cost, you also get to enjoy a complimentary glass of Prosecco at their club lounge from 10pm to 12am. 
What's so amazing about the bar is also the fact that you get to enjoy the stunning Singapore skyline while sipping on your bubbly with awesome music.   
Address: 1 Bayfront Avenue, Marina Bay Sands, Singapore 018971
Contact: 6508 2188
Opening hours: Mondays and Tuesdays 5.30pm to 1amㅣWednesdays and Fridays 5.30pm to 4amㅣThursdays 5.30pm to 3amㅣSaturdays 12pm to 4am ㅣSundays 12pm to 1am
WebsiteㅣFacebookㅣInstagram
5. The Exchange
At The Exchange, you don't even have to exchange any money for one of the best deals around ‒ ladies get a free flow of house pour Prosecco, Rosé, Shiraz, lychee martini, and Sauvignon Blanc on Wednesdays from 6 to 10pm.
Even after 10pm, there is even a steal for those who wish to enjoy a bottle of Prosecco at $45 per bottle, and shooters at $55 for 6 shots. 
Address: 8 Marina View, #01-05 Asia Square Tower 1, Singapore 018960
Contact: 6636 1200
Opening hours: Mondays to Tuesdays 8am to 10pmㅣWednesdays to Fridays 8am to 2am (Closed on Saturdays and Sundays)
WebsiteㅣFacebook
6. Stable at Farrer Horse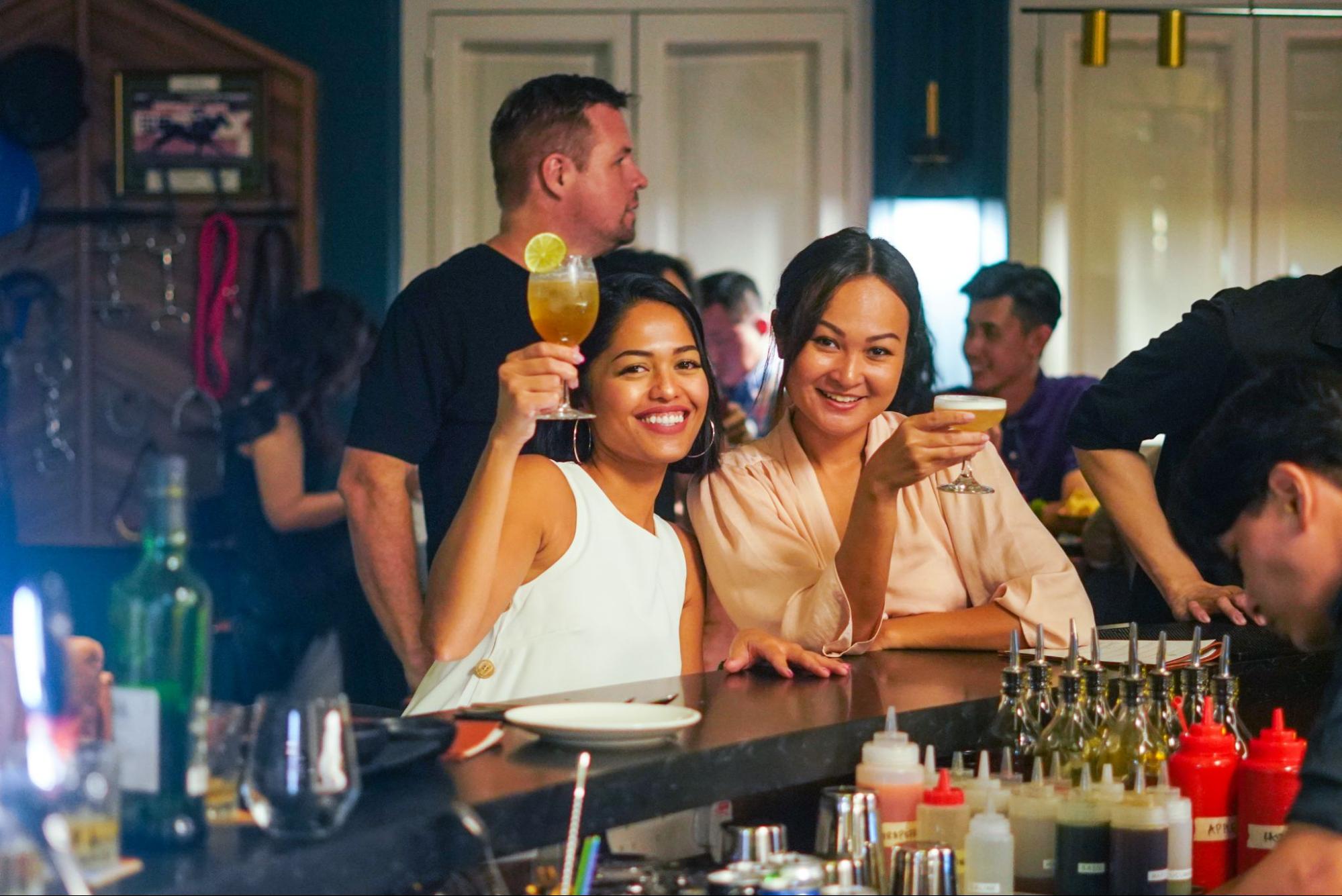 Image courtesy of Farrer Horse
Singaporeans love 1-for-1 deals, and if that includes you, don't miss out on the ladies' night deal at Stable at Farrer Horse. You get to sip on 1-for-1 cocktails all night long from Mondays to Saturdays at $15++. Plus, while groups with ladies will enjoy 20% off their entire bill. 
If that's not impressive enough, Stable also offers Happy Hour promotions every Tuesday to Sunday, from 12pm to 7pm. A refreshing pint of Guinness and Heineken costs $10 each, and a bucket of 5 at $35. No worries if you're not a fan of beer ‒ selected spirits are also available at $12. 
Address: 101 Jalan Sultan, #01-02 and #02-00, Singapore 199002
Contact:  8139 8109
Opening hours: Mondays to Tuesdays 4pm to 10.30pmㅣWednesdays to Saturdays 4pm to 12amㅣClosed on Sundays
WebsiteㅣFacebookㅣInstagram
7. Las Palmas
Perched on top of Courtyard by Marriott Singapore Novena is Las Palmas, a rooftop bar with an unblocked view of Singapore's city skyline. Their pink-themed interior takes inspiration from Palm Springs and downtown LA, so you get to snap IG-worthy photos with your girlies. 
Groups with ladies can enjoy their Women-Out Wednesday promotion ‒ perks include 10% off total drinks bills for groups with one lady, 20% off with two ladies, 30% off with three ladies, and up to 40% off with four ladies.   
Address: 99 Irrawaddy Road, Singapore 329568
Contact: 6250 0303
Opening hours: Tuesdays to Fridays 5pm to 1amㅣSaturdays to Sundays 11am to 1am (Closed on Mondays)
WebsiteㅣFacebookㅣInstagram
8. Publico Ristorante
Reward yourself for making it through half of the week by heading down to Publico Ristorante. For $42 per pax, you get to indulge in a free flow of drinks such as Prosecco and spritz from 6pm to 9pm during their ladies' night promotion every Wednesday. 
Not only will you get to groove to live beats by a different DJ every week, but you'll also get to pair your drinks with delectable munchies like truffle fries and charred broccolini.   
Address: 1 Nanson Road, Singapore 238909
Contact: 6826 5040
Opening hours: Mondays to Saturdays 12pm to 11pmㅣSundays 12pm to 10pm
WebsiteㅣFacebookㅣInstagram
Also read: 
18 Bars In Singapore With Alfresco Seating For Extra Chill Vibes On Your Date With Bae
9. The Spot Singapore
Make The Spot Singapore your go-to bar when you crave alcohol and oysters. Ladies get to enjoy a free flow of wine, bubbles, house martini, spritz, and a four-flavoured oysters flight for $48 every Wednesday. No worries if you're planning to slurp on more oysters ‒ order half a dozen oysters at an additional $28, and $48 for a dozen. 
Since The Spot Singapore is also located within the CBD, the location makes it easy for an impromptu girls' night out after work. 
Address: 5 Straits View, #01-26/27 Marina One East Tower, Singapore 018935
Contact: 6284 2637
Opening hours: Mondays to Saturdays 11.30am to 10.30pm
WebsiteㅣFacebookㅣInstagram
10. Lavo Singapore
If sipping on a free flow of Prosecco sounds like your kind of ladies' night, head over to LAVO Singapore which is located on the highest floor of Marina Bay Sands. All you have to do is purchase an entree for $38, and you'll be set for the evening with unlimited Prosecco. 
Be sure to also take in the 180-degree view of the city while dancing alongside a fully equipped DJ booth situated in the heart of the restaurant. 
Address: 10 Bayfront Avenue, Singapore 018956
Contact: 6688 8591
Opening hours: Mondays to Saturdays 11am to 12amㅣSundays 12pm to 12am
WebsiteㅣFacebookㅣInstagram
11. Ginett Singapore
Here's your chance to say ooh la la when you experience a slice of French cuisine at Ginett Singapore, a bistro-style French restaurant. From imported delicacies like French oysters to AOC-certified cheese, Ginett Singapore has what you need to make your girls' night out memorable. 
Chances are, you'll find their Tuesday nights packed with ladies since they get to drink for free. For every group of 4 ladies, you'll also receive a bottle of bubbly or Rosé on the house. 
Address: 200 Middle Road, Singapore 188980
Contact: 6809 7989
Opening hours: Tuesdays to Sundays 12pm to 12am (Closed on Mondays)
WebsiteㅣFacebookㅣInstagram
12. Nassim Hill Bakery Bistro Bar
Sure, you've heard of bottomless brunch. But bottomless Prosecco? Enter Nassim Hill Bakery Bistro, an American restaurant which treats ladies every Wednesday and Thursday to a free flow of Prosecco with a minimum spend of $40 on food and drinks. 
Rest assured that the gents won't experience FOMO since the restaurant also has 1-for-1 beer on tap from 9am to 9pm every day. 
Address: 56 Tanglin Road, #01-03, Singapore 247964
Contact: 9099 6405
Opening hours: Tuesdays to Sundays 8am to 10pm (Closed on Mondays)
WebsiteㅣFacebookㅣInstagram
13. Cook and Brew Singapore
Dive into party mode when you visit Cook and Brew Singapore during their ladies' night which happens every Thursday from 3pm to 10.30pm. 
Ladies get to choose from a selection of refreshing cocktails at $10 each while grooving to upbeat tunes played by a live DJ set. Since the bar is also located on the 33rd storey, be sure to take in the breathtaking view of the Marina Bay area. 
Address: The Westin Singapore, 12 Marina View Asia Square Tower 2, Level 33, Singapore 018961
Contact: 6922 6948
Opening hours: Mondays to Sundays 11.30am to 10.30pm
WebsiteㅣFacebookㅣInstagram
14. Taan Iza-Bar
Experience the different flavours of Asian grilled skewers like Korean, Japanese, and Chinese under one seating at Taan Iza-Bar. With more than 50 types of skewers to choose from, diners with every group of four ladies will also be presented with a complimentary bottle of wine every Wednesday from 6pm to 10pm. 
Inspired by Japanese Izakaya taverns, Taan Iza-Bar aims to create a homely ambience for friends and family to bond over good food and drinks. 
Address: #01-03/04, Liang Seah Place, 1 Liang Seah Street, Singapore 189022
Contact: 6837 0085
Opening hours: Mondays to Sundays 4.30pm to 1.30am
WebsiteㅣFacebookㅣInstagram
15. Prego
Foodies who are exploring the Italian dining scene in Singapore can visit Prego, an Italian restaurant located in the vicinity of City Hall MRT. Happening every Wednesday, their ladies' night promotion treats female customers to a 1-for-1 promotion for drinks like champagne, Prosecco, and wine. 
Be sure to also pair your booze with their signature dishes like Pizza Fruitti di Mare and Traditional Parma & Mozzarella Cheese Board for sharing. 
Address: 80 Bras Basah Road, Singapore 189560
Contact: 6431 6156
Opening hours: Mondays to Sundays 5pm to 10.30pm (dinner seating)
WebsiteㅣFacebookㅣInstagram
16. Stickies
Not every bar in Singapore is equipped with games like PS4, darts, and pools, but you can be sure to find them in Stickies. Since the bar also has a free flow of cocktails from 7pm to 9pm for ladies every Wednesday at $38 per pax, you get to amp up the fun with both games and booze. 
Note that their ladies' night offer is only available at the Stickies Clemenceau outlet. 
Address: 178 Clemenceau Ave, #B1-00 Haw Par Glass Tower, Singapore 239926
Contact: 6970 0380
Opening hours: Sundays to Tuesdays 3pm to 2amㅣWednesdays to Saturdays 3pm to 3am
WebsiteㅣFacebookㅣInstagram
Tap On These Ladies' Night Deals That Won't Break Your Bank 
The next time you jio your girlfriends for a girls' night out, this list of ladies' night deals will definitely come in handy. Since most of these places recommend making a reservation before heading down, make sure to book a table to avoid disappointment. 
This article was originally published by Vanessa Lim on 22 February 2017 and updated by Jou Teng Tan on 22 March 2023.
Cover: Source, Image courtesy of Stable
Also read: 
10 Nightclubs In Singapore Other Than Zouk, Including Those With Free Entry & Themed Nights