Park So Dam Facts
Even if you're not familiar with the name Park So Dam for now, you've definitely heard of a little film she acted in called Parasite. She is now back in the limelight, starring alongside Park Bo Gum in Record of Youth on Netflix. Here are 20 facts for those who are curious about the Parasite star, who looks set to be a household name. 
1. Is the first-born child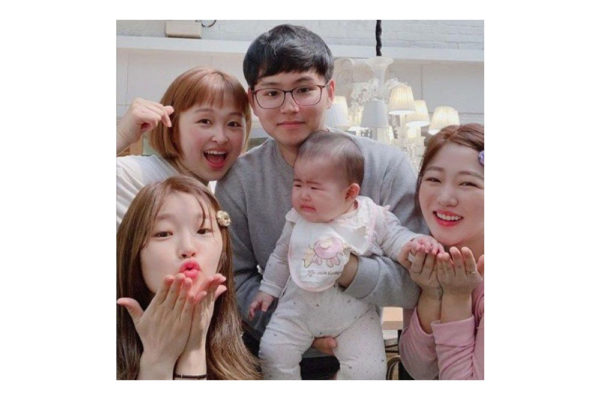 Source
Park So Dam was born on 8 September 1991 in South Korea. 
Unlike on Parasite, where she plays the younger daughter, she is the oldest of 3 children in real life. She has a younger sister and brother, with her brother being the youngest of the 3. 
2. Wanted to become an actress after watching Grease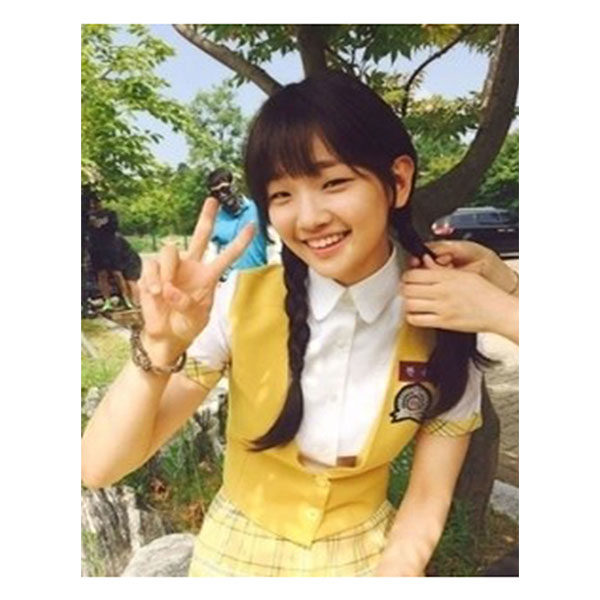 Source
When Park So Dam was a freshman in high school, she watched the musical, Grease. The jubilant looks on the casts' faces were etched in her mind. From then on, she aspired to be an actress. 
In an interview with W magazine, she shared that even though she started acting because she wanted to be a musical actress, ironically, she has not acted in any musicals yet. 
And in case you're wondering what her favourite song from Grease is, it's Summer Lovin'. 
3. Her parents objected to her pursuing an acting career 
Park So Dam's parents were initially unsupportive of her career choice as they were worried of the possible difficulties that she might encounter as an actress. They eventually gave in and she enrolled in the Korea National University of Arts to chase her dreams.
"After they saw me coming home at night, exhausted, but happy, then they became more supportive, because they wanted me to be happy," Park So Dam told Forbes. 
The support she received from her family served as the actress' "biggest motivation".
4. Was schoolmates with Kim Go Eun
Source
Fun fact: Park So Dam was schoolmates with Kim Go Eun from The King: Eternal Monarch. The 2 actresses are the same age and attended the same university. 
Although they were both from the same school and are in the same industry, Park So Dam has never seen Kim Go Eun as her rival. 
When asked by Dramabeans about often being compared to Kim Go Eun and another famous schoolmate, Lee Yoo Young, Park So Dam said, "We don't engage in that type of psychological battle. Even during school, we were classmates and competitors. But the moment I start thinking of them as rivals, I will fall. I don't think it's a good line of thought. We should be friends that support each other." 
5. Her eyes are her favourite facial feature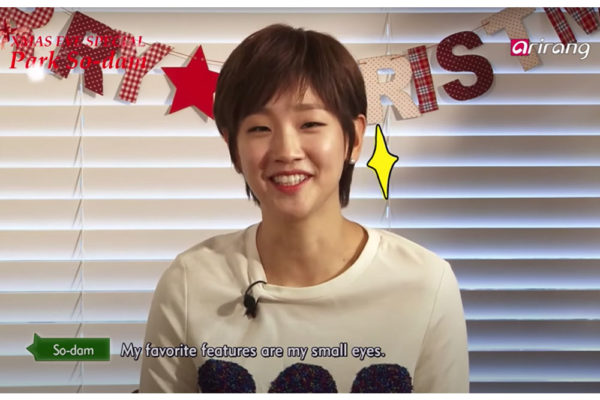 Source
Besides their alma mater, Park So Dam and Kim Go Eun often draw comparisons for another reason: their monolids. 
When asked about her favourite facial feature on Showbiz Korea, Park So Dam revealed that they're her eyes. She explained, "You can't get them through plastic surgery and no one can imitate them.  I want to tell a lot of stories through my small eyes."
6. Loves to sing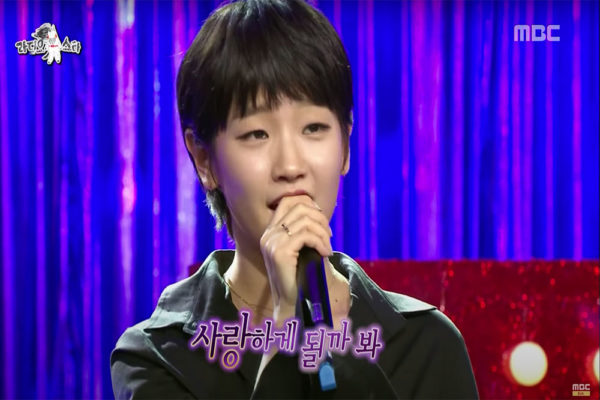 Source
Park So Dam has enjoyed singing since young. Her ability to sing is well-known, and the actress is often asked to showcase her singing in interviews or on variety shows. You can watch her sing a Christmas carol on Showbiz Korea or listen to her singing to If You Come Back on Radio Star. 
In her interview with W Magazine, the actress also shared that her go-to karaoke song is Lee Sun Hee's Fate and sang a snippet of the song.
7. Being an actress has not been a bed of roses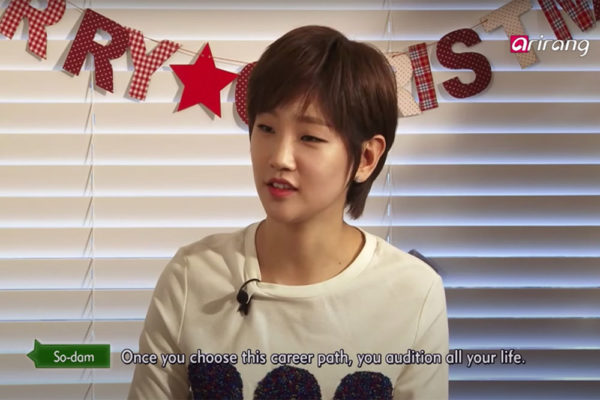 Source
Speaking to Showbiz Korea, Park So Dam revealed that choosing acting means having to "audition all your life". She added that it's a career where she is constantly being evaluated by people. 
Park So Dam started her career by acting in a total of 8 indie films from 2013 to 2015, earning her the nickname 'Jewel of Indie Films'. 
Source
In 2015, she received critical acclaim for her roles in successful movies including Veteran, The Silenced, The Throne and The Priests. She received multiple award nominations and was described as one of the rising stars of Korean cinema.
However, she then went on to experience a slump in her career. 
Source
In 2016, she landed the female lead role in the K-drama, Beautiful Mind. Due to low ratings (4%), the broadcasting station cut the series from 16 to 14 episodes. 
During that time, Park So Dam took a break to figure out her career and path. While on that break, Bong Joon Ho contacted her to audition for the role of Ki Jung in Parasite. She was so surprised, she thought the director had gotten in touch with the wrong person. 
8. Admired Bong Joon Ho even before starring in Parasite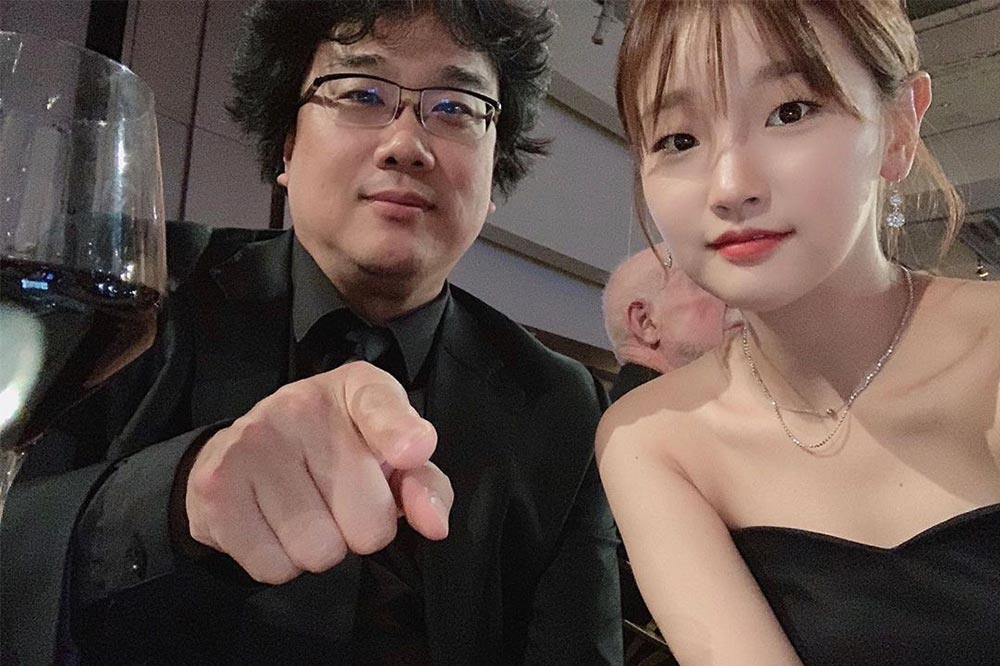 Source
While Bong Joon Ho is now recognised around the world, the well-respected director has long been a household name in South Korea.
Before starring in Parasite, Park So Dam was already familiar with Bong Joon Ho's films. Her favourite work of his is Memories of Murder (2003). In fact, she told W magazine that she was too scared to watch the thriller film properly when she was younger, and finally managed to rewatch it recently.
9. Related to her character in Parasite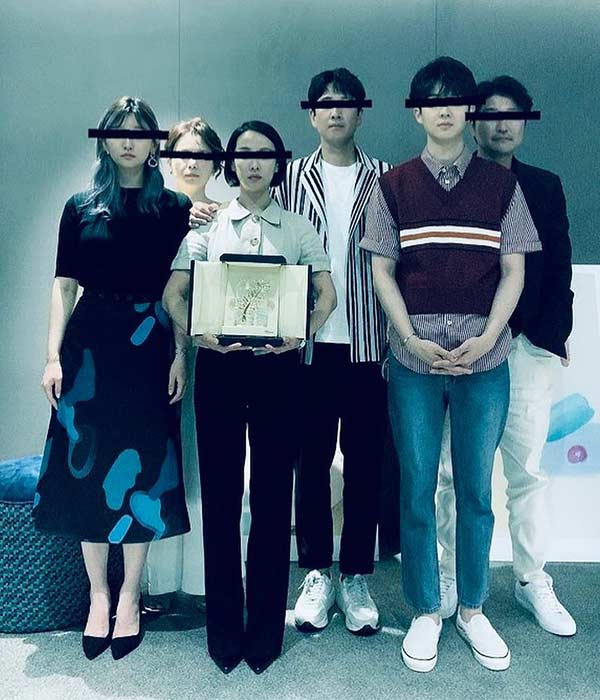 Source
According to Park So Dam, embodying her character Ki Jung felt natural right from the start. 
"In Parasite, my character is the second child, but she's really the eldest. Since I was young, I had to look after my own younger siblings, so the role wasn't very difficult for me. Her spunky energy and sense of reality are also similar to me, so I had a fun time acting," the actress said.
She also mentioned on Collider Interviews that when she first read the scenarios in Parasite, she felt as if her lines had been written by her and she didn't really have to memorise every single line. 
10. Has won multiple awards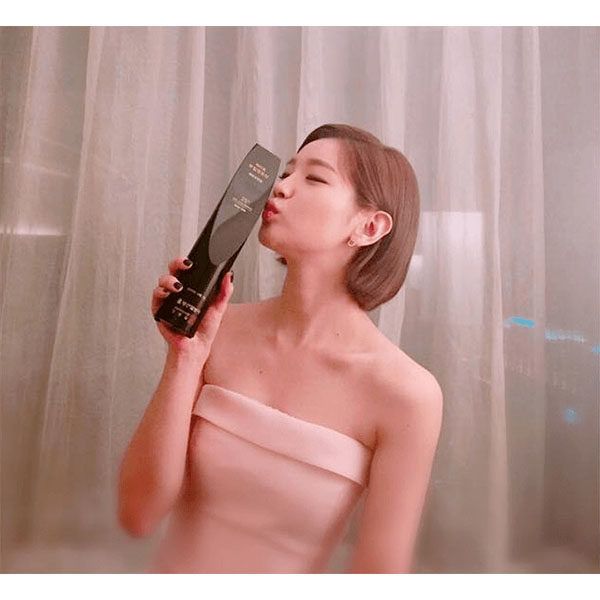 Source
The 29-year-old actress has won multiple awards across her career. In 2016, she was awarded Best New Actress in Film for The Priests at the Baeksang Arts Awards, often referred to as the South Korean Oscars.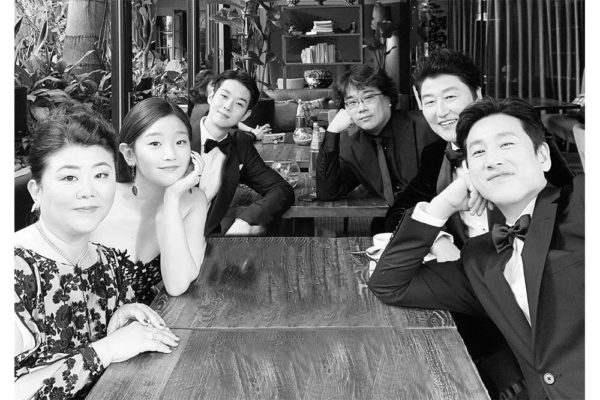 Source
Of course, we can't leave out the historic accolades she's won as part of Parasite. The cast clinched the Screen Actors Guild Award for Outstanding Performance by an Ensemble Cast in a Motion Picture in 2020; the first time a foreign language film had won the category in the awards' 26-year history.
Also read:
20 Choi Woo Shik Facts Including His BFFs, Acting Career & Being Ostracised In School For Fans Of The Parasite Star
11. Was star-struck when she met Charlize Theron
Source
Have you ever wondered if celebrities get star-struck too? Apparently, Park So Dam does. She was star-struck when she realised Charlize Theron was standing in line behind her as they queued to be photographed at the Governors Award. The Governors Award is an annual award ceremony organised by the Academy of Motion, Pictures, Arts and Sciences to recognise talents in the movie industry. 
Charlize Theron had gone bald for her role in Mad Max. Park So Dam looked to her as a source of motivation and encouragement when she too had to shave her head for The Priests, something that she had initially dreaded.
Park So Dam described her encounter with Charlize as nerve-racking, elaborating on how she felt as though she was not there even though there were photographers in front of her taking her picture. So yes, our favourite celebs do get nervous in front of their idols too.
12. Finds warm-hearted people attractive
Source
If you are curious about Park So Dam's ideal type, her interview with Showbiz Korea might shed some light on the topic. The actress was asked to choose between 4 former co-stars: Kim Yun Seok, Kang Dong Won, Yoo Ah In and Song Kang Ho. 
She chose Kim Yun Seok, explaining that he appears intimidating and charismatic, but is in fact considerate and has a warm heart. She went on to elaborate that she finds these traits very attractive. 
13. Has a pet dog
Source
The actress has a pet dog named Bong Sook, or "Sook" for short. The actress often shares pictures and videos of her and her doggo both out and about, as well as at home.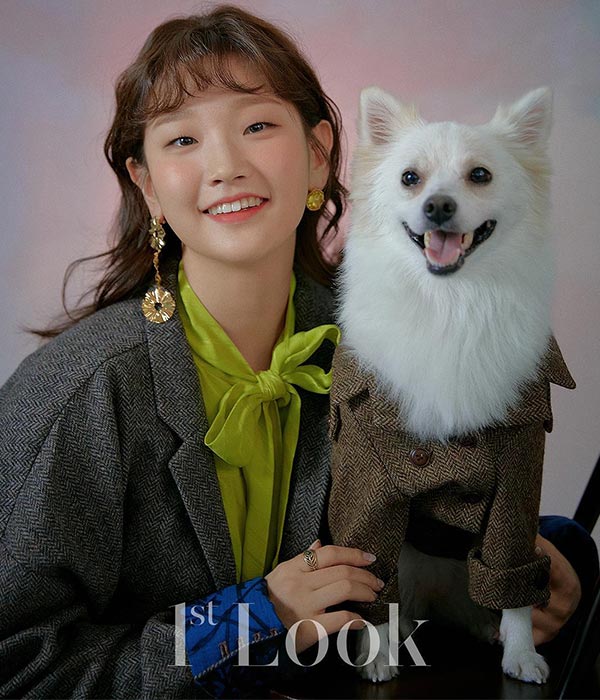 Source 
The pair have even posed for a photoshoot together wearing matching clothes. They appeared in 1st Look magazine, along with EXO's D.O. and his dog. Park So Dam and D.O. were both voicing characters in the animated movie, The Underdog (2019).
14. Is friends with APink's Son Naeun
Source
Park So Dam and APink's Son Naeun first met when they were co-stars in the television drama, Cinderella and the 4 Knights (2016). The pair remain close to this day, with Park So Dam attending Apink's concert earlier this year. The actress posted what seems to be a backstage selfie of them on her Instagram. 
Soon, they will be reuniting on the upcoming travel-themed variety show, Emotional Camping. The duo will embark on a 2-day-1-night trip, which means we can see more of their cute friendship on-screen. 
15. Grew up with her grandmother in the countryside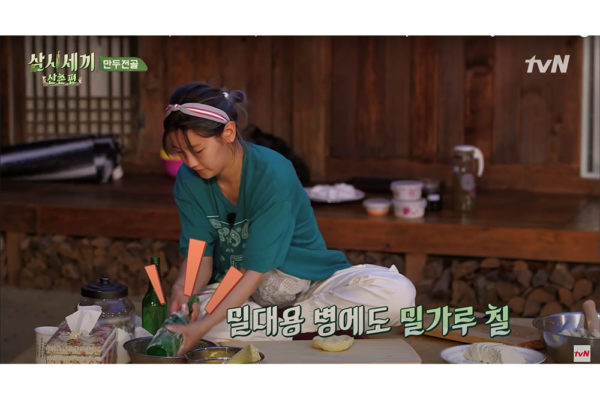 Three Meals A Day – Mountain Village is a South Korean variety show that aired in 2019. It followed an all-female cast, including Park So Dam, to a home in the mountains of Gangwon province. 
Park So Dam mentioned that she was interested in appearing on the show because of her childhood memories. "I grew up with my grandmother in Gangwon Province, which left me with wonderful memories, so I was really attracted to this show when it was first suggested," she said.
During the course of the show, the cast had to cook their own 3 meals by collecting and searching for food in their surroundings. Upon receiving compliments from the other members for the dumpling skin she'd made, the Parasite star revealed that she'd made a lot of dumpling skin and knife-cut noodles with her grandmother. 
16. Reunited with Park Seo Joon on Three Meals A Day – Mountain Village…and soon again on Record of Youth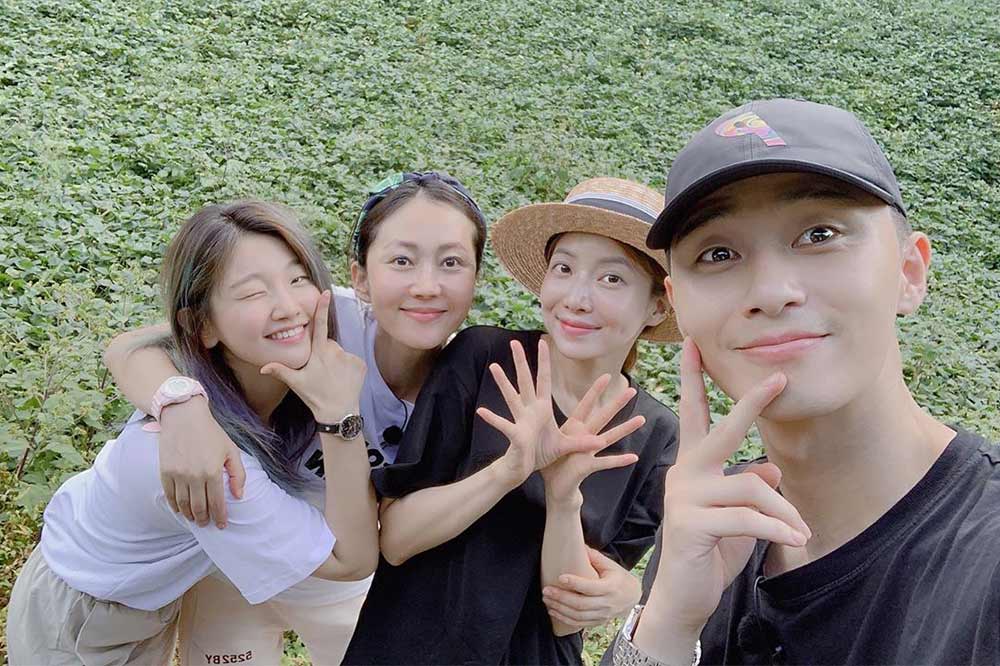 Source
If you have watched Parasite, you would have seen Park So Dam as Ki Jung and Park Seo Joon's cameo as her brother Ki Woo's (Choi Woo Shik) friend, Min Hyuk. Park Seo Joon was also a guest when Park So Dam was on Three Meals A Day – Mountain Village. The pair greeted each other warmly by their Parasite character names. 
The 2 actors might soon appear on-screen for the third time. It's been reported that Park Seo Joon will be making a special appearance in Park So Dam's latest drama, Record of Youth, which is currently streaming on Netflix. We can't wait to find out if they'll be acting in a scene together.
17. Record of Youth is her first television drama after 4 years 
Record of Youth is Park So Dam's first television series after a string of movies. Her last K-drama was Cinderella and the 4 Knights, back in 2016.
Record of Youth revolves around the lives of youths who are chasing after their goals to achieve their own ideas of success. Park So Dam plays Ahn Jeong Ha, an aspiring makeup artist. Park Bo Gum, plays Sa Hye Jun, a former top model who is chasing after his dream of becoming an actor. Byun Woo Seok completes the main cast as Won Hae Hyo, Sa Hye Jun's best friend and a sought-after actor with a privileged background. 
18. Is different from her character in Record of Youth
Source
Her character in Record of Youth, Ahn Jeong Ha, seeks stability and finds comfort in a stable life. However, Park So Dam shared with TIME magazine that rather than fearing change, she is more inclined to challenge herself with new experiences. 
She also expressed that there is no limit to the projects that she would take up as she is open to different genres and acting platforms such as movies, television dramas and plays. 
19. Contentment is success to her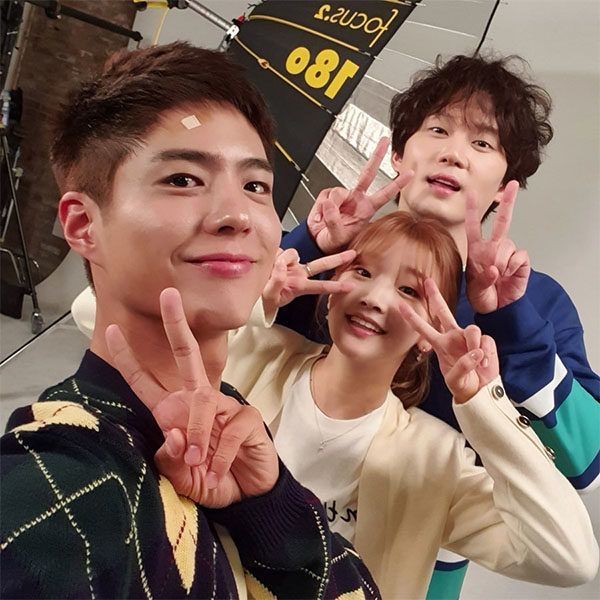 Source
In Record of Youth, each character has their own idea of success. So what is success to Park So Dam?
"I believe anyone who knows what they want to do, enjoys it, and does it consistently is a successful person," she told TIME. 
20. Has an upcoming movie, Special Cargo
Record of Youth is not the only 2020 project that Park So Dam has in store for her fans. Her upcoming movie, Special Cargo, is said to be released on 31 December 2020. 
Remember the young boy in Parasite, Da-song? He will be reunited with 'Jessica' in this crime action movie about the events that unfold after a skilful driver (Park So Dam) who can deliver anything valuable puts a child (Jung Hyeon Jun) in her car. 
Park So Dam Is So Dam Cute
The Parasite actress is not just talented, she also inspires us with her strong and determined attitude. She overcame her career slump, persevered with her craft and ultimately came out on top. If you're having a tough time in life now, don't give up and keep chasing after your dreams, just like Park So Dam did. 
Cover: Source
Also read:
20 Park Bo Gum Facts Including His Bankruptcy, Upcoming Military Service & New Netflix Drama Record Of Youth