Poh Heng Freestyle Diamond 
From Silicon Valley techpreneurs to K-drama oppas and leading ladies, there's no denying that millennials have a minimalist approach to dressing. Think: neutral colours, clean lines and timeless silhouettes. This pared-back philosophy extends to accessorising too, with most women opting for nothing other than a pair of stud or hoop earrings. The truth is, like a blank canvas, a minimalist wardrobe is the perfect backdrop for you to flaunt your creativity. Enter: Poh Heng Freestyle Diamond collection.
Inspired by geometric motifs that play with shapes and textures, its latest series showcases the baguette cut diamond in 18K white gold. The resulting necklaces, bracelets, earrings and rings allow you to stay true to your less-is-more aesthetic, without sacrificing on style and expressiveness. 
Here's a guide on how to mix and match your accessories for any occasion, so you can create a look that is uniquely yours and give your OOTDs a glow up.
For the workplace
Clockwise from right: Freestyle Baguette Hoop Earrings, $1,200; Single Baguette Bracelets, $600
each; Wave Bracelet, $1,000; Classic Ring, $700; Crossover Ring, $900; Wishbone Ring, $500
A classic white shirt is a must-have in every minimalist millennial's work wardrobe. But how do you stand out amidst a sea of white shirts? By pairing yours with a selection of dainty accessories in a matching colourway, of course.  
Hardcore minimalists can opt for simple yet sophisticated designs such as a bracelet with interspersed diamonds. If you're open to switching things up, pick a design with baguette diamonds arranged in a Tetris-like manner. Stack your chosen bracelets on your wrist and ta-dah! You've customised a look that's all your own. 
Add to the layered aesthetic with rings on every finger, before finishing off with a pair of diamond-studded hoop earrings to unleash your inner girl boss. 
For a fancy dinner
From top: Freestyle Baguette Sparkle Earrings, $600; Incline Ring, $800; Crossover Ring, $900;
Wave Necklace, $1,600; Single Baguette Bracelet, $600; Wave Bracelet, $1,000
Say you're headed to a romantic restaurant for a fancy date night. You already know exactly what to wear: an off-shoulder red dress inspired by Park Min Young's character in What's Wrong With Secretary Kim. 
Up the wow factor by offsetting a bare neckline with layered necklaces. The trick to pulling off the look is to pair a simple thin necklace with another that has a more eye-catching design for the perfect contrast. Style the necklaces with matching bracelets, rings and earrings to make a statement without veering into OTT territory. 
Even if you are missing Park Seo Joon by your side, you'll still be well on your way to becoming the star of your own rom-com. 
For a first date
From top: Freestyle Baguette Wishbone Ring, $500; Drop Necklace, $1,500;
Wave Necklace, $1,600; Bar Bracelet, $1,700
If there's one thing more synonymous with millennials than avocado toast, millennial pink would be it. Combine the two at your next first date at a cafe or restaurant by extending the colour palette to your outfit, while keeping to a sleek and simple silhouette. A pastel pink slip dress, for example, is the ultimate lovechild of '90s minimalism and the modern-day millennial aesthetic.
Complement the sweet yet sultry look with a selection of classic fine jewellery. Diamond necklaces, slender bracelets and dainty rings stacked on alternate fingers will ensure you make a striking first impression. 
After all, in the immortal words of Rihanna, you deserve to shine bright like a diamond.
For brunch with the girls
From top: Freestyle Baguette Wave Earrings, $1,100;
Hoop Earrings, $1,200; Drop Necklace, $1,500
You might not be able to go cafe-hopping in cities like Bangkok and Seoul for the time being, but thankfully, there's a slew of new cafes to check out right here in Singapore. Welcome the weekend with a bright knitted top and a pair of denim jeans to give off an insouciant French girl vibe. 
Spice up your outfit with 2 necklaces of varying lengths: a longer necklace with a few diamonds and a shorter necklace with a diamond drop pendant. A diamond ring, along with diamond hoop earrings or studs cap off the look. 
You know what they say, diamonds are a girl's best friend. So what better occasion to rock your diamond pieces than when with your actual besties? 
Express Your Own Unique Style With Poh Heng's Freestyle Diamond Collection
From Suzy's character in the ongoing Netflix series Start-Up to Song Hye Kyo's character in the classic K-drama Descendants of the Sun, we've seen how accessories can be used to accentuate a minimalist outfit. Be it dangling diamond earrings or silver diamond necklaces, their jewellery embodied their characters' creative spirit and innate style. 
Baguette diamonds are complemented by delicate 18K white gold chains
in the Poh Heng Freestyle Diamond collection 
Put your own creative skills to the test with Poh Heng's Freestyle Diamond collection. Its new series introduces baguette cut diamonds in 18k white gold to the existing line-up of 22k gold jewellery in the Poh Heng Freestyle collection.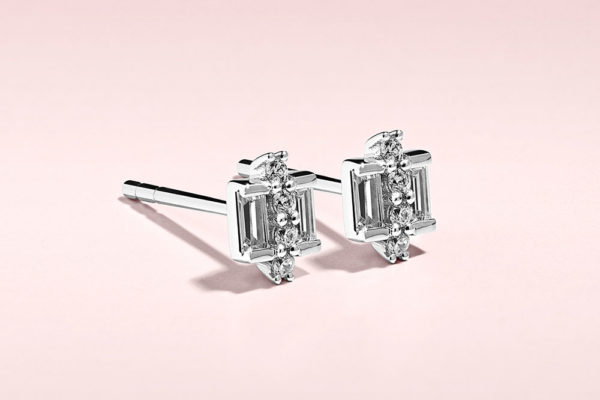 Simple yet statement-making designs form the backbone of the series
Expand your styling possibilities by experimenting with different combinations of white and yellow gold pieces. The simple yet stylish fine jewellery pieces give you the freedom to mix and match with wild abandon, allowing you to express yourself no matter the occasion. 
Play around with different shapes and textures to switch up your look
Check out the Poh Heng Freestyle Diamond collection at Poh Heng boutiques islandwide and online. You'll soon be on your way to creating your own signature style, one that no one else can duplicate. 
This post was brought to you by Poh Heng.
All images courtesy of Poh Heng 
Also read:
Minimalist Interior Design In Singapore: How To MUJI-fy Your Home, Pick The Right ID, Plus Cost-Saving & Design Tips