Pokemon Bridal Fair 
Last year, we wrote about a collection of Pokemon wedding rings that didn't make its way to Singapore. If you're still enamoured by the concept or just into all things Pokemon, then you're in luck. From 1 to 31 May 2021, jewellery retailer Venus Tears is holding a special Pokemon Bridal fair where you can cop engagement and wedding rings from Japanese brand, U-TREASURE. 
The fair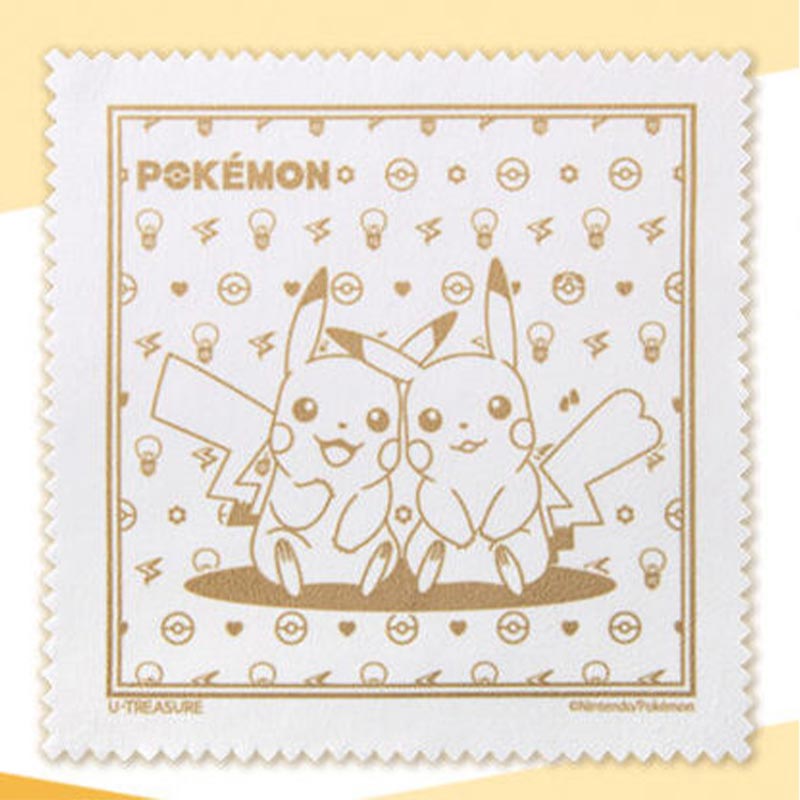 Image courtesy of Venus Tears 
As its name implies, the fair is exclusively for Pokemon-themed bridal jewellery. Every purchase of U-TREASURE's line of Pokemon bridal jewellery will come with a complimentary limited edition Pikachu cloth. 
Keen-eyed veterans will be able to tell that the cloth's design features a male and female pikachu. Male ones have a jagged tail (left) while female ones have a rounded tail (right).
Engagement rings 
Those looking to get married, it's time to hint to your boo for 1 more thing. These Pokemon-themed engagement rings will make any fan swoon during a proposal.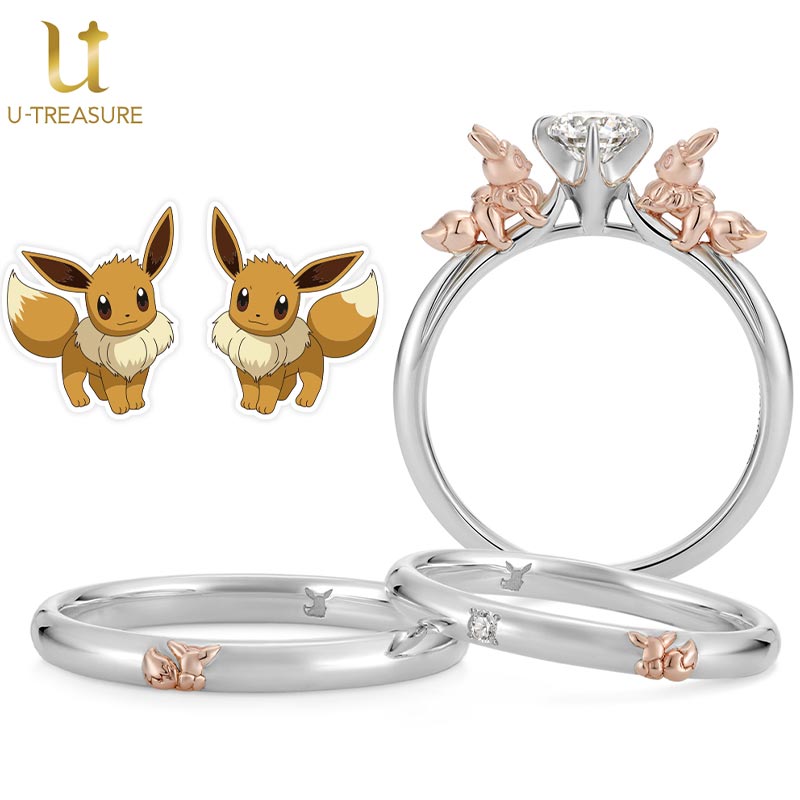 Image courtesy of Venus Tears 
First up, the Eevee engagement ring. It boasts a simple yet elegant design, with a beautiful diamond in between rose gold male and female figures of the creature.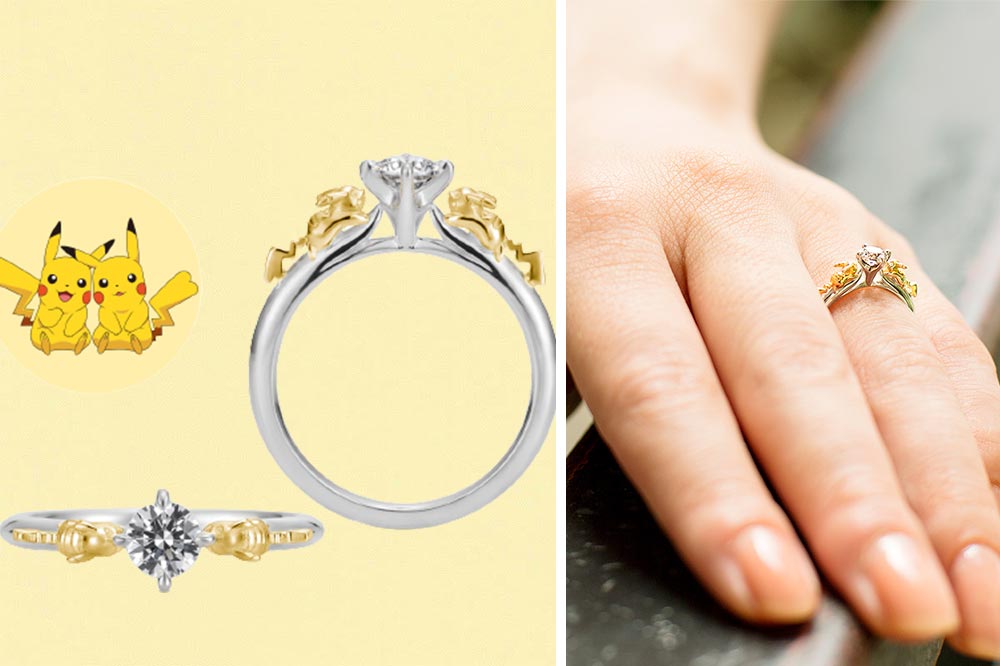 Images courtesy of Venus Tears 
Pikachu's engagement ring follows a similar design concept as Eevee's, just that the figures are yellow instead of rose gold. Proposals with this ring will certainly mark an electrifying start to married life. 
Both the Pikachu and Eevee engagement rings retail for $1,499 each.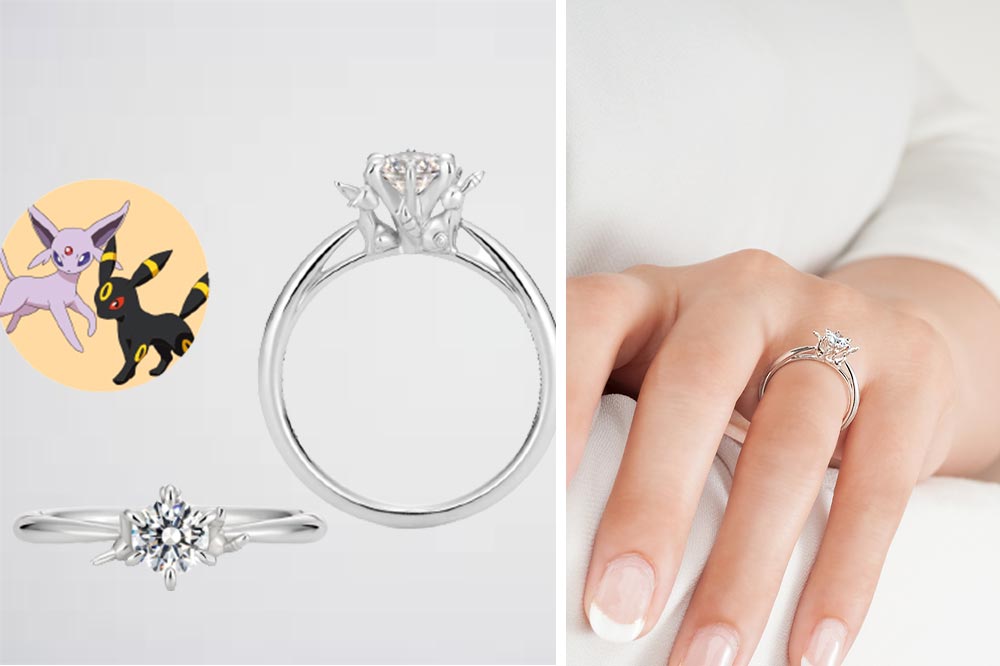 Images courtesy of Venus Tears
As the saying goes: opposites attract. If you and your S/O embody this, then go for the Umbreon and Espeon engagement rings. These two evolutions of Eevee (or eeveelutions) represent the sun and moon, making the ring a perfect symbol of union between different personalities. 
You can cop these rings starting from $1,299. 
Also read:
This Pokemon Lip Balm Collection Features 5 Kawaii Characters & You Can Catch 'Em All Today
Wedding bands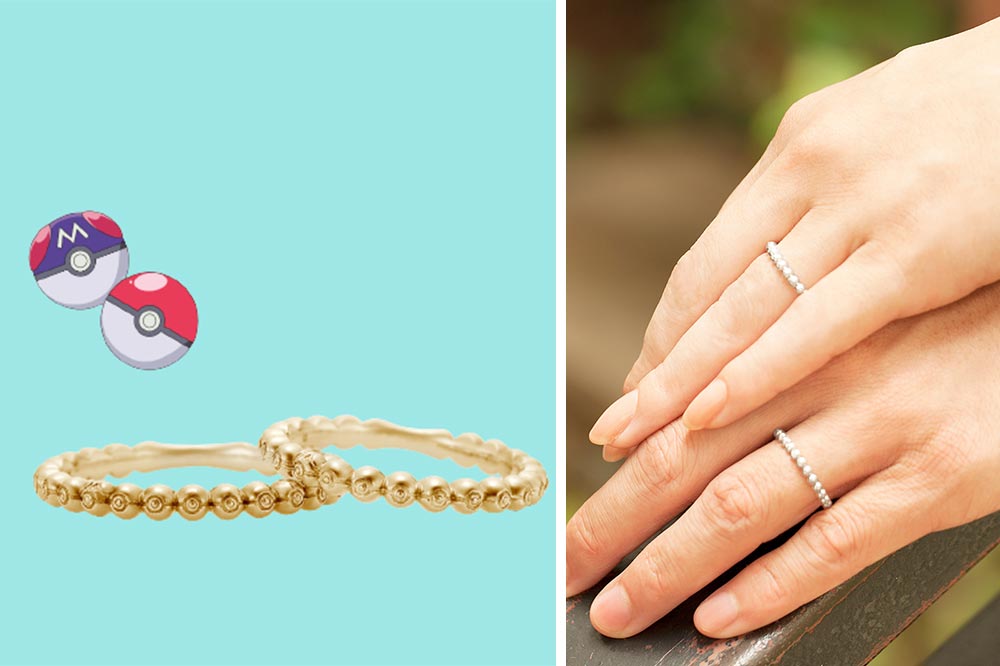 Images courtesy of Venus Tears 
We can't think of a better way to tell bae he or she is a catch than this unique PokeBall ring. For this design, regular PokeBalls are lined up side by side to form the ring, with a crafted Master Ball in the middle. 
Prices for these wedding rings start from $899.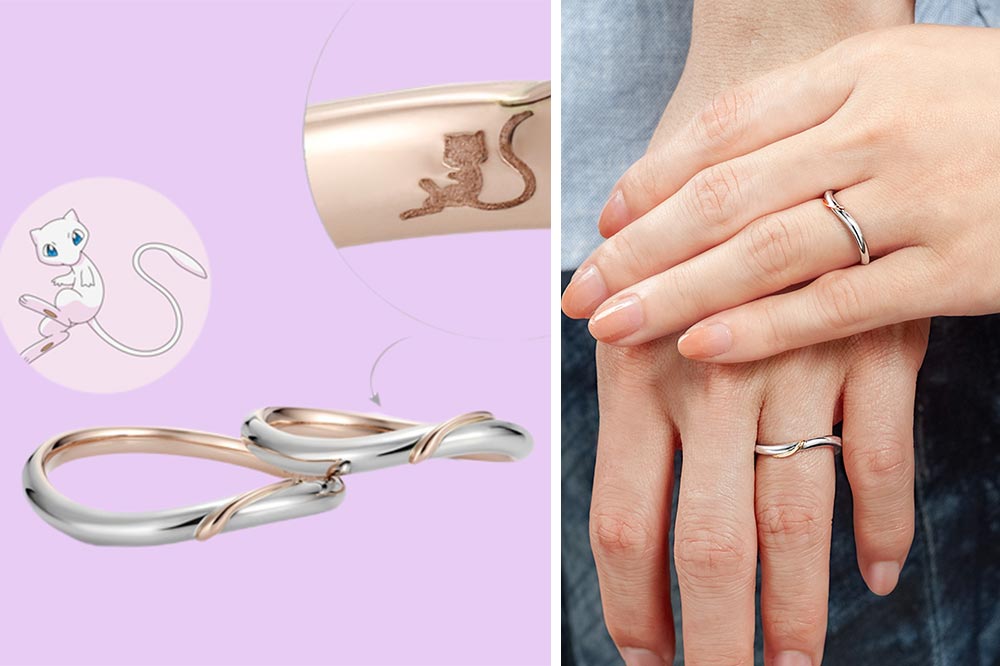 Images courtesy of Venus Tears 
Most fans will know how difficult it is to get your hands on the ever-elusive Mew in the video games. Same goes for finding 'The One' IRL, so it's fitting to commemorate getting hitched with these unique white and rose gold Mew wedding bands. 
Prices for these rings start from $1,299 for ladies and $1,499 for men.
Fashion accessories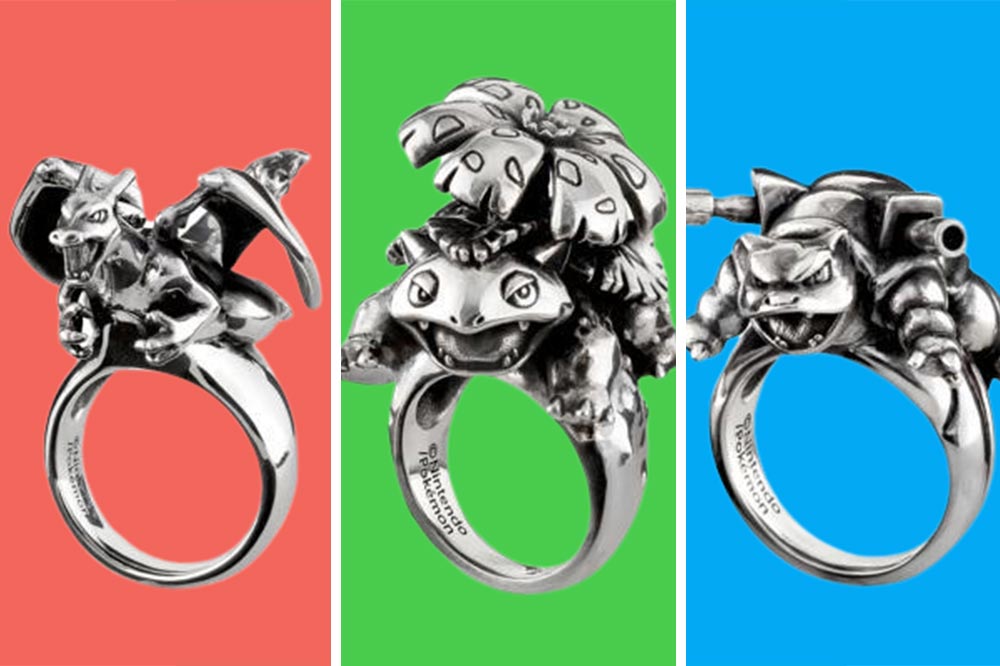 Images courtesy of Venus Tears 
For those who are #single&proud, don't worry about being left out. Apart from bridal accessories, there are plenty of U-TREASURE Pokemon fashion jewellery you can cop from Venus Tears.   
Apart from the OG starter trio of (left to right) Charizard, Venusaur and Blastoise, other Pokemon like the ghost-type Gengar are available as silver rings. The rings start from $349.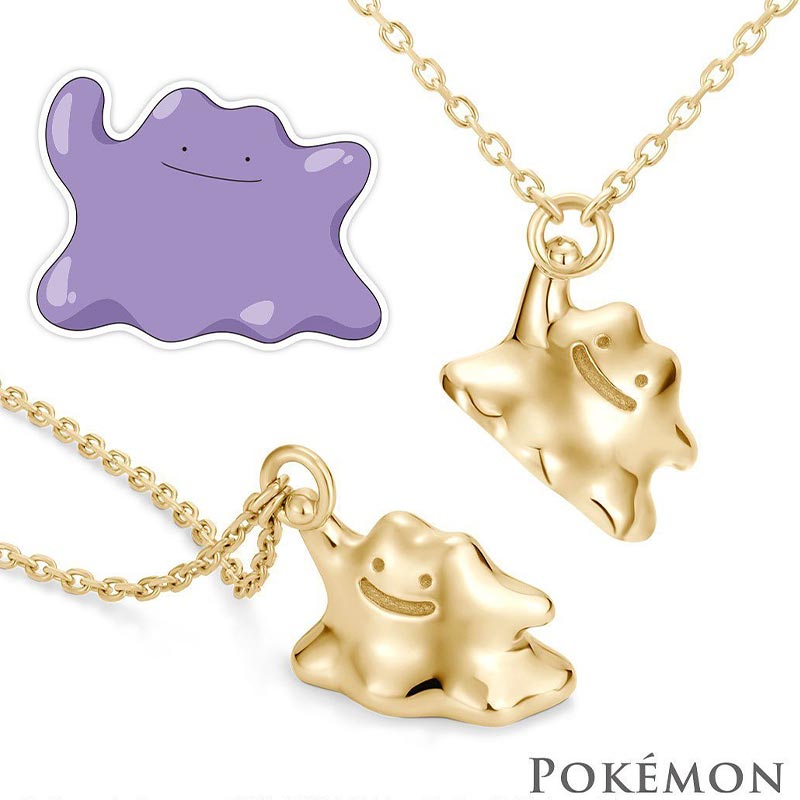 Image courtesy of Venus Tears
There are a bevy of necklaces to choose from, one of them being Ditto. Other Pokemon such as Gengar, all 8 evolutions of Eevee, Mew and Snorlax are featured as necklace designs. You can also select different materials such as the regular silver, or, if you're feeling boujee, 18 karat yellow gold. 
The necklaces retail from $199.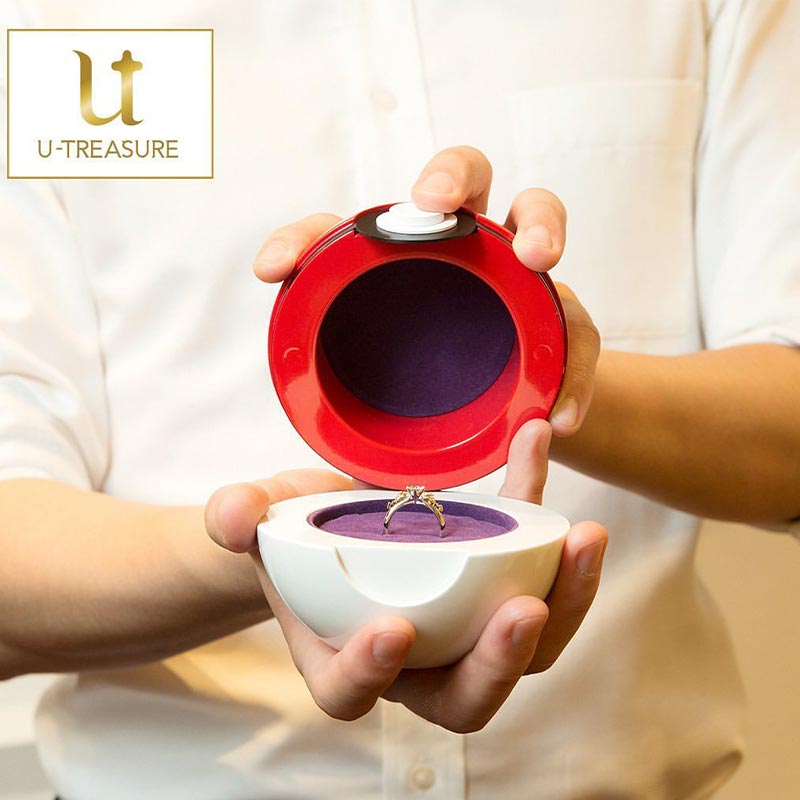 Image courtesy of  Venus Tears 
Of course, after splurging on your precious Pokemon jewellery, you would want to keep it safe. With the special PokeBall accessory case, you can do just that while staying on theme.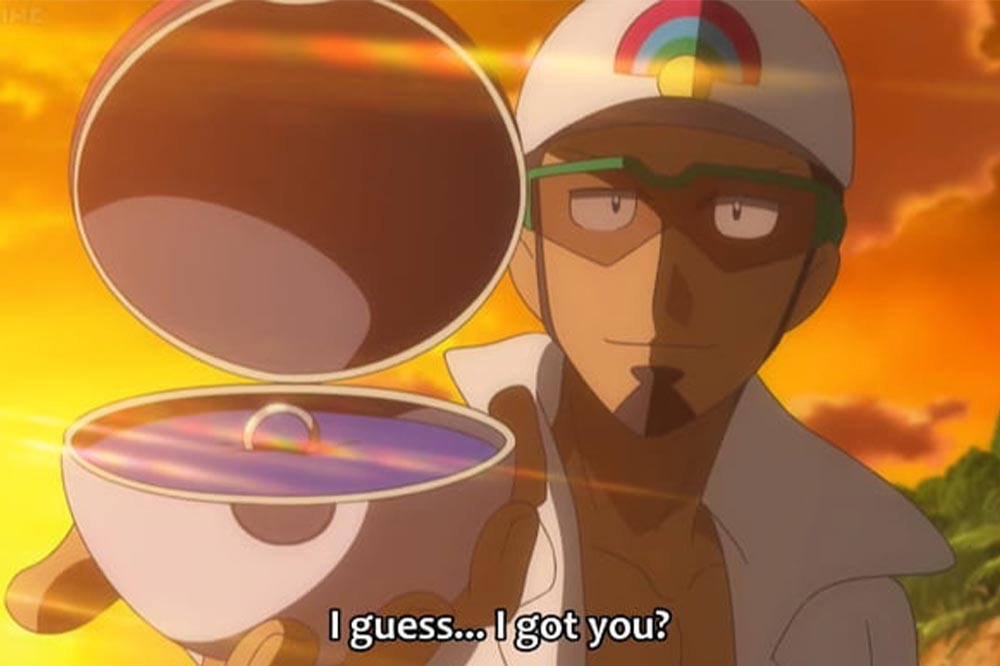 The accessory case will also give you a chance to follow in the anime's footsteps and pull off an iconic Pokemon-themed proposal akin to Professor Kukui (pictured above). 
The PokeBall accessory case costs $199. 
This Pokemon Bridal Fair Will Fulfil Your Themed Wedding Dreams
Kick-start your marriage story in the most unique way by copping jewellery from this Pokemon Bridal Fair. For more information on Venus Tears' limited time offer and its Pokemon-themed jewellery from U-TREASURE, visit its online store.  
Those in the market for other Pocket Monsters collectibles can also check out this Pokemon lip balm collection available in Singapore. 
Cover: Images courtesy of Venus Tears 
Also read:
The Upcoming UNIQLO x Pokemon UT Collection Will Be A Badge Of Honour For Young & Old Champions Of The Series