Sailor Moon x Vans Collection
After Vans' previous collaborations with Spongebob Squarepants and The Simpsons, many sneakerheads have been eager to find out what their next collection will be. Luckily for anime lovers, Vans has released a new Sailor Moon collection with unique sneakers to spread friendship and magic through your OOTD.
Sneakers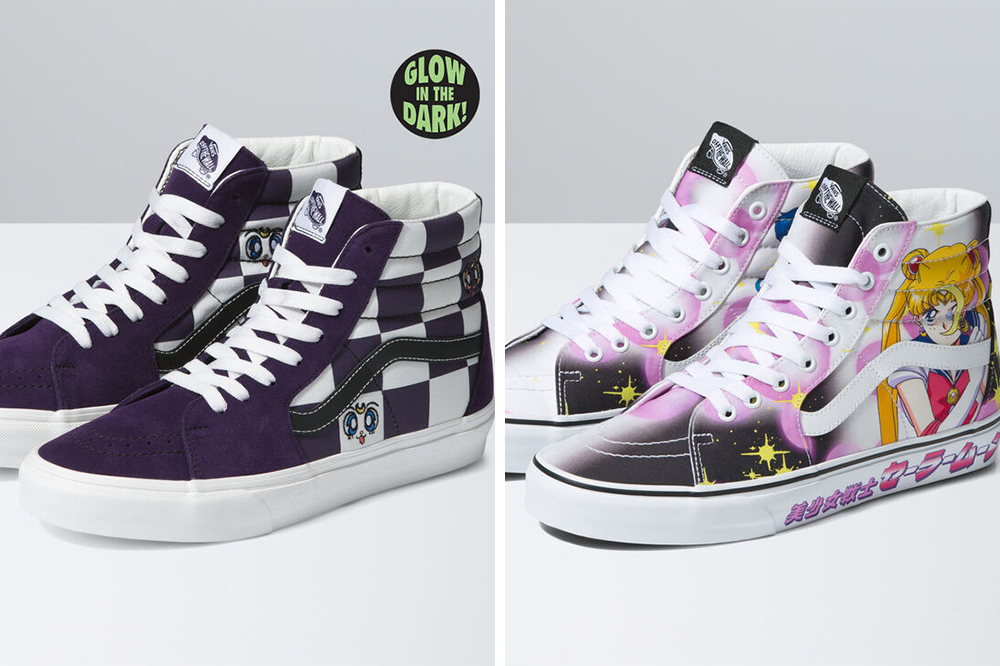 Level up your fit with these Sk8-Hi high cut sneakers, featuring a checkered design (left) of Usagi's cats, Luna and Artemis, hidden within the squares. Don't forget to impress your friends with its subtle magic touch — the glow in the dark element. These are retailing at $139.
Rep the main character of the show, Sailor Moon herself, in these pink and black kicks (right). Retailing at $155, the design is finished with UV ink for a mythical glow.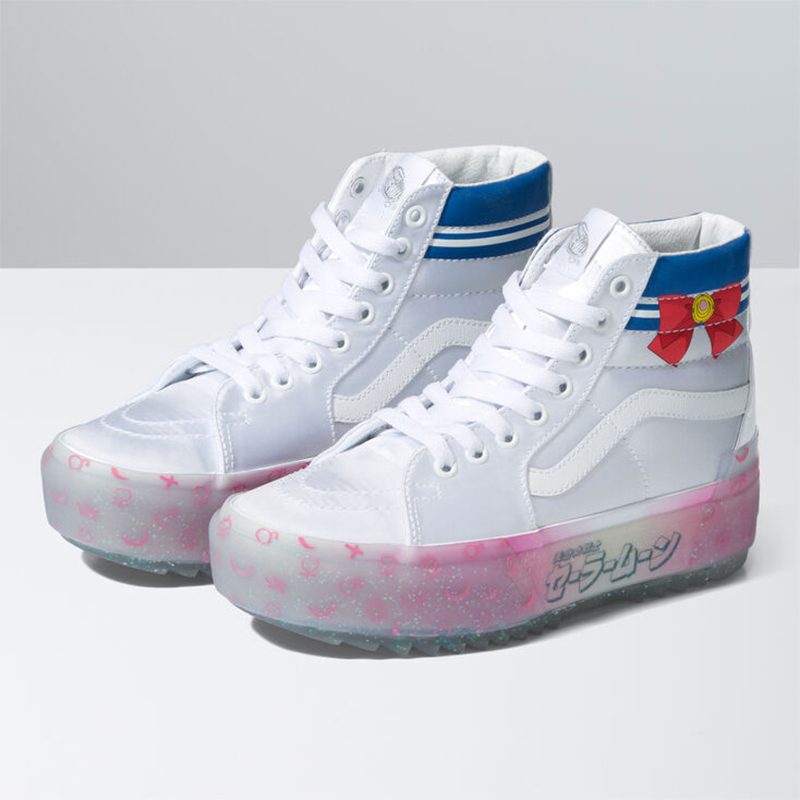 Hop into these chunky sneakers for a fun look, featuring Sailor Moon's iconic transformation brooch and bow. The Sk8-Hi Stacked sneakers are retailing at $195.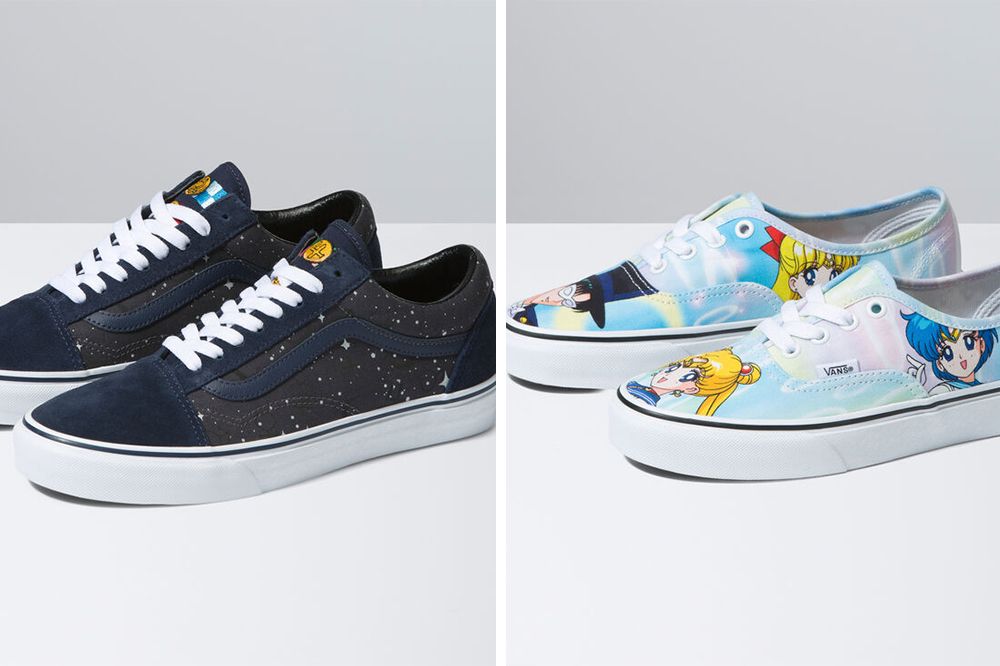 For those who prefer a more subtle design, go for the Old Skool sneakers in a celestial, starry night sky (left). It's retailing at $129.
Team up with the Sailor Guardians and fight evil in the moonlight with the Authentic sneakers (right). Retailing at $119, the pastel sneakers showcase Princess Mercury, Tuxedo Mask and the other guardians ready for action.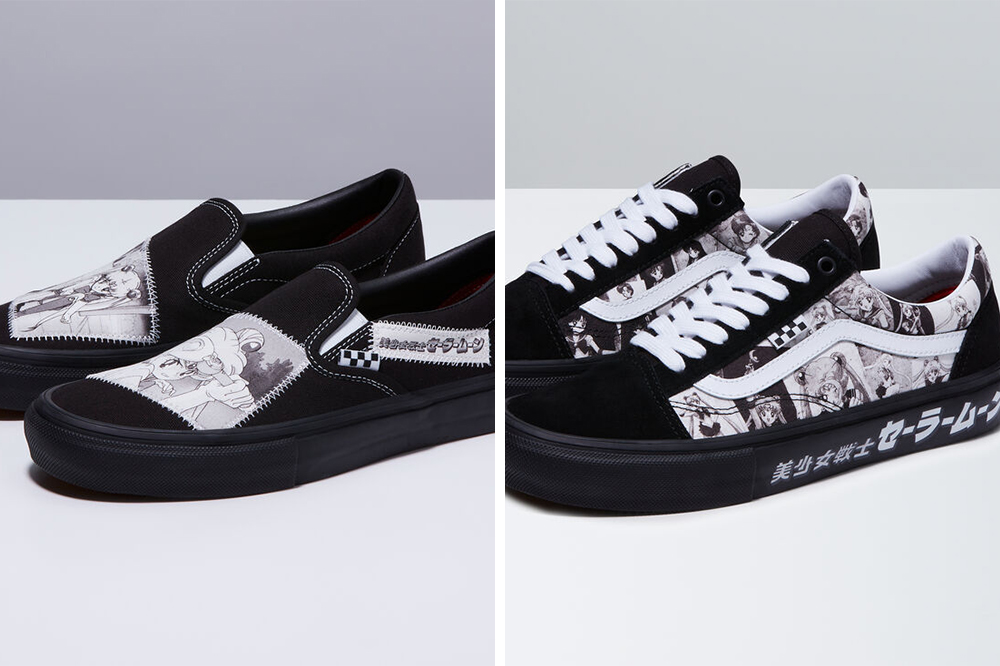 It's safe to assume that monochrome sneakers can match any skater girl look. The Skate Slip-On sneakers (left) are retailing at $95 and come in a patchwork design of Usagi wielding her wand. 
Similarly, the Skate Old Skool sneakers (right) star more Usagi prints that remind us of manga panels, retailing at $99.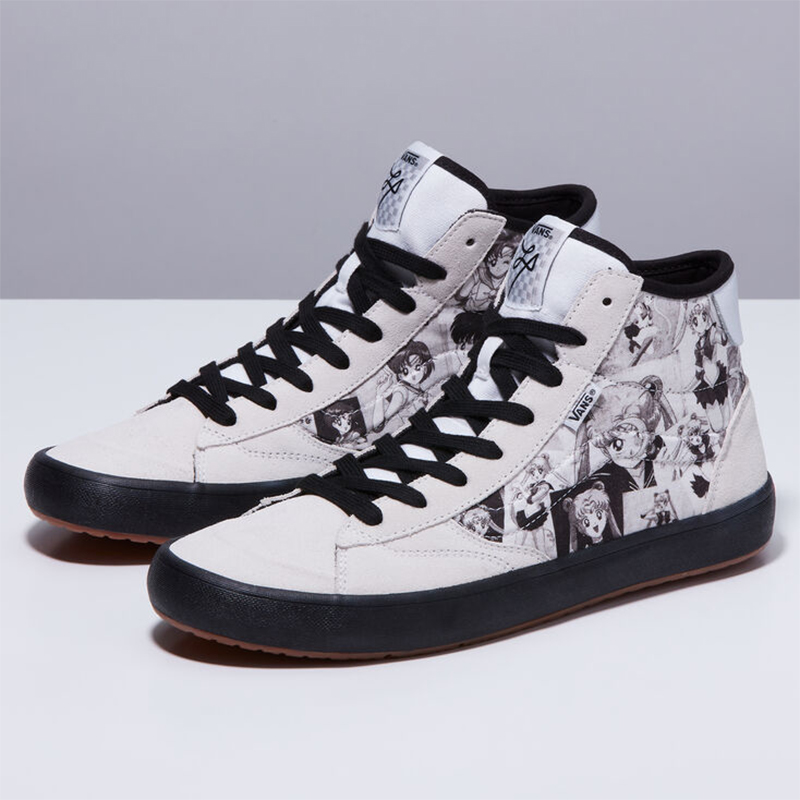 For those who prefer slimmer high-cut sneakers, opt for The Lizzie instead. Like the Skate Old Skool sneakers, monochrome panels of the Sailor Guardians adorn the side of the sneakers. It's retailing at $139.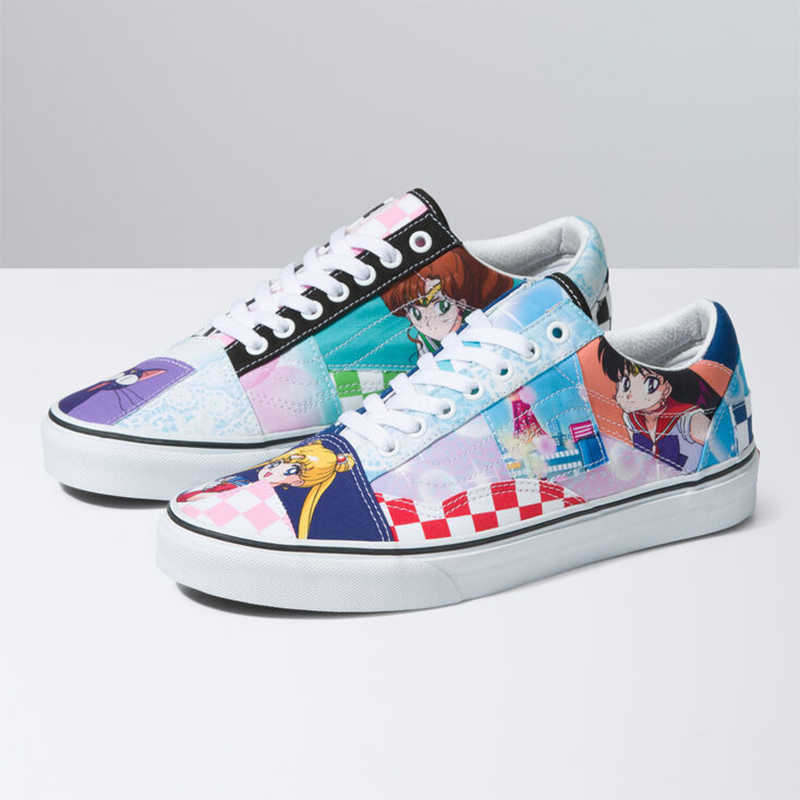 Decked in vibrant colours, with a range of characters, the Old Skool Patchwork sneakers are perfect for completing a soft girl look. It's retailing at $129.
Additional apparel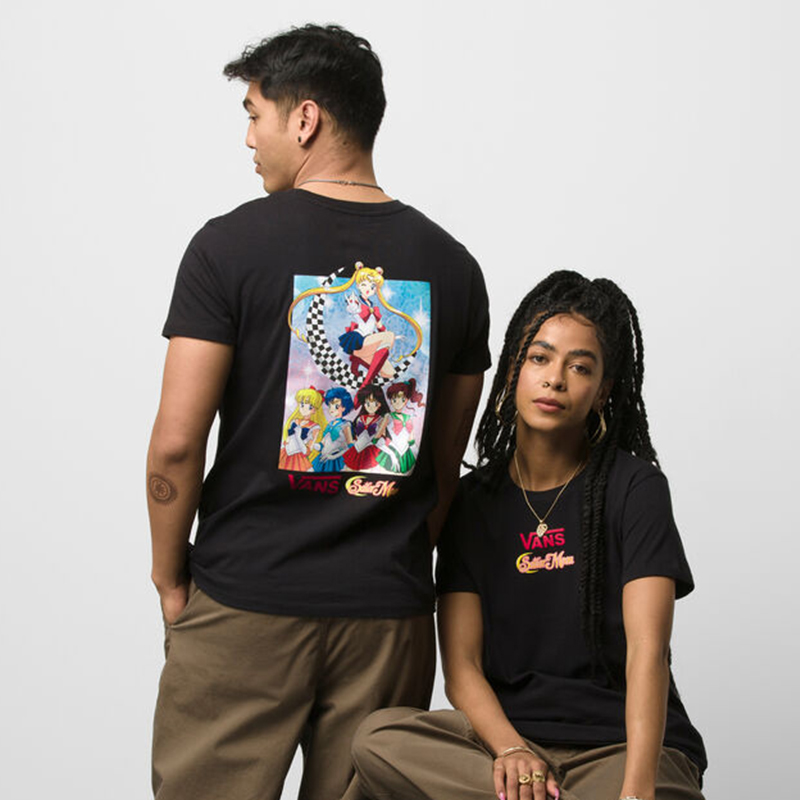 Get matching Sailor Moon graphic tees with your BFFs for the ultimate #SquadGoals, featuring the five original Sailor Guardians. The tees are retailing at $69 each.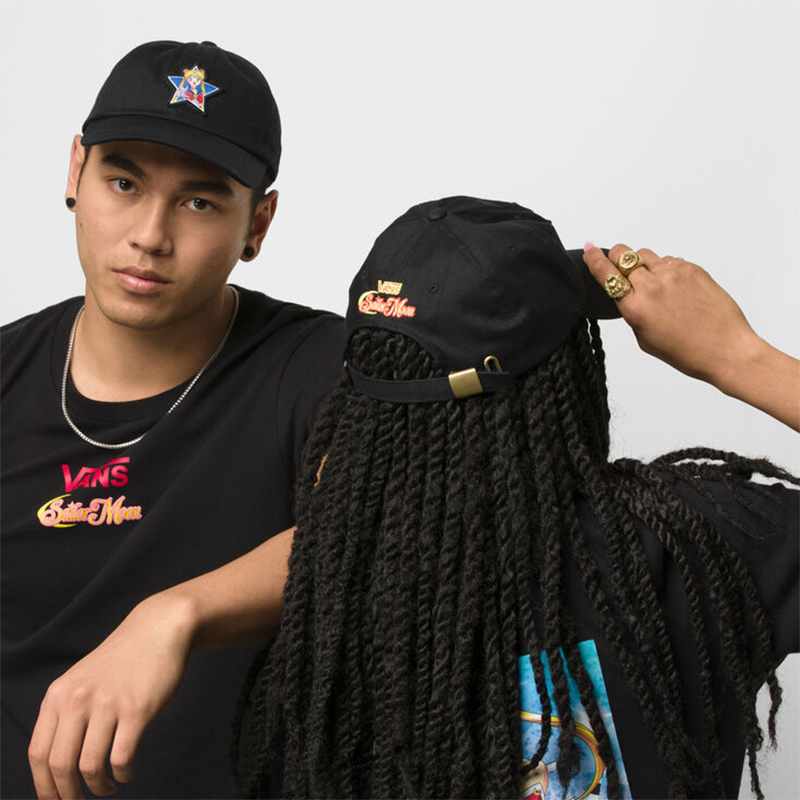 Add magic to your hypebae look with the Sailor Moon Jockey Hat, featuring Sailor Moon herself adorably posing in a star. The hat is retailing at $59.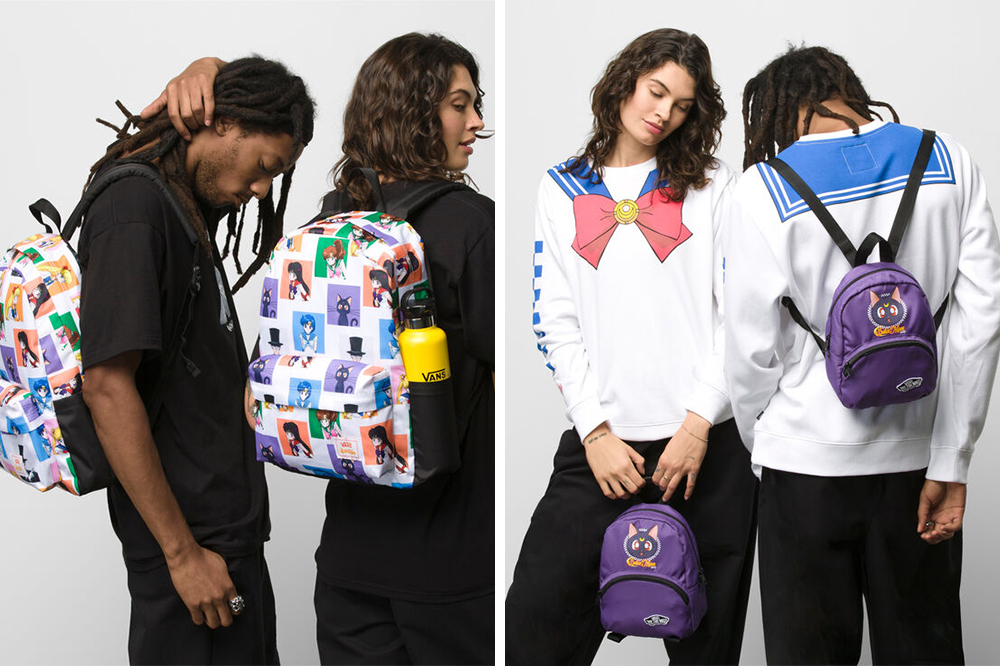 Conveniently store your belongings in the colourful Old Skool Backpack (left), paying tribute to all the characters on the show. It comes with a side water bottle pocket, retailing at $69.
Cat-lovers can show off their love for Luna with the kawaii Mini Backpack (right), highlighting Luna's face with her unique crescent moon. The mini backpack is retailing at $59.
The Sailor Moon x Vans Collection Pays Tribute To The Magic Of The Anime
Although it's been 30 years since the first Sailor Moon episode aired, fans have been continuously treated to exclusive merch from various brands. The full Sailor Moon x Vans collection is available on Vans' online website and at selected Vans stores islandwide. 
If you can't get enough of Sailor Moon merch, check out the Sailor Moon x Samatha Thavasa collection for more magical apparel. 
All images courtesy of Vans.
Also read:
Sailor Moon x Samantha Thavasa Has Kawaii Bags & Apparel So You Can Always Carry Magic With You