The King: Eternal Monarch
Warning: The King: Eternal Monarch spoilers ahead!
The King: Eternal Monarch aired its final episode recently, and most viewers were happy to see Lee Gon (Lee Min Ho) and Jung Tae Eul (Kim Go Eun) reunited and going on dates across different eras. 
Besides big laughs courtesy of Jo Eun Sup (Woo Do Hwan) and the anxiety-inducing scenes, The King: Eternal Monarch also taught us some important life lessons that will come in handy, no matter what universe you're living in. 
1. There's no such thing as a free lunch
For regular citizens in the Kingdom of Corea, switching spots with their other-world counterpart in the Republic of Korea sounds like a pretty good deal when they're living life in the gutter. But going against the law of nature comes with repercussions. 
After being given a "new life" by Lee Lim (Lee Jung Jin), these subjects have no choice but to be at his beck and call, and to get their hands dirty while carrying out his orders.
The consequences don't end just yet. After finding out about these swaps, the Emperor of the Kingdom of Corea, Lee Gon, sets out to find his former subjects and have them pay for their crimes. What they thought was a win-win situation ends up costing them their lives. So if you ever come across a deal that seems too good to be true, it probably is.
2. Stand up for yourself
Prime Minister of Corea Koo Seo Ryeong (Jung Eun Chae) proves that a woman in power can be a style icon as well.
Her fashionista status, coupled with clichéd lines about how "All you're doing is putting on more makeup" and "The party helped you gain that position", is what male boomers in the cabinet use as leverage against her. 
But Koo Seo Ryeong is the prime minister for a reason. She fires back at them and makes sure no one puts her down for dressing up.
Like Koo Seo Ryeong, it's important to realise that how you look does not determine how much authority you are entitled to. Sound fashion choices for office wear aren't restricted to dress shirts and drab grey suits, so stand up for yourself and don't let hateful voices tell you otherwise. 
3. You can do what's right though it may be difficult
A gambler mum and policeman son may seem like an unlikely duo. But that's the case with Sin Jae (Kim Kyung Nam) and his mother. As a gambling addict, Sin Jae's mum is the epitome of the problematic Korean ajumma. 
Knowing his mum has relapsed and is back to gambling, Sin Jae makes the tough call to bust his mum and her gambling den, even though he knows it will both land his mum in prison as well as stunt his career progression. 
4. Leadership is decisiveness 
The military conflict between the Kingdom of Corea and Japan had us holding our breath when Lee Gon refused to back down. 
Before going to the battlefield himself, Lee Gon resolves to protect his nation. He declares, "We won't sit back and watch. Not even by one centimetre and one millimetre can Japan enter our territorial waters."
The emperor makes up his mind and sticks to his decision all the way, despite concerns from his men, and comes back victorious. Leadership is largely about making the right decisions, but also about standing firm even if your decisions aren't popular with others.
5. You determine your own worth
Raised by a single mother who runs a little store in a traditional market, Koo Seo Ryeong started at the bottom of the food chain. She could have simply accepted her lot in life, but coming from a low-SES household didn't stop her from dreaming big. 
She studied hard and made it to university, became a news anchor and went into politics as an unknown figure, making her way to the top in just 7 years. Now the first and youngest female prime minister of the Kingdom of Corea, Koo Seo Ryeong's humble background no longer ties her down, but is used as a tactic to build rapport with her citizens.
It's not easy to be ambitious and work towards your dream when reality takes a toll on you, but only you can take yourself to greater heights.
6. Don't judge a book by its cover
A quick look at the pair above would have us thinking the guy on the left is the crook while the one on the right is the new recruit. That's exactly what Jung Tae Eul, Sin Jae and the other detectives assume when the 2 men enter the police station. 
Who would have thought the tough guy in leopard print is actually the new detective who shortened his baptismal name Jang Michael (Kang Hong Seok) to Jangmi (meaning "rose" in Korean), and has an email address starting with "rose93"? Looks can be deceiving, so don't make assumptions about a person simply based on what you see.
Also read:
Why Korean Dramas Like Crash Landing On You & Itaewon Class Might Be Making It Harder For You To Find Love
7. You have the right to choose your own path
As a kid in the Kingdom of Corea, Sin Jae's mum tried to throw him off a bridge. She was backed into a corner and had no means to support him. When offered the opportunity, she let her son go to the Republic of Korea, believing it was the best for both of them. 
However, present-day Sin Jae lives in a flurry of confusion, wondering why he has memories that he can't make sense of. Years after he was sent away by his birth mother, he returns to the other universe to find her. In the end, he chooses to cut ties with her.
While he might understand the reasons behind her actions to some extent, Sin Jae does not discount his own feelings and the hardship he has been through. Like Sin Jae, you don't always have to do what society deems "appropriate" but do what feels right to you. 
8. Recognise your privilege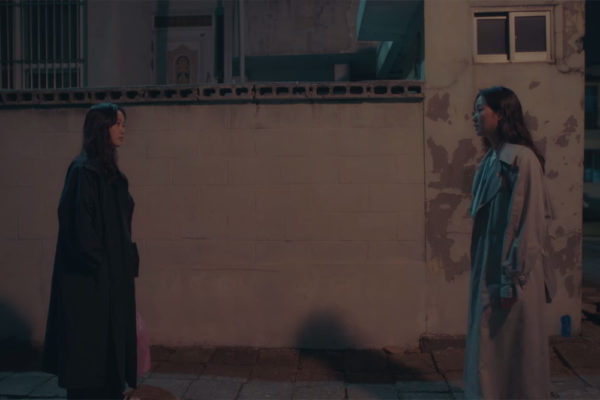 Jung Tae Eul and Luna are the same person living in parallel universes. Jung Tae Eul lives a relatively normal life as a detective and the daughter of a Taekwondo instructor. Luna is an orphan who grew up in the slums, a criminal on the run, and has cancer.
When the two come face to face for the first time, the juxtaposition is crystal clear. Luna (left) is clad in black while Jung Tae Eul (right) appears in a light-coloured coat. The difference between them is apparent even in the way they dress.
This scene begs the question: What if Luna started off with the same family background as Jung Tae Eul?
We often complain about the things we don't have and how things that could be better. But if you realise that life could have been a lot worse for you, you'll appreciate what you already have.
9. You can say no
For the faint of heart, saying no can be a challenge. When Lee Gon is being blackmailed by prime minister Koo, saying no to her can put him in a difficult position. However, he stands his ground and refuses to remain "indebted" to her, which eventually works out in his favour.
You can always say no; and sometimes, people will respect you for holding your ground.
10. Love is not a bed of roses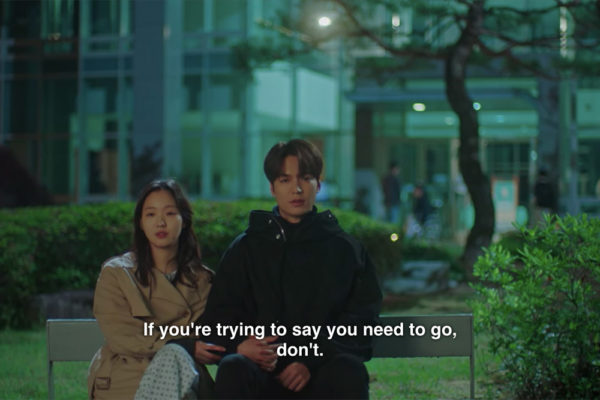 In Korean dramas, love is often heavily romanticised as all fluff and happiness. In reality, there're always many factors at play when you're in a relationship. The King: Eternal Monarch highlights one of them—uncertainty. 
When Lee Gon is about to risk his life for the final battle, there is no guarantee that he will make it out alive. Like Lee Gon and Jung Tae Eul's heart-wrenching romance, all couples will face obstacles sooner or later, so don't enter a relationship expecting it to be a bed of roses.
11. True friends will have your back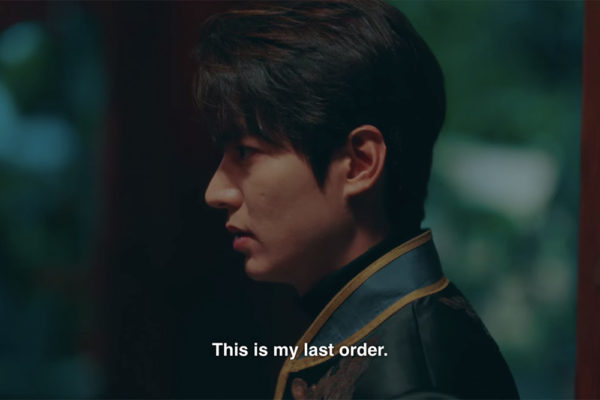 Despite being a king, Lee Gon is ready to sacrifice himself first during the final showdown. He orders his best friend/guard Jo Yeong to stand back and assist only if he fails. To Lee Gon, it does not matter what his status is or how much more "valuable" his life as a king compared to Jo Yeong's.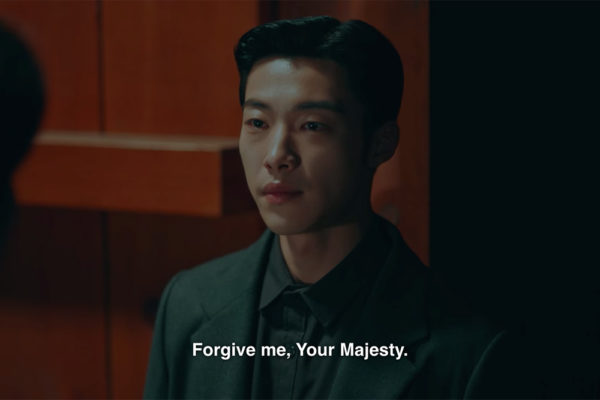 Tear-jerking as it is, the bromance goes on. Jo Yeong defies Lee Gon's orders and races into the battlefield head-on to ensure the safety of his king and BFF. True friends will have your back when you need it.
12. Keep fighting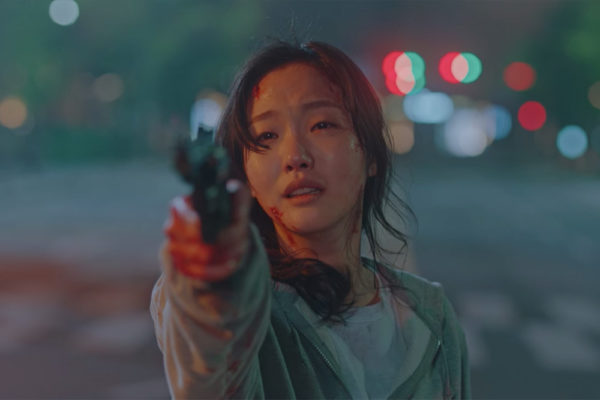 In one action-packed scene, Jung Tae Eul gets kidnapped, narrowly survives a truck collision, and escapes from the bad guys several times by putting her Taekwondo skills to good use. Though she is tired and injured, Jung Tae Eul puts up a fight till the end. 
Tough times don't last; tough people do.
The King: Eternal Monarch Is A Show To Remember
With impressive cinematography, a star-studded cast and an interesting plot, The King: Eternal Monarch is a drama to remember.
Also read:
9 Itaewon Class Life Lessons Including How To Survive Tough Times & Deal With Unrequited Love
All images courtesy of Netflix.
Cover image: Source, source