BTS Suntec City
The BTS pop-up store in Singapore saw photo ops galore, including backdrops inspired by the band's Dynamite and Black Swan MVs. If your feed has been starved of BTS-related content since it closed its doors, Suntec City has your back. Read on to find out what the mall has planned, from an exclusive launch of a photobook to photo opportunities, merchandise drops and more.
The photobook
According to a statement from Suntec City, "BTS fans in Singapore will be the first in the world to get their hands on an exclusive photobook."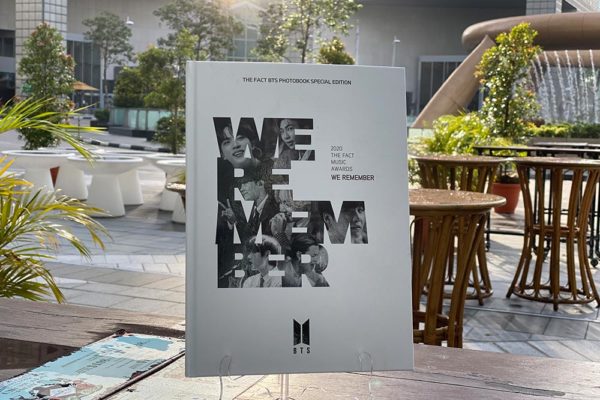 Image courtesy of Suntec City
Titled "The Fact BTS Photobook Special Edition: We Remember", the photobook is a must-have collector's item for every hardcore ARMY. Each photobook comes with 5 mini posters and 4 sets of 8 photocards. 
Fun fact: this special photobook is only available for overseas ARMY outside of Korea, who were not able to participate in The Facts award ceremony.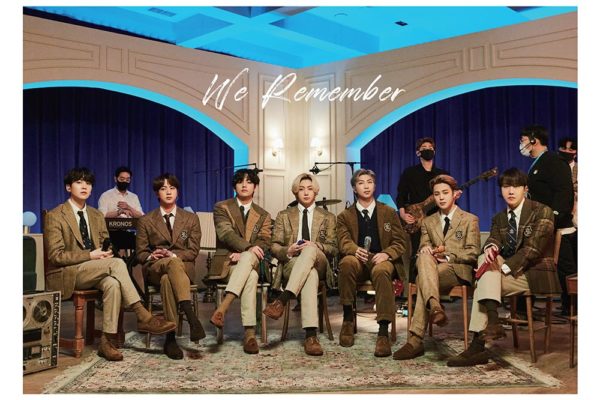 Image courtesy of Suntec City
Suga stans might be wondering if their bias is included in the photobook, as the rapper unfortunately could not attend The Facts Music Awards due to a shoulder surgery. Fret not. All 7 members will be featured in the group photos, with Suga in a special shoot, as well as for solo photocards.
Besides never-before-seen photos of the boys taken on stage and backstage, photos from "MTV unplugged presents: BTS" and "2020 The Fact Music Awards" are included in the 140-page photobook as well.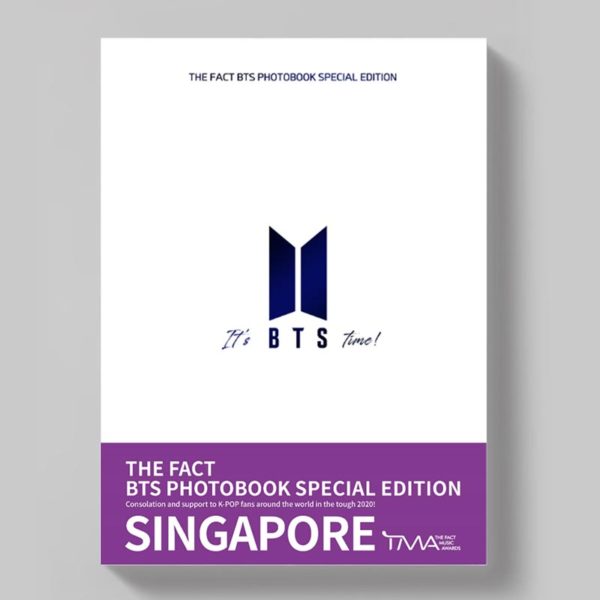 Image courtesy of Suntec City
As V has fondly claimed the colour purple as a symbol of love, it's not surprising to hear him yell "I purple you!" to ARMYs during concerts. Twitter users are familiar with V filling their feed with purple heart emojis too. The photobook's packaging case for Singapore comes in a special purple edition, displaying how much we "purple" the 7 boys.
The BTS photobook can be purchased for $55 before GST, with a minimum of $100 spent in 3 combined receipts at Suntec City. The receipts must be dated from 14 April to 4 May 2021, and need not be from the same day. Scroll to the end to find out how to place a pre-order for the photobook.
Also read:
BTS' TinyTan x Häagen-Dazs Collab Lets ARMYs Cop Cooler Bags & Keychains Featuring The Miniature Members
Photo opportunities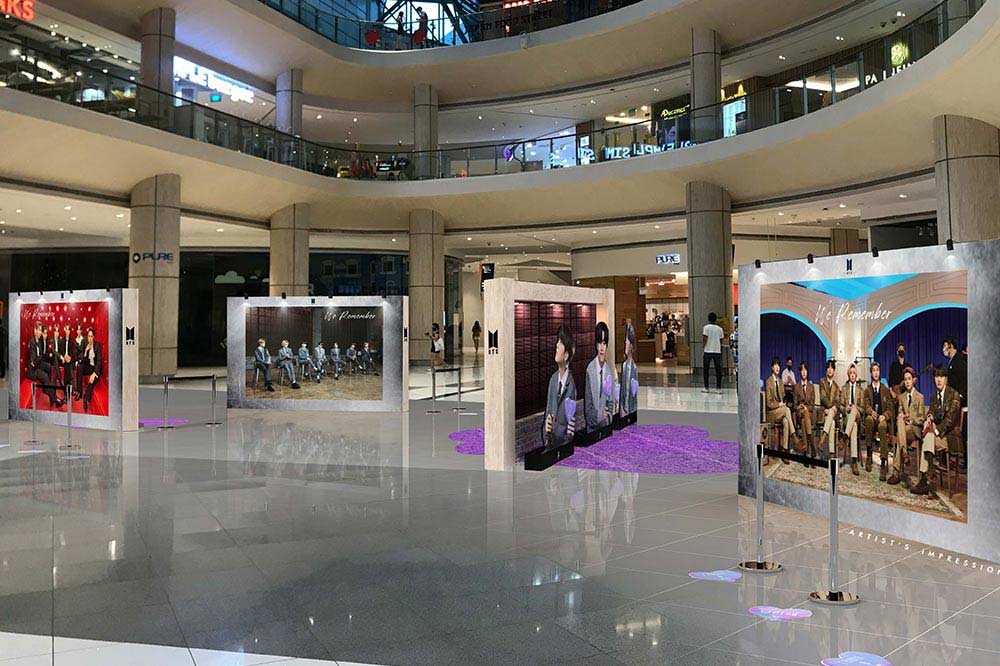 Artist's impression of the North Atrium display
Image courtesy of Suntec City
Besides copping a physical copy of the book itself, ARMYs can also look forward to the photobook coming to life. Featuring life-size replicas of the book's pages, snap some cute shots with your bias at the North Atrium.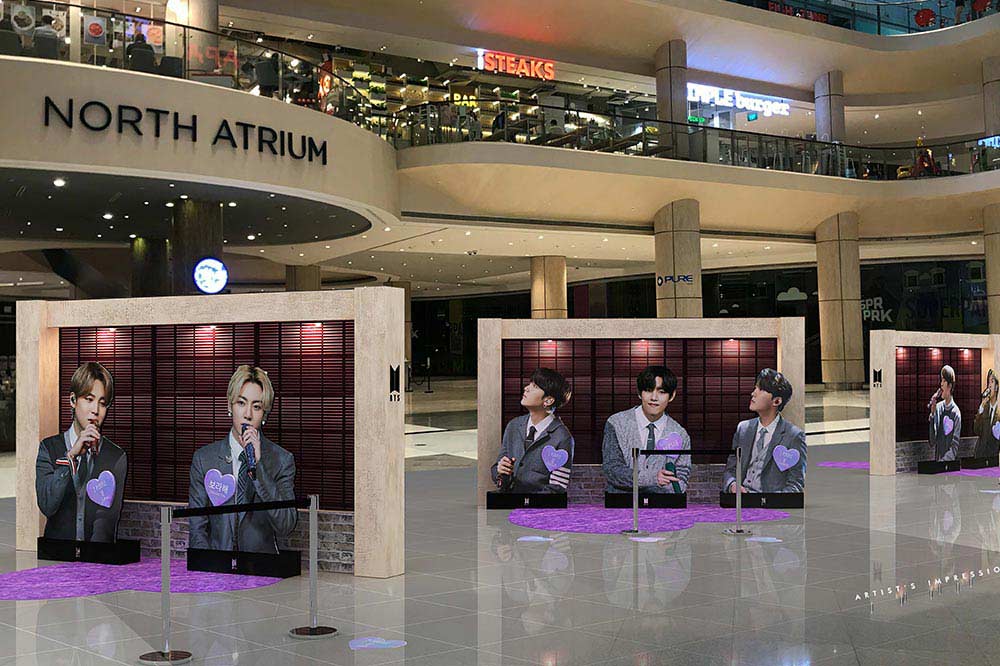 Artist's impression of the North Atrium display
Image courtesy of Suntec City
Remember to keep your masks on and still practise social distancing, as it might get a little crowded with other ARMYs wanting to snap their photos too.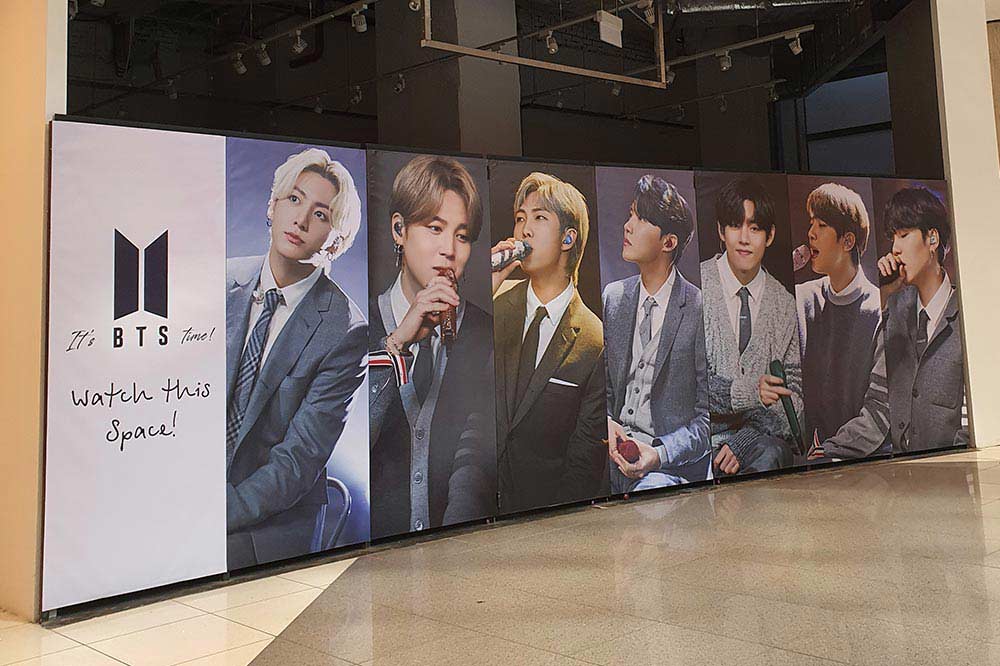 Image courtesy of a Zula reader
Meanwhile as we're waiting for the purchase counter to open, fans have spotted a photo wall featuring the 7 boys concealing the area. It's a perfect chance for you to take some unofficial pictures before the mall opens up pre-orders for the photobook on 15 April 2021.
TinyTAN face masks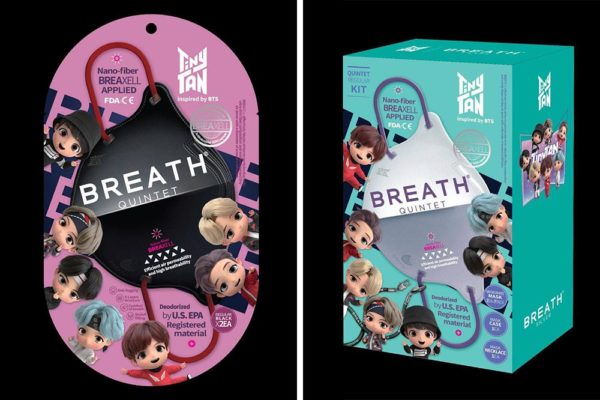 Image courtesy of Suntec City
Speaking of masks, they have become an essential part of the new normal, letting you show your love for anything and everything from Animal Crossing to Hello Kitty and Louis Vuitton. Now, you can rep your favourite band too. 
These new and exclusive TinyTAN face masks will be available individually and in sets. Prices range from $10 to $84. And yes, if you were wondering, mask purchases go towards the receipts collation for the photobook. You can cop them next to the photobook purchase counter. 
BTS-themed set menus
For an immersive experience, 2 Korean-owned food chains in Suntec City have also come up with limited-edition set menus inspired by the band. Or, to be more specific, the band's name.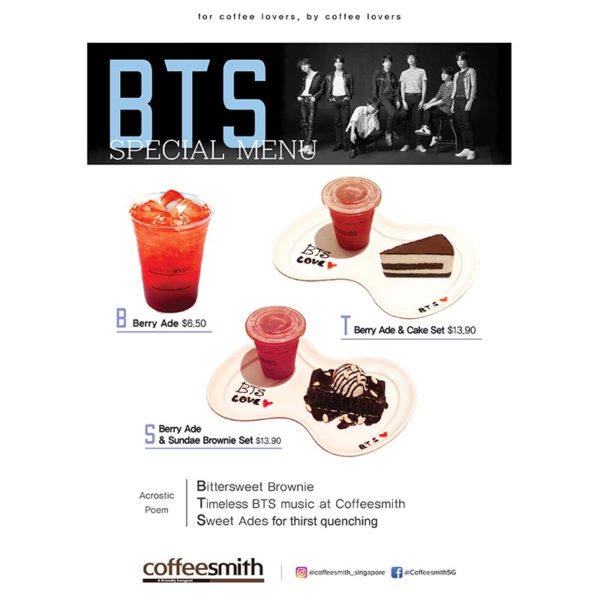 Image courtesy of Suntec City
Suga collaborated with American singer-songwriter MAX on the song Blueberry Eyes. Sip on Coffeesmith's BTS Berry Ade, which you can also get as part of a set with either a Sundae Brownie or a slice of cake.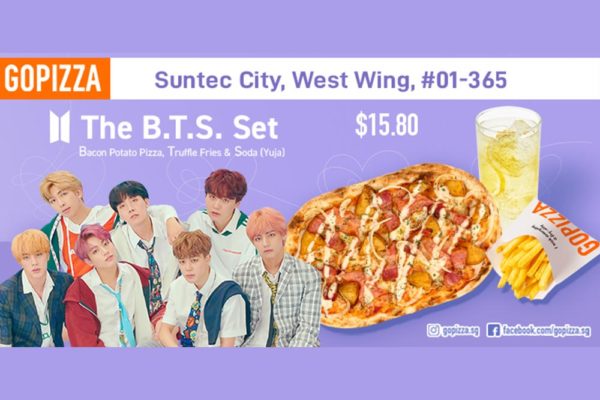 Image courtesy of Suntec City
Not a dessert person? GOPIZZA's BTS Set consists of Bacon Potato Pizza, Truffle Fries and Yuja Soda.  
Both set menus are available from 15 April to 9 May 2021.
Life Is Dynamite With BTS Merch, Photo Opps & More Arriving At Suntec City
To place a pre-order for the photobook, make your way down to the purchase counters at Suntec City's North Wing, #01-506/507, from 15 April 2021. The books will be available for collection at the purchase counters from 4 May 2021.
Stay tuned to Suntec City's website and Facebook page to find out when the photo opps will land in the mall, as well as when you can purchase the TinyTAN face masks. 
In the meantime, you can place your orders for BTS tattoos inspired by the Dynamite MV, which is available internationally on Inkbox's website.
Cover: Images courtesy of Suntec City
Also read:
BTS Temporary Tattoos Let You Show Your Love For The Band On Your Skin & They Are Dynamite