Michelle Yeoh Facts
For the longest time, Hollywood cemented the image of Asians as merely secondary and background characters, but thanks to actors like Gemma Chan and Simu Liu, things are finally turning around.
More recently, Malaysian-born actress Michelle Yeoh was awarded Best Actress at the Golden Globe Awards 2023 and the Academy Awards 2023, proving that Asians are capable of accomplishments just like anyone else. 
Below are 15 facts about the 60-year-old actress who stood out in the award-winning movie, Everything Everywhere All At Once.  
1. Born in Ipoh, Malaysia
Some might mistake Michelle as a Hong Kong citizen thanks to her numerous appearances in Cantonese movies, but she was actually born in Ipoh, Malaysia. Her parents were a lawyer and a politician, and they moved to the UK when she was 15 years old. 
She later attended an all-girls boarding school before focusing on pursuing her dream as a ballet dancer. 
2. First Malaysian actress to win the Golden Globe Award 
Michelle might not be the first Asian actress to clinch the Best Actress award at Golden Globe ‒ Awkwafina did in 2020 ‒ but she made history as the first Malaysian to do so. She then went on to become the first Asian woman to win Best Actress at the Oscars. Her outstanding performance in the movie Everything Everywhere All At Once earned her the award, and even Malaysia's Communications Minister Fahmi Fadzil chimed in on the celebration. 
3. Has a 40-year-long acting career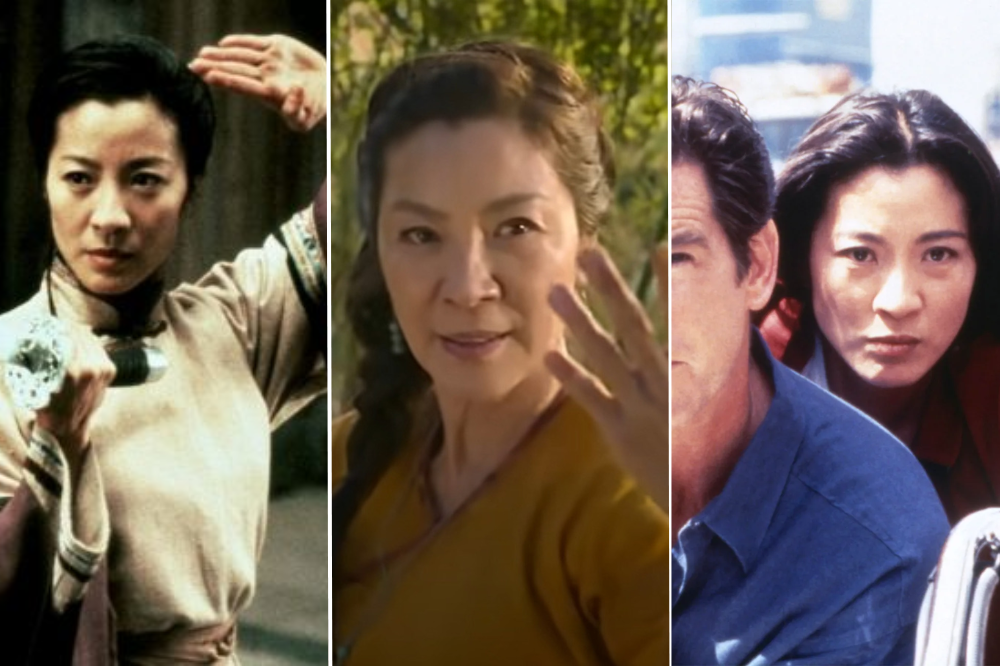 From left: Michelle in Crouching Tiger, Hidden Dragon, Shang Chi and Tomorrow Never Dies
Source, source, source
If you grew up watching Hong Kong action and martial arts movies like I did, you'd probably recognise Michelle in Yes, Madam, Police Story 3, and Crouching Tiger, Hidden Dragon. Her presence in the Hong Kong film industry was no joke in the early 80s', and thanks to the success of those films, they boosted her fame tremendously. 
Later, she embarked on a new journey in Hollywood and caught the attention of international audiences through her notable works like Tomorrow Never Dies, Memoirs of a Geisha, and Crazy Rich Asians. Just a few years back, she was also cast in an MCU movie, Shang-Chi and the Legend of the Ten Rings.  
Looking at how far she has come, Michelle is definitely an inspiration to young actors of the next generation. 
4. Dreamt of becoming a ballet dancer
Michelle might seem like she was born to act, but she didn't grow up wanting to become an actress. She began learning ballet when she was 4 years old and after settling down in the UK, she enrolled in the Royal Academy of Dance. 
Unfortunately, Michelle sustained a spinal injury which caused her to let go of her childhood dream and pursue other forms of art. One could see it as a blessing in disguise, as we would have never known the Michelle that we see on the screen now. 
5. She's trilingual
Growing up in a family with Hokkien and Cantonese ancestry, Michelle is fluent in Cantonese, Malay, and English. Since she was also based in Hong Kong for a period of time for her acting career, there's no denying that she speaks the dialect like a native. We stan a trilingual queen.  
6. Won several beauty pageants  
According to Daily Mail, it was reported that Michelle's mother was the one who signed her up for the Miss Malaysia beauty pageant back in 1983. She didn't expect herself to walk home as the winner and even commented that the "judges were blind". 
Later, she took part in the Miss World competition as Malaysia's representative, and also won first place when she travelled to Australia to participate in the Miss International Tourism Quest pageant. 
7. Her Hollywood debut film was Tomorrow Never Dies
For the unacquainted, Michelle was a Bond girl for her first Hollywood movie in 1997. Playing the role of Mai Lin in Tomorrow Never Dies, Michelle made a sensational debut. Her character wasn't a typical damsel-in-distress ‒ she had a plan of her own and was focused on accomplishing it instead.  
In an interview with Indie Wire in 2022, Michelle recalled that she had never expected her role to be sexualised like the previous Bond girls. After all, she found the fan base changing, and women no longer wanted to watch movies that showed them being sexualised.  
Also read: 
10 Facts About Carissa Yap, Our Miss Universe Singapore 2022, Like Scoring 5 Distinctions In A Levels
8. She is the Goodwill Ambassador of the UN Development Programme
In 2016, Michelle was appointed the UNDP Goodwill Ambassador to raise awareness and gather support for the Sustainable Development Goals campaign that aims to end poverty of all forms in 2030. She even partnered with UNDP's first Animal Ambassadors, two panda clubs, to kickstart the Global Goals campaign. 
Hopefully, through the influence she has, more people will reflect on the way they live and contribute to greener living. 
9. Named TIME's Icon Of The Year 2022  
Out of the dozens of profiles that made history in 2022, Michelle was chosen by TIME as the Icon of the Year 2022. The magazine highlighted her impressive acting career since the 80s', and her lack of opportunities to act in roles that didn't portray Asians in a stereotypical light.  
Thanks to the success of Everything Everywhere All At Once, Michelle is now aiming for an Oscar, and hopes to continue contributing to Asian representation in Hollywood. Fingers crossed that we will be hearing even more good news about her career in the near future. 
10. Loves spending time with her granddaughter
Despite her busy acting schedule, Michelle never fails to find time to spend with her granddaughter, Rae Lyn. She frequently posts photos of them together and expresses the love she has for her "little pumpkin". 
11. Her partner is the president of a car corporation
After going through a divorce with her ex-husband Dickson Poon, Michelle has been dating Jean Todt, the president of Fédération Internationale de l'Automobile (FIA) since 2004. The two were engaged 4 years later in 2008, but never officially tied the knot. 
They are currently living together in Geneva, Switzerland, and Michelle regularly shares sweet photos of the two of them on Instagram. 
12. Has over 1 million followers on Instagram
Michelle might have hit the big 6-0, but she's still as social media savvy as a millennial. She has an Instagram account with over 1.2 million followers, and frequently posts photos and updates about herself and her travels. 
13. Has no former martial arts training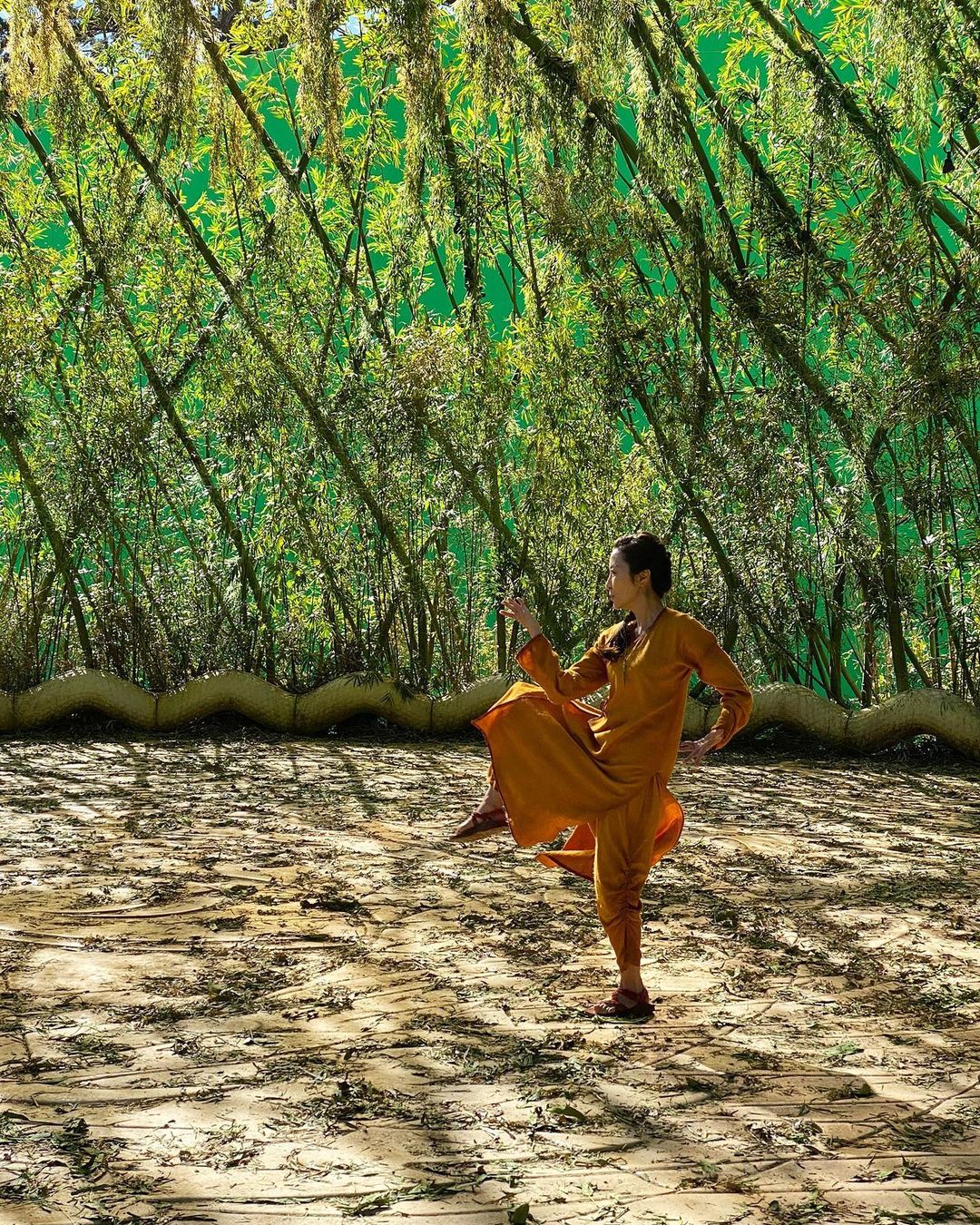 Michelle on the set of Shang Chi
Source
This might come as a surprise to some ‒ Michelle has zero former training in martial arts. For a person who has tons of experience in martial art films, she only underwent training with action performers like Dick Wei in a gym and picked up moves on the set. 
Perhaps of her past as a dancer, Michelle was able to learn the steps quickly and execute them perfectly. 
14. Appeared in a TV commercial with Jackie Chan when she was 21 years old
Unless you're living under a rock, there's no way you haven't heard of Jackie Chan. So, for a then-21-year-old Michelle to film a wristwatch commercial with Jackie Chan in 1984 was an incredible and honourable moment. 
While the gig came to Michelle "accidentally", it was a life-changing experience as it was her stepping stone to the acting industry. The commercial caught the eyes of a rookie Hong Kong film production company D&B Film, which later gave Michelle a contract. 
15. Has a doctorate degree in fine arts from American Film Institute
Besides being an actress and all-round girl boss, Michelle also wears other hats – one of them being a Doctorate of Fine Arts degree holder. Back in August 2022, she was presented with an honorary degree by the American Film Institute for her contributions of distinctions to the art of the moving image. 
Her speech was inspirational to say the least, encouraging the younger generation to not be afraid to fall and rise again. 
These Facts About Michelle Yeoh Show That She's An Ultimate Role Model
Despite being in the acting industry for 40 years, Michelle doesn't seem to have any plans on retiring anytime soon. She is set for more dramas and movies like the Netflix series The Brothers Sun and Disney+'s American Born Chinese, where she is reunited with Ke Huy Quan, her on-screen husband in Everything Everywhere All At Once.
Also read: 
20 Facts About Hong Huifang, The Mediacorp Actress In The New Singapore-South Korea Film Ajoomma