Pokémon x Converse
Since the start of 2021, Pokémon fans all around the world have been treated to exclusive events and merch in celebration of Pokémon's 25th anniversary. Not one to miss out on the party, Converse will also be releasing exclusive sneakers, hoodies and tees in Pokémon designs to end the year on a high note.
Sneakers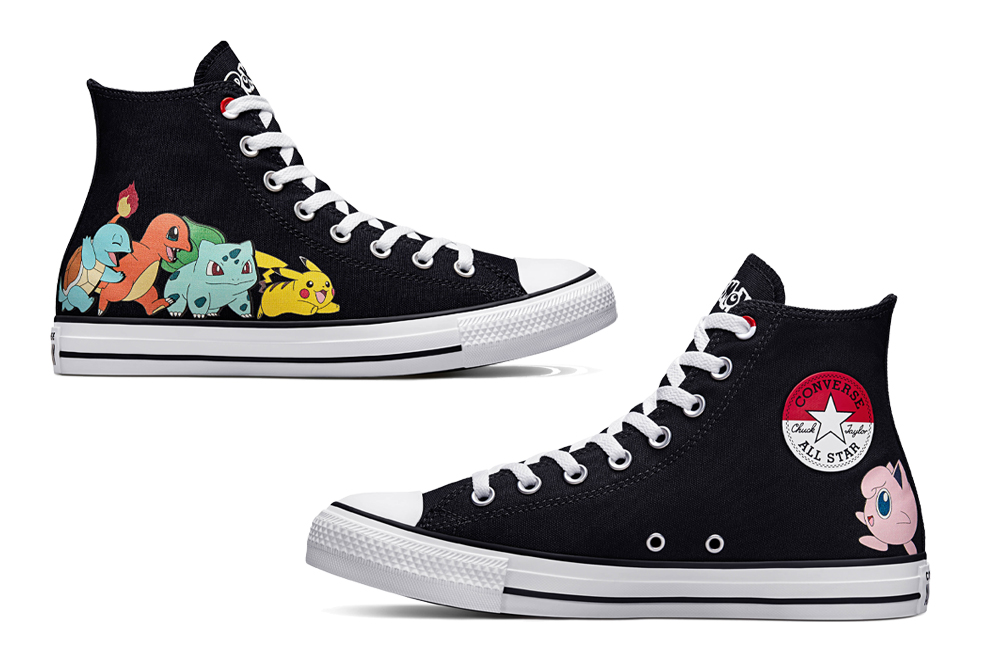 Source
Known for their comfy high-cut sneakers, this first design comes in a sleek all-black model that can easily match with any OOTD. Generation 1's starter Pokémons Squirtle, Charmander and Bulbasaur can be seen running alongside Pikachu on one side of the sneaker. 
Meanwhile, Jigglypuff makes an adorable appearance on the other side, ready to sing a song to put us to sleep.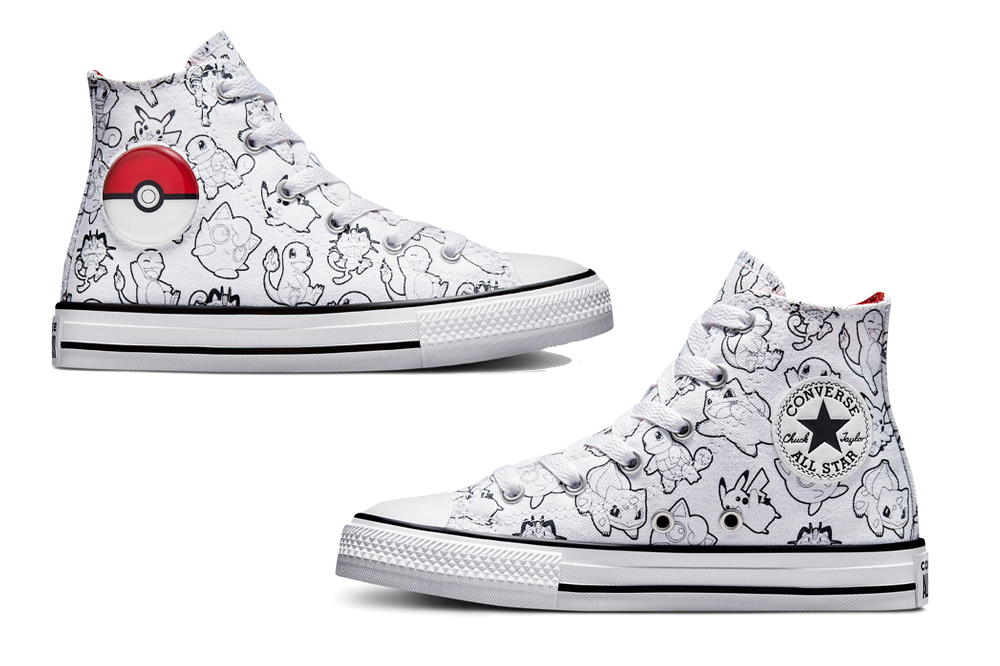 Source
Decked with more Pokémon graphics like Meowth, this next monochrome design best represents trainers whose mission is to catch 'em all. Instead of Converse's circular All-Star logo, a Pokéball can be seen in its place on one side.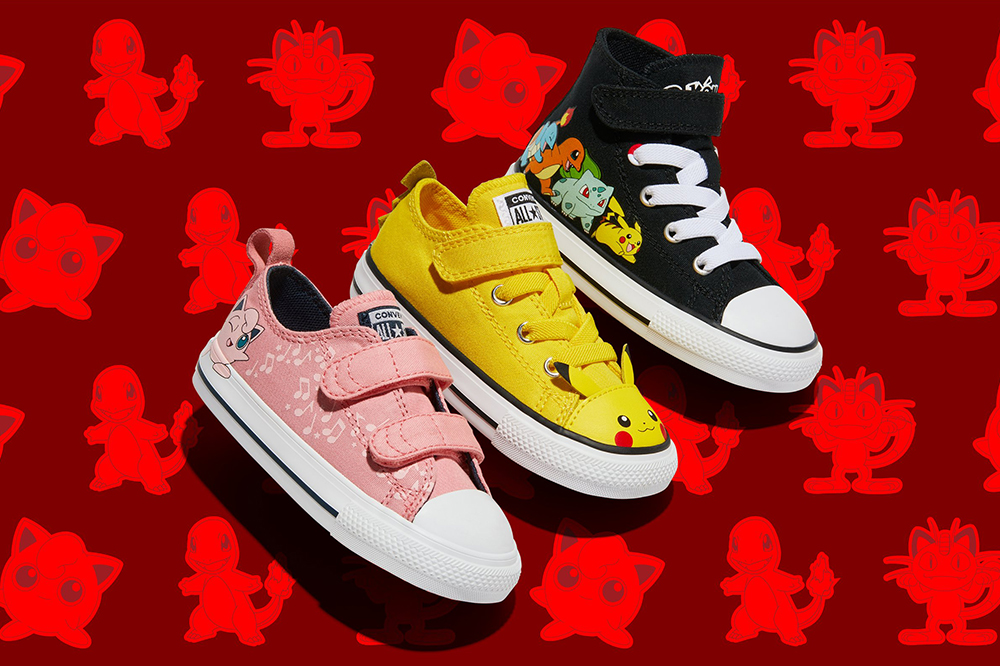 Miniature versions of the high-cut sneakers are also available for kids, as well as more low-cut designs in Pikachu and Jigglypuff motifs. Despite new generations of Pokémon emerging over the years, the original 150 are still the most memorable for trainers of any age.
Apparel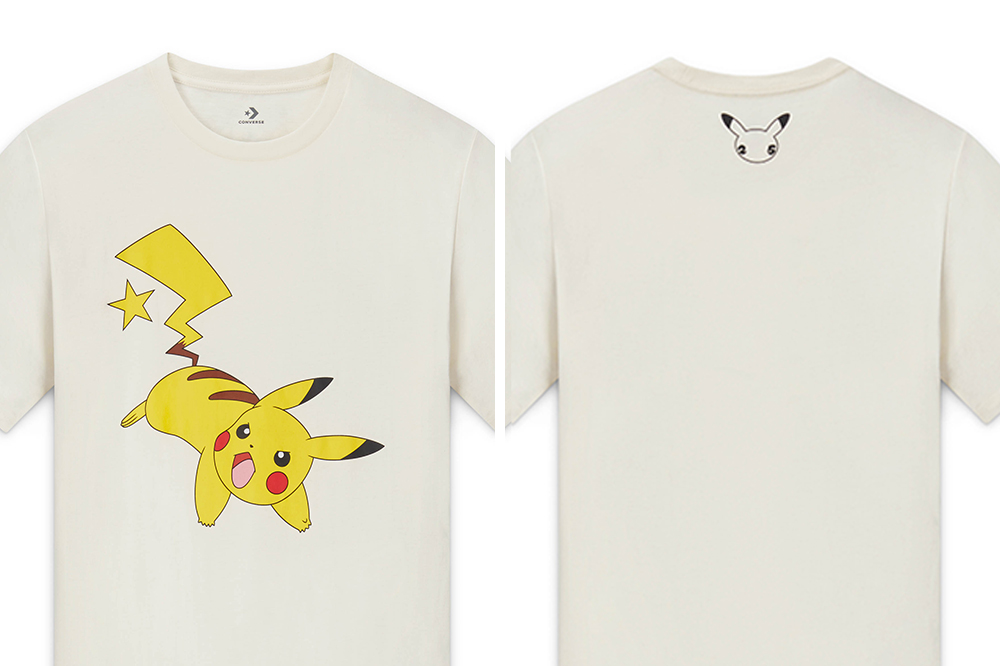 Source
If the UNIQLO Pokémon collection wasn't enough to satisfy your wardrobe, Converse also has a variety of new apparel. This white Pikachu tee features a simple design of our adorable mascot, ever-ready to use thunderbolt in a battle.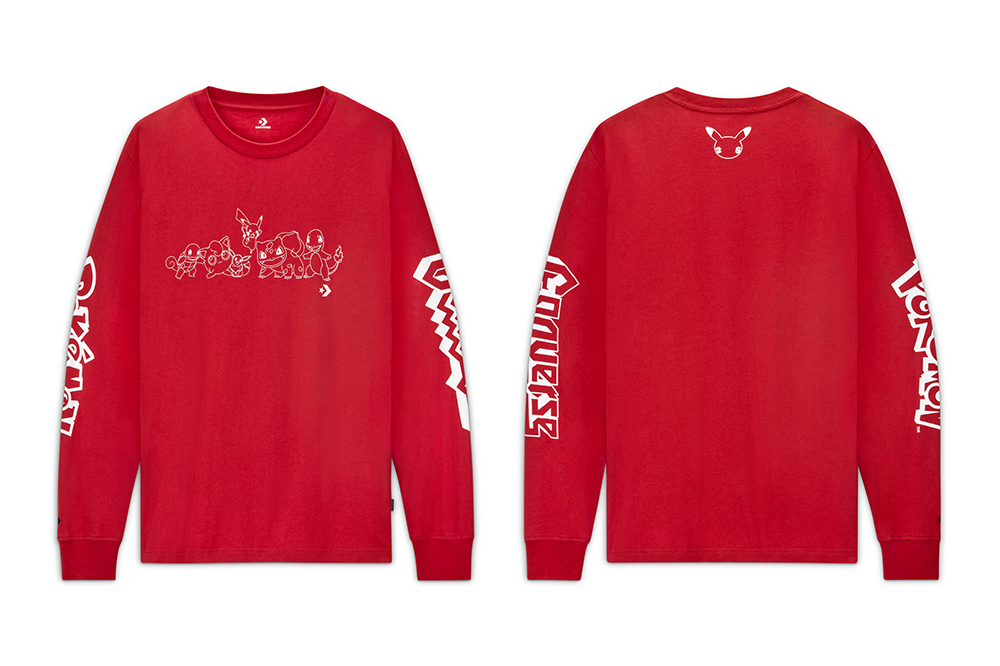 Source
Level up your streetwear look and pose with this red long-sleeved tee featuring Pikachu, Eevee, Jigglypuff and other starter Pokémon.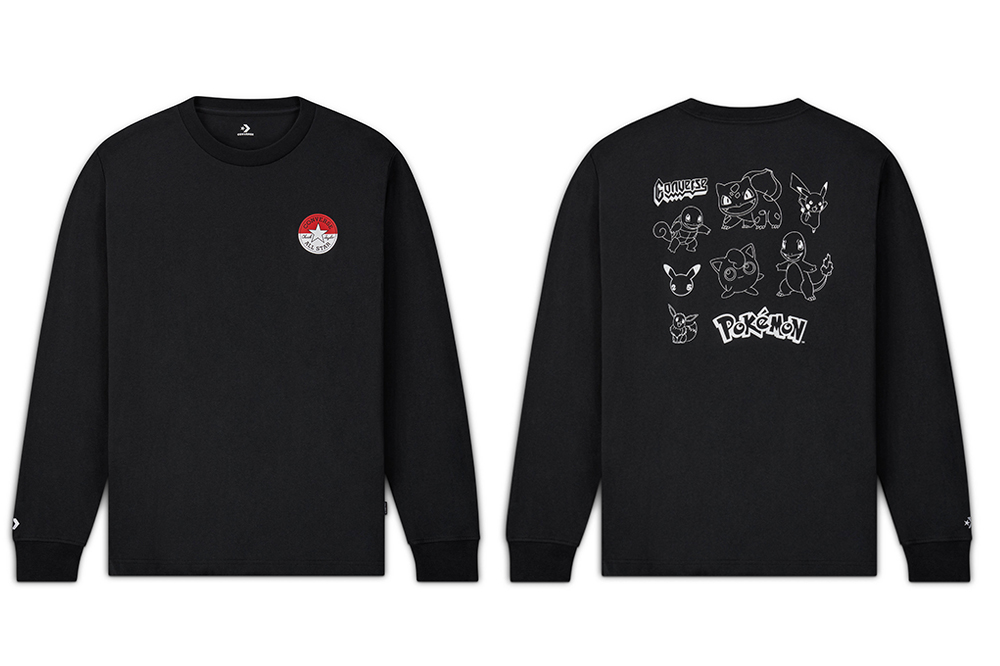 Source
It's safe to say that you can't go wrong with the colour black. This black long-sleeved tee comes with a minimalist Pokéball design on the front, while highlighting various Pokémon on the back instead.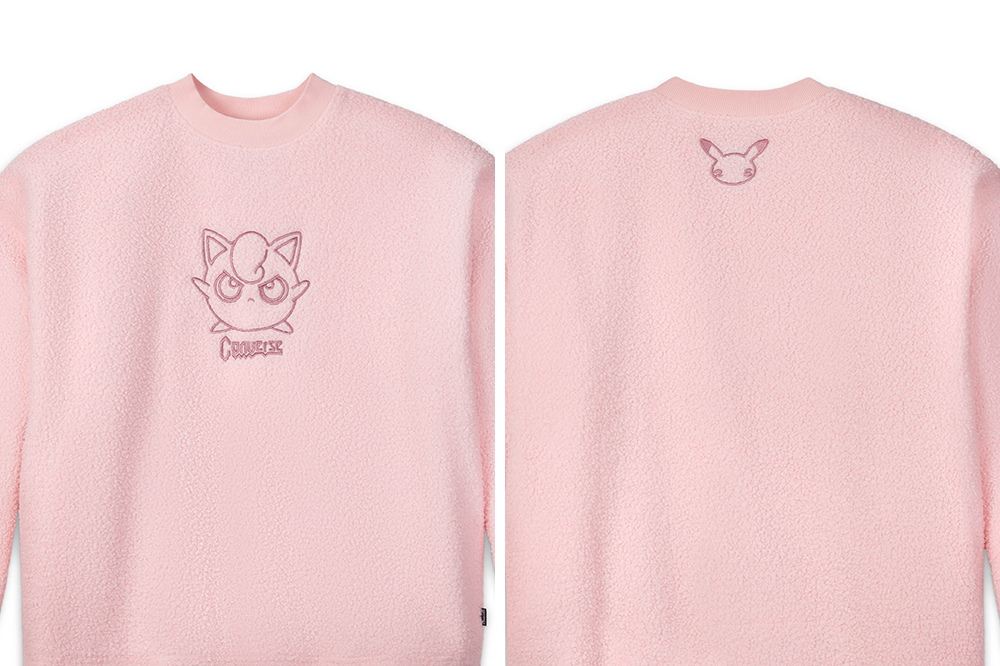 Source
Jigglypuff truly embodies the TikTok sound "looks like a cinnamon roll but could actually kill you". This pink and fluffy long-sleeved top pays tribute to the cute fairy Pokémon — if you haven't added Jigglypuff to your party yet, you're missing out.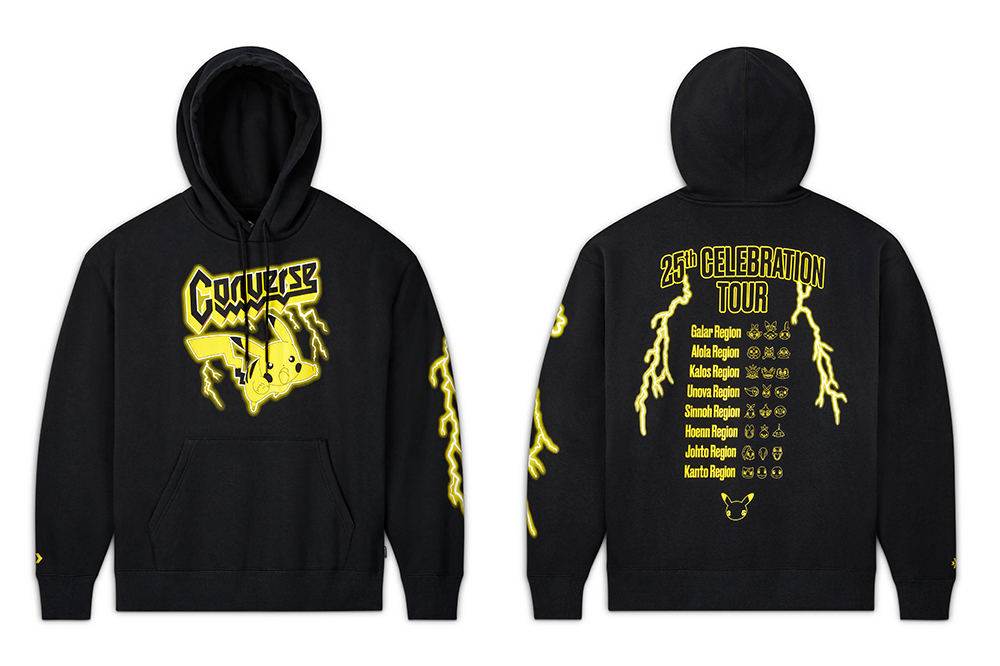 Source
As concerts have been on hold since the pandemic, it's been a long while since we've seen tour merch. This Pokémon hoodie takes us back to when world tours were popular, showcasing Pikachu's thunderbolt hues that read "25th celebration tour". 
Instead of concert dates and locations, different regions from Kanto in Generation 1 to Galar in Generation 8 are listed. All of the grass, fire and water type starter Pokémon from each generation make an appearance, reminiscing the crucial moment where players have to pick one at the start of the game.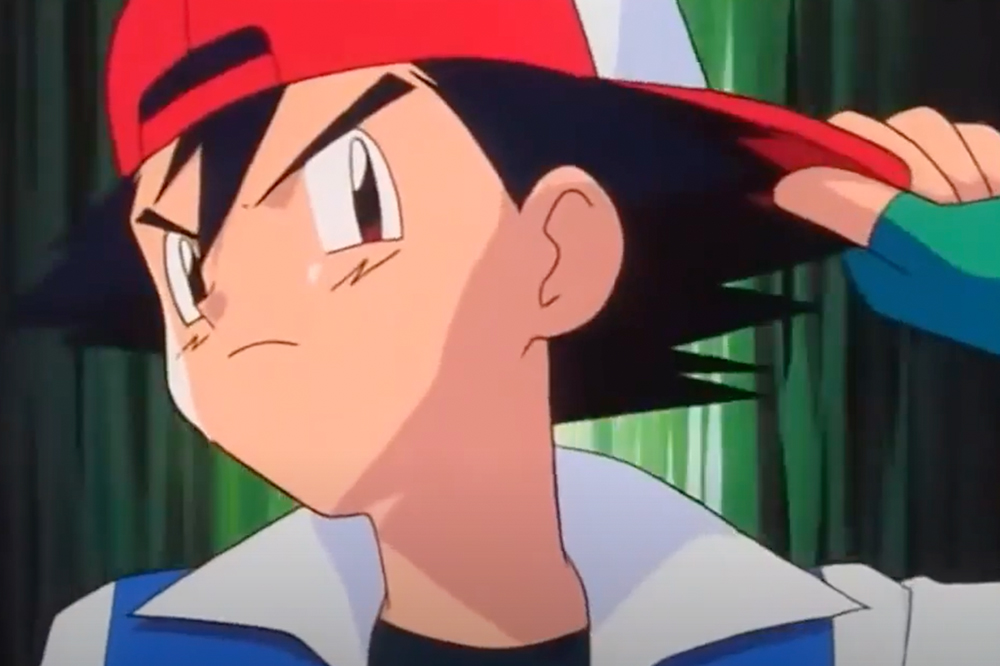 Source
Those who watched the original Pokémon series will recognise this familiar scene. Whenever Ash Ketchum twists his cap backwards, it means it's time for serious business, aka battling or catching a wild Pokémon.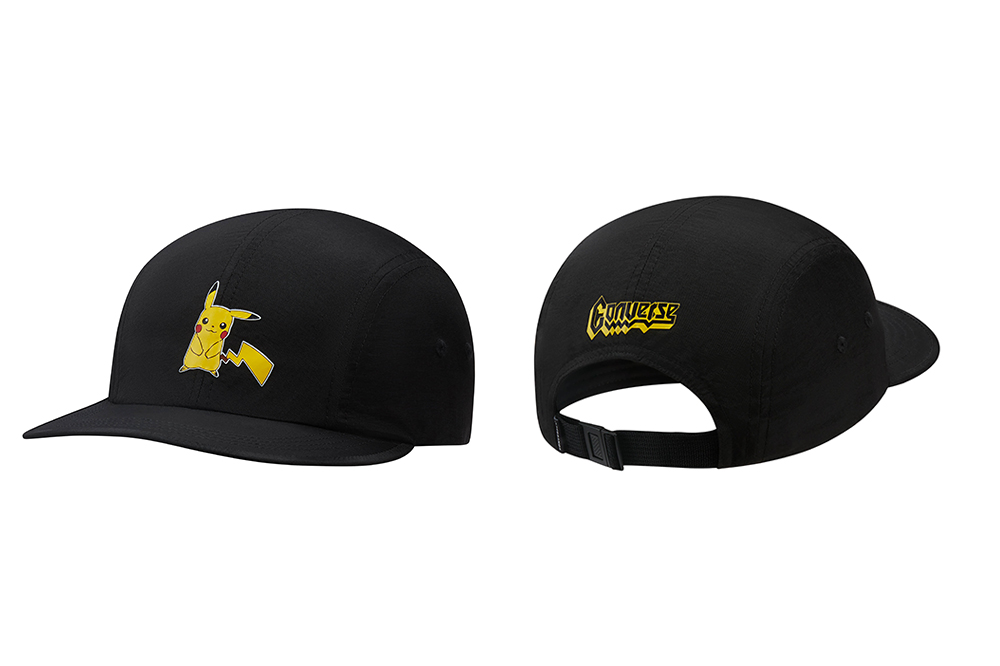 Source
Channel your inner Ash Ketchum and complete your look with this Pikachu hat. Who knows, perhaps twisting it backwards before catching that Mega Charizard will raise your chances of capturing it too.
The Pokémon x Converse Collection Will Be Available From 10 December 2021 Onwards
While the official details of this collection has yet to be announced on Converse's official website, PKMN Style on Twitter has shared that it will be launching globally from 10 December 2021 onwards. Hopefully, this collection will reach our stores in Singapore too, so trainers can stock up on merch before heading to their next adventure. 
Cover images courtesy of PKMN Style.
Also read:
These Plush Pokémon Armchairs Come In Designs Of Gengar & Ditto With Matching Pokéball Leg Rests