Tattoo Removal In Singapore
We all make mistakes — whether it is drinking too much during a girls' night out or forgiving a lousy partner, bad choices are inevitable. After all, we live and learn.
If you're suffering from tattoo regret specifically, know that you are not alone as 1 in 4 people are in the same boat, based on a study done in 2015. But before you rush in to book a tattoo removal session, there are many factors to consider, such as the duration of your treatment and side effects. 
Here are 8 clinics with tattoo removal services in Singapore, with price and treatment options included to help you make an informed decision.
1. 1Aesthetics Medical & Surgery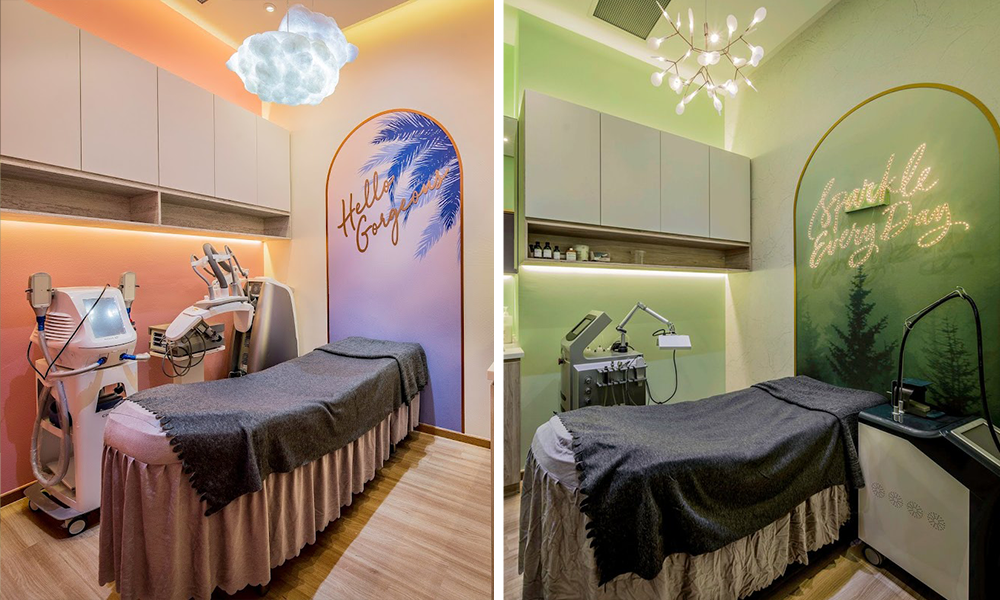 Source
Medical Director of 1Aesthetics Medical & Surgery, Dr Wan Chee Kuang, specialises in a combination technique using the Quanta Discovery Pico Plus with fractional laser and shockwave therapy.
Although this triple combination treatment is not common in most clinics, Dr Wan highly recommends it over the traditional methods as it has additional benefits which address many pain points such as scarring and long recovery time.
Alternatively, if you wish to stick to the traditional single treatment approach, you may also choose to opt for just the Discovery Pico Plus. 
Before heading down physically, you can send in a picture of your tattoo on Facebook or through Instagram DMs for Dr Wan to quote an estimated price per session. As a bonus, their treatment rooms are also decorated with chio wall murals with quotes like "Hello Gorgeous" and "Sparkle Every Day". 
Price: Depending on the size, placement and colour of the tattoo
Address: 8 Eu Tong Sen St, Tower 1, #14-90, The Central, Singapore 059818
Booking: Call 6612 5173
Website | Facebook | Instagram
2. Freia Medical/Freia Aesthetics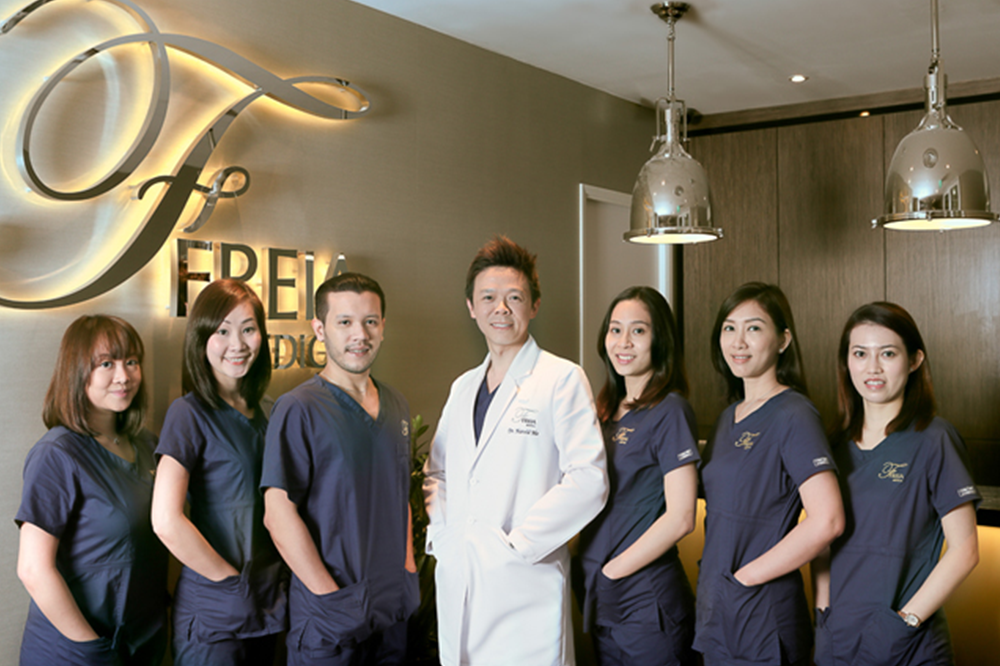 Source
Freia Medical has 2 different approaches for tattoo removal — Medlite C6 Q-switched Nd:yag or the Cynosure Picosure laser system. 
For a more cost-effective option, you can consider going for the Medlite C6 Q-switched Nd:yag as the cost for treatment is lower, with prices from $190. This machine is more effective in removing black and red ink and has a lower risk of scarring. However, the number of sessions required will be much more than if you opt for the Cynosure PicoSure laser.

If your tattoo has more stubborn colours like blue, green or purple, the Cynosure Picosure laser system has got your back with its advanced technology. 
Being the world's first picosecond laser to receive FDA approval, the Cynosure Picosure is able to remove your tattoo with very minimal swelling so you can go for your dinner dates straight after the session.
Price: Starts from $190. Highly dependent on the treatment option, size and complexity of the tattoo.
Address: 101 Irrawaddy Road, #14-11/12/13, Royal Square Novena, Singapore 329565 | 435 Orchard Road, #19-03, Wisma Atria Office Tower, Singapore 238877 | 252 North Bridge Road, #B2-26, Raffles City Shopping Centre, Singapore 17910
Booking: Call 6735 8180 | 6734 3219 | 6258 0233
Website | Facebook
3. Radium Medical Aesthetics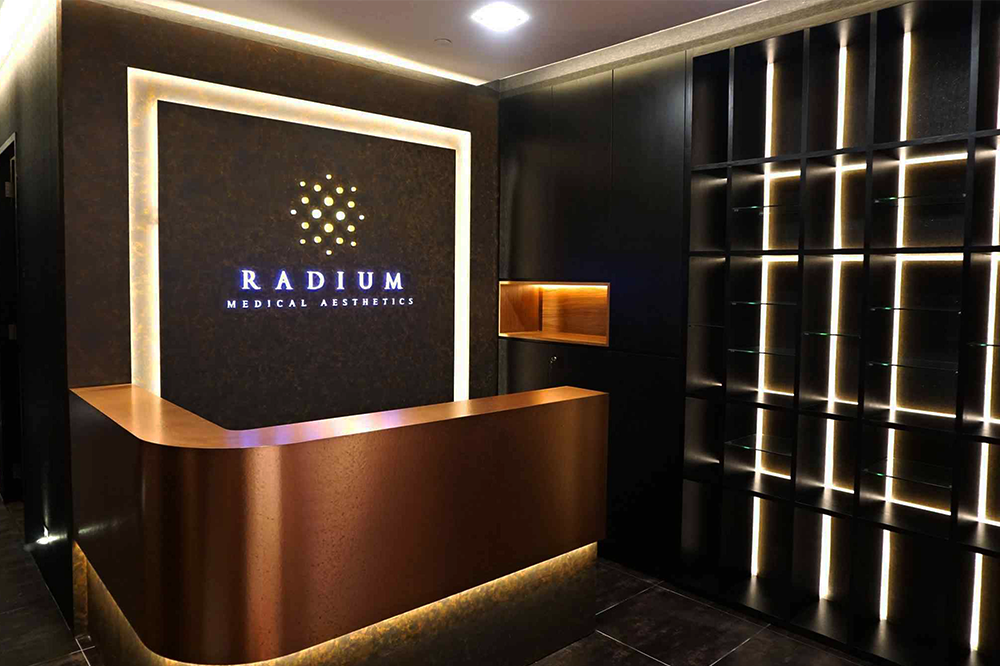 Source
At Radium Medical Aesthetics, they specialise in using the PicoSure Laser technique for tattoo removals. For the uninitiated, PicoSure features a natural 755-nanometre wavelength and uses laser pump handpieces to convert to different wavelengths for the removal of other ink colours.
The PicoSure technology is a new form of technology that prevents excessive thermal damage to the skin due to the short duration of skin contact, so minimal scarring is ensured. It is also more precise in targeting dark pigments on your skin and removing stubborn ink colours like green, blue and yellow.
Price: $300 to $2000 per session, depending on the size of the tattoo
Address: 3 Temasek Boulevard, #03-325/326, Suntec City Mall, Singapore 03898
Booking: Call 6837 0507
Website | Facebook | Instagram
4. Yang Aesthetic Centre
Dr Joseph Yang
Source
With more than 20 years of experience in aesthetic medicine and more than 40 years of medical experience, rest assured that you'll be in safe hands with Dr Joseph Yang at Yang Aesthetic Centre.
Dr Yang uses Picosure 755 (CYANOSURE) which is effective in shattering the ink particles without harming the surrounding tissue. He also uses another machine, Enlighten 532/1064, depending on the complexity of your tattoo.
There will be a consultation with Dr Yang to determine a suitable treatment plan to meet your individual needs, especially if you choose not to have skin textural changes.
Price: Depends on size, colour, the number of colours, the age of the tattoo, your own genetic makeup and what you have done to your tattoo before
Address: 435 Orchard Rd, #17-04/05, Wisma Atria Office Tower, Singapore 23887
Booking: Call 8368 8492 (Angela) | 9118 0142 (Venetia) or email yangyapjoe@gmail.com
Website | Facebook | Instagram
Also read:
8 Common Skincare Myths That May Worsen Your Dark Spots Debunked, According To An Aesthetic Doctor
5. The Aesthetics Centre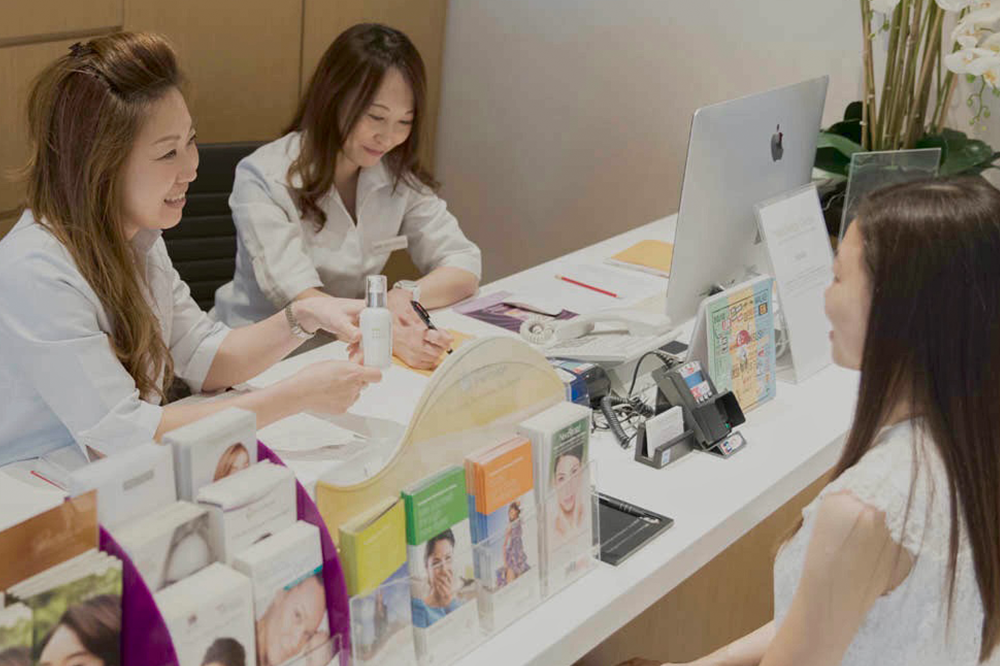 Source
Founder of The Aesthetics Centre, Dr Anita Soosay, is a certified LASER physician since 2007,  with experience in operating a number of lasers that can either remove the epidermis layer or heat up the tissue without causing excessive damage.
The method that she uses is the PicoWay laser tattoo removal device by Syneron Candela that runs on a picosecond pulse solid-state laser system. This machine breaks down the ink at a faster rate while ensuring that the surrounding tissues don't receive any heat.
Price: An exact quotation will be given to you after a thorough assessment has been done
Address: 1 Kim Seng Promenade, #01-137, Great World City (Office Tower), Singapore 237994
Booking: Call 6820 3308 | 6820 3309 or email enquiry@theaestheticscentre.com
Website | Facebook | Instagram
6. Amaris B. Clinic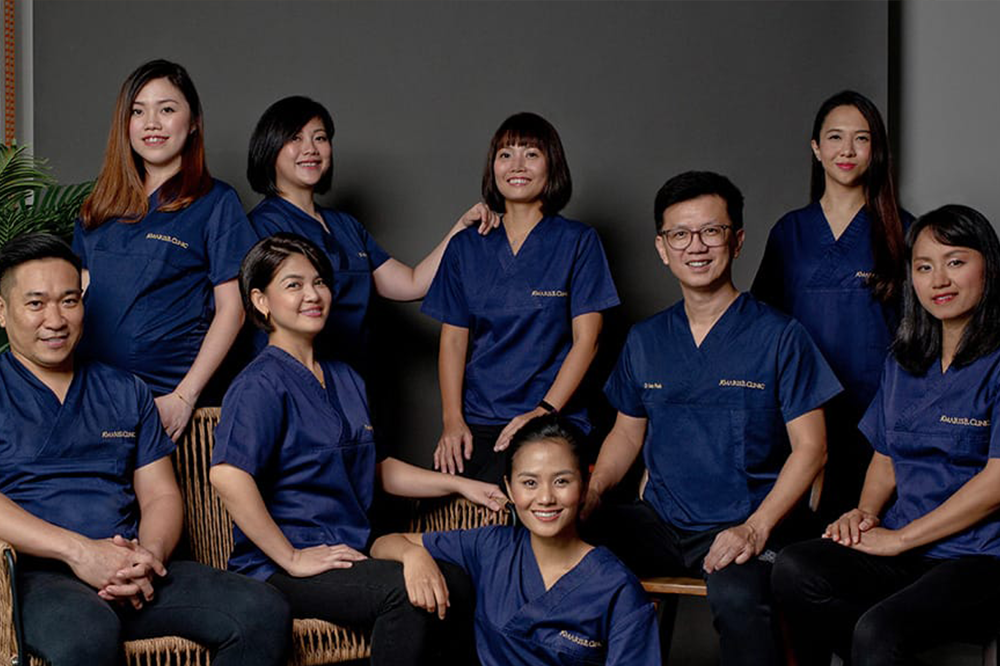 Source
Amaris B. Clinic's Medical Director, Dr Ivan Puah, has 14 years of experience in aesthetic medicine and performing FDA-approved injectables, skin lasers and body sculpting procedures. The clinic also won Best Aesthetic Clinic in Singapore 2021 so you're guaranteed to be in experienced hands for your session. 
They use the PicoCare 450 with the HEXA MLA as their recommended treatment option, which is a Picosecond laser with 4 treatment wavelengths accompanied by a fractional handpiece. Additionally, the HEXA MLA is a handpiece that provides a wide range of spot sizes, allowing for the treatment to improve skin texture and increase patient safety.
Price: Starts from $200
Address: 140 Arab Street, Singapore 199827
Booking: Call +65 6536 4211 | +65 6296 1416 or email customer@amaris-b.com
Website | Facebook | Instagram
7. Edwin Lim Medical Aesthetic Clinic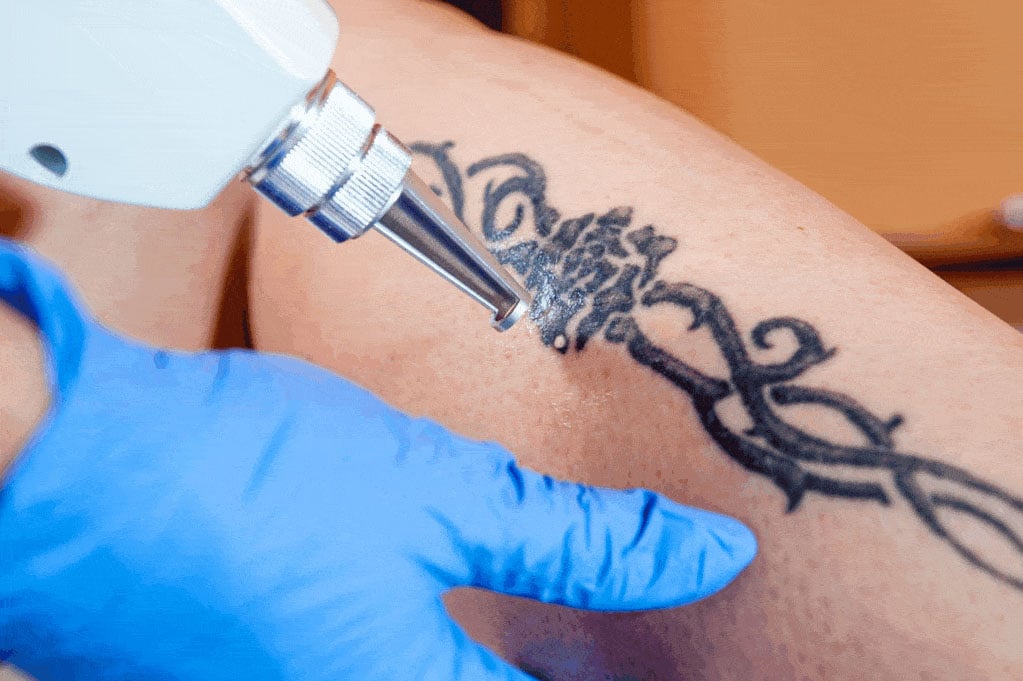 Source
If your tattoo has many hues, this clinic uses a machine called the Lutronic Picoplus Picolaser which can target a wider spectrum of tattoo colours. 
Equipped with 4 separate wavelengths and 6 handpieces, this treatment process not only stimulates collagen growth but also increases tissue density and elasticity, giving you clearer and younger-looking skin. 
Dr Edwin Lim believes in personalising each individual's management and always seeks to recommend the most effective treatments to cater to concerns like minimal downtime. 
Price: Depends on the size of the tattoo
Address: 5 Changi Business Park Central 1, #02-12/13, Changi City Point, Singapore 486038 | 304 Orchard Road, #05-51, Lucky Plaza, Singapore 238863 (By appointment only)
Booking: Call 69042218 or WhatsApp 96372218
Website | Facebook | Instagram
8. Sozo Aesthetic Clinic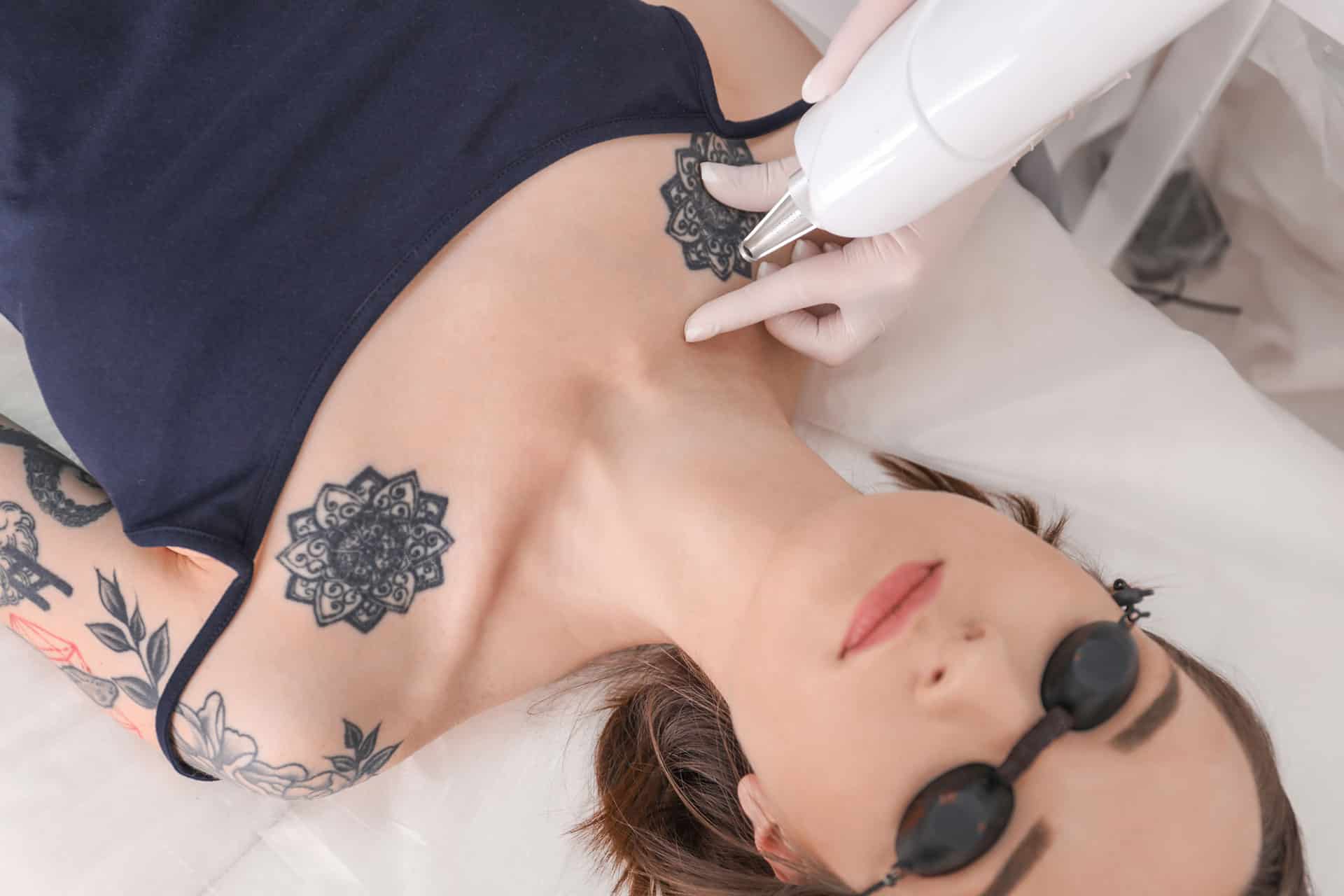 Source
Similar to Edwin Lim Medical Aesthetic Clinic, Sozo Aesthetic Clinic also uses the Lutronic PicoPlus Picosecond Lasers.
Doctors at Sozo Aesthetic Clinic will consult with you and assess your tattoo before sharing the number of sessions required. This typically depends on your tattoo's size, type, age, and depth.
After the consultation, the doctors will outline the safest and the most effective approach for you.
Price: Starts from $50 per session
Address: 1 Raffles Place, #05-12/13, Singapore 048616
Booking: Call 6935 1811, WhatsApp 9610 5102 or email ask@sozoclinic.sg
Website | Facebook | Instagram
These Clinics With Tattoo Removal Treatments Will Offer Solutions For Your Change of Heart
While there is no conclusive evidence that a certain type of machine is better than the other, one thing's for sure — a picosecond laser is much more effective than a nanosecond laser. This is due to how it minimises the duration of contact between the skin and the laser and reduces excessive heat and pain.
Fortunately, a huge majority of the clinics in Singapore uses picosecond lasers as it has been proven to produce the best results in a shorter period of time, so you can bid farewell to your tattoo marks with peace of mind.
Also read:
13 Eyelash Extension Services In Singapore From $35 For You To Skip Mascara