Influencers In Singapore With Side Hustles
The term "influencer" in Singapore is often misinterpreted by many Singaporeans. Often, these negative views stem from the opinion of it not being a "real" job, since it appears as though all influencers do is snap pictures for the 'gram. 
While the aspect of taking pictures isn't exactly wrong, influencers do have a wide following base because people are interested in their personality and the brands they promote. It's not exactly an easy task to constantly keep an audience engaged with new and fresh content. 
On top of that, a number of influencers in Singapore have even ventured into entrepreneurship, starting their own businesses as a side hustle. We've compiled 19 influencers and their own brands that you can support, from handmade jewellery to baked goodies.
1. Christabel Chua — lifestyle retail brand, Kāi
Christabel Chua, widely known by her Instagram handle @bellywellyjelly, founded her lifestyle retail brand Kāi in 2017. The brand name Kāi was derived from the character 开, meaning "open" in Mandarin. Fun fact: as the brand also advocates for mental wellness, the character kāi is used in the phrase 开心 (kai xin), translating to "happiness".
Kāi is a lifestyle brand that features products such as planners, tumblers and apparel decked in bright and cheerful colours to represent its brand name. Kāi has also previously collaborated with brands such as Kotex and Starbucks to spread joy through fun merch. 
2. Melissa Celestine Koh — baby products, Little For Longer & photography studio, Makers Inc. Studio
Melissa Koh enjoys sharing the joys of her motherhood journey as well as travelling the world with her family on her Instagram page. It's no surprise that her love for her children has extended to starting up a brand for baby goods — Little For Longer. New mothers can find everything they need here from baby clothes to maternity loungewear.
Melissa also kickstarted her own photography and videography studio Makers Inc. Studio, a boutique production house that creates content for brands. 
Little For Longer
WebsiteㅣInstagram
Makers Inc. Studio
Instagram
3. Eunice Christelle Ong — baking business, Gluttons Unite
As quoted by Eunice Christelle Ong in one of her Instagram posts, "all i want to do in life is to eat… and eat." Describing herself as a "forever eating mom-trepreneur", she ventured into her baking business Gluttons Unite, offering yummy snacks ranging from spicy crab sticks to sweet premium pineapple balls. 
For every purchase above $70, customers can also enjoy free delivery islandwide. 
4. Ka Yan — handmade bead jewellery, Toasty Towns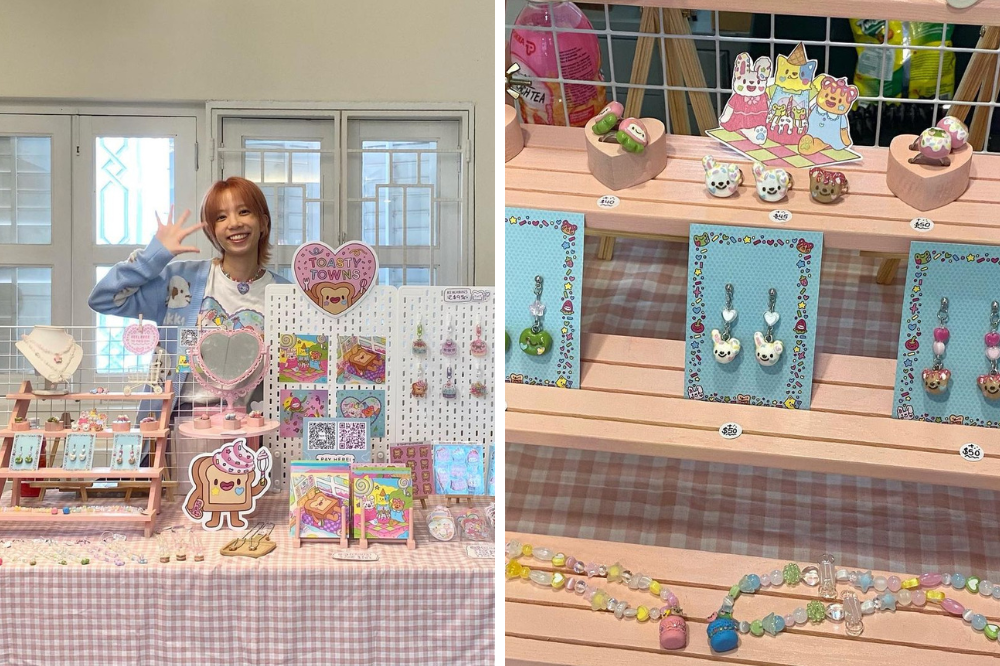 Source
When it comes to all things cute and sweet, Ka Yan is your girl. With over 279,000 followers on TikTok, fans are familiar with her usual kawaii fit checks, showcasing how she styles pastels, ruffles and frills. It seems like her love for cute stuff extends beyond clothes, as Ka Yan also handmakes her own bead jewellery and sells them on her page known as Toasty Towns. 
Ka Yan has also hinted that there will be an online shop for Toasty Towns coming soon, so interested buyers will be able to easily purchase her jewellery. 
5. Andrea Chong — fashion brand, Good Addition
Good Addition is a fashion brand founded by Andrea Chong, an influencer who loves modern basics herself. Andrea also models in some of Good Addition's products, stunning us with the comfort and ease of styling these clothes. Good Addition is only available as an online store for now, but they also offer worldwide shipping services. 
6. Naomi Neo — hair care products, Nnchanted & health products, Nnpower
To many Singaporeans, Naomi Neo is one of the OG influencers who began her social media journey way back in 2011. Now, the mum of two has two brands under her name. Nnchanted specialises in hair care products, featuring their signature Stashies, aka a giant scrunchie that has a hidden zipper compartment to store small belongings. 
Meanwhile, Nnpower is a natural, plant-based and halal detox product that promotes a healthy immune system and boosts natural collagen production. 
Nnchanted
WebsiteㅣFacebookㅣInstagram
7. Bong Qiu Qiu — baking business, Qakes & Bakes
Many of Bong Qiu Qiu's followers have been supporting her since 2008, when the influencer starred on Budget Barbie. Since then, she has been keeping it real with her audiences by sharing snippets of her daily life. 
Bong Qiu Qiu started up her own baking business, Quakes & Bakes, which offers handmade goodies created by a baker with over 20 years of experience. Some of their fan-favourite snacks include the Truffle Garlic Butter Cookies and Ondeh Ondeh Butter Cookies.
8. Nicole Liel — beauty salon, Cuuul.sg
Nicole Liel made headlines during NDP 2022 when she enthusiastically shared with the nation that she's thankful to Singapore for giving her a HDB queue number, as well as Ya Kun's iconic kaya toast. In 2021, Nicole set up her own beauty salon, Cuuul.sg, after being a home-based business for many years. 
Cuuul.sg is Singapore's first lash botox and henna brow studio. They offer lash lift and waxing services, and are also Muslimah and Wudhu-friendly.
Address: Four outlets, find the full list on their website
Booking: Fill in the booking form on their website
Contact: Fill in the contact form on their website or DM them on Instagram
WebsiteㅣInstagram
9. Sherlyn Chan — sustainable homeware, A Greener Wood
A Greener Wood is Sherylyn Chan and her husband's sustainable homeware brand, born out of witnessing their daughter's development from a baby to a toddler. After watching her play with toys, they were inspired to create ethical toys that are sustainable for the earth. 
Now, the store offers a wide range of products beyond baby toys, such as apparel, dinnerware and children's books. 
Address: 66 Tannery Lane, Sindo Building, #01-01G, Singapore 34780
Opening hours: 1.30pm to 5pm (Wednesdays and Fridays)ㅣClosed on the rest of the week
Contact: Fill in the contact form on their website or email care@agreenerwood.com
WebsiteㅣFacebookㅣInstagram
10. Emily Tan — authentic shoyuzuke, Itsy Bitsy Spicy
If you've not tried authentic shoyuzuke, aka soy sauce-pickled food, Emily Tan has made it convenient for Singaporeans to enjoy with her brand Itsy Bitsy Spicy. Created by a chef with over 20 years of Japanese cuisine experience, Itsy Bitsy Spicy is Singapore's first authentic shoyuzuke series. 
Some highlights include the Salmon Bonito Shoyuzuke, Special Prawn Coilker and their signature handmade Garlic Leek Chilli. All purchases can be made via their Shopee page.
Also read:
16 Celebrity Couples In Singapore That Will Make You Believe That True Love Exists After All
11. Clara Chia — beauty salon, Cloud9 Beauty Bar
Pamper yourself at Clara Chia's beauty salon Cloud9 Beauty Bar, specialising in facial, lashes, brows, nails and Super Hair Removal (SHR). In 2022, the brand was awarded the SME500 Award, an annual business award that recognises Singapore's performing SMEs for quality, capability and business excellence. 
Address: 66 Circular Road, #02-01, Singapore 04920
Opening hours: 12pm to 8pm (Mondays to Saturdays)ㅣClosed on Sundays
Booking: Fill in the booking form on their website
Contact: Call 9231 5920 or email hello@cloud9beauty.sg
WebsiteㅣInstagram
12. Germaine Lau — clothing daigou service, Gibling Studio
Picture this: You've discovered a cute outfit that you absolutely must get from an international website, but the shipping fees cost more than the actual item itself. Ugh. Not to worry — Germaine Lau aims to help those who are struggling with the same problem through her clothing daigou service, Gibling Studio. FYI, daigou means "buying on behalf of", so you don't have to break your bank just to get that dream fit. 
13. Jamie Pang — activewear brand, Fitmonkie
Whether it's for an after-work spin class or a boxing session with your girlfriends, getting a set of high quality activewear is important for everyone. Jamie Pang's activewear brand, Fitmonkie, has bras, leggings and even sports equipment to encourage ladies to keep going. The brand is also size inclusive, as they offer larger bust-friendly pieces. 
14. Nicole Choo — croissant business, Krazy Kroissants
A book author, DJ, and now a croissant business owner, there's no boundaries to Nicole Choo's interests. Her croissant business, Krazy Kroissants, certainly lives up to its name, featuring croissants jam-packed with overflowing ingredients like Kaya King and Lucid Cream. 
Krazy Kroissaints also has specially curated cold brews and iced teas to pair with their yummy croissants, so you can enjoy a cosy afternoon tea break in the comfort of home. They're open 24/7 every day of the week, with orders delivered within two hours. 
15. Debbie Soon — jewellery brand, Starry Jewellery
On top of making YouTube videos and spending quality time with her husband and daughter, Debbie Soon also opened her own jewellery brand, Starry Jewellery. The pieces feature dainty and feminine pieces that are made of hypoallergenic gold-plated 925 silver — perfect as a Valentine's Day or anniversary gift for your bae. 
Starry Jewellery also offers free worldwide shipping.
Address: 29 Tai Seng Avenue, #02-01, Singapore 534119
Opening hours: 11am to 7pm (Mondays to Fridays)ㅣClosed on Saturdays on Sundays
Contact: Call 8892 0922 or email info@thestarry.co
WebsiteㅣInstagram
16. Yina Goh — online fashion store, The Velvet Dolls
Yina Goh describes herself as someone who "wears many hats", covering beauty, lifestyle and travel content on her page. Expanding further into her knowledge of fashion, The Velvet Dolls was thus born, offering a range of comfy and cute dresses for ladies. 
Check out their series of bridesmaids dresses, starring lightweight and non-sheer maxi dresses for a whimsical wedding vibe. 
17. Eugena Bey — pilates studio, BE. Studios
Eugena Bey is the definition of fitspo, aka fitness inspiration, for many of her followers. Encouraging a healthy and active lifestyle, she launched a specialised boutique pilates studio BE. Studios. Newcomers can go for a private trial at just $80, or check out the group class schedule to enjoy a new sport with your BFFs.
Address: 21 Kreta Ayer Road, #02-01, Singapore 088991
Opening hours: 8.30am to 8pm (Mondays to Thursdays)ㅣ8.30am to 6.30pm (Fridays)ㅣ8.30am to 12pm (Saturdays)ㅣClosed on Sundays
Booking: Fill in the booking form on their website
Contact: Whatsapp 8952 4896 or email hello@bestudios.co
WebsiteㅣFacebookㅣInstagram
18. Alicia Soh — sneaker painting studio, Artistra Studio
Customising your own sneakers as a date idea? Yes please. Artistra Studio is a sneaker art jamming studio launched by Alicia Soh. The studio offers an all-inclusive package of sneakers and painting materials, so you can create a personalised and practical gift for your bae. They also have a Bring Your Own Sneakers package at a low rate of only $35 per person for two hours. 
Address: 37 Beach Road, #02-03, Singapore 189678
Opening hours: 12pm to 9.30pm (Tuesdays to Fridays)ㅣ11am to 10pm (Saturdays and Sundays)ㅣClosed on Mondays
Booking: Fill in the booking form on their website
Contact: Email hello@artistra.org
WebsiteㅣInstagram
19. Chloe Choo — workshop and event space rental, Wonderwhere Studio
If you ever need to rent out a space for a workshop or event, Wonderwhere Studio is your place. Launched by influencer Chloe Choo, this space is a selected weekend flea market for coffee and croissants by Spill Da Beans, and functions as a rental space on the other days of the week. 
Wonderwhere Studio has previously hosted workshops by Vans and local tattoo artists. 
Address: Block 65, Oxley Bizhub, #03-69, Singapore 408732
Instagram
These Influencers In Singapore Have Ventured Into Entrepreneurship With Their Side Hustles
Who says being an influencer isn't a full time job? Apart from creating their own content on social media, these 19 influencers in Singapore have taken the extra step to showcase their passion in entrepreneurship with unique side hustles. 
Also read:
15 Singaporean Actors From Nostalgic Mediacorp Dramas That Aged Like Fine Wine