Stitch EZ-Link Charm & Gudetama EZ-Link Cards
From We Bare Bears to Hello Kitty, EZ-Link is no stranger to collaborations with adorable characters. The brand recently released a Disney Tsum Tsum Stitch EZ-Link Charm and Gudetama Halloween EZ-Link card in quick succession. Both the card and charm are so cute, they'll actually make you look forward to taking public transport. 
Stitch and Scrump EZ-Link Charm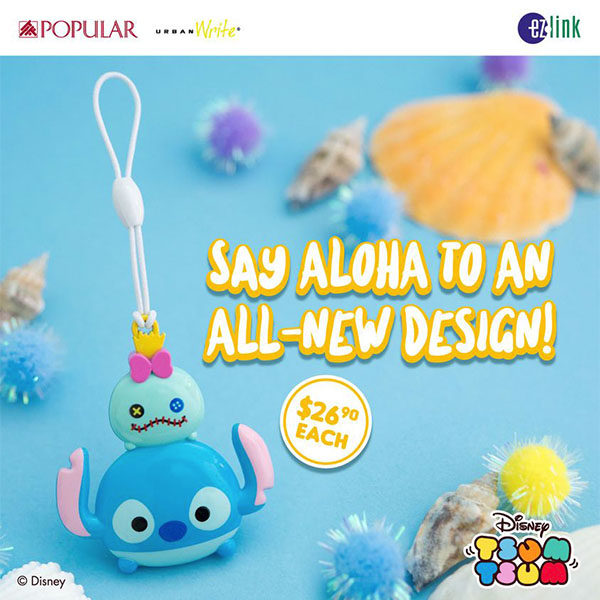 With an EZ-Link Charm,  you don't have to feel pressured about hogging up the queue while trying to find your EZ-Link card. Now, you can leave your EZ-Link card at home and bring this sweet little Stitch and Scrump EZ-Charm along with you on your commute. 
Since this is a collaboration with Disney Tsum Tsum, the EZ-Link charm design is based on the round stackable toys. The name "Tsum Tsum" is derived from the Japanese verb 'tsumu', which means to stack. 
This EZ-Link Charm x Disney Tsum Tsum features Stitch at the bottom and Scrump stacked on top. If you've watched Lilo & Stitch, you will recognise Scrump, aka Lilo's chou chou. 
The charm comes with a strap so you can attach it to your wallet or bag. No more realising that you left your EZ-Link card at home, only upon reaching the train station or bus stop. 
The Disney Tsum Tsum Stitch & Scrump EZ-Link charm is available at selected Popular Bookstores at $26.90, with no load value. Each customer is limited to 5 pieces per transaction, so more people will be able to get in on the good vibes this charm will bring. Check out EZ-Link's Facebook page to find out which stores you should visit before heading down, in order to avoid disappointment. 
Also read:
This Crayon Shin Chan Collection Includes Sweaters, Hoodies, Pyjamas & More For Your Next Staycay
Gudetama EZ-Link Card
Next up is the Gudetama Halloween EZ-Link card. Sanrio's Gudetama stole everyone's hearts when it was first introduced. Now, the lazy egg is back to captivating us with a Halloween-themed EZ-Link card. 
The card is packed with Gudetama cameos. Right off the bat, there's a spaced-out Gudetama with his friends in an egg-shaped pumpkin and a Gudetama chilling on the ground while wearing a wizard hat. The egg also appears in less obvious forms, but we don't want to spoil the fun. Try spotting them all on your next train or bus ride, instead of scrolling through Instagram for the nth time.
You can get your hands on these cards at the EZ-Link vending machines at Bugis Junction, Junction 8, Tampines Mall and Westgate for $10 with no load value. 
The New Stitch EZ-Link Charms And Gudetama EZ-Link Cards Will Make You Go Awww
If these lovable items have caught your eye, make your way down to the specified Popular bookstores and EZ-Link vending machines ASAP to get your hands on them before they run out. 
Also read:
Adidas China Has Gudetama Apparel & Sneakers So You Can Lounge Around With Your Lazy Egg Buddy